Where to Stay in Montenegro: Guide to All Resort Cities & Accommodation
Last updated on March 20th, 2022
Montenegro is a small country but very diverse. There are so many attractions on a small stretch of land that it may be challenging to understand where to go and what to start with. If you are asking a question 'where to stay in Montenegro', you are absolutely right. Kotor is not the only city where to base yourself.
I would love to introduce you to different parts of the country and help you understand where to stay depending on how long your trip is going to be, what your travel style is and what exactly you are looking for. Also, this post has a lot of tips for families traveling to Montenegro with children and couples on a romantic getaway. If there are any other questions left, just ask in a comment section.
All these tips are based on my own experiences when I lived in the country and visited Montenegro on multiple occasions.
---
Please note: This post contains affiliate links. I may earn a commission if you make a purchase by clicking a link (at no extra cost to you).
---
Where to Stay in Montenegro – Guide to All Resort Cities & Towns
Where to Stay in Budva & Why to Choose This City
Budva is the most popular resort city in Montenegro and the main center of its nightlife. Here, you will find a large number of casinos, restaurants, bars, discos, and beautiful pebble and sandy beaches. During the summer, mainly tourists from Eastern Europe like to vacation here, choosing Budva as a beach or party destination.
However, besides the beaches, restaurants, and bars, there are other things to do, and not only for adults but also for children. Budva has an interesting and compact Old Town with museums, a zoo and a water park with attractions for kids.
What to Know When Thinking to Stay in Budva
Prices are higher than in other resort-cities in Montenegro.
In summer the city gets very crowded and noisy.
There is a lot going on during the peak season. For young people, this is rather an advantage, but for families who come to vacation with their children, this may be a disadvantage.
Budva has many nice restaurants, cafes, and gift shops.
It offers a large selection of accommodation for vacationers with different budgets.
Budva travel agencies organize excursions to the farthest corners of the country. Also, it is very convenient to tour the country on your own from Budva. It is connected with other cities by a bus service and rather easy to rent a car.
The cheapest accommodation in Budva is a very basic room for rent or part of the house from a local. Prices start from 10 – 15€ per night per person. If you don't wish to book in advance, you can always find those who rent out their housing at the main bus station in Budva.
In high season, a double room in a 3* hotel will cost 40-60€ per day, apartments go for 50-90€. Note that in high season all hotels by the sea are packed, so it is better to reserve your accommodation with a lot of time in advance.
BEST BUDVA APARTMENTS AND HOTELS FROM BUDGET TO LUXURY:
HOSTEL FREEDOM: This hostel is ideally located in the center of the historic Old Town of Budva, just 30 steps from the nearest beach, surrounded by historical monuments, restaurants, bars, and clubs. During the stay you get a welcome drink, access to an open lounge, bar with a balcony with books, guitars, music, and kitchen with an outdoor terrace. Among only a few hostels in Budva this one, in my opinion, is the best. There are age restrictions though. Guests over 45 can only book private rooms.
Check prices and availability for Hostel Freedom on Booking.com
SAKI APARTMANI: A family-style guest house with a balcony on the roof where guests can dine under the stars paying a low price. There is a spa, jacuzzi, boat for day trips, organize trips to the beach. The guest house is located a bit farther from the beach and old town and prices are much lower but this place is always booked with a lot of time in advance. So make sure to make a reservation ahead of time.
Check prices and availability for Saki Apartmani on Booking.com
DUKLEY HOTEL & RESORT: This is one of our favorite hotels in Budva. It is small but very cozy, clean, in a secluded place, and with its own beach. All rooms are uniquely decorated and equipped with amenities for a relaxing stay. There are a beach lounge and golf carts for convenient transportation around the area. The hotel has its own boat to Old Town.
Check prices and availability for Dukley Hotel & Resort on Booking.com
MARINERO APARTMENTS: This is a good option for the price/quality ratio. Marinero is located in a villa with a Mediterranean garden and parking for all guests. You get a festive oasis in the center of Budva. All apartments are stylishly and elegantly decorated. The only disadvantage is the location near the main road. In summer, it gets very loud on the road, so try to book a room on the opposite side of the building.
Check prices and availability for Apartments Marinero on Booking.com
Why Choose Becici and Rafailovici – Montenegro Beach Resort Towns
Becici and Rafailovici are the names of compact villages and at the same time modern tourist centers south from Budva towards Sveti Stefan. Both of these villages, as Budva, have developed infrastructure but they are quiet and don't have noisy discos until early morning.
Becici and Rafailovici are small and you can walk everywhere. The resorts have facilities for water skiing, boating, and paragliding, for playing tennis and basketball. There are playgrounds for children with a variety of swings and a water park on the territory of the Mediteran Hotel.
These Montenegro resorts are very popular among couples with children and older people as well as everyone who appreciates peace and quiet. Another feature is the number of water activities these resorts have to offer. People who love being active on their vacation will enjoy this area just because of sports.
Considering that the beach of Becici and Rafailovici is a single, undivided coast of a large bay, there is not much difference which of these Montenegro resorts you choose for your stay.
Main Characteristics of Becici and Rafailovici Beach Resort Towns:
The sandy beach is clean and spacious, even in high season, there is enough free space.
Inexpensive apartments and supermarkets are located behind the highway, not by the sea.
There is no natural shadow.
In the center of Becici, a not very clean river flows into the sea near the Hotel Mediteran. Try not to swim near it.
Overall, the selection of housing and prices are lower than in nearby Budva or Sveti Stefan.
Excellent conditions for recreation.
Convenient transportation between Budva and these two resorts. Also, there is a mini-train that runs between hotels.
There are beach areas assigned to a specific hotel, but entrances to all of them are free, so you can swim wherever you wish.
Resorts are small and everything is easily accessible.
These resorts suit better families with young children.
BEST BECICI AND RAFAILOVICI HOTELS:
APARTHOTEL BELVEDERE RESIDENCE: What a lovely gem in Montenegro near the beach not far from Budva! Each room here is spacious, clean, modern and has everything you need for a comfortable extended stay. It features a beautiful outdoor pool with sea views. Make sure to book a room that faces the sea as well. There is also free parking on premises, mini markets and restaurants less than 10 min away.
Check prices and availability for ApartHotel Belvedere Residence on Booking.com
ZETA HOTEL: This hotel deserves praise literally for everything. It features a restaurant with tasty breakfasts, bar, shared lounge, garden, and terrace. All the rooms are very modern, clean and cozy and a lot of them have sweeping views. Service is absolutely impeccable. The hotel offers family rooms and room service.
Check prices and availability for Zeta Hotel on Booking.com
SPLENDID CONFERENCE & SPA RESORT: This hotel is on the first line of the beach. All rooms have a very large double bed, a balcony with a beautiful view, TV, air conditioning, a private bathroom, and free Wi-Fi. There is room service twice a day, 4 different saunas, indoor pools, and an excellent range of spa treatments.
Check prices and availability for Splendid Conference & Spa Resort on Booking.com
GUEST HOUSE VILLA IVANOVIC: More of a budget option for those who are looking for clean modern rooms with sea view and pool. The hotel is very simple and a bit farther from the beach but it is clean, feels homie, has a supermarket nearby and each room looks like an apartment.
Check prices and availability for Villa Ivanovic on Booking.com
Where to Stay in Sveti Stefan – Should You Stay There At All?
The island of St. Stephen and simultaneously the elite resort of Montenegro is 7 km away from the center of Budva. Not everyone succeeds in staying at the hotel on Sveti Stefan island. First of all, the island is private with a private hotel where the stay per night is around €1800 per night. And second, even if you don't care much for the price, the hotel is often unavailable for random guests.
You can visit Sveti Stefan island either with a guided tour or by reserving a table in one of the island's restaurants.
All tourists who wish to stay closer to the island can settle in a small resort village which is located on a mountain near the island. However, to go to the sea and back, you need to overcome the descent and climb the stairs.
Pros and Cons of Staying in Sveti Stefan:
The beach is quiet, clean and less crowded.
A very clear and transparent sea.
There is a large number of apartments and hotels with sea views only within 100-500 meters from the coast.
Restaurants, cafes, convenience stores, and several shops with clothes are nearby.
Prices in cafes and restaurants are the same as in Budva.
Budva is only 15-20 minutes away by bus. The road goes above the village that's why it is quiet and you barely hear any noise of cars.
The resort town is located on a mountainside which means that you need to walk up the stairs. It is quite inconvenient for both elder people and families with small children. If you bypass the road, the path will become longer by about 1 km.
Beaches are pebbled. For those accustomed to sandy beaches, it can be a problem.
There are no large supermarkets in St. Stephen. If you plan to cook at home, it is better to go to the supermarkets in Budva.
BEST HOTELS IN SVETI STEFAN:
B&B APART HOTEL PASTROVSKI KONAK: If you have a car, take a look at this charming historical hotel on a mountain with fantastic sea views from the rooms. The hotel is farther inland on the mountain, so you do need to have a car. But expect to encounter friendly staff, delicious food, cozy rooms and lots of pretty views.
Check prices and availability for B&B Apart Hotel Paštrovski Konak on Booking.com
LUX APARTMENTS: A chic island view apartment for those who are looking for luxury on a budget.
Check prices and availability for https://www.booking.com/hotel/me/adria-lux-apartments-sveti-stefan.en.html?aid=1509186&no_rooms=1&group_adults=2 on Booking.com
MASLINA APARTMENTS: A home with private apartments with its own terrace for travelers on a budget. Each apartment is very basic but stylish and clean.
Check prices and availability for Apartments Maslina on Booking.com
HOTEL ROMANOV: A gorgeous boutique hotel on the second line of the beach with panoramic views from the balconies. All rooms are decorated in a Mediterranean style, are clean and spacious. This is the more expensive option but well worth it.
Check prices and availability for Hotel Romanov on Hotels.com
Staying in Petrovac – Another Montenegro Beach Resort
Petrovac is a beach resort town in Montenegro, where not only tourists but also many residents of this country like to relax. Petrovac is located in a bay, 17 km from Budva and has good infrastructure. This is one of the calmest and quietest beach resorts in Montenegro.
Although there are a lot of restaurants and bars and life is pretty busy during the day, by midnight all the music gets quiet. This is typical even for the high season when the town is literally overloaded with visitors.
What to Know About Petrovac Beach Resort:
Petrovac resort is surrounded by olive and pine plantations, which creates a very mild microclimate.
The choice of housing is large enough but it is better to book good options in advance.
There are not a lot of entertainment options to choose from. Just a few boat cruises, catamaran or jet ski rides. Kids will have only one playground.
The resort is quiet, not for nightlife lovers.
In summer, the city is (almost) free of cars. Parking is allowed in only a few places, and all vehicles are immediately evacuated from the prohibited areas.
In general, Petrovac is considered one of the best beach resorts in Montenegro in terms of price and quality.
BEST PETROVAC HOTELS:
MELIA BUDVA PETROVAC: A 5-star hotel that offers stays for a very reasonable price. There are 2 pools, spa and wellness center, buffet restaurant and modernly decorated rooms.
Check prices and availability for Hotel Ami Budva Petrovac on Booking.com
PALAS: Being directly on the beach, this hotel is perfect for those who look to be within walking distance from the sea. There is also a pool, sauna, and tennis courts. Guests also say that rooms are clean with lots of space.
Check prices and availability for Hotel Palas on Booking.com
ST. GEORGE APARTMENTS: The apartment you will definitely love. It is one of our favorite picks since the apartment is in very close proximity to the sea, has a pool, kitchen and feels like a home away from home. The host equipped it for long stays. Make sure to book it with a lot of time in advance, this place is popular.
Check prices and availability for St.George Apartments on Booking.com
Where to Stay in Herceg Novi & What to Expect?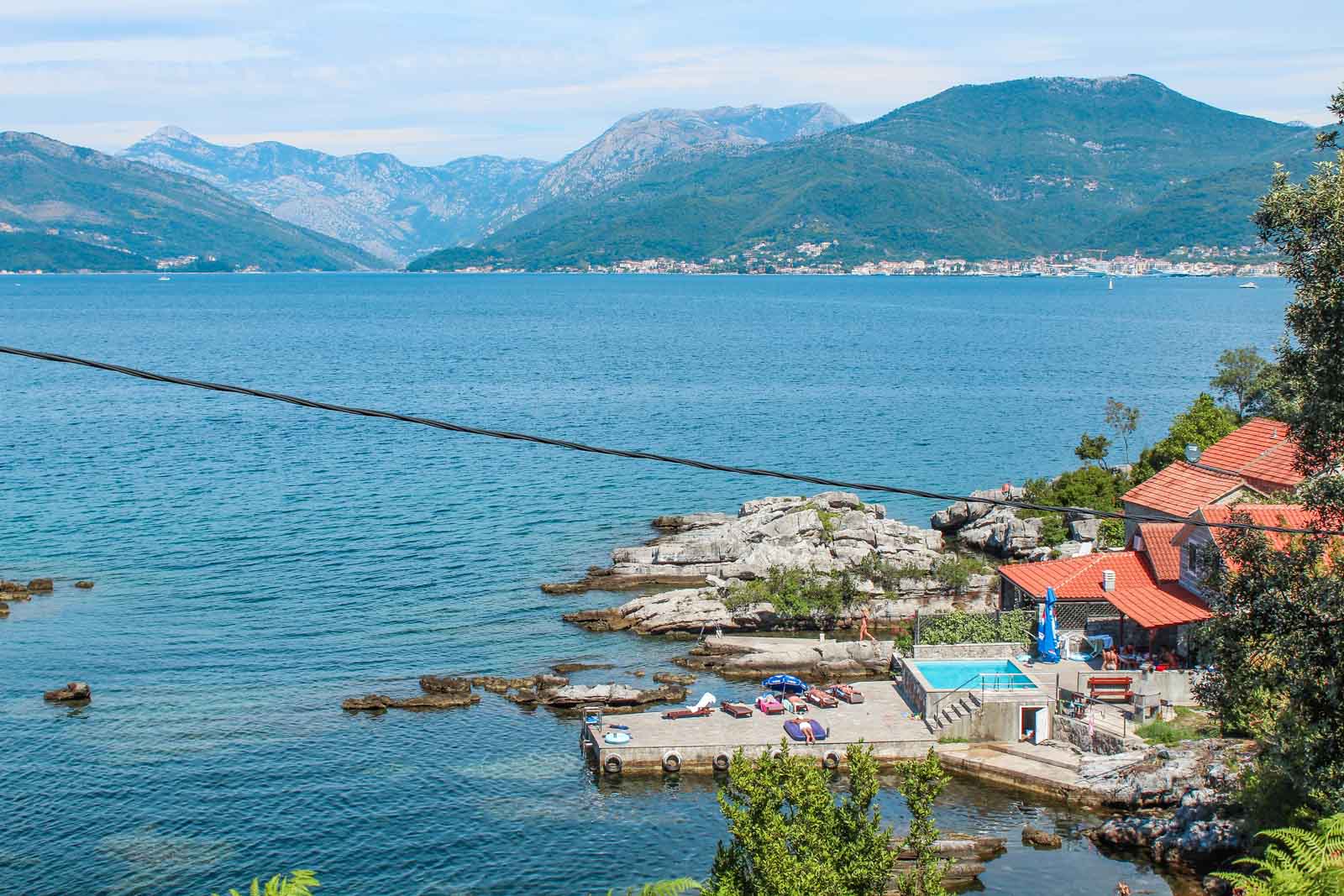 Herceg Novi is located on the hills of the picturesque Bay of Kotor. Because of the rich exotic vegetation, the city is called the "Botanical Garden of Montenegro."
According to some tourists, Herceg Novi is one of the most popular resorts in Montenegro when it comes to complete relaxation and health improvement. The reason for that is the Igalo Institute, the largest preventive and rehabilitation physiotherapy center.
This Montenegro beach resort town is also famous for its well-developed infrastructure, disco clubs, and bars.
Pros and Cons of Staying in Herceg Novi:
Favorable microclimate due to a large amount of greenery.
The water in the Bay of Kotor is always calm and warm.
City beaches are mostly concrete.
Herceg Novi has one of the cutest old towns with a few really cool things to do.
Since the city is located on the hills, there are many stairs and passages with difficult descents and ascents. Traveling around them is not very convenient for parents with young children and for older people.
The city is far from the main attractions of Montenegro and it's definitely not a place to be based if you are looking to explore the country.
WHERE TO STAY IN HERCEG NOVI:
HOTEL PERLA: One of the best hotels in Herceg Novi in price/quality ratio. The hotel has its own beach, breakfast is included in the price per night, and you can order a transfer from the airport for a fee.
Check prices and availability for Hotel Perla on Booking.com
BOUTIQUE HOTEL KREDO: A beach hotel with breakfast, a marina view, and a beautiful outside pool.
Check prices and availability for Boutique Hotel Kredo on Hotels.com
NAUTICA APARTMENTS: Inexpensive stylish and clean apartments 100 meters from the beach. It is a wonderful choice for budget travelers.
Check prices and availability for Nautica Apartments on Booking.com
Where to Stay in Kotor & When Should You Choose It
The city of Kotor is located on the coast of the Bay of Kotor, in its southeastern part. Mountains serve as reliable protection for the city, covering it from the winds. Kotor is a full-fledged city with developed infrastructure with a population of just over 5,000 people.
Tourists usually perceive Kotor as a destination for tours and excursions, not much else. The reason for that is the absence of sandy beaches since, as with pebble beaches, the main part of the coast is occupied by the port.
Kotor will better suit couples on romantic getaways and travelers who are planning to spend a night or a few in the city. Otherwise, if you are planning to come for a week or two weeks long vacation, expecting to combine time near the sea and exploring the country, better look into other resort-towns.
The main features of Kotor are:
Beautiful and historic Old Town which looks like a fortress since the internal part is made in the form of a maze.
Most cafes and restaurants are located within the Old Town, in ancient buildings what creates this special feeling of being back in time.
The streets of Kotor are always very clean, even in high season.
As in any port city, Kotor has a rather dirty sea.
WHERE TO STAY IN KOTOR:
For Kotor, I would love to invite you to read my guide to what to do in Kotor. There, besides some cool ideas on what to do, I talk in detail about charming and unique places where to stay. Give it a read. I have another post on day trips from Kotor to help you plan an adventure.
Where to Stay in Tivat & Why To Choose It
Tivat is an inexpensive resort. It is suitable for those who love to be active on vacations and go on tours around the country. All group excursions in Montenegro begin from here. Also, many people choose this Montenegro resort-town since there is an airport where tourists fly in 90% of cases.
The city is clean and green, there are two large parks and a marina. There are only a few beaches in the city but they are all clean and well maintained, albeit small in size. Some of them are free, some for the payment. Some beaches are pebbled and pebbled with sand and in some places, there are concrete platforms.
If you are traveling with children and thinking where to stay in Montenegro, so you could be near the beach as much as go on tours, choose Tivat. There is a little bit of everything for everyone in this town.
What to Expect from Tivat:
It is cheaper than nearby Budva and Kotor.
Tivat is green and clean.
It is also quiet with many cafes, playgrounds for kids, parks for walks and shade on the beaches.
All international rental car companies are located near Tivat which makes it easy to hire a car.
Tivat is always less crowded during the peak season since not many tourists choose it for their vacations.
WHERE TO STAY IN TIVAT:
VILLA MARINA APARTMENTS: apartments in the 18th-century villa with its own private beach. To get there you need to have a car since the Villa is located on the outskirts of Tivat. It is one of the gem places in the area for budget travelers who love to travel in style.
Check prices and availability for Apartments Villa Marina on Booking.com
HOTEL PALMA: This hotel is on the beach in the center of Tivat. Gorgeous view from the windows.
Check prices and availability for Hotel Palma on Booking.com
HOTEL HELADA: A cozy hotel with nice ambiance, breakfast and private transfer from the airport.
Check prices and availability for Hotel Helada on Booking.com
Should You Stay in Ulcinj on Your Vacation?
Ulcinj is the most atypical city for Montenegro. Some time in the past it was part of the Ottoman Empire and was a famous center of the slave trade on the Adriatic. Today the resort borders Albania, and public transport from Tivat or Budva is not very convenient. Because of this, there are still few vacationers in Ulcinj, despite attractive prices and the oriental flavor that dominates here.
The main advantage of Ulcinj is its sandy beaches. On the territory of the longest of them – the Long Beach – there are several kitesurfing clubs, and on the territory of the small beach, there is a diving center.
At the end of Long Beach, almost 25 km from Ulcinj, is the island of Ada Boyana. According to some tourists, this is one of the best places to stay in Montenegro. A nature reserve with the sandy beach has part of the beach for nudists only. Both types of vacationers always relax next to each other with security being on duty.
What to Know When Thinking To Stay in Ulcinj:
There are mainly sandy beaches in Ulcinj with the warmest sea in Montenegro.
70% of the population are Albanian Muslims which makes Ulcinj look very different from other cities in Montenegro.
The city consists of two parts: the old and the new one. The new one part has all infrastructure with cafes, stores, tour agencies, a bus station, and hospital. The old part has only a few souvenir shops and basic cafes.
Ulcinj as a city doesn't have a lot of attractions. Travelers, when choosing where to stay in Montenegro, should keep in mind that Ulcinj is a great pick if planning to go on excursions to nearby countries or around Montenegro, especially Skadar Lake and Komovi mountains. Otherwise, it is easy to get bored pretty quickly.
Ulcinj is rather dirty and locals are not as friendly as in other cities in Montenegro. Maybe because they are not many tourists yet.
WHERE TO STAY IN ULCINJ:
HOTEL PIRATE OLD TOWN: At this hotel, you get the best quality for the money. It is in a very good location, has a restaurant and a panoramic terrace.
PALATA VENEZIA: A Venetian palace of the 15th century with rooms that have great views. There are a private pool and restaurant on the observation deck.
If you don't like any of these hotels, check more options and reviews here.
When, Why And Where to Stay in Zabljak?
Zabljak is the most famous ski resort in Montenegro, located in the national park in the mountains of Durmitor. The landscape and climate are similar to the Swiss Alps but vacation prices are 1.5-2 times lower.
During the summer, Zabljak is cooler and less crowded. A lot of people who travel to hike in Montenegro stay in Zabljak one or a few nights.
If you are visiting Montenegro in winter, you can ski in Zabljak from December to the end of March. The most equipped tracks are Stuoc, Savin Kuk and Javorovaca. A year-round ski run is located in Debeli Namet.
In summer, cycling, rafting, climbing and jeep rallying are popular in Zabljak.
BEST PLACES TO STAY IN ZABLJAK:
MILAMI AIRBNB: a very nice apartment in a wooden style that occupies half of the 1st floor. Everything looks new – furniture, dishes, and textiles. If you enjoy staying in wooden interior homes, you'll love this place!
Check prices and availability for Milami Apartment on AirBnB.com
DURMITOR CHALET: What a unique chalet to stay right in the National Park! Black Lake and Zmejine Lake are located within walking distance. The chalet is clean and warm but you share a kitchen and lounge with other guests. Travelers love this place.
Check prices and availability for Durmitor Chalet on Booking.com
HOTEL SOA: Definitely the best hotel in Zabljak, 4 stars, there is a spa. Located in the center. the road, but in the distance, on the way to Black Lake, is quiet at night. We stayed once and got high from bedding, from beds, from service, restaurant. And the guests included 1 hour of using the sauna and hammam. You can order a massage.
Check prices and availability for Hotel SOA on Booking.com
APARTMENT DURMITOR: This nice apartment is located among the pine trees in Ivan Do. There is a trail (free) to the Black Lake that starts from this flat. So if you plan to do hiking around the lake and look to stay in the wilderness, take a look at this option.
Check prices and availability for Apartment Durmitor on Booking.com