Working Nomads: How Does It Really Feel To Be a Remote Worker?
Last Updated January, 2020
Less than a week ago, in one of the cutest coffee shops in Nha Trang, Mark and I had an engaging conversation with one couple from Russia. They have recently arrived in Nha Trang on their vacation and decided to stop by the coffee shop, where we were at, to get a smoothie.
Not speaking any English or Vietnamese language made it difficult for them to place an order, so they asked us to translate. Simple request to help grew into the conversation about life, work and travels. We talked for a few hours learning about each other work and life scene, and that particular conversation prompted me to write today's post about remote work and lifestyle of working nomads.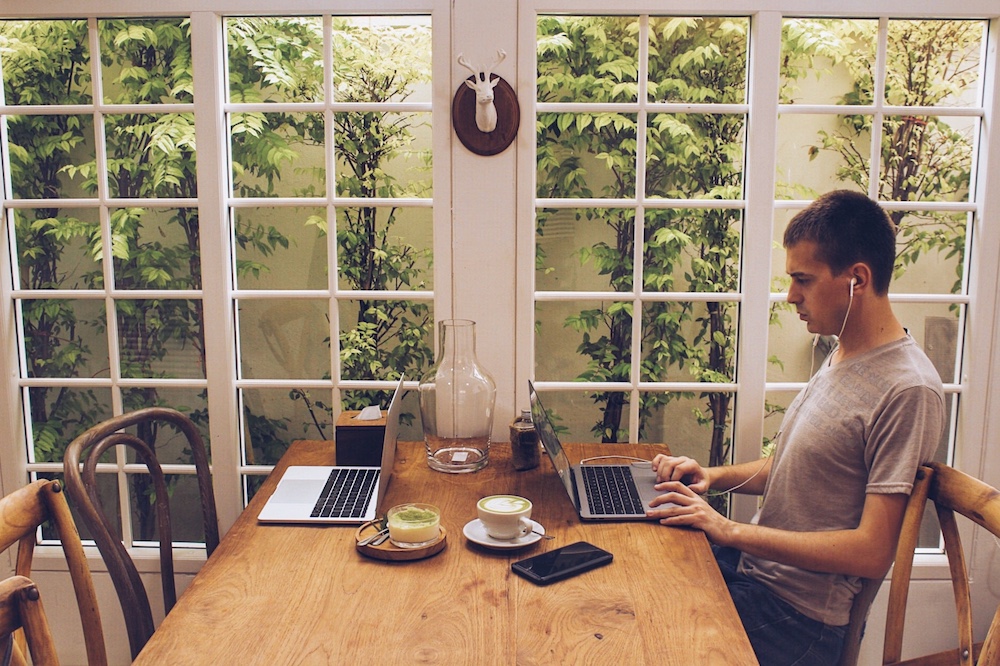 Who are Working Nomads?
Working nomads are people who live and travel abroad while working online. They decide how much time to spend in one place and where to go next. More and more folks try to go remote and work from home instead of sticking to office life.
Recently, we have chosen this path for ourselves too and until this day keep learning what is it like to work remotely. Even though working nomads lifestyle is not all sunshine and rainbows, we personally wouldn't trade it on anything else. However, after meeting that couple in Nha Trang's coffee shop we re-evaluated our approach to remote work.
How Does it Feel to be a Working Nomad?
No one ever really felt pity for us working independently without a need to go to the office. Surprisingly those two did. There was enough pity in their voices when Mark and I told them we came to the coffee shop to work on our laptops, and that in general, we were working nomads.
Usually, people are eager to learn for themselves how they can work from home or any other part of the world while traveling and making money at the same time. In today's economy, more companies offer opportunities for remote work and more people are willing to chase them. But our new acquaintances felt totally opposite.
"You are probably feeling lonely, aren't you? Since you are not physically present with your colleagues you most likely don't stay in the loop too," the guy commented.
"And it may be difficult to cope with the absence of discipline," his wife added.
"Discipline? Loneliness? Staying in the loop? Seriously?"
Wow, those are all great thoughts that we have never really considered before going remote. We love being flexible and independent, and most importantly location free. Working away from office helps us personally do things we love, be mobile and have a balance in life. Apparently, not everyone sees it as a benefit. After having a conversation with people who prefer working among others and sticking to a certain schedule helps us look at remote work from a different angle.
I put some thought into this topic and realized that each aspect of remote work can be seen differently by different people. It is not really about the pros and cons of working nomads lifestyle. Because what I consider to be an advantage may look like a big disadvantage for you and vise versa.
Let's dive deeper into that.
MOBILITY
Thanks to Online world remote work can help you move freely between the borders and choose where to base.
Our dream is not only to travel the world but to live on each continent at least during a short period of time. If your goal is similar then becoming a working nomad will help you accomplish that.
It will be possible though only if you are working for yourself or company that lets you work internationally. Otherwise, you can be limited to some walls of a particular place. There are a lot of jobs from home that limit you in terms of location and require to have a home office, stable wifi signal or be in a one-time zone.
If you decide to go remote, don't overlook requirements and check what a company asks for. Desires change and you may want to settle down in one place with time. But even in that case, you'll be free to decide on your own.
Check out also How to Become a Digital Nomad Family
Those people who appreciate living in one place without a need to move around can find any remote work a bit challenging in terms of money. Usually, salaries are lower if you work remotely comparing to the same type of job in the office. Also, depending on a position and currency your earnings are in, it may be difficult to live in a more expensive location.
ABILITY TO MAKE YOUR OWN SCHEDULE
Our new acquaintances see an ability to make their own schedule as a destructive pattern which leads to lack of discipline. They prefer situations when someone tells them at what time and how much to work. People who are like them, who work at home, also may distract from work with home chores, phone calls, neighbors and some other things. Offering them to create their own schedule most likely will turn into the stress.
Other people, who are like us, find motivation when given a choice to decide on their own hours. We get really pumped because it means we can hustle and finish our work faster, and spend more time with each other. Another note is that from time to time I become a night owl who gets more productive in the evening while Mark works better in the morning and early afternoon. Being able to decide on our schedule helps us 100 percent. Does it motivate you?
NO NEED TO COMMUTE
When you don't commute to and from work you save money and lots of time. Additionally, you are engaging in positive ways of making our planet better and greener. When we lived in Los Angeles we were spending alone more than two hours per day in a car and traffic jam just to commute to work, not to mention a few hundred dollars splashed on gas. Instead of wasting your life on a constant commute, there is a chance to work smarter getting the best out of your time. Working remotely is the best bet for that.
Nonetheless, in our experience, there is a percentage of people who don't mind commuting. They enjoy the drive, read a novel on a bus, go together with a colleague, be able to call a friend or listen to a podcast. If you are one of them then remote work will take this pleasure away.
SOCIAL LIFE
To be honest, I haven't thought about this one until I met that Russian guy in a coffee shop. With my type of personality, I don't mind working alone away from other people. My job actually includes tasks when I am helping others, but there is no need to be physically present with someone in the same room. Moments of socialization are not essential at all. I actually find it more distracting working among other people than alone, but there are folks who can go bananas from lack of communication and physical interaction.
At the present time, while working remotely, I am making lots of calls, meeting people from different backgrounds and being socially active. So active that I need to unplug and take a break. All the communication which is happening online works great for me.
It's definitely not everyone's cup of tea though. There are a lot of people out there who prefer spending time with their peers, sharing ideas or going out for lunch together. Depending on your type of personality remote work can either increase your productivity or make you feel isolated.
FINAL THOUGHT
As you can see, it doesn't make sense to single out only the advantages or disadvantages of working nomads lifestyle. What one person perceives as a gain another one can regard as a loss. At this stage of life we are enjoying the ability to work remotely and viewing it as a way to learn new skills and grow. Somebody else may be struggling, wishing to return back into the office life.
What do you think about remote work? Did you ever work remotely?
Check one of the best sources for online work and see if this is for you.