More Than 50 Vital Travel Tips For Barcelona: Don't Make These Mistakes!
Last updated on September 25th, 2023
Barcelona is a special city. It is the pearl of the Spanish coast and one of the most visited cities not only in Spain but in Europe and the entire world. People write songs, make movies about the capital of Catalonia, come to see and return. This city is truly wonderful. Howbeit, there are a few travel tips for Barcelona that every tourist, who plans to visit, should know.
When Mark and I visited for the first time (which was during our winter holidays in Spain) we thought we were doing everything like locals. Instead, we made lots of mistakes, overpaid for some services and products, went to the most touristy restaurants, had some travel fails, and missed a few pretty cool experiences.
Only after we returned and spent more time with locals we learned that there are some unwritten rules and laws of this city, areas where it's not advisable to go and things that one should not be doing. I believe these tips for Barcelona are important for everyone who hopes to have a beautiful holiday and the best travel memories.
---
Please note: This post contains affiliate links. I may earn a commission if you make a purchase by clicking a link (at no extra cost to you).
---
FAQs And General Travel Tips for Barcelona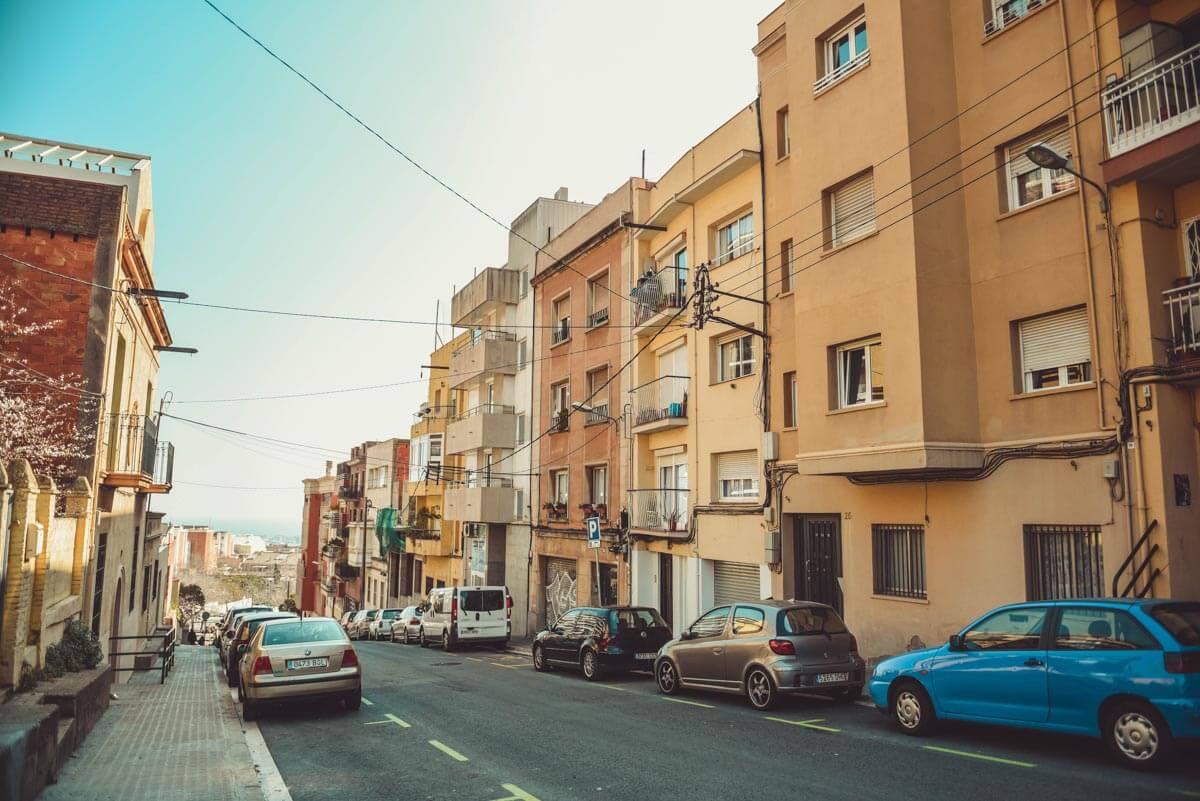 How Many Days to Spend in Barcelona?
We were in Barcelona two times and overall we spent one week there. Definitely, we didn't see everything but honestly, it was enough. For us personally. Those people who are totally in love with this city will tell you that you should be coming for at least 1 week. But even if you have only one day in Barcelona, you can still squeeze in a lot of activities and see enough of the city.
On average, a minimum of 3 full days in Barcelona alone is more than enough time to cover all major sights. But only if you can manage waking up early and going to bed late. There will be a lot to do.
However, in case if you're having more spare time, I recommend spending other days on road trips from Barcelona. Beautiful coastal towns, located not far from the city, like Sitges, Vic, Montserrat, Tarragona or Sant Pol de Mar, for instance, have so much to offer.
Where to Stay in Barcelona?
Barcelona is a large and diverse city, full of many attractions and opportunities to spend time. It may seem that it's not that easy to choose a suitable hotel or apartment. This is why I would like to share a few of my favorite places. Maybe they'll give you a better idea of where to stay.
On our first visit, we lived in El Poble-sec district and tried to explore on foot everything that was nearby. Most of our time we spent in the Gothic Quarter, at the waterfront in La Barceloneta and El Born. I truly fell in love with the Gothic Quarter neighborhood and wished we could spend there a few nights.
For you, it may be different. Barcelona has many wonderful neighborhoods where to stay.
The choice of the area where you'll want to live depends on the purpose of your trip. Here is a quick overview of all main neighborhoods and the best areas to stay in Barcelona:
The Old or Historical City. The historical part of Barcelona includes the famous La Rambla, Raval, the Gothic Quarter, and the medieval El Born quarter. Life in the city center is very colorful. Housing is expensive, but you can easily get anywhere in Barcelona.
Barceloneta. Part of the Old Town was once a fishing village. Today, if you plan a beach vacation, choose this part of the city with lots of nightclubs, bars, and parties.
Eixample. The area around the Sagrada Familia is a great place to stay in Barcelona if you plan to do sightseeing. It is rather quiet and will suit perfectly families with children and those who come to shop.
Gracia. Despite the distance from the sea, this beautiful area is popular with tourists. A small but famous Guell Park is located in Gracia, and some of the best bars and restaurants in Barcelona are in this neighborhood.
El Poblenou. This neighborhood by the sea will appeal to lovers of beach holidays and those who are either flying to Barcelona to hit one of its beaches or go on a cruise.
It is known for its silence along with good seafood restaurants. If you are looking to spend a day or two before or after your cruise, El Poblenou can offer various types of beautiful accommodation located not far from the cruise terminal area.
Nou Barris. If you are a budget traveler who is looking to save on accommodation, choose the Nou Barris neighborhood and stay in the northern part of it closer to the Collserola Natural Park. The green corner is connected to the city center by public transport, so getting to the most famous places is not difficult.
Here are two more accommodation options where we stayed on our other visits to Barcelona:
HOTEL PRAKTIK BAKERY: This unique mid-range hotel has nice rooms in a perfect location and its own bakery with delicious food. Here, you will have a comfortable bed, a quiet setting, and a fantastic bakery with lots of yummy goodies. Casa Mila is only 50 meters away and Casa Batllo is 150 meters away. It takes around 10 minutes to walk to Catalonia Square and Old City.
RAMBLAS APARTMENTS: Stay in a modern and beautiful apartment in the heart of the city in one of the most historic buildings. This apartment is one of the cheapest options among those accommodation places which are close to the Gothic Quarter. The apartment has everything you need, is clean and very quiet even though the location is very central.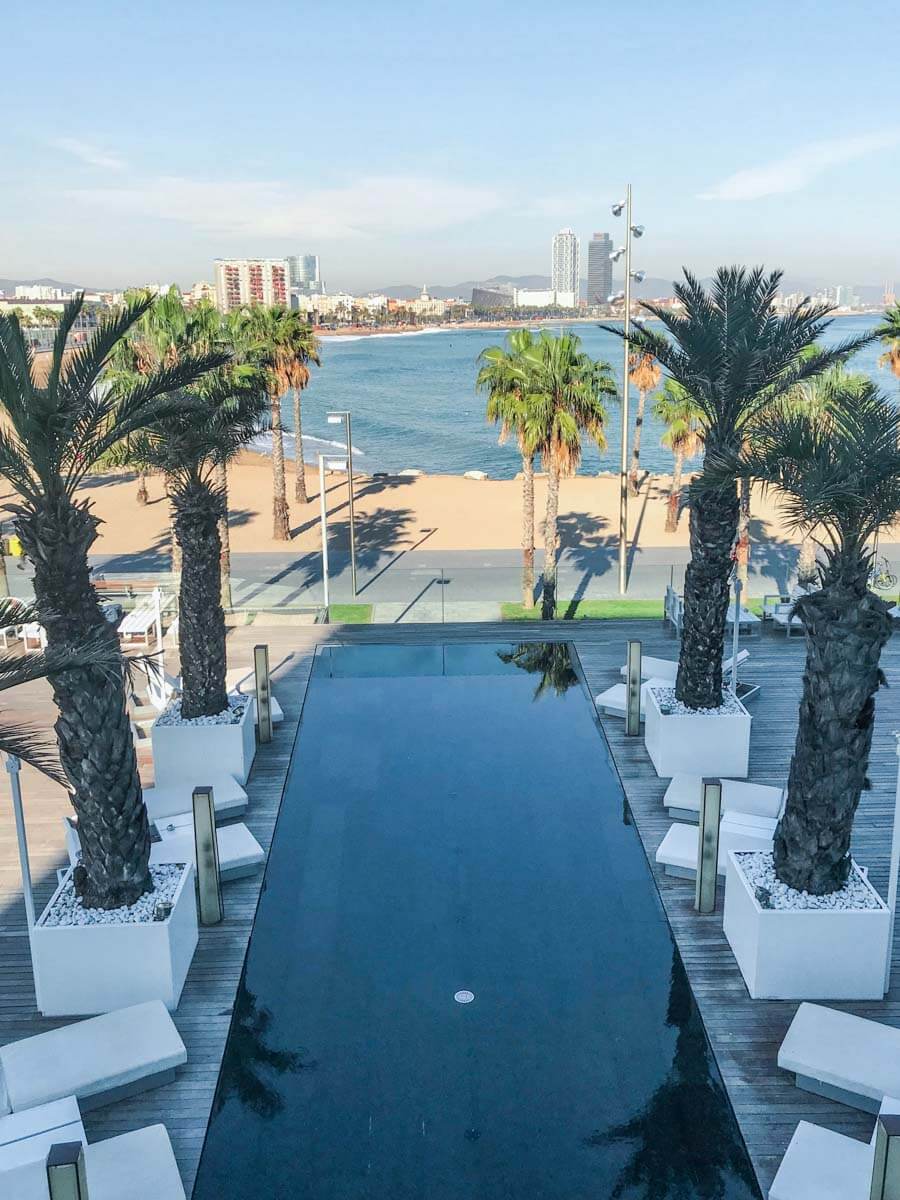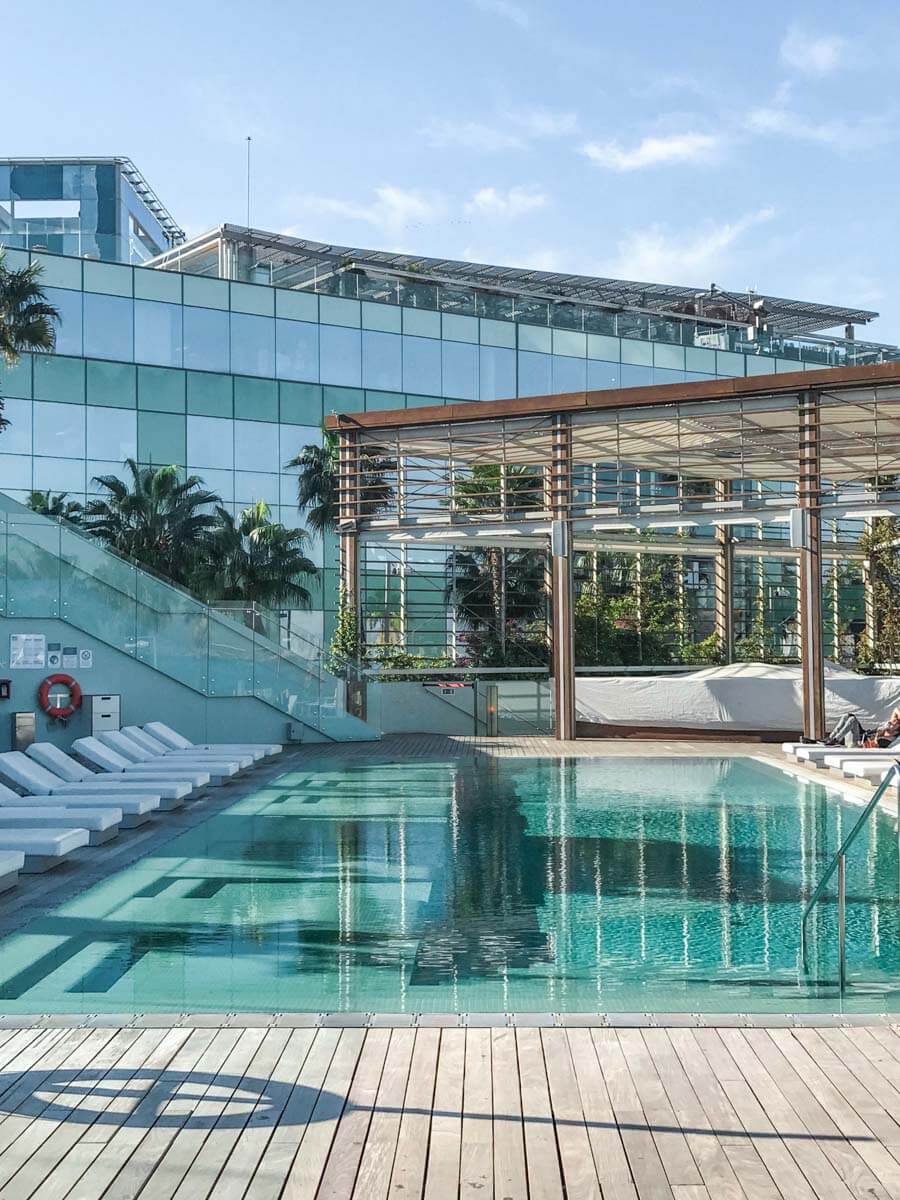 How to Get From Barcelona Airport to the City?
There are two airports near Barcelona. One is Girona, 103 km away from the city, and El Prat, 17 km away. Most flights arrive in El Prat. And there are several ways how to get from El Prat airport to Barcelona:
By train. It is the most budget option. It departs from Terminal 2 every half an hour. Once you get in the Barcelona metro area, you can either switch to a metro or walk out into the city. The price of a ticket from the airport to the Passeig de Gràcia station is €4. Travel time is about 30 minutes.
"Aerobus" buses will take you to Barcelona in the same 30 minutes, but you don't have to wait for them for too long. They depart every 5-10 minutes from Terminals 1 and 2. A ticket costs € 5.90 one way and you can purchase it online on the carrier's website or directly from a driver. Cash only.
By Taxi. The cost is between €25-30, but it saves up to 20 minutes of time.
Many low-cost airlines fly to Girona Airport. If this is the airport where you fly, the most convenient way to get to Barcelona is by bus. The ticket costs € 3-20 depending on the carrier.
Please note, Girona is a very interesting city with unusual architecture. It becomes more and more popular among tourists. To us, Girona was probably our favorite place in the entire Costa Brava. If you get to fly to the airport there, definitely take at least a few hours to explore this city.
|| RELATED POST ||
20 THINGS TO KNOW BEFORE HIRING A CAR IN SPAIN
Do I Need a Barcelona Travel Card?
Yes, if you intend to spend at least 3 days in Barcelona. It allows you to significantly save on travel and excursions.
Like many European cities, Barcelona has its own travel card – Barcelona Card, which lets you travel by public transport for free (including the train to/from the airport,) visit the most popular sights, get ahead of the line, and make purchases with huge discounts.
The price for three days is €45, for four days – €55, for five days – €60. You can buy a card in advance or once you get to Barcelona. Although online saves you a few euros.
What to Wear in Barcelona
The following tips on what to wear in Barcelona will be useful for those who don't want to look like tourists and prefer to blend in with locals.
The advantage of following the latest clothing trends is, first of all, safety. Wearing what locals wear helps to keep pickpockets away. If you are curious about what to pack and what to wear in Spain in general, read my step-by-step guide for all seasons.
Barcelona is a cosmopolitan city with lots of different styles and motifs. However, when it comes to clothing and design, people tend to dress conservatively and in moderation.
HOW NOT TO STAND OUT AS A TOURIST IN BARCELONA
Although Barcelona is a cosmopolitan and bohemian city, there are some rules that you would need to follow not to stand out as a tourist. Here are some of them:
If you are traveling between May and November, choose clothes made from lightweight fabrics. My personal picks are linen and ramie clothes. Linen is twice as strong as cotton and can be used for many years. Ramie threads are very strong which means that clothing made out of it can last much longer. Another thing, rami is antimicrobial and resists bacterial growth.
In the summer months, do not wear tight jeans typical of Northern Europe, the USA or Canada. You will be really hot in them. Jeans of various styles are very popular in Barcelona and people wear them year-round. However, for the summer months, choose lightweight cotton jeans or pants.
During the summer months wear clothing in light colors and during colder months give preference to darker and more subdued ones.
When planning to visit religious sights, keep in mind that the church is still an integral part of the life of the Spaniards. Therefore, wearing shorts or too open clothes when going to the church is disrespectful. Before going to Barcelona Cathedral, for instance, men should wear long trousers, and women should bring a scarf with them or wear a top covering their shoulders.
You should dress up if you go to dinner in a fancy restaurant. It's not that there will be a certain dress code, no. But an evening out in Barcelona means that people look nice and dress beautifully.
Do not wear shorts around the city, those have a place on the beach. Those people who wear shorts are always tourists. Guys should wear trousers made of lightweight fabric while ladies should opt for a longer skirt or pants. They also protect you from the sun. Some locals also wear shorts but you'll notice that it's mainly the younger generation and those shorts are usually long.
Do NOT wear a waist wallet. I personally like waist wallets a lot and they are always very comfortable, but not in Barcelona. During my time in Catalonia, I learned that thieves know very well that all tourists have waste wallets. That's why they mastered how to steal them without you even noticing it.
If you are a female who is choosing her Barcelona outfit, remember not to wear miniskirts, tops with straps or bikinis in the city center. This is despite the fact that the beach has a rule – the fewer clothes, the better it is. At the beach, you'll see a lot of people having minimum clothes but in the city, Catalans dress more conservatively.
You should not wear clothes of bright and shiny colors. You will notice that, as a rule, Catalans prefer muted, autumn colors such as green, yellow ocher, and burgundy. At the same time, there are youth stores with clothes of bright colors. Still, even young people choose them wisely. So, always remember that the Catalans are very careful about the combination of colors.
Do not forget about shoes. Catalans love shoes, and a pair of shabby or dirty shoes can ruin the look. Again, choose something light and comfortable. In summer, by the way, leather sandals are very popular among locals.
WHAT TO WEAR IN BARCELONA IN WINTER
From December to February Barcelona gets really cool (not as cool as anywhere along the Northern coast of Spain, for instance.) At this time of the year, you'll be comfortable enough to wear a pair of jeans you wear at home. At the same time, don't forget to bring some warm clothes and a jacket.
It doesn't rain often in Barcelona, ​​but still, rain is common. Therefore, it is worth taking a raincoat and an umbrella with you. Wear clothing that sits well and makes you feel comfortable. Catalans dress well. They pick up clothes according to their size, nothing too small or too loose.
In winter, people always try to look good. They wear tight-fitting jackets, boots and prefer dark or autumn colors.
WHAT TO WEAR IN BARCELONA IN SPRING
The beginning of spring is that time of the year when the weather is getting warmer with each new day. March though is still a bit tricky. It can be really windy and chilly, especially in the evening.
You must be prepared for warm and sunny days and cool weather with occasional rains. This is why it is better to pack layers.
WHAT TO WEAR IN BARCELONA IN SUMMER
Oh, summer. This season in Barcelona is extremely hot. Heat and high humidity are why the weather may be unbearable.
In August, in particular, the humidity is especially high. During the day you will need to dress in clothes made of light fabrics and preferably light colors. Don't forget a hat or a scarf made with lightweight material. In the evening, if desired, you can dress in clothes of darker colors.
WHAT TO WEAR IN BARCELONA IN THE FALL
It really depends on when exactly you are visiting Barcelona.
At this time of the year, the weather is pleasant and sunny, but with each week it is already getting cooler, especially in November. In fact, November can get pretty windy during the day.
Long sleeves, clothes made with thicker material and closed-toe shoes are your best bet for this month. If you are a female who likes wearing dresses and skirts, you may need tights or otherwise, you'll be cold.
|| RELATED POST ||
20 COOLEST STOPS ON THE BARCELONA TO VALENCIA DRIVE
What to Pack For Barcelona Besides Clothes
Besides clothing, here are a few more items that you definitely haven't thought about but they will definitely come in handy.
Check them out:
First Aid Kit – If you don't speak any Spanish, it may be challenging to communicate with a pharmacist in Barcelona. Besides that, the names of many different types of medicine in Spain vary significantly from the same medicine in your home country. Some other medicines are available only by prescription. Pack everything you think you may need. If you have any health issues, it is a must to get your medicine before you leave.
Mineral sunscreen – regardless of the time of year, there is almost always a chance to get some extra sun in Barcelona. If you plan to go sightseeing and do not go to the beach, choose a lighter face sunscreen or moisturizer with UV protection included. There is nothing worse than walking in March with a bright red face.
Moisturizing after sun lotion – Barcelona is a European leader when it comes to the number of hot days per year. Skincare is of special concern here. Locals start buying creams and lotions as soon as spring comes. Anywhere in and near touristy areas, prices are high and often in summer there is a shortage of popular items. So, when writing your Barcelona packing list, don't forget about the protection from sun rays.
Tea – yes, tea. It is not really common for Barcelonians to drink a cup of strong hot tea any time in the morning or in the evening. Wine – yes. Coffee – also yes. Famous Spanish drinks – double yes.
But tea is not that popular. You'd need to go to a special type of store or market but most likely, there, you'll find herbal tea only. Also, a cup of tea (the cheapest version of Lipton) in restaurants and cafes costs almost twice as much as coffee. So, tea fans, this is a serious travel tip for you on what to pack for Barcelona.
Comfortable Shoes – walking is the preferred way of moving around. And with so many attractions in Barcelona, you will be definitely spending a lot of time on foot. Make sure to pack comfortable shoes, but don't skimp on style. Think of a pair of Sam Smith or Converse for trainers, or even a pair of designer espadrilles or Birkenstock sandals for the warmer months. Do not pack any flip-flops unless you are planning to hang out mainly on the beach.
Handbag With a Zipper – If you have a handbag with a zipper, this means that you will be able to relax and not think about pickpockets who sniff around trying to steal someone's phone or wallet.
General Travel Tips For Barcelona to Get the Best of Your Trip

Do Not Dine on La Rambla Street
One of the first Barcelona tips that everyone is going to give you will be about La Rambla street. Do not go to any cafes or restaurants there. Seriously.
Many locals along with travelers who have been to Barcelona multiple times, feel pretty sorry for tourists who inspiredly taste seafood, paella or tapas anywhere on La Rambla, not suspecting that all the dishes were just warmed up in the microwave but cooked three days ago.
The more you travel in Spain, the more you'll be noticing that locals value freshly prepared food and know that it doesn't cost a lot. Barcelona is no exception here. Unfortunately, though, it's hard to find a place with such an approach to food on La Rambla street. Everything is overpriced there and, honestly, is not even close to authentic freshly made dishes.
If hunger is taking you by surprise in the Old Town, better delve into the neighborhoods of Gothic Quarters, El Raval or Born. Choose the "menu of the day" (Menu del Dia in Spanish) which includes a three-course meal with wine at a very reasonable price.
The cost of this meal in the center will vary from 12 to 14 euros per person. If you are anywhere near the Plaza Catalunya, I recommend checking the Centfocs restaurant with excellent grilled dishes or the La Lluna with a decent selection of fish and seafood. We also enjoyed the butifarra sausage with rice dish at the Bodega la Puntual restaurant and tapas with craft beer at Ale&Hop.
Do Not Pay Full Price For Museums
One of the most expensive types of sightseeing in Barcelona is visiting all the central museums and paying an entrance fee for tourists. This fee is set intentionally with a goal to make money on international guests, but there is a way around this scheme.
First of all, almost all the museums in Barcelona have free days to visit. Also, you can purchase the "Barcelona Card" which I mentioned earlier. It gives a discount on most museums and serves as a ticket.
For example, you can go to the National Museum of Catalonia for free on the first Sunday of the month, and to the Picasso Museum on Sunday after 15:00. Visiting CaixaForum, one of the best collections of contemporary art in Spain, is always free. In the same way, without paying a cent, you can enter the masterpiece Casa Mila and visit the first floor.
Many museums offer huge discounts if visiting a few of them during one trip.
Buy Tickets For All Main Attractions in Advance
Often, a lot of travelers get so inspired to visit Barcelona that they make one common mistake (we actually made it too on our first visit). And this mistake is about not buying tickets for the main attractions in advance.
You can order tickets online at home or arrange them at the hotel. But you have to do it if you don't want to miss that place. With a ticket in your pocket, you will not only save time and effort but will be able to plan your day better.
Another thing to remember is that the number of tickets to attractions such as the Sagrada Familia, famous and incredible Gaudi work, or Park Guell, for example, is limited. So, there is a risk that there will be no tickets when you arrive. If you know you'll want to go to all the main sights, plan accordingly not to be upset on your vacation later.
Do Not Spend Hours in Line to See the Sagrada Familia
According to most travel publications and every travel guide, every tourist simply must see the legendary Sagrada Familia in Barcelona. This is why travelers always go there to take a look. However, the same travel publications do not say much about the kilometer-long lines, lots of groups of tourists who came on a tour, and rude guides who run around.
When Mark and I visited, we were pretty shocked by a mess near the cathedral. We didn't want to waste our time and energy trying to get inside and be smashed by the crowd. Our mistake was not to purchase tickets in advance.
If you think that it is not enough to examine the cathedral from the outside only, I do advise you to buy entrance tickets to the Sagrada Familia ahead of time. The cost of an audio guide is €23.
If you are not keen on getting inside, admire the cathedral from outside and then visit one of the three hundred churches in Barcelona. Many of them do not have any lines at the entrance. Also, try to attend Sunday Mass in order to get in touch with the culture of the city.
NOTE: The tradition of the Spanish Mass requires that any worship starts with confession and communion, and everyone who comes should participate. So feel free to be late.
Don't Come to Barcelona to Visit Corrida De Toros
If you are hoping to find a bullfighting (Corrida de Toros) show in Barcelona, you simply won't be able to. In fact, my travel tip here is that you probably shouldn't be asking Catalonians about it.
Despite the fact that the so-called arenas still remain in Barcelona, bullfighting does not take place there at all. Since January 1st, 2012, bullfighting has been banned in Catalonia. Why? Because this activity is very cruel (don't you think?) So there is no way to find traditional Spanish entertainment there.
Once the ban on bullfights was introduced to the public, the inhabitants of Barcelona tried to defend their right to a centuries-old tradition, but the authorities remained adamant.
Now the stadiums continue to be empty. Thousands of people who were working in this area were forced to look for another job. And until this day at any time of the year, you can still see spontaneous rallies against this law.
Apparently, some people find this topic a bit sensitive (in one way or another,) so it is better to avoid it. And not to expect to see this show in Barcelona.
Do Not Try To See Flamenco Show in Barcelona
Another travel tip for Barcelona I learned from a local is not to try to find the best flamenco show… because there is none. Nah, actually there are a few shows in the city (especially on the most touristy La Rambla street) but none of them are considered to be authentic.
Barcelonians perceive famous Madrid flamenco festivals with irony, and some even with open hostility and mockery. They simply don't understand why Madrid holds those festivals at all since flamenco comes from a totally different region.
For this reason, dance and music performances in the flamenco style in Barcelona are arranged only for tourists, which does not mean a high level of the show. Plus, they are not cheap at all.
If you have the desire to experience the local music, instead choose a Catalan rumba concert, watch the folk Sardana dance or go to one of the many clubs and learn how to dance the rumba. According to most tourists, the Catalans are the best in rumba. Despite the fact that it originated from Cuba, not Spain.
It may be a bit challenging to find a rumba concert but you can look at one of the sites where a list of events in the city is published every day: Time Out Barcelona or NitBcn (in Spanish only.) For Sardana dance, you can watch it on any Sunday on the square in front of the Cathedral of Barcelona. This is the spot where Barcelonians dance!
Make Sure to Visit Free Events in Barcelona
Barcelonians are definitely not the homebodies. They enjoy spending time outside the home walls. At the same time, they prefer going to the movies, theaters or museums for free events that take place throughout the city almost every week.
It can be either one-day entertainment (concerts, dances, exhibitions in the central squares), or larger-scale district holidays – fiestas de barrio. They last up to two weeks and include a wide variety of entertainment for people of all ages.
So, the Gracia district is famous for the annual holiday, which takes place in the second half of August. Residents decorate their streets in any theme they want but do not reveal it until the last moment, hoping to win a prize for the most impressive idea and performance.
One of the famous spectacles is that of human castells and towers. Several teams from different areas or cities of Catalonia gather in the squares. Their task is to build the highest pyramid of people. The pyramid is considered built only if each casteller of one team successfully stacks upon one another with a little girl climbing to the very top and then successfully gets down.
Usually, you get to see this show every other October in Tarragona. However, from time to time very similar shows are held in Barcelona too, just on a smaller scale. And they are free. It is something worth seeing for sure.
Do Not Visit Barcelona in August
Surprisingly, I keep finding various resources that say that August is the best time to visit Barcelona and Spain in general. And somehow, too many travelers adhere to this opinion.
For indigenous Catalans though, August is that time of the year when every second person wants to leave the city. There are so many crowds of tourists, exhaust from double-decker buses, extremely high prices, heat and other "delights" of the high season.
If you can, avoid Barcelona in August by all means. For tourists, August is a month of the highest prices, kilometer-long lines, and increased activity of pickpockets. The best time to visit Barcelona is spring or fall. Even the winter season there is pretty good too.
Do Not Go to Barceloneta Beach for Sunbathing and Swimming
Barcelona is a big city with a high population and with so many tourists visiting each year. Everyone who visits Barcelona somehow strives to go down Rambla street and relax on the central beach. But why?
During the warm months, this beach gets so packed that there is no room left. The water and sand are covered with garbage.
Barcelona has a few other beautiful beaches which are way calmer. I personally wasn't impressed by any of them but the most remarkable one was probably the Sant Sebastia beach.
It is much better to go out of Barcelona on a day trip and relax on the beach of nearby towns. For example, the towns of Sitges, Ocata or Sant Pol de Mar are so cute and have some of the best beaches in Spain.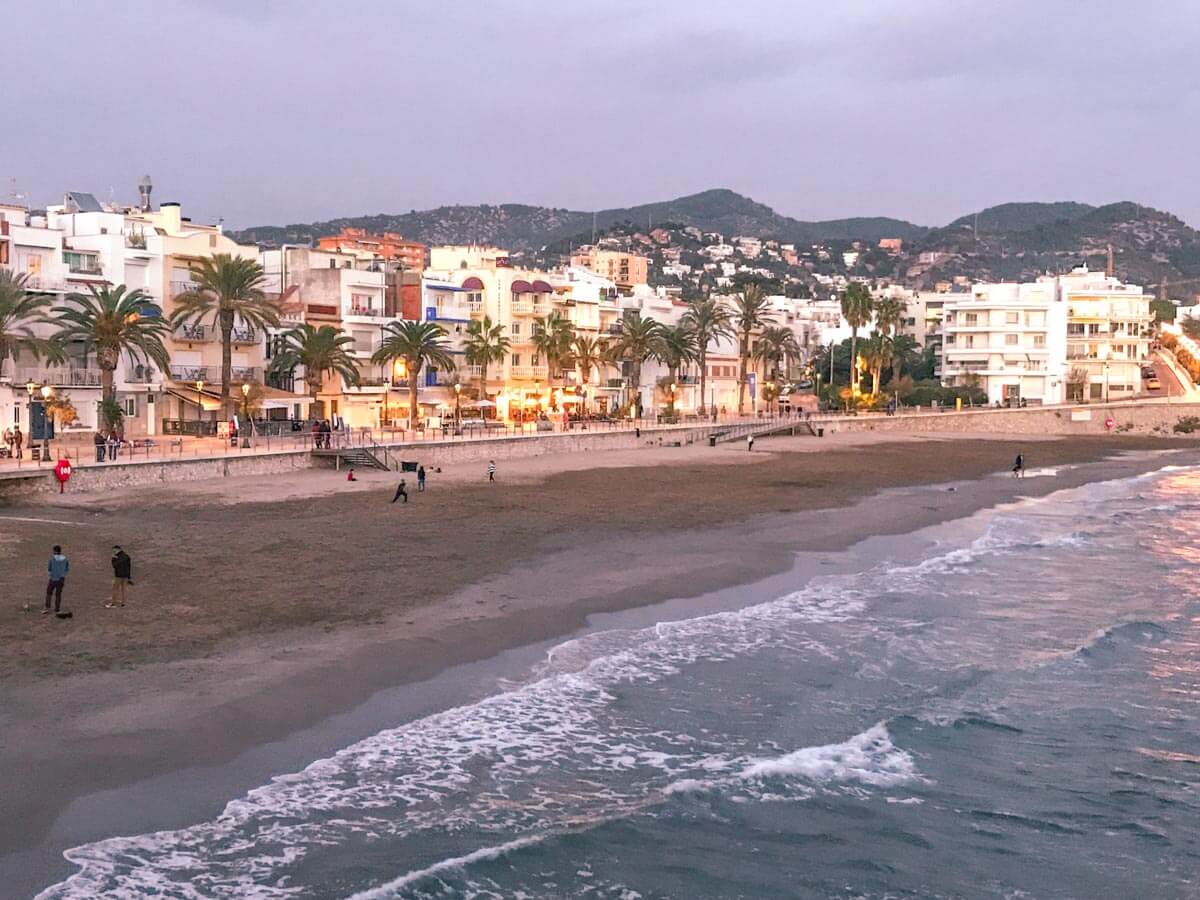 Do Not Walk Around Barceloneta Wearing a Swimming Suit
Barcelona is a resort city, but locals, who are working and doing their routine, do not like to see half-naked tourists. Seriously, I don't think people are walking in swimming suits in a place where they live, so it is really surprising why they are doing it on their travels.
Show respect. Put some clothes on when leaving the beach. Nowadays the selection of beach clothing is really wide. Everyone can find something to his taste and budget. It is not difficult to cover up and wear at least a pareo or shorts and a t-shirt.
Do Not Shop At the Boqueria Market
Locals know that the most popular market in the center of Barcelona on La Rambla street is a tourist attraction. They never shop there and don't recommend their guests doing it too.
It's been said that the Boqueria market is the place for the freshest seafood, vegetables, and the best dry-cured ham. Perhaps, but when we went there on our first visit (back then we didn't know it was a tourist trap) we were not able to see anything because of the crowds of tourists.
All the products on the market do not meet the price-quality ratio. Prices are insanely inflated while the product's quality is below average. All of this is done on purpose to attract naive tourists and make money on them.
Instead of going to this market, go to one of 40 other markets in Barcelona. There, you'll find absolutely the same products but at a lower price and groups of tourists won't be running around. Moreover, many of the bazaar buildings were rebuilt in the past decade, so today they look like architectural art.
If you live in the very center of Rambla and want to go to the market, better visit the market of St. Catherine.
Don't Fall Prey to Thieves
Overall, Barcelona is very safe. Yet, it has a very sad reputation as a city with particularly impudent pickpockets and robbers. In fact, you can find theft anywhere where crowds of people are. Barcelona attracts hundreds of thousands of people, so no wonder pickpockets thrive.
Take the basic precautions to avoid being pickpocketed and notice what's happening around you.
Even during the day, when walking around the city, don't put a wallet in your pocket, keep your purse or a handbag in front of you, so you could see it. For the bag, try to have a simple one without any famous brand names. Expensive clothes and bags attract the attention of any thief. Also, don't wear too much jewelry and large amounts of cash with you, especially in the bustling tourist quarters late in the evening.
Do Not Ride in Taxis
Taxis in Barcelona are very expensive. Plus, taxi drivers often try to fool tourists.
It's much easier to buy a T10 ticket and take the subway. Yes, it gets stuffy there and sometimes pickpockets sniff around, but the metro is much cheaper, and often faster.
Ticket T-10 is a travel card that allows you to travel in Barcelona on all types of public transport: buses, metro, FGC (another type of metro), trains, and trams. T-10 is designed for 10 trips, this is how it got its name. Moreover, one trip up to 1 hour 15 minutes in one way means you can use different types of transportation, not paying anything extra.
If you spend more than the specified time, you will have to pay again. Not many people know though that within 1 hour and 15 minutes they can change transport 3 times.
Buying a T-10 ticket helps you save on transportation and makes the entire travel experience around Barcelona much easier.
Do Not Forget to Check Business Hours
The work schedule of banks, stores, and many restaurants in Spain differs a lot from what you are used to back at home.
Restaurants and cafes usually open later than anywhere else in Europe or the U.S., in the afternoon there may be long breaks for a siesta. Also, they may be closing earlier.
Check the working hours of the business you need in advance.
15 Extra Important Tips On Safety in Barcelona
In order to stay safe in Barcelona you should be following these simple rules:
1) If you plan to walk and use public transport a lot, do not display any valuables and try not to look like a tourist. What I mean by that is that you shouldn't be stopping around each corner to look on your map, take photos of every single building, and walk looking around at buildings.
2) Pickpockets and crooks usually work in groups. So they can easily confuse a tourist. How it usually works is that one person (or several) come to a tourist trying to ask some questions (or trying to help with something) while another person skillfully robs him/her. If you are approached by a group of people who are persistently trying to get your attention, quickly turn away and leave.
3) Always carry with you only the amount of money that you may need during the day, not more. Leave valuables you don't need in a safety box in a hotel.
4) Do not carry a backpack behind your back, especially in the subway. This is actually not only a good tip for Barcelona but any other large city. I was a few times in a situation when pickpockets were trying to open my backpack in the subway. It taught me to carry my backpack in front, not on my back. Do the same.
5) Do not walk with the camera around the neck (or with other expensive items.) If you can, carry your camera in the inside pocket of your jacket (when visiting during colder weather.) If visiting in summer or the camera is too large for your pocket, then carry it in a small handbag over your shoulder. But keep the bag in front of you and not on the side. Do not use special cases for cameras. Use regular handbags with a zipper.
6) Do not put your wallet in the bag, keep it separately.
7) If you need to check the map, don't do it on the street. Go to a cafe or coffee shop and do it there. Do not stand with a map on the streets. It's like a red flag for pickpockets, indicating that you are a tourist in Barcelona and most likely a first-time tourist.
8) When in cafes and restaurants, watch your bags, purses, and wallets. This seems to be obvious, but on vacation, it is easy to "disconnect" and lose vigilance. Cafes are typical places where tourists lose their bags because they put them under their feet and don't pay attention.
Putting a wallet in a jacket and hanging the jacket on the back of a chair is not the best idea too. Place the bag on the floor or a nearby chair so that you can see it. If you can't keep an eye on it all the time, wrap the straps of your bag around the chair or table making it difficult for anyone to carry it away.
9) Apply extra caution if someone drops money in front of you, asks for a donation, etc. This person may be a thief. As soon as your attention is distracted, the distractor himself or his accomplices rob you.
Oh, and beware of the famous "bird poop." Someone may come up to you saying that you have bird poop on your back or shoulder. And then he'll try to help you clean it while digging into your pockets. This scam has already gained notoriety and is quite common.
10) Be especially careful in the area of ​​train stations. Railway stations are the places of the greatest concentration of pickpockets and thieves. Here, people can involuntarily cling to you or come very close, for example, when boarding or leaving the subway cars.
Pay extra attention to where you put your wallet. Pickpockets may be closely watching you, so they will know where you keep the money. They will track where you put your purse or wallet after you pay for the tickets.
TIP: Do not use a wallet in public. Do not put tickets in your wallet or purse. Better keep some change to pay for tickets or book them before traveling to the railway station.
11) Pickpockets work very fast. After their work is done, they disappear in a blink of an eye. Pay attention to others and what they are doing. Pickpockets are usually busy with one thing – looking out for tourists and their bags, they are not interested in anything else. Therefore, look around and observe. A lot of pickpockets hang out at Las Ramblas street.
12) Find out exactly what your insurance covers and make sure you meet the policy before you start exploring in Barcelona. Also, if you lose anything, report it to the police within that timeframe which is set by the insurance company, receive an official report, and only then contact the insurance company. Purchasing insurance doesn't guarantee much unless you follow their guidelines.
13) Do not walk with your passport. Keep it in a safety box in a hotel. But make a copy of your ID because under Spanish law you should have it with you.
14) Do not walk on dark streets, especially alone.
15) Do not leave things on the beach unattended. If you want to go swimming, leave everything valuable in the hotel.
Famous Barcelona Scams To Be Aware Of
A Game of Thimbles
This is a well-known scam in Barcelona that takes place on La Ramblas street every day. I am really surprised how many tourists fall for this trick over and over again until this day.
So, in this game, a leader tells a participant to put money on the ball under the thimble. Then he puts a ball under one of the three thimbles, moves them and the player needs to guess where the ball is.
While you are watching this "show", you have no idea that more than 10 people are involved in this fraud. They all gather near the leader, thereby attracting tourists. The victim is attracted by the crowd and watches the performance. People bet on what thimble the ball is under and guess every bet. The victim becomes really amazed by how easily everyone guesses the right answer.
Then other tourists pass by and also join in. Some of them win, some of them lose, but then recoup and leave with money. Each time, the victim thinks that the players have guessed with a bet.
The host of the "show" then offers the victim to make a bet, while he is very persistent. It is difficult to give up the temptation to bet, especially when there are so many winners around. Eventually, he or she thinks: "Why not?"
The victim bets his money but, of course, he loses.
Arguing won't help much. You will leave with the feeling that you were deceived.
When you stumble upon this performance, just pass by. It is a very popular scam.
Police Officer Scam
Another Barcelona scam that is becoming more and more popular is about fraudsters posing as police officers.
Usually, a few people are involved. They appear to be policemen and say they have seen how the person they are following has approached you. So they ask you to show your documents which most people keep in their wallet. As soon as you get the wallet, they will grab it and run away with it.
What can you do in this case? First of all, it is easy enough to identify the police in Barcelona. It is unlikely that a policeman will randomly come to talk to you. If you are really stopped by a policeman who wears a uniform, ask him to show you the badge and the document and check it to make sure it is real.
---
It was one very long post but I included all travel tips that I wanted to share. Anything else to add that didn't get on the list? Share your thoughts!
More Posts With Travel Tips for Other Countries
Looking for more posts on Spain? Browse here!