20 Coolest Stops to Make On Barcelona to Valencia Drive
Last updated on November 29th, 2023
While Barcelona and Valencia on their own have so much to offer that you'd need to spend at least a few days in each city, Barcelona to Valencia drive is no less spectacular. The entire coast of Spain is full of cute old towns, stunning beaches, natural landmarks, cathedrals, hiking trails, and much more.
Mark and I have been driving this road twice, one time when going from Barcelona to Valencia and then back from Valencia to Barcelona to return the car. On each of the trips, instead of four hours, we spent two long days on the road, checking out every single place we planned to see.
There was just so much that we decided to stay overnight in Tarragona and then Sitges (I talk about our stays at the end of the article). So this short drive turned into two days road trip adventure.
Now, I'd love to share a list of all our favorite stops along Barcelona to Valencia drive and you decide where you want to go and what to skip.
And if you plan to drive farther down the coast, then you'll surely find helpful my other post about the Valencia to Malaga road trip.
---
Please note: This post contains affiliate links. I may earn a commission if you make a purchase by clicking a link (at no extra cost to you).
---
Quick Travel Tips for Barcelona to Valencia Road Trip
Planning to road trip from Barcelona soon? Here are some insider tips that you'll need for travel planning!
Best Car Hire in Barcelona
My Top Places to Stay on Barcelona to Valencia Drive (With Parking)
Other Useful Resources
Where to Hire a Car in Spain For a Road Trip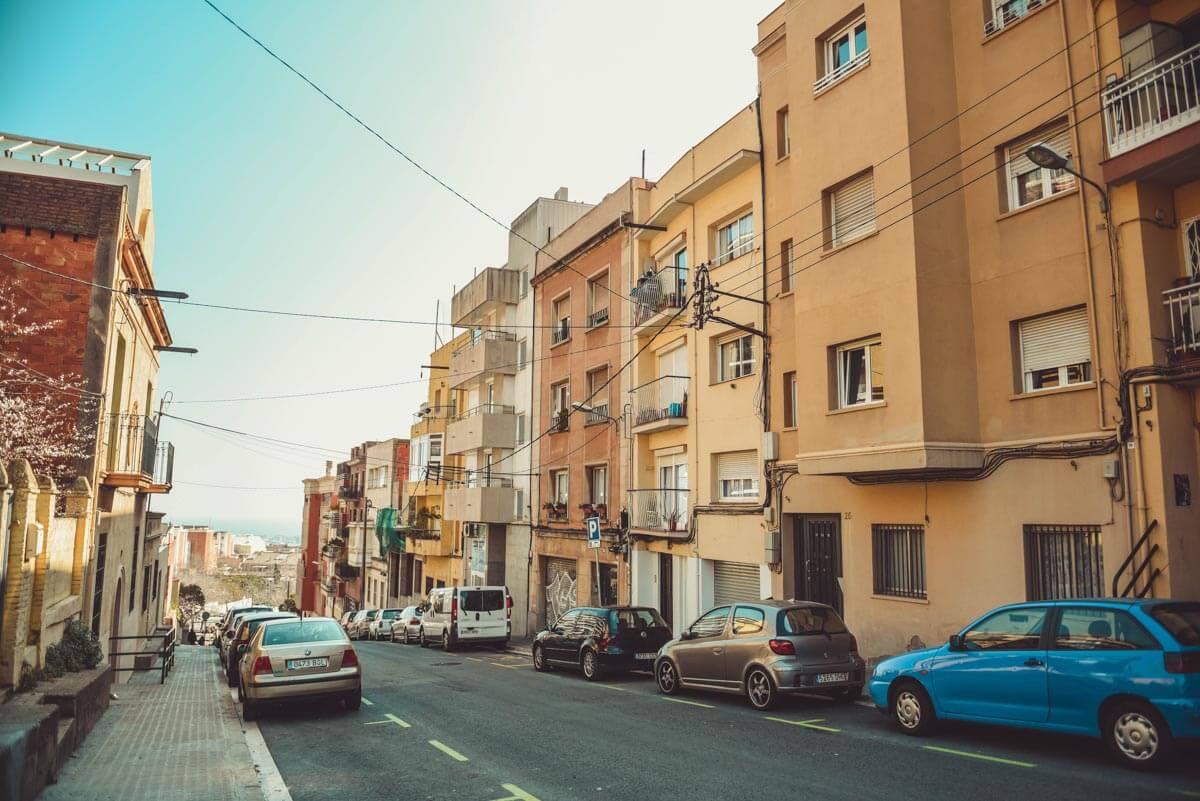 Before I get to talk about what to see on the way from Barcelona to Valencia, I'd like to mention a few words about hiring a car in Spain.
What you need to know is that prices for car rentals vary greatly depending on the month when you book it. A car for a week in Spain in winter can cost you as low as $50 per week (€46) while in the midst of summer, it can be $300 (€276) per week.
So if you plan to travel from late spring to early fall, it is advisable to book a car way in advance to score a better price. However, it doesn't matter as much for all other times, meaning from late fall throughout winter until early spring. In winter, you can even book at the last minute and still be able to find good deals.
Yet, I'd recommend you still play with dates and it is better to look for a car for a longer period of time (one week and two weeks long rentals are usually more budget-friendly). And surprisingly, there is a tendency for rentals for longer than 2 weeks to come at a much higher price. 1,2-day rentals are usually pretty expensive.
Having a rental car provides an excellent opportunity to see more in less time and lets you venture off the road. While it is definitely possible to travel from Barcelona to Valencia by train or bus and still get to see a lot, renting a car gives you more flexibility.
The cheapest and most convenient way to rent a car is at or around Barcelona airport because prices are the lowest there and getting to the airport by public transport is easy.
Usually, both types of transmissions are available (manual and automatic) but a stick car is up to 2 times cheaper.
The best company to rent a car in Spain is Discover Cars. We tried different aggregators on our multiple trips to Spain but found that DiscoverCars offers the best selection of vehicles at competitive rates and provides great support with easy cancellations and a wide range of amenities.
See it for yourself & find cheap rentals in Barcelona or Valencia:
And to find out more about driving style in Spain, you can also check my driving tips for Spain post and a brief guide to renting a car in Valencia if you plan to do this route from there.
Planning a Road Trip From Barcelona to Valencia

The distance from Barcelona to Valencia is only 350 km (217 miles), so you can drive it straight in less than 4 hours without making any stops. But why would you if there is just so much to see between these two cities?
Mark and I spent two days on this Spanish road trip but you can easily devote 3-4 days, pausing in small beautiful towns by the sea. I share below my top picks for accommodation and where exactly it is better to slow down.
With big towns and many villages, there are plenty of places where to get food and gas on this drive.
If you want to save on food, then choose to go to Mercadona grocery stores that have their own bakery and pastry shops and a decent section with cooked traditional Spanish dishes. Put in google maps 'Mercadona' and you'll see quite a few of them on the way. Getting gas outside Barcelona is cheaper than in the city.
If you are thinking to spend some time in Barcelona before hitting the road, check my other post on travel tips for Barcelona. And if not sure what people wear in Spain, check my Spain packing list.
Regardless of what you decide to do, here are the best stops along the way:
20 Stops on the Barcelona to Valencia Drive
Sitges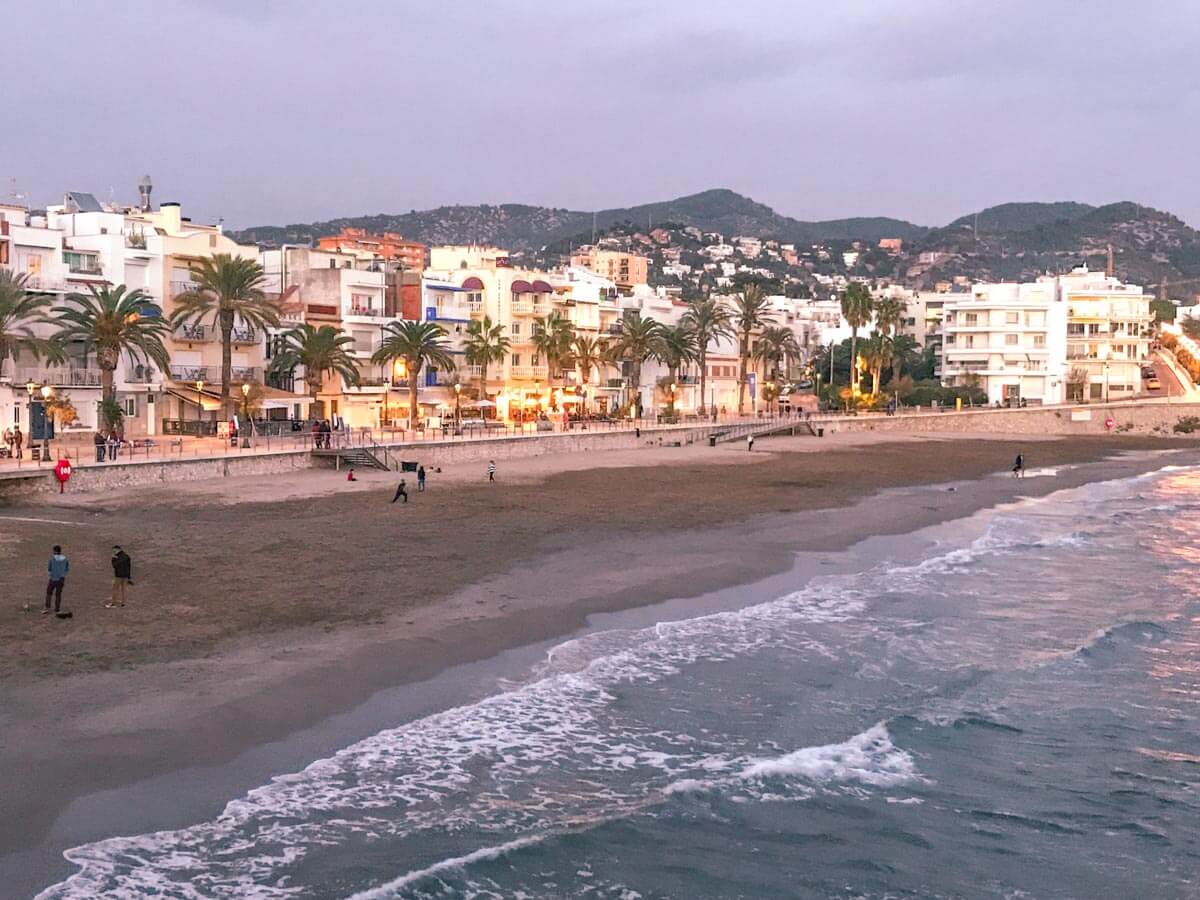 Sitges is the first place I recommend visiting if you drive from Barcelona to Valencia. It is one of the most charming and prestigious towns on the Catalan coast. Being only 35 kilometers away from Barcelona, ​​it also can be a nice day trip. Sitges is famous for its beautiful beaches on the Costa Dorada, exceptional tourist infrastructure, and rich cultural scene.
It has a temperate climate throughout the year which means that all its charms can be enjoyed throughout all seasons while the temperatures are comfortable. The beaches here are very diverse and beautiful. Among them is one of the best beaches in Europe – Playa de Sant Sebastian which has restaurants and cafes where you can relax with a glass of wine or a delicious cocktail.
The entire town of Sitges is spread out along the coast and overlooks the Mediterranean Sea. It has enchanting wide avenues and narrow streets where old traditions and modern trends combine, creating a unique atmosphere.
In the days of Franco, Sitges became very appealing to many people who were trying to hide from the dictatorship. A lot of artists, writers, and sculptors moved here from Barcelona during that time, this is why the town has this special feel. Real estate prices in Sitges are among the highest in Spain. The food and entertainment prices are very similar to prices in Barcelona, so saving is hardly possible here.
What to Do in Sitges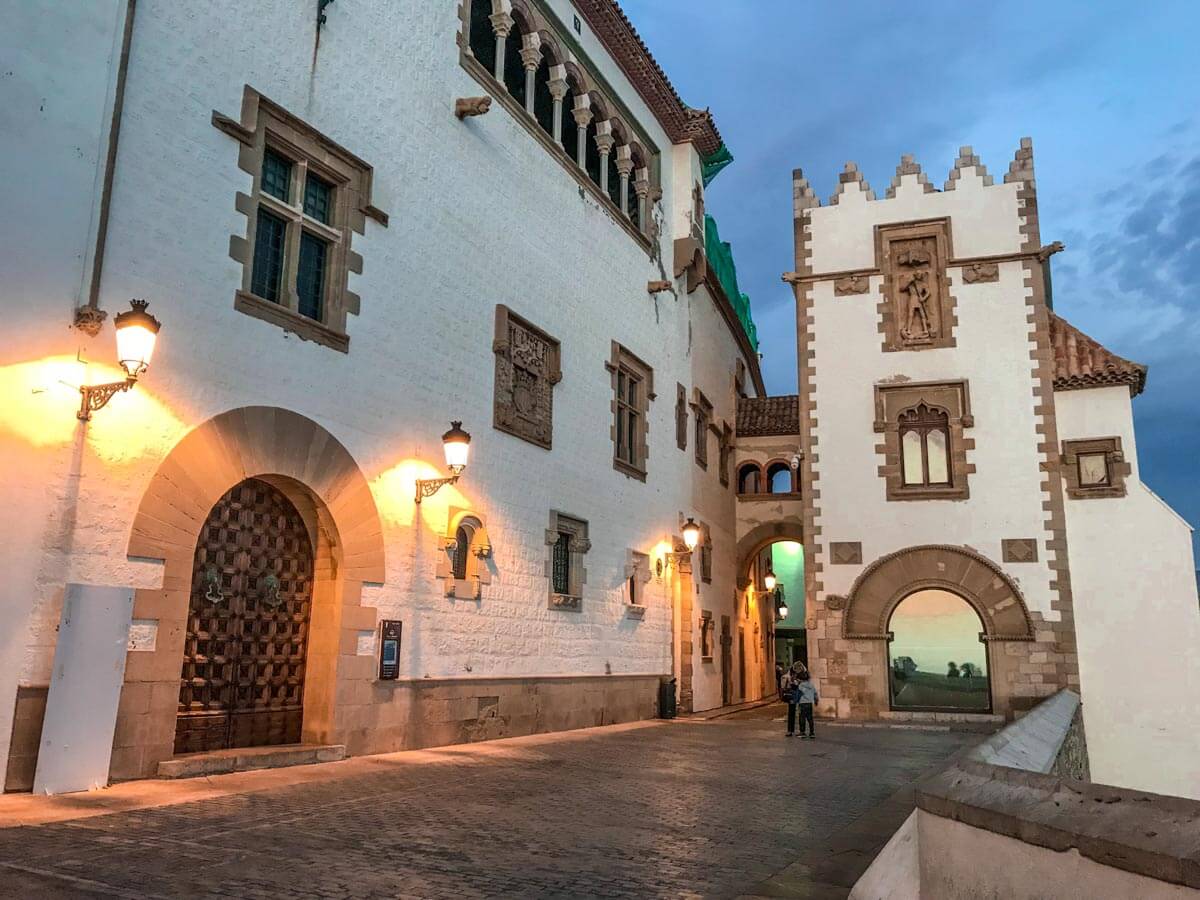 Sitges is that town where you can spend one long day. It's actually so cute that it may be difficult to leave. You can walk all over the Old Town, rent a bike or rollerblades and ride along Maritime Boulevard, go see a famous Sant Bartomeu church, have lunch with a beautiful view, and even take a dip in the sea. Almost all Sitges' beaches have blue flags.
If planning to spend only an hour or a few, go to the main street Boulevard de la Ribera. From there you get amazing views of the city and the sea. This street is full of artists who are painting portraits of passers-by, restaurants and multiple sculptures. It's very pleasant to walk there and contemplate the beauty of the coast.
The most famous building of the town is the Church of San Bartomeu and Santa Tecla on the shore. On one side, it has a monumental staircase leading to the sea. Behind it, the Sitges' Old Town begins. The Old Town deserves a thorough walk too since it has several cute narrow streets dating from the Middle Ages (for example, Carrer d'En Bosc street) and the remains of the old city walls. Most of the symbolic buildings date back to the late 19th century, when Sitges became one of the centers of modernism.
Also of interest is the recently renovated Maricel Palace, which today houses a museum. The museum's exhibit contains collections of the most diverse origin from the Middle Ages to the first half of the 20th century.
Another reason to stop in Sitges is to try their tapas or even have a full meal. Some people say that Sitges has the best paella. Not sure if this is really so but the choice of places for dining is huge: from luxurious restaurants like Acqua, Alfresco, El Vivero, Maricel to quiet street cafes.
When we were in Sitges, we were eating only tapas and hearing stories from our host about how good they were in pretty much every cafe. So the top places for tapas (recommended by a local) are La Picara and Eguzki Lizarran bars.
If you are stopping in Sitges for lunch and plan to eat at a small cafe, try the xató dish. It is basically a salad with tomatoes, peppers, chicory, anchovy, tuna, olives with a sauce from almonds and bread crumbs. Small cafes make it in the best way.
Tarragona & Castell de Tamarit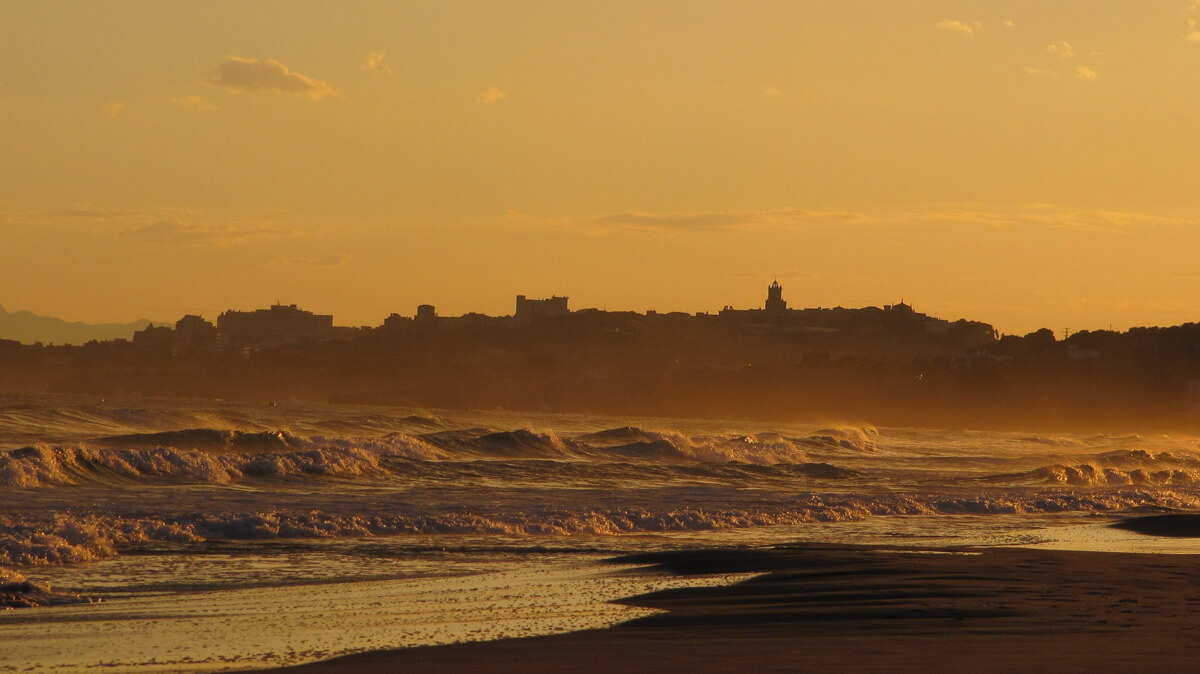 Tarragona is one of the oldest cities in the country and a major seaport. It is an ensemble of ancient Roman ruins, which are included in the list of UNESCO World Heritage Sites and belong to the period when Tarraco (the old name) was one of the most important in Iberia. This sunny city embraces the golden shores of the Costa Dorada.
Tarragona has a few thousand years old history, frozen in time on the streets as ancient antique ruins, a medieval Gothic cathedral, and ancient cobblestone alleys.
This city is located on the coast of the Balearic Sea, 100 km south of Barcelona. The climate is the typical Mediterranean with very warm dry summers and mild winters. The average annual rainfall is 500 mm. Most of them fall from September to November. Snow and frost are very rare.
Before you reach Tarragona, make a quick stop to see Castell de Tamarit castle and nearby Tamarit beach. Since the 20th century, the castle is privately owned and today can be rented for special occasions. But the location is magical. The castle stands almost among the waves. If visiting in the offseason, when the beach is empty, it's just nice to stroll around and take beautiful pictures.
What to Do in Tarragona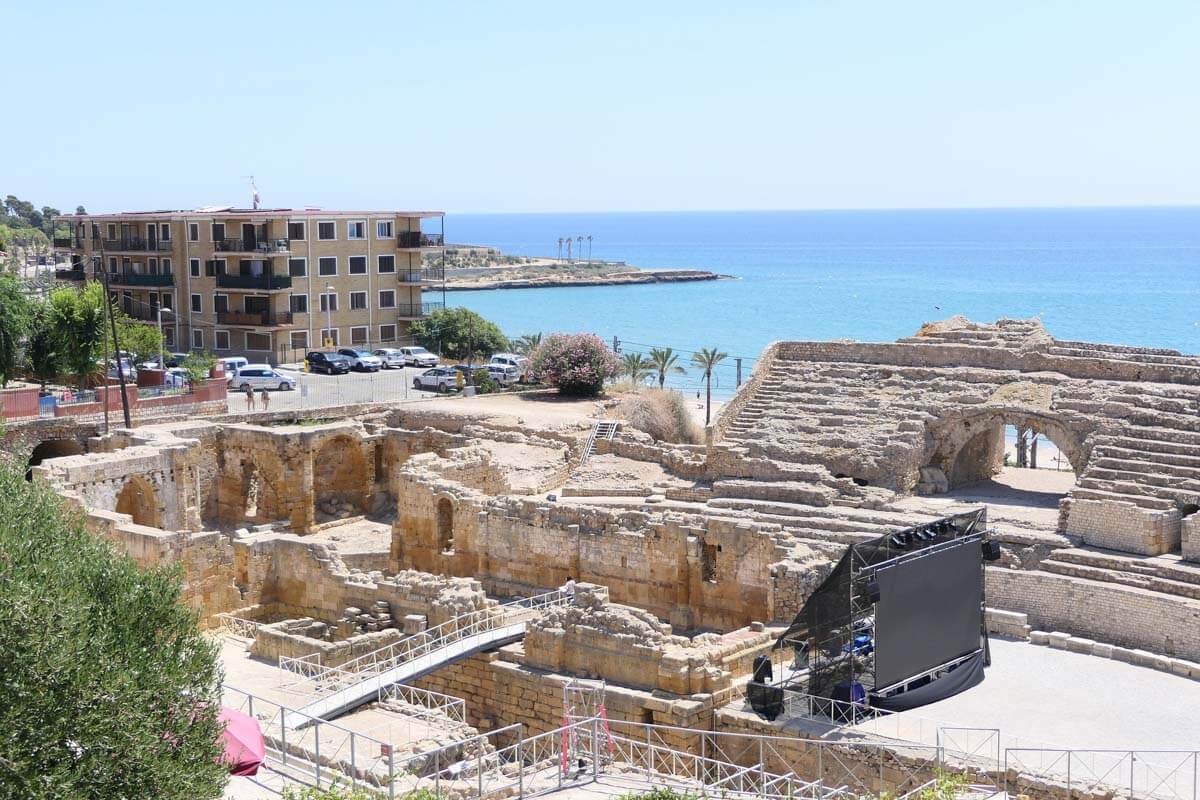 Tarragona is that city where you can find roman heritage at almost every corner. The old town here is one of the most important archaeological sites in Spain including the ancient Roman amphitheater. It is built on a hillside overlooking the Mediterranean Sea and is the most impressive of ancient structures.
The amphitheater was built in the 2nd century AD during the reign of the emperor Octavian Augustus and was used for gladiatorial games at the time. It accommodated about 12,000 spectators. Pits and other auxiliary facilities were located under the arena. Also in the 3rd century, several executions of Christian martyrs were carried out here. In the center of the amphitheater are the remains of an ancient 6th-century basilica and a 12th-century Romanesque-Gothic church.
It's very interesting to see.
Besides the amphitheater, walk the most beautiful and longest boulevard in Tarragona the Rambla Nova, which resembles the Rambla Boulevard in Barcelona. At the very beginning of Rambla, Nova Boulevard is the "Centennial Fountain" with four interesting sculptures.
Other Terragona attractions are Romanesque & Gothic cathedral, quarters of Old Town, Balco del Mediterrani Observation Area, and Mercat Central an active fresh food market. There are so many delicious goodies on that market, try something and you won't regret.
Reus
Reus is a small but very nice, pretty, and colorful town. This is the birthplace of the famous Antoni Gaudi. Just walking around the city on narrow cobbled streets full of quirky shops and cafes is so pleasant. If you are lucky and visit during a local holiday, it will be even more fun.
First of all, Reus is known for its architectural masterpieces of the modernist era. All attractions are located within walking distance, which allows you to move freely without a car. Also, Reus is a producer of delicious vermouth, so you should definitely try it in one of the cafes.
What to Do in Reus
One of the main attractions in Reus is the Gaudi Museum. On the ground floor, it has a historical exhibition with Gaudi's personal items. The second floor presents some projects and the third floor introduces tourists to the miniature buildings that were designed according to the plan of Gaudi. In one of the halls, there is a cinema with special effects, where you can watch an autobiographical film.
To get to know the city it is worth starting your walk from Reus Market Square. It got this name because of the market that used to be here in the past. St. Peter's Church is another point of interest. Gaudi was baptized there. It is a very old building that comes from the XII century and is something interesting to look at.
The church Mare de Deu de la Misericordia is another famous Reus church. This is one of the few places where you can see the work of Gaudi, he was restoring the chapel there.
A lot of people who travel to Spain to shop say that Reus is one of the best cities for shopping.
There are more than 600 outlets offering a variety of products, ranging from budgetary Spanish brands to expensive world-famous brands. July and January are two months of huge sales. So it's better to plan your trip to Spain during those months if the main purpose is shopping. Also, every Wednesday from July 1st to September 15th is a Shopping Day. On this day, shops make special offers, discounts, and gifts to customers.
Santes Creus & Monasterio de Santa María de Poblet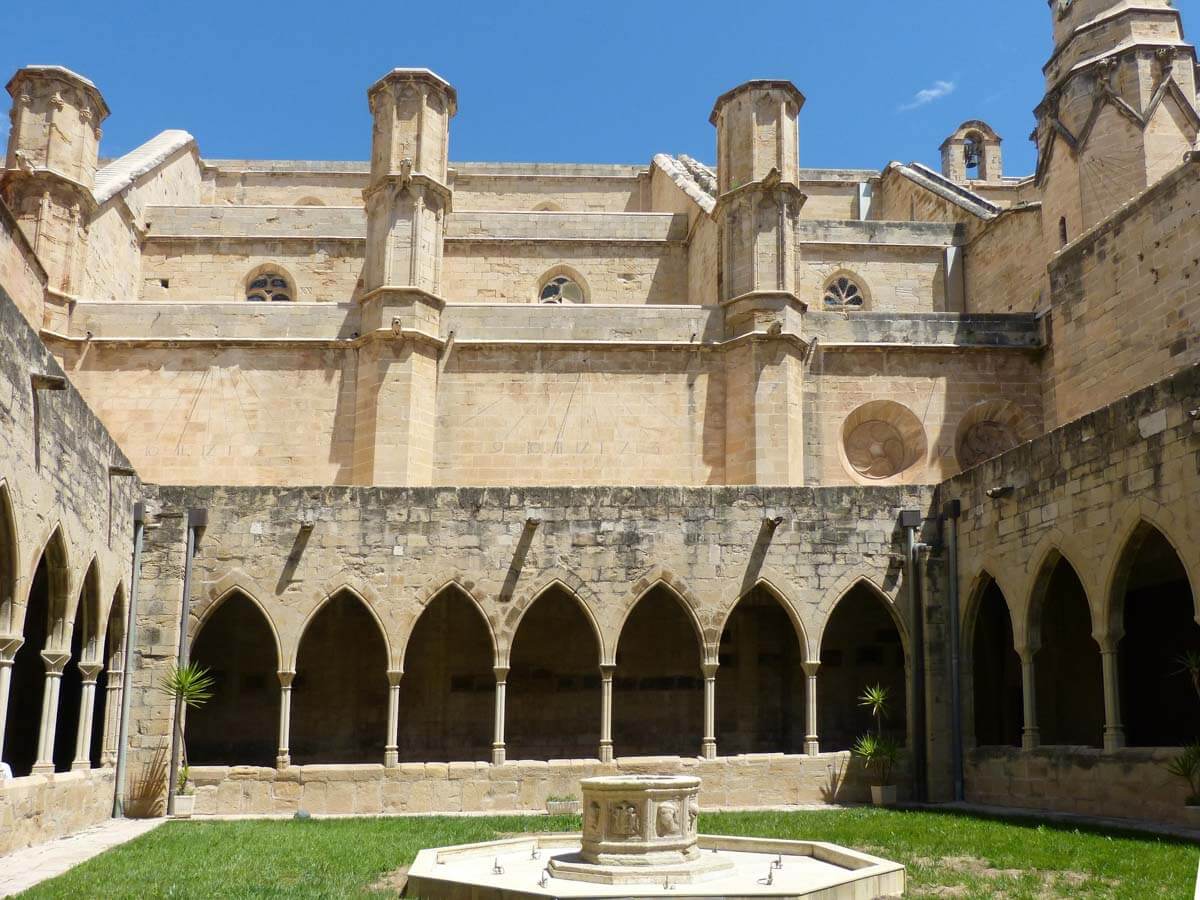 The other two places not far from Tarragona, that are worth checking are the unique architectural monuments of the XII century – the monasteries of Santa Creus and Santa Maria de Poblet. Both are listed by UNESCO in the list of world heritage of mankind.
Santa Creus is an inactive monastery where you can rarely see crowds of tourists. At the entrance to the monastery, each visitor gets a map that will help them not to get lost while walking around the medieval building. There is a church in the monastery and summer concerts take place in the former dormitories of the monastery.
Santa Maria de Poblet complex, on the contrary, is a functioning monastery where monks reside and it is one of the largest in Spain. Excursions are strictly scheduled in order not to disrupt the internal routine.
This Monastery was the first of three sister monasteries to form the "Cisterian Triangle", which helped unite the lands near Catalonia after being liberated from the rule of the Moors.
Today, around the monastery, you can see endless vineyards and amazing mountain views. Not far from Poblet is the castle of Milmanda, which belonged to the monastery for seven centuries. Now in its walls, the Chardonnay wine is produced and sold exclusively at a local store. Wine lovers will enjoy this visit.
Salou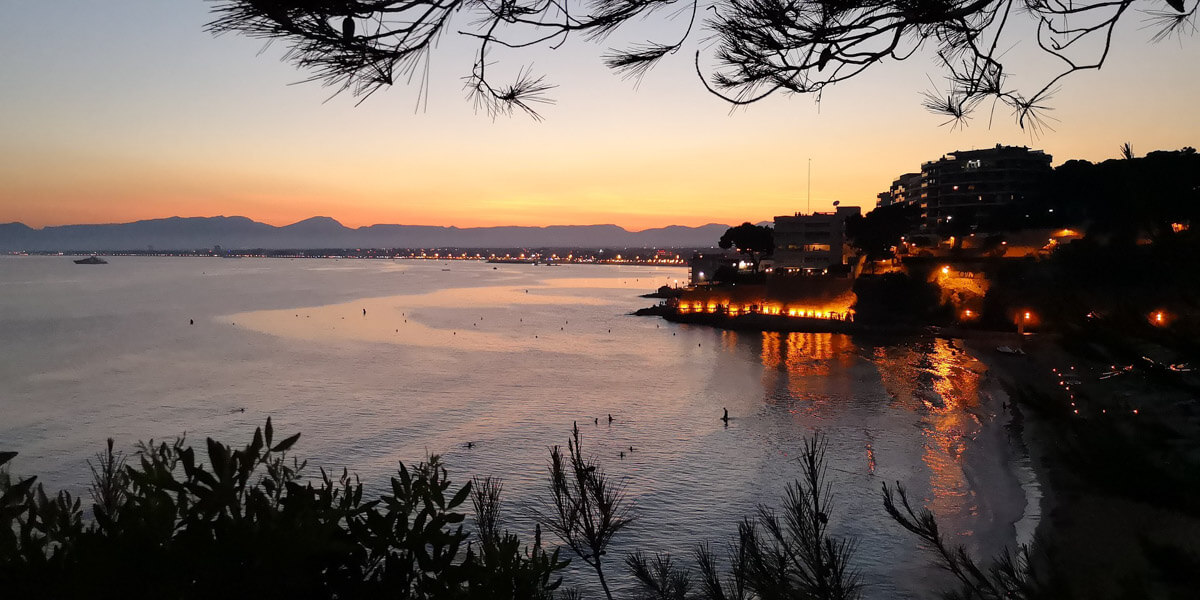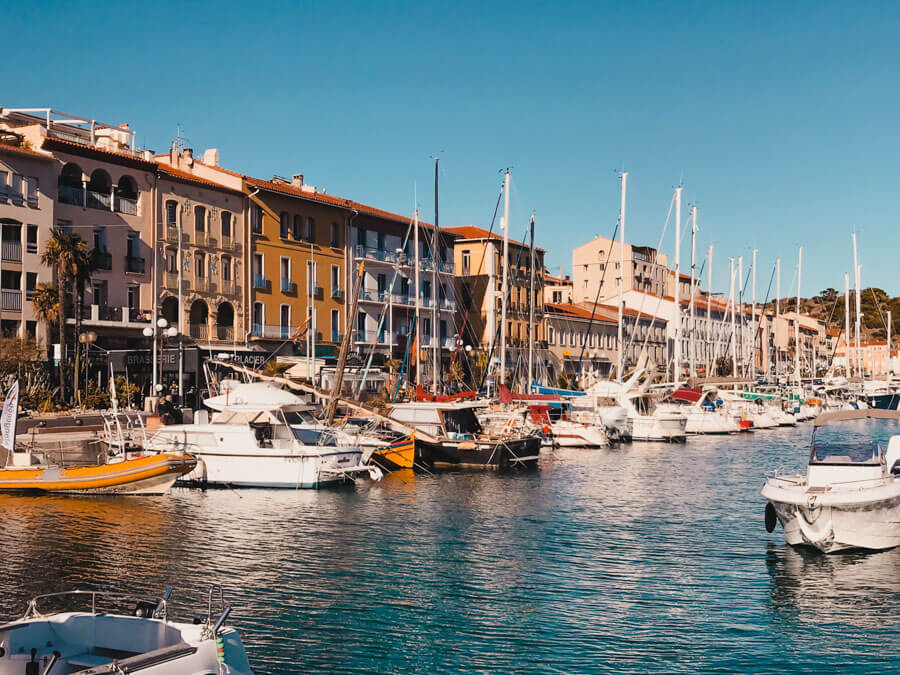 The next stop along Barcelona to Valencia drive is the small resort town of Salou which is considered one of the best holiday destinations in Spain.
The infrastructure is well-developed here, and most of the beaches are marked with the Blue Flag – a special sign of environmental quality. And by the way, all the beaches are municipal, so feel free to swim wherever you want.
Does my content help you plan your trip? If yes, I'll appreciate a cup of coffee from you, so I could produce more free guides and itineraries!
What to See in Salou
If you have plenty of time, stay overnight anywhere on the stretch from Valencia to Barcelona, and love adventure then visit a Theme Park PortAventura World. Although this place is not a major theme park, it is still worth going there for the sake of really cool rides and for the atmosphere.
Salou town has a few interesting fountains and especially cool they are in the evening. Different events take place there almost every evening. These are concerts and all kinds of parades with drums and different instruments. The promenade with fountains is called Jaume I Boulevard and runs parallel to Levante Beach. So if you are visiting late during the day, there will be something interesting to see for sure.
Also, you can see the complex of mansions in the Art Nouveau style. There are several interestingly-looking buildings on the same Jaume I Boulevard in the port area separating the beaches of Levante and Poniente. Among them, gorgeous Chalet Bonet stands which was built by a student of Gaudi himself.
There is more to explore in Salou. If you are curious, go see thousand-year-old olive trees (they look very cool), a steam locomotive of the middle of the last century, some Roman ruins, and if heading to the eastern outskirts, passing not only Levante beach, but also Capellans, go to a very cool Mirador viewing platform with stunning views of the sea.
In summary, even if you leave the brackets of beaches and parks, you can devote one day to the sights of Salou, and the day will not be boring.
Miravet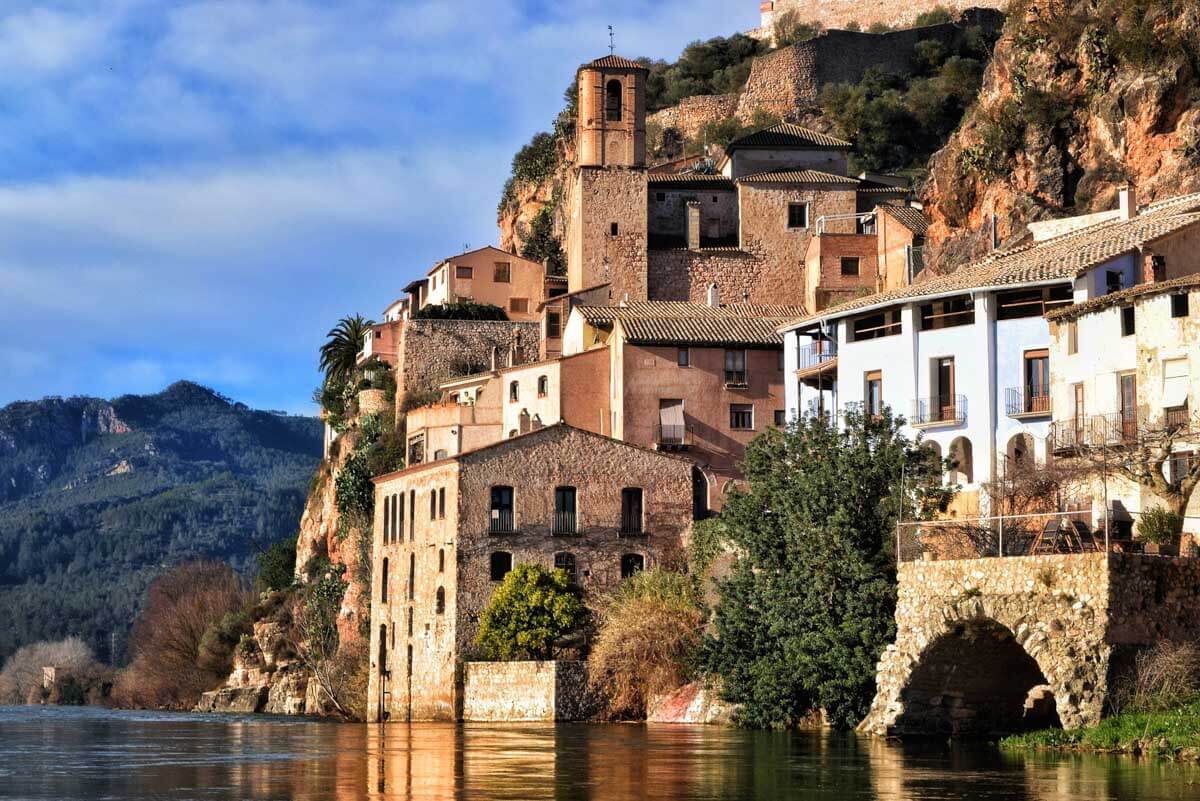 Miravet is not really on the coast along Barcelona Valencia drive but it is a very unique village to see. If you are traveling slowly, it is a picturesque area where you can go on a brisk hike and visit the ruins of the Castell de Miravet.
This historic place and the castle of the same name were founded by Arabs during the Muslim rule on the Iberian Peninsula.
Today, Miravet has around 700 inhabitants, but on those days when there is a football match, it feels like more. The local bars on the main streets are always crowded with the men from the village.
One of the main natural attractions is the Ebro River Valley – a beautiful and peaceful place where you can have a picnic or take photos. There is a possibility to go on an excursion by ferry which travels from Miravet to the nearby town of Mora d'Ebre. Ferry boat trips are available in the summer though: from late June to early September.
What to See in Miravet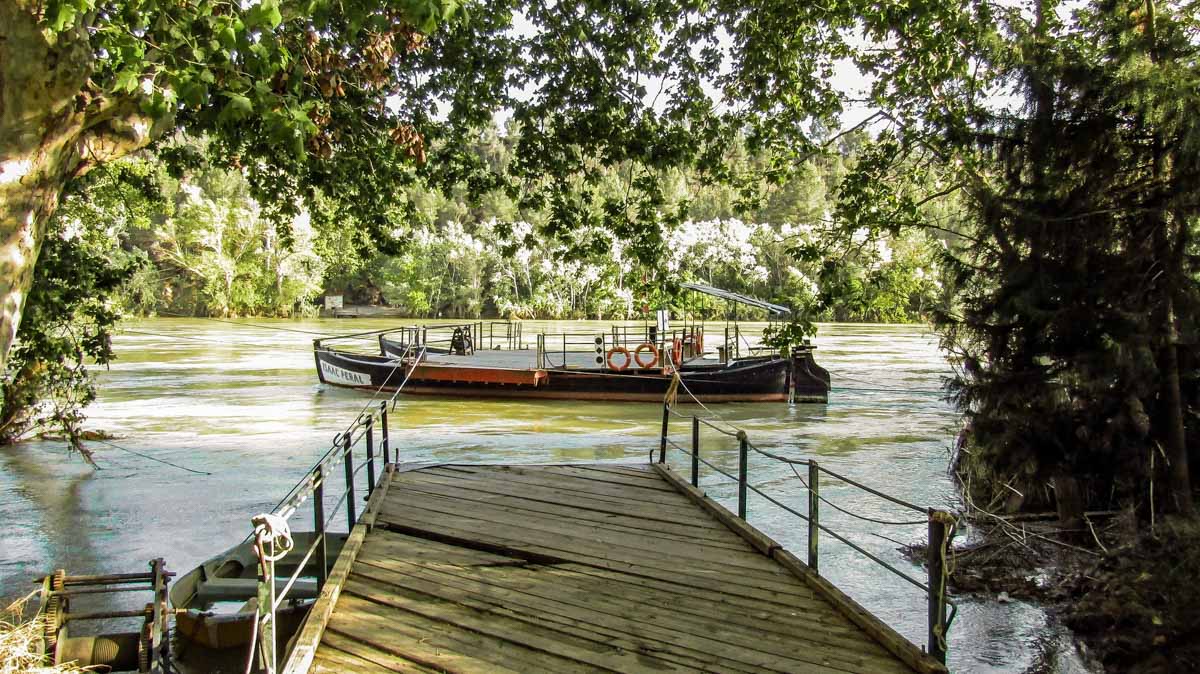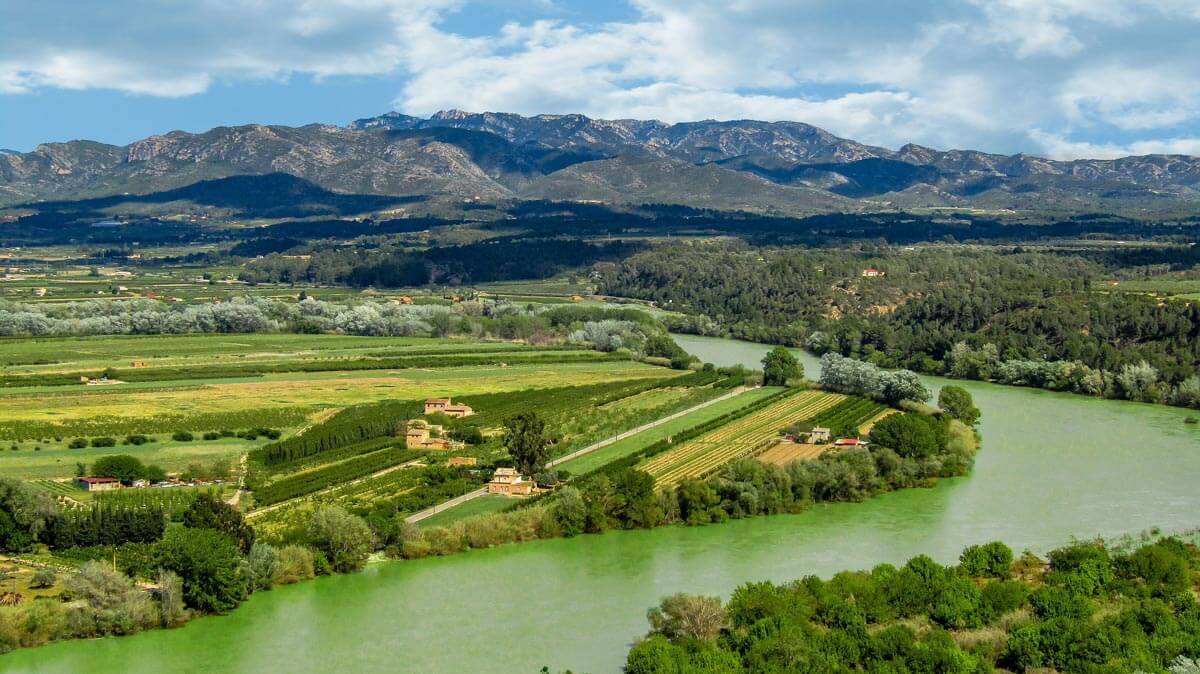 The historic city center stands out for its terraces and narrow streets that go back to the times of Arabs rule in Spain. The old city also boasts its own historic Jewish quarter and centuries-old buildings against the backdrop of natural beauties that leave a great impression.
The emblematic landmark of the village is the Castell de Miravet, mentioned above, located on a hilltop. It offers sweeping countryside views.
You can hike on a rocky surface to get to the castle. The climb is short, but it requires good shoes as it is rather steep. Miravet Castle was erected on the site of a Muslim fortress which is a well-preserved instance of Templar architecture and repeats the architectural traditions of the castles of the Holy Land. Besides the views, you can find traces of the Arabian past of the castle at the base of the fortress wall.
The surroundings of Miravet are also known for their 3C route (for castle, cathedral, and cave) which you can cover by car or mountain bike. The route includes a visit to Miravet Castle, the Cathedral El Pinell de Brai, and Benifallet Cave (called Coves Meravelles). If you are curious, check them on the map and see if that's something you'd like to detour for.
TIP:
Those who are visiting on the second Sunday of June and love cherries, should not miss the event of the year – the
cherry festival in Miravet
. There, you can taste a variety of cherry products, including unique local cherry liqueur.
Tortosa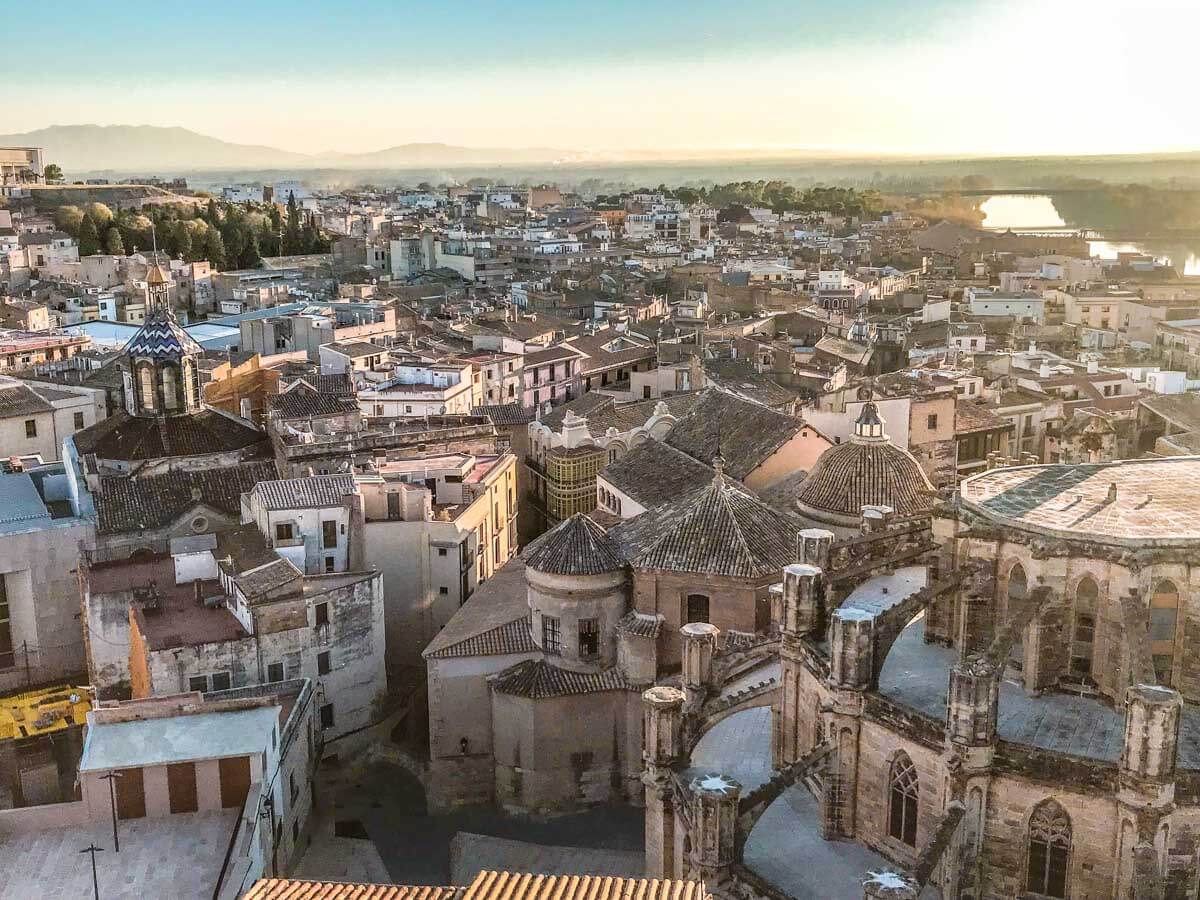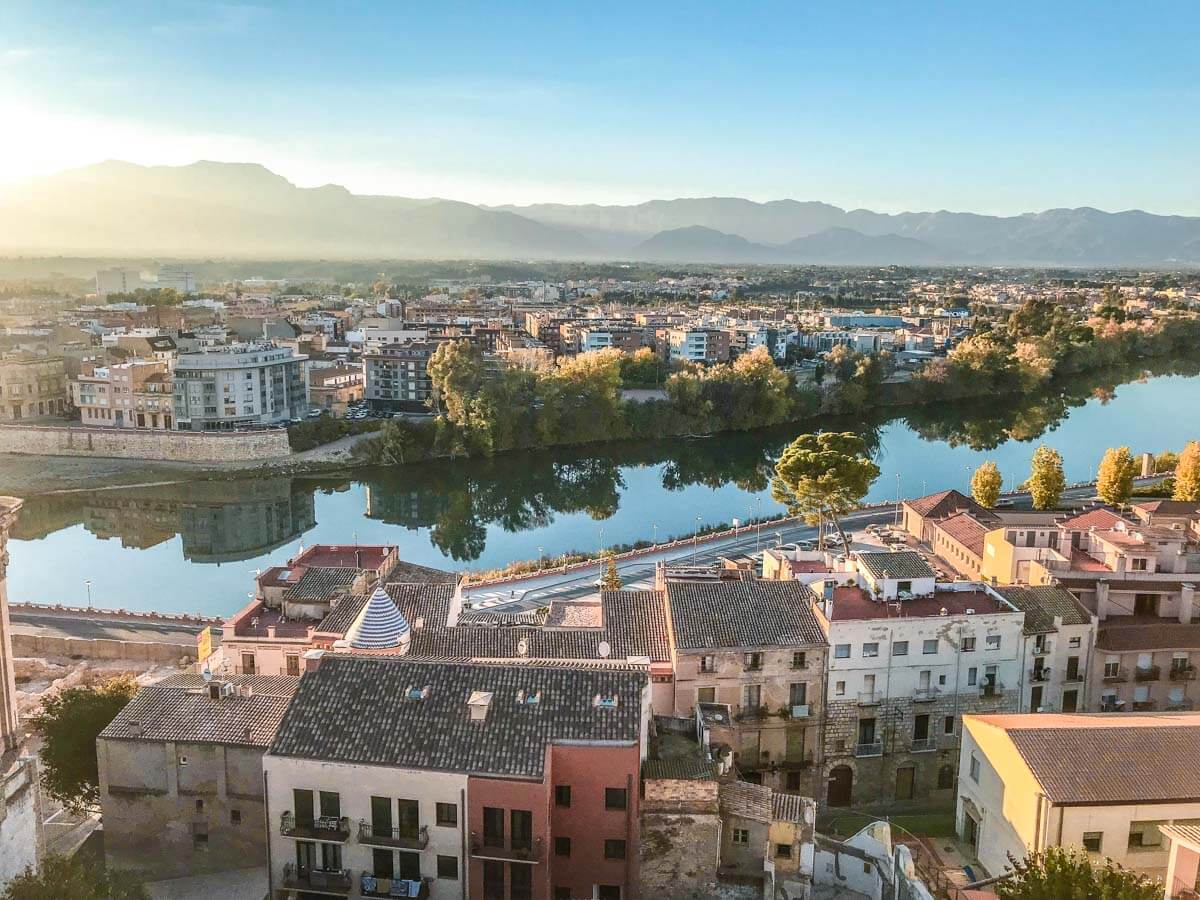 The Spanish city of Tortosa stands on the Ebro River and is the capital of the Baix Ebre region in the province of Tarragona. It is a small city with a population of about 35 thousand people. Despite the rich history and the presence of interesting sights, not too many tourists venture in this old city. Why? Because there are a lot of neglected-looking buildings that at first do not look interesting.
So why to go to Tortosa at all?
Tortosa is a city with a rich past and interesting architecture of a wide variety of styles: from a medieval castle and a Gothic cathedral to Renaissance palaces and quaint Art Nouveau buildings. Three cultures were mixed here: Islamic, Jewish, and Christian.
The city has a strange perspective. A real pile of different styles and eras, cohabitation of the beautiful and the ugly. Remarkable Gothic, Renaissance, and modernist buildings are adjacent to poor neighborhoods like slums with abandoned and unfinished houses. In Tortosa, you get to see rich and poor, beautiful and ugly at the same.
If you detour to Tortosa, I highly recommend paying a visit to El Castillo De La Suda, a fortress that nowadays has a gorgeous hotel and restaurant. From the grounds, you get a mind-blowing view of the city. This hotel is a nice place to stay or just pop in for lunch.
Check prices and availability for Parador de Tortosa on Booking.com
Other attractions in Tortosa for a quick visit are Conjunt Arquitectonic dels Reials Collegis, Tortosa Cathedral with its inner yard and museum, and Parc de Teodor Gonzalez.
Get a cappuccino or pastry in one of the local shops and see a totally different part of Catalonia. For coffee, sandwiches, and pastries visit La Borgia De Civit cafe which had pretty good food and also cool views of the street.
Peniscola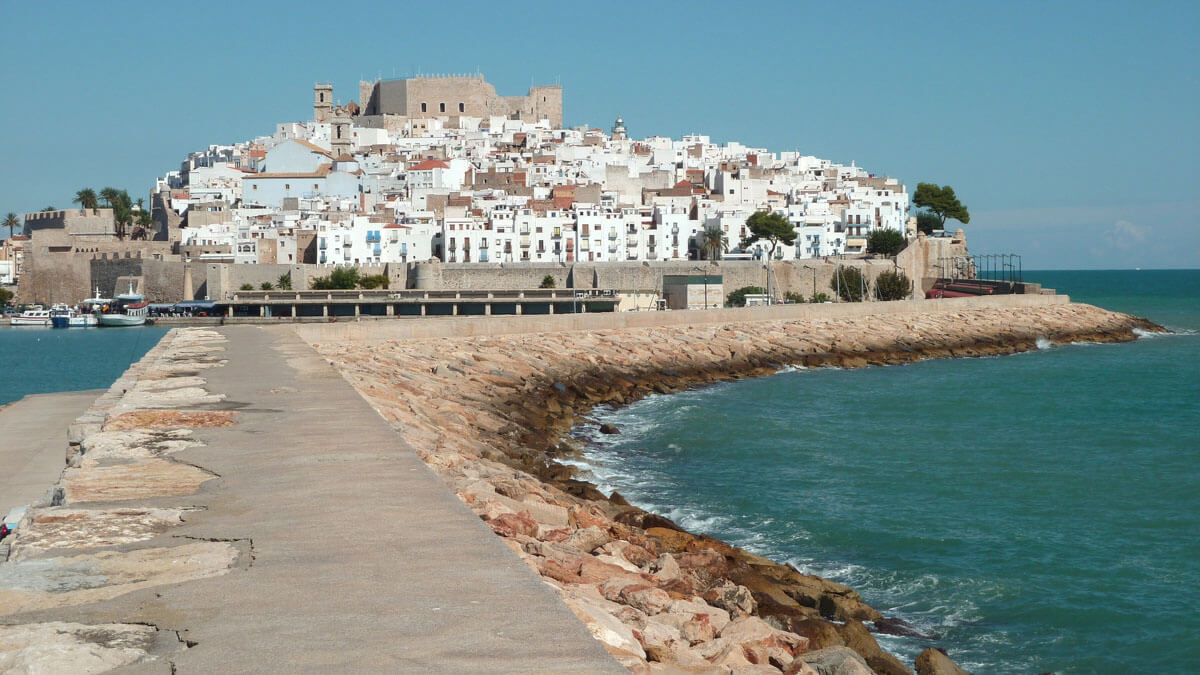 Even if you have not seen a single episode of the world-famous series 'Game of Thrones', you definitely heard about it. But few people know that some episodes of Game of Thrones were filmed in Peniscola. Its beautiful medieval castle temporarily turned into Meereen, the northernmost of the three great city-states of Slaver's Bay.
Peniscola is an ancient city in the province of Castellon, a two-hour drive from Valencia. It is famous for its sandy beaches which are one of the best beaches in Spain. A large fishing port of the province until this day is here. The beaches are famous because of their white sand, stunning views, and the Peniscola Castle on one of the cliffs.
Peniscola stands on the coastal rocky shores. Once you visit, you can walk the narrow streets of Old Town discovering charming bars and restaurants. The majestic castle-fortress is a symbol of Peniscola since ancient times.
Things to Do in Peniscola
Walk Santa Maria Square since this is one of the most iconic squares in the history of Peniscola. There you can find traces of Roman and Arab civilizations. And exactly this Square became one of the heads of the sites for filming many scenes of the sixth season of the Game of Thrones.
Stroll through the Old town of Peniscola which is one of the oldest and most popular cities in Spain. The rocky cape, on which the city stands, reaches a height of about six meters and has a huge defensive wall with two iron gates around it. The only way to enter the old part is through this gate. The Old Town with its ancient buildings and small winding streets holds many secrets and ancient legends.
Visit Papa Luna Castle. It is one of the most beautiful and ancient castles in the city of Peniscola. It has been preserved since the times of the real Templars and is imbued with the spirit of the Middle Ages.
Try Local Seafood. In Peñíscola, you have to try one of the local delicacies – cuttlefish in its own ink, grilled shrimp or octopus. For a side dish, try fish stew or potatoes. And, the traditional dish of Castellon is giant shrimp.
With a car, you can also have a special lunch at the lovely Perla Blanca restaurant. Being in a quiet place in nearby mountains, besides delicious food it offers views on the city and sea.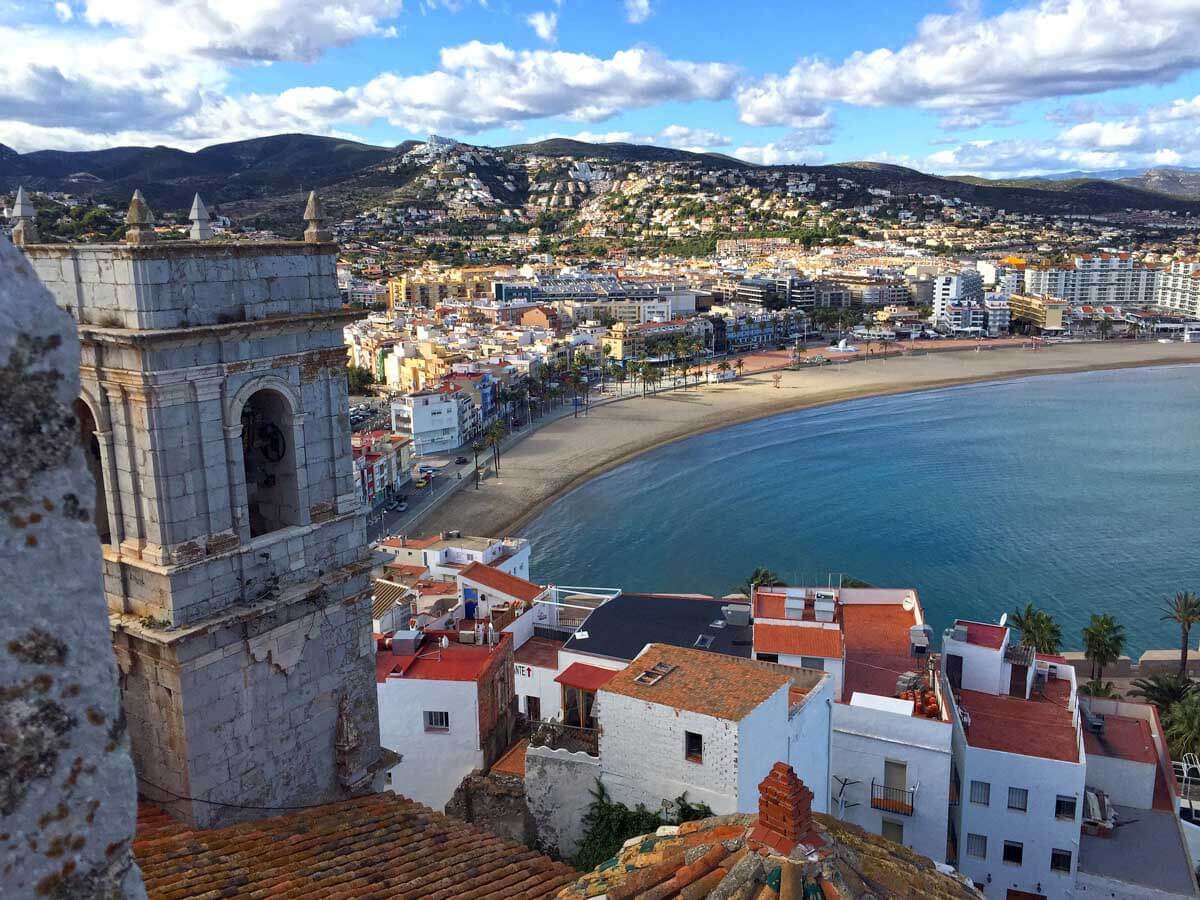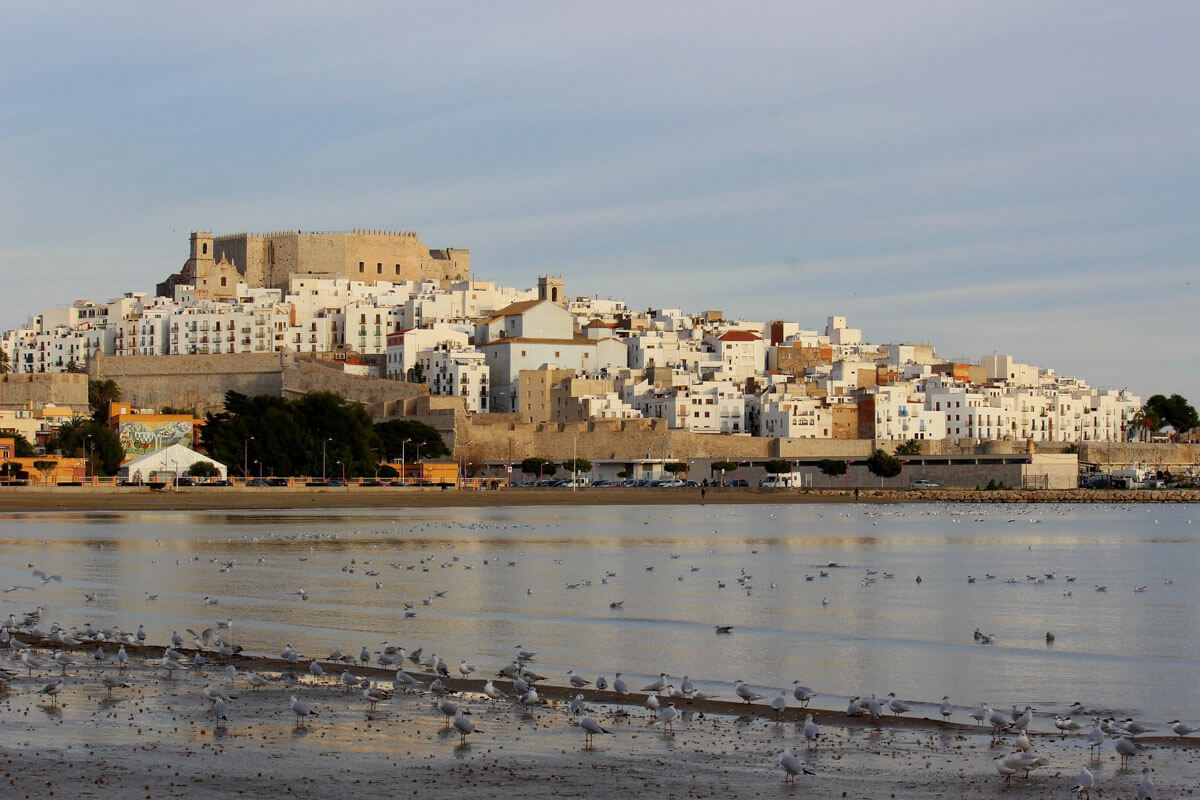 AquaRama WaterPark in Benicàssim
The waterpark is probably not the best idea when you are on a mini road trip from Barcelona to Valencia. Yet, I wanted to include it on this list in case you want to return later.
Benicassim is a well-known and beloved resort town for many vacationers. There is not much to do in town but you can stop to check its beautiful beach, stroll through Main Street, grab something to eat, and visit the aqua park.
Aquarama waterpark is one of the largest parks with water attractions throughout Spain. It occupies a fairly vast area, which is 45 thousand square meters. The waterpark has a large number of slides, pools, and attractions. Everyone who loves the thrill will enjoy a visit here. This park is great for both children and adults.
Lush vegetation surrounds the Aquarama, where you can hide and relax on a hot day. A lot of local cafes and restaurants offer a variety of Spanish dishes and exotic drinks.
Keep in mind that the park is open to visitors only from June 8 to September 8 (11 am – 7 pm). So this is not an all-year-round attraction.
The ticket price depends on the height of the park visitor. But you do not need to pay for children whose height does not exceed 110 cm. For visitors from 111cm to 130cm, the ticket price is €20. And for people higher than 131cm, the ticket price is €26.50. Also, if you come after 3 pm, there is a €7 or €8 discount.
If you know you'll be visiting this waterpark on your way or on a day trip from Valencia, purchase the ticket online in advance. Usually, lines are long, so in this way, you'll save time. In addition, those who have tickets will go through a separate entrance bypassing the line at the main entrance. Check more details on their website.
Castellon De La Plana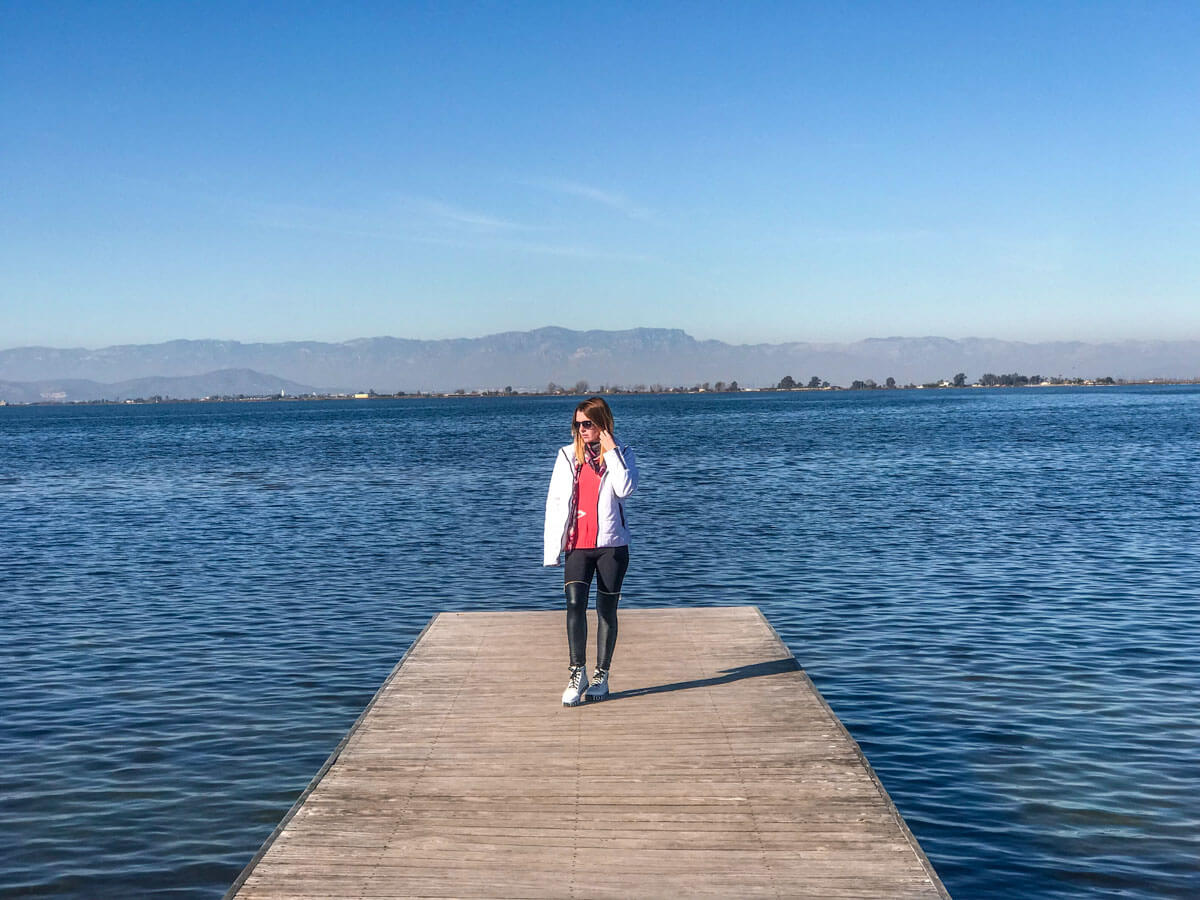 Despite the fact that Castellon de la Plana is an important industrial city in Spain, it is also a popular holiday destination full of history and cool architecture.
Castellon's historic center is four kilometers from the coast. The city was built on a plain, but gradually grew to the coast. And now all its avenues and streets face the sea, and a relatively new district of the city El Grao stands directly on the coast.
Castellon de la Plana attractions include Plaza Mayor, Cathedral of Santa Maria, El Fadri Bell Tower, Palace Municipal, Basilica de Lledo, Old Post Office, Casino, and gorgeous beaches.
In fact, city beaches are worth a visit too. They start in the El Grao district. The coastline stretches for 10 km and its entire length has excellent sandy beaches. The infrastructure is not very developed which is probably the reason why there are never many people.
La Vall d'Uixo and Underground River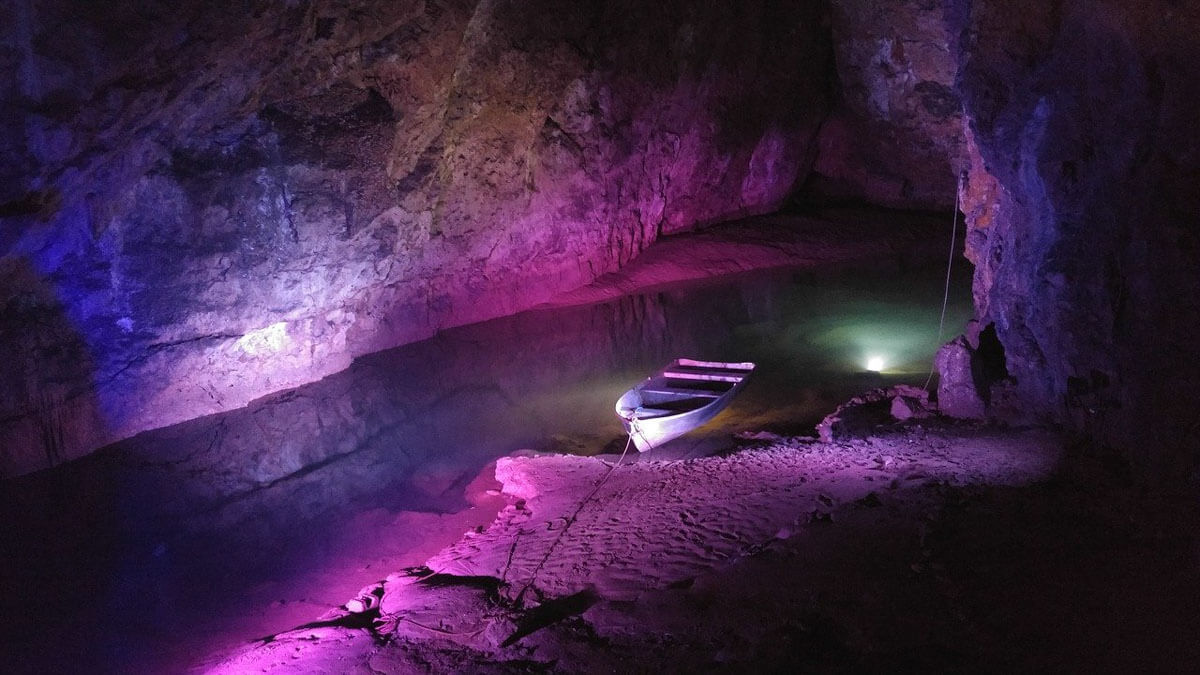 La Vall d'Uixo, located 50 km from Valencia in the province of Castellon, is a very interesting place to stop on Barcelona to Valencia drive. If you don't have time to do it, better come back on a day trip from Valencia.
Nearby this town there are the caves of San Jose. People call them Coves de Sant Josep or Grutas de San Jose (in Spanish).
So this cave is a system of caves with an underground river San Jose, 2750 meters long. It was a dwelling place for prehistoric people. But today it is an attraction with a boat ride, music, and a light show where you can see how the caves evolved through the years with water flow.
The bizarre forms of nature combined with artificial lighting will take you to a fantasy world where light and color have acquired their maximum expression.
The ride costs 10 euros for adults. The tour is very impressive but no photos or videos are allowed and the guide speaks only Spanish. Still, even if you don't speak Spanish, it's an incredibly fascinating tour. See the reviews and details here.
Sagunto Castle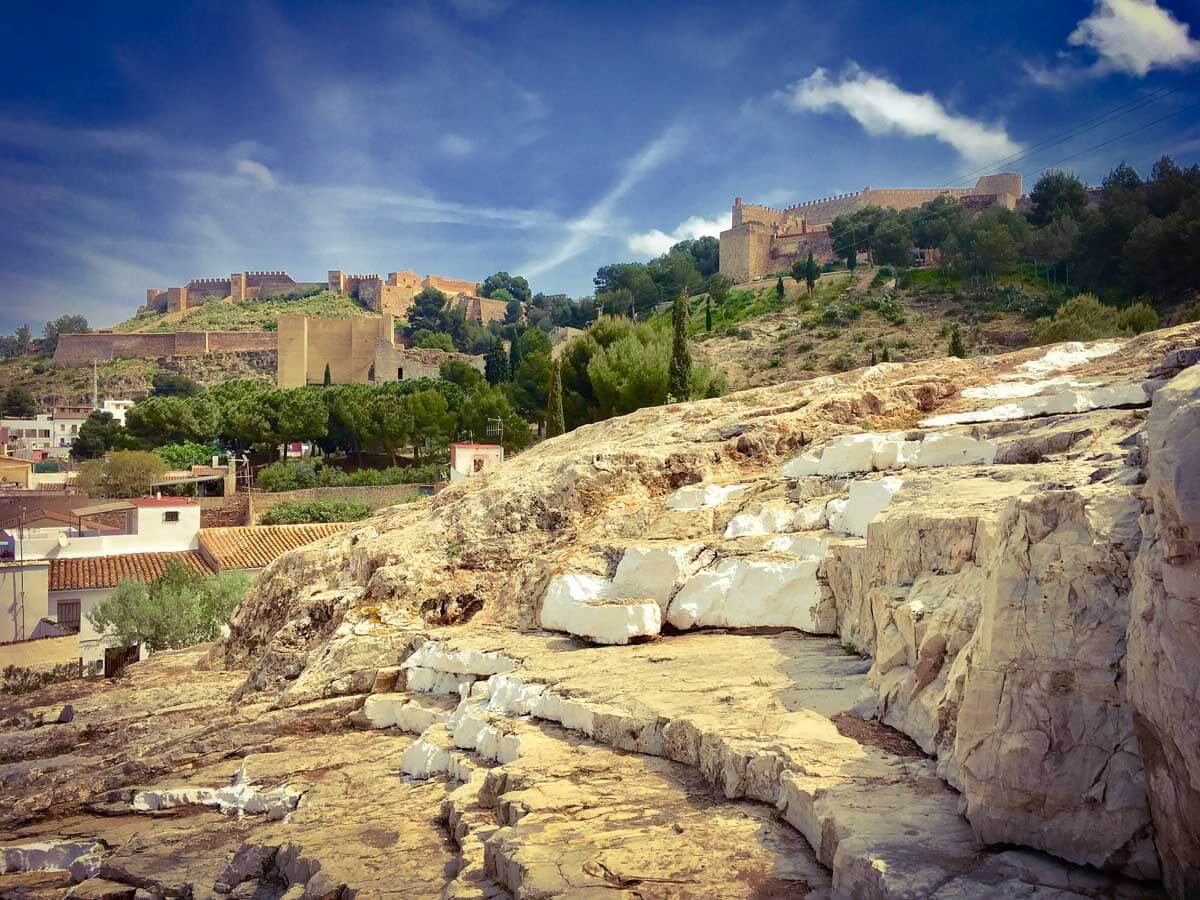 Sagunto Castle is one of the largest castles in Spain, with a length of almost a kilometer. Various civilizations inhabited it for many centuries, buildings various plots at different times.
Today it consists of two main parts: Almenara and Alcazaba. Iberians laid the first walls. The Romans rebuilt the buildings destroyed by Hannibal, laid the Santa Maria Magdalena square, built a forum, and cut a well in the rock. Since 1931, the Castillo Sagunto complex received a status of a National Monument.
The castle has an Archaeological Museum, next to it is an ancient amphitheater, which holds performances until this day. Here you can see the remains of the Roman Forum, canyons, columns, traces of Arabian possession, and the oldest well.
Other interesting historical sites are the Jewish Quarter, the Town Hall (XVIII century), the Gothic Church of St. Mary, and the city's industrial monument the El Horno Alto blast furnace.
Castle's location on the hill offers a beautiful panoramic view.
Port Saplaya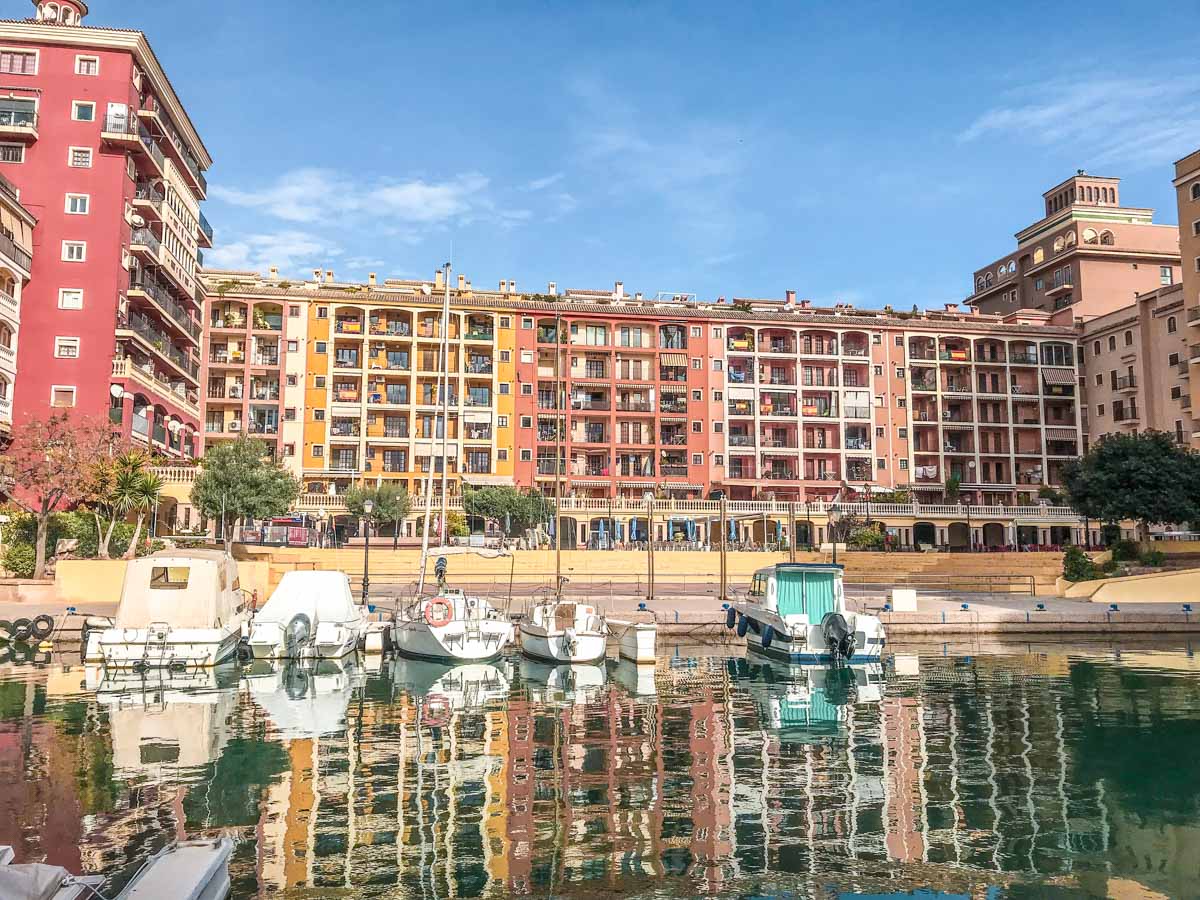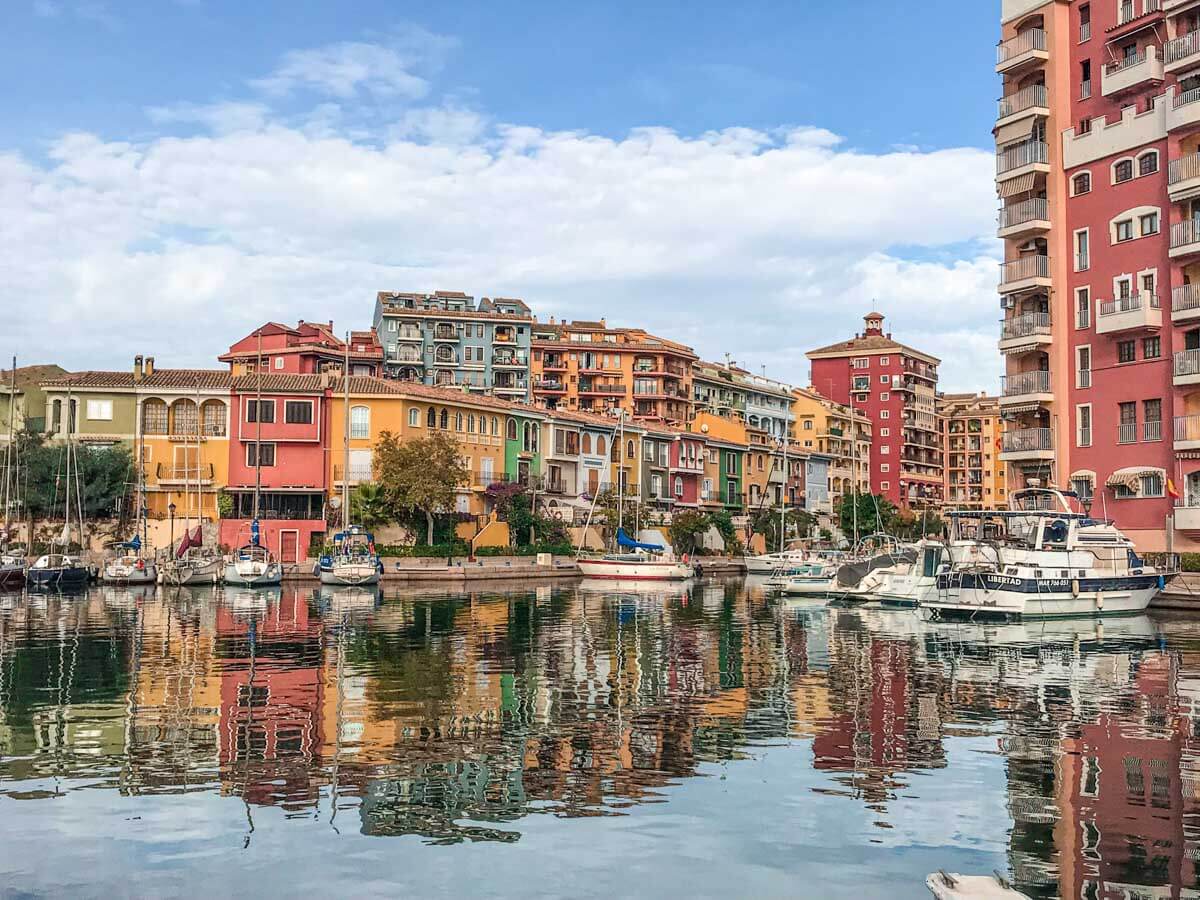 Port Saplaya, 4 kilometers from Valencia, is a small coastal residential area of the city of Alboraya. It is known for its beautiful beaches and unusual urban layout. Many people call it the "Little Venice" of Valencia because of the water canals and style.
The urban infrastructure of Port Saplaya is very peculiar and unique. Once you are there you distinguish this area from other cities in Spain right away. The village consists of two lines of buildings running along the beach and forming a bend of the port which is located in the very center.
The main commercial and entertainment venues in Port Saplaya are on two main squares on both sides of the port. And the promenade is full of cafes and restaurants for every taste.
It's very pleasant to stroll along the canals, walk to the beach, get a cup of cappuccino and see a very different Spain.
Where to Stay On Barcelona to Valencia Drive
Going from Barcelona to Valencia does not take a lot of time. It's only 350 kilometers and you can get there in 4 hours. Yet, if you are looking to make at least some of these amazing stops and see what lies between these two cities, I highly recommend breaking the drive up.
We personally stayed overnight on both our trips. The first time we chose Tortosa beautiful hotel and then on the way back in Sitges this cozy apartment near Old Town with a sea view.
If you have time and desire to explore in depth Catalonia and Valencia regions, I recommend staying two or even three nights on Barcelona to Valencia drive. In this case, you'll be able to detour and go more inland too.
Barcelona
HOTEL PRAKTIK BAKERY: a unique mid-range hotel with nice rooms, a perfect location, and its own bakery with delicious food. Casa Mila is only 50 meters away and Casa Batllo is 150 meters away. It takes around 10 minutes to walk to Catalonia Square and Old City.
Check prices and availability for Praktik Bakery Hotel on Booking.com
RAMBLAS APARTMENTS: a modern and beautiful apartment in the heart of the city in one of the most historic buildings. It is one of the cheapest options among those accommodation places which are close to the Gothic Quarter. The apartment has everything you need, is clean and very quiet even though the location is very central.
Check prices and availability for Ramblas Apartments on Booking.com
ARAI APARTHOTEL: if you are looking for something more upscale and at the same time central, take a look at this beautiful aparthotel in the very center of the Gothic Quarter. It feels like everything is just right about this hotel – gorgeous rooms, all possible amenities, outstanding service, incredible ambiance, and the best location.
Check prices and availability for Arai Aparthotel on Hotels.com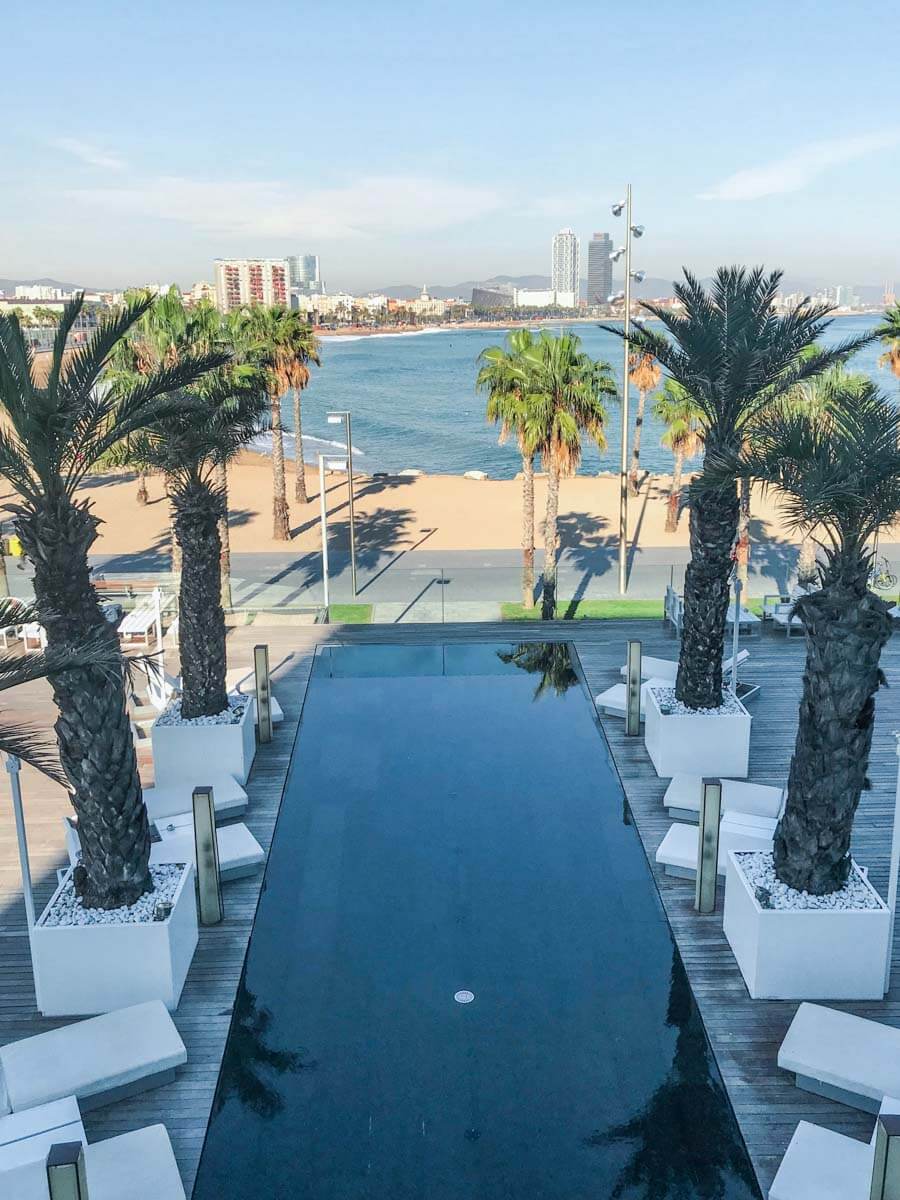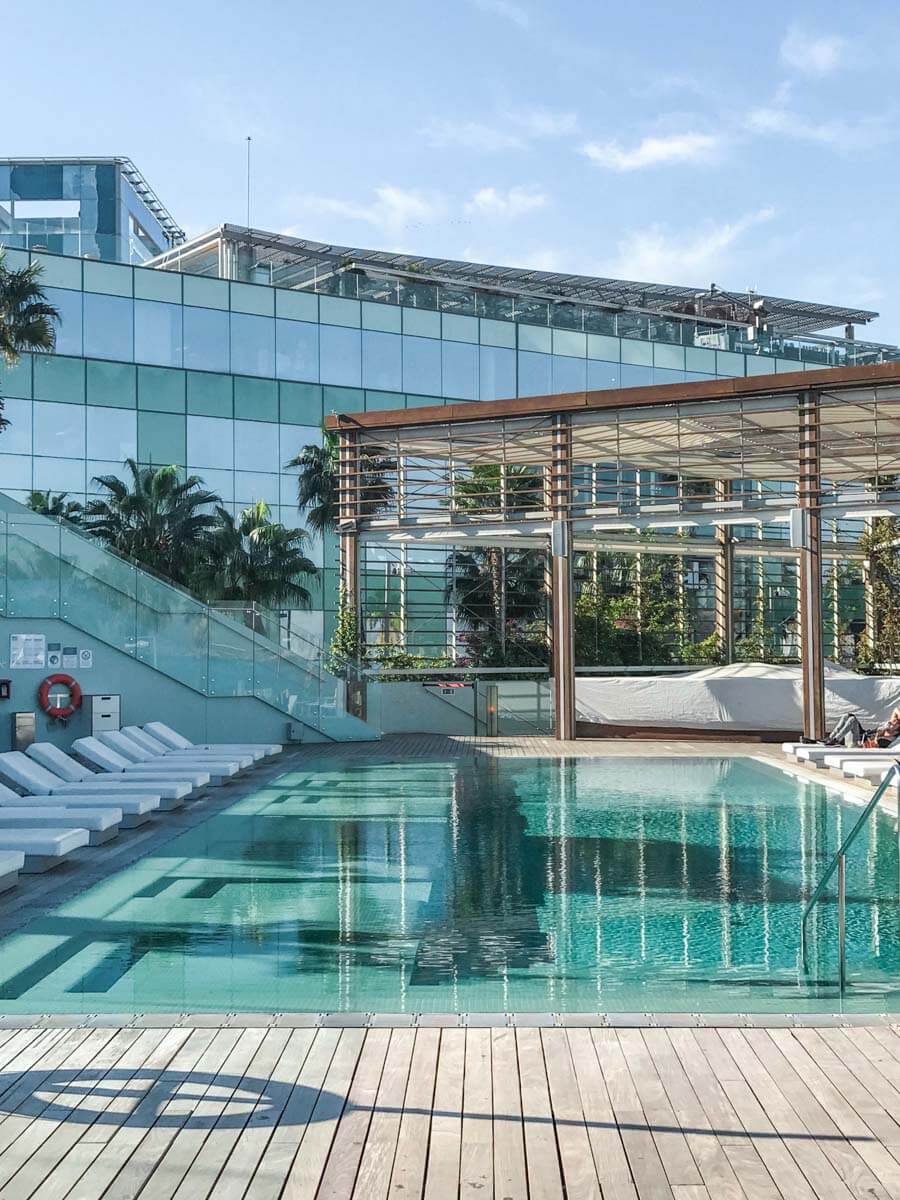 Sitges
Besides the flat where we stayed that I mentioned above, take a look at:
CASA VILELLA: A boutique hotel with an exceptional level of service, a high-end restaurant, spacious rooms, pool, and beautiful views. The location is excellent – outside of Old Town but within walking distance to it and right on the beach.
Check prices and availability for Casa Viella on Booking.com
HOTEL SITGES: This is an excellent choice for budget travelers. The hotel is farther from the center but in a very quiet neighborhood with clean rooms and helpful staff. Free tea and coffee with some cakes at reception. Takes less than 5 minutes to get to the beach.
Check prices and availability for Hotel Sitges on Booking.com
Tortosa
PARADOR DE TORTOSA: I sang praise to this castle-hotel in Spain many times. It's very unique with clean rooms, a breakfast buffet, pool and views, views, views.
Check prices and availability for Parador De Tartosa on Booking.com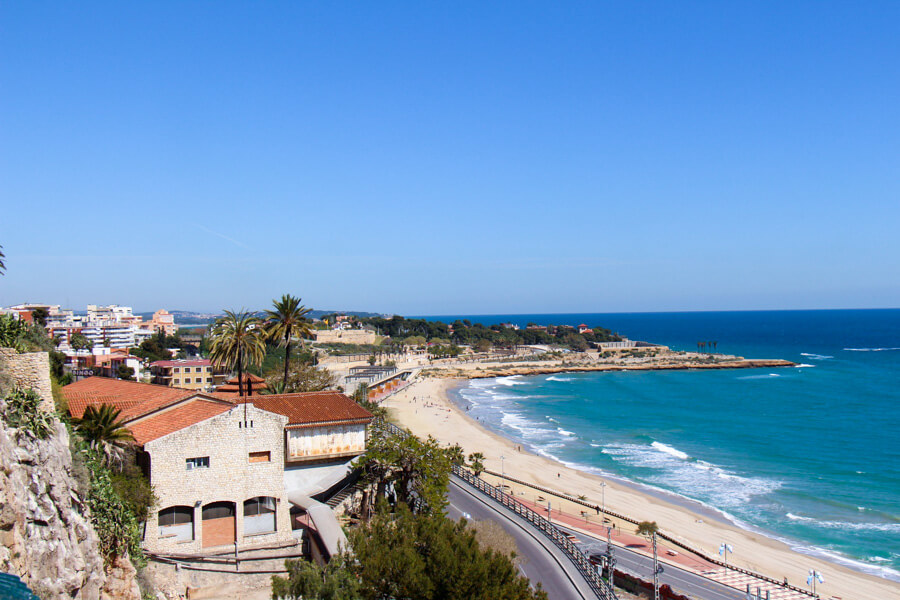 Peniscola
BARRA ALTA HOTEL: Taking into consideration how centrally located and close to the beach this hotel is, €65 per night stay is rather cheap. The hotel went through remodeling, so everything looks and feels new. All the rooms are lovely, spacious, and clean. There is a very nice restaurant which offers incredibly delish seafood dishes.
Check prices and availability for Barra Alta Hotel on Booking.com
EL MASET: This small and cute hotel is an excellent pick for budget travelers on their Barcelona to Valencia road trip. With a perfect location, well-maintained rooms, and friendly hosts, guests feel very welcomed and comfortable.
Check prices and availability for El Maset on Hotels.com
Valencia
SUNNY FLAT NEAR PLAZA DE LA REINA: Another flat where we stayed, perhaps you'll love it too. It was very clean (our main criteria) and located in a very historical center. The City Hall, Valencia Train Station, and subway are all within a few minutes walk.
Check prices and availability for the Lovely Flat Near De La Reina on Booking.com
ZALAMERA BnB: Being close to the city center, this hotel is still on a very quiet street and has a budget-friendly price. They have numerous clean and comfortable rooms and breakfast in the morning.
Check prices and availability for Zalamera BnB on Booking.com
Looking for more options? Click here to browse more hotels in Valencia!
More Road Trips to Take in Spain
More Inspiration for Travel in Spain
---
Are you planning to drive from Barcelona to Valencia? Have you already been? Let me know in the comments!
Looking for more posts on Spain travel? I have more on this page, take a look!