What to Pack & What to Wear in Spain: Tips for Every Season
A lot of people when planning a trip to Spain, especially if visiting this country for the first time, are definitely asking the question "What to Pack?" and "What to Wear in Spain?". Most people ask these questions but not all. Why I am saying this because, before my first trip, I was actually among those a few folks who didn't put extra thought into what to pack for Spain in my suitcase. And it was a mistake.
When you travel to other countries, the question of choosing clothes for the trip should be one of the most important. And it's not only when you travel to Spain. You need to pack smart when you travel to Ukraine, Montenegro, Norway or any other country. After all, you want to take only those things that you will use and at the same time, when wearing them, don't make you look like a "black sheep" in a new place.
From my experience, after traveling extensively through three continents and living out of my suitcase for a long time (in fact, I still do) I learned that no matter how big the suitcases is it is never big enough. I know how easily you can get taken by the flow and pack what seems to be necessary for the trip. But then later as a result, once in a new country, you use at best one-third of what was packed.
In this article, I would love to share my best tips on what to pack for Spain and what to wear in Spain no matter when you go. In order for your vacation in sunny Spain to be 100% enjoyable, learn what clothes and shoes you really need for your trip and what you should leave at home.
To make it easier for you, take a look at the table of contents:
This post contains affiliate links which means, if you make a purchase or booking, we may earn a commission at no extra cost to you.
What to Pack for Spain – General Tips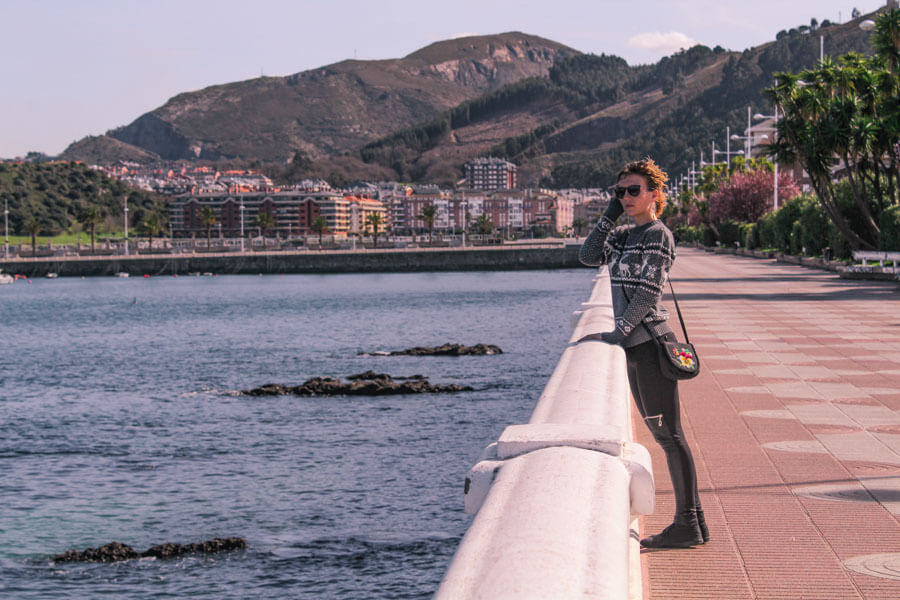 Before I go into details about what to wear in Spain, I would love to give you one very practical advice on how to pack.
Do NOT take a lot of things with you. Pack only those accessories and clothes that are the most necessary.
First of all, chances are high that you won't wear half of them.
Second, carrying large and heavy suitcases with you will be very inconvenient. If you are going on a tour when everything is prearranged for you, it's a bit different story (but even then, think about how much space in a bus or van your bag will take). However, if going on your own, a large suitcase will hold you back.
Traveling with a huge bag to and from the airport, in public transport, on the way to your hotel, from your hotel to another city is inconvenient and very tiring.
Third, in case you find out you forgot an item, you can always buy it on the spot. In Spain, the clothes are pretty cheap and it's easy to find what you need. The only note, you need to look for them in outlets, not in stores on touristy streets.
From personal experience, at the beginning of our travel lifestyle, we packed a lot of things with us which always was a burden on every trip. Over time, with more frequent trips and more experience, our travel bags became smaller and lighter. Now we do very well with one small suitcase and a small backpack.
How much should you pack? It all depends on the length of your trip. Let's talk at first what to wear in Spain in general and then we'll discuss how many items you should pack.
What to Wear in Spain
Clothes to Wear in Spain
When packing your suitcase, choose clothes for your discretion and taste. But keep in mind, the following items you will definitely need:
– several light T-shirts and tops;
– urban shorts (for men);
– pants or jeans;
– ladies will need a couple of summer dresses or sundresses, or summer skirts;
– lightweight blouses for ladies and shirts for men. A couple will be also quite enough;
– a tunic blouse with long sleeves for the evening, a sweatshirt or sweater, especially for the off-season. You'll also need a jacket if you decide to go by boat to the nearest islands. On the boat, in the open sea, even in the midst of the tourist season, it can be pretty windy and chilly.
– light and comfortable clothes for going to the beach. It is better if it is loose and made from natural fabrics. For women, this is a beach sundress or dress, shorts, and a T-shirt. For men – a T-shirt and beach shorts or/and swim trunks.
– Underwear;
– Two pairs of socks (or more in the off-season – optional);
– PJs if you need them at all;
– If you are traveling to Spain during the off-season, then make sure to pack warmer clothes. You can leave all your summer wardrobe at home and take instead of several warmer sweaters, long sleeve shirts and trousers. You will also need a jacket, preferably waterproof and windproof. From October to April, rains and windy weather become more frequent in Spain.
– Scarf, gloves, and hat, if the trip is in winter.
Shoes to Wear in Spain
I also don't recommend taking a lot of pairs of shoes. Especially when they take up more space in a suitcase than clothes.
For a beach holiday you will need:
– summer sandals;
– beach sandals or flip flops.
– moccasins, light sneakers, flats or any other comfortable shoes for long walks around the city and for excursions. Usually, these shoes take up a lot of space in a suitcase. You can wear them on the plane instead of packing them.
– shoes for going out if you plan trips to clubs or cultural public places in your leisure time. For women, wedge shoes are best suited, it will be more convenient to walk on the streets of Spain. Since many streets are lined with paving stones, you will not be able to go far in heels. For men, loafers are quite suitable.
For any other time of the year, pack shoes according to the season. But remember, they have to be comfortable for long walks around the city. For example, in the fall or winter, half-boots or shoes along with comfy warm sneakers work great.
What to Wear in Spain in Winter
Climatic Characteristics of Spanish Winters
Spain, like all of Europe, is in the same hemisphere that the US and Canada. It means that the winter months are the same by the calendar. However, the temperature from December to February in Spain and North America (most of the continent) or Northern, Central and Eastern Europe vary significantly.

January is considered to be the coldest month in Spain. At this time the daytime temperature rarely drops below 0 degrees. Depending on the region, in the winter months, the air warms up from + 5С degrees to + 22С degrees.
Unlike many places in Europe, the air temperature in Spain is highly dependent on the degree of cloudiness and sun. It means that on sunny and cloudy days the difference in temperatures can be only a few degrees when in reality it may feel much colder or warmer. I remember when we were visiting Madrid in winter the weather forecast was showing every day the same +18C degrees. However, one day when it was drizzling and gloomy, it felt like the temperature outside was +8C.
Typical precipitation for the winter period in almost all of Spain is rain, and only in some regions, it rarely snows.
I have a very detailed guide on travel in Spain in winter where I talk what's the weather like each month. Take a look to know exactly what to expect.
Clothes to Wear in Spain in Winter – Things to Know
It is obvious that the winter wardrobe for the average Spaniard is different from the winter set of clothes of a person living in Northern or Eastern Europe or America. That is why we often get a question "What to wear in Spain in winter?".
If I compare the clothes according to the degree of insulation, then in December-February people in Spain wear clothes similar to what people in New York, Munich or let's say Lviv, Ukraine wear in autumn-spring. The style, which the majority of Spaniards prefer can be described as "casual".
Denim or dress pants, a sweater or turtleneck, a jacket or coat, wedge, fringe or ankle boots are what people wear in Spain in winter.
When we were living in Spain, we learned that the most practical way was to dress in layers (oh, that's what we did in Los Angeles too). We were often noticing how men and women would wear a sweater on a T-shirt with a long or short sleeve, a quilted vest on top of that and a thick scarf over that vest. If it was too warm, they would just take off a scarf or vest. When it was windy but warm, they would take a sweater off and wrap in a scarf or shawl.
The set of necessary clothes to pack for Spain in Winter
It really depends on where exactly you are traveling to. If you are flying to the island part of Spain (for example, the Canary Islands), then you don't really need warm clothes, except for long sleeve cardigan or jacket for cooler nights.
If traveling across the mainland, keep in mind the fact that the temperature can drop to 0C. The most suitable for such a trip will be jeans, a polo neck, pullover, demi-season outerwear, and comfortable shoes. But your shoes should also be good for rain.
The main criteria for selecting clothes for your trip to Spain should be practicality and comfort. Make sure that every piece you pack you will wear on a regular basis, not just once or twice.
When it comes to a color scheme, calm tones often dominate. But those are often diluted with bright elements. Spaniards like to follow the motto of the world-famous Spanish clothing manufacturers Custo Barcelona and Desigual which says: "Add colors to your life!" And when they dress, even in one color clothes, they choose lighter and brighter elements.
What NOT to Wear in Spain in Winter
While living in Spain in winter I was noticing how many tourists wore either too light clothes or too warm. There were people who wore shorts and various outerwear designed for the summer and we could tell they felt cold. At the same time, there were others who had fur coats, hats, as well as winter boots.
It doesn't make much sense to take these clothes on a trip. Winter in Spain is not as cold as let's say in nearby France. Yet, it's not that warm as in Florida.
Wearing excessively warm clothes and shoes will only cause discomfort and annoyance. Taking too light clothes will be the reason why you are cold.
What to Pack For Spain Besides Clothes & Shoes
Beachwear and Accessories For Travel in Spain in Summer
– Bathing suits. Obviously, if you are traveling to Spain in the summer. But don't forget to pack a bathing suit for winter travel too because your hotel may have a very nice heated pool.
– Sunscreen when traveling to Spain from April to October. The heat peak falls for July and August. The temperature at noon can reach +38 degrees or even higher. It's very easy to get sunburn even in the evening after 6 pm. Take a sunscreen or lotion with a protection factor of at least SPF30.
And please, pay a few dollars more for eco-friendly sunscreen. It protects your skin, is healthy to use and protects the environment. It is so important for everyone to start taking care of our planet. Also, I do recommend buying it in advance. Spanish cities have lots of sunscreen options but we found that they cost more there.
– Sunglasses. Definitely.
– Beach bag but an ordinary city backpack is also suitable.
– Headgear. A hat, cap or bandana.
– If you are a budget traveler and do not plan to use beach loungers and umbrellas, bring a beach towel and possibly umbrella with you. In Spain, they are not cheap. Renting a sun lounger and umbrella will cost 10-15 euros per day. And often you can't rent them separately.
The main accessory here is an umbrella since the beaches of Spain are mostly sandy and there is no need for a sun lounger. Also, a lot of beaches don't have any shade.
You can always buy an umbrella and beach towel on the spot. Although the price is usually 2-3 times higher, the material is cheap and low quality.
– If you want, bring a small inflatable pillow for swimming in the sea. It takes up little space, but the benefits are twofold. The first one is for its intended purpose – to swim on it. The second – it's very convenient to put such a pillow under your head when sunbathing on the beach.
– If you plan to visit the islands, then, by all means, take a travel snorkel set. Off the coast of the Spanish islands, the water is clean and clear with numerous marine life.
Personal Hygiene Products and Cosmetics
For personal hygiene, don't forget shampoo, soap with moisturizer (the southern sun dries the skin quickly), toothpaste and a brush, a small travel sponge, razor, shaving cream, and deodorant.
When packing, don't forget you can only bring bottles of no more than 100 ml into the cabin.
When speaking of cosmetics, besides everything that you use daily, don't forget moisturizing cream for the face and lip balm. The hot Spanish sun dries lips and skin very much.
If you have long hair, take hairpins, elastic bands for hair. They will come in handy on the beach. Also, do not forget a brush (comb) and pocket mirror (if you use it).
Medications
Of the medication, first of all, don't forget to pack what was prescribed by the doctor.
Another medication to pack with you is one antipyretic, pills for a headache, general painkillers and something for indigestion. The local cuisine is not suitable for everyone, so yes, pack that just in case.
Electronics
– Obviously, your telephone. Do not forget to download maps (such as google maps app or maps.me) of the area(s) where you are going to travel.
– If you care about the quality of your photos, get a travel camera. I learned this long time ago and stopped taking photos on my phone. We have 2 different cameras, one for professional photoshoots and another one just for travels. For travel purposes, we use this light camera.
– For entertainment or work – tablet or laptop. Many hotels in Spain do not have English-language channels.
– A European power adaptor. If you are traveling from North America, the UK, and Australia, do not forget to pack a power adaptor.
– A power bank – self-explanatory, it is a must-have gadget.
– If your phone and camera have small memory, and you are a fan of taking pictures, take a memory card. In case you would like to transfer photos from your camera to the phone during the trip (post them on Instagram?), don't forget to pack a USB cable.
More Spain Travel Resources For You
If this will be your first time in Spain, I have some resources to help you get the best of your trip. Check out my guides to the Northern Coast of Spain with its beautiful coastal towns and medieval villages, and car hire in Spain. Mark wrote a very detailed post about the best deals, how to save money and what to remember when driving in Spain.
If you are visiting Barcelona, then travel tips for Barcelona and Barcelona to Valencia road trip are my other well-written guides.
I am also regularly adding more content on Spain and other destinations we travel to. Sign up for our newsletter to know when the next post is up on the blog.