Valencia in Winter Quick Guide: Weather, Christmas, Things to Do & Travel Tips
Last updated on September 22nd, 2023
Valencia in winter is a perfect warm place to visit in Spain where it is easy to recharge and have a stress-free vacation. It is a fantastic destination for a laid-back yet surprising trip filled with celebrations, vibrant local culture, artsy festivities, and of course gastronomic experiences.
Wondering if this may be a good place for you personally?
My guide to winter in Valencia answers all the questions, including Valencia's winter weather each month, Christmas markets and New Year celebrations, winter travel tips, packing recommendations, and of course, some cool things to do in Valencia in December, January and February.
I wrote it together with a local who has lived most of her life in Spain and knows Valencia city very well. So you can rely on this information with confidence and plan your winter trip to Valencia. Every month is interesting in its own way!
---
Please note: This post contains affiliate links. I may earn a commission if you make a purchase or booking by clicking a link (at no extra cost to you).
---
Resources You'll Need for a Winter Trip to Valencia
Before we get down to the nitty-gritty of this Valencia winter guide, here are resources you'll need for planning a trip to Spain:
Quick Overview of Valencia Winter Weather & Temperatures
Winter weather is an important factor that plays a key role in planning a winter vacation in Europe. Many people choose to go to Valencia and southern Spain knowing that it is one of the warmest places in Europe in winter. However, how warm/cold does Valencia in winter really get?
What you need to know first is that the weather in winter in Valencia has changed in the last few years. Yet, until this day, it is having some of the most pleasant temperatures on the European continent. After all, Valencia has more than 300 days of sun a year.
Overall, on many days, Valencia's climate in winter can be as cold as 5 Celsius degrees (40F) to as hot as 17 degrees (62F) during the daytime.
If we take a close look at month by month, we can determine what month of the wintertime can be the best for your visit.
The Valencia weather in December can actually allow you to spend Christmas wearing a T-shirt or a thin-layer top underneath a light jacket or poncho. That's not every year's case of course, but also not an exception.
Temperatures go from 6 to 18 degrees (42F-46F), and precipitation chances are as low as 10%. The range of the temperature changes a lot during the day, so even if it is cold in the morning, it will quickly warm up closer to the second part of the day.
Valencia weather in January can drop a bit compared to December. You can experience 4-16 Celsius degrees (40F-60F) most days with low temperatures in the early morning that rise up pretty fast.
Having days with low air temperature (like 4 degrees for example) during the day is pretty uncommon since it stays this low usually only in the morning. But you want to have warmer clothes just in case when traveling in January.
In January cold waves are common when day temperatures may fall to around 10C degrees (50F) but they don't last long. But the good news is that the chance of precipitation doesn't change much from December and you'll witness little rainfall.
Once February in Valencia arrives, temperatures start rising back again to 6-17 Celsius degrees during mornings and days (43F-63F) when mornings are usually very chilly but air warms up in the afternoon.
In February, Valencia only gets 2-3 days of rain during this month. Alarmingly, in 2022, we had some record temperatures reaching +20 Celsius degrees on 12 days of the month.
Pros & Cons of Visiting Valencia in Winter
In my experience, there are many more advantages than disadvantages when visiting Valencia in winter. But if you had a different experience, I'd love to hear about it!
Pros
Among the advantages of Valencia winter travel, you'll find the following:
1). You won't be surrounded by the massive number of tourists that visit this city during warmer times of the year.
2). New Years' Eve celebration is a massive celebration that takes place in The City Hall Plaza every year. People gather across the country and eat 12 grapes within the 12 quarters before midnight as a symbol of wishes and cheer with cava (Spanish champagne) to welcome the New Year.
After this, it is time to drink and dance the night away. Every discotheque hosts a wonderful party and all bars and restaurants are open and welcome guests. You will find all types of parties to attend for New Years' celebrations based on your likes and preferences.
In fact, Valencia is among the best cities where to travel to in December and where to celebrate New Year. There are very few cities that are as vibrant as Valencia when it comes to nightlife and December holidays.
3). Experience local life at its best. Winter in Valencia is the best time to see some of the local life such as kids going to school, preparation for Christmas, and the big winter sales that start after the 3 Kings celebration.
4). Valencia's climate in winter is so nice that you can walk around the city from early morning to nighttime comfortably. Just make sure to dress in warmer clothes as mornings and nights tend to be quite cold.
From December to February in Valencia, you can join some of the free walking tours or get lost through the streets by yourself and have nearly perfect weather.
5). Enjoy some of the best winter dishes (mostly stews) like All I Pebre, Espardenya Valenciana, Arroz al Horno (rice in the oven), and others that will keep you happy and warm. If budget allows, don't miss a food tour with a local who can introduce a city in a unique way and experience the local wine country with wine tasting and traditional Spanish food.
Cons
1). You won't be able to swim at the beach unless you don't mind the sea's temperatures that oscillate between 14C to 16C degrees (57F-60F). Oh, maybe you will if you come from Scandinavia.
I saw people take a dip in Copenhagen in December when the water temperature was freezing cold, so if you are coming from the north, you might actually enjoy hitting the beach in Valencia in winter. In fact, beaches will be completely empty which is rather an advantage for some tourists.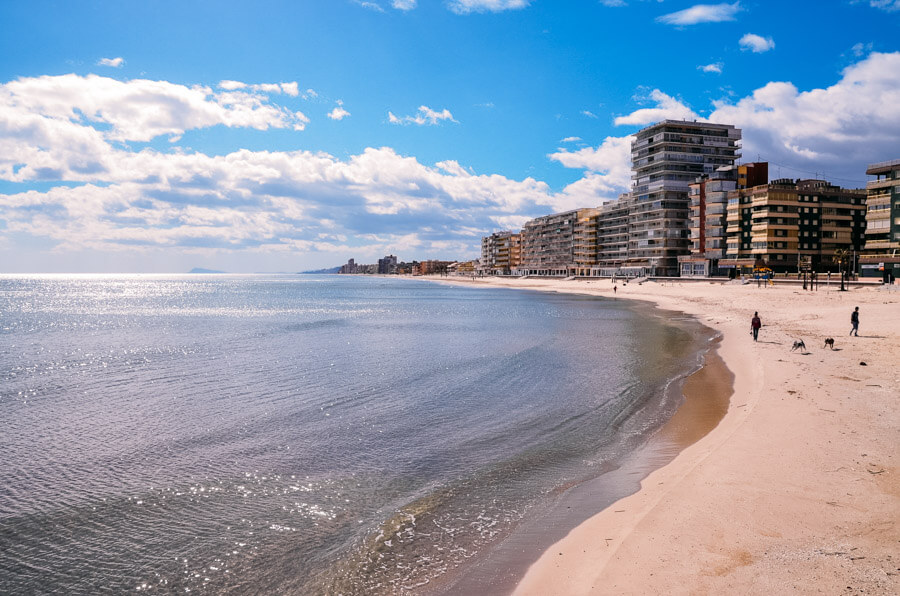 2). Not many events take place in Valencia after the 3 Kings which is after January 6th so the city becomes pretty quiet, yet no less interesting as tours and excursions take place as before and museums return to their regular schedules.
3 Kings event is one of the most interesting events to celebrate in Spain. It is a two-day holiday featuring street parades, traditional food, lots of presents, treats for the kids, and Roscón de Reyes, a round cake with candied fruits on the top, representing the gold, incense and myrrh that the Magi offered to the baby Jesus.
If you have friends who are locals or can hire a guide who'll provide insight into this holiday, you'll be able to understand the meaning of 3 Kings more in depth and enjoy the celebration.
The very big thing, and I mean a huge event, is the Fallas festival. This is the biggest and proudest festival in Valencia which takes place in March but preparations and celebrations start way before in February. So at the end of the winter, prices for accommodation start increasing significantly which can be a huge disadvantage for travel to Valencia at this time of the year.
If you are ever in Valencia in March, make sure you spend at least one day enjoying this event. The most important day is March 19th, St Joseph's day. It's the day of the burning of the Fallas and all the monuments built are burned.
As you can see, I can't come up with many disadvantages of winter travel to Valencia. I believe it's really a fantastic season when to visit this beautiful Spanish city!
Winter in Valencia FAQs
Is Valencia Worth Visiting in Winter?
Yes, visiting Valencia in winter is well worth it if your main goal is not the beaches or specific events. Valencia has an amazing temperature and tons of things to do during the winter. You can even have a paella by the Malvarrosa beach or have a coffee while watching the waves crash on the shore.
Do not expect to see typical winter activities such as skiing or making a snowman in the streets of Valencia. But you can ice skate in Bonaire Shopping Mall.
Best Time of Winter When to Visit Valencia
Among all winter months, December is probably the best month to visit, especially during the Christmas celebrations. The holiday spirit takes over the streets and you can enjoy the best of this season without having to shiver from the cold.
Valencia in February is also a great time to go since temperatures are slowly rising and remind of very warm spring and locals start getting ready for the Fallas festival.
What to Expect From Valencia in December?
With the arrival of December, Valencia dresses up for Christmas. The streets take on new colors and get dyed in red, white, and green. Christmas trees preside over markets and squares, the smell of roasted chestnuts invades the busiest and most commercial areas and Christmas lights illuminate every neighborhood in the city.
In December in Valencia, the agenda is almost endless as the number of activities is just huge. Christmas markets, concerts, children's fairs, ice rinks, theaters, circuses, and many more places offer a ton of activities to guests.
December is always busy, vibrant, and full of festivities!
What to Do in Valencia in January After the Holidays are Over?
Holiday season in winter in Valencia ends on January 6th. After this day everything becomes calmer, tourists leave, Christmas decorations are gone, and locals return to a regular routine. Although this change doesn't cancel the nice winter weather and many activities that Valencia is famous for.
January in Valencia is still a good month to travel (much better than many European cities at this time). Despite the winds and occasional rains, the sun still shines there for most of the month allowing you to enjoy walks under the palm trees.
A small number of tourists ensures the absence of queues at the sights which return to their regular schedule. Museums are open, sale season is in full swing, discounts reach their maximum, and the number of things to do is huge.
You'll definitely have plenty of activities in January in Valencia, the only thing which will be missing will be Christmas lights.
What is Valencia in February Like?
February in Valencia is that season when additionally to your regular Valencia attractions, you should visit the city for many events that pick up the pace in the second half of the month.
Some of them that are worth noting are Candlelight Tribute Concerts, Spanish Movie Awards, and Chinese New Year Celebrations.
Candlelight tribute goes throughout the whole month of February and consists of a series of musical works from virtuoso musicians in historical venues that create a unique atmosphere and allow one to enjoy music concerts in an intimate and relaxing setting.
Temperature-wise, for the most part, you can expect nice weather in Valencia in February which will definitely contribute to a wonderful time. However, it is common for cold waves to arrive during this month when the temperature may drop to 3-6 Celcius degrees (37F-43F) on some days (aside from the year 2022 when February felt like summer).
Does It Snow in Valencia?
No, it doesn't snow in Valencia city.
However, only about 30 km from the city, in the Sierra Calderona, there are municipalities such as Serra or Chiva where snow falls on the coldest days. You can rent a car and drive into the winter wonderland.
How Warm Does it Get in Winter in Valencia?
It depends on the year. But interestingly, the highest recorded temperatures for Valencia were in February 2022.
There were 5 days in the month that reached 27 Celsius degrees (80F). So who knows, maybe this year the third winter month in Valencia will also get like summer. So just in case, bring your swimsuit and… well, a winter coat.
What Valencia at Christmas is Like?
Christmas in Valencia is that special time of the year when travel there should be on a bucket list if you love spending Christmas holidays in warm places.
Valencia, just like any other Spanish city celebrates Christmas festivities from December 22nd to January 6th. Schools and colleges are on recess during that time as well.
The city dresses up in Christmas lights at the beginning of December. You can see all the shopping malls, stores, and homes decorated with lighted trees, the Three Kings parade, and Santa Claus.
The streets are full of people looking for gifts and celebrating with colleagues, friends, and family.
It is important that if you are visiting Valencia in December and want to eat at a specific place, you make reservations as this is a high season for all catering businesses.
Also, note that the main celebration days during this season are December 24th, 31st, and January 5th. Most, if not all stores and restaurants will be closed on December 25th and January 1st.
Supermarkets are closed these days, so be prepared if you are enjoying Valencia during those weeks.
Valencia Christmas Markets
There is no shortage of Christmas markets in Valencia and on a short vacation, you probably won't be able to see them all. Here is the list of the most popular ones to add to your Valencia December trip. Just put the name in google maps and it'll show you the location.
Mostra de Nadal del Mercado de Colón
The classic craft fair of the Mercado de Colón market where you can buy products created by local craftsmen and get acquainted with large craft projects.
Mercado de Navidad en la Ciutat de les Arts
From mid-December when Christmas markets open in Valencia, you can visit Mercado de Navidad daily from 11:00 to 22:00. In addition to buying gifts, you can also have a bite to eat and have your kids take part in children's entertainment activities.
Mercado de Navidad Jul Konstruktion
This Christmas market has lovely outdoor cafes, various performances, frequent concerts, and other activities for adults and children. It usually opens in mid-December and waits for guests until January 5.
Fira de Nadal Lluís Vives 2021
The university Lluís Vives usually transforms into a Christmas market from December 23 to January 6 and is open daily from 11:00 to 22:00. There, one can find unique handicrafts that are not presented in other markets.
Mercado de Tapinería
The most fashionable and stylish Christmas market in Valencia where you can buy trendy clothes, accessories and home decor. Usually operates from December 22 to January 5 and unfolds in the Mercado de Tapinería market.
Feria de artesanía de la Plaza del Ayuntamiento
From December 3 every year, the Plaza del Ayuntamiento in Valencia gets filled with a Christmas mood. Until January 5 inclusive, rows of Christmas market there offer a variety of goodies. It is possible to buy gifts, traditional sweets and home decorations.
Where to Stay in Valencia in Winter
In winter, when travel mostly revolves around different tours and city explorations, it doesn't make much sense to stay by the beach (unless you want to be in a quiet zone away from hustle and bustle of the city).
It will be much better to stay in Valencia's historical part or at least close to it to be in the center of events.
Areas to look at are:
RECOMMENDED HOTELS TO STAY IN VALENCIA:
PALACIO VALLIER 5* ($$$) – a 5-star hotel in the heart of historic Valencia city. It is one of the best hotels in Valencia both for its facilities and service. Located just 100 meters from the Basilica de la Vírgen de los Desamparados, it is an ideal spot to be close to everything.
HOTEL RH SOROLLA CENTRO ($$) – is a fabulous hotel that stands out for the elegance and comfort of its rooms. Being in a very central location, in front of the Nortes station and about 200 meters from the Plaza del Ayuntamiento, it allows you to be in the heart of Valencia.
ROOMS CIENCIAS ($) – If you want to sleep in Valencia near the City of Arts and Sciences, this hotel is one of your best options. Modern in style spotless rooms, excellent restaurants, and unbeatable location.
PETITE PALACA RUZAFA ($) – a boutique hotel that could be classified between cheap and mid-range accommodation. Having an incredible location, impeccable service, good variety in breakfast, and excellent room amenities, this hotel has very moderate prices for how good it is.
My Top Tips For Valencia Winter Travel
Winter in Valencia is a warm and beautiful season, but with all of that, there are a few things to know.
1). Be ready to deal with the humidity. On many days, especially in January and February, it may feel colder than it is because the humidity makes everything feel wet. Especially early in the morning and late at night.
2). Take full advantage of the daylight. Since the sunset comes earlier during the winter, make sure you hit the streets early.
3). If you rent an apartment instead of staying in a hotel, just know that houses in Spain, especially in the south aren't ready to keep them warm and toasty. So, be ready to wear layers inside and rent a place where heat radiators are available.
4). Eating times in Spain don't change in the winter, so keep in mind that dinner time is between 9-10 pm even though it gets dark before 6 pm.
It will be hard to find restaurants in Valencia serving meals during non-Spanish eating times. Lunch from 2-4 pm and breakfast between 7-10 am. However, the mornings can be a bit more open, and you will be able to have coffee and pastries all morning long up until 2 pm. But it will be hard to find lunch before 2 pm.
Things to Do in Valencia in Winter
And now let's briefly talk about what to do in Valencia in winter. I want to cover my favorite activities that are particularly wonderful for a winter visit. There is a ton of attractions in Valencia but I want to concentrate on my favorite ones that make any winter trip a bit more special.
Visit the City of the Arts and Sciences
City of the Arts and Sciences is a cultural and architectural complex (one of the largest complexes of this type) made up of impressive buildings that amaze with their grandeur.
Visiting it in winter is one of the highlights.
Its buildings offer indoor activities throughout the year and in the same complex stands L' Oceanogràfic, which is the biggest Aquarium in Europe. There you can see dolphins, penguins, and about 500 other maritime species. At nighttime, there is a captivating show of dolphins and lights as well. If I could compare, I'd say that another time I was as impressed by the aquarium was in Dubai mall.
But besides the aquarium, there is also a huge planetarium, IMAX cinema, a beautiful garden where to walk during the day or night, science museum, an open-air bar, and huge pools of water where guests can ride on boats.
Walk Through the Historic City Center
Walking in Valencia in summer is quite difficult because of the scorching heat but winter season is simply perfect for long city walks, day tours and excursions.
For example, the Lonja de la Seda is in the heart of the city and shows the importance and wealth that the city had during the golden age. The building dates back to 1483 and is a symbol of the silk industry.
There are also tons of beautiful architecture throughout the city such as Torres Serranos, the Cathedral of Valencia, and others. The best way to see it all is on a tour either with a guide or on your own.
For self-guided tours, do your research in advance and prepare short info about each place in a separate file, so you can read about it once on spot. For guided tours, here are a few suggestions hand-picked by me:
Tours of Valencia Old Town:
Visit and Grab a Bite at Mercado Central
Mercado Central is the central public market of Valencia with fresh produce and varied cuisine. It is one of the largest fresh food markets in Europe which is also one of the most atmospheric places in Valencia.
The structure where the market is located is a true piece of art. It is simply astonishing with tons of arches and windows in the ceiling filling the market with natural light. There is a great variety of vendors and all products are always of high quality.
Come here just to walk and check it out, enjoy the ambiance, shop local produce, and try cooked dishes they serve inside the market.
Christmas Eve is not the best time to visit but come on any other winter day in Valencia and try locally made produce, including some traditional Spanish dishes and tapas.
Don't Miss a Tapas Tour
Valencia is a city of great gastronomic wealth and is the perfect place where to become a foodie and of course not to miss such an appetizer as Valencia-style tapas.
For Spaniards, tapas is not just food, it's a way of life. Having tapas as a meal is not just act of eating, this is actually a special ritual that you can get acquainted with either on a self-guided route or during a tour led by a local experienced guide.
There are several areas of the city where you can go for tapas and make the most of your time on your own. But there are also quite a few dazzling tours where guides take tapa tastings to the next level. Here are a few hand-picked tapa outings for you to make a winter visit to Valencia more special.
Hand-Picked Valencia Tapas Tours:
Tour 'Mestalla' the Home Stadium of Football Club Valencia
Here is a unique thing to do in Valencia in winter, particularly in January, which will be of particular interest to young travelers and football fans.
Valencia CF (Club de Futbol) offers an inside look at every corner of their home stadium Mestalla and every tourist can take advantage of it on any day of the week if that does not interfere with events scheduled to take place there.
With the help of a professional guide, visitors can have an excursion to the holy of holies of one of the leading Spanish clubs where many international games take place. See the players' tunnel, benches, press room, changing rooms, trophy room, and other hidden corners and feel the power of the 50,000-seat stadium.
If you are traveling to Valencia with children who love football, this winter excursion will be an absolute delight for them. In January, there is not much happening in the stadium, so you can choose a suitable day even on short notice. However, reservations are still required. You can make it as well as find out more about the tour here.
Eat by the Beach
I mentioned before that one of the best things to do in Valencia in winter is to eat by the beach. Why? Because the weather is just perfect for it, especially for cozy evenings when you can wrap yourself in a blanket and enjoy a romantic dinner with the sea breeze.
One of my favorite places is La Albacora, right on the Marina in Valencia. Just a few stops from the city center by tram, and you will be delighted by one of the best Chefs I have ever met in my life, Alejandro del Toro. This restaurant is glass-covered, which allows you to enjoy the sea views while eating incredible local food.
Other restaurants that are worth mentioning are Marina Beach Club Mediterranean Restaurant and Chiringuito La Base.
Go on a Road Trip
Valencia is the third largest city in Spain, with tons to offer not just inside the city but also outside. It is also surrounded by beautiful small towns, vast vineyards, and other locations worth visiting. While you can see almost everything on a tour, it can not compare to an adventure that you can have on your own when renting a vehicle.
So don't hesitate to hire a car in Valencia and go on a scenic drive in the region.
If time allows, you can even drive all the way to Barcelona following my tips or in another direction to Malaga. Coastal roads towards the east and west are incredibly picturesque and there is a lot to do, even when visiting Valencia in winter. But if you have only a few days in the area, why not drive from Valencia to Madrid and see the capital city.
No matter in which direction you decide to go, don't miss my brief guide to Valencia car hire. Or simply check prices for car rentals from my favorite rental car company. They are the lowest among all aggregators.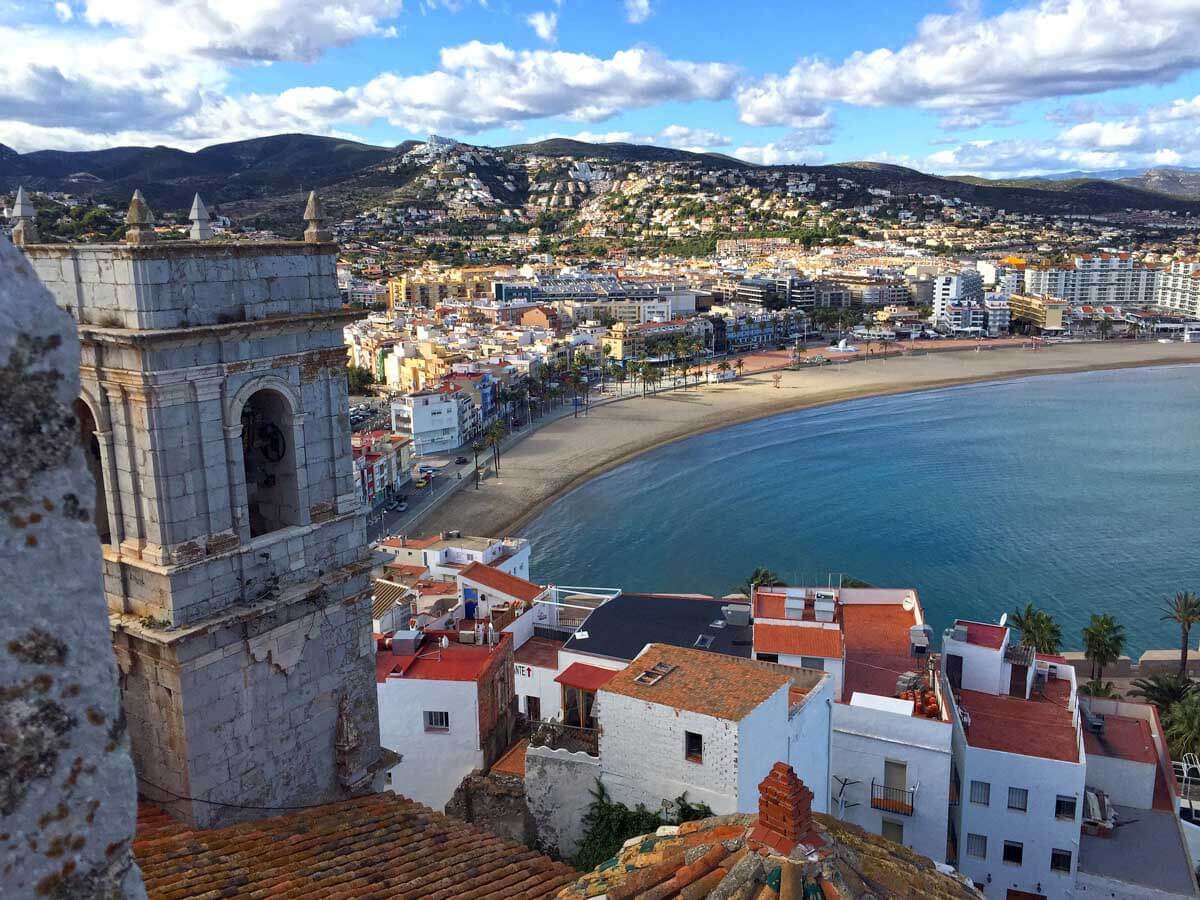 And overall, southern Spain is designed for road trips. With all the beauty that lies between the cities, you'd want to plan a day or even a few to get out of Valencia to explore the surroundings. And this is what can make you fall in love with the entire region.
Rent a Bike & Cruise Around
Throughout the entire city of Valencia and beyond, there are flat biking paths laid along the water's edge and by the old town. They are ideal for cycling and touring Valencia on your own terms while not spending much.
Rent a bike (at the city bike station, at your hotel, or private rental shop) and cruise around. And then if you are up for hearing stories about Valencia, join a guided city and beach sightseeing tour by bike or biking tour through the old town.
Biking is one of the best things to do in Valencia in winter as it opens up this city from a totally different perspective!
---
This is my list of things to do in winter in Valencia, do you have any other activities that didn't make a list but are worth the time and money? Let me know in the comments! And here are…
More Posts About Winter Travel in Spain
More Winter Travel Posts Around Europe