9 Unique Cheap & Warm Winter Vacations in the USA That You Didn't Think About!
Last updated on September 22nd, 2023
Is it still possible to find affordable destinations in the US for winter travel and escape the chill without emptying your wallet? Yes, it is, there are quite a few places for cheap warm winter vacations in the USA that offer a budget-friendly escape from the cold and I'll show you where to look!
From tranquil beachside stays where sand meets surf, to cozy desert hideaways basking in golden rays, I suggest you plan a journey to one of these inviting and economical warm winter getaways.
And if you need more ideas for cool places to travel in winter, check also my other post about the best winter vacations in the USA and some unique places in the US that are great for a visit at any time of the year. They are not cheap but beautiful and bring you to snowy destinations around America as well as some more beaches.
So get ready to trade cold for a bit of winter warmth in the US and embark on a wallet-smart adventure that promises to keep you cozy without compromising your savings!
---
Please note: This post contains affiliate links. I may earn a commission if you make a purchase or booking by clicking a link (at no extra cost to you).
---
10 Ideas for Unique Cheap & Warm Winter Vacations in USA
Cheap Winter Beach Vacations in the US
Gulf Shores, Alabama
Gulf Shores is a city along the Gulf of Mexico in Alabama known for its white sand beaches, pleasant winter temperatures, and coastal attractions. It offers a mix of sandy shores, water activities, entertainment, and amenities like shopping and dining. It's a less popular destination for a winter beach vacation in the US that offers a budget-friendly beach escape.
Gulf Shores is often considered more affordable when compared to destinations like Florida's Gulf Coast or the Caribbean. While "cheap" is subjective and depends on an individual budget, Gulf Shores does offer a range of budget-friendly options for accommodations, dining, and activities.
Just some examples of rather affordable yet nice accommodation options are The Lodge at Gulf State Park, A Hilton Hotel or Hotel Indigo Orange Beach. If you book in advance, it is possible to score rooms for around $400 for 3 nights for two adults with small children. Both of them are located by the beach, have pools, and various dining options.
View this post on Instagram
But there are many more hotels of this level in Gulf Shores for the same or similar price. The main thing here is to book early.
If you are on a really, really tight budget, then check out motels and campgrounds (if coming with your camper). There are options to suit different budgets, and visitors can often find more affordable accommodations than in other beach destinations.
Gulf Shores also offers a variety of free or low-cost activities such as beachcombing, exploring state parks (Gulf State Park is the closest gorgeous one), hiking, and some local attractions. All public beaches are free.
Galveston, Texas
While Galveston in Texas does have milder winter temperatures compared to many other parts of the United States, it may not be warm enough for swimming in the Gulf of Mexico during January and February for everyone's comfort. Yet, it is a nice and cheap place to travel to in January and February in the US, especially for certain types of travelers and interests.
To get here you need to fly to Houston which is well connected with many cities in the US and airline tickets often do not cost much. Car rentals in Houston airport are a bit more expensive but you need to play with dates to be able to find a good deal.
In winter, Galveston offers a break from colder winter weather in other parts of the US and the opportunity to enjoy outdoor activities (along with relaxing atmosphere) without excessive cold.
Even if swimming isn't a primary activity, you can still enjoy walks along the shoreline, seashell collecting, and peaceful sunsets.
This destination has a rich history and boasts well-preserved historic districts with beautiful Victorian architecture. If you enjoy exploring time-honored streets with historic homes and learning about local history, Galveston could be a rewarding place to visit on a budget in the US in winter.
Cheap & Unique Activities in Galveston
Cocoa Beach, Florida
Cocoa Beach near Orlando is another affordable destination for a beach vacation in winter in the US. It is considered a relatively affordable warm winter destination due to the lower accommodation prices, making it easier to find options that fit within a tighter budget.
What is also great about it is that it's in close proximity to Orlando where you can find many cheap rental car deals in winter. Surprisingly they are much cheaper than car rentals in Dubai or even car rentals in Turkey (where they are supposed to be cheaper but they are not).
I recommend you rent a car at Orlando airport (most people fly there anyways) to bring costs down. In December, prices are a bit higher and go for about $230 per week but in January they significantly drop and you can score a rental car for as little as $120 per week.
Cocoa Beach offers a more laid-back beach atmosphere compared to the busy urban environment of Orlando and has close proximity to the beach providing easy access to the beach and ocean activities.
It is a warm and cheap place to visit in January in USA with a beautiful white sand shoreline and oceanfront. Besides swimming and sunbathing, very popular there is birdwatching and fishing from the beach or fishing piers.
Another thing, Cocoa Beach often hosts free events, festivals, and live music performances, providing entertainment options that won't strain your wallet.
South Padre Island, Texas
South Padre is another cheap place for winter vacations in the US most likely that you didn't know about. It is also a unique place for cheap family beach vacations in USA as there are many activities for kids on the island.
Unlike Galveston mentioned above, South Padre Island is more feasible for swimming during the winter months. While the water temperatures might still be cool, they are generally milder than what you might find in Galveston during the same period.
Many people do swim and enjoy water activities in South Padre Island's Gulf of Mexico waters and you may too, especially if coming from the northern states and being accustomed to a colder climate.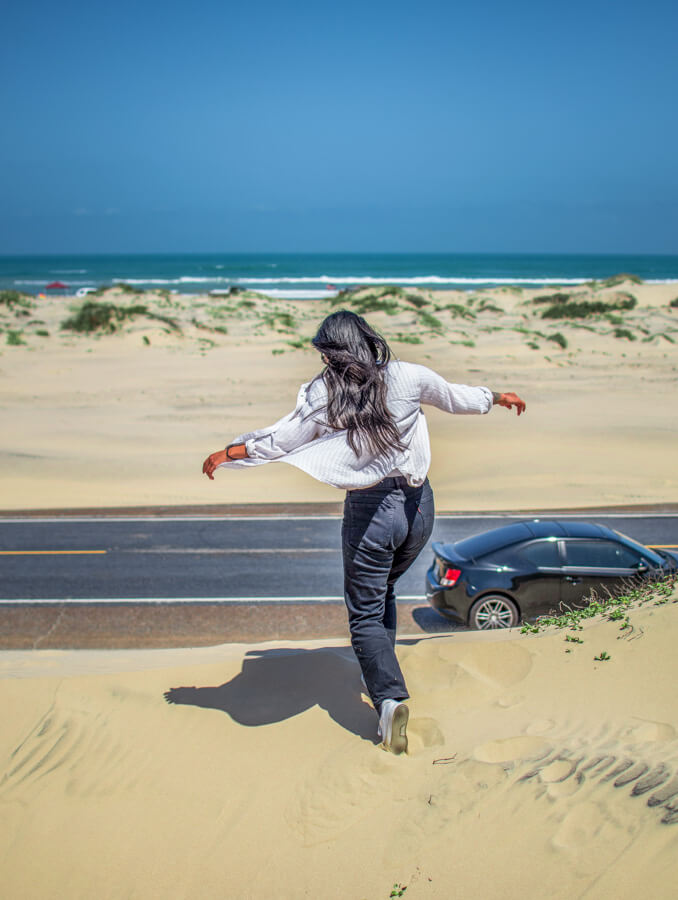 Coastline here is picturesque and beaches are so inviting. Isla Blanca Park at the southern tip of the island, has a beautiful beach area with calm waters while Andy Bowie Park near the northern end of the island boasts a quieter and more tranquil beach environment.
South Padre Island also offers a wide range of water sports and activities, such as windsurfing, kiteboarding, and snorkeling, which might be more appealing if you're interested specifically in warm beach time and swimming.
Imperial Beach, California
Located just south of San Diego, Imperial Beach is a perfect beach destination for winter travel in the US as it is one of the warmest beaches in the entire country for swimming during the winter.
Compared to other winter beach destinations in USA, Imperial Beach is on the more expensive side. But compared to some of the higher-end beach spots in Southern California, it is a more budget-friendly option.
Yet it is important to manage your expectations and check all accommodation options (as well as make a plan for all the activities) to ensure it aligns with your budget.
When I lived in Los Angeles, we would travel to Imperial Beach on many occasions. It was cheaper to stay there than in Laguna Beach or San Diego. Plus it was much quieter than San Diego too.
Some hotels like, for example, Sand Castle Inn cost around $150 per night for 2 and are only across the road from the beach. But there are also a few airbnbs that go for about the same price, like this Beachbreak Deluxe with everything you need for a nice vacation.
If you end up going to Imperial Beach, I highly recommend you to Tijuana Estuary (besides all those cool activities in San Diego). It is one of the few salt marshes remaining in Southern California that serves as a haven for people who love birdwatching and nature!
Unique & Cheap Tours Near Imperial Beach in San Diego
Molokai, Hawaii
Hawaii may seem to be a very expensive destination due to its remote location and higher costs associated with island living. However, some Hawaiian islands offer more budget-friendly options, especially for winter travel when Mexico and Caribbean attract the majority of tourists.
One of such islands is Molokai, Hawaii's best-kept secret with a more authentic and less touristy environment compared to other islands. It provides a more affordable and off-the-beaten-path winter getaway. You just need to manage to find a reasonable price for tickets.
Molokai is a paradise for nature lovers. In some ways, it reminds me of Northern Tenerife with lush landscapes and dramatic cliffs. Many outdoor activities are free or have minimal costs associated with them. Its beaches are often quiet and with fewer people which provides a tranquil environment for relaxation and enjoying the natural beauty.
View this post on Instagram
To be able to travel cheaply to Molokai, start looking for flights early, compare different flight search engines, and set fare alerts for price drops. Surprisingly, it is possible to find flight deals to Molokai from cities where you don't expect lower prices like Kansas City, Minneapolis, Santa Fe, and of course many cities on the west coast like Los Angeles, Portland, and Seattle.
As for accommodation, it is better to look for apartments or airbnbs as in this case you'll sure save money. When I do research, I find quite a few flats for about $170-$180 per night for an apartment. Examples: Maunaloa Vacation Rental by the beach or even cheaper this condo in the southern part of the island.
Other Unique Cheap Warm Places to Visit in the USA in Winter (+All-Inclusive Options)
Tucson, Arizona
One of the lesser-known fun and cheap warm vacation spots in America is Tucson in Arizona, which is home to Saguaro National Park where you can see iconic saguaro cacti and enjoy scenic drives and hikes. By the way, national and state parks around the city offer affordable entrance fees and a chance to experience the beauty of the desert.
Also, since Tucson is very close to the Mexico-US border, here you have a strong feel and influence of Mexico. That means you can enjoy delicious and budget-friendly Mexican cuisine in local eateries and "see a bit of Mexico" without actually leaving the USA.
Tucson is a great place to seek winter sun and warmth on a budget in the United States. It enjoys a desert climate with mild winters and plenty of sunshine, making it an attractive destination for those looking to escape colder temperatures.
But the most surprising part – you'll find there a few awesome all-inclusive resorts and hotels that make it a perfect destination for an all-inclusive warm winter vacation in the US!
View this post on Instagram
Just some examples are:
Phoenix, Arizona
Similar to Tucson, Phoenix also is a cheap warm place to visit in December. It is perfect for a city getaway in America combined with outdoor adventures like hiking and sightseeing. Besides December, it is a great place to visit throughout the entire winter, including January and February when there are more winds.
You can enjoy outdoor activities (like hiking, biking, and exploring the desert) in full because the weather is not too hot or too cold. It's also a good time to see cultural places like museums and art galleries.
The weather is comfortable, and you can do lots of things outside. There are nice places to learn about history and art, and you can play golf too. Even though it's winter, you won't need to wear heavy coats like in other places.
Phoenix is also a good starting point if you want to take short trips to nearby places like the Grand Canyon or Sedona. It's a great way to escape the cold and enjoy some sunshine and fun activities.
The only thing that Phoenix misses in December it's the holiday vibe. There are not many decorations like in other Christmasy towns around America but it is still possible to find many holiday events and pretty lights that make it feel more or less festive.
But the best part for people who travel on a budget – Phoenix has all types of accommodation, including nice budget motels and affordable airbnbs. You'll be able to find something without breaking the bank. And since it is also well connected with many cities around the US and Canada, finding a cheap ticket will not be a problem.
Lake Havasu Area, Arizona
Lake Havasu is another budget-friendly destination in the USA for winter travel that you probably didn't think about. It is actually a nice warm place to visit particularly in December with family or your loved ones.
While it is not particularly hot (temperatures go from mid-60s to low 70s Fahrenheit (18-24°C), the weather is comfortable enough for outdoor activities, sightseeing, and enjoying the area.
Lake Havasu is famous for its beautiful lake (obviously) and outdoor activities. January and February can be quite rainy and windy but December offers pleasant temperatures for boating, hiking, walking, fishing, and exploring the beautiful desert landscapes.
The scenic beauty of the Colorado River and surrounding mountains provides a unique backdrop for relaxation and exploration.
From the end of spring to about October, Lake Havasu is quite pricey and busy with visitors. But the beginning of winter season means that prices for accommodation drop and it is very possible to find more reasonable rates compared to peak tourist seasons.
There is a range of cheap hotels, vacation rentals, and RV parks. And if you're open to camping or staying in motels, you'll be able to bring your expenses even more down.
More Posts About the USA Travel
More Winter Travel Inspiration in Europe
Cheap Travel in Europe
Can you add any other cheap and warm vacation spots to visit in the USA? Share with me in the comments!