14 Cheapest Places to Travel in Europe in Winter – Let Magic Happen
Last updated on July 2nd, 2023
Are you a budget traveler who is looking for the cheapest places to travel in Europe? For some reason, many people associate Europe with high costs and the word "expensive." When in reality, this continent has plenty of affordable destinations.
Winter in Europe is actually one of the best seasons to travel! Well, yes, for many reasons. There are fewer people, lower prices, it is easier to make bookings, and more places offer stress-free vacations. Over and above that, big cities and small villages look more like decorations from a movie. They are incredibly beautiful and the reason for that is not just Christmas lights.
Winter Europe is endlessly attractive to all types of travelers. On the one hand, it has a huge number of cultural monuments, history, and picturesque landscapes. On the other hand, traveling in Europe can get quite expensive.
Of course, even in expensive countries, you can travel on a tight budget. But if you want not only a cheap but comfortable vacation, then this list is for you!
Psst: Looking for a cheap country to live in Europe? See my other post!
---
Please note: This post contains affiliate links. I may earn a commission if you make a purchase by clicking a link (at no extra cost to you).
---
The Cheapest Places to Visit in Europe in December
December is that time of the year when everyone wants to travel in Europe. Because it feels enchanting everywhere. Since this is the highest tourist season, prices are mega inflated and hotels are fully booked. But there are a few countries, which are popular in summer, that do not see many tourists in winter. And each of them makes a list of cheap places to travel in Europe in winter.
Lithuania
One of the lesser-visited countries in Europe Lithuania holds so much magic during the holiday season. And it is such a cheap winter getaway here.
Most of the country is normally covered in snow around Christmas except for the coast. Although in the cities temperatures don't drop far below 0. December is a more gloomy month with snow on and off but you also get to see sunny days.
One of the big reasons people come to Lithuania in winter is Hot Springs. Did you know at all that Lithuania has thermal baths? I talk about them in greater detail in my guide to Vilnius. They are open all year round, even during the cold winter days. The best places for that are Druskininkai, Birstonas, and Palanga Spa Towns. But check my guide for more tips.
Surprisingly, winter sports are becoming more and more popular too. The country doesn't have any mountains but cross country skiing takes place every year. Snow season is a bit unpredictable in Lithuania but there are some weeks when the country is covered in snow and up in the hills the temperature can drop to -20C degrees. So pack warm clothes!
There are a few great places you can choose from to ski. Like Druskininkai Resort Town and Anyksciai. The last one is the largest ski resort in Lithuania.
If you like hiking, you absolutely have to visit Aukstaitija National Park. It offers many different paths through the woods for orienteering, nature walks and rest.
Georgia
Georgia. Definitely, you didn't think about this teeny-tiny country as one of the cheapest places to travel in Europe. And travel in winter. We lived in Tbilisi and would definitely return there again during December.
Georgia is a fantastic destination for budget travelers (and not only budget!) where you can have various experiences during one trip. From wine tasting, Kazbegi adventures, incredible road trips to sunbathing to skiing, Christmas markets, and cave explorations.
Winters in the capital of Georgia are soft. The temperature hardly goes below 0 degrees. And the city always gets beautifully decorated for the holidays. There are fewer tourists but all the shops and restaurants stay open so you can still enjoy amazing Georgian wine and cuisine. And to be honest, Tbilisi has some of the best restaurants and bars in Europe. You can be very busy only hopping from one place to another.
On the coast, winters are much softer. Anywhere between Batumi and Ureki, you can easily have +10C degrees or even higher during the day which allows you to get vitamin D and traverse two coastal regions.
Some mountain roads may close due to snowfalls, but there are still many places you can reach by car. See my guide on what to see in Georgia for first-timers if your visiting Georgia for the first time. I am also working on more content on this topic, feel free to browse through this page.
Montenegro
Come to visit Montenegro in December! So many tourists visit Montenegro in summer, not knowing how spectacular this country is in winter. We lived in Montenegro too and I want to encourage you guys, looking for affordable European vacations, come to Montenegro at the beginning of winter season.
It's going to be cheap, quiet and full of surprises. Also, December is the time of oranges, tangerines, persimmons, and kiwis.
The climate in different parts of Montenegro can vary greatly. On the coast it gets warm and in the north people ski. Since the country is very small, you can be skiing in the mountains and soaking up the sun on the coast during the same day.
Usually, the average December air temperature along the coast is +15 +17C degrees, but on many days it can be +20+22. Nights are much cooler and you may need a heater. But days, for the most part, see the gentle sun and calm sea. In the north, the average daily temperature ranges from -8 to +5 degrees which creates perfect conditions for skiing, snowboarding, and snow-related activities.
Despite the small size of the country, Montenegro has three climatic zones – coastal, northern and central. In the central part of Montenegro (Podgorica, Niksic, Cetinje) there is nothing to do in winter but the coastal part of the country and the north offer a lot of activities.
My best advice – choose to have Montenegro vacation on the coast if you plan to take excursions and see the historical part of the country. If you are interested in skiing then there are two well-known ski resorts to look into – Zabljak and Kolasin. There are several smaller ski resorts but with the poorly developed infrastructure, they are not worth your time. We personally visited Zabljak multiple times during different seasons and it was spectacular.
For more information on Montenegro in winter, check my detailed post. And see all my posts on Montenegro here.
Cyprus
Overall, Cyprus is not considered a really cheap destination. But that changes once winter comes. Holidays in Cyprus are the cheapest in winter, especially if you are making reservations at the last minute.
In the second part of November at the end of the season, prices for rental cars and accommodation drastically fall what turns it into an excellent destination for budget travelers.
Yes, you won't be able to swim in the sea but there is so much to do beyond the beach. Go on a scenic hike or walk with panoramic views, rent a car in one of many cities and go road tripping, visit a winery, one of the oldest villages, or spend a day in a spa that Cyprus is famous for.
Also do not forget that Cyprus is divided into two countries and if you go to the Turkish part of the island, your vacation will be much cheaper than in Turkey and at the same time cheaper than in South Cyprus. At the same time, you can safely go on excursions around the island, but in the end of the day return to your hotel. North Cyprus has quite a few chick all-inclusive hotels to stay in.
Check my winter travel in Cyprus post to find out more!
Estonia
Estonia is probably not the first country that comes to mind when thinking about cheap winter getaways in Europe in December. But Tallinn and surrounding cute towns have its charm during the holiday season. The city becomes like a fairytale town with a Santa Clause, Christmas markets, ice sculptures and lots of lights and decorations. Most lookout points of the city, from where you can get an amazing view, stay open for the public. By the way, if you are thinking about the best winter city breaks in Europe, consider Tallinn.
The country does not have tall mountains, yet winter sports are very popular. There are plenty of hills with well-built ski tracks. The most famous one is in Otepää. Besides that, many ice skating rinks open up all over the country.
A small northern baltic country brings more and more tourists every year but not so much in winter. That's why many tour operators and hotels lower their prices. The best time for budget visits is late fall, early winter, the second half of winter, and early spring. But December is just so magical.
The Best Holiday Destinations in January For Budget Travelers
There is just too much hype around travel in Europe in December. People try to plan their vacations not later than the beginning of January, implying that there won't be much to do after the Christmas season is over. But this is not true.
There are some lesser-visited countries where celebrations go in full swing in January and where this month of the year is simply the best time to visit. And as a bonus, the countries you find below are the cheapest places to travel in Europe.
Belarus
Have you ever thought of visiting Belarus for the winter holidays? Alright, let me ask you differently. Have you ever thought about visiting Belarus at all? Most travelers will shake their heads and say "no".
Belarus is one of the most underrated countries. Minsk alone is worth a visit during any season. Still, especially charming it gets during the holidays which country celebrates later than most of Europe.
Festive atmosphere, lots of decorations, lights everywhere and overall festive mood create this special vibe that lasts all the way into January. The most beautiful time in Minsk and Belarus, in general, is on New Year's Eve and in January. During this time, you can also witness a real Belarusian winter – with snow but not being too cold.
This destination is going to be one of the cheapest winter getaways yet fun. In January, the snow guarantees amazing sceneries. If you have done all Minsk sightseeing, go to a winter wonderland at Naroch Lake and Narachanski National park, rent a cabin around Brest city, go snowshoeing in Naliboki forest or visit castles in the vicinity of Minsk. The highest point of Belarus is only 300 meters, although it doesn't mean that skiing is not popular there.
Does my content help you plan your trip? If yes, I'll appreciate a cup of coffee from you, so I could produce more free guides and itineraries!
Ukraine
Ukraine is a fantastic holidays destination in January for many reasons.
First of all, it is the cheapest snowy country in Europe. There is normally snow around the holidays and then it comes and goes until spring. Second, as in Belarus, the Ukrainian holiday season begins later than in the rest of Europe which means that decorations, celebrations and Christmas markets take place almost until February.
Ukrainians start decorating cities and preparing for holidays only in the third week of December. The country celebrates New Year on January 1st, Orthodox Christmas on January 7th, followed by "Old New Year" on January 14th and then one more major holiday of Epiphany on January 19th.
During all these days Ukrainian cities are beautifully decorated along with musical programs and concerts in all major cities. Christmas markets are lovely. They look similar to Christmas markets in other European countries and at the same time, there is something different about them.
Each market offers so many tasty foods along with many variations of Glintwine. Also, everything is so cheap! A lot of concerts are free, a meal at the market will cost on average between $3-$5, a large cup of Glintwine $2-$3 max. Nowhere in Europe, you will find such prices at the Christmas markets. So I can say with confidence that Ukraine is one of the cheapest European Christmas destinations.
Another important thing to consider is that Christmas markets and decorations stay up for a while. This is why January looks usually bright and festive. This past winter we had our last Glintwine on February 1st. It was the last day for the markets and considering that most markets in Europe close down by January 1st, some a week later, that is a big advantage if you are planning a trip after the holiday season is over everywhere else.
Remember that Ukraine also has Mountain Range – Carpathians with lovely ski resorts and the largest of them Bukovel. And this region in winter offers many beautiful accommodation options, hiking in the snow, and Classic Folclore experience.
There are also hot springs, covered and under the open sky. They keep their water pretty hot up to 36°C and no colder than 32°C on coldest days.
I have lots of tips and guides to Ukraine on my Ukraine travel blog. If you are visiting Kyiv in winter, here is another post on the best things to do.
Albania
Surprise, surprise, Albania is another best place to visit in winter for an affordable European vacation!
Usually, people know this country as a summer destination, avoiding it in winter. Although if you know where to go, you can have an unforgettable getaway. At this time of the year life in Albania is in full swing and this is the best season to travel to ski resorts (which are among the cheapest ski resorts in Europe), join a wine tour, pop into Tirana's famous museums, go on a road trip and visit one of many amazing spas or hot springs.
Albania is perhaps one of the most inconspicuous and undistinguished Balkan countries. For a long time, it was completely isolated from visitors. This is why it didn't have a chance to show its beauty on the world tourism arena. Yet. But it is developing fast and at any time of the year, in any place and under any circumstances, you will undoubtedly be welcome there!
Slovakia
Holidays in Slovakia in winter, particularly in January, are suitable for those budget travelers who prefer skiing, hot springs, and snow-related activities. Slovakia is a fantastic alternative to pricey Austria, Italy, southern Germany, France, and Switzerland. This is why, often in the Tatras, you can meet travelers from all these countries who come here to ski.
The High Tatras have high-quality slopes, snowboard parks, ski schools for children and adults, snow tubing, skating rinks, entertainment centers, and beautiful ski resorts. Even the nearby Polish Zakopane area is a bit more expensive. During a trip to this fascinating country, every vacationer can enjoy a fabulous atmosphere surrounded by mountains, centuries-old forests, and magnificent castles.
In Slovakia, you can ski at affordable priсes. There are a lot of comfortable, cozy and quiet hotels, resorts right next to the slopes and throughout the country as a whole. The cost of renting accommodation will be minimum two times cheaper than in those countries that have the Alps. Although the quality is in no way inferior. The food at the stores is cheap and the restaurants are quite affordable as well.
The main ski resorts in this area are Strbske Pleso, Smokovec, Tatranska Lomnica, Zdiar-Strednica and Bahledova Valley-Jezersko. The first three resorts have a single ski-pass. The High Tatras are a great choice for families with children since here you can engage in all kinds of winter sports. A few waterparks and hot springs are in the same area too. There is a railway line that connects all resorts with each other and with the city of Poprad, where the nearest airport is located.
At all ski resorts in Slovakia, without exception, there are shops, rental services, restaurants, cafes, and various entertainment facilities. They will make your stay even more comfortable and memorable.
Romania
Romania in winter is a country of entertainment and relaxation at a very low cost.
The Carpathian Mountains offer beautiful mountain peaks, the best ski slopes, and the freshest air. You only need to choose a place where to be based – in Brasov with many things to do, Sighisoara or Sibiu.
Fans of outdoor activities will have the opportunity to ski on the slopes, enjoy the beautiful scenery and drive on scenic roads. The climate in this part of Romania is temperate continental, so winters are usually mild and snowy. Even though January is the coldest month, it is not going to be any colder than in most other European countries.
Do not imply that Romania in winter suits only those who love to ski. Nope. There is a lot to explore in this amazing country beyond ski resorts. There are ancient monasteries, fortresses, and castles. Welcome to Transylvania – the birthplace of Count Dracula! Castles near Brasov, Peles, Sibiu, and Bran in winter look mystical and stay quiet and empty.
Romania will delight you with warm hospitality and a wide range of wines. Did you know that Romania produces its own wine? Yes. When visiting, try some local wines and do some tasting. Also, in local restaurants, along with dishes of national cuisine, tourists can watch various performances with gypsy songs and dancing.
When visiting, make sure to rent a car and drive a scenic road from Bucharest to Brasov.
There is a good deal of places where to stay on a budget in Romania. If you end up in Brasov, prefer to stay in a hotel and can splurge a bit, I can highly speak of Teleferic Grand Hotel or Hotel Aro Palace. The first one has a beautiful, clean property and nice pool while the second one is just one stunning hotel with the best view of Brasov.
Cheap And Cool Places to Visit in Europe in February
There are actually so many places in Europe where you can go in February. Those cheap winter getaways I am going to mention below have mild winters and are easy to reach. In addition, February is usually the most unpopular month among tourists, so you can be sure that your experience will be very authentic.
Turkey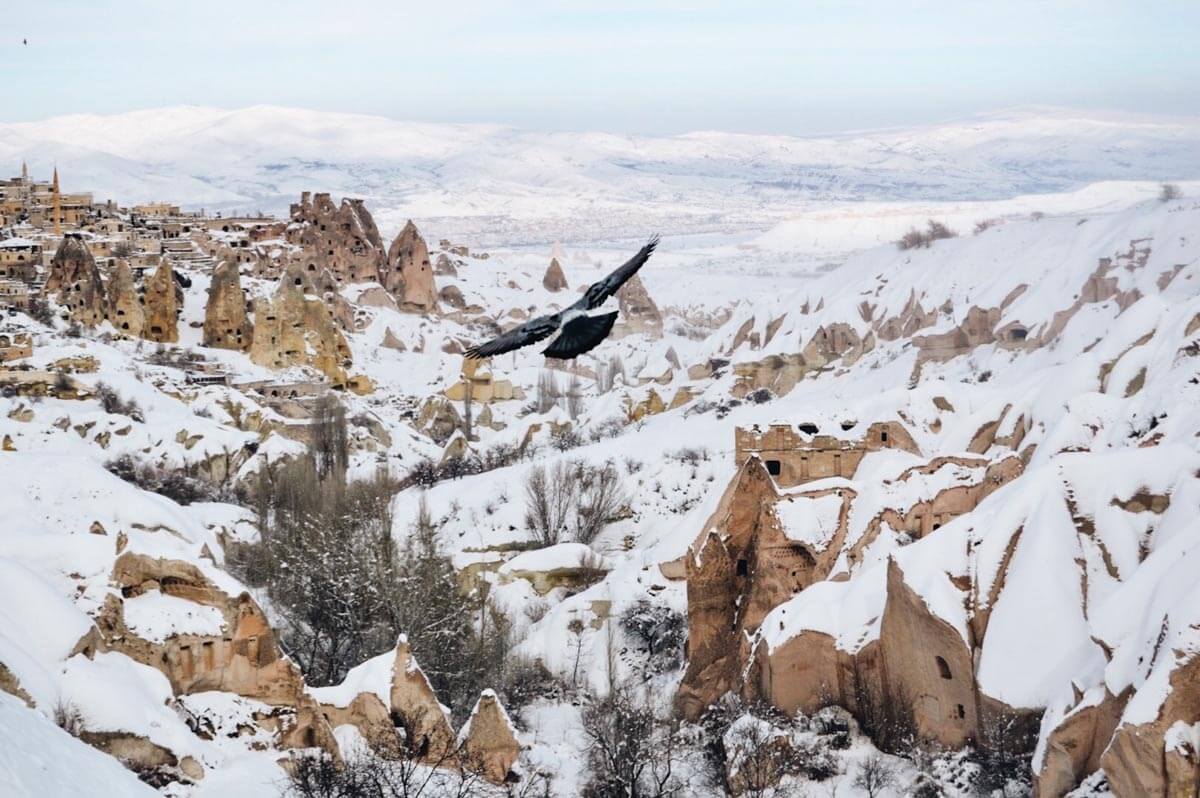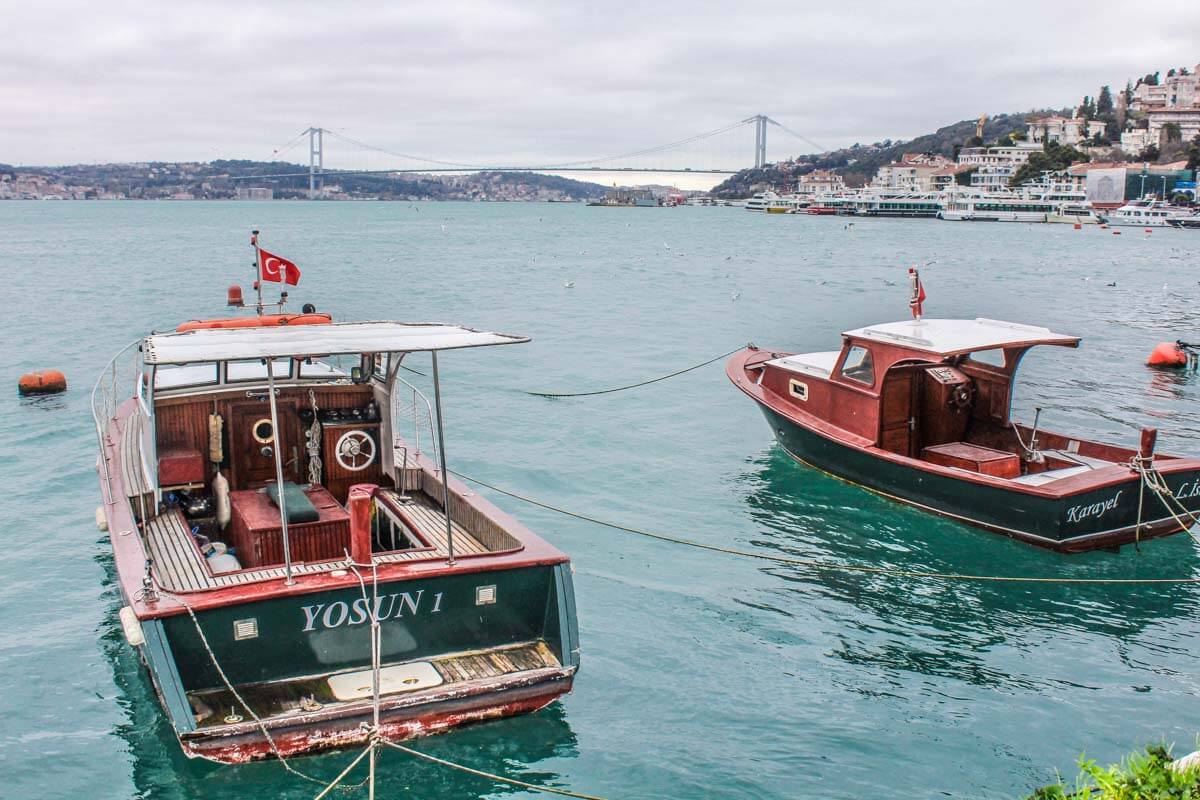 Turkey is a great place for someone who's looking for a very soft and sunny winter on a budget. Although some people will say that the winter months are fairly cold in Turkey, in my experience they are still much warmer than in most of the countries on the continent.
There can be enough sunny days when it gets warm enough to hang out on the beach and even sunbathe. The average temperature in February is 12-15C degrees but some days can be warmer. The water is too cold to swim, but this time of the year is the best for sightseeing, nature walks and visiting Turkish villages (like this cute Sirince village not far from Izmir). It is definitely the quietest time to visit Turkey.
Considering it's an offseason, expect accommodation and cafes to be cheaper than normally. Also, Turks don't seem to bargain as much (shopping lovers, this is the time to go.) You can also check the last minute travel packages, which often include all-inclusive deals, if you prefer it that way.
And if you get tired of quiet beaches, visit caves or the mountains that offer skiing, snowboarding, and other snowy activities. Car rentals are also much cheaper.
And of course Istanbul. There are so many incredible sightseeing spots, places where to eat, and always lots of things to do in this vibrant city. Istanbul neighborhoods have so much that you can stay busy for a long time. And in the winter season, Istanbul can turn into a wonderland.
More travel resources for winter travel in Turkey:
Serbia
Serbia is another country that makes a list of the cheapest places to travel in Europe. It is a quite popular destination for winter travelers but mainly because of the secret mountains and ski resorts. They make a great budget alternative to European resorts while holding up the good quality for slopes and accommodation. There plenty of resorts to choose from but the most known are Kopaonik Ski Resort and Stara Planina Resort.
The Kopaonik Ski Resort is probably the most famous, largest and modern place for skiing. There you would find 25 Sky Lifts and more than 60 km of ski tracks including tracks for night skiing. There are a lot of budget options for accommodation starting from $30 per night and up to luxury apartments.
Stara Planina Resort is a new but very modern and quickly developing resort with great infrastructure. The mountain tops are covered with snow for 5 months out of the year and have over 13 km of prepared tracks for all skill levels.
Belgrade in the wintertime is not for everyone. There is not too much snow but the dark gray architecture of the capital and lack of sun can make this city look too depressing for many people. Freezing cold winds that can last up to a week, only add to the atmosphere.
There are still things to see like Belgrade Fortress, Church of Saint Sava or Nikola Tesla Museum. Just don't stay in Belgrade for too long. Three days will be more than enough. It is better to visit this city when traveling in Europe in spring.
Spain
When deciding where to go in Europe in February, take a closer look at Spain. A favorite destination for many, Spain in February and in winter, in general, can offer travelers both a cultural program, ski resorts and amazing beach holiday. And most importantly, all those experiences are budget-friendly.
Madrid and Barcelona in winter are so pleasant. We visited both at this time of the year and couldn't be happier. Barcelona to Valencia drive is spectacular. After the rain, everything is green and blooming. A lot of places on that stretch of the road are incredibly quiet. Fewer tourists and balmy weather make February a perfect month to do sightseeing.
Mallorca and the Canary Islands are excellent places for winter sun in Europe. The daily temperature of the air is around 20C degrees. Swimming at this time is not too comfortable as the water is cool (many tourists from Northern countries still swim though) but sunbathing, swimming in hotels' pools and exploring natural landmarks are perfect activities.
Part of Andalusia, located in the very south not far from the African coast, experiences the mildest winter climate. Accommodation is inexpensive, famous attractions, such as the Alhambra Fortress-Palace in Grenada or Seville Cathedral for example, barely see any tourists. The lively nightlife and local tapas make these places especially attractive. If you are there and crave some snow, nearby Sierra Nevada is a short drive away.
And then the Northern coast of Spain. I cannot help mentioning a few words about this multifaceted region. Mark and I spent February and part of March in Santander, driving along the coast, visiting totally mind-boggling beaches and Picos de Europa national park, and got amazed by all that beauty that lays in the north of Spain.
|| RELATED POST ||
HIRING A CAR IN SPAIN: BEST DEALS, COMMON MISTAKES, DRIVING TIPS & MORE
Hungary
Hungary is another choice for those who prefer a mild and cheap winter getaway. And honestly, this country is amazingly beautiful during each winter month.
The temperature rarely drops below 0 degrees, so you will almost never see snow around the cities. But no, it is not going to look depressing. Of course, if you can, come during the Christmas market time. During the holiday season, the city is stunning. But February is no less beautiful.
The average temperature in Hungary in February is around 5C degrees. Days can be spent exploring the sights, and evenings soaking in the hot springs.
Besides Budapest, there are many other cool towns to visit. Some of them are Eger, Miskolc, Debrecen, Szentendre, Esztergom, and Visegrad. Most of them have hot springs, cute old towns, historical sites, and delicious food. Car rental in Budapest in February is incredibly cheap, reserve it in advance and see all these places.
Szechenyi baths have a temperature of 25C degrees and this is the hottest thermal spring in Europe. Floating in pools is an amazing experience all year round but isn't it more fun to stay in pleasantly hot water under the open sky in the middle of February?
All the touristy activities stay open in Budapest in winter too. At the same time, many hotels offer winter discounts. Check them out here.
---
Did you travel to any of these countries during the wintertime? Share which one was your favorite! Can you add any other cheap winter breaks in Europe? I'd love to know, share it in the comments!