Bucharest to Brasov Drive: 6 Stops to Make & More Than 30 Places to Visit
Last updated on May 2nd, 2023
I have been thinking for a long time about which post should I write first for my Romania travel series. During the two months Mark and I lived in Brasov, we explored a bigger part of Transylvania and Muntenia. And there is a lot to write about. But then, remembering how many times we have driven from Bucharest to Brasov, I decided for my first post to be about Bucharest to Brasov road trip.
I know that most travelers to Romania visit this country mainly for the Transylvania region. They usually fly to Bucharest, probably spend a day or two in the capital, and then hop on a train to Transylvania.
While it is very easy to explore Transylvania by public transportation, hiring a car in Bucharest enables you to go off the beaten path and see more. Especially taking into account, how cheap it is to rent a car in Romania. And how many things there are between the cities.
This is why if you have a choice to travel from Bucharest to Brasov at a slow pace, I recommend you do it by car. We rented many of our cars in Bucharest through this company and they always had the best deals compared to others.
So, this post is for travelers who are looking to spend their Transylvania holidays with a vehicle. Enjoy a ride!
---
Please note: This post contains affiliate links. I may earn a commission if you make a purchase by clicking a link (at no extra cost to you).
---
Planning a Drive From Bucharest to Brasov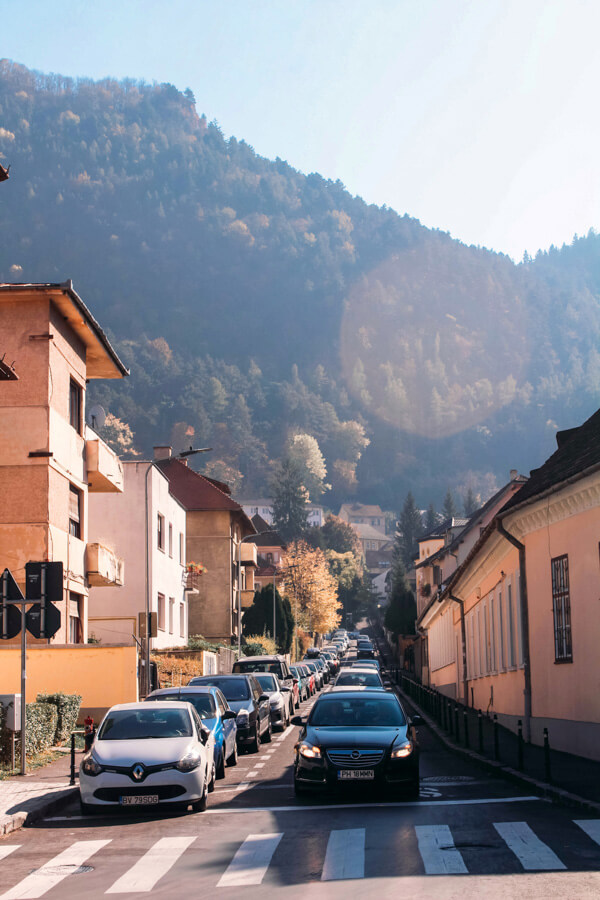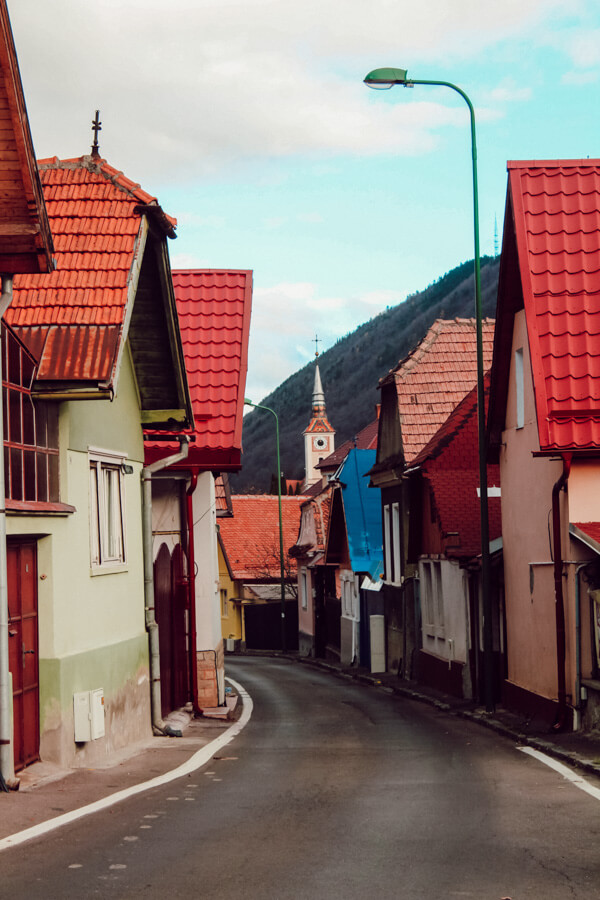 The distance from Bucharest to Brasov is less than 200 km, so at first sight, it seems that you can drive it in less than 3 hours when in reality, it is not so.
A bigger part of the road goes through the mountainous area with towns and villages situated along it. With many cars and frequent construction, there is no way to go fast and drive it straight with no delays.
This is why I recommend you take it slower, not to rush, and enjoy the drive.
With big towns and many villages, there are plenty of places where to get food and gas on this route. However, if you plan to go hiking, grab some food and snacks from the nearest grocery store. It is so amazing to have a mini picnic with a view of the mountains or on a bench in the park. There will be many places where you'll be able to do just that.
Do you still need to hire a car in Bucharest? Find the lowest price with DiscoverCars
Should You Stay Overnight On the Bucharest to Brasov Drive?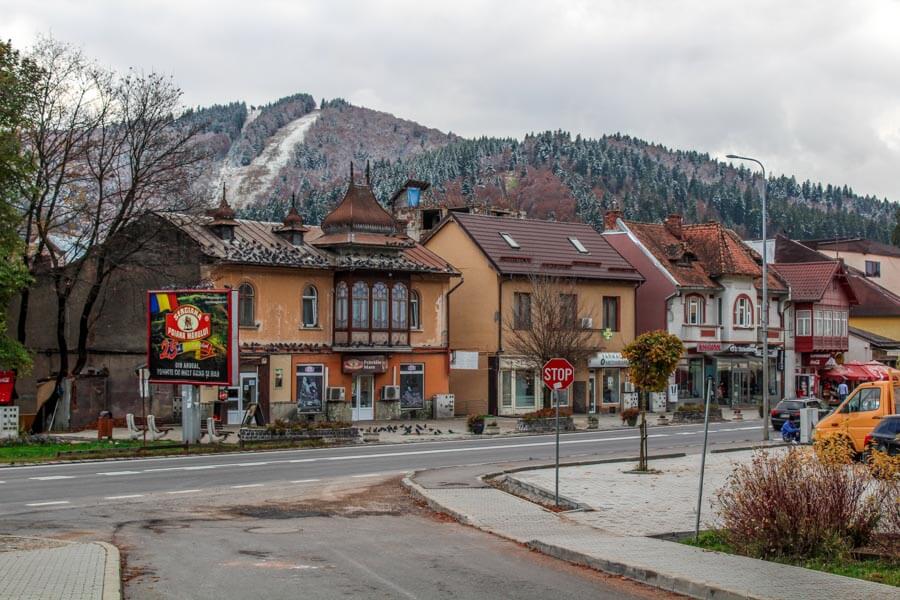 It all depends on what you plan to do in the area and how much time you'll have in Transylvania. If your goal is not to go hiking, rock climbing or skiing (if traveling in winter) and you don't have a lot of time in the country, better choose Brasov for your night stay.
Sinaia and Busteni are places to stay overnight if you'd like to spend more time in the mountains. For any other visit, Brasov is a romantic magical city.
In Brasov, there are a few very nice hotels perfect for couples and families. Like Arce 35 boutique hotel or Casa Atanasiu.
But for a very unique experience on a budget, take a look at the street where this guest house is. You'll have gorgeous views and stay in the heart of Brasov where actually locals live.
Casa Christina B&B on the same street is another option which is even cheaper. We have been living a few minutes away from these places, visited once, and thought they were excellent choices.
Hotel Kolping, also on our street, is another beautiful property with fantastic views of the old town. We didn't stay there but visited for breakfast and saw the rooms and thought the hotel was lovely.
6 Cool Stops to Make on the Way From Bucharest to Brasov by Car
First of all, before I start talking about this Transylvania road trip, you need to know that most epic spots lay on the stretch between the town of Sinaia and Brasov. On the road between Bucharest and Ploiesti, there is nothing to do or see besides a few lovely cafes where you can stop and have a Romanian traditional meal.
So if you rent a car right after you fly to Bucharest, without visiting a city, and want to get something to eat, you can easily stop by the restaurant in Saftica, Tancabesti, Ciolpani or Puchenii-Mosneni. They are all located by the road and it's easy to see them.
But to give you a few suggestions, you can dine in La Maison des Jardins, Restaurant Cherhana La Parfene (a bit of a detour but well worth it, this restaurant is facing the river and offers Romanian food), Gurmandu Grill, or Chic Lounge.
Should you make a stop in Ploiesti? A short answer is no. This industrial city is somewhat heavy and doesn't have anything to offer to the tourist. It's also very Soviet looking with a lot of grey buildings that remind of the Soviet era.
Sinaia
Sinaia – the "pearl of the Carpathians" – is one of the most picturesque and distinctive cities and ski resorts in Romania. Being just 105 km from Bucharest airport, it offers high-quality service at low prices. Although a lot of buildings look old and ragged, the town has its own vibe and it's very nice to spend some time in it.
The main reason this town is famous is the ski resort and the Peles Castle. Since it has a variety of opportunities for recreation and sports, many people love coming here in the winter. The summer season offers fresh mountainous areas, hiking trails, and a peaceful setting.
No matter what season you'll be here and if only driving through, here are suggestions on what to see.
Places to Visit & Things to Do in Sinaia
– Dimitrie Ghica Park – the park is small but it is very lovely to walk through. It has a fountain and is decorated with scattered and decorated tree roots.
– Sinaia Monastery – from the park, near the Hotel Palace, there is a trail that leads to the Sinaia monastery. The trail is very nice and it gives you an option to go on the pavement or walk up the stairs that go through the alley. Choose the stairs.
– Peles and Pelisor Castles – Peles is the main castle, and the second Pelisor is a kind of summer residence. These two castles is the reason why all international tourists flock to this town.
The entrance to Peles Castle is the most expensive, with photographing it will be 65 Lei. However, unlike Bran castle where you can't even walk around the castle without paying for it, in Peles castle you don't need to pay to be able to get closer and see it from outside.
If you going from Bucharest to Brasov by car and want to visit other sights as well, I do not recommend going on a tour to Peles castle. It will take up a lot of your time and honestly, any other tour than the morning one is just so hectic and with many people.
Pelisor Castle is part of the Peles castle complex but it is presented as a separate castle, so you have to pay separately for entering it. The price is 55 lei along with a fee for the camera.
Honestly, going inside this castle is not that interesting because it is much smaller and is very similar to Peles. Nonetheless, you can also walk outside and take some photos.
NOTE: Peles Castle is closed once a year for 2 weeks for cleaning and other preventive matters. Make sure to check the castle's site before the trip to know if you are not traveling during those times.
– The town of Sinaia – the town itself is very cute and fascinating to walk through.
When you get there, I recommend you park a car in the northern part of the town along the Boulevard Ferdinand (not far from the roundabout) and walk to Peles castle through the Sinaia monastery. After you visit the castle(s), walk down to the main street Bulevardul Carol I.
Sinaia is built on the hill, from many streets in the western part, you'll be getting a nice view of the mountains.
Main Street is short but has a few nice cafes and souvenir parks. If you want to dine there and try local food on a budget, eat in Mihaela's Autoservire bistro. We ate there a few times and enjoyed every single meal.
Drive to Telegondola Station Through Sinaia
Once you are done walking around Sinaia, before leaving the town, you have a wonderful opportunity to drive on a winding road to the Gondola Station on the elevation of 1400 meters.
Travelers who don't have a car but want to see a bit of local scenery usually pay for a gondola ride that starts in the town near the 5 to Go cafe. But since you have a car, it is much better to drive to the top gondola on your own.
In this way, you'll also get a chance to make a few stops and see the mountains from different angles. And there is a lot to see.
When we were there, we made so many stops and went into the wilderness that it took us almost 2 hours instead of 20 minutes to get to the top. The scenery was just amazing and we wanted to walk and meditate without any people around.
When you get to the top, which is near the Hotel Cota, there is a walking path to the gondola station. And, there is a La Ceaunu' restaurant with panoramic views if you want to stop for a drink or snack.
Caraiman Monastery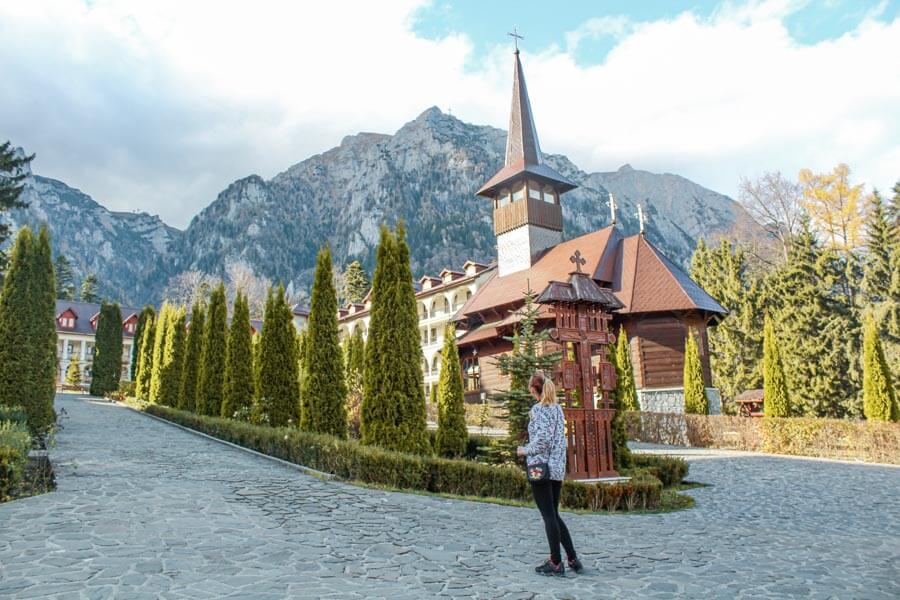 A beautiful quiet orthodox monastery at the foot of the massif. Stopping here won't take a lot of time and even if you are not religious, you'll still appreciate the scenery and serenity.
The Caraiman Monastery is located at an altitude of approximately 900 m, being among the highest altitudes where a place of worship stands in Romania. It was dedicated to the Exaltation of the Holy Cross monument (dedicated to WWI heroes) which is erected on Caraman peak and accessible by hiking. One trail, with stone slabs in some places, connects the monastery and Caraiman peak and is a good challenge for those who wish to stay in the area longer.
Even if you don't want to do any hiking, at least stop by this monastery on your Bucharest to Brasov road trip and appreciate almost majestic silence of the mountains with an Orthodox place of worship.
There is a garden on the grounds, bird yard, church with beautiful paintings and a mountain in the background.
You shouldn't miss this place. Come here for the environment, views, relaxation, to gather your thoughts and take Instagram worthy pictures. Even if you decide to stay overnight, there is a guest house with rooms for rent. For more details, check the monastery's website.
And then if you have more time and plan to stay longer in the area, make a quick detour and drive deeper into the Busteni Mountains by going to Bolboci Lake, Sapte Izvoare waterfalls (lesser-known falls in Romania), and scenic locations between them.
Town of Busteni
Busteni is another small town and famous ski resort to visit. Among locals, it is also known for a mild climate, clean air, mineral springs, and picturesque surroundings.
The season of rock climbing and hiking follows the ski season from November to March. Therefore, the city is always full of vacationers and is gaining popularity every year.
A great reason to visit is a famous cable car with a length of over four kilometers. The cable car boasts stunning views of mountain streams and waterfalls, piles of rocks and gigantic spruce trees on the slopes.
Busteni's other pride is the Kalinderu ski run, the most modern in southeastern Europe. Located on the northern slope of the Caraiman massif (where the Caraiman monastery is also built), the track is equipped with the latest ski lifts. It has artificial snow and meets all international standards. If you are a skier who is driving from Bucharest to Brasov, it may be something you want to visit.
The air of coniferous forests, beautiful ski and toboggan runs, cozy hotels with pools and panoramic views of the mountains – all this makes Busteni an attractive place to relax at any time of the year.
If you are just passing through, it is very nice to stop in Busteni for a quick walk and cable car ride. Although, to be honest, during the summer and any other season on weekends, I really don't recommend taking it. The wait time in line can take hours and there are so many people. Instead, you can take a cable car in the village I talk about below.
NOTE: On the central streets parking is not free. But what's interesting, there are no parking meters. Just some random folks who are collecting money for the parking and you don't even know if they are legit or not. When we were there and wanted to park just for an hour to walk around, they said we had to pay 20 euros for the entire day. For Romania, that's a lot to pay for the parking, even for the entire day.
You can always park in town and then walk to the cable car but it will take more of your time.
Azuga
The village of Azuga is an ordinary village, not famous for anything and without any special sights. In fact, from the first turn, you notice many ragged buildings (as in many other places in Romania), half neglected and shady.
There is a rusty fence along the main road and the first impression of this village is not the best. Still, I recommend you stop there on the Bucharest to Brasov or Brasov to Bucharest road trip. And the reason for visiting this village is a Sorica mountain at the elevation of 1566 meters.
This Sorica mountain is one of the Bucegi mountains that in turn are part of the Southern Carpathian range. To get there, you need to take a cable car. If you put in Google maps 'Azuga Gondola', you'll know where to go.
The view on the top is spectacular to say at least. You get to see the Bucegi mountains with its highest peak. On a nice sunny day with clear skies, you even get to see Poiana Brasov and Brasov City. There is a hiking trail which is also worth following if you have the time of course. For prices and schedule, see this information.
We learned about this place from our amazing hosts. And over two cable car rides, one in Azuga and another one in Busteni, they advised the one in Azuga. Because it is always less hectic and the views are better.
By the way, if you are looking for a flat to stay in Brasov, I can highly recommend this apartment close to Brasov center.
Timisu de Jos
The last stop on the drive between Brasov and Bucharest is Timisu de Jos or better to say the Seven Ladders Canyon, a natural landmark famous for waterfalls in a canyon that are connected by a set of ladders. It is very similar to one of the hikes in Slovakia such as the Slovak Paradise.
Seven ladders canyon is one of the best places to visit in Romania. Many people aim to visit it on their trip to the Transylvania region.
The trail to the canyon is open from early morning to 6 pm. If you are making lots of stops that I mentioned above and if you don't have the entire day for sightseeing, it's probably better to leave the hike for another day. Or just return on another day trip from Brasov.
If you have time left, make sure you are going on this hike on a sunny dry day. And don't forget to take water. It takes around 1 hour and 20 minutes to get to the canyon. So keep in mind that in total you need 3 hours.
Is Bucharest to Brasov Day Trip a Good Idea?
Even if you wake up early and go to bed late every day during your vacation, traveling from Bucharest to Brasov on a day trip is not really the best idea.
First of all, driving without any stops takes 3 hours or even more. Google maps will show you that it takes 2 hours 35 minutes but in reality, you always spend much more time in the car. The road between Comaneci and Predal always sees traffic.
So, there is no way to cover this distance in less than 3 hours. For us, it was always between 3.5-4.5 hours drive. Expect to spend even more time on a bus.
Second, if you plan to visit places and get out of your car then you'd need to have at least one full day to see all the attractions. At the end of the day, once you get to Brasov, it doesn't make much sense to turn back to Bucharest. Brasov on its own has a lot to offer and you'd want to spend at least one night there to see the city during the following day.
Another thing, on the way back from Brasov to Bucharest, it always takes much more time to drive. The traffic is just brutal. That mountain road is the only "fast" road between Bucharest and Brasov. All cars, including trucks and buses, follow it.
Traffic there is always bad but nights are the worst. You can spend up to 6 hours in a car (or bus) just to get back from Brasov to Bucharest. After an intensive day full of activities, it will be absolutely tiring to head back to the capital.
My best recommendation, turn one day into two days trip (at least) and stay overnight in Brasov.
More Road Trip Ideas for Europe Travel
I have a few other posts on road trips in Europe. Take a look and get inspired:
Have fun exploring Transylvania!