Best Areas in Istanbul: What to Expect From Istanbul Neighborhoods & Districts
Last Updated September, 2022
I can't tell you how happy I am to be living in Istanbul now. After 2.5 years of constant travels and moves from one country to another, we finally found a city both of us are happy to call home. At least for now. And even if this home is temporary. Before we came to the largest city in Turkey to stay on a long-term basis, at first we visited as tourists. And each of those times we were asking ourselves a question of what are the best areas in Istanbul to stay and live.
Today, after renting various apartments on the European and Asian side of Istanbul and exploring the city in-depth, I have a clear idea of what Istanbul areas, districts, and neighborhoods have in store for a traveler.
So in this post, after receiving quite a few emails from some of you guys, I decided to write my guide to the Istanbul areas. Below, you will find detailed information on many districts of Istanbul and many more neighborhoods in each district.
My guide is aimed to help you understand what to expect from more than 10 different parts of the city and where to stay on a trip based on your goals and travel lifestyle. If you are curious to know where not to stay in Istanbul are, see my post about the most dangerous neighborhoods in Istanbul. And to make it easier to rent a holiday apartment, check my other posts about the cheap airbnbs and unique hotels in Istanbul.
If you are looking for more travel tips for visiting Istanbul, see my other posts.
To help you navigate through this long article, take a look at the table of contents.
---
Please note: This post contains affiliate links. I may earn a commission if you make a purchase by clicking a link (at no extra cost to you).
---
Areas in Istanbul: Districts & Neighborhoods on European Side
Beşiktaş District
I would like to start my list with the Besiktas district that a lot of people actually take for the neighborhood. Beşiktaş has a population of about 200,000 and consists of some of the most respectable neighborhoods. I talk about some of the most famous ones below.
Besiktas is located on the European coast of the Bosphorus across Uskudar.
The entire Besiktas area has chic five-star hotels with amazing views of the Bosphorus. Most of those properties have a swimming pool, spa complex, sauna, and hammam. Some luxury hotels, such as Çırağan Palace Kempinski and Four Seasons Hotel Istanbul at the Bosphorus actually occupy the palace buildings.
They are not cheap but always deliver an outstanding experience. Also, they provide an opportunity to live in an Ottoman palace. Besides these super mega luxury properties, I also talk about other more budget-friendly options.
TIP: Since hotels like Four seasons are usually very expensive for an average traveler, you can always come just to visit. Get a cup of coffee or chai or come for a spa treatment. This will allow you to enjoy the property.
Besiktas district area is suitable for those who set a goal not to sightsee in Istanbul but to have an unhurried, relaxed vacation. It is great for a romantic weekend or honeymoon.
But let's actually talk about some of the most interesting neighborhoods for tourists in Besiktas:
Arnavutkoy – the historical neighborhood of Istanbul in the Beşiktaş district is one of the most beautiful places in Istanbul. It is an ideal place for walks along the Bosphorus, for social life, beautiful sunsets, photography, and of course visits to Mediterranean cuisine restaurants.
Do not try to find the main sights of Istanbul there. This area is about Art Nouveau architecture, curling streets, a mix of Turkish, Greek, Jewish and Albanian heritage, and fragrant strawberries (in summer).
I've learned about Arnavutköy from a local friend who told me this neighborhood became popular thanks to old Ottoman-era Greek houses on the banks of the Bosphorus. But after my first visit, I realized it had to be popular for many other reasons as well.
Arnavutkoy has its own unique vibe and style that you won't find anywhere else in Istanbul. And most likely, when you visit, you won't feel like in Turkey at all. To me personally, it felt like I was in one of the towns on the north coast of Spain.
If you decide to go to this part of Istanbul, read my guide to the Arnavutkoy neighborhood to get inspired and get an idea of what it is like.
Bebek Neighborhood – Elite Part of Istanbul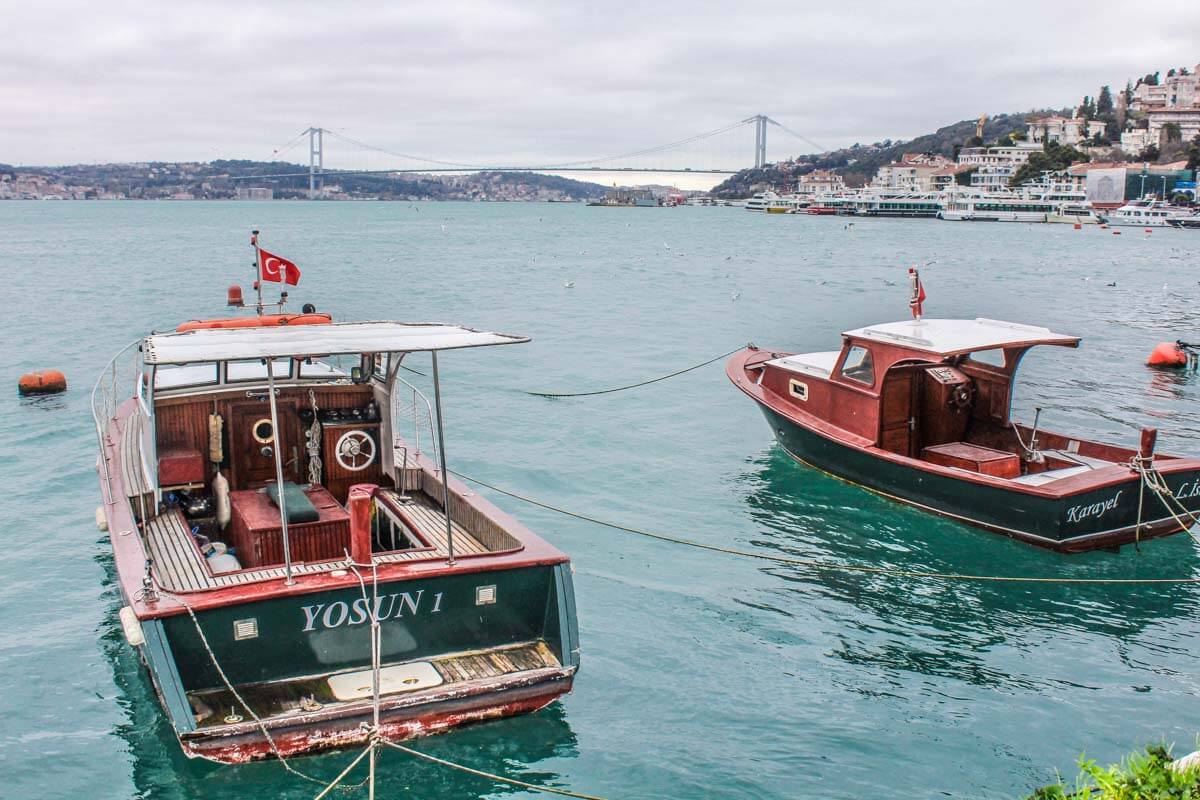 For local residents, Bebek has long been a separate elite area with a special lifestyle. The main attraction here is the road along the coast with famous restaurants, popular bars, and expensive villas.
Although it is customary to get to Bebek's establishments not only by car but also by yacht (many restaurants have their own pier), the road with beautiful views that runs along the Bosphorus turns into a traffic jam on weekends and evenings. If you are coming to visit, better do it on a weekday during the day.
Bebek is famous not only for very expensive and elite establishments. There is also a magnificent Bebek park located right on the coast. On one side of the park is the Egyptian Consulate, which occupies the historic building of the Khedive Palace, and on the other, the Bebek Mosque. A short walk north brings you to Rumeli Hisari fortress.
Bebek also has its own marina where it's very pleasant to walk. In addition, the neighborhood is famous for the historical confectionery Meşhur Bebek Badem Ezmesi, which has been producing traditional Turkish sweets and has been operating since 1904, as well as several establishments specializing in baking waffles directly in front of you and working in Bebek since 1983.
WHY DO I RECOMMEND VISITING BEBEK? Because it is just one charming neighborhood that doesn't look similar to any other. You can start your journey from Arnavutkoy, walk towards Bebek while enjoying beautiful views of the Bosphorus and Bebek Bay.
SHOULD YOU STAY IN BEBEK? Probably no unless you visited Istanbul many times before. While Bebek is a wonderful Istanbul neighborhood to visit, it probably doesn't make much sense to stay here on a first visit.
Ortakoy Neighborhood
One of the most famous areas in Istanbul is the Ortakoy neighborhood. It is known as one of the most instagrammable places in Istanbul – a luxurious embankment and a very beautiful mosque.
Another pride of the quarter is a market where you can buy unique handmade works of local craftsmen.
But the mosque and market are not the only reasons to visit. The Ortakoy district in Istanbul has a rich history and includes many attractions. Some of them are:
– Hatice Sultan Palace
– Orthodox Hagia Fokas Church (notable for its unique metal belfry)
– Tarihi Husrev Kethuda Hammam
– ETZ Ahayim Synagogue – active temple of Jewish religious culture. It is considered the oldest building in the modern Ortakoy district.
– Bulgurcu Sk. (Street) – In the 17th century, Ortakey was a multicultural region. And Bulgurcu Sokak Street became a place for residential buildings of various national and religious cultures. They were all preserved very well and today, it's a nice spot to walk and see them for yourself.
– Ciragan Palace Kempinski (the one I mentioned above) – technically, the Palace is located not in Ortakoy neighborhood but nearby Yildiz. The building was founded in 1863 and built in 1867 in order to add features of European culture to traditional Ottoman architecture. Initially, the palace was used for the residence of the Ottoman Sultan Abdul Hamid II and for the meetings of the Turkish parliament. Later though it burned down.
In 1989, the palace was rebuilt as a five-star hotel. So now it attracts tourists not only as a hotel but as a historical and cultural architectural monument from the time of the Ottoman Empire. Feel free to visit but as a guest to the restaurant or spa.
Check prices and availability for Ciragan Palace Kempinski on Hotels.com
BEST PLACES TO STAY IN ORTAKOY:
CORNER HOT & HOT BUDGET: This is a great option for budget travelers. A 3-star hotel less than 1 kilometer away from Dolmabahce Palace offers clean rooms and American breakfast. This property works great for families and anyone who is looking to cook during their stay. Some rooms have a kitchen with an oven and stove.
Check prices and availability for Corner Hot on Hotels.com
THE STAY BOSPHORUS: A luxury hotel with incredible service, views, and quality. It is less expensive than Four Seasons or Kempinski hotels but the level of experience is equal.
Check prices and availability for The Stay Bosphorus on Hotels.com
Kurucesme Area
Kurucesme is another beautiful neighborhood in Besiktas district located on the banks of the Bosphorus between the districts of Ortakoy and Aranavutkoy. The best way is to visit on the way from Ortakoy towards Arnavutköy. Instead of taking a bus, better walk through Kurecesme, checking out all the sightseeing spots in all three neighborhoods.
Of the local attractions, I can mention the Church of Ayios Dimitrios, which is 300 years old. This Greek Orthodox church is known for having a cave with a holy spring.
Fora Park is located right on the banks of the Bosphorus. Here you can stroll, enjoying the magnificent view, or dine at one of the waterfront restaurants.
Ulus Park is another must-visit park. Go there for the sweeping view. And, as in all other districts in Istanbul, this area has a few cafes with panoramic views as well.
Beyoglu District in Istanbul
The Beyoglu district is located on the northern shore of the Golden Horn. This area is known for must-visit places in Istanbul such as the Galata Tower (the symbol of Istanbul), Taksim Square, and the long pedestrian street that never sleeps Istiklal Street. Also, it is famous for nightclubs, trendy restaurants, and bars.
If you are looking to stay in this Istanbul area, try to avoid that part above Tarlabas Boulevard. My advice – do not consider hotels or apartments in the area where, for instance, this hotel is located. Until now, this Istanbul district is still considered a ghetto. However, the local government is planning to rebuild it, so with time, everything should change for the better (I guess).
Beyoglu district is huge with many neighborhoods and there are a lot of options to choose from. But for travels like you and me, the best neighborhoods where to stay in Istanbul in Beyoglu district and neighborhoods to visit are:
Cihangir Neighborhood
Cihangir is the most popular area in Istanbul for foreigners and local youth. People love it for its proximity to the Taksim Square, Karakoy, tram line, and ferry port. Some of the famous Turkish opera stars, writers, and artists live there.
Among the advantages of this neighborhood are a pleasant vibe, great atmosphere, safety, and good location. The neighborhood itself is small. Besides cute cafes (like Kat Restaurant, for instance, famous for fantastic breakfast in Istanbul with a view) there are no sights. But everything that people are traveling to Istanbul for is nearby. And the vibe is truly special.
The main disadvantage is housing. You need a lot of luck to find a decent flat (or even a room) at an adequate price. If you are considering staying in Cihangir, take a look at Dreamer's B&B. We stayed there once and it was an excellent stay on a budget.
Check prices and availability for Dreamer's B&B Cihangir on Hotels.com
Karakoy Neighborhood
Karakoy is located in Beyoglu district between the Galata Bridge, Kemeralti Street, and the Kilic Ali Pasa Mosque.
It is a former port that used to be a prestigious commercial and banking district. To this day, Karakoy has interesting architectural buildings from Byzantine times. After the fall of Constantinople, the Venetians, Catalans, Jews and, of course, the Ottoman Turks began to live here. And at the beginning of the 20th century, a wave of Russian emigration brought its own flavor.
The coastal part of Karakoy today is known as a party district. Lively cafes, coffee houses, and bars fill every square meter of the local streets.
In the building of the former church is located the famous cheap soup place Karaköy Corba Evi (must-try when in the area). And nearby Balik Durum Mehmet Usta is another amazing place for some of the best fish wraps.
What can you do in Karakoy? Drink coffee in one of the cafes, wander around the alleys in search of street art, listen to street musicians, hang out in a pub. And in general, enjoy the atmosphere. Also, pay a visit to old historical Hamam Kilic Ali Pasa.
Kadikoy is an excellent neighborhood to stay in Istanbul. On foot, you can walk to the main attractions in Fatih district or other neighborhoods in Beyoglu. And the pier from where you can go anywhere is also a few steps away.
RECOMMENDED HOTELS IN KARAKOY:
ADA KARAKOY HOTEL: A chic hotel in a very good location. Prices start from $55 and reviews are very good.
Check prices and availability for Ada Karakoy Hotel on Hotels.com
GALATA PALACE HOTEL: A very nice hotel on a budget. It offers decent breakfasts, friendly staff and one of the best locations.
Check prices and availability for Galata Palace Hotel on Hotels.com
NABU HOTEL: A stylish, modern hotel with clean rooms and all main attractions close by.
Check prices and availability for Nabu Hotel on Hotels.com
Galata neighborhood
I guess by the name you can make a conclusion that Galata is a quarter near the Galata tower. For some tourists, this is the best area to stay in Istanbul. However, you need to remember that Galata is located on the hill. Going back and forth is not very comfortable for everyone.
When my parents were visiting and we brought them to Karakoy-Galata-Taksim for a day, they got pretty tired from constant walks up and down the hill. But what also was tiring, the number of people in the Galata area. There are just too many of them. Always.
In fact, the Galata neighborhood seems to be close to everything. 5 minutes down the hill and here is the T1 tram stop. 5-7 minutes climbing uphill, and here you have the entrance to the metro. 5-7 minutes in other direction and voila, you are on Istiklal street with cafes, bars, and lots of entertainment.
Prices in cafes in Galata are lower than in Sultanahmet. Even if it is loud and busy during the day, nights are usually quiet. If you want noise and fun, then Istiklal, a party street, is only a 5-10 minutes walk. Drink, walk, and dance until the morning. For the hotel in the Galata neighborhood, take a look at this one.
Check prices and availability for Walton Hotels Galata on Booking.com
Area of Taksim Square and Istiklal Street
Well, well, well, famous Istiklal Street. What a mistake we made on our very first visit when decided to stay near Istiklal Street. We stayed in this Apartment (which was actually very nice) and were not able to fall asleep until 4-5 in the morning.
Goodness gracious, you do need to love parties and loud music to choose this Istanbul neighborhood for your stay. Even with plastic windows, 2 or 3 streets away from Istiklal, you'll still hear all noises like they are coming from behind the door.
This Istanbul district is the heart of modern Istanbul where fun lasts until morning. Shops stay open until 22:00, coffee shops, bars, nightclubs, lights, crowds create a feeling of celebration. But this celebration never stops. It goes on and on every day of the week with Fridays and Saturdays being the worst. Although with the corona madness, things calmed down and nights are much calmer these days.
Think twice before choosing this place for your stay in Istanbul.
In my opinion, it is good to visit for local food and shopping. Although, when choosing a hotel in the Taksim district, keep in mind that you will never guess whether there will be a night bar or a disco under the windows of the room in your hotel or Airbnb.
My two picks in the Taksim/Istiklal area of Istanbul that are quiet and beautiful:
THE MARMARA PERA: The stylish rooms have an amazing view of Istanbul and only a few minutes away from the Galata Tower and Taksim Square. There is also a rooftop pool and restaurant.
Check prices and availability for The Marmara Pera on Hotels.com
HAMMAMHANE: A gorgeous hotel with some of the best reviews that comes at a very good price.
Check prices and availability for Hammamhane on Hotels.com
Fatih District in Istanbul
Fatih district is the most popular and densely populated area in Istanbul. Attractions here are at every corner and you can easily reach them on foot. Among all the areas in Istanbul, Fatih district is one of the largest. It consists of many neighborhoods but the most famous (or known) tourist quarters are:
Balat-Fener Neighborhood
What an interesting neighborhood Balat is (have you heard about it?) Probably not.
Until recently, no one even talked about it or planned to visit. As a matter of fact, Balat used to be unsafe. But today it is one of the most colorful areas in Istanbul.
Balat-Fener is the former Jewish quarter with a small population. Once you get there, it seems that you entered another world but not the center of the metropolis. In Balat, you can feel the spirit of the past, take vivid photographs and enjoy the beauty of fading antiquity.
Since it's located very close to the city center, getting there is easy and quick. It is a 10-minute tram ride from Eminonu and there is a ferry from the port of Fener to Uskudar.
Despite the lack of world-famous sights, magnificent palaces, and impressive mosques, every traveler should visit this corner of antiquity. Balat neighborhood is famous for its non-standard architecture, quirky cafes, and conservative, slow-paced rhythm of life. When I am in the area, I always try to stop for Dibek coffee or Turkish breakfast which is served all day long in some cafes.
Check out my photos to see how cute this neighborhood is.
When it comes to accommodation, there are not a lot of options. Balat is not very popular yet and since it used to be a residential area, there were no hotels built specifically for touristic purposes. Some locals turned their own properties into bed & breakfasts and guest houses but the majority of those are of average quality.
I like only one hotel in this neighborhood of Istanbul – Hotel Troya Balat. Prices start from $55 per night and it is really one of the best hotels in that area. There are also a few airbnbs but they don't get good reviews. This flat offers a great price, location, and reviews.
Check prices and availability for Troya Hotel Balat on Hotels.com
Check prices and availability for Comfortable Old City Apartment on VRBO.com
Is it a good idea to stay in the Balat-Fener neighborhood in Istanbul on your first visit?
Yes, if you want to save on accommodation and experience a unique side of Istanbul. The Golden Horn Bay (all the way to Santralistanbul Museum) has a few fascinating places to visit too. And, as mentioned earlier, getting to the historical part of Istanbul is easy and quick as well.
Beyazit Neighborhood
Beyazit neighborhood in Istanbul is a small neighborhood in the central part of the Fatih district. It actually is so small that you can walk around it within two hours. A lot of tourists know this neighborhood because of the Grand Bazaar, Beyazit Square and Beyazit Mosque.
Beyazit Square has lots of great places to shop and eat (like many other parts in Istanbul). And a few nice hotels are just nearby.
The advantages of staying in Beyazit are great location and close proximity to the tram stop and metro. Most of the historical places are located along the tram and metro lines which makes it easy to go to other parts of the city, including the airport.
The disadvantages of staying here for some people may be constant bustle and noise. Most of the city buses and minibusses arrive at Beyazit Square. With a noisy bazaar atmosphere, lots of cars and public transportation, and many people, this area in Istanbul feels so busy and often loud.
If you want to be closer to the Grand Bazaar and Sultanahmet neighborhood, I recommend the following two hotels:
BEETHOVEN HOTEL & SUIT: Very clean hotel with friendly staff, delicious breakfasts, and great sea views from the restaurant. The tram stop is right there nearby. Reviews are great and ratings are high!
Check prices and availability for Beethoven Hotel on Hotels.com
HOTEL NILES: This hotel is located next to the Beethoven hotel and is also famous for its cleanliness, location, quietness, and lovely views from the terrace. Here, you can ask the staff to heat the marble floor to be able to have your own Turkish bath.
Check prices and availability for Niles Hotel on Hotels.com
Eminonu
Eminonu neighborhood is part of Old Istanbul, located in the northern part of Fatih district on the Golden Horn Bay cape. It largely preserved its medieval appearance and in many aspects looks very similar to what it looked like in the past.
Until 2008 Eminonu used to be a district but then it became just of the neighborhoods of Fatih. The neighborhood itself and the architecture are very old: narrow streets, numerous mosques, ancient abandoned churches, and buildings seem to remind about ancient times.
Most of the buildings in Eminonu are offices, workshops, restaurants, and stores. The neighborhood is small but always crowded. Therefore, no matter what time of the day you come in, expect it to be busy and loud. At night though, the old Eminonu plunges into silence and gets quiet.
The northern part of the district is a major transport hub of the city. Buses, high-speed tram, and ferries depart from there. If you are coming to Fatih district by ferry, the Eminonu ferry terminal is a place where you'll arrive.
The main attractions of the Eminonu neighborhood are Galata Bridge, New Mosque, Spice Bazaar (or Egyptian Bazaar), Suleymaniye Mosque and multiple diners with Turkish food.
For me personally, Eminonu is an important neighborhood to visit but not to stay in. The only hotel I personally recommend is SEFA-i HURREM SUIT HOUSE. But honestly, I highly advise you to choose nearby Sirkeci or Sultanahmet neighborhood instead. Below, where I talk about them, I explain why.
Check prices and availability for Sefa-i Hurrem Suit House on Hotels.com
Laleli And Aksaray
I don't think a lot of travelers heard about these two Istanbul neighborhoods located next to each other since they are not really famous for any must-see landmarks. Generally, Laleli and Aksaray are known for wholesale markets.
Some people who are traveling to Istanbul on a budget and if purchasing a package tour from the travel agency, most likely end up living in Laleli. Why? Because prices for accommodation are lower than in other touristy areas of Istanbul.
Should you choose the Laleli or Aksaray area for a living? In my honest opinion – no, if you are visiting Istanbul for the first time and have only a few days in the city.
On the one hand, there is an excellent transport hub. Aksaray metro station and T1 tram stop, from where you can reach Istanbul's main attractions in 10-15 minutes, are just nearby. Laleli Mosque is near and it takes only 10-15 minutes to get on foot to Bayazit Mosque and Grand Bazaar. In fact, if you choose to stay in Prestige Hotel (which is next to the Beyazit neighborhood and is one of the nicest hotels) then it'll take even less time.
Check prices and availability for Prestige Hotel Old City on Hotels.com
On the other hand, Laleli and Aksaray neighborhoods have a lot of merchants, wholesale buyers from the countries of the former USSR countries, and package tourists. Additionally, in the late evening, it doesn't feel completely safe, especially for solo female travelers.
In general, I would not recommend choosing this area unless you have a particular plan on what to do there. Although some tourists stay in Laleli and Aksaray and are pretty happy.
Sultanahmet Neighborhood
Everything is pretty much clear with the Sultanahmet neighborhood. Everyone seems to know about it since this is the very heart of historical Istanbul!
Narrow old streets, authentic boutique hotels, souvenir shops, sights at every turn… staying in Sultanahmet feels like living in a museum, seriously.
This neighborhood is really a great choice when thinking about where to stay in Istanbul. Even though it is not the number one area where Mark and I want to live (we are fans of the Asian side of Istanbul), for a short-term stay, Sultanahmet is just excellent.
Although when choosing a hotel, please note while some hotels in Sultanahmet are located closer to the tram line, others are further from the tram and closer to the Sea of ​​Marmara. Between the sea and the tram stop, the area is hilly, so for some people it may be difficult to walk up and down the hill in the heat. But closer to the sea you are, less noisy it is. There is also a promenade near the sea which is perfect for evening walks.
Hotels in Sultanahmet we like:
ZEYNEP SULTAN HOTEL: Clean, cozy and quiet hotel a few steps away from Hagia Sophia. Rooms have everything you need, including electric hot pots. Breakfast is served on a beautiful open terrace and in the evening, there is offered tea and baked goodies.
Check prices and availability for Zeynep Sultan Hotel on Hotels.com
BOUTIQUE SAINT SOPHIA: The location of this hotel is the same as the previous one. Here, you'll have a stylish clean room, delicious breakfast, and a view.
Check prices and availability for Boutique Saint Sophia on Booking.com
Sirkeci
In the very eastern corner of Fatih district, where the waters of the Golden Horn meet with the Bosphorus Strait, the Sirkeci neighborhood begins. This is one of our favorite areas where to stay in Istanbul and where to eat some famous Turkish foods.
Despite the fact that the train station is located here, the area is actually very nice. Also, it is one of the best neighborhoods to stay in Istanbul for tourists due to the number of public transportation and location. And these are the reasons why:
– There are Sirkeci and Gulhane tram stops that are close to any hotel you choose to stay in. Hopping on a tram means that you can get pretty quickly to Dolmabahce Palace, Taksim Square, Cihangir neighborhood with many vintage shops and lovely cafes.
– Gulhane Park and a restaurant on a hill overlooking the Bosphorus are in the Sirkeci neighborhood too.
– Topkapi Palace, Hagia Sofia, and the Blue Mosque are only 10-15 minutes walk away.
– 5-10 minutes walk in another direction brings you to the ferries. And with a ferry, in less than 30 minutes you are on the Istanbul Asian side.
– 15 minutes walk on the Galata bridge to the funicular and 5 minutes by funicular bring you to the beginning of Istiklal Street.
Besides the fact that the Sirkeci neighborhood is perfectly located not far from all Istanbul attractions, it is also relatively easy to get to Sabikha Gokcen Airport. Just cross the Bosphorus by ferry or metro and hop on a bus near the Kadikoy pier straight to the airport.
Sirkeci is an excellent and convenient Istanbul neighborhood for your stay. I always recommend it to all my friends and family members who come to Istanbul. The hotels I personally choose are:
ORIENT EXPRESS HOTEL: a posh hotel in a very good area at a very good price. In winter, prices start at $40 per night. For a hotel of this level, it is a bargain.
Check prices and availability for Orient Express & Spa on Hotels.com
SIRKECI MANSION: A dream-like boutique hotel with comfortable and clean rooms. There is breakfast, afternoon tea, sauna, pool, gym and Turkish bath on the property. And, as a bonus, the hotel has a perfect location!
Check prices and availability for Sirkeci Mansion on Hotels.com
Sisli District
Sisli district is one of the largest districts in Istanbul. Even though it doesn't have access to the sea, the entire area is very modern with well-developed infrastructure.
In this district, full of fashion boutiques and shopping centers, there are new upscale hotels that are suitable for both a business trip and for those who appreciate modern style and comfort.
Sisli contains some of the most prestigious neighborhoods and they can be a good pick for your stay in Istanbul. The most known neighborhoods among tourists are Mecidiyekoy, Bomonti, Nisantasi, and Kurtulus.
Nisantasi Neighborhood
Istanbul's Nisantasi neighborhood is a luxurious area of the city. It has developed infrastructure, galleries, boutiques, countless cafes, restaurants, bars, and other entertainment venues. Stores of all the top brands from France, Italy, and Turkey are concentrated here.
The cozy streets of this part of the city remind more of France than Turkey.
Even if you don't like shopping, you may find it interesting to visit Nisantasi. The main attraction here is the Ataturk Museum. It takes up space in the house where the great reformer lived in the 20th century. He radically changed the life of Turkey and its citizens.
Among other things to do in Nisantasi are visits to art galleries during the day and various clubs and bars at night (if you are a bar person). After the sun sets over the horizon, Taksim is not the only place for nightlife.
Between walks and shopping in the daytime, you can also relax in one of the cafes with a cup of aromatic coffee. There are a lot of quirky cafe shops as pretty much in all other neighborhoods in Istanbul.
SHOULD YOU STAY IN NISANTASI? It all depends. On a first visit, as with a few other wonderful neighborhoods that are a bit far from main attractions, it probably doesn't make much sense to stay here.
Istanbul Neighborhoods & Districts on Asian Side
If you ask my opinion about where to stay in Istanbul on your visit, I will answer right away that you have to choose the Asian side. Why? For many reasons.
First of all, the Asian part of Istanbul is less touristy, prices are slightly lower than on the European side, and the food is so good.
Second, "Asia" feels less hectic and much quieter than Europe (shouldn't it be the other way?). Also, it has a beautiful promenade great for evening walks or a morning jog, authentic teahouses with sea views, several large green parks, streets with small vintage shops and big shopping centers.
Third, the Asian side has a few of its own wonderful food and clothes markets that are also worth visiting. And, from "Asia" it is very easy to get to "Europe". Ferries run from early morning to late evening every 30 minutes.
I can be singing an ode to Istanbul Asian side for a long time. But let me actually talk more about each district and what you can find there.
Kadikoy District & MODA Neighborhood
Kadikoy district is the most popular among the Asian districts of Istanbul. It is also one of the oldest ones. Locals dearly love it for the 14-kilometer-long Baghdad street – a real paradise for party-goers and lovers of exclusive shopping sites.
Kadikoy has an incredibly beautiful Ferry Port Haydarpasa, old Opera House Sureyya, and ancient Tuesday market Sali Pazari.
Not far from the Kadikoy pier, life is in full swing. The quarters remind very much Taksim or Karakoy. There are multiple shops, pharmacies, another market, lots and lots of various cafes, street food stalls with low prices, and old historic tram. Nearby is a park and promenade (in summer with lots of flowers and greenery) which is great for travelers with children.
Kadikoy district consists of a few neighborhoods. But one of the cutest ones (and our favorite where we live) is definitely MODA. With hipster cafes, colorful streets and a spirit of independence and freedom it reminds me of many cities in Spain and Greece. And, even about the Santa Monica neighborhood in Los Angeles (seriously).
Why Kadikoy is Among the Best Areas to Stay in Istanbul?
If you are flying to Sabikha Gokcen airport, Kadikoy is the closest neighborhood. Getting there is very convenient. By the way, here is my guide to the Istanbul airport transfer.
Kadikoy also has excellent infrastructure and access to public transport. Right next to the pier, there is a Marmaray metro station. In a few minutes by metro, you get to Sirkeci station which is the gateway to all main Istanbul attractions. 20 minutes of a pleasant boat trip brings you to the Galata bridge area.
Additionally to that, Kadikoy is a wonderful base if you plan to visit the Princes Islands.
Choose Kadikoy if you are looking for a peaceful stay in a very beautiful area of Istanbul.
Regarding accommodation, there are dozens of hotels, guest houses, and private flats to choose from. The hotels I can recommend with confidence are:
HOSTEL BAHANE: Even those people who don't stay in hostels will want to book a room here. Exceptionally clean and cozy rooms, with heating and wifi, the property is in the middle of Moda. The hostel has a restaurant and a bar. On different aggregates, it gets only the best reviews.
Check prices and availability for Hostel Bahane on Hotels.com
JULIET ROOMS & KITCHEN: One of our favorite hotels where Mark and I often come for breakfast or midday snack. The hotel is a bit farther from transportation but in a very quiet location. It is sparkling clean and offers healthy breakfasts.
Check prices and availability for Juliet Rooms & Kitchen on Hotels.com
ISTANBUL LIFE HOTEL: With friendly staff, clean rooms, delicious breakfasts, a good price, and the best location, no wonder this hotel is always booked.
Check prices and availability for Istanbul Life Hotel on Hotels.com
DOUBLE TREE BY HILTON – MODA: A chic five-star hotel is one of the best hotels in Istanbul. Being close to the sea and having a small rooftop pool, the hotel offers fantastic views. Prices start from 95 euros per night.
Check prices and availability for Doubletree by Hilton on Hotels.com
Uskudar District
If you want to see non-European Turkey while visiting Istanbul, then you need to travel to Uskudar. It is a little smaller than Kadıköy but all the necessary infrastructure for the traveler is present here. Including a nice promenade and a park.
This area offers beautiful sunset views of the Bosphorus. And many people know it by the Maiden's Tower attraction. Speaking of which, it is easy to get there from the Uskudar embankment. Beylerbeyi Palace is within walking distance too.
Uskudar is famous for its countless mosques and fish market. Some people travel to this district only for the market's sake.
If you decide to stay in Uskudar, only 15-20 minutes by ferry and you are by the Galata bridge, and accordingly in the area of all the main attractions. Across the Bosphorus to Kabatas – and there is the Dolmabahce Palace.
Uskudar district is also huge and with many neighborhoods. But all of them will suit those who are looking for a more conservative lifestyle and a slow pace of life.
More Similar Posts on Turkey Travel