Visiting Istanbul in Spring – Best Things to Do Each Month + My Travel Tips
Last updated on September 14th, 2023
Istanbul in spring is my favorite time of the year. It is welcoming, striking, and full of colors. Covered by luscious greenery with blossoms, spreading under a piercing blue sky reflected in the waters of the Bosphorus, the city smiles at its guests, joyfully opening the doors to the heart of Turkey.
If you ask me what is the best time of the year to visit Istanbul, I'll tell you without too much thinking it is spring.
Well, alright, Istanbul is beautiful during any season. But it is in spring when it amazes with an incredible amount of flowers, a riot of colors, warmth, and coziness. Not every month is equally warm but the entire time from March to May enchants with the beauty and distinctive flavor of Turkish culture. Every month hides unique activities and knows how to surprise.
If you want to plan a trip to Istanbul in spring time, do not defer it. Because it can be one of your most memorable trips!
---
Please note: This post contains affiliate links. I may earn a commission if you make a purchase by clicking a link (at no extra cost to you).
---
What is the Spring Weather in Istanbul Like?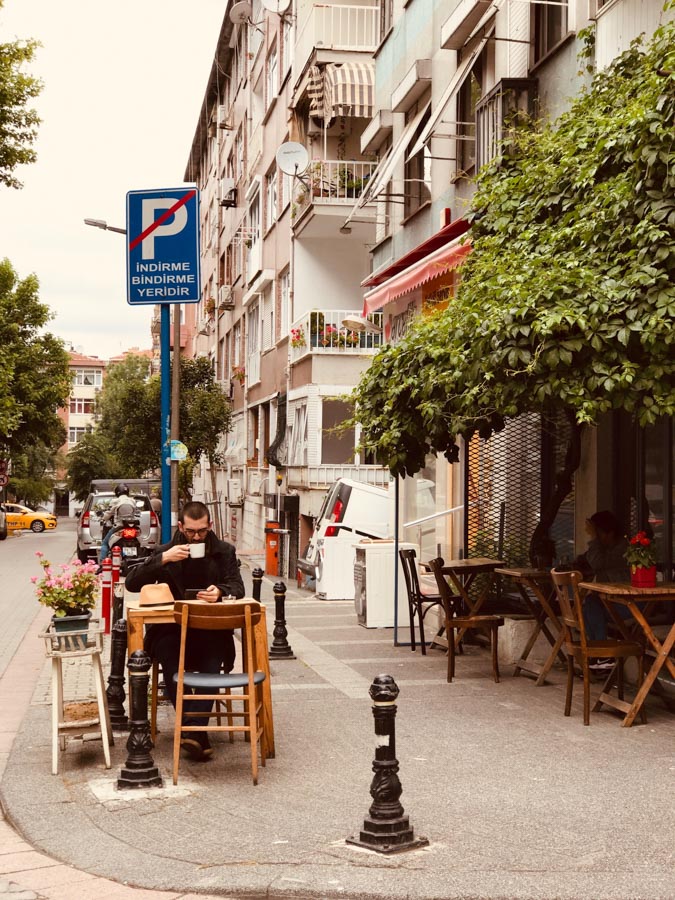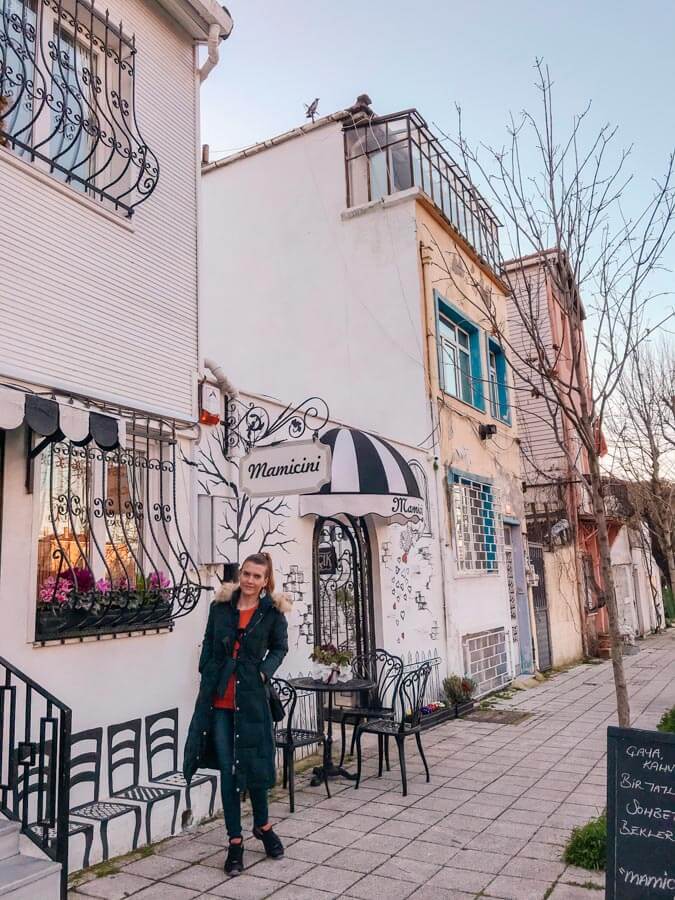 Istanbul boasts ideal climatic conditions in the spring season. The air temperature is getting more and more comfortable with each day due to the prevailing subtropical climate.
Of course, the vagaries of weather happen from time to time. For example when during the day, torrential rains replace the pleasant sun and then reappear again. But for the most part, those rains are not long and overall spring days pamper residents and guests with warmth and comfort. If there are showers, they are quick and usually evaporate from the ground in just a couple of hours or as soon as clouds disperse and the sun shows up.
Therefore, if you try to choose the best season to visit Istanbul, without hesitation, go there in spring. Just decide when exactly to go and see below which month works best for you.
Istanbul Weather in March
Spring comes to Istanbul in March. The weather during this month is characterized by temperatures ranging from 8 to 15 degrees Celsius. During the day it's usually between +12…+15°С and at night +8…+9°С.
At the beginning of the month, some nights can still surprise with small frosts when the thermometer shows -2⁰С. Cloudy weather with wind and rain is not uncommon, but the air temperature is already quite comfortable.
The last days of March are of course the warmest when the temperature tends to be 20C degrees during the day. The sun shines for about 7 hours a day and there are 9-10 days in total that see rain. Although it doesn't mean that it rains without stopping as it can in the winter months. As I mentioned above, rain showers are usually short and asphalt dries out pretty fast.
The sea water temperature does not change and stays at the mark +12°С.
Daylight hours increase to 12.5 hours and humidity reaches 75%.
March in Istanbul is the best month for excursions, city tours, and walks. If you are coming during this time, be ready to get acquainted with historical sights, relax in parks and spend time in Turkish cafes. Also, this is the time to see incredible Istanbul tulips. They are the reason why at the end of the month, the city begins active preparations for the traditional flower event the tulip festival.
What to Wear in Istanbul in March?
Of course, the wardrobe should depend on when exactly you plan to visit Istanbul. If in the first three weeks, don't forget to pack warm clothes (and a jacket with warm shoes) in order to fully meet the whims of mother nature.
Don't be deceived, March can be still quite cool despite sunny weather. Better to pack layers and have a hoodie or a waxed cotton jacket or even parka jacket (if you are sensitive to cold) in case of a cold snap.
Istanbul Weather in April
With April weather in Istanbul, buds on the trees begin to bloom and the city starts to look like a chic flower greenhouse. In the second half of the month, tulips slowly fade, but they are replaced by roses which spread the fragrant smell until the onset of heat.
The average air temperature in Istanbul in April is +16…+17°С during the day and still +8…+9°С at night time. However, depending on the year, some days in April can become really warm between +20…+25°C. And by the end of the month, it sometimes becomes as warm as in summer up to +25°C.
In April, the number of sunny days rises to 16. The sea still stays cold with a temperature of +13°С.
April is definitely one of the most beautiful months to visit Istanbul. Flowers bloom, birds sing, tree crowns turn green with might and main. There is still a lot of precipitation (similar to March) but rains do not spoil the spring mood.
April in Istanbul is pleasant for cruises along the Bosphorus (if the weather is calm without strong winds), all types of sightseeing trips, tours, long tea drinking breaks in famous terrace-cafes, and of course visiting the Tulip Festival which usually lasts for as long as tulips bloom.
What to Wear in Istanbul in April?
During the day, the weather begins to delight with the bright sun but evenings are still rather cold. If it is comfortable enough to walk along Bosphorus during the day, then in the late afternoon and in the evening you can freeze due to the cold wind.
It is still smart to pack a jacket, insulated vest, and warm long sleeve crewneck T-shirts. A hood and shawl will come in handy at night. Also, don't forget sunglasses since the sun is already too bright.
Weather in Istanbul in May
In the last month of spring, real summer weather starts to reign in Istanbul. The air at this time can warm up to 30⁰С and the sea temperature to 18⁰С. Istanbul at the end of May unofficially starts the swimming season, but this is not the reason why many people come here anyway. For swimming and the beach, at this time of the year, the best place to go in Turkey is the coast between Fethiye and Antalya.
May in Istanbul, although very warm, is still very pleasant and perfect for family visits, romantic getaways, and weekend breaks. You can do any type of activity, indoors or outdoors, at any time of the day and feel comfortable.
There is no more winter dampness but summer heat has not yet arrived. There are more sunny days – up to 22 per month and even those that are hot don't bother yet as they can in summer.
It rains very little and the air humidity is moderate – 70%. May is undeniably the best month to visit Istanbul!
Keep in mind that the high season in Istanbul starts at the end of the month. Everything is open and all hotels accept guests. However, prices for accommodation and tours are already getting high.
Istanbul in May is famous for its colorful Spring Festival, which takes part on May 5-6. May 19th is Ataturk Memorial Day and Youth and Sports Day. Part of this month is also a time for Ramadan which can be perfect for some people who prefer a quieter vacation.
What to Wear in Istanbul in May?
It is already hot in the sun and the wind is blowing warm enough. Thus during the day, you will need a T-shirt, light pants or dress, and sometimes a windbreaker mostly for cooler hours.
In the evening, the temperature can drop to 15-17 degrees, so take something with a long sleeve so that you don't freeze in case of cloudy weather or wind.
On cozy Istanbul evenings, it is very pleasant to just walk along the city streets, enjoy a hearty dinner on the waterfront with the unique taste and exquisite aroma of local tea. You'll definitely want to stay late outdoors in May but make sure you have proper clothing for cooler nights.
Can You Swim in Istanbul in Spring?
Istanbul is washed by the Black and Marmara Seas which are much colder than the Mediterranean Sea. Water in both of them warms up to 20C degrees only by June.
So swimming will be cold until the end of May but this does not prevent you from sunbathing. Usually, starting from the end of April beginning of May the sun is very pleasant for getting some tan and vitamin D by the water.
My favorite place where to go to the beach in Istanbul is one of the Princess Islands and to be exact – Burgaz Island where we even got to live a little bit.
But among other places, Fenerbahce and Maltepe regions have great beaches too. The sea there is shallow, with a smooth entrance, so the water is slightly warmer than in other areas.
3 Main Reasons Why to Have Spring Break in Istanbul
There is No Heat in Istanbul in Spring
As you saw in my quick weather overview above, Istanbul's spring weather is really great. There is much less rain in spring than in winter, but there is still no excruciating heat. FYI – in July in Istanbul, the air can warm up to 40 degrees which becomes unbearable to spend most of the day outside.
Therefore, the eve of spring is a great time to visit open-air museums, parks, and nature places in and around Istanbul. It is also the best time for being near and on the Bosphorus.
In the afternoon, for example, when the sun is already setting and the breeze brings coolness and freshness, it's time to take a boat ride along the Bosphorus! You can join a basic tour that includes a sunset ride or a delicious dinner cruise. Some Bosphorus tours offer a bright show, dance, and, of course, lots of opportunities for pictures with the beautiful strait!
Magnolia Trees are in Blossom
One of the top reasons to visit Istanbul in March is to be able to see the city blossom. And the most beautiful blooming decorations are magnolias. They literally cover every neighborhood and spread a pleasant aroma. The city seems to be throwing off its cloudy coat and dressing up in the best attire.
Thanks to magnolias (as well as cherries that blossom around the same time), Istanbul gets transformed after winter. This is why excursions and walks around the city become even more mesmerizing. And your photos acquire new colors.
If you will be in March in Istanbul, here are the places where to find incredible magnolias and enjoy nature in general:
Emirgan Park, Gülhane Park, Yıldız Park, Maçka Park, Atatürk Arboretum, Bakırköy Botanik Park, Ulus Park Cafe & Panorama
But my favorite picks are Ihlamur palace in Besiktas, Dolmabahce, Arnavutkoy, Balat with Fener, and Kuzguncuk neighborhood. Even if you don't go to any of these places, there are also magnolias behind Hagia Sophia and in the Nisantasi neighborhood.
Unusual Excursions in Istanbul
There is a Unique Tulip Festival
Istanbul city tulip festival is known all over the world. It is really a very special time of the year when Istanbul looks most memorable due to multi-colored carpets of blooming tulips. I could never even imagine how beautiful the city can look with tulips on all corners before I spent my first spring in Istanbul and saw that grandeur with my own eyes.
If you have a choice for when to plan your trip to Istanbul, come around the Tulip festival. Usually, it takes place in April, although last year the spring was so early that it started in the middle of March and ended in the third week of April.
During this time special celebration is always timed to coincide with such a colorful and picturesque season. Thousands of tourists come in anticipation of this momentous event in the midst of spring.
Tulip festival is not just about planting tulips in iconic places and city parks. Floral patterns change every year. For local park decorators, creating flower arrangements in flower beds is a real form of art.
Be sure to visit the Emirgan Park where more than fifty varieties of tulips are planted. There you can admire not only flowers but also a breathtaking view of the Bosphorus. Another wonderful place where to find hundreds of tulips is Gulhane Park in Sultanahmet. Flower splendor reigns there too.
Ideas For What to Do in Istanbul From March to May
To explore the colorful sights of Istanbul, you have two options – either to join tours or simply compose your own route which will include the main sightseeing spots.
Depending on how many days you plan to have in the city either just one day on a layover, 4 days, or a week, here are a few ideas for what to do:
1) Start your journey from Sultanahmet, the heart of Istanbul with a long and rich past.
This is here where you'll find the Topkapi Palace where sultans and their harems lived, a Blue Mosque that represents one of the finest symbols of Islamic architecture and calligraphy, Hagia Sophia a former church that served as a center of religious, political, and artistic life for the Byzantine world, Basilica cistern an underground water reservoir and more sights.
2) Leave one day for a tour of the Bosphorus and an evening walk in Istiklal.
3) Visit one of the bazaars – the Grand Bazaar or the Egyptian Market.
4) Include in your program a visit to a Turkish restaurant overlooking the Bosphorus and Istanbul. I have a separate post with the best restaurants and terraces in Istanbul that will give you more ideas.
You can also visit one of the city's observations decks that also offer views. Some of the most popular ones are Galata Tower (which I personally don't like due to long queues and very average view), Pierre Loti park with panorama, Ulus park (my favorite).
5) As you wander through the city, pay attention to Istanbul street food. There is plenty to choose from – durum, Balik ekmek, kumpir, Istanbul style waffles, fried chestnuts, boiled or grilled corn, stuffed mussels, pilav, fresh juices and more.
6) After a busy day full of emotions, you can relax body and soul in one of the historical hammams of Istanbul.
7) Do not miss an opportunity to rent a car in Istanbul and drive to the Northern part of the Bosphorus Strait and Black Coast. Or if having more time for vacation, go on a long drive to see other Turkish cities. With a big number of small villages in North Istanbul, it is easy to plan a few days on the coast. In spring, when nature is waking up after winter, the air is saturated with the scent of flowers.
Before renting a car, check my guide to car hire and driving in Turkey. It has a section about the cheapest Istanbul car rentals.
Even if you are traveling to Istanbul on a weekend city break for a few days only, you will still have plenty of time for the most interesting and impressive activities. If this will be your first visit, don't miss my list of must things to do to understand the city.
And if you need help reaching Istanbul from the airport, here is my guide to airport transfer from all airports. Also, do not forget to buy an Istanbul card and unlimited 4G Internet. The first one will save you time and money and having Internet will help you stay connected.
Where to Stay in Spring in Istanbul
For stays in April and May, look for accommodation with a courtyard or balcony – anywhere you can sit outside and enjoy the fresh air with a cup of Turkish chai.
For the first visit to Istanbul, it is better to stay in Sultanahmet, Karakoy, Galata, or Cihangir area. Istiklal is also a good option but mainly for people who don't mind noise as this area parties nonstop. For a second, third, etc. visit, you may want to stay in another neighborhood of Istanbul.
Many airbnbs open doors to the guest on both sides of Istanbul but for a more authentic experience look into ancient palaces and ottoman houses. And check out my favorite cheap Istanbul airbnbs if you are more on a budget.
If you are looking for hostel accommodation in Istanbul, Archeo and Le Banc are perfect places to stay in spring. Hostel dorms and private doubles are very reasonably priced and often have special deals on offer for the spring season.
So… Visiting Istanbul in Spring – Conclusion
Istanbul and Turkey in general are destinations for any time of the year. I always tell everyone that there is no bad time to visit Istanbul. As long as you're ready to adjust and plan ahead, you can have a fantastic holiday no matter the season.
I personally think that March, April and May are equally great for being in Istanbul. Partly because of all events that happen throughout the season but also because of all the blooming and bright colors that add up to the festive atmosphere. Warm air currents that flow through the streets also contribute to a wonderful time.
So, are you coming to visit Istanbul this spring?
Visiting Istanbul & Turkey During Other Seasons
More Spring Content Around Europe