Where NOT to Stay in Istanbul – 9 Dangerous Istanbul Neighborhoods to Avoid
Last updated on February 15th, 2023
I can sing praise to Istanbul to the right and left and I can find hundreds of reasons why I think this city is amazing. Yet, with all my love for Istanbul, I will never tell you it is a perfect destination. Because it's not and I am fully aware of that. I have spent a lot of time in this city and visited a lot of various neighborhoods that gave me a good understanding of the best areas where to stay in Istanbul and unsafe areas to avoid.
After writing an article about the best Istanbul neighborhoods and districts, I decided why not to put this post together and highlight some dangerous parts. Yeah, like any metropolis in the world, there are unsafe neighborhoods in Istanbul too.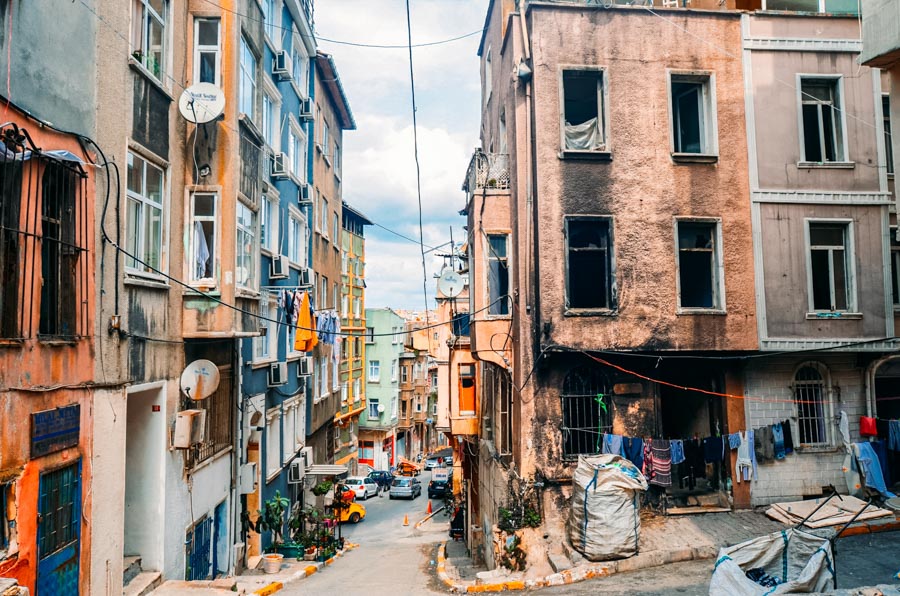 When walking touristy routes full of wacky cafes and fancy shops, it may be difficult to imagine that there are parts of the city where it's kind of scary to enter and even more so to stop. But they do exist. Some of those areas are home to drug dealers and drug addicts, counterfeiters, thieves, sex workers. Others are homes to very poor people, refugees, extremists, and very religious people who choose to live in poverty in the name of Allah.
The main feature of such areas is dilapidated houses and very dirty streets with clothes hung on the lines. Although some neighborhoods (like Balat, for instance) turned from a dangerous part of Istanbul into a center of profit. Each street there still has clothes on the lines but Balat is safe to visit and live in.
So below I am including areas where you really don't want to stay or live in Istanbul. In fact, you don't even want to visit. And here is why:
Where Not to Stay in Istanbul
Dolapdere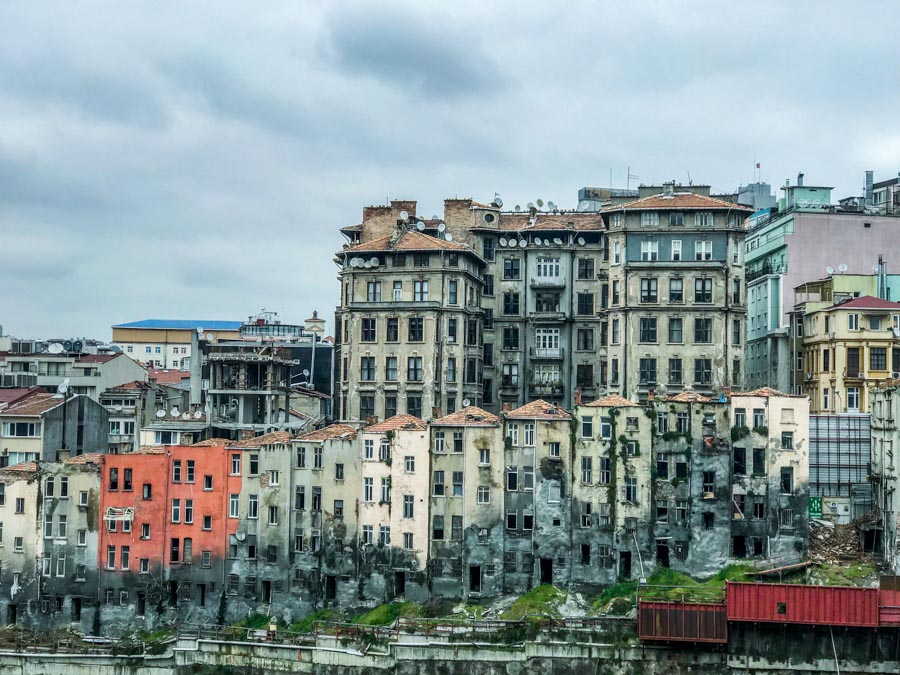 I would like to start with the Dolapdere neighborhood since it was the first dangerous place in Istanbul we got to see.
Dolapdere, located within walking distance from Taksim square and Istiklal street, is one of the poorest Istanbul areas. When you start talking to locals about poverty in Istanbul, a lot of people have Dolapdere on their minds. And they will warn you to stay away from this area. Extreme poverty, violence, and devastation make up daily life here.
Those who can afford to pay for the food and some basic accommodation leave this neighborhood as soon as they can. Drivers who by accident enter the streets of Dolapdere by car risk losing their vehicles (no joke). One taxi driver told me that he had to turn off the interior lights of the taxi, turn off the radio and hang some old clothes inside the cab before entering the neighborhood. And the only reason he was safe was because he knew someone who lived there.
When local news covers Dolapdere, we often get to see how it looks like a war-torn place. Or a setting from a horror movie with zombie-looking characters, half-naked children, and starving people. So this neighborhood next to Taxim is an area to avoid.
Tarlabaşı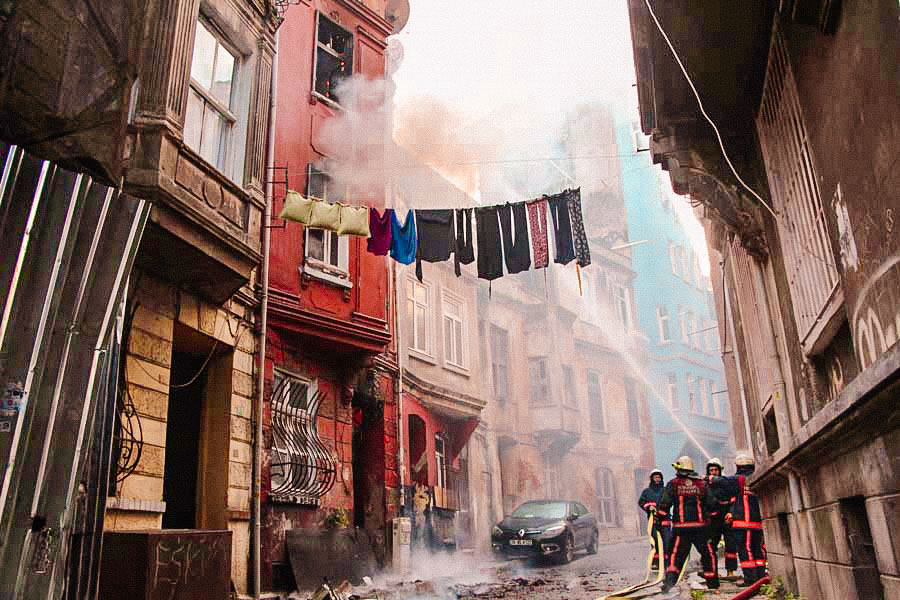 Tarlabaşı neighborhood is one of the most dangerous neighborhoods in Istanbul. Many Turks are afraid of Tarlabaşı, the only place where 5-year-old children with knives in their hands walk around the streets.
This neighborhood is located near Taksim Square too, to be more exact near the famous Istiklal street. It is easy enough to walk in there if you are just wandering around Istiklal street, not knowing the area and going in all possible directions.
Istiklal street and Taksim Square, a favorite of all tourists, are not particularly dangerous either in daylight or in the dark. However, you shouldn't detour far to the east or north-east from both of these areas. Also, don't accept invitations from strangers to go to bars or clubs in that direction.
There, you'll see a different side of Turkish life. And Tarlabaşı is one of those neighborhoods where life is completely different. Tarlabaşı is rather small but it is "famous" for the fact that transgender sex workers and prostitutes offer their services on the streets. They can cling onto you, follow, or surround. Aggressive children and teens like to hang out on the streets doing nothing.
Also, the Tarlabaşı neighborhood is inhabited by poor Kurdish migrants and Roma people who are not welcoming at all. And overall, it's one dirty and scary-looking place. The bravest Turk will not risk walking around Tarlabaşı and local police often ignore the calls.
Gaziosmanpaşa
Gaziosmanpaşa is a densely populated area that was a wasteland until the mid-50s of the last century. Then illegal immigrants from the Balkans followed by Romani people settled there and the authorities built orphanages and homes for the elderly.
Since the last century and until this day this is considered to be one of the most dangerous parts of Istanbul. It is a disadvantaged place with very poor infrastructure and chaotically built buildings.
The last time I was in the area with a friend, we learned from the news that the police uncovered a den with weapons on one of the streets. The whole thing was accompanied by the presence of a police tank and a helicopter. And a week before that, there was a shooting on another street and one local guy died which, however, did not surprise anyone there.
Gaziosmanpaşa is located next to the historic center, so many people can be curious about this neighborhood and want to go explore. But don't do that. This area is dangerous even during the day.
Kasımpaşa
This neighborhood is not as dangerous as such, it feels more like rather a poor and somewhat disadvantaged place. Actually over the past few years, a lot of things here changed and improved and even some nice flats popped up on Airbnb (like this apartment). Yet, a lot of residents of Istanbul won't choose this part of the city to live in.
The only time we came to the Kasimpasa neighborhood was when we went to check it out after thinking about possibly moving there. At that time we didn't know much about where do expats live in Istanbul, so we decided to go get a feel of this neighborhood before reserving a flat on Airbnb. And to be honest, it was the right decision to make.
We were not impressed with the Kasimpasa neighborhood at all. More than that, some streets looked so sketchy. Some houses were falling apart like they were bombed or something. And one of our friends (locals) later told us that Kasimpasa is an area where also many scammers and thieves live.
Turkish people used to associate this area primarily with President Erdogan who was growing up on its streets. These days they associate it with migrants from disadvantaged countries, refugees, and pickpockets.
Kasimpasa neighborhood is close to the Galata Tower and Istiklal street. It's easy to walk in there if you don't know your whereabouts. Again, it is not really about being dangerous, but more about being poor. Yet, it is better to be vigilant when going there.
Kuştepe
Kuştepe is another dangerous area in Istanbul which is home to drug dealers, beggars, and poor refugees from Eastern Turkey. As a matter of fact, this neighborhood is part of the Şişli district that many foreigners take as one cool place where to live in Istanbul.
Don't confuse. Şişli district consists of many neighborhoods and Kuştepe is just one of them where you definitely don't want to live and even visit. If you type 'Kustepe' on the map, you'll see a small stretch that is pretty easy to walk around.
Once together with a friend who found an apartment on Airbnb in the Kuştepe area we were getting a lift and our taxi driver, with a face full of horror, asked: "Where did I get? Even the police don't bother to come here." After dropping us off, he disappeared in the blink of an eye. My friend's apartment, by the way, was a bit outside the dangerous part of Kustepe and closer to Bomonti, so it wasn't all that bad. But she moved out earlier.
Laleli-Aksaray
While Laleli and Aksaray are not particularly dangerous, they are in my opinion the least comfortable neighborhoods in Istanbul. Also, they are not really safe for solo female travelers, particularly women.
For the most part, both of these neighborhoods are frequented by Eastern Europeans who come here to shop in local markets, selling leather and fur products.
However, besides the markets, Laleli is famous for prostitutes and Aksaray is known for being home to a large conservative population that lives by old traditions, is very religious, and dresses in a very conservative way. In Aksaray you will see many women wear hijabs, a lot of men dress like imams (Muslim priests) and wear turbans with thobes or robes.
If you ever get to visit this area, dress as modestly as possible. Otherwise, you risk at least getting comments or into an argument. If you come to Laleli for shopping, do it only during the day. After seven, the area becomes dangerous.
I visited both of these Istanbul neighborhoods during the day once together with Mark and to be honest, both of us felt very uncomfortable. On many occasions there were people who tried selling us something, following us or grabbing a hand. During other moments, some men could make stupid comments (in Russian or English) that didn't make any sense or shout something our way.
If you are visiting Istanbul on a package tour or with the goal of buying in bulk from the market, then I guess staying in Laleli or Aksaray is okay. For any other reason, it's better to choose another neighborhood.
Sultanbeyli
Few tourists travel this far as the area is located on the outskirts of the Asian side of Istanbul. But some people like us who are looking for an apartment for the long-term can find their way there. We also met some foreigners who have been to the Sultanbeyli neighborhood and in the end, they were very unhappy about that trip.
At first glance, once you arrive, the place seems to be calm and peaceful although there is nothing to do in the area. However, with the advent of dusk refugees from African countries and illegal guests from Bangladesh take to the streets.
According to the police, there are a lot of dysfunctional illegal immigrants in Sultanbeyli and this neighborhood is among the most unsafe areas in Istanbul. It is better for tourists not to go there.
Esenyurt
I didn't know anything about this part of Istanbul until my friend told me she was moving from there because she didn't feel safe.
Esenyurt, as the previous neighborhood on this list, is not really a place where tourists go. It's mainly known among people who look for a long-term apartment in Istanbul.
If you ask locals, they'll tell that Esenyurt is a residential area with low housing prices which is popular among expats. Maybe, I personally haven't met any expat who was living there. But after reading a few forums, I figured that some foreigners choose this area. And some of them were saying they were happy with the choice. Maybe.
However, according to police reports, Esenyurt is the leader in calls to law enforcement due to local street fights and hooliganism. Also, apparently, some drug dealers choose it too. From time to time, news show how police arrest a drug dealer living in this neighborhood.
Esenyurt can be a good neighborhood where to live in Istanbul on a budget. Apartment complexes where you could rent or buy a flat are modern and new. And as a foreigner, you may have a quiet life. But that quietness ends just behind the fence once you close the door. The neighborhood has half-empty streets, next to modern new apartment buildings there are old gray houses where very religious residents live.
Gülsuyu
Gülsuyu is a neighborhood in Maltepe district on the Asian side of Istanbul, next to Kadikoy. Chances are really low that you'll get there as a tourist visiting the city. Yet someone was asking me about this neighborhood as a place where to live in Istanbul with the family since he found a nice apartment on Airbnb there. Oh no, you don't want to live in this area. Especially with children.
Overall, Maltepe district (which is pretty big if you look on the map) is not a bad place where to live in Istanbul. It has its own center and beautiful coastline. Choosing Maltepe for the long term can be a good pick but not for a short stay as a tourist.
Maltepe Coastal area with waterfront neighborhoods of Idealtepe and Kucukyalı is absolutely safe and peaceful. The view is simply gorgeous from many apartment buildings, especially with Princes' Islands in a distance. The sea is close.
But you want to stay away from Gülsuyu neighborhood as it's famous for bullies and hooligans and where it is almost impossible to go out at night because it gets unsafe. With the darkness, the police start to patrol more and look at everyone walking on the street as suspects, constantly checking their identities.
Gülsuyu is also famous for being one creepy neighborhood where people tend to do some scary things. Some of them are burning public buses for example. If in the past they could do it when protesting a political decision, last year they burned a few buses again just because they did not leave on time. Overall, people here like to protest quite often becoming very aggressive and uncontrollable. Scary stuff, you know.
There is no police station in this neighborhood and if something happens (and it does all the time), it takes a lot of time for police to show up.
More Travel Resources For Istanbul
If you landed on this page for the first time, I can offer you so many guides and tips on Istanbul travel. First of all, if wondering what would be the best place to live in Istanbul for tourists and expats, check my post on safe areas in Istanbul.
If this is going to be your first visit, read must-visit places in Istanbul for first-time visitors or best places to visit on any visit, or things to do in Istanbul to understand this city.
For all Istanbul airports, check my airport transfer guide, for Istanbul prices this post. Best companies to rent a car in Istanbul, read it here.
I have tons of other articles about Istanbul and Turkey where I am currently based. You can find all of them in my guide to Turkey. So give them a read and let me help you plan your itinerary.