Kadikoy in Istanbul Quick Guide – Best Things to Do, Safety, Nightlife & Sample Itinerary
Last updated on December 6th, 2023
European side of Istanbul has understandably always been more popular than its Asian side, but if there is one area that can possibly compete with places like Nişantaşı, Bebek, or let's say Karakoy (all on the European side and must visit), it should definitely be Kadikoy.
Kadikoy (in Turkish Kadıköy) is more or less the "Beyoğlu of the Asian side" (and Beyoglu is a district on Istanbul's European side that encompasses various neighborhoods with significant entertainment, shopping, and nightlife, and has notable landmarks like the Galata Tower, Istiklal Avenue, and various historic churches, mosques, and synagogues).
But it is cleaner, maybe a bit less exciting, but certainly the most colorful and interesting place in Istanbul that you can visit on the Asian side of the city. Art, entertainment, history, shopping, great food… Whatever it is you want, you'll surely find it in Kadıköy, and I'll talk about how and where in the following lines.
I spent the whole year living in Kadikoy discovering its old streets and new neighborhoods, and it became one of my absolute favorite places where to live, work, spend time, and just enjoy my daily routine.
Over the course of the next posts, I am going to share my favorite spots and hidden gems of this district but for now, here's a quick guide to Kadıköy, the hottest place on İstanbul's Asian side…
Going to Kadikoy for the First Time?
Check out these not-to-miss activities and travel tips! And if you want to stay in Kadikoy, here are my top suggestions:
Tours in Kadikoy Not to Miss
Places Where to Stay in Kadikoy
---
Please note: This post contains affiliate links. I may earn a commission if you make a purchase or booking by clicking a link (at no extra cost to you).
---
Is Kadikoy Worth Visiting & Why?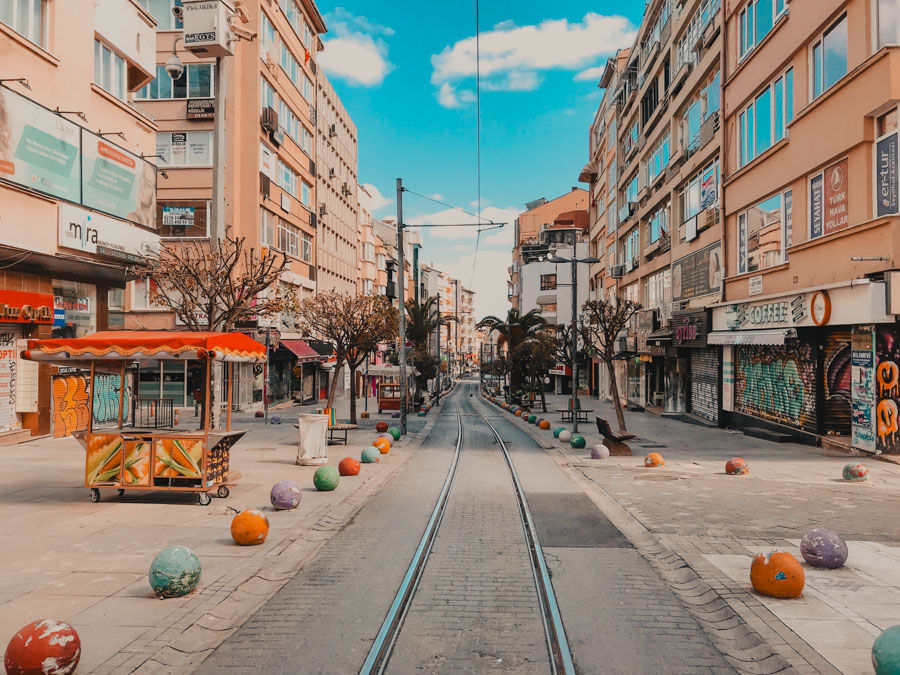 Before I get to everything else, let me mention a few words about why Kadikoy should be on everyone's itinerary, be it 1 day in Istanbul, 3 days, or a whole week.
Kadıkoy is definitely worth visiting for numerous reasons. It is, more or less the new hot spot in Istanbul now, and kind of occupies the place that Beyoğlu used to occupy for the young and "cool" people of Istanbul.
This is of course not to say that Beyoğlu on the European side is not worth visiting. On the contrary, it is still the most exciting part of Istanbul, and much richer than Kadıkoy in every sense. But as a result of the tourist boom and the changing of the atmosphere, many people moved to Kadikoy turning it into a very atmospheric destination. Also, nowadays a lot of young Istanbulites prefer Kadıköy too which is why many hipster cafes pop up around each corner.
Kadıköy offers a wide range of things to see and activities to do. And even one full day there will never be enough to take a peek everywhere.
Whatever is on your mind – have a pint at an Irish pub, try some famous Turkish kebabs, visit a museum, hang out at the artisan coffeeshops, sit by the sea and enjoy the Bosphorus view with a Turkish tea, or just see how people live – you can find it in Kadıköy.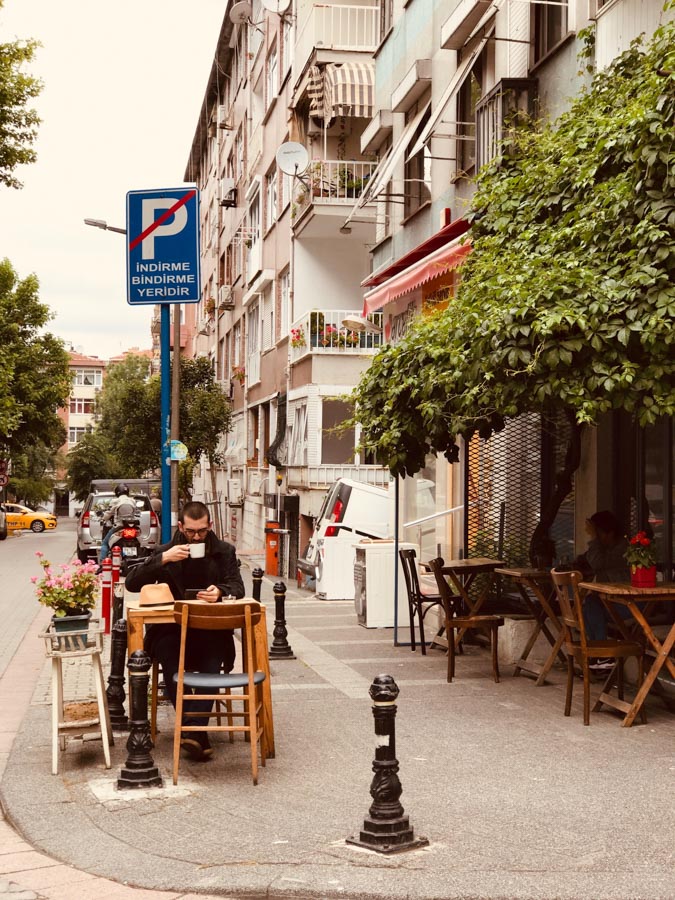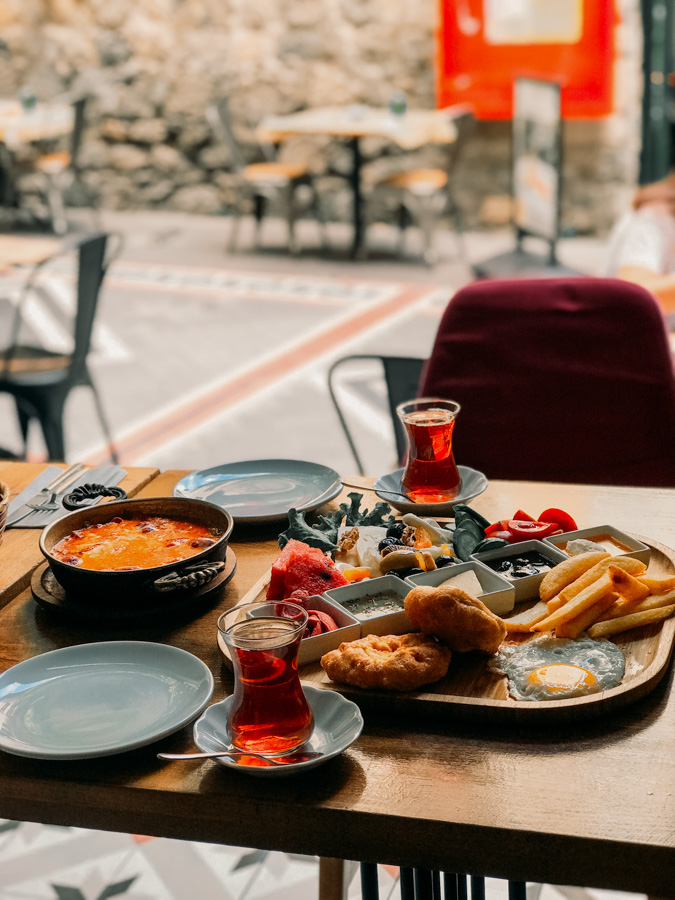 It has a mixed crowd of students, Istanbul elites, expats, tourists, and is always alive, even until the late hours. It is possibly the best place to see on the Asian side of Istanbul, so if you are in town for more than a day, you should definitely visit Kadıkoy, at least for a couple of hours for some good memories.
Is It Worth Staying in Kadıköy?
No matter how much I love Kadikoy and how much I am tempted to say that it is a fantastic area where to stay on a trip to Istanbul, I still want to be realistic. The final answer depends on how much time you have in Istanbul and why you travel to this city.
If you are having only a couple of days on a long layover from IST airport, to maximize the time it will be much better to book accommodation in Beyoglu. But on the contrary, if you have connecting flights in Sabiha Gokcen airport, then it makes more sense to book accommodation in Kadikoy.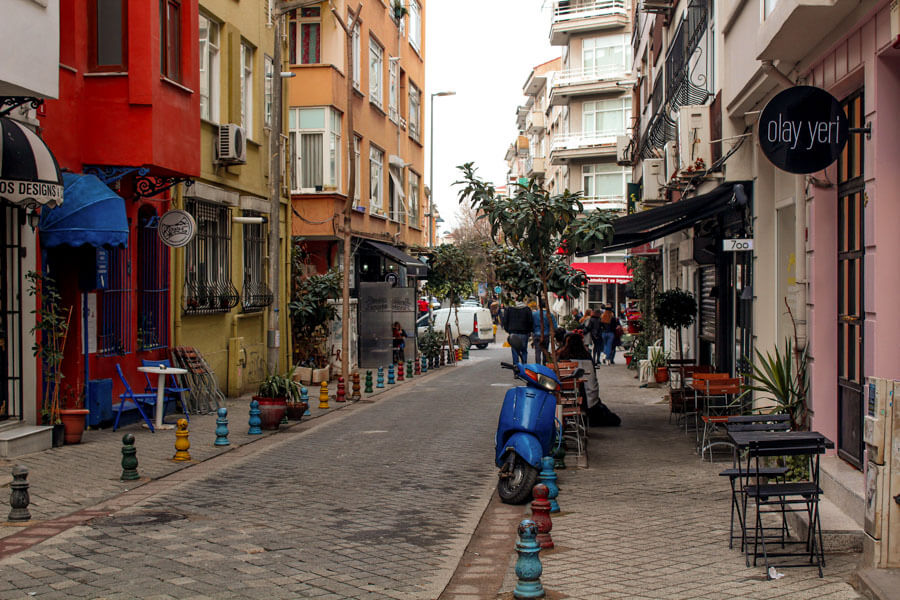 If on a couple's romantic trip where you want to stay in a fancy hotel yet be close to main Istanbul landmarks, Kadikoy is not the best place to choose for a stay. You better want to look into the Besiktas area or Sultanahmet with luxurious hotels that offer romantic accommodations and experience.
But if you are on a budget or want to experience non-touristy yet authentic part of Istanbul, Kadikoy is a fantastic choice! It is well connected with many neighborhoods of Istanbul, including more distant Balat, so getting places will never be a problem.
Is Kadikoy Safe?
First of all what you need to know – like Beyoğlu, Kadıköy is not a neighborhood. It is a huge district made of many neighborhoods that are like 180 degrees different.
When people say "I am going to Kadıköy" in Istanbul, they usually mean Moda and adjacent streets. But, there are other parts of Kadıköy too, which are a bit far from Moda.
So, if you want to know if Kadikoy is safe when you imply Moda and other neighborhoods close to it, then yes, for the most part, they are considered pretty much safe, even at the late hours of the night/morning. Of course, some parts are more desolate, making them slightly riskier at night if you are alone – this is not to say Kadıköy in general is a dangerous place in particular, but if you are far from the central parts, you have to be extra cautious at nights.
But for places like Rıhtım (the docks in the locale by the Rihtim street here), Yeldeğirmeni, and other adjacent areas to Moda, you should be all right even at late hours. But since you never know who is who in Istanbul, being a bit extra cautious even in central parts at late hours would not hurt.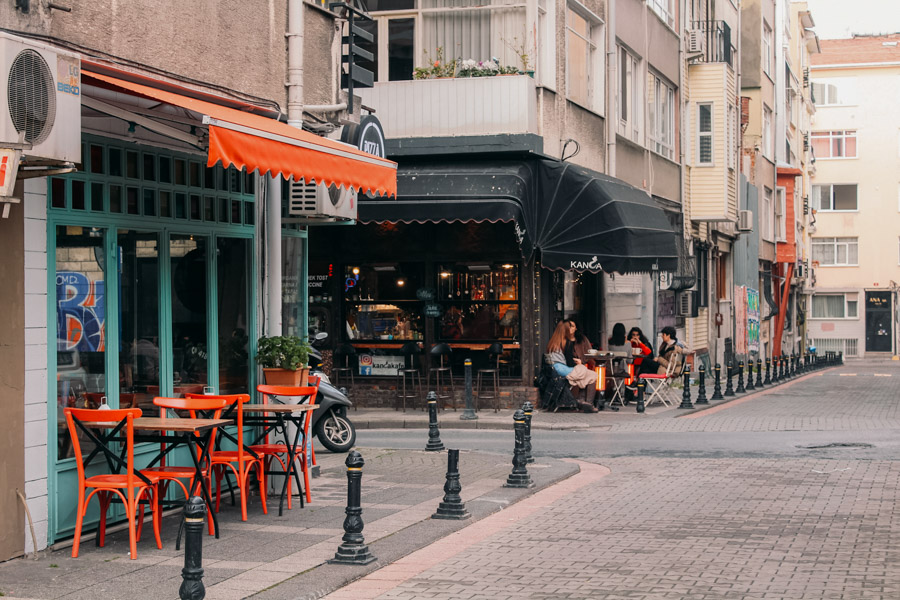 Best Things to Do in Kadikoy
Since Kadikoy is huge, the exact list of activities and things to do varies by the area where you go. Below I share some of the top ideas for what to do in Kadikoy Moda and a bit outside it if you are ready to venture further.
Things to Do in Kadikoy-Moda
Moda is one of the most popular spots of Kadıköy, thanks to its seaside location, beautiful streets, nice bars and restaurants, boutiques, and of course, the old, nostalgic tram. I am preparing my separate extensive guide to Moda but before it's ready, here are a few suggestions for what to do in this neighborhood on a quick visit there.
Overall, you come here to take a nice walk along the Marmara Sea, have Turkish breakfast in one of the tea gardens or/and filling Turkish dinner, feel the spirit of independence and freedom (Moda is among the most liberal neighborhoods of Istanbul), and of course watch the sunset. Sunsets in Moda are always beautiful.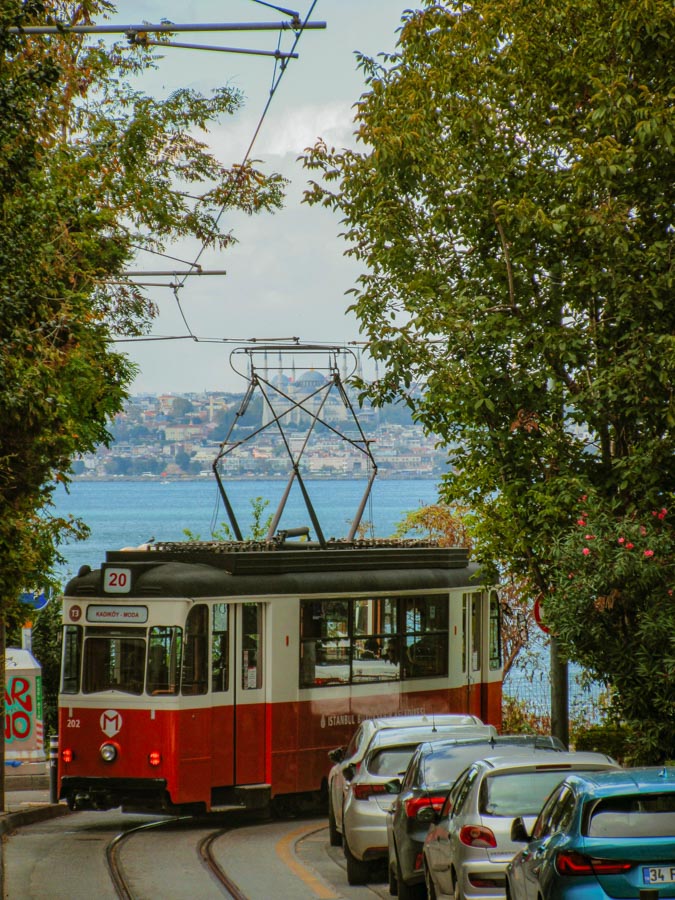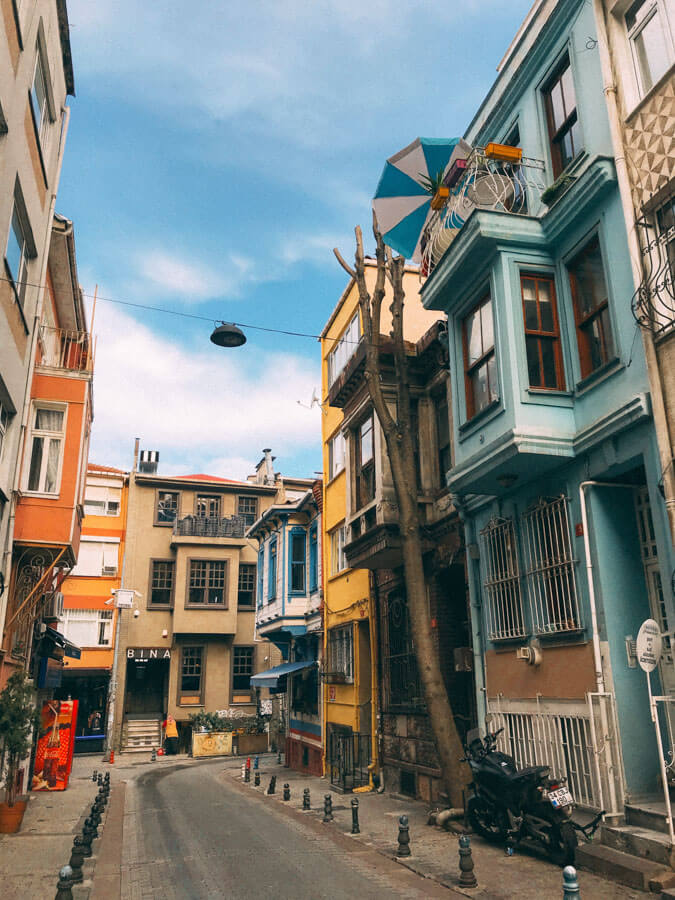 Do not expect to find here ancient mosques or any big landmarks from the Ottoman Empire, but you can be sure of getting a chance to see lively and modern Istanbul with its Bohemian coffee shops and bars that coexist next to traditional butcher shops and old cafe spots where women do fortune telling on coffee grounds.
One of the favorite activities of people from Kadıköy (and actually people from other parts of Istanbul as well) is to just sit by the green grass on the seaside and relax. Or to come to walk or ride a bike along (rentals are available in Moda) the Marmara Sea and Bosphorus on a scenic waterfront promenade.
You can buy snacks and drinks from nearby local shops, and just go there to spend some peaceful time as well, surrounded by mostly young people having a picnic, riding their bikes, walking their pets, etc.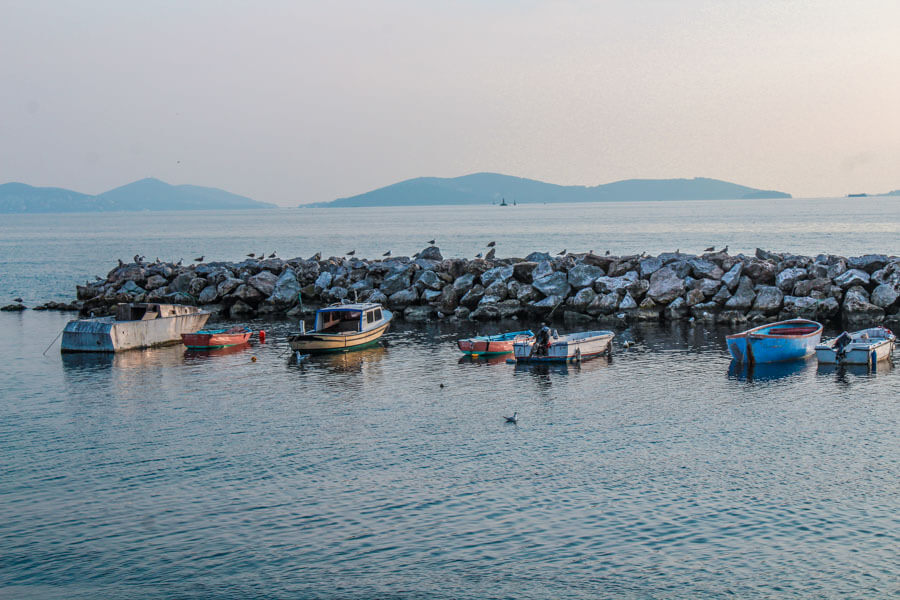 Start in Kadikoy Park (if arriving to the ferry terminal from the European side) and walk along the sea to Yogurtcu Park. Here is the route that I suggest to follow.
Near the Yogurtcu Park, there is a nice marina with yachts and boats that was built recently and is also a nice place where to stroll. It is especially nice in spring and fall.
Along the entire route and beyond, there is a biking path that you can follow (there are a few bike stations where to rent a bike but you need to have a Turkish number to register), so you can even cruise around and go to Fenerbahce with many nice breakfast restaurants, expensive apartment complexes (with beautiful areas where to walk), mini beach, and another lovely park.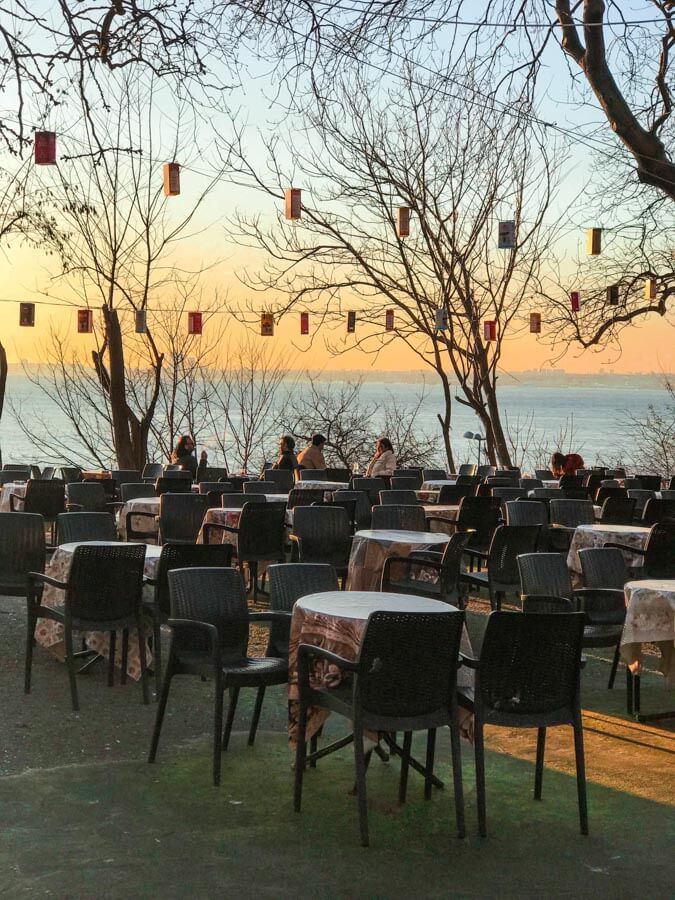 However, remember that all these places I mentioned will be a bit crowded during the weekends (especially if the weather is nice). So if that's not your thing, you can come here on weekdays or early mornings on Saturdays and Sundays.
Other than that, just walking the beautiful streets of Moda (preferably with a camera in your hand) is a beautiful experience in itself, occasionally stopping by a third-generation coffee shop for a tasty coffee (or a bar for a cold beer) and admiring this beautiful neighborhood.
Also, if time allows, pay a visit to one of the most beautiful buildings in Moda which is the majestic Haydarpasa Station, from where in the past trains departed for Baghdad. From time to time it closes for restoration, but if on your visit it is open, do not miss a chance to see it from inside.
Things to Do in Other Parts of Kadikoy
Although not every part of Kadıköy is worth seeing, there is certainly much more to it than just Moda. And the main thing you need to know – Kadikoy is all about the parks and green spaces.
You come to Kadikoy usually to spend time in one of those green areas (by the sea or not), eat (ha, always in this city), and wander around the neighborhoods contemplating life. Oh, you also come to shop as Kadikoy shopping opportunities are pretty extensive with reasonable prices.
So, here are some interesting must-have activities in Kadikoy district:
Stroll Through the Yeldeğirmeni Neighborhood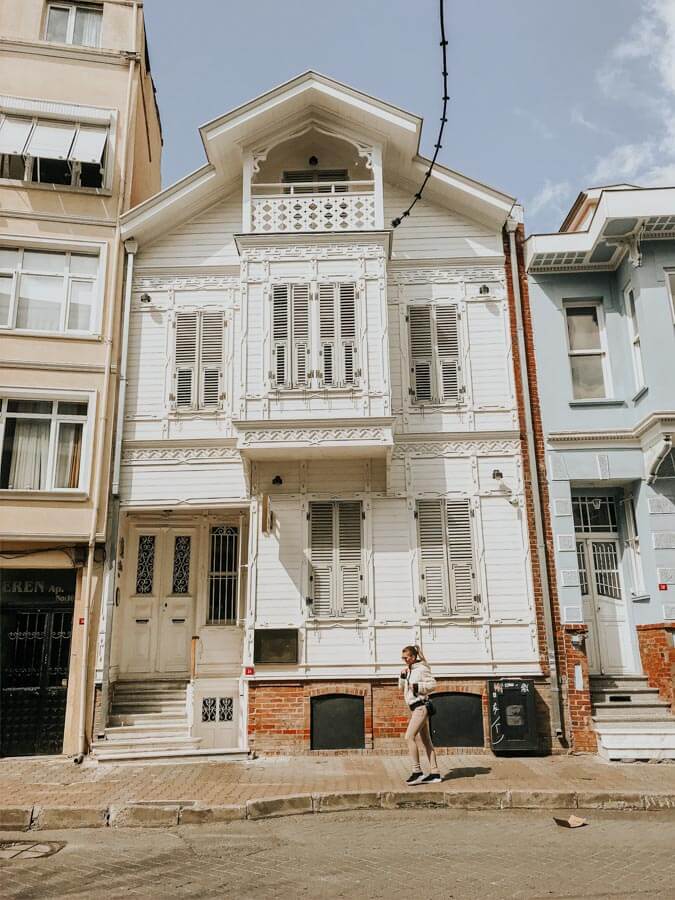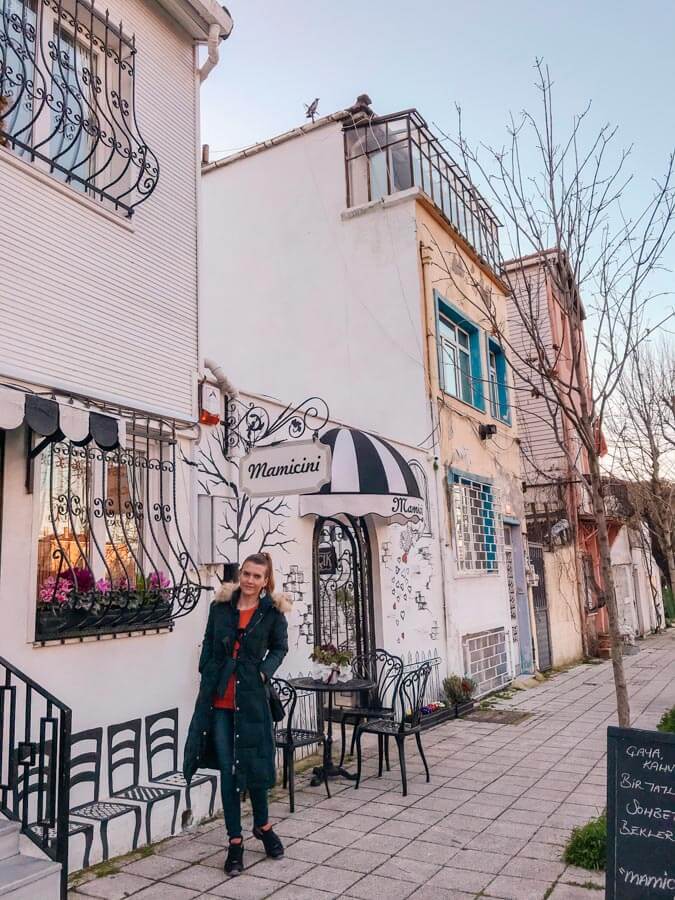 Yeldeğirmeni is a good example of another lovely neighborhood in Kadikoy that is worth a few hours of time.
Just within walking distance to the Kadıköy Docks, it is a historical neighborhood that is somewhat similar to Cihangir of the European side (which was mentioned in detail in this post in case you haven't seen it yet) though it has a different vibe as well.
Here you can walk the narrow streets between old apartments, check out boutiques and vintage shops, and visit artisan coffee shops.
If you are there in the morning, Küff Yeldeğirmeni cafe serves a very good breakfast. And when visiting during the day, Mahatma Cafe & Restaurant is a great cafe for Turkish vegetarian food.
Check Out Barlar Sokağı Street
Barlar Sokağı (can be translated to English as "Street of Bars") is another popular area, which is (as the name suggests) filled with bars, and populated with a young crowd during the day and especially during the night.
It is also very close to the docks, so you really don't have to go much further from the center to enjoy almost everything Kadıköy has to offer. Or you can just sit at one of the old-school cafes by the sea, and enjoy some Turkish tea against a beautiful Bosphorus view.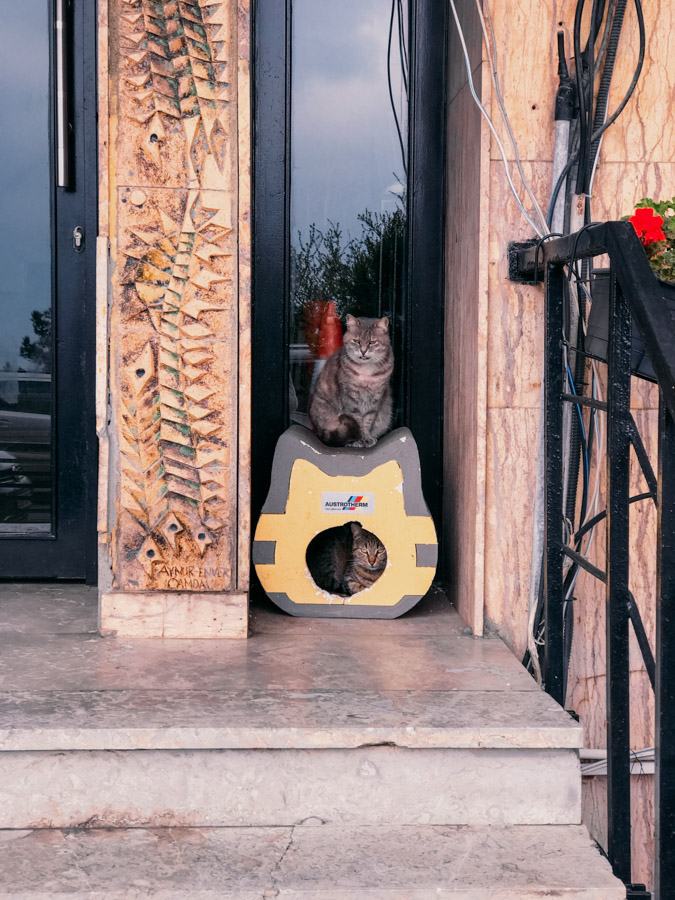 Go to the Oldest Cemetery in Istanbul & the Biggest Supermarket
Well, I know, these two are kind of totally random places, and not everyone likes visiting graveyards. But if you want to see the oldest cemetery in Istanbul for historical exploration and cultural understanding, why not visit the largest (nearby) supermarket as well in case you are looking to eat Turkish food on a budget?
A short distance north of Yeldeğirmeni neighborhood, there's a massive Carrefour supermarket (location here) where you can buy virtually any food from anywhere in the world (including Turkish food and there is a section where to sit down to eat).
From Carrefour, it is only a short walk to the Karacaahmet Cemetery (find it here), the largest and oldest cemetery in Istanbul, which is the final resting place for some notable figures including poets, artists, politicians, and even some Ottoman sultans. It is located kind of on the border between Kadikoy and Uskudar so takes some time to walk there (or you can take a dolmus).
If you've never been to a Muslim cemetery, it's going to be a unique experience. There are no images on the graves, but they often have interesting shapes. For instance, in the section with old Ottoman graves, the tombs are in the shape of various turbans, depending on the position the deceased held.
Don't Miss Fenerbahce & Caddebostan Parks
Upscale real estate, expensive shops, very clean streets (significantly cleaner and wider than in Moda), fewer people… this is all about Fenerbahce, an upscale neighborhood in Kadikoy where rich people live in Istanbul.
Fenerbahçe has two beautiful parks (which are beautiful in any season including in the winter) stretched one after another along the six-kilometer waterfront that are really worth a visit. They are beautiful, quiet and even provide a nice opportunity to swim in the Marmara Sea right in Istanbul city.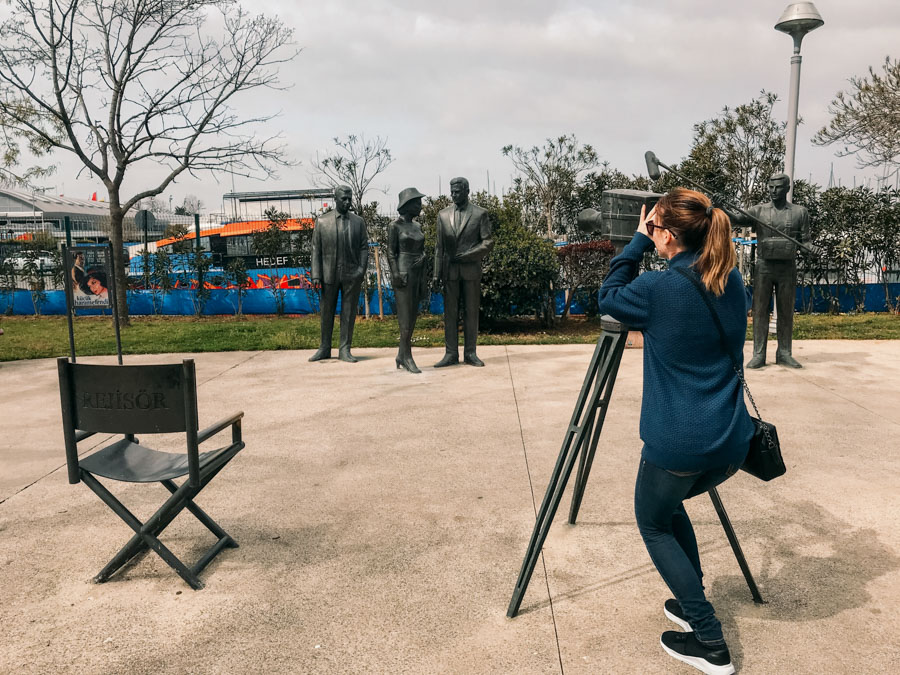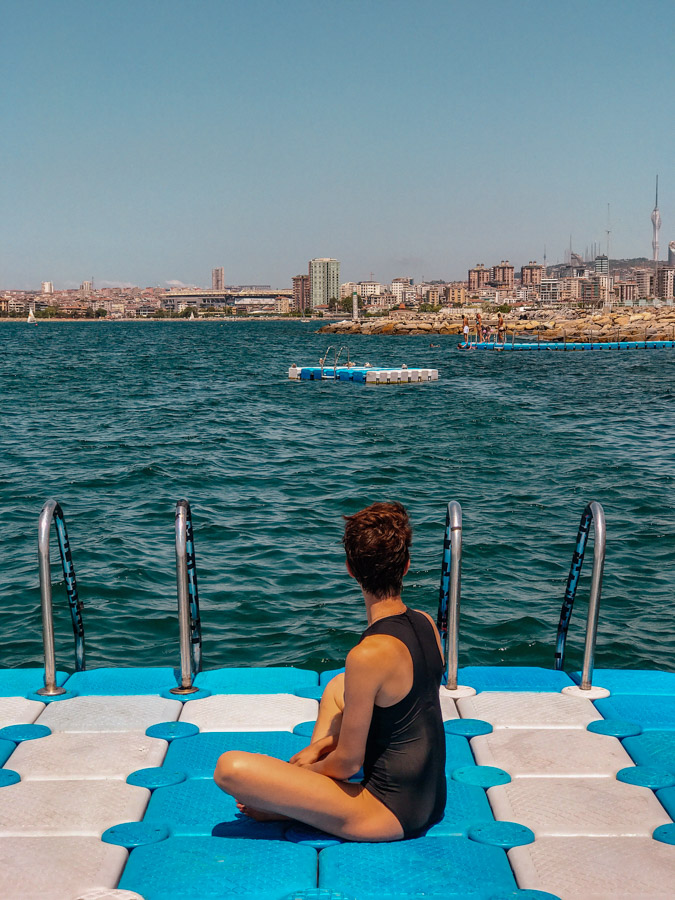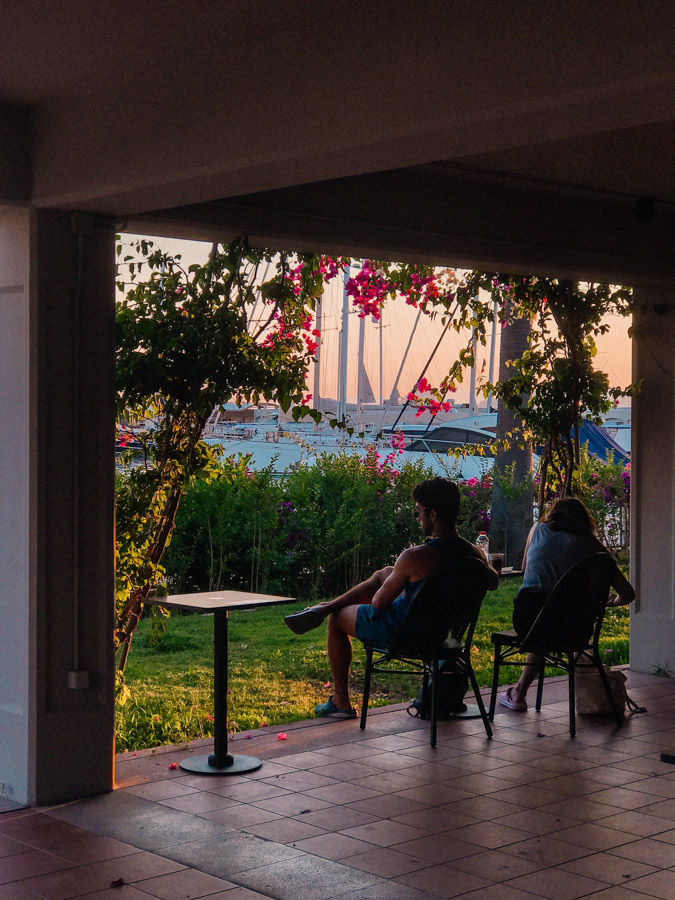 Within the park areas, there are enormous century-old trees, a small beach, bike and jogging paths, and sports facilities. On clear days, the Prince Islands are clearly visible from the park's waterfront. I have a guide about Burgaz Island in case you decide to go there as well.
Additionally, you'll come across large wooden mansions that are interesting architectural marvels to look at. Some of them are abandoned and now parrots live there.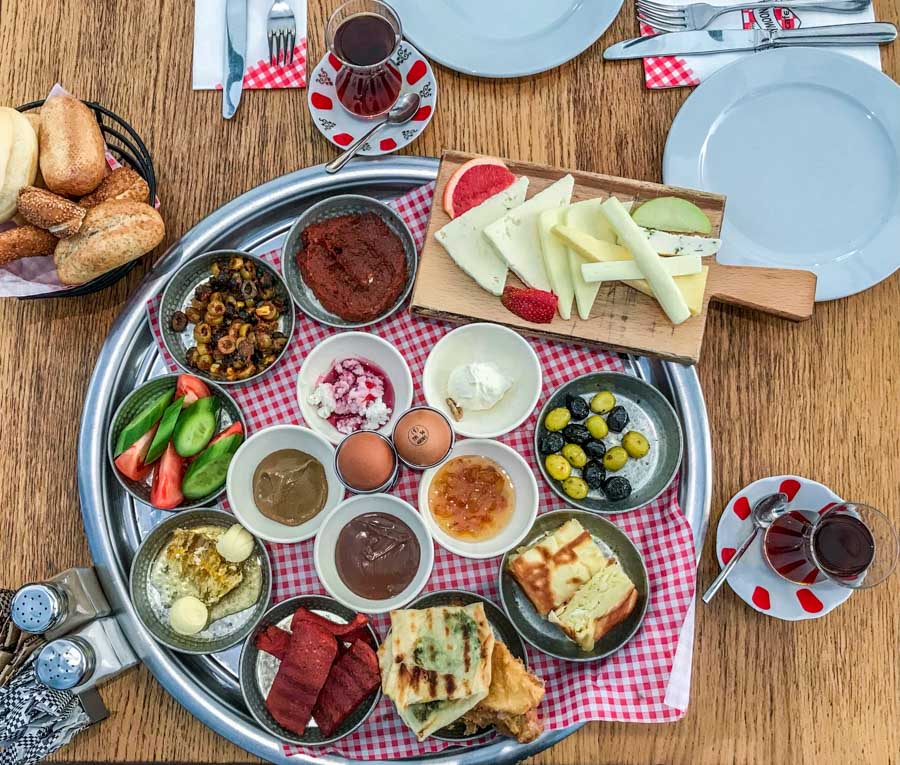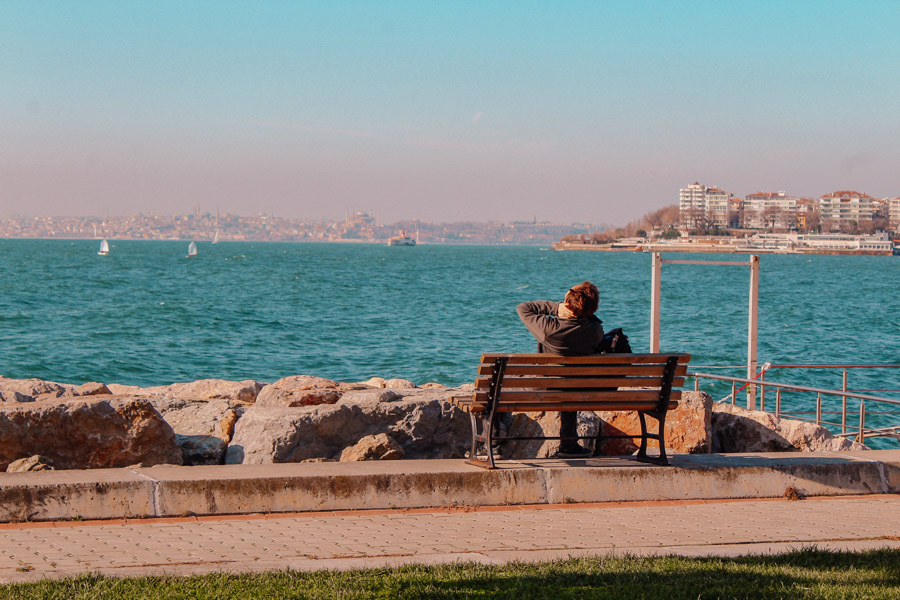 Pay a Visit to the Gazhane Museum
The former gas plant area is now a museum and a modern public space with a perfect lawn, a cafe, coworking spaces, workshops, and a library.
You will have the opportunity here to explore art galleries, an energy museum, weekly complimentary concerts, and engaging workshops. The location also offers a spacious study hall and a library with excellent air conditioning facilities that are great for people who want to come to do some remote work.
Entry is free and dogs are allowed. The museum is located in the Adşibadem neighborhood. This is also part of Kadıköy, but you need to walk about 30 minutes north from Moda.
Of course, if you are having only 3 or 4 days in Istanbul, coming here doesn't make much sense as there are other museums in Istanbul that are really must-visit for anyone who is interested in the city's history. But Gazhane Museum is great for people who stay longer in Istanbul, for a few weeks or even months.
See more of what it offers on the museum's website.
Go to the Fish Market & Here is Why
Kadikoy Fish Market (you can find it by Kadıköy Balık Pazarı on the map) is an average size market where it is possible to find different types of fish and vegetables with plenty of seafood restaurants where to try fresh catch of the day.
It is quite expensive compared to other fish markets around Istanbul, but I still recommend it because it's charming and atmospheric and is kind of a hallmark of Kadikoy. It is located within a 2-minute walk from the ferry terminal and is among the first places you stumble upon when walking into Moda.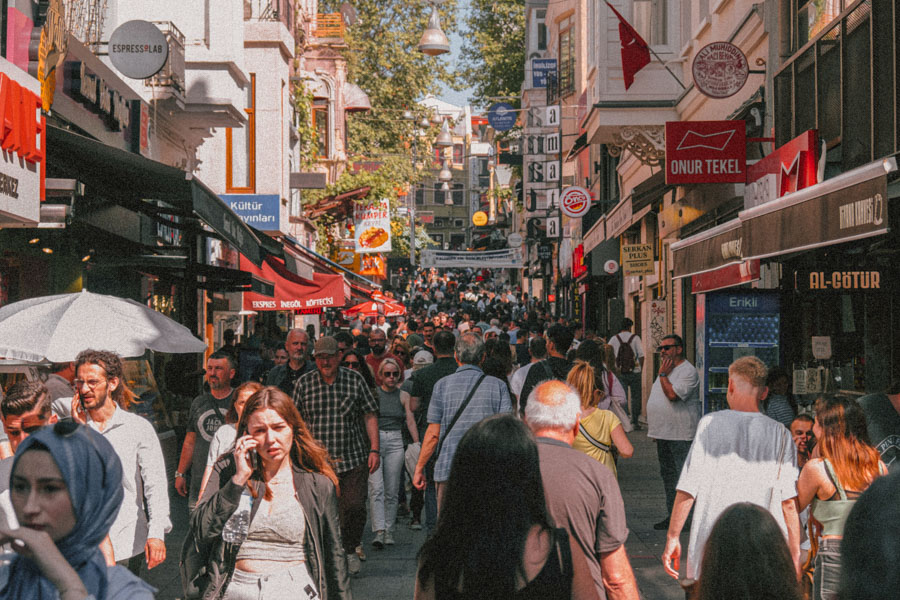 If you are staying in Istanbul in an apartment and have the opportunity to cook at home, then you can buy fish, shrimp, and lamb here to cook at home. And if not, just take a stroll, enjoy the sights, look at the chubby dogs, and stop for a fish platter in one of the restaurants.
Bring Your Kids to the Istanbul Toy Museum
This is a great activity in Kadikoy for families with children but only if you have more time in the city. Istanbul museum pass doesn't cover this museum, yet the visit is well worth the price (ticket costs around $9 in in the equivalent to local money).
Istanbul Toy Museum is a unique museum that showcases a vast collection of toys from various periods of Istanbul, including times of the Ottoman Era. It was founded by poet and author Sunay Akın in 2005 and since then its collection has been increasing more and more.
The museum features a diverse range of toys, including dolls, action figures, board games, and more, providing visitors with a nostalgic journey through the world of toys. The exhibits aim to evoke a sense of childhood memories and preserve the cultural heritage of Istanbul associated with toys.
Check their site to see how cool the museum's collections are. The location is a bit far away from the center of Kadikoy but you can easily reach it by Marmaray train.
Nightlife in Kadikoy
Nightlife in Kadıköy is about as lively as it gets on Istanbul's Asian side, and it offers a wide variety that will please almost everyone.
Whether you wanna relax in a modest pub with a beer or dance for hours to live DJ music, you can find it in Kadıkoy. That's what makes it one of the top places for nightlife on Istanbul's Asian side, especially for the younger half of the city.
So here are some of the popular nightlife spots in Kadıkoy:
Arkaoda
If you are in the mood for some live DJ music, Arkaoda is one of the best places to go to in Kadıköy. It has been open since 1999 and is still among the top places in Moda for a fun night out.
Especially famous among cool young locals, it has a dynamic atmosphere thanks to its lively crowd, and it plays very good music. And although it is a club on weekend nights, it serves as a calm and very chill bar during the daytime, so keep that in mind too.
Karga
Karga is another old favorite just next door from Arkaoda, open since 1996.
It has a unique vibe with its underground-ish atmosphere. Here you can just sit down and enjoy a cocktail on a calm afternoon, or watch a DJ performance or even a stand-up show! Before you go, you should check their Instagram account for their program.
Pablo Pub
Small pub in Moda. Chill people. Good food. And a wide range of drinks.
Pablo is your classic pub, without any fancy attractions going on, a cool place to just stop by for a beer or two, or some cocktails. It is in a central place, on a beautiful street, and you can just sit outside and watch the Kadıköy-Moda scene while enjoying your drink.
Bina
Bina is another popular local club in Moda. It has three floors with three different concepts and a beautiful garden. But keep in mind that the place is criticized a lot for its hyper-selective policy when admitting people inside.
It is normal for a lot of clubs in Istanbul to not accept males without female company, but Bina apparently takes it to another level sometimes not even accepting mixed-gender groups either, just couples (male-female) so no guarantees here. This is why their reviews on google are pretty average and low.
Although their vibe is great!
The Wall Salloon & Performance
The Wall Salloon & Performance is one of the best places to watch live music performances in Moda Kadıköy. It is centrally located in close proximity to the ferry terminal which makes it easy to plan a stop here combined with a night food tour of Kadikoy or evening sunset cruise.
There are also special events hosted here -such as Halloween parties- and besides those, you can just visit this place to have a beer or a cocktail in an uplifting atmosphere, surrounded by young, dynamic people.
Best Kadikoy Restaurants
There are a lot of good restaurants in Kadıköy, and no matter what you want to have for dinner -or lunch- you are likely to find a satisfying option. Here are just some of my favorite, but more are yet to come in my other guides to other neighborhoods of Kadikoy:
Lena
Modest but chic, Lena is a perfect place for a date or just to sit by yourself and enjoy good food with a glass (or preferably a bottle) of wine. It has a warm, welcoming atmosphere, and a rich menu.
Perfect for lunch and dinner.
Moda Meyhanesi (Samatyalı)
There are plenty of meyhanes (Turkish taverns specializing in small meze plates) in Kadıköy, and my choice here is Moda Meyhanesi, or Samatyalı as some call it.
It is a small, cozy place where you can have some Turkish rakı and a wide range of tasty mezes (Turkish-style tapas).
Aida Vino E Cucina
If you love Italian cuisine so much that you have to have it in Turkey, well, here you go!
Aida Vino E Cucina is a chic Italian restaurant in Moda where you can enjoy Italian antipasti, raviolis, risottos, pasta, and more, with a delicious selection of Italian wines of course. It has a very warm, homey vibe which I really enjoyed.
Ciğerci Hulusi
Wanna try Turkish liver kebab? If yes -and it should be yes unless you are a vegetarian!- then this is the place to go!
Ciğerci Hulusi is a famous kebab joint in the center of Kadıköy, where you will taste some of the best ciğer kebabs around, with a range of delicious Turkish mezes.
TIP: Don't go here if you have a date or a meeting after, as you will probably eat a lot of raw onions!
Tarihi Kadikoy Saray Lokantası
This is an old-school Turkish restaurant, in which everything on the menu is presented in large pots for customers to view upon entry, so you can choose what you want and get it served to your plate right there, before moving to your table.
There is everything here from döner kebab to classic Turkish dishes, and if you want a not-so-fancy but good restaurant experience, this is a pretty cool place to check out!
1 Day in Kadikoy Suggested Itinerary
As is the case with every good day, a day in Kadıköy should also start with a good breakfast (considering you are going to spend a full day here). If you are not, skip the breakfast part, but you will be missing out on a lot!
Like Beyoğlu where breakfast is a huge thing, Kadıköy also offers a range of nice breakfast joints, so the thing to ask yourself would be this: "Do I want to get a full Turkish breakfast? A quick one on the go? Or maybe more of a European or American kind of breakfast?"
For the first one, Van Kahvaltı Evi, located in Moda is a good choice. But if you are in the mood for some croissants & coffee or maybe bacon and eggs, you can visit Brekkie Breakfast Club for a more Westernized menu. And if you don't want to spend a lot of time on breakfast, then just sit at a börek shop (you can find these everywhere as Kadikoy is famous for delish bureks) and have some quick Turkish börek (delicious patties with mince, or potatoes, or cheese, etc.) with tea.
After breakfast, visit the old Yeldeğirmeni Neighbourhood (which I have mentioned above) for some casual strolling, and quality coffee. You can easily spend at least an hour or two here in this neighborhood just by walking the streets, checking out local shops, and relaxing at a coffee shop. You can take some photos too as the neighborhood really has a picturesque quality.
Then probably visit Moda, which is a must-see on the Asian side of İstanbul. Here you can get some stuff from the local markets, hop on an old tram to ride around the neighborhood and have a small picnic by the sea, read a book, or just lay down on the grass and watch the sea and people go by.
In the evening, hit the Barlar Sokağı (also mentioned above) to have a drink or two (or more if you like!) or go to a nice restaurant for a calm dinner.
If you pick the former and stay until late hours, make sure to stop by some street food vendor for some quick street food (can be mussels, meatballs, kokoreç, etc.) as a true Istanbulite does after a night of drinking, before you leave!
If you are to return to the Europen side (and if the hours are convenient) I recommend taking the ferry around the sunset time, for a refreshing ride back with an orange (from sun) sky.
More Istanbul Neighborhood Guides