12 Lovely Spots to Watch Sunset in Istanbul in Any Season
Watching the sunset in Istanbul should be on the list of must-do things in this grand city. And if you want some inspiration on where to find the best locations for that, this post is going to provide some insight.
Usually, Istanbul is famous for its Bosphorus views that never get boring to look at, no matter how many times you visit this magical city – or how many years you've been living there, as locals claim.
But one thing that makes this strait that connects the two continents even more beautiful is, of course, watching the sun go down on it.
Although it is really not difficult at all to find a spot in Istanbul to enjoy the sunset, I would still like to recommend some of my favorite places, which are beautiful on their own no matter what time you visit them (be it summer, spring, or winter in Istanbul).
And I am fairly sure they will certainly improve your experience of watching the sunset, as they did mine! Especially if you come to Istanbul for a short period and need precise locations where to go.
So below are my top 10 spots for watching the sun go down in the city of Istanbul. But before you get there, take a look at a few tips to enhance your experience.
How to Maximize Your Istanbul Sunset Time
Here are a few awesome tours to join in Istanbul for the Sunset:
Best Istanbul Sunset Locations
1- Galata Bridge
Probably the most famous place in Istanbul which is visited daily by millions of people for different reasons, and one of them is to come to watch the sunset.
The bridge spans the Golden Horn, providing a panoramic view of the city's skyline and the sun setting over historic landmarks. You'll see there many fishermen trying to get their catch of the day and tourists having their photoshoots.
In my opinion, it is really a nice spot to watch the sunset which is also the cheapest one for sure. And if this is your first day of a first visit to Istanbul, come here in the evening to make your first acquaintance with 'Golden Horn Mouth' (the area where Golden Horn and Bosphorus connect) and enjoy the breathtaking sunset views across the water.
2- Istanbul Sunset From Galata Tower
One of the most famous places in the city and possibly its most famous one, the Galata Tower has always enjoyed the attention of visitors for a variety of reasons – its beauty, historical significance, and of course, its enchanting view.
Hence, this is another must-go spot to enjoy the sunset in Istanbul. There is a beautiful restaurant in the Galata Tower, so you can enjoy a romantic meal and some drinks there while watching the sun go down, but if you are not hungry or in a bit of a hurry, you can also just go to the top and enjoy the view with the sunset.
NOTE: In the restaurant, sunset reservations are required. Lines to the top of Galata for the sunset are long. You want to come earlier to be able to reach the top just on time!
3- The City Ferries (Bosphorus)
One of my favorite places where to watch the sunset in Istanbul is one of its ferries. Not only being on a ferry is a unique Istanbul experience, but it is also cheap. Well, of course, there is a possibility of going on a special sunset cruise but if you are traveling in Turkey on a budget, taking a ferry in Istanbul is the best bet.
It is also one of the coolest ways of taking in the view of the Bosphorus itself, rather than watching it from a distance.
The only thing you need to remember is this – to catch the sunset view, you need to take the ferries from the European side to the Anatolian side -or vice versa- that connect Karakoy with Moda, Kabatas and Moda, Eminonu and Harem, and Yenikapi with Kadikoy.
Other ferries along the Bosphorus more to its northern part (like Besiktas and Uskudar for example and higher) do not have a full sunset view due to the hills and tall buildings. You will still get to see a bit of sunset but for a better experience, follow the routes I suggested.
In the evening hours in winter, still try to sit outside -if the weather is warm enough, of course- and just enjoy a Turkish tea or coffee and possibly some snacks while making your way between two sides.
The combination of the colors of the sky, the smell of the sea, and the sound of the waves will make it a near-magical experience.
Thinking of joining the cruise? They are quite affordable in Istanbul!
4- The Maiden's Tower (Üsküdar / Bosphorus)
Here is another landmark of the city, and of course another great spot to take in the sunset view of Istanbul in the evening. The famous Maiden's Tower is situated on the waters of Bosphorus, close to Üsküdar, and it is a must-see, no matter the time of the day.
If you want a truly romantic experience, you can reserve a table at its restaurant and enjoy a meal -preferably with a special someone- while the sun goes down on one of the most beautiful cities in the world.
It is really a privileged experience to witness the sunset here, while surrounded by the calm waters of the Bosphorus!
5- Ortaköy (Beşiktaş)
Another favorite of both the tourists and the Istanbulites, Ortaköy has it all – lovely restaurants, bars and coffee shops, interesting street vendors from where you can buy souvenirs, food or ice cream, an interesting crowd that has people of all ages, nationalities and backgrounds, and of course, the main purpose of this article, stunning Bosphorus views.
It is another great place to enjoy the sunset in Istanbul, and you can do so on the shore, preferably with a big kumpir (a Turkish-style baked potato with mixed ingredients of your choice as topping- a very popular street food in Turkey that originated particularly in this neighborhood).
However, keep in mind that sunsets here are not as bright since you don't get to watch the full sunset (as it is not the right side for that) but on a clear day, when the sun sets, it illuminates the sky so much that you can see it in Ortakoy over the famous Büyük Mecidiye Mosque.
For a cozy experience, make a stop in one of the beautiful restaurants or bars, such as for example Hobo Kitchen & Bar or Most Hookah.
6- Cihangir (Beyoğlu)
Cihangir, which has its own post here, is among the trendiest neighborhoods in Beyoğlu. It is a favorite among the city's creative circle, usually frequented by artists, actors, singers and so on, and it has everything one might seek to have a great time.
On top of all of its pros, it is situated on a hill which automatically makes it a great spot to enjoy sunsets in Istanbul.
You can do so in Roma Parkı (just down the famous stairs of Cihangir) with a drink of your choice you can get from a market (or a cocktail bar), but if you wish to sit at a restaurant, probably Demeti would be your best choice, an old-school Turkish tavern that serves Turkish rakı and great food, and has a balcony where you get a
great view of the Bosphorus.
However, keep in mind though, it is very, very difficult to find a table at the said balcony, which has like four or five tables in total! So if you are in the area during the day, you may want to reserve the table. Or simply come earlier and stay until sunset time.
7- Moda (Kadıköy)
Moda is kind of like Cihangir of the Anatolian side- not nearly as cool in my opinion, but certainly cleaner, sorry to have to say.
And one certain advantage it has over Cihangir is that it is not located on a hill overlooking the sea, but just by the sea itself, on a beautiful shore, where you can just lie down on the grass and gaze at the captivating Bosphorus or simply sit on the bench with a drink overlooking the horizon.
Hence it is another must-go spot to enjoy the Istanbul sunsets, preferably with an evening picnic. But of course, there are lovely places to go in Moda too.
An example I would recommend would be Koço Restaurant, another meyhane where you can enjoy Turkish rakı, mezes (Turkish-style tapas), and fresh, tasty food, accompanied by the setting of the sun.
8- The Prince Islands
The Prince Islands are the go-to places for İstanbulites who wish to briefly get out of the chaos of the big city, without going too far. They are great places to do a lot of things – having dinner, sightseeing, shopping, having a picnic or a nature walk, swimming, and as one would expect, watching the sunset.
You can visit any of them for a distinct experience that is difficult to have in the city. But my favorites would be Büyükada (the most popular one) and for a less touristy but equally good (if not better) place, Burgazada where I spent more than a month and found its all amazing sunset spots. Check my guide to this island with tips on where to go.
Once on the island, if not wishing to go to any particular spot, just walk by the shore (on its western side) accompanied by the Bosphorus views and sit at any old-school fish restaurant (you'll see a few of them lined up near the sea) to have a beautiful dinner while enjoying the sunset.
9- Kuzguncuk (Üsküdar)
Returning to the Anatolian (or Asian) side of the city, Kuzguncuk is a pretty neighborhood in Üsküdar district. It is another cool spot to gaze at the waters of Bosphorus, in a relatively calmer atmosphere, especially when compared to places like Cihangir, Galata, or Moda.
And what is also special about Kuzguncuk is that it is really worth visiting besides sunsets. It is a historic neighborhood known for its well-preserved Ottoman and neoclassical architecture together with a bohemian atmosphere.
Here, the place I would recommend going to would be the old fish restaurant İsmet Baba, open since 1950s, where you can just sit by the sea and enjoy your fresh fish -and preferable drinks- while watching the beautiful Bosphorus view. But you can also walk on the promenade along the sea.
10- Camlica Hill
Camlica Hill is my favorite place where to watch the sunset in Istanbul as it offers a vast panorama with 180° view. Primarily for those who find solace in getting lost in nature, and love greenery together with the outdoors, this spot can be an excellent choice for observing the sun go down the horizon.
Camlica Hill combines a beautiful view of nature with a breathtaking panorama of the Bosphorus and Istanbul's business center on the European side. Also, next to it, is the largest mosque in Istanbul (Camlica Mosque, one of the largest mosques in the Middle East) which is similar to mosques in Doha and Dubai that is a separate landmark worth visiting.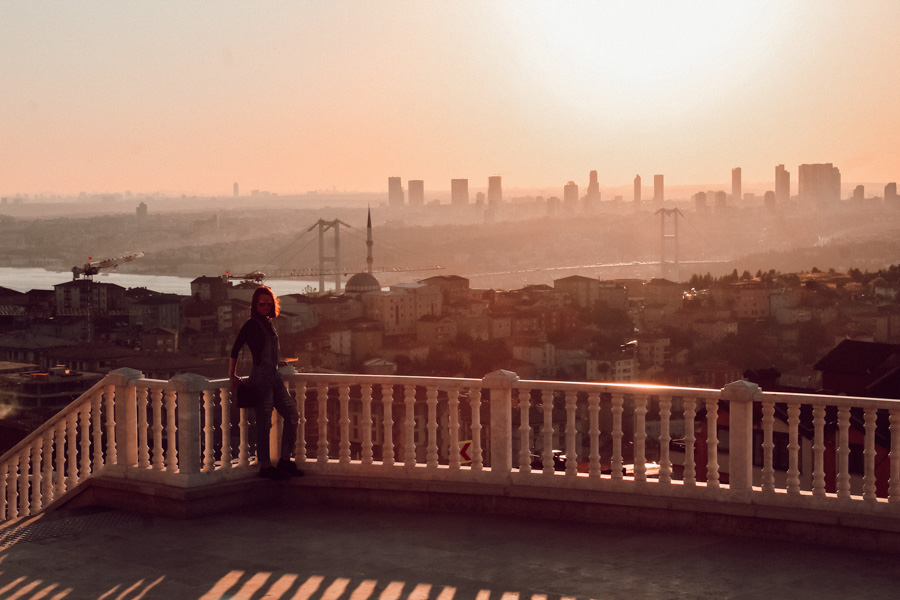 If you need to unwind and see a different side of the landscape in Istanbul while enjoying pretty sunset colors, I strongly recommend you venture there.
Additionally, another surprise awaits you in the same area – you can have coffee or tea with Turkish pastries (or even a full meal) available in one of the cafes by the mosque and down the road through the park (like Büyük Çamlıca cafe, Terace Camlica, and others).
11- Beykoz
If you are ready to visit one of the most distant places in Istanbul that give a different perspective of the city, going a bit further to Beykoz will be a great choice. It offers an experience that stands somewhere between Istanbul and Prince Islands, as it is on the mainland while being away from its usual crowds and landmarks.
Beykoz is a fishing neighborhood north of Fatih Sultan Bridge which you can often see in many photos of Istanbul. It is also great to stroll through it and then stay until the sunset.
If you want a serene experience, you should certainly come here to have some quality time. For a nice restaurant, my recommendation would be the Raifa Cafe Restaurant, where you can enjoy a beautiful dinner with fresh seafood. And as it is situated by the sea, Beykoz is really great to watch the sun go down.
12- Pierre Loti (Eyüp) – Sunset in the Golden Horn Area
I will finish this list with one of the most beloved spots in Istanbul- not just by tourists and expats, but also by the locals.
Getting its name from Pierre Loti, a French writer (his real name was Louis Marie Julien Viaud) who came to İstanbul and fell in love with the city (who wouldn't?) the Pierre Loti Hill and the cafe of the same name has a mesmerizing view of Haliç, or in English – the Golden Horn.
Reaching it takes some time if you are touring the main sites and it is best to combine a trip to Pierre Loti Hill with a visit to Balat by ferry or by bus. Other than that, I wouldn't be coming here for the sake of the sunset (as other spots on this list may be closer to you).
Come to Pierre Loti to watch the sunset together with other activities like going to check out one of the oldest cemeteries (another of this type is in Kadikoy), walking inside the Eyüp Sultan Mosque, and riding in a cable car.
In fact, you can reach the top of Pierre Loti by a joyful cable car ride, and once there, enjoy the sunset with a tasty Turkish chai and sandwich or cake.
More Istanbul Travel Inspiration
Beyond Istanbul