Antalya or Istanbul for a Holiday – How to Decide Which One to Choose?
Last updated on September 23rd, 2023
When you ask a random foreigner from anywhere in the world to name just two places from Turkey, you will most likely get Antalya and Istanbul as an answer – maybe with the possible exception of Cappadocia.
The two most popular cities of Turkey – İstanbul and Antalya were visited by 16 million and 12 million people respectively in 2022. So, for anyone torn about which of these two places to choose, this article should provide some guidance, and hopefully, inspiration.
---
Please note: This post contains affiliate links. I may earn a commission if you make a purchase or booking by clicking a link (at no extra cost to you).
---
FAQs About Istanbul and Antalya
In this section, I want to quickly answer questions that I receive most of the time from the tourists who I help to plan a Turkey vacation. But below in a comparison guide section, I provide comparative specifics between Antalya and Istanbul where you can judge for yourself which city suits your needs better.
If you have other questions that didn't make this list, let me know in the comments. As I lived in both cities for an extended period of time (and still return to both of them annually), I am able to furnish responses to very detailed inquiries.
Istanbul or Antalya, Which One is Better?
So the number one question that people ask me pretty much all the time is which city is better for a vacation – Antalya or Istanbul.
And here is one thing that you need to understand – comparing Istanbul vs Antalya with a goal to say which one is better is simply wrong. None of them is better than another, they are just different, each with its own climate, seasonality, and things to do.
Both Istanbul and Antalya are excellent cities where to go on vacation but each meets different travel goals, this is it. And we are going to discuss each of those goals below.
Should I Visit Istanbul or Antalya in Summer?
This depends on the type of trip you want to have.
Do you prefer to plan a slow beach vacation with a half-board or all-inclusive hotel stay? Then definitely look into Antalya.
Oh, but thinking to escape the heat at the same time? Then Antalya in summer is one challenging place to be. July and August are unbearably hot and overcrowded which for many people will be the worst destination to go to. If you could change your plans, I'd recommend you look into Bodrum with various hotels, its amazing beaches, and much better conditions for a summer holiday.
If to the contrary you seek to have a weekend city break with foodies and cultural experiences, Istanbul wins since Antalya in summer is a bad choice due to the weather with its incredible humidity.
Should You Visit Antalya or Istanbul in Winter?
Antalya in winter is definitely a much better choice if you want to escape cold weather somewhere else and enjoy a variety of outdoor activities. Istanbul in winter is often dull and rainy and has a higher chance of rain.
In Antalya, even though it rains too, you'll find many opportunities to enjoy the Mediterranean coastline during the winter months while in Istanbul there is a high probability to spend more time inside. While there is nothing wrong with it (as Istanbul has amazing museums, markets, rooftop restaurants, and cafe to enjoy), many people may crave outdoorsy activities, especially when coming from the north where there is not much sun.
However, it is worth noting that while Antalya is a warmer option in winter with more possibilities for outdoor vacation, Istanbul still has its own unique charm with fewer crowds, offering opportunities to explore its historical and cultural attractions in a more serene atmosphere.
Antalya vs Istanbul Overview So You Know the Main Difference
Istanbul or Antalya When You Look for Culture & History
When there is Istanbul, this would be an unfair comparison, not only for Antalya, but all the other cities in Turkey, and most other cities in the world.
Throughout history, Istanbul has been the capital of some of the most powerful empires such as the Roman Empire, Latin Empire, and of course the Ottoman Empire. This is why its rich historical and cultural background is evident not just in its historical landmarks, but in its streets as well.
Istanbul is also (unsurprisingly) the most multicultural city in Turkey. Thanks to expats and tourists from around the globe, as well as Turkish people originally from all parts of Turkey living there, it is a business capital, in addition to being the art and culture capital of the country.
Of course, this is not to say Antalya does not offer anything in terms of culture. The area has been settled since prehistoric times, and you can trace its roots walking among its ancient streets – some well preserved, some not unfortunately, but many offering unique historical sites.
Antalya is also one of the fastest-growing cities, which means it has a dynamic population, not to mention the growing number of Europeans residing there. In addition -something that cannot be said about Istanbul- it has a very rich local cuisine, with lots of signature dishes to try!
Istanbul or Antalya When You Travel for Beaches & Nature
This, to be realistic is not much of a contest… Possibly the most beautiful spot of the lovely Turkish Riviera, Antalya will mesmerize its visitors with the most beautiful shades of green and blue.
Golden beaches of Antalya stretch across crystal clear waters with hidden bays waiting to be explored and enjoyed. Marvelous waterfalls, dense forests with rich flora, vast natural parks, and so on – there are very few places in Turkey comparable to Antalya in terms of beaches and nature…
Istanbul, on the other hand, is a metropolis, and while it is exciting enough for a variety of reasons, nature has never been its forte (although of course there are some beautiful spots as well).
Having said that, nature lovers can find breathtaking spots in İstanbul – Belgrad Forest, Emirgan Park, Gülhane Park, and others – as well as cool beaches to swim in Summer – such as Şile or Yeşilköy for example. And of course, there are Princess Islands but they cannot match with Antalya, so this is a win for the South!
Antalya or Istanbul When Hotels & All-Inclusive Resorts Are Priority
This is another category where Antalya is very strong at. Being the shining star of the Turkish Riviera, it has a very broad range of accommodation options for the perfect summer holiday, ranging from modest motels to luxury hotels and all-inclusive resorts.
So there is something suitable for every taste and, of course, budget.
In terms of variety, you can say more or less the same thing for İstanbul, but, as one would expect, as a metropolis, it is not exactly the kind of city people go for an all-inclusive luxury resort experience. And of course, there are not many in the city.
Although Istanbul has some interesting neighborhoods with beautiful hotels with views of the Bosphorus and old mansion-hotels that served as palaces or Ottoman-style homes in the past.
In the end, you can definitely find a place suitable for you in both cities, but if you wish to spend more time in your hotel than in the city (as some people
do, enjoying the luxury hotel experience right until the end), Antalya undeniably would be a better choice than Istanbul.
Istanbul or Antalya When You Want Nightlife
This is a tough one as both Istanbul and Antalya are famous for their respective nightlife scenes.
İstanbul, being the bigger city, obviously offers more variety when compared to Antalya. But make no mistake, the South holds its own pretty well here.
From small, quiet pubs to mega clubs, karaoke nights and crazy foam parties and more, Antalya has a lot to offer in terms of after-sun-down entertainment. So I don't think anyone will be disappointed in Antalya's nightlife.
At the end, nightlife probably won't be a deciding factor between these two cities, as both have more than you can handle!
NOTE: Although this does not necessarily fall under the nightlife category, it is worth mentioning that Istanbul has a lot more options in terms of events and concerts.
So if you are looking for a quality DJ performance or good live music, Istanbul has much more to offer. If you're there during the concert season, you can probably even come across concerts of world-famous musicians and DJs.
Antalya or Istanbul for the Number of Attractions & Things to Do
In terms of tourist attractions, both Antalya together with Istanbul offer a lot! You can come to Istanbul for 1 day, 4 days, or a week and find many things to do. The same about Antalya. The city and surroundings along the Mediterranean Sea are full of beautiful places and activities.
While it is hard to compete against Istanbul in this category (as it houses some of the most popular landmarks in the country such as the Topkapı Palace and Blue Mosque in Sultanahmet, Galata Tower, Arnavutkoy neighborhood, and so on), Antalya holds its own pretty well with must-see tourist attractions such as the Hadrian's Gate, Ancient City of Xanthos, Olympos, and more…
But in the end, when it comes down to things to do, let's be honest – it is hard to beat Istanbul. Alive 24/7 and filled with endless possibilities, it offers more than any other city in Turkey can.
Whatever you can think of –museums, art galleries, restaurants, exciting events, stores of famous brands- there are so many options in İstanbul.
Still, for a spring-fall holiday, Antalya has its unique offerings as well as many places for day trips near this city. For example, you cannot see Caretta turtles in Istanbul or take a boat ride to some of the country's most beautiful bays.
In Antalya, you can easily rent a car and also go on some memorable road trips like a road trip from Antalya to Pamukkale or a road trip to Fethiye which is very possible to extend into a Fethiye to Pamukkale drive.
So, in the end, this too might be a matter of preference.
Istanbul or Antalya When Your Main Goal is Shopping
My Pick: Istanbul for Sure (!)
Comparing shopping between Istanbul and Antalya can be somewhat subjective as both have a big number of bazaars, shopping malls, and centers where to shop and a wide range of goods including traditional crafts, textiles, and jewelry.
But, in my experience, shopping in Istanbul is the best in terms of price and variety. I'd say that it is the best not just when compared to Antalya but to any other city in Turkey.
There is often a common misconception that Antalya has better shopping due to a mix of modern malls, local markets, and beachfront shopping.
But in reality, Istanbul has just the same in bigger quantity. You can find lots of shopping centers and smaller exclusive shops everywhere, not just on Istiklal Street. I talk about some of them in my guide to Nisantasi neighborhood and will have a separate guide about shopping in Istanbul ready soon.
But the number one thing which is why Istanbul is a better place for shopping than Antalya is the price.
Istanbul has the most shops with quality items and the lowest prices. Shopping in Antalya is more expensive because it is influenced by a factor such as its popularity as a tourist destination. Istanbul on the contrary attracts a wide range of retailers, which contributes to a more competitive market and lower prices compared to other regions, including Antalya.
Antalya or Istanbul When You are in Search of the Best Foodie Experiences
My Pick: Antalya & Here is Why
As I mentioned earlier, Antalya is a better destination to travel to for food alone. Compared to Istanbul, it has richer local cuisine with a plethora of signature dishes that are a must-try!
What sets Antalya apart is first of all its location by the sea and agricultural richness of the region. Since it's close to the Mediterranean Sea, there is easy access to a lot of fresh seafood which is why you can find tasty marine dishes almost everywhere at reasonable prices.
In Istanbul on the contrary, even though the city sits on 3 seas, seafood dishes are not as varied and they are quite expensive, both in restaurants and shops with bazaars.
Second thing which makes Antalya a better destination for foodies is its authenticity which stems from Antalya's deep-rooted culinary traditions. Locals take pride in preserving age-old recipes that have been passed down through generations, creating a culinary tapestry that tells the story of the region's history and cultural influences.
Generally speaking, food prices in both cities Antalya and Istanbul are quite affordable. However, if you want to try the best kebab or best traditional dishes of Turkey, then it is better to go to Antalya. There, you'll even find authentic traditional villages where to try classical Turkish breakfast.
With all of that, I am not saying that Istanbul is not a good foodie destination. It also is, you just need to know where to go. It has a variety of restaurants but a lot of them represent cuisines of other regions in Turkey as well as cuisines of the world.
You can follow my guide to what and where to eat in Istanbul to find the best restaurants, cafes, coffee places, and rooftop bars.
Other Things to Know About Antalya and Istanbul
Istanbul vs Antalya Prices & Cost of Travel Between the Two
First of all what you need to know, unfortunately, neither city is quite cheap.
Istanbul is famously the most expensive city in Turkey, but it is not as simple as that. The thing is, Antalya is essentially a Summer city which defines prices a lot.
So in terms of accommodation, it will be more expensive in Antalya in summer (and then in September as well) than in other seasons. Whereas in Istanbul, there will not be much of a seasonal difference in prices, at least not as much as in Antalya.
So if you are asking about Istanbul vs Antalya prices for summer, it will be around the same for accommodation or possibly even higher in Antalya. In all other seasons, Antalya will be cheaper than Istanbul.
Of course at the end of the day, it all depends on where you stay in both cities. But in general, expect higher accommodation costs in Istanbul. And for the living costs, İstanbul is the more expensive of the two too.
Istanbul vs Antalya Weather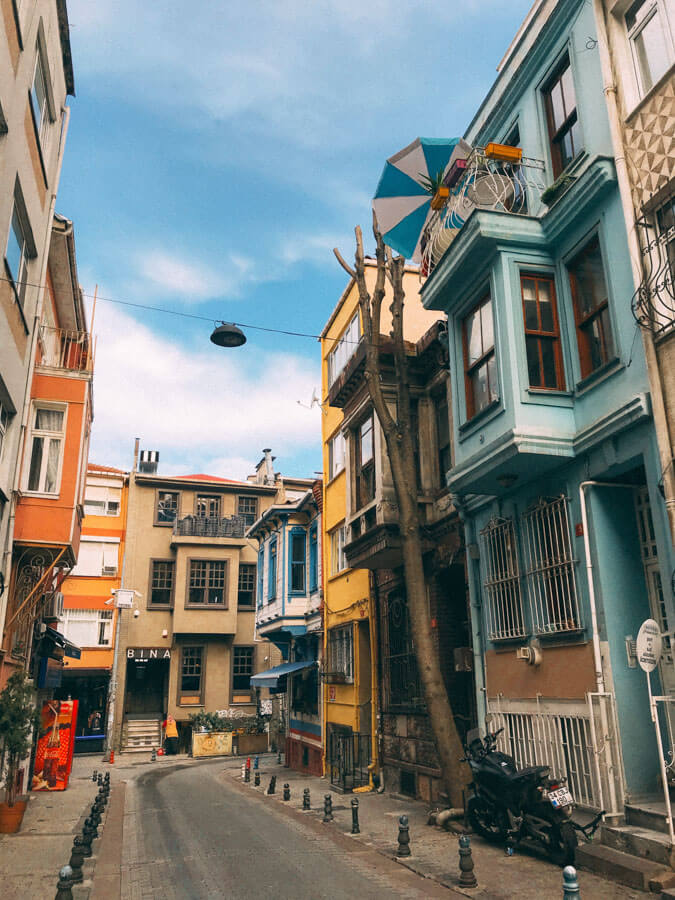 In Istanbul, you can truly experience the four seasons in their own time, but never to extremities – maybe with the exception of this summer, which is almost unnaturally hot. So it will mostly be a pleasant experience no matter when you visit this city.
Antalya, on the other hand, is known for its Mediterranean climate with quite hot and very dry summers (which is mostly OK when you're by the sea) and mild and rainy winters.
Antalya is famous for the summer holidays. But you can very well go there for a "Summer" holiday in September, October, and even November too as it will be warm enough to enjoy the sea. And to be honest, the weather will be much more pleasant since temperatures will not be too high.
Istanbul, of course, is beautiful every time of the year, but it will be a more pleasant experience to visit this city in spring or autumn.
Antalya vs Istanbul for Family Travel – Things to Know
When family-friendliness is the case, safety is what comes to mind first.
Although Istanbul is not exactly among the most dangerous cities in the world, Antalya can be considered safer. Of course, in case of İstanbul, the neighborhood you will be staying also matters. But in general, Antalya is the winner here.
Another important aspect of family-friendliness is the number of activities that will excite children. And when it comes to that, it is hard to beat a city in the Turkish Riviera such as Antalya, where you can go to sea, swim, and do countless watersports/activities.
So although Istanbul will definitely be quite interesting and exciting for families, Antalya has a slight edge here.
So… Antalya vs Istanbul – Which One to Choose?
In the end, when choosing Istanbul vs Antalya for a holiday break or longer vacation, you need to understand that it all comes down to two very different holiday experiences.
With İstanbul you get to experience one of the most exciting cities in the world – a multicultural metropolis with a very rich history behind it, alive 24/7, offering you all kinds of attractions and experiences.
With Antalya you will be staying on one of the most beautiful coasts of the Mediterranean, enjoying the sun and the sea, exploring the region's history, trying local food, and experiencing a wild nightlife culture as well.
Therefore, the most logical answer to this question seems to be, in the end, another question – "Why not both?"
If you can, better plan a vacation in that way where you can visit both of these cities and see their very different sides!