What & Where to Eat in Istanbul: 29 Amazing Restaurants, Cafes and Terraces
Last updated on May 15th, 2023
Istanbul is one of the cities that smell like food no matter where you go. In fact, the number of aromas is so high that you constantly want to snack on something even if you are not really hungry. This is how I feel every single day when I am living there part of the year. And I don't think I ever get a question about where to eat in Istanbul since tons of amazing restaurants, cafes and street food stalls are just around each corner.
Actually, I am having another problem – I am eating out too much, and trying to restrain myself from a trip to a new restaurant is quite a task, haha. But these are just the sweet realities of life in Istanbul that I don't mind.
But what is so good about Turkish cuisine that makes me love it? Traditional Turkish food is full of contrasts and flavor. It is diverse and antique.
The condiments and spices that go into every dish are not only tasty but also have antioxidant properties, helping to lower cholesterol levels, eliminate toxins and boost immunity. The country's Mediterranean-like climate, regional diversity, and varied topography make Turkish cooking distinctive and in some ways special. And together with Turkish hospitality, they bring a real-life experience to learning about Turkish culture.
I know when you come to visit, you'll be tempted to try everything and everywhere too. That's understandable. But don't do it. Not all places are great. Follow my Istanbul restaurant guide to see where exactly to eat in Istanbul and to understand what traditional Turkish foods to try. Also, in the end of the article I'll cover food tours since they are the best in introducing the food scene to a traveler.
NOTE: During the first year of covid, a lot of restaurants had to close and I removed them from my list, so you can be sure that this article is accurate. And I check them regularly to know they are still in business. Also, I've personally visited each of these places and believe they are all amazing and give excellent presentation of Turkish cuisine and food culture.
Before I start my list of recommended places to eat in Istanbul, I would love to go over a few things first. I want to highlight a few traditional Turkish meals that you should look out for on the menu and things to consider before choosing a restaurant on your own (without following any tips or reviews). And here they are:
---
Please note: This post contains affiliate links. I may earn a commission if you make a purchase by clicking a link (at no extra cost to you).
---
10 Things to Consider Before Choosing Where to Eat in Istanbul
If you go to any other restaurant (of your choice) that is not on my list, keep in mind that:
1. The most delicious restaurants are not located on the main streets and often entrances to them are not even immediately noticeable. You need to walk around and often go off the touristy path.
2. Any restaurant with a view of the Bosphorus or that one which is located near the sea will always be more expensive than a restaurant without a panorama. This does not necessarily mean that a good restaurant in the city will be much cheaper, no. But for a restaurant with a view of the Bosphorus, you will always have to pay a little more.
3. Keep in mind that most of the quiet and cozy restaurants in the evening turn into crowded places with a lot of noise. If you are planning a romantic dinner or just want to spend time in silence, reserve a table in a secluded area.
4. During bad weather or in the off-season, the open verandas and terraces of restaurants are covered with glass shutters. Consider this if you plan to take photos or videos.
5. In some traditional restaurants, servers do not bring the menu. They expect you to know what you want to order. In that case, if let's say they don't have a menu at all, do not hesitate to ask how much everything costs so you don't get any surprises when paying the bill.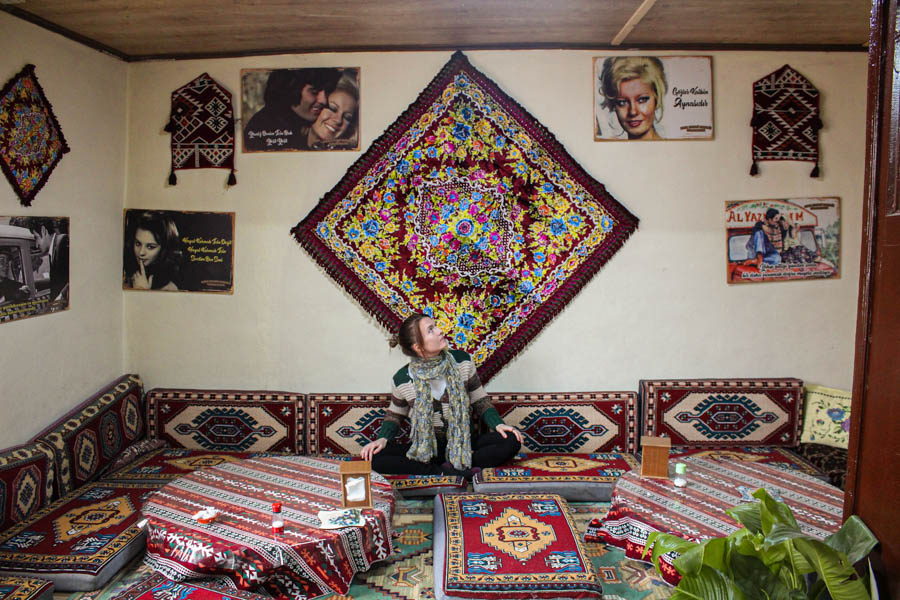 6. Most fine dining restaurants offer tea and coffee free of charge (and on the bill it will say 'ikram'). So if a waiter brings you a glass of tea without your prior request, then it is a compliment. Sometimes, you may also be offered some kind of dessert (sweets or fruits), indicating that this is also a compliment from the restaurant. Most often waiters mention that but not everyone speaks English, so they can just bring it without saying a word. Feel free to ask though (using a translator) if you want to make sure.
7. In seafood restaurants, if there is a set price per kg of fish, pay attention to the weight and price. They should weigh fish/seafood in front of you.
8. Most often, tips in restaurants in Istanbul (as anywhere in Turkey) are not included in the bill. Leaving them is not mandatory but very much appreciated if you liked the service. Servers in Turkey earn very low wages and they do try their best to deliver excellent service. Those establishments that include tips in the bill should have 'servis hizmeti' phrase on the menu.
9. If you are leaving the restaurant late at night and would like to get a cab, you can ask the administrator or the chief waiter to call a taxi for you. The cost will be the same as if you catch it on the street. The payment is by the meter plus boarding cost.
10. If you have an important event planned, it is better to book a table in advance. If you don't have a local sim card, fill out the online booking form on the restaurant's website or send them a message on Instagram. In Turkey, the highest chance of getting a response is on Instagram.
What to Eat in Istanbul
To help you have the best foodie's experience, I want to mention a few meals that you shouldn't miss in Istanbul. There's so much variety to Turkish cuisine since different regions have their own specialty dishes and all of them found a way to Istanbul city. And a great thing that you can often find them all in one place.
Common Ingredients in Turkish Dishes
Despite the regional diversity, some ingredients are very popular throughout Turkey. Each family usually has them at home too. So expect Turkish dishes to be prepared with the following and expect to have some of these foods as extras to your main dish:
Mercimek – orange lentils
Nohut – cheak peas
Bulgur
Pirinç – rice
Biber slacasi – red bell pepper paste, sometimes with chili peppers (often it comes together with some dishes or bread as an appetizer. I like to eat it as a snack)
Nar Ekşili – pomegranate sauce
Limon sosu – lemon juice or sauce. Lemon is served in Turkey not only to eat with fish but also squeeze it on meat, soups, and meatballs with bread.
Turşu – pickled vegetables
Yogurt – often is used in meze (spread) or as an addition to the main meal
Pul biber – dried hot red pepper flakes that go well with rice and meat dishes
Nane – mint, often on the table together with red pepper flakes. Mint tastes good with many dishes, try to add it to your soup or sprinkle on kebab.
For meat, the main sources are chicken, lamb, and beef.
Foods to Eat in Istanbul Restaurants – 13 Must-Try Turkish Local Dishes
There are hundreds of Turkish dishes that you'd want to try in Istanbul. But I totally understand that most people visit Istanbul for a few days only, so there is no need to write about all foods. That's why I'd love to share a list of those meals that I think are the best for the first acquaintance with the city and its cuisine.
So, here they are, my top must-try dishes in Istanbul restaurants:
1) MEZE
Meze are Turkish appetizers that come in different variations. They are very filling and sometimes ordering only meze can be already enough.
Some of my favorites are fava (mashed beans), köpoğlu (fried eggplant with yoghurt and tomato sauce), muhammara (puree made from pepper paste, walnut, lemon and pomegranate juice), and hummus. Other popular meze are haydari (yogurt with herbs and sometimes cucumber), acili ezme (hot pepper paste with walnuts), patlıcan salatası (cold eggplant salad), and others.
I recommend you to experiment and try at least a few types of meze. They are delicious and packed with nutrients.
2) KÖFTE
Köfte are juicy and aromatic Turkish meat patties that look similar to meatballs but have a different shape. People eat them as a snack or a separate dish. Kofte is usually grilled, not fried. It is made with lamb or beef which is finely chopped and mixed with numerous spices and onions. Besides the meat type of kofte, there is also a vegetarian type of Turkish meatballs – from beans and bulgur.
It is common in the countries of the Middle East, South Asia, some Balkans countries (we tried it in Sarajevo and all over Montenegro), and in Turkey. Served with rice, fries, and either grilled vegetables or salad.
If you want to have a snack on the go, then look at street kiosks that say "kofte-ekmek" which means – cutlets in bread.
3) İÇLİ KÖFTE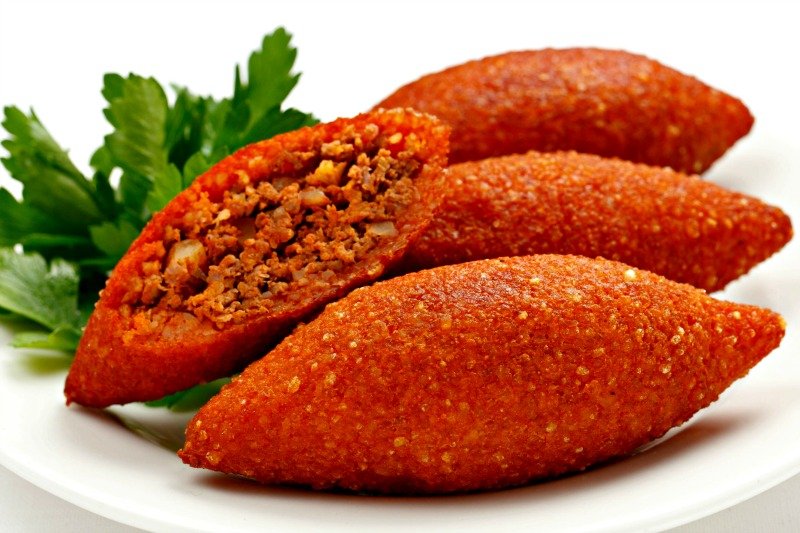 While the name sounds similar to a previous dish, icli kofte is something completely different. It translates as "stuffed meatball" and looks like a big cutlet in bread crumble coating. When in reality it is fried ground meat with herbs, onions, and nuts in a crispy bulgur crust.
Icli kofte is popular snack food. Often you can see it on street food stalls and people eat it on the go. However, in many restaurants this traditional dish is available as an appetizer.
4) KELLE PAÇA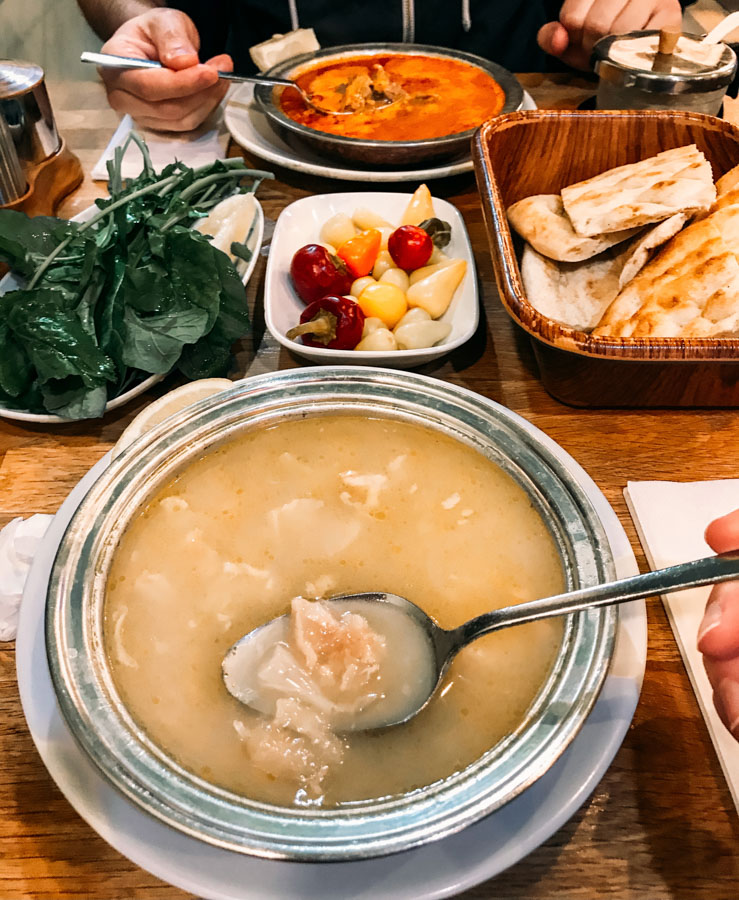 This is a delicious Turkish soup based on tender meat from the head and legs of a lamb. It is slowly cooked for 6-7 hours and served with melted butter and garlic-lemon sauce.
The soup is a thick broth with chunks of meat on the bottom. And although there are no vegetables in it, it is really good.
Usually, you can find it either in a restaurant that serves only soups (when looking for it on the map, put the word 'Corbasi') or in many other places that offer kebabs.
5) GÖZLEME
Gözleme is the oldest dish in Turkey, reminiscent of cheburek, a national dish of Crimean Tatar cuisine, although to some people, it looks like a big flat tortilla. Gozleme is made of the finest dough with a thin layer of ground beef, cheese, potato or bean filling. Some restaurants in Istanbul (that I am going to mention below) make it also with mushrooms, corn, spinach, and chicken.
It's not only having an amazing smell and taste but is also prepared in an unusual way. The cook (usually an older lady) bakes gozleme on a special traditional convex Turkish griddle called "sach". The process requires speed and skill and you can observe the process of making a gozleme in street food outlets or in cafes and restaurants with open kitchens.
I tried gozleme in many Turkish cities and traditional villages and can tell that the most delicious type was in Istanbul. (Scroll down to see where to find the best one). It is usually served as an addition to salads and main courses, or on its own with pickled vegetables, yogurt, or a glass of ayran.
6) LAHMACUN
Lahmacun is another popular traditional oriental dish in Turkey. In accordance with national preferences, people call it Armenian, Turkish or Arabic pizza.
The basis of the dish is a thin crunchy flatbread with tomato sauce (or fresh tomatoes), minced meat (lamb, less often beef), bell peppers, onions, garlic, herbs, black pepper, and oregano.
Lahmacun is served with lemon (that you sprinkle on it) and parsley. Turkish people like to have it with ayran.
7) PIYAZ SALAD
Turkish piyaz bean salad is definitely worth trying. It has its own bright taste thanks to the combination of boiled white beans, tomatoes, chicken eggs, onions, and greens.
In general, Turkish salads are often plain and similar to Mediterranean cuisine – fresh vegetables, onions, and feta cheese. But piyaz salad is very different. It is very filling and delicious.
8) KOKOREC
If you enjoy trying new non-standard dishes and do not know what to eat in Istanbul, then be sure to order kokorech. This food is prepared from the intestines of young sheep stuffed the giblets of the animal – the liver, heart, kidneys, and lungs. All these ingredients are fried on a skewer, seasoned with spices, then finely chopped and laid out on a crispy roll.
Kokorec has a bitter taste, so it won't be to everyone's liking. But again, if you love exotic foods, this is something to give a try.
9) KEBAB
Of all the Turkish meat dishes, Kebab is probably my favorite. Traditional to Gaziantep province in the east, kebab can be grilled over an open fire, on coals, on a skewer, pan, in a tandoor, and in many more ways.
Kebab is not one single dish that is necessarily meat. It is actually not a dish at all, it's the way of cooking. The word kebab in Turkish means "fried" and it can be fish, seafood, meat, or vegetables. Meat kebab can be made with ground meat or solid pieces.
You definitely can't miss anything kebab style in Istanbul. There are more than 100 varieties in total but I advise you to try Adana kebab, Iskander kebab, shish kebab, and eggplant kofta kebab.
Adana Kebab – its main ingredient is minced lamb or beef meat, mounted on a metal skewer and then grilled over hot coals fried on the grill and served along with rice, vegetables, herbs and thick pita bread.
Iskander Kebab – is the most popular type of kebab meat prepared in a special way. It is basically a dish with layers of thin slices of grilled lamb or lamb fillet on pita bread with tomato sauce with various spices and yogurt poured on top of it. It's quite good with ayran or black grape juice.
Shish Kebab – grilled cubes of meat cooked on an open fire and served with rice and grilled vegetables (usually pepper, tomato and zucchini).
10) KARNIYARIK
If kebab meat is my favorite meat dish, karniyarik is my top choice for vegetables. Actually my top choice for eggplant and ground beef. Turkish people cook a lot of dishes that include eggplant but this one is the most common dish in Istanbul restaurants.
Karniyarik consists of grilled eggplant, stuffed with sauteed minced meat, parsley, garlic, black pepper and topped with tomato sauce. Rice with tomato is great for garnish. Some restaurants serve it together with a side dish and others on its own.
11) PIDE
Pide is often a breakfast or lunch food that I cover in detail in my post about traditional Turkish breakfast dishes. However, in Istanbul, it is quite common to eat pide during the day as a snack or as a dinner food like pizza.
So pide is a boat-shaped dough with a variety of ingredients from ground meat to spinach, eggs, and sujuk (hot Turkish sausage) or kuşbaşı (veal).
12) MANTI
From my experience, every cuisine has its own type of dumplings on the menu. In Ukraine, that's pierogi, in nearby Georgia – khinkali, but in Turkey – manti.
Turkish dish manti are hand-made meat dumplings similar to Russian pelmeni with the only difference that they are very small. Served with yogurt and red pepper sauce, olive oil, and dried mint.
As for me, this meal consists of too much dough and too little meat. But I am going to mention one restaurant where they take manti to the next level. If you'd like to try it, see my recommendation below.
13) DONER KEBAB
This article will not be complete if I don't add doner to it, haha. Doner is one of the most popular Turkish foods to try in Istanbul and you shouldn't miss it. It is not the same as anywhere outside Turkey, so if you think you've eaten it hundreds of times before, you now need to taste it in Turkey.
Often Turkish doner kebab is called shawarma, however, this is wrong. The traditional doner is fundamentally different. Traditional Turkish doner is a type of meat (thin slices of kebab beef, lamb or chicken) that is served together with sauce and vegetables in bread, lavash, or with rice.
That type of doner which comes in lavash or pita bread is considered street food. But doner with rice (and usually grilled and pickled vegetables) is more a restaurant food that you can't eat on the go (like in my photo).
Does my content help you plan your trip? If yes, I'll appreciate a cup of coffee from you, so I could produce more free guides and itineraries!
Best Restaurants in Istanbul With Panoramic Views
And now let's finally talk about the best restaurants where to eat in Istanbul. I want to start with restaurants that have some type of view and offer extensive menus.
On the European side where you'll find all the main sightseeing spots, in many areas the hunt for tourists is in full swing all the time. So obtrusive restaurant hosts go out of their way to make tourists sit down and place an order. Just don't pay attention and don't get distracted. Go straight to a place where you decided to eat.
Seafront Lounge
Location: Sultanahmet, Fatih
Price range: $$-$$$
Address: here
I want to start with this new restaurant with outdoor seating, stunning panorama, and excellent food for a reason.
The pandemic has become a difficult test for the tourism and restaurant business in Turkey. Many establishments have closed or the quality of their services and food suffered greatly. Nevertheless, in this difficult time, there were also those who, despite all the obstacles, believed in the return of tourists, the quality of their service, and during the prohibitions, they were preparing for the opening of a new restaurant.
The Seafront Lounge in the very heart of the Sultanahmet neighborhood is just that place. It has incredible views of Hagia Sophia and the Marmara Sea, excellent cuisine, a varied cocktail menu, and outstanding service. Speaking of cocktails. A bartender who works at the restaurant is ready to make a cocktail according to your order even if it is not on the menu.
What to try: Despite the fact that the restaurant also has meat dishes and pasta, it is worth coming here for delicious appetizers and dishes from seafood and fish. Stuffed levrek (sea bass) is a special dish of the restaurant which is also worth trying. And for dessert, take fried ice cream or katmer.
Grace Rooftop Restaurant
Location: Sultanahmet, Fatih
Price range: $$-$$$
Address: here
Save this amazing restaurant in Sultanahmet that has the best views of the Blue Mosque. If you are now in Istanbul and looking for a place where to eat delish food with a beautiful view, here is another wonderful place.
I have been to many terraces in Sultanahmet, but the best view of the Blue Mosque, in my opinion, is from the terrace of Grace Rooftop restaurant. Also, it has an excellent view of Hagia Sophia, St. Irina Church, the Asian part of Istanbul and the Princes' Islands. And from some points, you can even see a mosque on the Camlica Hill between the minarets of Hagia Sophia. So get ready to take hundreds of photos before you start your meal.
⠀
Besides views, there is also delicious food here with both traditional Turkish cuisine and seafood. The owner of this restaurant comes from Urfa – a region with one of the most varied and delicious cuisines, so aim to order kebabs and meze since they are incredibly tasty.
As a complement before your meal, you'll receive one very tasty appetizer and the famous Ramazan pidesi (traditional soft leavened Turkish bread) which Grace Rooftop bakes itself. Another huge plus of this restaurant is a good bartender who makes excellent cocktails with exotic fruits. Oh, and there is live music on weekends.
⠀
Prices at Grace Rooftop are above average, but the look, taste and quality of the place are worth it. There are also more expensive dishes that are served with a real fire show.
Roof Mezze 360
Location: Sirkeci, Fatih
Price range: $-$$$
Address: here
Definitely a champion in positive reviews on TripAdvisor, Roof Mezze 360 ​​Restaurant is located a little further from historical sites than previous restaurants. Yet, it is still within walking distance to the main gems of the city.
When you get tired of wandering the busy streets of Sultanahmet Old Town or if you are on the way to Galata or Karakoy, be sure to stop by for lunch or dinner at Roof Mezze 360.
The restaurant is located on the roof of the Seres Hotel Old City, in the Sirkeci neighborhood of Fatih district. Everyone who is interested in the panoramic views of Istanbul is welcome here. It seems like the perfect opportunity to take photos with views of the Hagia Sophia Museum, Basilica Cisterns, Topkapi Palace and Gulhane Park in the background.
However, this is only a small part of what the restaurant has to offer. Its big bright terrace also offers a truly mesmerizing view of the coastal expanse of Istanbul. It is especially beautiful here in the evenings when the sun goes down and the city gradually lights up with millions of lights.
In regards to cuisine, interior, and service – everything is at the highest level here. No matter what you order, it's going to be delicious. And the prices are average for Istanbul.
TIP: They are always busy at sunset. Make a reservation ahead of time if you plan to come in the evening.
Sultanahmet Ottoman Terrace Fishhouse
Location: Sirkeci, Fatih
Price range: $-$$
Address: here
And this place is known to many not only as a restaurant in Istanbul with a view of the Bosphorus but also as the best place where to try delicious fresh seafood.
The most popular dishes here are different varieties of fish, king prawns, grilled flounder, and octopus salad. And as a compliment from the chef – hot bread with garlic-cheese sauce, fresh fruit, tea, and Turkish sweets.
Despite the fact that the restaurant is located in the tourist part of the city, there are quite affordable prices and attentive attitude to guests. Even if you are confused by the variety of the local menu, the English-speaking staff will help you choose dishes according to your tastes.
Sultanahmet Ottoman Terrace Fish House is located within walking distance to famous museums, shops and the sea. In addition, there is a convenient transport interchange, so you can easily get here from any other part of the Fatih or Beyoglu districts. But note, it takes some time to find this place. The inconspicuous entrance to the restaurant is located next to the Antique Hostel.
However, for some travelers, this may even become one of the defining advantages of this establishment. You can spend the night in comfort on a budget, and eat deliciously while enjoying a beautiful view of the Bosphorus.
Check prices and availability for Antique Hostel on Booking.com
5 Kat Restaurant & Cafe Bar
Location: Cihangir, Beyoglu
Price range: $$-$$$
Address: here
This is probably one of the most famous cafes in the Cihangir neighborhood among local beau monde. So I won't be surprised if you've seen it on many other sources as the best restaurant with the view. It is just a place for some reason where people want to return.
Perhaps because pure elegance is paired with excellent service and laid-back ambiance. Or because the food is delicious and prices are quite reasonable.
People come here to celebrate their birthdays, propose to their beloved ones, or just have a quiet dinner enjoying the beautiful view.
And the view here, I must admit, is really fabulous. You get to see the Bosphorus Strait, Golden Horn Bay, Sea of ​​Marmara, Maiden Tower, and Jihangir Mosque. And the sunset from here looks just bewitching.
Tugra Restaurant
Location: Besiktas
Price range: $$$-$$$$
Address: here
In this luxurious restaurant, you will be amazed not only by the beautiful panoramic view of Istanbul and its environs but also by the food and local flavor. Tugra Restaurant is a real palace restaurant in Besiktas inside the 5* hotel Ciragan Palace Kempinski where you'll be treated like a Sultan or Sultana.
The menu is light, fresh Turkish-European cooking with extra finesse (think courgette flower stuffed with prawns) but you'll also find Ottoman and Turkish dishes too. The serving of dishes comes with a very beautiful design, an elegant wine list, impeccable service, and attentive attitude. It is without a doubt one of Istanbul's most beautiful restaurants.
Despite the inflated prices, this place is very popular. So it is better to reserve a table closer to the terrace in advance.
Lotiz Lounge & Hookah
Location: Eminonu
Price range: $$-$$$
Address: here
Another excellent restaurant with a view of Istanbul can be found near the famous Grand Bazaar, in the Eminonu neighborhood of Fatih district.
This is certainly not the "first line" restaurant, but the view here is quite memorable. You get to see the Laleli Mosque, Mesihpasha Bodrum Mosque, narrow and intricate streets of Eminonu, Yenikapi ferry terminal, and the Sea of Marmara.
Now a few words about the restaurant itself.
Lotiz Lounge & Hookah offers a varied menu (mainly Turkish food and sushi) with reasonable prices, original presentation, laid-back atmosphere, laconic and stylish interior, tactful staff, good music, and professional DJ.
But the main pearl of this restaurant is the hookah – on coconut charcoal, on water or on ice, and, optionally, with pieces of fruit.
Hanzade Terrace Restaurant
Location: Sultanahmet
Price range: $$-$$$
Address: here
If you are looking for a place to eat with a bit of home comfort and really delicious food, definitely look into a small family-owned restaurant with a panoramic view in Istanbul – Hanzade Terrace Restaurant.
Light musical accompaniment, dim lights, a small room with only 7 tables, a friendly host and attentive staff, huge portions of seafood, meat or vegan dishes, excellent wine, a sweet compliment from the chef, and reasonable prices – all of this is here.
And on top of everything mentioned above you get a magnificent view from the veranda. View of Istanbul's many attractions, rooftops, tangled streets, and the silvery surface of the Sea of ​​Marmara. Those who have been here at least once always return again and again.
MyTerrace Cafe & Restaurant
Location: Sultanahmet, Fatih
Price range: $$-$$$
Address: here
Here is another panoramic restaurant just 300 meters from the Blue Mosque which is worth mentioning. This is a very touristy place (since the location is very central) and prices for food and drink are relatively high, but it is different from other restaurants in the same area thanks to its traditional furniture and setting. So you will be lucky if you can get a table with a good view without prior reservation.
Besides the view and traditional feel, you'll also find here attentive staff, varied gastronomic menu, truly delicious food, hookah, and warming drinks.
For food, there's lamb casserole cooked to perfection and incredibly delish kunefe with ice cream.
Best Places to Eat in Istanbul For Traditional Turkish Food
MrCook Restaurant
Location: Sultanahmet, Fatih
Price range: $$-$$$
Address: here
Would you like to try Ottoman cuisine and especially what Hurrem Sultan personally ate? Then plan your visit in that way when you could visit MrCook restaurant in a historical part of Istanbul Fatih district. Here, you will taste only dishes that belong to the cuisine of the Ottoman Empire.
Among the many foods that we personally tried, my favorite was the dish of Hurrem Sultan which (as they say) is prepared according to her favorite recipe. And that is meat with nuts and dry fruits fried in honey.
The famous hünkar beğendi (Ottoman-style eggplant puree with sauteed lamb) is also excellent here as well as eggplant with goat cheese.
The menu also includes dishes with a spectacular presentation, a variety of meat, fish dishes, salads, vegetarian plates, pasta, pizzas, and other types of European cuisine and of course Turkish kebabs. But in my opinion, it is worth coming here for the Ottoman cuisine, which is prepared at the highest level.
Hidden Garden Sultanahmet
Location: Sultanahmet, Fatih
Price range: $$-$$$
Address: here
This family owned restaurant is an eclectic celebration of local music and wine. Yes, wine and straight from the monastery from Mardin in Eastern Turkey.
But going here is worth not only for the wine but also for the amazing Ottoman cuisine. Owners pay special attention to the process of cooking and the selection of ingredients and prepare each dish with love.
In addition to Ottoman dishes, it is worth trying stuffed calamari and before the main course, order meze and delicious bouriki that are made here according to special recipes. Before the meal, all customers receive a compliment from the restaurant which is a hot flatbread, a special variety of olives, and a few cold snacks.
At the end of the meal, do not forget to try the eggplant dessert. Yes, you heard it right. Eggplant dessert is a specialty dish here.
⠀
You should go to Hidden Garden restaurant for delicious food and good service, and not for panoramas. Although it is located in a central location, you won't find any views here.
Beyaz İnci Restaurant
Location: Galata Bridge
Price range: $$-$$$
Address: here
I love the Galata Bridge area. With all the breathtaking panoramas of the main sights of Istanbul, some of the most beautiful sunsets, seagulls and fishermen, this is one of the best places where to go for a walk and actually sit down at a nice restaurant to eat. However, there is one little problem. The majority of restaurants on the Galata bridge have very poor service and quality of food.
Except for one which is Beyaz Inci restaurant. A couple of years ago the owner here changed and he turned a sort of neglected diner into an amazing place that offers some of the most beautiful dining experiences in Istanbul.
⠀
On the one hand, there are stunning views of Suleymaniye, Galata Tower and the Golden Horn (the restaurant is located at one of the best points on the bridge) which means that no matter which side of the table you sit, you can expect breathtaking panoramas. On the other hand, there is a charming atmosphere of Alacati (the same as Alacati village in Izmir), excellent service, and daily live music. But the main thing about Beyaz Inci restaurant is of course the food.
Fish kokorech, which is quite a rare dish in Istanbul, is absolutely great here. But the main dish, levrek külbastı (sea bass, cooked in a special way in a special sauce and served to you hot in a special ceramic dish) is the highlight and I recommend you to try it if you eat seafood. Among other items, try pumpkin meze and one from hot shrimp.
⠀
The main quality indicators of this place are the customers. They are all locals, who come here again and again.
Best Budget-Friendly Restaurants in Istanbul
Tarihi Sultanahmet Koftecisi Selim Usta
Location: Sultanahmet
Price range: $-$$
Address: here
Koftecisi eatery is more like a fast-food restaurant where visitors can try lamb or beef köfte grilled with onions and spices.
There are a few Koftecisi eateries around Istanbul but if you happen to be in Sultanahmet touring all the main sights, don't miss this particular one on Divan Yolu Street (where the high-speed tram goes.) It has been working since 1920 and some locals say that the quality of food has stayed the same over all these years.
Places like this one are always crowded. In the afternoon during the rush hour you may see a line of people waiting outside at the entrance. That's totally normal and I advise you to wait, that line goes fast. We visited a few times on a weekday after 2 pm and every time the place was half empty.
In addition to the kofte, try their pilav (rice) and a salad.
Balkan Lokantasi
Location: all over Istanbul
Price range: $-$$
Address: search for the nearest Balkan Lokantasi near you
Balkan Lokantasi is a network of catering dining establishments (or another word for it is lokanta) and it is considered the most popular in Istanbul. Moreover, it is popular not only among tourists but also among locals. Students, blue-collar workers, office workers, bankers, businessmen, and tourists dine here.
Lokantas in Istanbul look like canteens. The entire assortment of food is displayed in glass showcases so visitors can choose a dish they like. The menu is very varied and will suit everyone, including vegetarians. In addition, here you can taste almost all the dishes from the national Turkish cuisine.
By the way, food in Balkan Lokantasi is no worse than in expensive restaurants, but it costs much less. Set lunch for two will cost between $5-$7.
This bistro chain has several outlets, but they are not easy to find since there are no clear bright signs. So just put in a map 'Balkan Lokantasi' and see all locations. Google offline maps show them too.
Balikci Lokantasi
Location: Kadikoy
Price range: $-$$
Address: here
If you are on a tight budget in Istanbul, trying seafood in a restaurant will be expensive. (Yes, although Istanbul is surrounded by two seas, seafood is somehow pricey). In that case, I want to recommend you to eat either on the market (there are a few fish markets around Istanbul, look them up) or in this lovely restaurant in Kadikoy.
The cafe looks modest and inconspicuous, the atmosphere inside is also no frills. But the cuisine surpasses the quality of food in many seafood restaurants in Istanbul and prices are very reasonable.
The menu offers Mediterranean cuisine with fresh seafood – salmon, charcoal dorado, grilled sardines, shrimp, fish soup, meze, salads, sauces, and fresh bread. They also have sweet desserts with tea (of course).
The location is a bit out of the way for most tourists but if you go to Kadikoy (which I also recommend doing), you'll be able to find it near the ferry terminal. It will take 11 minutes to walk from Haydarpasa Station and this trip is well worth trying the finest seafood on a budget.
Sehzade Cag Kebap
Location: Sirkeci, Fatih
Price range: $-$$
Address: here
In many places around Istanbul, you can find amazing Kebab. But this eatery probably has the best one. Okay, maybe not the best one but one of the best ones. The meat is always so soft that it just melts in the mouth.
Sehzade Cag Kebap calls itself a steakhouse, but in reality, it's just an ordinary eatery with only two kinds of kebabs and two kinds of salads on the menu. From outside it looks unremarkable and does not make much of an impression (actually it's right by the bazaar, so looks chaotic) but the food, simple and cheap, is heavenly. It reminded me of one type of kebab that I tried on my one-day layover in Doha.
This place is very popular among locals so it always gets packed. But don't get discouraged, those who come to eat here usually don't stay for too long. Waiting for the table won't take too much time.
Ortaklar Kebap Lahmacun
Location: Sirkeci, Fatih
Price range: $-$$
Address: here
For those who do not know where to find cheap food in Istanbul in the Sultanahmet area, this place will be a real discovery. First of all, this budget restaurant is famous for very tasty Turkish food. Second, all dishes are really cheap.
The menu is extensive with a variety of meat dishes, soups, salads, and fish. It is definitely worth trying here lahmacun and pide as well as lamb kebab and pomegranate juice. And although the cafe does not impress with respectable interiors, its cheap menu is ready to overshadow any minor flaws.
Bütme Evi
Location: Moda, Kadikoy
Price range: $
Address: here
Among all the places that offer gozleme in Istanbul, this is my favorite. I couldn't help but add it to this list. And I'm yet to find a place that serves such delicious, home-style gozleme for such low prices. Located in the heart of vibrant neighborhood Moda, this eatery is as local as it can get. There is cool traditional furniture where to sit inside and a small but lovely patio in the back.
The whole cooking process takes place in front of your eyes and you have many options for what to put in your gozleme. It is served with pickled vegetables and homemade yogurt. There are a few other traditional Turkish foods on the menu but gozleme is a real highlight and the main reason why to come to eat here.
Amazing Cafes in Istanbul For Coffee, Tea, Sweets & Light Food
Cokolada
Location: in Besiktas, Sisli & Beyoglu
Price range: $-$$
Address: put 'Cokolada' in map search to find 3 locations
A network of Cokolada cafe is one of my favorite places where to go for a delicious dessert. And cafes with this name are special in the way that you can watch the unique process of serving desserts. A server will be pouring hot chocolate and sprinkling nuts in front of you on any dessert that you choose. And some desserts are a true piece of art.
The design of the cafe deserves special attention too. It has magnificent pink flowers decorating the interior and another photo location is waiting for you in front of the cafe – a charming car, also decorated with flowers.
Be sure to try Sebastian's cheesecake which is not sweet at all, Magnolia, and Zerafet dessert.
La Vie Praline
Location: in Besiktas
Price range: $-$$
Address: here
The bustling Besiktas district, far from historic Sultanahmet and bustling Galata area, hides quiet and charming streets with bright houses and cute pastry shops that offer visitors delicious desserts and a romantic atmosphere of Europe.
I am a big sweet tooth and just looove chocolate, so my other favorite place for desserts and Turkish chai is La Vie Praline.
Before you even open the door, the smell of chocolate will envelop you. And once you step inside, you'll want to eat everything at once. There are a lot of amazing desserts to choose from and home handmade sweets with dozens of different fillings to take home. Classical music and cats who are walking around make the entire atmosphere so relaxed that it is easy enough to spend hours there.
Nail Kitabevi & Cafe
Location: Kuzguncuk
Price range: $-$$
Address: here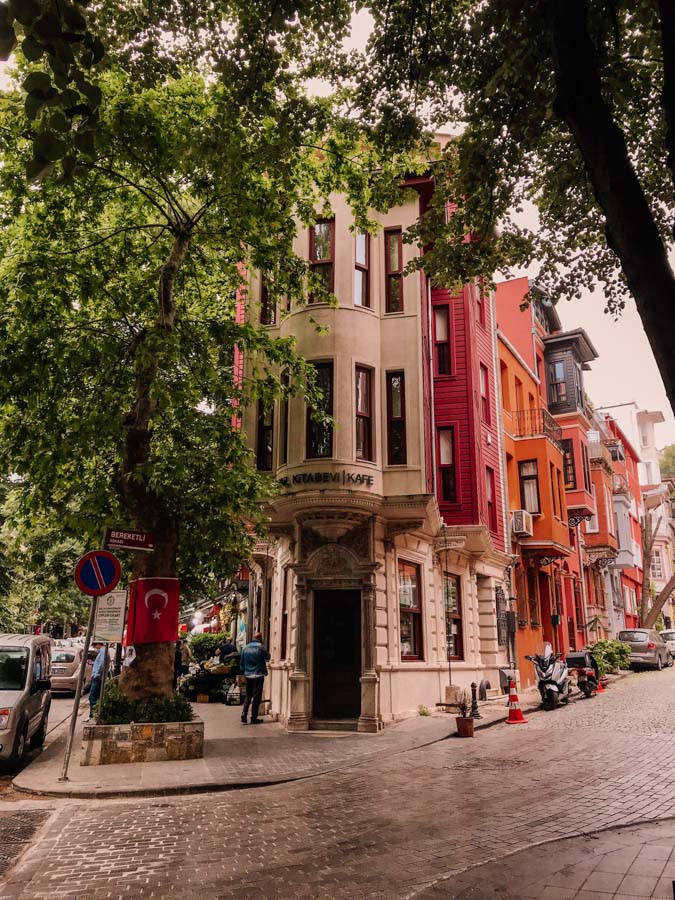 The famous coffee house with a library is located on the central street of the Kuzguncuk quarter in Uskudar district and has long become a local symbol.
Kuzguncuk is my favorite neighborhood in entire Istanbul and I think visiting it should be a highlight on everyone's itinerary. Its quiet calm streets with colorful wooden houses and huge trees create an impression that I am somewhere else but not in the largest city of Turkey. Mosques coexist with catholic cathedrals and synagogues, and of course, a kingdom of cats lives their own life next to people.
It is worth coming to Kuzguncuk for a walk, wandering through the old streets, admiring the views, taking a bunch of photos and popping into one of the oldest cafes – the Kitabevi coffee/library shop.
You can have a hot coffee sitting at a table on the street, or climb the wooden stairs to the second floor, where a small library is comfortably located. It is a perfect place to relax, leaf through a book, or look at passers-by from the window.
If you are coming to Kuzguncuk (definitely do it!), then on the way, stroll through Uskudar, which also has many interesting coffee houses.
Cukurcuma Antiques & Cafe
Location: Kabatas
Price range: $-$$
Address: here
I love this cafe for its unique concept – it looks just like a museum. Located on a quieter street not far from Taksim square and Istiklal street, it is idyllic for those who want to escape the crowds, spend time among the antiques and enjoy excellent food. Old vintage furniture, middle eastern style tables and chairs, and colorful antiques set a beautiful scene.
Everything in this cafe is for sale. So if you like a chair you are sitting on, ask the owner about the price.
Cafe Privato
Location: near Istiklal street
Price range: $-$$$
Address: here
It is somehow challenging to walk by this cafe without ordering at least a drink. Cafe Privato is famous for its cozy atmosphere, huge tangy breakfasts, and affordable prices. There is also a fantastic view of the Galata Tower if sitting outside.
Turkish style breakfasts attract visitors here and one inexpensive breakfast is so huge that it can fill two adults.
Everything you find on the menu (even desserts) represents Turkish cuisine. There are some options for vegetarians, vegans and those who are on a gluten-free diet.
Vegetarian and Vegan in Istanbul
A lot of people think that Turkish cuisine is meat heavy and that there are not many options for vegetarians or vegans. However, in reality, Turkish foods are naturally vegetarian and vegan-friendly, with many dishes being free from meat or dairy. Every restaurant you'll go to will have vegan or vegetarian dishes on their menu.
For anyone who is vegetarian or vegan, or if you are having a fasting day, I can recommend the following restaurants:
1) Rulo Lezzetler – the best vegetarian cafe in Moda, Kadikoy which is also very cheap. You order whatever you want from the buffet and make it as a bowl or wrap and pay a fixed price.
2) Vegan Istanbul – a fully vegan cafe, restaurant, and shop under one roof in Cihangir. Here you can find traditional Turkish dishes and vegan fast food, or shop for healthy takeaways.
3) Community Kitchen – a lovely vegan cafe in Balat that has many adapted Turkish dishes on the menu. Just some of them are soy kebab, vegan Turkish lahmacun pizza, eggplant dolma with rice, and rice milk ayran. For dessert, be sure to try the sugar-free cookies and muffins.
4) Mahatma Cafe & Restaurant – another vegan cafe in Kadikoy offering vegan burgers, bureks with eggplant or mushrooms and lentils, and different snack sets.
5) Tavanarasi – a small hidden on the 6th floor of an old building near Istiklal street, this restaurant is not completely vegan but the menu is extensive and there is a lot to choose from. It gets crowded here closer to evening, so make sure to reserve a table or go in the morning or afternoon.
Recommended Food Tours in Istanbul
If you have a limited amount of days in Istanbul or if you prefer to have a more in-depth experience with Istanbul's food scene, I highly recommend joining a food tour. Most of them are run by locals and offer very good value for money.
After living in Istanbul for months and visiting dozens of cafes and restaurants, I decided to join a food tour which opened my eyes to Turkish cuisine and food culture in a way that I couldn't see before. One of the tours I took was this one that includes 10 different tastings.
Among other Istanbul foodie tours that I could recommend are – Taste of Two continents food tour and Taste of Street Food tour.
More Istanbul Travel Resources