41 Best Places to Visit in Istanbul: Tips For Every Taste & Budget
Last updated on July 2nd, 2023
Wow, how huge Istanbul is. How fabulously beautiful, mysterious, noisy, majestic, and important this city was, is and will be. A bridge between Europe and Asia, between the traditional East and modern West, Istanbul does not tire even after the tenth visit. And, with hundreds of the best places to visit in Istanbul, one trip here is never enough.
When Mark and I visited for the first time, we immediately knew we wanted to return. But next time to return to stay for at least a few months. So we did. Instead of flying for the winter to Bali, we decided to leave our comfy apartment in Brasov, Romania, and come to Istanbul. It was difficult to resist a desire to plunge into a bright oriental tale from mosques, aromas of spices, the taste of Turkish delight, and the pleasant noise of the Bosphorus. So now we are living in Istanbul as digital nomads.
And here is my list of the best Istanbul places to visit. I believe they are iconic and definitely should be on everyone's Istanbul trip itinerary. To help you navigate through this very long post, I broke it down to categories based on interests and preferences. So take a look. Also, I am writing more content on this amazing city. You are welcome to subscribe to my email to know when the next post is up.
Before I go into details, I would like to share my favorite picks for Istanbul accommodation. If you haven't booked anything yet, check them out, perchance they will be to your liking.
---
Please note: This post contains affiliate links. I may earn a commission if you make a purchase by clicking a link (at no extra cost to you).
---
Best Places to Stay in Istanbul – My Favorite Options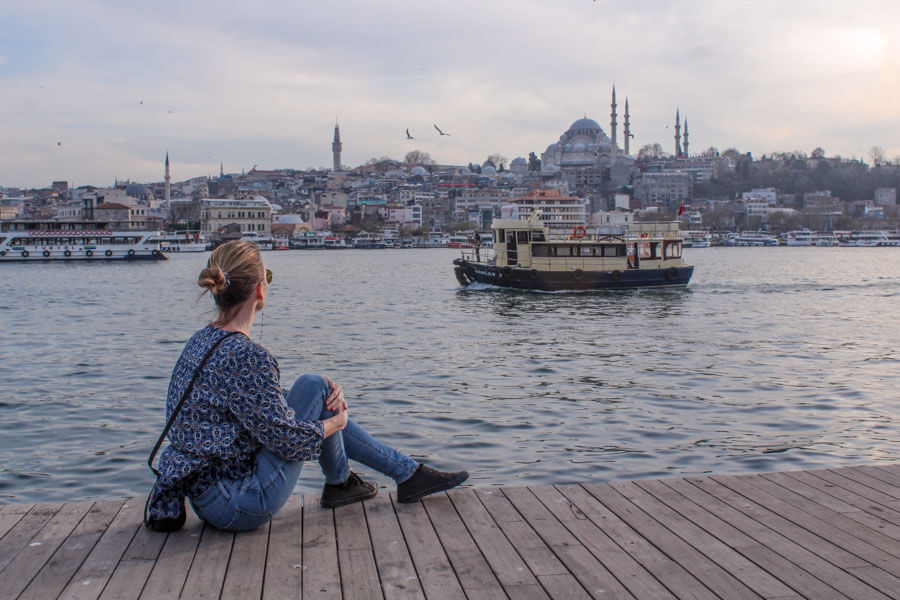 There are hundreds of amazing places where to stay in Istanbul. Literally, hundreds. It all depends on which neighborhood you want to stay in, how much time in the city you'll have, and where exactly you plan to go.
Among all the wonderful accommodation options, I would love to share a few of my favorite ones. In some of them, we have personally stayed while others are on the list of our dream places. So, if you haven't booked anything yet, take a look at my list and see maybe it'll inspire you too. Also, don't miss my more detailed post about the best cheap holiday apartments in Istanbul and unusual hotels to stay in Istanbul.
HANEDAN HOTEL: A budget option for those travelers who want to stay in the historical center of Istanbul. For $25 you will get an almost home-stay in the middle of an Ottoman-style accommodation with breakfast included. As a bonus – you get a gorgeous view of Hagia Sophia.
HISTORICAL FLAT NEAR ISTIKLAL STREET: If you want to rent an Apartment and look to stay next to all the main attractions, check out this fantastic flat. It has a stylish interior and is near the Galata Tower. At the same time, the apartment is in a quiet neighborhood.
HOTEL NENA: Here is an option to treat yourself. An old beautiful building, old-style rooms, a winter garden, a rooftop restaurant (with breakfast included) overlooking the Bosphorus, and a location near top attractions. Price per night – € 90-140.
SHANGRI-LA BOSPHORUS HOTEL: This is a luxury hotel that is not cheap, but it is definitely one of the best hotels in Istanbul. And if you are looking at Istanbul hotels with a view of the Bosphorus and the pool, then Shangri-La has the most panoramic view. One of the features of this hotel is roses. They are literally at every corner. A pool is not just a pool, but a real work of art.
SUMAHAN – ON THE WATER: Hotel Sumahan – on the Water is located in the building of the former distillery. It was built in the 19th century and for many years in the building, Turkish vodka from fig fruits was made. Now, this is a chic hotel in the Asian part of Istanbul, right on the coast of the Bosphorus spill and five minutes walk from the marina. The hotel provides a free shuttle service using its own boats.
Best Places to Visit in Istanbul For Lovers of History & Culture
Hagia Sophia Mosque-Museum
I am not sure if it is right to start my list with the most touristy place but this building is so unique that it deserves all the attention it gets. If you can bear the number of tourists, Hagia Sophia mosque is definitely worth your time and you can't visit Istanbul without seeing it.
This mosque is one of the main attractions and a hallmark of the city. For more than a thousand years the cathedral was considered the largest church in the Christian world – until the moment when St. Peter's Cathedral was built in Rome.
In 1453, when Turks captured Constantinople, Turkish sultan Mahmed Fitih the Conqueror was totally struck by the beauty and huge size of Hagia Sophia. He ordered not to touch the Orthodox church but to turn it into a mosque by adding a minaret in the western part. Later he ordered to add three more minarets.
In 1935, Hagia Sophia was transformed into a museum.
The temple is almost 1,500 years old but it looks like it's in perfect condition. Here you can see the interweaving of two religions: Christian murals and mosaics that are organically combined with quotes from the Koran on huge billboards.
Once you visit, do not forget to climb centuries-old stairs onto the balcony and put your finger in the "crying" column, making a wish before it.
The entrance tickets cost 60 TL. They are sold at the box office in front of the entrance.
Working hours: from 9 am to 5 pm every day.
Should you go on a tour? In my experience, I recommend either purchasing a museum card or going on a tour, yes. A Museum Card for 220 TL allows you to visit different Istanbul attractions within 5 days and get into the Hagia Sophia ahead of the line.
We personally love tours and find a lot of value in them. This interesting tour with a professional local guide helps you skip the line and learn a lot.
Topkapi Palace
Topkapi Palace is another important attraction in Istanbul. It was once the main palace of the Ottoman Empire. And it was from here that the sultans ruled the vast state. In fact, 25 sultans lived in this palace and for 400 years, it was their main residence.
Topkapi Palace was built after the conquest of Constantinople in 1475-1478 by the order of Sultan Mehmed II. At first, the sultan himself lived in the palace where he held official meetings. And in the middle of the 16th century, at the request of Roksolana, Sultan Suleiman I built the Harem.
In 1856, Dolmabahce Palace was built, where the Sultan and his retinue moved. Topkapi Palace, in turn, became a home for the widows of the Sultans and wives of the deposed rulers.
Since 1923, by order of Ataturk, Topkapi Palace began to work as a museum. Now it is one of the most visited museums in Istanbul and a cluster of attractions. Everyone wants to see how the Sultans and their wives lived.
It is interesting to see the palaces themselves (and there are four of them – on 7 thousand square meters), to look at the courtyards, gates, various buildings on the premises, chambers, and pavilions.
Adjacent to the palace is Gülhane Park, the oldest and one of the largest parks in the city and just a very nice place to walk through. Thirdly, here in the park, you will find the Istanbul Historical Museum of Islamic Science and Technology with old optical and astronomical instruments.
Working hours: from 9 am to 6 pm daily. Tuesday is a day off.
Ticket price: 72 TL.
Should you take a tour? During the high season, Topkapi is always overcrowded. If you don't want to take a tour, make sure to be among the first visitors. Otherwise, there are a few tours for almost the same price as the entrance ticket but they include a 'skip of the' line option and a tour.
Blue Mosque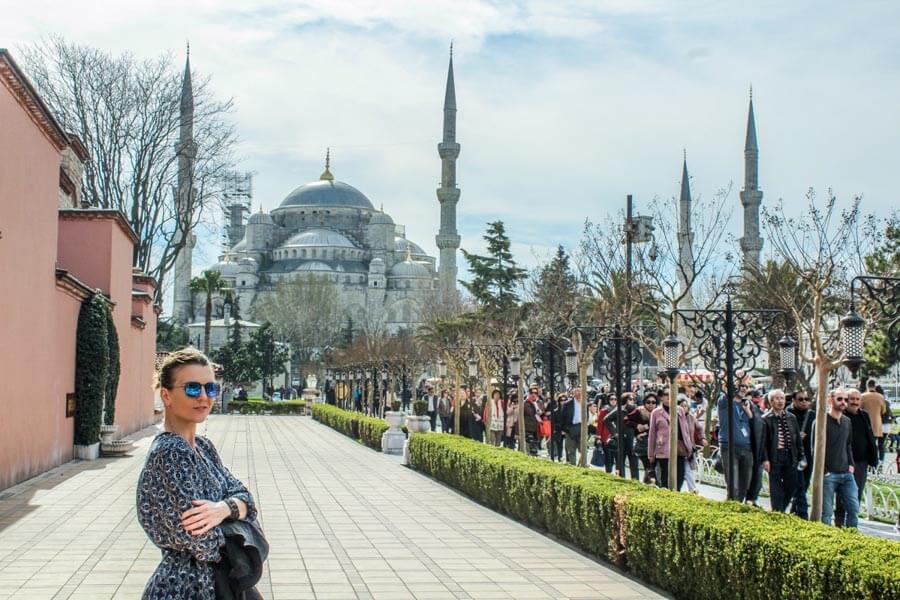 The most photogenic building of Istanbul is the grandiose project of Sultan Ahmet I (1603-17) whose grave is located on the northern side of the site facing Sultanahmet Park. The mosque features a cascade of domes and as many as six graceful minarets.
The official name of this mosque is the Sultanahmet mosque but people call it the Blue Mosque because of the blue color of the tile used in the design of the interior.
The architect managed to create a monumental structure which in its splendor surpassed even the magnificent Aya Sofia. The Blue Mosque has six minarets and a very spacious courtyard. The interior is no less spectacular. You have to see it!
At the entrance, you must take off your shoes. In the mosque you can sit on the carpet, relax, look around and contemplate the magnitude of greatness.
Entrance: Free!
Working hours: The mosque is an active place of worship and doesn't have formal opening hours. Please be aware that the mosque will be closed to tourists for the 6 daily prayers, for about 45 minutes before the call to prayer and 30 minutes afterward.
|| RELATED POST ||
TOP 20 THINGS YOU MUST DO IN ISTANBUL TO FALL IN LOVE WITH THIS CITY
Sultanahmet Square
Sultanahmet Square or Hippodrome Square in Istanbul is the heart of the city. The main historical monuments and life are in full swing here around the clock. All sights are located within walking distance from each other, so you can walk everywhere, using a map. The square will be interesting and informative not only for adults but also for children.
Part of Sultanahmet Square is located on the site of the former Hippodrome. It was built in the III century AD by order of the Byzantine emperor with the goal of chariot races. Its arena consisted of a central treadmill and a two-level amphitheater for spectators. The hippodrome served for more than 1000 years and during that time it witnessed not only horse races but also bloody political dramas.
During the Fourth Crusade, the magnificent Roman hippodrome was looted and after the conquest of Byzantium. Later the Ottomans completely destroyed it. So there is not much left besides a neat square in the place of the arena and an octagonal fountain decorated with gold mosaics in the place of the entrance gate.
Yet, this historical spot is interesting to see.
First of all, nowadays, Sultanahmet Square is one of the most popular places in Istanbul for meetings and walks in the city. Second, it is a starting point for many sights. And third, just imagine where you walk today once horses and humans participated in dangerous sports.
Sights to see: German fountain, Obelisk of Konstantin (or Walled Obelisk), Egyptian Obelisk (or Obelisk of Theodosius), Ancient Greek bronze column.
Basilica Cistern
Among other best places to visit in Istanbul is the Basilica Cistern. One of the largest underground reservoirs of Constantinople, resembling a palace, was used as water storage for residents of the Grand Palace in Byzantine times and Topkapi Palace during the Ottoman Empire.
A vaulted ceiling is supported by 336 columns eight meters high. And the walls are made of refractory bricks and covered with a special waterproofing mortar. It is hard to imagine that this luxurious room served as a reservoir of water for the time of drought or siege.
The place looks completely mystical and unusual that when you go inside, you feel like in a science fiction movie. In summer, it is twice pleasant to enjoy natural coolness here.
In 1984, the reservoir was cleaned of a meter-long layer of dirt and restored. Thus, the original brick floor and 2 columns were restored at the base of which are the heads of the Gorgon Medusa. Thanks to wooden flooring made at the same time, today you can walk around the reservoir. At various times dignitaries, world stars and other celebrities visited the Basilica Cistern. At some point, it also served as a location for many concerts, films, and video clips.
Entrance: The entrance fee is 20 TL. The Museum Pass is not valid here.
Working hours: 9 am – 5:30 pm every day.
Tour to take: Basilica Cistern also gets crowded on most days. You can purchase a guided skip the line tour.
Dolmabahce Palace
Dolmabahce Palace is one of the hallmarks of Istanbul.
The openwork building with rich interiors and a well-kept garden in its architectural design resembles the magnificent palaces of European monarchs.
We visited this place after we went to Topkapi Palace, and I advise you to do the same because this Palace is just much brighter and richer if I can say that.
In addition to the magnificent interior of the palace, I want to note a beautiful view of the Bosphorus through the openwork gate which, like a cherry on a cake, complements the overall picture of the place.
Besides that, not far from the crystal pavilion there is a house with well-fed royal peacocks which many people who visit Istanbul with kids may be interested to look at.
And the last thing, in the palace park on the very shore near the entrance there is an excellent cafe where you'll enjoy a cup of coffee with dessert. The view is also stunning.
If you have limited time and think where to go and what to skip, keep in mind that Dolmabahce Palace is definitely worth a visit. Especially if you enjoy visiting historical attractions.
Entrance: 60 TL per person. Kids up to 6 years old are free of charge.
Working hours: Tues – Sun from 9 am to 4 pm.
Should you take a tour? There is no other way to see the Palace except for taking a tour. In our experience, the self-guided tour is more than enough. It provides an opportunity to wander around at your own pace.
Istanbul Archaeological Museum
This underrated superb museum is one of the most interesting museums to visit in Istanbul. It exhibits rare archaeological and art treasures, some of which date back to the 4th century AD.
The museum is big and takes up three buildings. Among its exhibits are ancient artifacts, classical sculptures, and various ancient finds. They all reveal the history of the formation and development of Istanbul.
The ancient sarcophagi from the necropolis in Sidon are especially striking (one of them was long considered the sarcophagus of Alexander the Great himself).
The complex consists of three main parts: the Museum of the Ancient East, the Archaeological Museum, and the Islamic Art Museum.
Working hours: 9 am – 7 pm every day.
Entrance: 36 TL per person. Children under 8 years old are free to enter.
Sokollu Mehmet Pasha Mosque
This mosque is called the Istanbul Diamond Mosque. It is wonderfully inscribed in the surrounding landscape and captivates not with its appearance but with its interior.
The mosque is decorated with tiles with floral patterns. Some particles of the sacred Kaaba stone that are walled over the entrance were brought from Mecca. One of the inner walls of the mosque is completely covered with bright blue-green tiles.
In general in Istanbul, you need to go inside the mosques, not only look at them from outside. They all are very beautiful and most importantly are free to enter. In many Islamic countries, non-Muslims are not allowed to go inside mosques. In Turkey, in particular, in Istanbul, everyone is welcome.
Read more about this mosque on this source.
Museum of Turkey's Military History
This museum is considered the second-largest military museum in the world.
Here you'll find the whole military history of the country. From the first Turkish cannons to American planes and French helicopters as well as armors, weapons, and battle dioramas.
At 15:00 you can watch the concert of the Janissaries military orchestra. During the Ottoman Empire, musicians participated in military campaigns and solemn processions. Today it's interesting to watch and imagine how the orchestra performed in the past.
The highlight is the huge collection of firearms of the XVI-XX centuries. Melee weapons of different eras have their own separate section. There is a hall dedicated to Mustafa Kemal Ataturk. The collection of military uniforms and weapons of the Ottoman era, protective armor for horses and camels, camping tents of the sultans, a collection of flags and banners – you can find it all in this museum.
In general, I recommend this educational Istanbul attraction to both men and women, and families with children.
Working Hours: Wednesday- Sunday from 9 am to 4:30 pm.
Entrance: 6 TL for adults.
Museum of Great Palace Mosaics
Behind the Blue Mosque on a pedestrian street lurks a mosaic museum of the Grand Palace. Once there was an imperial palace but an earthquake completely destroyed it.
Later, in the 1930s and 1950s, archaeologists from the University of Ankara and the Scottish University of St. Andrews discovered a stunning mosaic floor depicting hunting scenes and ancient Roman mythological subjects. The fragments found there tentatively dated to the Early Byzantine period and appeared at a time when Rome was still pagan.
Between 1983 and 1997, the mosaic was restored and now you can admire it in this wonderful museum. The building includes several small galleries with a central hall, divided into two floors.
This is an ideal place to immerse yourself in history and distract from the constant chaos of the city.
Working Hours: 9 am – 4:30 pm every day.
Entrance: 20 TL
Rumeli Hisari Fortress
Rumeli Hisary (or Rumeli fortress) is one of the truly picturesque places in Istanbul. Nonetheless, it doesn't receive much tourist attention and the reason for that is probably the location. Even though the fortress is a bit outside the main tourist route, it is still worth a visit, especially if you have a museum card. In this case, you can get inside for free.
Being in the narrowest part of the Bosphorus, at one time Rumeli Fortress served as an outpost of protection against sea attacks.
When you look at the walls of the fortress, you start to question how so that this building was completed only in 4 months.
In the Rumeli Hisari, every stone has a history. And when you are there, you are mentally traveling in the past time of battles and conquests.
I recommend visiting this Istanbul attraction only if you are spending at least 5 days in the city. Come here for the history and amazing views (which Istanbul is full of). The best view is from the upper steps by the left tower.
Working Hours: 9 am to 7 pm every day except Wednesday.
Entrance: 18 TL.
Cool Istanbul Places to Visit for Foodies
Balkon Restaurant & Bar
If you want to spend an evening on a beautiful terrace in good company, and even with delicious dishes and drinks on the table – be sure to check out the Balkon Restaurant & Bar. This place is having a good menu, offering some Turkish breakfast food, lunch and dinner, pleasant music, and offers just an incredible view of the Bosphorus! This is probably the main reason why everyone loves it here.
The menu at the Balkon Restaurant is classic: there are salads, light snacks, meat dishes, and, of course, dishes of national Turkish cuisine. The assortment also has a lot of desserts and bowls with fruits.
Hours: 11 am to 2:30 pm daily.
Average bill: $$
Balkan Lokantasi
Lokantasi is a Turkish catering establishment or in other words bistro, where locals usually have lunch or dinner. The food here is cooked in advance and put behind the glass in a display window in special metal containers that keep on low heat.
There are many different types of Lokantasi around Istanbul. Some are smaller and family-owned while others are bigger with many workers.
Balkan Lokantasi is a chain with many bistros around the city. They all remind an ordinary canteen where you need to take a tray, choose your favorite dishes as the line moves, pay, and only then sit down to eat. The variety, quality of food and taste in all Balkan Lokantasi bistros are amazing. Moreover, food is almost the same as in expensive tourist cafes but only several times cheaper.
No matter which part of Istanbul you are in, you can find Balkan Lokantasi. In any restaurant, you can try almost all the popular dishes of Turkish cuisine on a budget. Vegetarians and vegan will find many options here too. If you are a foodie, I highly recommend saving this place!
Hours: Depends on the establishment. Some are open from 7 am to 10 pm, others to 11 pm.
Solera Winery
Wine anyone? Turkish wine anyone? After Mark and I got a chance to live in Tbilisi, there we tried all sorts of Georgian wine. Since then, in every new destination we go to, we are just looking for local wine to try. And Turks, I have to tell you, make really good wine too.
Solera wine bar is that perfect place for wine lovers who want to come here after a long day of walking around Hagia Sophia and Topkapi Palace. You'll find here more than 50 local wines, good food, welcoming staff and such a nice atmosphere.
If you tell the waiter that you have no idea where to start, he will bring you five bottles of wine and give you to try each one. Just note that most Turkish wines contain 14-14.5% alcohol, so it's possible to get drunk a little faster than usual. For wine, you can order a cheese & dry meat plate as an appetizer.
Check more reviews and photos here.
Hours: Noon – 2 am every day.
Average bill: $$$. Wine (as any other alcohol) is not cheap in Turkey.
Karaköy Güllüoğlu
Remember this name because the best baklava in Istanbul is for sale in Karaköy Güllüoğlu.
Usually, it is good for three days but here they make it every morning. If you want to buy different goodies and take them with you, guys at the shop can easily wrap them in a tight vacuum.
Large carrot-shaped pistachio baklava (fistikli havuç dilim baklava) will cost 13 TL ($2.3). For the same money, you can take a "bride bag" (fıstıklı gelinbohçası baklava) where there are 5 pieces in a serving. This place has earned its reputation a long time ago and every type of baklava they sell is incredibly delish.
Hours: Mon-Sat from 7 am to 1 am. Sunday from 8 am to 1 am.
Eminonu Pier District
The Eminonu Pier district itself is not particularly noteworthy. It is a significant transport hub with railway, sea, and bus terminals. By the way, the famous "Orient Express" connecting Istanbul and Paris leaves from the Eminonu Station. And there is a Galata bridge that connects opposite two shores of the European side along Golden Horn Bay.
Nonetheless, what makes this part of Istanbul appealing to foodies is the ground floor of the bridge with many small fish restaurants.
Nearby, if you walk a bit to the side, you can watch a fascinating picture. On beautiful old boats, fishermen unload a freshly caught fish, on another boat they clean and wash it, and then on the next boat behind the sellers they prep and fry it and then pass it to sellers to make a famous sandwich balyk-exmek – a fresh bun with fried fish and onions.
Anyways, if you are not in the mood for a fish sandwich, multiple restaurants under the bridge have extensive menus. Even the most demanding gourmands will be surprised by the selection.
Hours: It depends on the restaurant. Some establishments open as early as 10 am and close as late as 2 am.
Prices: $-$$.
Unique Instagrammable Places in Istanbul For Photographers
Maiden Tower
Among all the best places in Istanbul, there is one which you see on many postcards. And that's the Maiden Tower. The rich history of this place made it not only a famous architectural monument but also a popular destination among tourists. Its beautiful view is especially nice to observe during a ferry trip along the Bosphorus.
Over many years, it managed to serve as a watchtower, as a customs control point, a sea lighthouse, a quarantine chambers, and even a restaurant. Once the tower even appeared in one of the James Bond movies.
This part of the Uskudar embankment is one of the most romantic places in Istanbul. Locals love coming here to sit on the steps on soft pillows, drink tea, and take a million photos with seagulls trying to grab the simit from their hands.
By the way, if you decide to visit the tower, there is a small restaurant on the top.
Icadiye Cd. (Street) in Kuzguncuk
Among all the best places to visit in Istanbul, Kuzguncuk neighborhood is one of the cutest and most charming ones. This cozy community is located in the Uskudar region on the Asian side of the Bosphorus. You can get there by boat from the European side or by bus if on the Asian side.
The beauty of this district lays in quiet streets with ancient carved wooden houses, small colorful shop windows, and grocery stores. People here are very friendly, always smile, and always invite you for a cup of tea.
Do you love books and coffee? Then visit Nail Kitabevi Cafe. As soon as you pick up your book and order your espresso, go upstairs to get comfortable in one of the chairs by the window.
The entire Icadiye street reminds more of a decoration from a movie studio. With all vintage shops, quirky cafes, old colorful houses it is a great setting for photos.
From what I've heard from local friends, Icadiye street shows precisely how Istanbul used to be before urbanization. It was quiet, people lived their lives at a slower pace, taking care of their neighborhood.
I advise you to walk around and look for the prettiest spots for photos. They are around each corner.
To all who prefer to sip their drink overlooking the Bosphorus, I can recommend Kuzguncuk Cinaralti cafe. There, in the shade of the trees, you can fully enjoy the privacy and get Zen.
Colorful Houses & Quirky Cafes in Balat Neighborhood
Another colorful neighborhood that not many tourists know about. And definitely one of the best places to visit in Istanbul, even if you don't care for Instagram.
Balat – the oldest Jewish district of Istanbul – used to be unsafe. Not many locals would recommend going there even a few years ago. However, with time, it started to change for better, keeping its authenticity and unique style.
Balat today is very safe to visit and interesting to see. Being full of authentic bars, vintage shops, the famous rainbow color stairs and colorful houses (on Merdivenli Yokuş Evleri street) it serves as a great spot for photographers and Instagrammers.
Everywhere you walk you see the bed linen hanging on the ropes, lazy cats lying at every porch and restaurant, locals not being in a hurry, enjoying life and drinking their Turkish coffee.
Balat is very authentic and colorful. It feels that here you get to see how Istanbul comes to life from the books of Orhan Pamuk
or some long-running, very interesting Turkish series. By the way, I've heard from friends, who have lived in Istanbul for years, that many movie scenes were filmed in Balat.
Walk through Balat from one corner to another, take lots of photos for your Instagram and grab a snack at one of many quirky cafes. Be sure to visit the three main attractions of the area – the Patriarchate of Constantinople, Church of St. Mary of the Mongols and the Greek Orthodox College.
Ferry Across the Bosphorus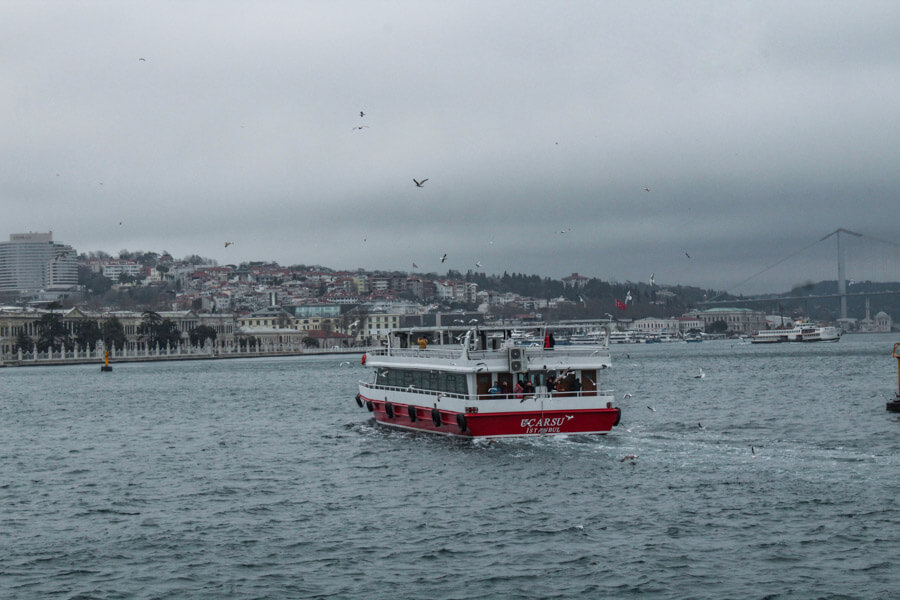 The ferry is the fastest, most romantic, and comfortable type of public transportation in Istanbul. However, for tourists, boarding a "floating taxi" means more than just crossing from the European side of Istanbul to Asian and back.
Taking a ferry is one of the most fun attractions and things to do in Istanbul. With a cup of tea or salep and panoramic views of the city, you'll definitely have amazingly beautiful photos. If you take a ring of simit, then certainly expect a flock of gulls naturally appear in your pictures too.
The fare is between 3-4 Lira ($0.6-0.7). A glass of tart Turkish tea or Salep will cost 2 and 4 Lira ($0.35 and $0.70) respectively. I advise you to climb the upper deck and go to the stern where the Turkish flag is.
The most scenic routes for a ferry ride are from Eminonu to Kadikoy (and back), from Karaköy to Uskudar and from Eminonu to Park Emirgan. The last one is one of the longest trips which takes more time and costs more money. Although, it also presents a wonderful opportunity to see a bigger part of the European and Asian sides.
Ihlamur Palace
Ihlamur Palace is the summer residence of the Sultans. Sultan Abdul-Majid loved to vacation here and receive important guests. Double baroque staircases, bohemian glass chandeliers, and French furniture make it look magnificent and somewhat fairytalish.
The Palace consists of two buildings – the ceremonial Mayet and the ceremonial Merasim. The second would be probably ideal for serving as a ghost house in a movie. With two massive baroque staircases, stone flowers, vases, columns, and dark arched windows it looks a bit spooky.
Nevertheless, this is an amazingly beautiful place. And despite the fact that the name translates as "a palace under lindens", the garden has a huge amount of magnolias, so it is better to come here in the spring when they bloom.
Opening hours are from 09:00 to 17:00. Mondays are off.
Entrance fee: 5 TL.
Buyuk Mecidiye Mosque (Known as Ortaköy Mosque)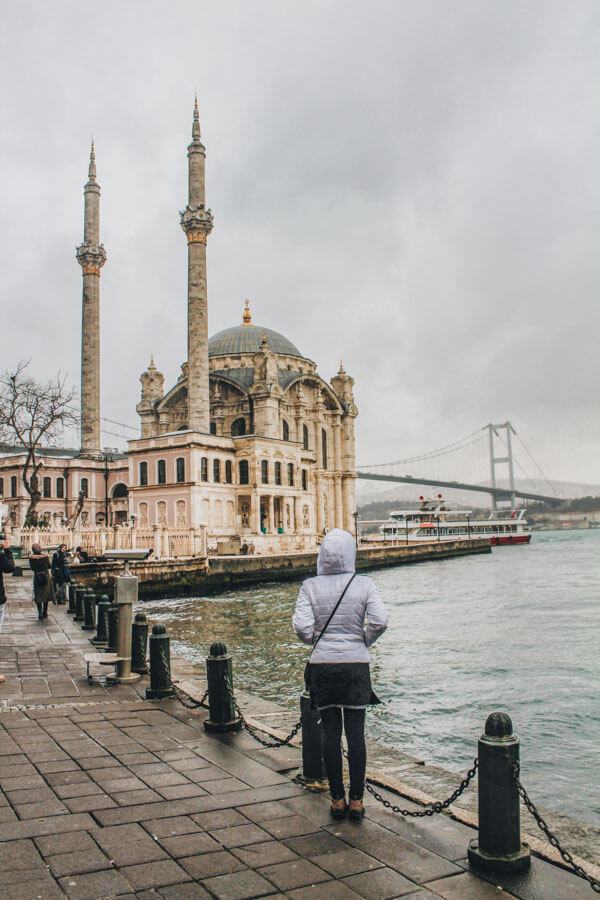 Ortaköy Mosque is definitely one of the most instagrammable places in Istanbul. And you have probably seen many photos of this spot. It is a favorite place for girls in bright colorful dresses that come to the mosque long before dawn.
On the pier, there is even a "special" ledge that has a nice angle that lets you take a photo with the Mosque, the Bosphorus Bridge, and Bosphorus itself in one photo. During the high season, tourists line up there in the afternoon and the place gets crowded.
On a few occasions when we were there, it was raining, so there were no people around. If you are looking to have photos without people in the background and not be in a hurry then plan to come as early as possible. Rainy and winter days are almost free of people too. Winters in Istanbul are particularly quiet. But don't worry, the weather is not going to ruin the experience and photos. They will have a mystical look with heavy skies and a stormy sea. Photos above were taken on a rainy day in February.
If you want to get to the mosque by water, board the Kadikoy-Sariyer ferry which enters the port of Ortaköy.
Terrace in 'Seven Hills' Restaurant
Seven Hills restaurant is one of those places in Istanbul that every blogger and travel magazine has on their list. This well-known fancy restaurant with an outdoor terrace in Istanbul's Old Town offers stunning views of all the sights at once.
In addition to the already fantastic view, there are no less photogenic seagulls flying around trying to steal a piece of food.
Besides the location and views, Seven Hills restaurant offers a wide range of seafood from the Marmara Sea (which is pretty good by the way). The average bill for a dish though bites a little – it is usually about 145-175 TL ($25-30) for two. If you want to come here for the photos alone, I recommend ordering only a tea for 7 TL ($1.2).
The best place for a photo is the tables in the corners of the restaurant, so it is best to book them in advance or come at sunset on a weekday.
Hours: 7:30 am to 11 pm every day.
Suleymaniye Mosque
Istanbul's largest and second most important mosque is also one of the most beautiful and popular mosques in the city. It is that popular partly because of the fact that there is the tomb of Roxolana.
The road to the mosque is not easy. But the grandeur of its architecture and the beautiful view of the Bosphorus and the city make you forget about the strenuous walk. Suleymaniye offers views of the city, the Bosphorus, and the Galata Tower in a distance.
For tourists, the mosque is closed for salat time. So the best hours for visiting are from 9:00 to 12:30 and from 13:45 to 15:45. On Fridays the mosque is closed until 2:30 pm, so avoid visiting on this day. Admission is free.
The best places for photos are the main gate and a mini-garden in the backyard. Devote at least 2 hours of your time to this place since it's huge.
Grand Bazaar
Even if you don't like sights and don't like to go to the bazaars and markets, Kapali Carsi (Turkish word for Grand Bazaar) will not leave you indifferent. In fact, a visit to this place can take all your day.
Unique architecture, many shopping malls, restaurants and cafes in the largest and oldest covered market in the world, which can accommodate up to half a million people at a time, can easily amaze everyone. 91 million people a year visit the market (the only thought about it blows my mind).
The foundation of the bazaar was laid in 1461. In its labyrinths that extend over an area of ​​30.700 square meters, there are 66 streets and about 4,000 shops (can you imagine?).
Today, many of the shops, of course, differ from the shops in the past. Still and all, the streets of the market retained the old names.
Kapali Carsi has long become more of a tourist attraction than a market in the full sense of the word. But I will not dissuade you from buying souvenirs. If you come across something truly valuable, why not, right? Even if it turns out that you paid three times more than what it really costs, take this as an honor – you were deceived in the largest and oldest indoor market in the world. Ha!
Grand Bazaar is truly one of the most instagrammable places in Istanbul. I recommend you take a couple of photos in spite of the million warnings not to do so. They are intended only for those who are trying to photograph the shop stealthily.
If you ask the owner of the shop with lanterns or carpets for permission, he will kindly invite you in. Besides that, you will not only get a chance to take a picture but also a cup of Turkish tea.
Spice Bazaar (or Egyptian Bazaar)
Built in 1660 as part of the New Mosque complex, the Egyptian Bazaar is one of the most populous places in Istanbul. During the time of the Ottoman Empire, it was a place where others could buy medicines from special medicinal herbs along with various spices of the Middle East, herbal teas, fruits, pastille, and Turkish delight.
Today, in the Egyptian Bazaar, you can find jewelry, fabrics, spices, nuts, dry fruit, handmade baskets, and various souvenirs. Anyone who has fun choosing unique multi-colored souvenirs must certainly visit this interesting market.
To take the best photos, you need to search for an 'Aladdin' store. You'll find it at the beginning of the spice market on the right side. Of the six entrance gates, you should choose those that "look" at the Bosphorus. Aladdin's shop sells dry fruits and tea. In the center, there is a stand (apparently for tea drinking) which many people love to sit on when taking pictures.
In fact, there are many similar places in the spice market. You just need to walk around and look for the right one. Once you find the shop you want to have in your Instagram feed, ask a merchant nicely to take a photo inside. Most of them will smile and give permission.
Galata Tower
Galata Tower is one of the most popular places in Istanbul for tourists and locals alike. Instagram is literally full of pictures of this landmark.
It is worth noting that the view of the Galata Tower itself is much nicer than the view from it. A lot of sources recommend going to the top of the tower for one of the best views. I honestly don't understand why. There are so many amazing restaurants and vista points with a much better view and fewer people. Why would you be wasting your vacation time in a place that is totally overrated and overpriced?
The climb to the viewing platform for tourists costs as much as 25 pounds and you get to see very little up there. I can say the same about the restaurant which is located inside the tower. Any other place in Istanbul has tastier food, better ambiance, and cheaper prices.
But to see the tower itself and take a few Instagram worthy pictures is definitely worth it. It is best to come to Galata Square very early in the morning before people start to flood the place. Another great time is in the evening or at night when the illumination is already turned on. Buy a glass of freshly squeezed pomegranate juice at 'Star Bufe' and settle down on one of the benches nearby to fully enjoy the grandeur of Galata's beauty.
Büyük Hendek Street is the perfect place for taking photos with the Galata Tower in the background.
Rooftop Kubbe
Until recently, it was Istanbul's secret open roof. Today, it is the most instagrammable and photographed place to visit but still, not everyone knows about it.
You can find the rooftop on the way from Suleymaniye Mosque to the Egyptian market.
Look for Nasuhiye Street. Go up to the 'Pak Pride Pizza Salonu' cafe and turn left. A stealthy courtyard with a steep staircase is what you need. From the derelict and cluttered with debris roof, you get to see a panoramic view. The tops of houses and the Bosphorus are on the one side, the Beyazit Tower and the Suleymaniye mosque on the other.
Alternatively, you can visit the Kubbe-i Aşk cafe which is located nearby. I wrote about this cafe in my where to eat in Istanbul post, so if you are interested to find details, feel free to give it a read.
Kamondo Stairs
In 1860, the banker Kamondo pleased the locals in Beyoglu district by building a "winding" staircase. Its predecessor was too steep and slippery, so when rushing to work, people often rolled head over heels directly onto the roadway.
160 years later, and now Kamondo caters to lovers of beautiful photos in unusual places.
Just keep in mind, if you want to be the only person on the staircase, come in as early as sun rises.
Kucuksu Palace
Kucuksu Palace is another palace of Sultan Abdul-Medjid. It is located on the Asian side of Istanbul, between the two small rivers. Such a picturesque place has always attracted many people here. And today Kyuchyksu is a pearl on the banks of the Bosphorus.
The palace itself is a two-story building that looks like a small castle. You can see it from the water on a ferry ride. On one side there is a fortress of Anadoluhisari and on the other – the bridge of Sultan Mehmed Fatih.
Since 1944, the palace turned into a museum. But only in 1994, the museum was restored and opened to the public.
Tourists visit this palace much less often than any other and that's a mistake. The building is very beautiful and always quiet. With the baroque gate and massive staircase, it is ideal places to visit in Istanbul for photographers.
Kucuksu Palace is open every day from 09:00 to 17:00. Monday and Thursday are days off.
On weekends, you can also have a royal-like breakfast from 9:00 to 13:00. The entrance fee is 20 TL.
Best Places in Istanbul For Nature Lovers
Yildiz Park
Istanbul has many parks where you can spend several hours or even a day away from city noise while taking leisurely walks and enjoying the surrounding view. Yildiz Park is one of those ideal places.
Generally speaking, it is not even a park but a forest in the city. It lies on 46 hectares between the hills of Besiktas in Ortaköy. The entire territory of the park which includes greenery, trails, arbors, and recreation areas becomes real salvation from a noisy metropolis.
In the past, the Sultans went hunting here but today it is a great place for relaxation and picnics.
Gulhane Park
In the very center of the historical part of Istanbul, there is an amazing park, which rightly bears the romantic name Gulhane Park. Laying on a hillside next to the Topkapi Palace, the park was previously a property of the Sultan. Therefore, tens of thousands of rose bushes you find there today, in the past were only for the sultan, his close associates, and residents of the Harem.
Today, Gulhane Park is a favorite place for romantic walks. There you can wander for hours, looking at trees, flowers and admiring fountains with sea views. Or just spend time lying on a velvet lawn, reading a book or looking at the ephemeral figures of clouds.
Since this park was once part of the Topkapi Palace, it is a great idea to combine a walk there with a visit to the palace.
Princes Islands (or Adalar)
When you get around all the main attractions of Istanbul and want to relax a bit from the noisy active city, go to the Princes' Islands (Adalar). They are located in the Sea of ​​Marmara, 25 km from the Istanbul center.
The largest of the Princes' Islands is Buyukada. But the most romantic one is Burguzada. The trip will take about 2 hours one way but it will be a real sea adventure. The ferry is comfortable and has panoramic decks.
Due to the fact that rich and high-ranking officials lived on Buyukada Island at the beginning of the 20th century, many luxurious suburban villas were built there and they perfectly complement the surroundings of the island. You will see many luxurious homes drowning in breathtaking bougainvilleas.
Another attraction is to go biking, hiking, or swimming at the beach. I advise you to rent a bicycle for 5TL per hour if weather permitting of course. This will provide an excellent opportunity to explore everything at your own pace.
Buyukada is an absolutely perfect place to relax from the hustle and bustle of the city, enjoy the sea views, eat delicious sea bass on the beach in a tavern in the company of seagulls and admire from a distance how grand Istanbul is. But Burguzada offers just that, yet with fewer people. See my post about this island and get inspired to visit.
Polonezkoy
Polonezkoy is a Polish village on the far edge of the Asian side of Istanbul, founded by Polish immigrants.
The village retains the charm and culture of the 19th century. People who live here use Polish and Turkish languages and support Polish traditions. If you have been to Poland, it will come as a surprise to find some polish motifs in the middle of the Asian part of Turkey.
In the village, you can get a picnic basket and go for a walk through the picturesque meadows and forests. Nearby Nature Parks have a lot to offer. If the visit to the village falls on June 16-17, you can also go to the "Cherry Festival".
Pierre Loti Hill
This is one of a few places in Istanbul where you can experience how quiet and calm Istanbul is. If you take the Eyup funicular, you will find yourself in a large garden on top of the mountain with a fantastic view of the Golden Horn and Old Istanbul.
Just nearby there is a cafe where the Turks play traditional backgammon and drink their favorite coffee. A bit higher the road there is a Pierre Loti restaurant. It is perfect for some meditation or a cup of tea with a unique view.
Miniaturk Park-Museum
If you think it is impossible to see all the sights of Turkey in one day, you are wrong. You can definitely do it in Miniaturk Park, in an open-air museum that combines the rich heritage of civilizations.
Some people call the complex a 'small model of a large country', where the most valuable historical monuments from the Roman, Byzantine, and Ottoman empires stand in miniature.
Miniaturk Park has 134 iconic objects of Turkey in miniature, on a scale of 1:25. In total, the territory of the complex, besides the museum, includes the restaurant, cafeteria, souvenir shop, children's playground, parking for 300 cars, an exhibition hall, and much more.
The exposition consists of three parts. One part is about the sights of Istanbul. The second part includes exhibits that represent valuable monuments of Turkey. And the third part is full of the historical sites of the Ottoman era that are now located in other countries. Also, the third part has models of two of the seven wonders of the world – the temple of Artemis and the mausoleum of Halicarnassus, both have not survived to this day.
It is a very interesting and unique park to visit in Istanbul if you are a returning visitor who has seen a bit of the city.
Belgrade Forest
Once inside the vast Belgrade forest, it will be hard to believe that you are still in Istanbul. For a long time, the forest was not just an oasis of beauty and wildlife but it also served as a reservoir, supplying Istanbul with water for centuries. Today, the park no longer plays such an important role in the water supply of Istanbul but the best underground springs are here.
Mostly oaks grow in this forest but also here you can find eastern birch, hornbeam, and Anatolian chestnut. Approximately 71 species of birds and 18 species of mammals live there. You can see foxes and wolves, in the depths of the forest there are even wild boars deer.
Residents of Istanbul come here for extensive walks around the lake, have a picnic, and relax during the weekend. If you love getting into the wilderness, this is the place to go to.
Emirgan Korusu Park
A 47-hectare park could have remained "unrecognized" by tourists if it did not host the annual International Flower Festival on its territory in 2005. Since that time, the festival is taking place every year in April. More than 11 million flowers of nearly 80 different varieties planted around Istanbul. Yet Emirgan Korusu accounts for a bigger percentage of that number.
April is not the only time to visit, really. We have been to this park during the offseason in December and March and enjoyed our walks there. There are two artificial lakes, a waterfall, several restaurants, and a dozen picnic areas with benches.
The festival itself takes place in early April – from the 6th to the 10th. But tulips bloom all month.
The entrance is free and the park is open 24/7.
Kadikoy Moda Park
Park Moda is one of the quieter and less-visited green places on the Asian side of Istanbul. Now we are living in Kadikoy and visiting this place in Istanbul on many occasions. And I really want to share a few words about how cool this park is.
This is an extensive sheltered rather small park where people who live in the area love to jog, walk and relax here. Families often get together on weekends laying on the grass and enjoying the view of Fenerbahce neighborhood. I recommend visiting this park only if you are exploring Kadikoy and Moda. It doesn't make much sense to come to this side only for the park alone.
Also, if you feel like renting a bike, there is a bike station in the park and biking paths that go all the way to Fenerbahce Park, passing by another small park by the water Kalamis Ataturk Park.
Fenerbahce Park
Here is another magnificent park with a romantic name in the Asian part of Istanbul. As I mentioned above, talking about Kadikoy Moda Park, it is easy to reach this green area by bike. If not, then by walking or by bus from Kadikoy neighborhood.
The main feature of the park is various exotic species of shrubs and trees. Here you will find an abundance of tulips in flower beds, almonds, and magnolias near the trails. April and May are the best months to visit, this is the time when almonds and magnolia blossom.
Additionally to natural beauty, there are a few indoor venues and outdoor cafes that offer a picturesque panorama of the Princes' Islands.
Ulus Park
Ulus Park is located in one of the upscale residential areas of Istanbul. It is very popular due to the stunning views of the Bosphorus.
In this park, the noise of the city gives way to peace and quiet. You can come here to unplug, enjoy the clean air, filled with aromas of flowers and conifers.
Ulus park is great at any time of the year. Due to the abundance of evergreen trees and shrubs, even in winter, it gives the impression of an oasis among city blocks. And in the summer, when flowerbeds are covered with floral carpets, you will want to stay longer near this magnificence in order to remember the beauty.
Locals love coming here with their families on weekends. The observation deck of the park gives an opportunity to enjoy a beautiful view of the blue waters of the Bosphorus and fascinating architecture of the Asian side of Istanbul.
A Few More Tips For Your Trip to Istanbul
If this is going to be your first trip to Istanbul, I recommend reading my guide to Istanbul airport transfer, main Istanbul sightseeing spots, travel tips for Istanbul, and guide to prices in Istanbul. Foodies should read my guide to Istanbul restaurants and cafes.
From my point of view, the best way to understand the city is to go on one of the tours. You can go on a full-day private tour around the classic monuments of Istanbul, on off-the-beaten-path tour, and definitely try traditional delicious delicacies on a food tour.
For all my posts about Turkey, go to this page.
If you are looking to find out what to expect from Istanbul, I highly recommend picking one of the books:
It was one long post with too many details. If you have anything to add, please let me know in the comments. If you follow one of these recommendations, I would love to hear what was your favorite place. Also, don't forget to share it on Pinterest!
Enjoy Istanbul!