The 18 Best Wineries in Georgia for Wine Lovers (Country, Not a State)
Last updated on December 5th, 2022
During the time Mark and I lived in Tbilisi, each of us drank so much wine that both of us together haven't drunk in our entire life. Georgian wine was so good and light that we kept trying new types of it. My list of the best wineries in Georgia does not mean there are no other wineries out there. Or that all others are not worth your time.
Most likely, there are many more wine cellars since almost every family in Georgia makes their own wine. Yet, I wanted to share places we personally have been to (and loved) or planned to visit.
If there is any other wine tasting in Georgia you have to add, please do so. I would love to hear where you've been.
If you are visiting Georgia for the first time, check this guide.
FOR A QUICK OVERVIEW CHECK THE TABLE OF CONTENTS:
Best Wineries in Georgia – Wine Tasting In Tbilisi (Or Not Far From It)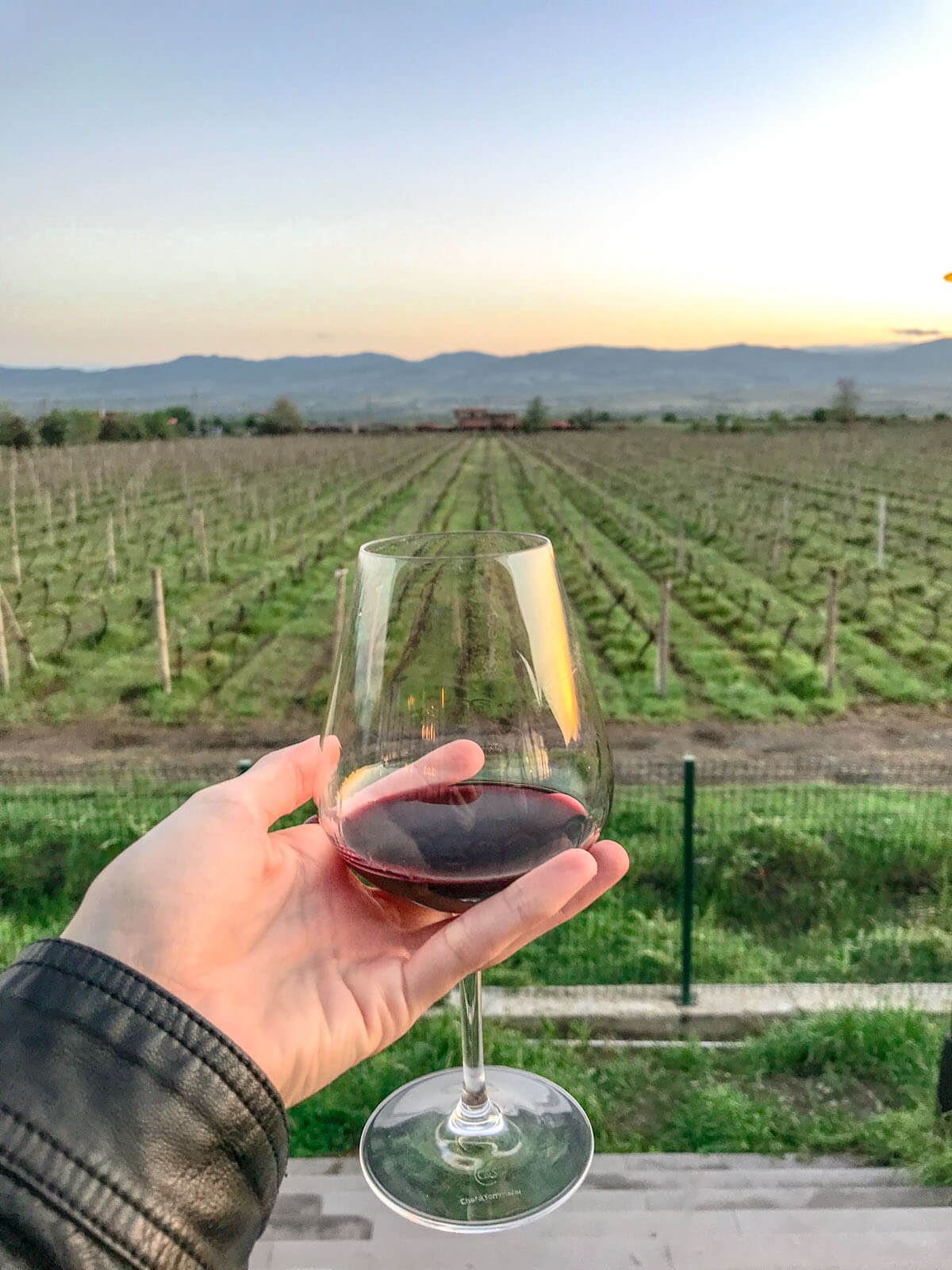 CHATEAU MUKHRANI Winery
Built in the form of a castle, Chateau Mukhrani winery is considered the first real royal chateau in Georgia. It is located in Mukhrani village and combines four main components: vineyards, a winery, a castle, and history.
Nowadays Chateau Mukhrani is a rather large winery that offers tours of the local cellars and tasting. It produces quite rare varieties of wines and chacha. In total, there are 13 types of wines. A tasting of four varieties will cost 35 GEL per person. Reservations are required.
Besides wine, there are also well-groomed gardens, a stable with horses and a beautiful yard. It's nice to walk a bit there next to the castle.
This winery is located 25 kilometers from Tbilisi. The best option is to combine it with a visit to Mtskheta or/and the next winery on the list.
IAGO'S Winery
The cellar of Iago Bitarashvili is a private winery located in the village of Chardakhi in the vicinity of the city of Mtskheta. From outside it looks like an ordinary village house with vineyards in the distance. However, inside it reminds more of a beautiful Bed&Breakfast or Inn.
Only two types of wines are made here: dry red Saperavi and a rare type of dry white Chinuri. But all of them are organic, do not have any added yeast or preservatives and follow the traditional Kakheti method and usage of qvevri.
Iago uses only the latest modern technologies in the manufacturing process and you can be confident that his wines are of the highest quality.
The best way to get here is by car or cab (I recommend the services of Bolt.) If you prefer public transportation, there is an option to get to the village of Chardakhi from Tbilisi by minibus from the Didube bus station. Once there, it's very easy and quick to walk to the cellar.
For the car rental, follow my guide to know how and where to rent a car in Georgia.
NOTE: Reservations are required. Either call or get in touch with Iago through his facebook page.
BAGRATIONI Company
Bagrationi 1882 is the leading sparkling wine factory in Georgia and one of the largest wineries in Tbilisi.
During the time we lived in Georgia, our landlord a few times brought us this wine as a gift. I immediately got curious about who was producing it, did research and found the Bagrationi company located in the northern part of the city.
This place is the only place with such a big collection of indigenous sparkling wines in Georgia.
The best way to get here is by Bolt or if you hire a car. Coming by public transport will take forever since the company is located a bit on the outskirts of Tbilisi.
The tour includes a walk around facilities, tour on how sparkling wines are made, and tasting. We have planned to visit Bagrationi on a few occasions but it never worked out. I am not sure what the price is now. If you are interested, contact the factory to inquire about the details and make reservations.
|| RELATED POST ||
KAZBEGI, GEORGIA TRAVEL GUIDE: FAQ, Georgia Military Road & Best Things to Do
Wine Cafes and Wine Bars in Tbilisi
DADI Wine Bar & Shop
One of the most interesting places to try Georgian wines perfectly paired with lots of food choices. All wines here come from small producers from various wine regions of Georgia, not just the Kakheti region. And you can order them by the glass or by the bottle.
Dishes are mainly of European cuisine although with Georgian motives.
The owner, whose name is Sasha, knows a lot about wines and can introduce them to you in a uniquely entertaining way.
An outdoor hidden terrace is a perfect place to hide away from crowds and relax.
Mark and I liked coming here to work a few times while getting a glass of wine and cheese platter. Our favorite spot to sit was by the window overlooking passersby. I added this place to my list of the best bars in the capital of Georgia. If you are interested in Tbilisi nightlife, check my post out.
NOTE: Try their plum pie, chicken sandwich, and Saperavi wine cake.
Address: 4 Shalva Dadiani Street.
WINELAB
What's interesting, WineLab bar is located in one of the most touristy parts of Tbilisi but tourists rarely come here. Mostly Georgians, which means that the place is great indeed if locals choose it.
You can taste only some types of wines here and buy the rest by the bottle. You are welcome to come here just for a drink or to buy a bottle as a souvenir. A lot of wines come at very affordable prices and they taste very good. Combine them with cheeses or nuts and enjoy your evening! The food selection is limited though.
Beer lovers can stop by here too. The bar offers a unique beverage – a beer from the qvevri.
Address: 10 Shalva Dadiani Street
8000 VINTAGES
There are two "8000 Vintages" bars in Tbilisi. Both of them are super cozy places where you can try a variety of Georgian wines and pair them with different tasting plates of food. The location is great, away from the busy streets packed with tourists.
Also, very affordable prices and wines. And, you can find lesser-known wines here too. Snacks and basic dishes that go well with wine are certainly on the menu.
The coolest thing for me is that they conduct master classes and tastings with professionals who know a lot about wines and can introduce them to you in the right way. Very useful for those who don't know much about this drink but want to dive deep and learn.
If you can go to only one wine bar in Tbilisi, choose "8000 Vintages". Both of these bars are excellent.
Address: 26 Sulkhan Tsintsadze Street or 60 Irakli Abashidze Street.
AMBER Bar
Amber is the color of Georgian white wine, prepared in a traditional way by local technology. The Amber Bar accordingly is one of those places where you'll be able to find this type of wine.
To be honest, I am not a big fan of this bar. It is located on one of the busiest streets of Tbilisi, is always noisy and often crowded. The reason I am adding it to this list is their wide selection of rare wines. For instance, those wines like Nikoladzeebis Marani and Kortaveebis Marani.
For appetizers, they have a really good Georgian cheese plate, hummus, croquettes, and oysters.
Address: 49 David Agmashenebeli Street.
VOLVER Cafe
Volver cafe is a cafe with a bar on the side. It used to serve only expensive wines from well-known manufacturers, but recently it started to work with small regional cellars carrying also draft ones.
Here, you can count on a long menu with many choices of Georgian dishes. Some really good foods are kebab, homemade pasta, cheese platter, minestrone, tapas. Waiters speak good English, so they can recommend which wines to pair with various foods.
The one we liked was Rkatsiteli and Saperavi from Temi Community, which is located near the village of Gremi. The more famous wines are DoReMi or Peasant's Tears.
If you like spending time in quietness, choose to sit inside. If you prefer more action, there are a few tables outside on a bit noisy and busy street.
Address: 56 Lado Asatiani Street.
Best Wineries in Kakheti Region
The main thing that awaits a tourist in the sunny Kakheti region is the selection of wines. Perhaps you've heard about Kindzmarauli, Saperavi, Tsinandali brands. But there are many more brands to discover. Other regions of Georgia are famous for their wines too. However, Kakheti's winemaking and wine consumption are the most famous ones, with their own stories, legends, ancient toasts, and production tricks.
Wine tasting places you see below are large wineries with tasting rooms, small family wineries, wine museums, and small wine cellars. On your Georgia wine tour, I encourage you to explore at least a few of them.
SHILDA Winery
Shilda Winery has been operating in the village of Shilda, Kakheti region of Georgia, for five years. Not many tourists come here because they simply don't know about the winery's excellent wines, food, hospitality and some of the best views. Most guests here are either Georgian people or Russian speaking tourists. This is how I actually learned about this place, from one of my Russian friends. And to be honest, it became one of my favorite wineries in Georgia.
The Shilda plant processes 2000 tons of grapes every season and produces about 1.4 million bottles of wine of 25 varieties. A restaurant in the courtyard of the factory is a place where you can taste those wines paired with local foods or the most authentic Georgian dishes. It has a truly spectacular view, making it a great place to relax and watch the sunset in any season.
A tour of the factory is included in your tasting. You get to walk inside the modern-looking plant and hear stories about the process of making wine along with some historical facts.
But the best part is the tasting. The guide makes it as some type of performance.
SHUMI Winery
A small Shumi factory, located on the outskirts of Tsinandali village, produces five to six sorts of wines. If you didn't come to Kakheti by car, you can get to this winery by minibus from the city of Telavi.
Despite the fact that the Shumi plant is located near the capital of the Kakheti region where a lot of tourists choose to stay overnight, not many of them come here for wine tastings. Since it's not that popular, you'll be able to enjoy a free tasting in a relaxed atmosphere. It doesn't make much sense to book in advance, so feel free to stop by once you get here.
The factory also has a museum, a tasting terrace, and a shop.
When we were there, the tasting included four glasses of wine, one glass of brandy and one shot of chacha. We didn't taste any chacha and brandy, only wines. The one we loved the most was semi-sweet Kindzmarauli and dry white Kisi wine. Other wines offered here are Saperavi, Mukuzani, and Pirosmani.
NOTE: The excursion is short, around 10-15 minutes inside the museum. And if you have a free tasting, they do expect you to purchase at least something.
"SCHUCHMANN WINES" Winery
This winery produces a fairly wide range of the most famous Georgian wines. The products of this farm have already earned a good reputation and can often be found on the shelves of Tbilisi stores but usually in the premium wines section.
"Schuchmann Wines" has its own small shop where local wines cost significantly less than the same wines in Tbilisi. Popular wines are Mukuzani and Tvishi.
The tasting and a quick excursion cover many details. However, the disadvantage is a rather high cost. For this reason, it is better to go here only if you are well versed in wine and know the difference between the subtle nuances of each taste.
This winery is part of a hotel "Schuchmann Wines Chateau & Spa" which has a nice restaurant, stunning view of the mountains, pool, and spa with wine baths. Prices are relatively reasonable (for services and wines of this level.) If you feel like having a somewhat luxurious stay in the heart of Alazani Valley while being close to wineries, consider this hotel.
CHAVCHAVADZE ESTATE IN TSINANDALI
This winery is not only a winery but the entire estate which has a museum, wonderful English style landscape garden with bamboo groves, a labyrinth of bushes, and lots of flowers. Being here is such a pleasure.
The manor building has restored interiors of the 19th century and personal belongings of the Chavchavadze family. I will not say that this is the most interesting museum that you definitely have to visit in Georgia. But you can spend half an hour on it and learn who Alexander Chavchavadze was.
Many people come for the museum and garden alone not knowing that their ticket also includes a wine tasting in the cellar. If those included in a ticket price wines is not enough, you can get an extra glass for 3 lari.
We didn't think wine tasting was an extraordinary experience but it was still interesting to learn about Estate's own wines.
Chavchavadze Manor is very close to the Shumi factory. The best bet is to include two wineries in one visit.
Local marshrutka buses can get you here.
NUMISI CELLAR MUSEUM
A small Kakheti village Velistsikhe has an interesting attraction in the form of the wine house-museum "Numisi". It is a small family-owned wine cellar with a rich history and delicious wines which is conveniently located on the road from Sighnaghi to Telavi or Kvareli.
The museum occupies a large stone house in the very center of the village and besides the exhibits on a wine theme, it offers a very interesting collection of objects of ancient Georgian life such as clothes, furniture, dishes, musical instruments, etc.
In the wine section of the exhibition, you can visit the real wine cellar, see wine presses, clay jugs-qvevri and much more.
The museum has also a tasting hall and a really nice restaurant.
For the tasting, the cellar offers local Saperavi and Rkatsiteli (worth trying!) as well as chacha. The tasting costs 6 GEL, lunch in the museum restaurant is about 30 GEL.
KHAREBA Winery
This winery is famous for a 7-kilometer tunnel, interesting excursion, and tasting. There is also a separate area with master classes where you can learn how to make local bread, khinkali and churchkhela. Although for churchkhela, fall is the right season to visit.
At present time, the tunnel houses a warehouse with more than 25 thousand bottles of the best wines of the "Khareba Winery" company, a tasting room, and a small museum exposition. From the tunnel, by elevator, you can go to a restaurant located on a cliff. There you get an excellent view of the Alazani Valley.
There are different types of excursions here. Just the excursion to the tunnel without tasting costs 8 GEL, excursion and tasting of two wines of the European type – 12 GEL, excursion, and tasting of two wines of the traditional type (from qvevri) – 15 GEL. Excursion and tasting of 4 wines and chacha, learning how to make Georgian bread and churchkhela – 40 GEL.
Honestly, it doesn't make much sense to go on a tour only. Tours here are really short and everything you get to see will be a long concrete corridor. I do recommend paying for tasting too. With it, you'll get to walk through the tunnel, get quite good wine along with some snacks as honey, cheese, and nuts.
BABANEURIS MARANI Winery
This winery is not really a winery as you may think of. Still, I wanted to add it to this list because you will have such a wonderful time there.
Babaneuris Marani is a family-owned hotel that has big beautiful grounds with a pool, wine cellar, and one of the nicest restaurants with an absolutely mind-blowing view of the Alazani Valley. You don't need to stay here to be able to enjoy the restaurant and try the family's own wines. If you rent a car (or hire a driver with a car,) make a quick detour and visit this luxurious place.
Even though it is luxurious, prices for rooms are really low and prices for the food and wine are the same as in restaurants in Tbilisi. And in the fall, this homestay is going to look absolutely magical. Take a look here.
Mark and I got so lucky to spend two nights here. It was definitely a highlight of our trip to the Kakheti region. You can read this post where I talk in detail about our experience at the Babaneuris Marani hotel and Winery. I know if you visit, you'll love it as much as we did.
TELIANI VALLEY
Teliani Valley is one of the largest wine enterprises in Georgia. It was founded in 1997 on the basis of the famous wine cellar" Marani vintage wines of Teliani " which dates back to the XIX century.
The price for a guided excursion starts from 20 GEL per person. It includes a tour of production facilities, cellars, and tasting of 3 different types of wine. If you wish, the range of wines as part of the tasting can be 4, 5, and even 7 types of wine, for some extra surcharge of course.
Teliani Valley Winery is located on the southern outskirts of Telavi, right next to the highway. It makes it easy to get there even if you travel by public transportation.
NOTE: There is a security guy at the entrance who needs to call someone and get permission to let guests go inside. It reminds more of private property than a winery, so just don't be surprised.
GRANELI Winery
Graneli, operating winery on the outskirts of Kvareli, was founded relatively recently, only in the 90s of the last century. But today it is a very serious enterprise famous for some of the best wines of Georgia. It is located near the famous "Khareba Winery" or "Kvareli Tunnel" in the city of Kvareli. Besides wine, it produces 2 grades of cognac.
A guided tour of the production hall is free. A tasting costs 20 GEL for 12 grades of wine and chacha. In terms of quantity and quality of wine at the tasting – Graneli is definitely a leader. However, the tasting itself is a bit mediocre with formal phrases and remarks.
Wines you can taste here are: dry white Tsinandali, semi-sweet white Alazani Valley, dry red Saperavi, dry red Mukuzani (a really good one,) semi-sweet red Kindzmarauli (very good one,) semi-sweet red Odzhaleshi (a rare one which is so good here) and semi-sweet Khvanchkara (we were not impressed.)
Some of these wines are unique varieties that you can purchase only at the Graneli plant.
KINDZMARAULI Corporation
Kindzmarauli is one of the most reputable and well-known wineries in the Kakheti region and entire Georgia. It has modern technologies of wine production, a few tasting rooms, a shop with a good assortment and reasonable prices, a restaurant, a small hotel, and even a wine museum.
At present, the Kindzmarauli Corporation is the main producer of the legendary Georgian semi-sweet wine Kindzmarauli.
During the excursion, you can get acquainted with the technology of winemaking, look at the new Italian tanks where grape juice turns into wine and have a tasting with 5 different wines. As I remember we paid around 10 lari for tasting.
Prices in the store are often significantly lower than in Tbilisi, so it makes sense not only to do a tasting here but also buy a bottle or a few before returning home.
Here you can buy Kinzdamarauli, Mukuzani, semi-sweet Kisi wines aged in oak barrels "Kvareli". Besides wines, you can buy very good cognacs such as 5-year-old Kvareli, 15-year-old Gremi, and 17-year-old Eniseli.
---
Have you been to any wineries in Georgia?