11 Things No One Tells You About Living & Traveling in Georgia
Last updated on July 25th, 2022
Seeing icy peaks of the mountains touching the clouds. Trying great food and wine. Hearing songs, watching dances, and never-ending celebrations. That was my mental image of what traveling in Georgia be like.
Yes, all of it exists in Georgia country. And I definitely experienced all of it on my travels. Yet after spending some time here as a tourist and digital nomad, my mental image of Georgia changed a bit. Not that it got worse or better. It just received more colors.
It turned out that all things I learned about Georgia (or heard from other people) were a small portion of what the country is like.
This small Caucasian destination was on my bucket list of places to visit for a long time. The main reason I wanted to visit Georgia was all those Soviet movies I watched while growing up. Since Georgia was part of the USSR, a number of movies were either filmed there or just represented life in the Caucasus. Watching them made me wonder what it would be like to travel to Georgia one day on my own.
So I did travel and even stayed for a bit. In fact, I am now writing this post on my second long-term visit to Georgia. And all the things mentioned below happened already so many times that they prompted me to write this memoir.
So, without further ado, let's begin.
---
Please note: This post contains affiliate links. I may earn a commission if you make a purchase by clicking a link (at no extra cost to you).
---
Things No One Tells You… About Traveling In Georgia
There is So Much More to See in Georgia Than Tbilisi, Caucasus Mountains & Batumi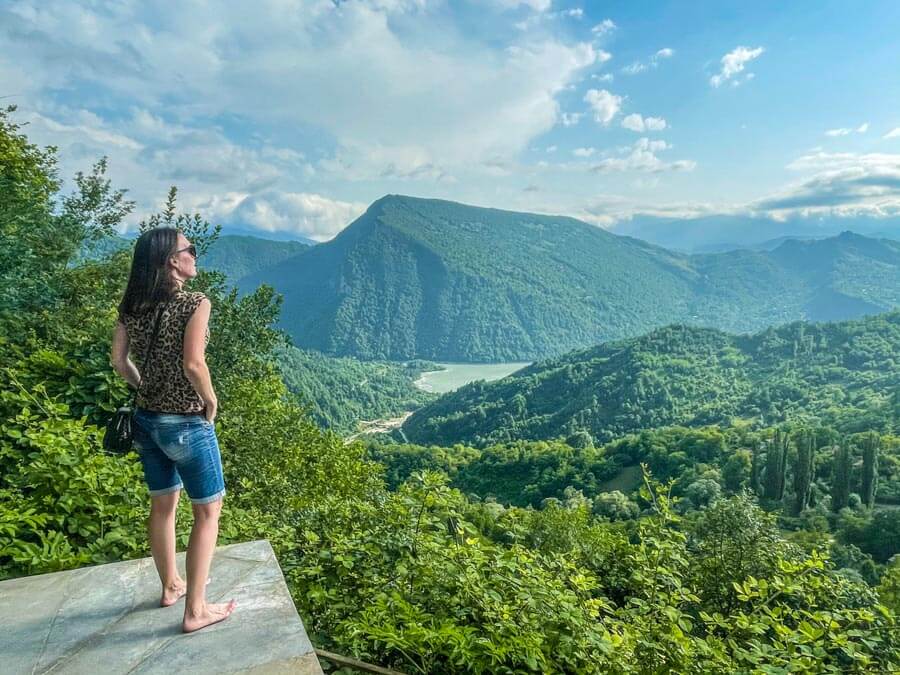 Name a place in Georgia that is not Tbilisi, Kazbegi, Ushguli or Batumi. Oh, you may also remember Sighnaghi in Kakheti region and Tusheti with one of the most dangerous roads in the world.
Good. But that's not all that it has to offer.
Before I came to live in Georgia for the first time in 2018, I had no idea what else there was to see besides these places. Actually, I even didn't know about half of them. But I had a weird Caucasus mountains obsession – since I was born in USSR, I grew up on Soviet movies and books that pictured Caucasus range a lot and sowed a desire in my heart to see this beauty with my own eyes. That's all that I knew about.
So I totally understand if you think these are all interesting places to see.
But you guys, when planning to visit Georgia for the first time, try to add a few more places. Don't miss natural wonders around Kutaisi, go on at least one (amazing) hike in Upper Svaneti, visit magnetic healing sand in Ureki, do wine tasting in Kakheti, and don't be afraid to rent a car and go on a few road trips around Georgia. If you don't feel like driving, go on a tour with a local.
Georgia is Mostly Mountains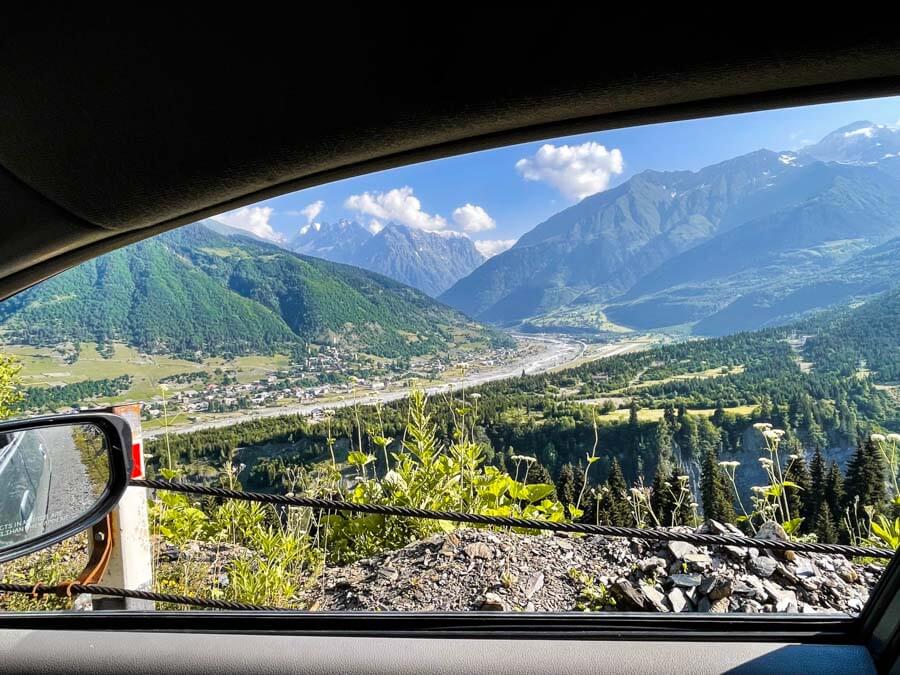 When I went on my first road trip in Georgia (which was from Tbilisi to Batumi), I was surprised to see mountains on all sides for the entire time when driving. Then I went on my second road trip from Tbilisi to Kakheti and was surprised again by how tall mountains were not only to the north but to the south.
Then I did a bit of research and found out that 85 percent of the total land area of Georgia consists of giant and majestic mountains. Those mountains are full of stunning hikinп trails, canyons, glacier lakes, and waterfalls. Mountains in the Ajara region, for example, are the real pride of Batumi. Due to its unique microclimate, they even have tropical jungles grow on their slopes. Also, the Adjara mountains have many picturesque waterfalls.
Mountains in Svaneti hide gorgeous glaciers and glacier lakes (that you need to hike to).
Even Tbilisi is surrounded by mountains. If you don't have much time in Georgia and want to get an introduction to its mountains, go on a day trip from Tbilisi with a local that will include a trip to the mountains or hire a car and drive to Kazbegi making a few unforgettable stops.
TIP: For the car rental, I recommend (and personally use) Myrentacar aggregator. I also have a more detailed post about the Georgia car hire process and driving tips. Give it a read.
Best Tours to Join to See the Mountains in Georgia
Many of Georgia's Roads Are Still Unpaved But Many in Excellent Condition
Georgia is still a developing country. And as such, it still has quite a few unpaved roads. This means that traveling in Georgia by car can be at times a bumpy, slow sort of adventure. But it is an adventure not to miss!
To make things extra interesting, a perfectly good, newly paved road will out of nowhere revert to an unpaved path, often lined with cows or building materials. But then a few kilometers later, it randomly reverts back into a paved road.
However, China is currently building a major highway in Georgia through Belt & Road Initiative. Plus Georgia is building some roads too. So it becomes more and more pleasant to travel there by car.
The only thing to remember is that Google Maps app doesn't know all Georgian roads. Sometimes it shows there is no road at all when in reality there is a nice paved road. And vice versa, it shows a road when there is a bad gravel path.
I believe that Georgia is an amazing destination for road trips. There are ways to explore this country in a small sedan car and go off-road into distant areas.
Everything is a Zillion Years Old & There are Ancient Churches All Over the Place
Do you know how old the country of Georgia is? The first mention of Georgia as a country dates back to 1184. If you take the time to dig through the research, you might learn some interestingly weird legends and myths about its formation. For thousands of years when Georgia existed, it was building churches all over the place. This is why everywhere you go, you'll stumble on a church or fortress in some beautiful spot.
Especially popular it was (and still is) to build churches on the top of the mountains. So the view is always spectacular and atmosphere a bit mystical.
In many European countries, the number of religious people is declining with each year. But not in Georgia. Most of the population reveres religion and considers themselves to be religious. 80% of the population are Orthodox Christians. Therefore, there is nothing surprising in the fact that even in small Georgian villages you can see beautiful and ancient churches that amaze the imagination with their architecture.
In any Georgian city, there is simply a huge number of cathedrals, temples, and monasteries. And many of them were built hundreds and even thousands of years ago. New churches are regularly built too and they look no less majestic.
Traveling to Georgia and not visiting the ancient architecture means a lot to lose. Don't miss an opportunity to go on a tour that will include a visit to some ancient churches.
Best Tours to Join to Visit Ancient Georgian Churches & Fortresses
Sitro Drink is a National Obsession
Sitro in Georgia is as popular as soda in America. I often get the impression that sitro comes second after wine as a national drink. In every restaurant or cafe waiters usually offer wine or sitro. I don't think anyone ever asked if I wanted to order a tea.
Sitro (as wine and Borjomi water) is some sort of national identity and pride and you are bound to come across it when traveling around Georgia.
It has different tastes and the most popular ones are tarragon and pear. In fact, Georgian sitro reminds me of the same beverage I had as a child in Ukraine (which at that time was part of the USSR).
During the USSR times, sitro was very popular in countries of the Soviet Union. But after the collapse, the taste of this beverage changed. I also tried it in Belarus and Russia and can tell that the taste changed. But in Georgia, surprisingly, the taste of sitro stayed the same or at least very similar to what it was in the 80s and beginning of the 90s.
So, when you are visiting Georgia, give sitro a try. First, you will taste a national drink other than wine. And second, you'll get an idea of what type of sweet carbonated drink people in the USSR had on their tables while Americans were drinking Coca-Cola.
…About What to Expect From Georgian People & Culture
Here is the list of more not-so-pleasant things about travel in Georgia that I don't think others will talk about. Most people who promote Georgia as a destination concentrate on positive things only (which is great) but I believe you should know about these things too.
Not to change your opinion about this country or change your mind about visiting. But to have a full picture of what to expect.
Service in Georgia is Poor But You Have to Tip For It
Georgia is known for its hospitality. Oh, how amazingly friendly people are, oh, how welcoming everyone is and oh, how everyone wants you to enjoy their country. Oh really? Why the level of service is almost non-existent then?
In a country that claims it has amazing hospitality, you kind of expect great service. But then you go to the restaurant or cafe, or a grocery store and receive quite the opposite. And get deeply disappointed.
I've been to dozens of restaurants around Georgia and almost everywhere I observed a lack of involvement, indifference, and often rude staff attitude towards customers. Waiters don't smile (instead come with heavy face), don't make you feel welcome, and often look like they make others a favor by bringing a menu and serving a dish.
And what's quite interesting is that tipping is mandatory in Georgia and you must pay 10-20% of the bill for absolutely terrible service. Of course, if the waiter gets tips in the end, no matter what type of service he delivers, why bother to do an excellent job. You'll leave tips anyways. I think one of the reasons why Mark and I don't like to go to eat out in Georgia is because we know how poor the service will be. And then at the end, we still have to pay for it.
Someone will say that wages are extremely low in Georgia, so you can't expect much from waiters. But hey, in many other countries restaurant wages are very low too but service is much better. In nearby Turkey, where I am living part of the year, in many restaurants waiters work only for tips (without any salary) but they go above and beyond to deliver the best service ever because they are hoping to get tips. In Georgia, tips are part of the bill and there is no need for a waiter to walk extra mile to be nice and actually do his job well.
The same is very common in grocery stores. On many occasions when I needed help in the store and asked the attendant: "Do you speak English?" or "Do you speak Russian?" he/she would just turn around and do his own thing pretending I was not there. Many times in lines in dairy or meat departments in big stores like Agrohub or Goodwill, staff would help a Georgian customer leaving Mark or me without any service.
Conclusion? Do not expect outstanding service in Georgia. Yes, there will be still lovely people who will make your day but for the most part, service is very poor.
Accept the fact that, perhaps, it will take a lot of time to bring your order, for the most part, a waiter will not be smiling seeing you at the entrance, and no one in the store will rush to you immediately with an offer to help. It's good if the store will be open at all as it says on the doors.
Servers Try to Cheat Clients
Here comes another reason why Mark and I stopped enjoying going to restaurants in Tbilisi or other Georgian cities. And this is what you need to watch out for when traveling in Georgia.
I don't know if covid is to blame but somehow cheating clients became quite common in this country. We noticed it even before corona but not to such an extent.
I would say that among all the restaurants and cafes we visited, in about 90% of them servers purposely put higher total amount. And they did it so skilfully that in the beginning we even didn't notice. It is difficult to notice since you simply don't remember the exact cost of the dish on the menu. And when the bill comes in Georgian often written by hand (they don't give any proper receipts) or only a few lari more.
Depending on how much you order, the bill can be between 3-30 lari more (at the time of writing this post, the exchange rate is $1=3.14 lari). Most people (especially foreigners) will not argue about a few extra dollars on a check, others will simply not notice, so it is quite easy to cheat and lie.
To our questions about why we need to pay more than on the menu, the answer is pretty standard: "Oh, the menu wasn't updated yet". Or: "I probably didn't calculate it right". Or: "In Georgia, everywhere you go, you need to pay an extra tax for food". And my favorite: "There is something wrong with our calculator, sorry." At least someone may say sorry, but usually, do not expect any apologies. But of course, you'll still need to pay a mandatory 10-20% tip.
The best type of clients for the server that are easy to cheat are clients who order a lot of dishes and drinks, those who come with large groups, and couples on dates. If you are that type of customer, I advise you to double-check your bill.
Even if you've been in Georgia for a while now and think you haven't been lied to in the restaurant even once, I suggest you start paying attention next time when you go to dine out. It's gonna be fun.
Lots of Stray Dogs & Some of Them Are Aggressive
I don't know what's the deal but Georgia has a loooot of stray dogs around. I got the impression that dogs are everywhere and people love seeing them dirty and hungry on the streets.
A lot of Georgians support the idea of vaccinating and sterilizing dogs and letting them live outside. But the same animal advocates seem not to care much about the well-being of animals who are basically thrown out on the street to exist in very bad conditions. And by living like that they also affect the lives of many people.
Stray dogs in Georgia are almost always hungry, dirty, some look like walking skin-and-bones creatures, and some of them can be aggressive. We were attacked by dogs in Georgia on a few occasions and recently witnessed a horrible picture of a group of stray dogs biting children in Gori.
In Telavi, one hungry skinny dog almost snatched kebab from my hands and I had to hide in someone's car. In Svaneti, we sat down to eat by the glacier lake (in the mountains), once a hungry dog appeared from nowhere and grabbed half of our food. One lady we met in Tbilisi, mentioned how she was bitten by stray dogs that she was feeding and how she needed to get a series of rabies vaccines after that event.
I don't say it to scare you off or sow doubt about your trip to Georgia. Just know what to expect. You do need to be careful with stray dogs in Georgia, no matter how much affection you feel towards them. The majority of the dogs are mellow and don't pose any danger (besides trying to grab your food). But don't be deceived, not all dogs are vaccinated and they are still animals who live on the street in horrible conditions. They are not always friendly towards everyone.
Deceptive Prices in Grocery Stores
Here is another thing that I can't understand about Georgia. Perhaps that's a marketing strategy, not sure. But.
Prices on tags in grocery stores are not accurate and often lower than what you pay at the counter. I noticed it on our first visit, during the time when we lived here and now too. Nothing changed in that regard.
Mark and I have a habit of calculating all our expenses and following our set budget. When we go to the store, we always calculate the cost of products not to overspend. This is how we started to notice that something wasn't right since every time we come to the cashier, the price for some products on the screen is higher than what we calculate when looking at a price tag. Always. There was not a single time when we went grocery shopping and didn't need to pay more.
I guess it is not a big deal for some people. And most shoppers won't notice it. But if you do, you may question what's wrong. I don't know why it happens but it is very common. Keep in mind that prices in grocery stores are often higher than what you see on a tag. Asking questions won't make any difference. You have a choice of leaving or paying as it is.
The Air Quality in Georgian Cities Is Terrible
Yes, terrible, although you can't tell right away. According to Yale's Environmental Performance Index, Georgia's air quality ranked 139 out of 180 countries. Below Georgia is Armenia, a few countries from SE Asia, a bunch of African countries, and then Nepal and India closing the list.
Compared to the cheapest countries in Europe and Central Asia that have a similar (or even lower) quality of life, Georgia's environmental health is the lowest. Even North Macedonia (where the capital Skopje has the dirtiest air in entire Europe) ranked much higher.
Traditionally, the main pollutant of Georgia's atmospheric air is motor transport. The unsatisfactory condition of many roads impedes the efficient movement of cars which increases the need for fuel and emissions of harmful substances.
A lot of the vehicles are obsolete Soviet-made cars and old outdated imported cars that do not have catalytic converters, so the amount of exhaust and harmful substances far exceeds the permissible limits. These low-quality vehicles use low-quality fuel which is the reason for the high concentration emissions of harmful substances. No one really controls that or tries to improve.
Another thing, Georgia is a transit country. Its roads are used for transporting goods from the north to south and east to west. And most of these roads run through cities, which degrades the quality of air. Even in Kazbegi and Gudauri, where the famous military highway that connects Russia and Georgia goes, the quality of air is poor.
I personally can't stay in Tbilisi for a long time (the same was in Kutaisi) since air pollution results in a stuffy nose and sore throat. Among all the 50+ countries I visited, the other time I had the same experience was in Vietnam.
However, there is good news too. The air quality is fantastic in the mountainous regions of Upper Svaneti, Racha, and Tusheti.
Georgians Expect You to Drink Alcohol
There is a cult of wine in Georgia. Literally. Oh, and not only wine but chacha too (Georgian pomace brandy​). In every village and city, you will be given to drink chacha and homemade wine.
When I came to Georgia for the first time, I didn't consume any alcohol (like at all). But on the second day in the country, I tried my first glass of wine which was a treat from my hosts who invited me over. Then I went to a grocery store to purchase churchkhela and was offered a glass of wine too. Next, I tried my third (and fourth, and fifth) glass of wine in the Alazani Valley when I went on a road trip there.
I don't remember how many more glasses of wine I was offered, how many I drank and how many refused. But the fact is the fact: Mark and I are getting too many invitations to drink wine and chacha. And to be honest, most of the time it makes us feel very uncomfortable.
Don't get me wrong, we looove Georgian wine (as in general good wine). But when it is kind of pushed on us, we resist.
Some people offer us wine as a greeting in apartments that we rent, others pour chacha for meeting with the words that chacha is good for digestion. Nothing is wrong with that and we respect this cultural difference. But when this approach happens too often, it just becomes annoying.
When we politely refuse to drink (which is considered very rude here), some people get offended and take it very personally. Others may even get upset and try to convince us to drink.
Especially common it is in smaller towns or villages and outside famous touristy routes. Although in big cities it happens too.
Many times in Tbilisi (during some meetups) people made us feel guilty for not trying any wine. We had to explain ourselves and make excuses not to drink alcohol. One time our new acquaintances invited us to their house for dinner. When we came, we were told right from the beginning, that in Georgia you do not go for dinner without drinking at least a little bit. Okay, so we tried a bit of wine, but they poured more. When we said it was enough, they started the same storytelling how impolite it was not to drink at the table with Georgians.
We had many more situations like this when traveling around Georgia. By now, we are kind of used to this "hospitality" gesture but it still leaves an unpleasant feeling.
People in Georgia are proud of their wine and chacha and expect you to drink (a lot of) it. Of course. In their mind, if you came to visit Georgia, you must drink wine like there are no other reasons to visit their country. For you to refuse to drink alcohol is considered very rude, but for them to persuade you to drink it is not.
I met some expats who live in Tbilisi and think this is not a problem. In fact, they even make fun of it. Sure, I get it, for some people it is not a big deal. They'll happily accept an invitation to drink a bottle of wine or possibly two. But for others, like us, it can feel very unwelcoming to be expected to drink alcohol pretty much anywhere you go.
NOTE: I would probably not expect this behavior towards Muslims. Georgians respect other religions and their view on alcohol. But I feel like with Christians they are definitely less shy.
---
I hope this has opened your eyes to some of the things you didn't know about Georgia country! I shared them not to change your mental image of Georgia. But to help you understand how to adjust in some situations.
Have you traveled to Georgia yet? What was the thing no one tells you about Georgia country that surprised you the most? Drop me a comment below!
And if you are planning a trip to Georgia, check out some of my other posts to help you plan your trip: