Georgia Road Trip Ideas: 5 Epic Road Trips in Georgia to Add to Your Itinerary
Last updated on July 29th, 2023
Are you thinking to go on a road trip in Georgia? Great choice, this country was made for road trips! Well, seriously.
When you look on the map of Georgia, you may doubt if spending money on a rented car and driving around is a good idea.
Most tourists automatically assume that in such a small country it will be easier to travel by public transportation, taxi, or bike. I even met some people who traveled around Georgia by hitchhiking and on foot. While it is definitely an adventurous way of seeing a new destination, I don't think most of us will choose it for our travels.
Plus when you are already in Georgia, you quickly realize this country deserves a good drive.
Buses do not cover even a quarter of the most interesting places. Railway transport in Georgia is poorly developed, largely due to the mountainous relief, which does not allow creating an extensive transport network.
In fact, there is only one railway line in Georgia which starts in Rustavi, passes through Tbilisi, Gori, Kutaisi and ends in Batumi. And marshrutka drivers are a bit out of their mind (no kidding) always driving as if they are transporting firewood, not people.
And a taxi outside the city… taxis are much more expensive than hiring a car. Plus, another driver cannot give you a sense of freedom that you'd have when driving on your own.
---
Please note: This post contains affiliate links. I may earn a commission if you make a purchase by clicking a link (at no extra cost to you).
---
Where to Rent a Car in Georgia For a Road Trip?
Renting a car in Georgia is very easy. Everything you need is your passport and driver's license. The driver should be at least 23 years old and have driving experience of at least 3 years.
An international driver's license is not necessary. Although this is the case if you rent a car from local suppliers. Big international companies, located in the airport, may ask for it. Yet, to be honest, international companies are not really the best places where to hire a car in Georgia. Let me talk quickly about all your options on where to do it:
1) The cheapest, the most convenient and simply the best (personally tested many times) way to rent a car in Georgia is through LocalRent aggregator. It works only with local private companies and offers a lot of perks.
When booking through them, you get insurance included in the price and don't pay any deposit. There is an option to rent a car not only in the airport but also outside it.
You can hire a car in almost any city in Georgia and drop it off in another location too. Prices are much cheaper than from international companies and there is a very convenient feature where you can set up filters in the form to choose an old car and pay less for it.
To help you understand better, I have written a guide to the process of car hire in Georgia. It answers all questions about the peculiarities of renting a car and things to know. Make sure to read it.
2) If you need to hire a car with a driver, then the best service in Georgia for that is Gotrip. You choose the driver yourself, upon meeting pay him the price agreed on the website, and enjoy the ride.
Among the disadvantages – drivers are not guides. Often they speak very basic English. So do not expect encyclopedic stories from them. Most likely he will tell you a few words here and there, but you should not consider him as a guide.
3) Another way to rent a car in Georgia (which is also the most expensive way) is to rent it directly at the Tbilisi airport through Discovercars or any other aggregator.
However, when renting a car from international companies, there are a few things to consider.
First of all, they will actively try to sell you several types of insurance policies, including the one where you insure the driver's health. Second, the price for a small sedan car ranges between $40-$50 per day. It is much more expensive than what you'd pay when renting directly from a local company through LocalRent. But this price also doesn't include any insurance. And the deposit is between $250-$1000 depending on the company.
When signing an agreement with one of the international companies, you need to be very attentive to details. Be sure to check what additional services are included in the contract. Many times there is always something that you don't know about and need to pay for in the end.
Best Time to Take a Georgia Country Road Trip
December to February
The winter months in Georgia are often cold and wet, in mountainous regions they are snowy. In the mountains, some roads often get blocked with snow. Some areas are not accessible by a small car and you'd need to hire 4WD not to stress while driving.
Some people think that winter months are not the best months for traveling in Georgia. While this time of the year is definitely more challenging, many drives are still spectacular. Especially in the direction of the Caucasus mountains, Borjomi and through Gori and Adjara regions into Batumi.
Although the weather may hinder you from seeing everything, traveling in Georgia by car is still a good choice. You just need to divide a big road trip into shorter drives.
March to May
Late spring is a wonderful time to visit Georgia country as the cold and snow retreats and gives way to kinder weather. Wildflowers appear, baby animals abound and life picks up a lively pace again.
But remember, some parts of the country are so lush because it rains frequently. Thus always be prepared for a downpour or a few drizzly days. Other parts of the country (like Upper Svaneti, Racha, and Kazbegi) are still snowy which means that off roads will be muddy.
March to May would be some of the best months to go on a road trip to Southern Kakheti famous for David Gareji Monastery and Vashlovani Nature Reserve. Also, it is a good time of the year to visit the Samtskhe-Javakheti region, home to Vardzia and Akhaltsikhe Castle. The city of Borjomi and mountainous resort-town Bakuriani are also gorgeous in winter.
May is an incredible month for visiting Kazbegi and Northern Kakheti. In Kazbegi, this is a good time to witness how the earth and wildlife are waking up to spring. In Kakheti, it is not too hot yet which makes it a perfect time for wine tasting and history tours.
June to August
Summer brings sunshine to all of Georgia, with the Caucasus Mountains and Black Sea coast getting the best of the season. This is the perfect time to visit for outdoor adventures such as hiking, caving, paragliding, hitting the beach, mushroom picking, and camping.
Visiting Alazani Valley in the Kakheti region can be too hot in July and August. But if your budget allows and you can afford to stay in a hotel with a pool like Lopota Lake Resort & Spa or Akhasheni Wine Resort & Spa, then it will be a much more pleasant experience.
Desert-like areas in the southeast of the country, as well as cities, get very hot in July and August. You may want to skip a trip to archaeological sites like Vardzia or Uplistikhe. Adjara region will be too hot as well. Due to very high temperatures, it will be challenging to be outdoors.
September to November
Autumn is a fantastic time to explore Georgia. The weather is warm, until mid-October the thermometer does not drop below + 20°C. The coast will be quieter but still warm and the glorious colors of autumn bring vibrancy to the countryside. The velvet season begins on the beaches in September being more favorable for sea holidays than the summer months.
Autumn is also the best time to go road tripping to Kakheti region. This season is perfect for seeing how wine is made, joining one of the excursions, and checking out cities. And then the mountains… The Caucasus Mountains range is one of the best places to visit in Europe for foliage. However, don't leave your trip until it's too late if you want to see the colors. From the end of October, it can start snowing.
September and October are two months when traveling anywhere in Georgia will be enjoyable and memorable.
To understand more about what to expect from September to November, see my guide to autumn travel in Georgia.
Where to Go on a Road Trip in Georgia?
To be honest, you can go almost in any direction in Georgia and you'll be able to find amazing nature, history, jaw-dropping views, delicious cuisine, and wine. But if you are not one of those adventure seekers who are ready to steer wherever their eyes look and prefer to plan your Georgia road trip stops carefully, then I offer you to follow these routes.
Mark and I have driven them all on our own (some of them we drove a few times) and we plan to revisit some of these places later this year. I believe they are wonderful scenic drives for anyone who is visiting the country as a tourist and looking to get the best of Georgia in one trip.
If you have been living in Georgia as an axpat or digital nomad and haven't seen much of the country yet, these road trips will also help you look at Georgia from a different angle.
For the best experience, I advise you to go on each road trip separately and devote at least a few days to it. But of course, people who don't have much time in the country may want to combine a few of these road trips in one. See whatever works better for you and enjoy the drive!
Tbilisi – Kakheti – Tbilisi Circular Route
Tbilisi – Gombori Pass – Alaverdi Monastery – Telavi – Tsinandali – Gremi Citadel – Nekresi – Kindzmarauli – Sighnagi – Tbilisi
If you are a fan of wine, ancient monasteries, nature, history, and architecture, this is the number one road trip you should go on in Georgia!
Kakheti is a wine-making region in the east of the country. There you'll see a beautiful Alazani Valley (the best area for growing grapes in Georgia) and dozens of wineries. The famous city of love Sighnaghi is also in Kakheti. But not only that.
Dozens of centuries-old monasteries, churches, family heritage house museums, historic estates, wine spas, top hotels, lakes, hiking trails, and of course stunning landscapes.
Among activities, you can go horse riding, take a helicopter tour, or even a hot air balloon ride. Did I miss anything? Possibly, because there is just so much to do in Kakheti that you may have a hard time deciding where to go and what to skip.
The drive, which goes in a loop, is around 300 km long (with a few side trips). Some people do it in one day but I'll tell you right away – this is not enough time. In 1 day you'll be able to see very few sights and go only to one wine factory or winery and get to Sighnagi in the evening.
With 2-3 days, you can see the main sights of Kakheti, visit a few wineries, explore Sighnagi and its famous Bodbe monastery and even go to David Gareji. This is why you have to plan at least one overnight stay in Kakheti.
Does my content help you plan your trip? If yes, I'll appreciate a cup of coffee from you, so I could produce more free guides and itineraries!
What to Know
Kakheti region offers ample accommodation options. Yet, when traveling in June and September, try to book with a bit of time in advance.
September is a month of a grape harvest festival 'Rtveli' which attracts a lot of people. And June (as well as summer in general) is just one of the best months to visit Kakheti weather-wise. So it can be also busy. July and August are the hottest months and it will be difficult to enjoy Kakheti to the fullest.
Where to stay
The main areas where to stay in Kakheti are Telavi, Tsinandali, Babaneuri, Kvareli, Mukuzani, and Sighnaghi. For the most authentic experience, look into a chateau or wine hotel. My top pick hotels are:
Vazisubani Estate – an elegant historic mansion in Vazisubani village on the main road between Telavi and Sighnaghi. It is an excellent choice for couples or those simply looking for a quaint and comfortable place to rest their heads. This estate has its own vineyards, wines, infinity pool, and view of Alazani valley and the Caucasus mountain range.
Hotel Chateau Mosmieri – a new exquisite hotel for a mid-range budget. This is a place for connoisseurs of wine who'd love to have a relaxing holiday with access to the pool. The chateau produces its own wines and offers wine tours and tastings.
Babaneuris Marani – a hotel for anyone who'd rather have more privacy or autonomy when visiting the Kakheti region. It is private family-owned B&B that has a winery and outdoor pool. Among all the places where we stayed in Kakheti, this one is among our favorite hotels. Check more photos and my review in a separate post that I dedicated to Babaneuris Marani hotel.
Highlights of Tbilisi to Kakheti Road Trip
ALAVERDI MONASTERY – the main monastery of the Kakheti region and the second highest monastery in Georgia. Noteworthy are the 15th-century wall frescoes, the size of the complex, and a very special atmosphere.
This is a functioning monastery with a strict dress code. Many Kakhetian kings are buried near the temple.
GREMI'S ARCHANGELS' COMPLEX – Gremi was built in the 16th century and at one time was the capital of the Kakhetian kingdom with the Silk Road passing through it. Nowadays on the territory there is a fortress, a temple, a museum, and a small Svan tower. And nice views of the Alazani Valley.
NEKRESI MONASTERY – a large, interesting complex located on a mountain above the Alazani Valley that consists of an active monastery of the 4th century. If you need to choose only one monastery in Kakheti, go to Nekresi with its mind-blowing views.
It is not allowed to drive up to the entrance by car. Leave it on the parking lot at the bottom of the hill and walk 1.5 km up the mountain (30-40 minutes one way). Or, if you don't feel like walking, take the monastery bus that leaves the parking lot every 30 minutes.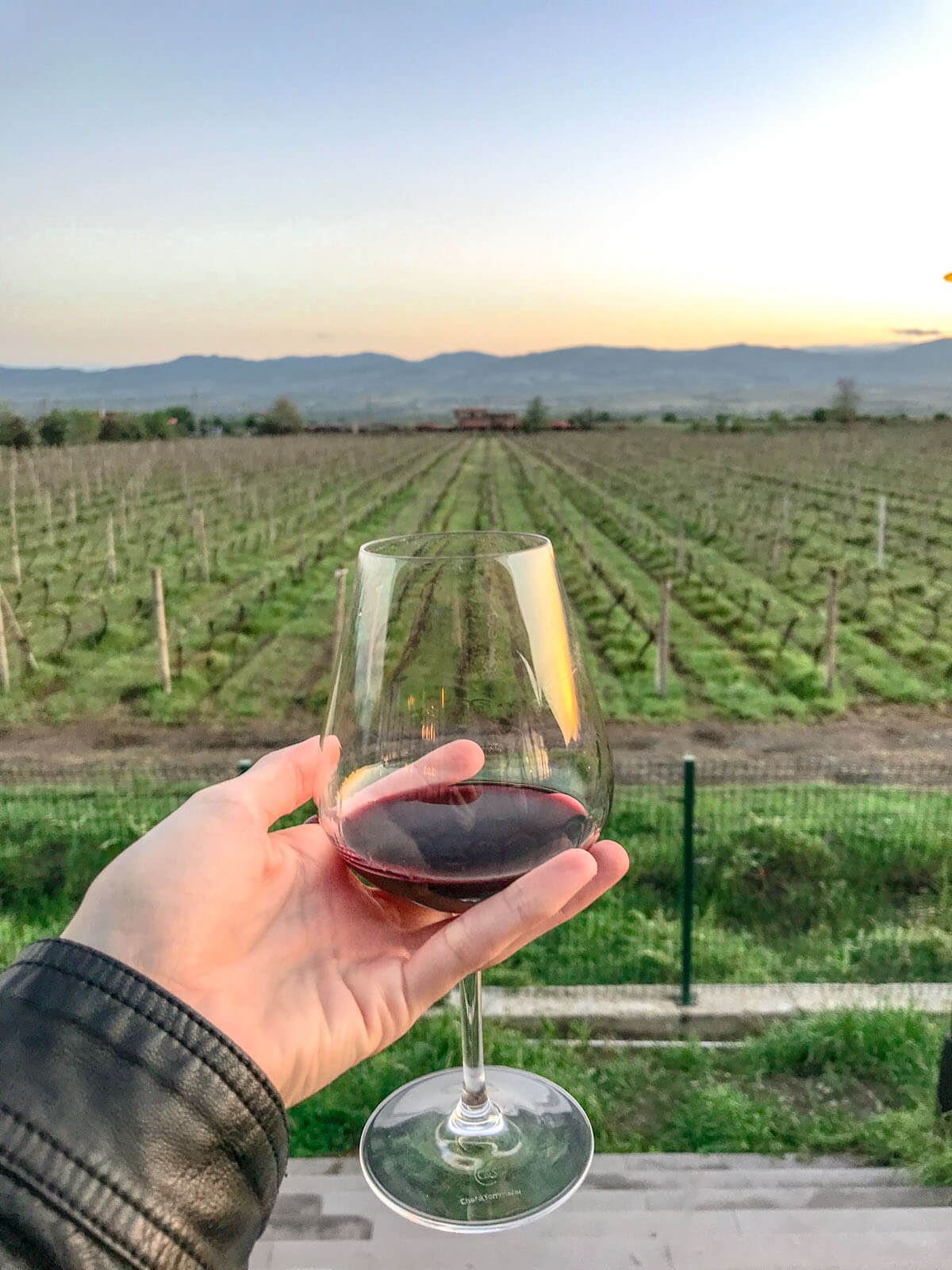 GRANELI WINERY – operating winery on the outskirts of Kvareli. A sightseeing tour of the production workshop is free but you need to pay for tasting which includes up to 12 varieties of wine.
There are also unique wines that guests can buy only on the territory of the Graneli plant.
SIGHNAGHI – is a city on a hill overlooking the Caucasus ridge. Sighnaghi is surrounded by a historic fortress wall and towers that you can climb for gorgeous views of the Alazani Valley. The city has been restored to reproduce the European feel, so you'll find there a labyrinth of narrow cobblestoned streets with quaint balconies.
Tbilisi to Kazbegi Road Trip
Tbilisi – Jinvali Reservoir – Ananuri – Gudauri – Stepantsmida
This stunning road trip to Georgia's mountains tackles one of the highest mountain passes and is one of the most beautiful road trips in the world. Tbilisi to Kazbegi scenic journey is a great way to see the majestic Caucasus mountains. Particularly if you don't have much time in the country to travel to more distant regions like Svaneti, Racha, Khevsureti or Tusheti for example.
The road between Tbilisi and Stepantsminda goes through the ancient city of Mtskheta (the former capital of Georgia) and boasts a UNESCO world heritage site Jvari monastery, traditional villages, alpine valleys, and some great bucket list hiking trails.
Almost along its entire length, the Georgian Military Road is an endless series of stunning mountain landscapes. It becomes particularly impressive in the Darial and Gudauri gorges, in the area of the Zhinvali reservoir and on the Jvari Pass (known also as a Cross Pass).
What to Know
As with Kakheti, driving to Kazbegi for only 1 day is not enough. Even if you don't plan to hike, you'd still want to spend at least one night in Stepantsminda or in one of the nearby villages.
In early spring and late autumn, it takes longer to reach Kazbegi. Simply because some sections of the Georgian Military Highway are covered with snow and you can only drive through narrow tunnels. In winter, the road can be closed altogether due to an avalanche.
Where to Stay
The most popular village where to stay in Kazbegi is Stepantsminda. But the entire region is developing and more hotels and guesthouses are popping up in other villages too. A Sno village is the second popular location after Stepantsminda where to stay overnight. For the best experience, book accommodation with a view of the mountains.
My top pick accommodation options in Kazbegi are:
MARIAMI – if you enjoy staying in wooden houses, this home is the best pick. It is a great budget option closest to Gergeti Trinity Church on a quiet street. They have clean private rooms with their own bathrooms that come with high ratings. Some rooms (on the second floor) open onto a spacious veranda overlooking Kazbek mountain.
NIKOLO Inn – a new guesthouse for mid-range budget travelers. It offers incredible mountain & garden views, clean cozy rooms, and common kitchen with all the necessary utensils and appliances. The location is great away from the road and busy area which makes it a very quiet spot.
Hilltop Kazbegi – a lovely B&B if you are looking for a bit more comfort during your stay in Kazbegi. The location is also very central not far from the main street in Stepantsminda. The hotel has 9 rooms with views of the mountains and excellent reviews. There is an inner courtyard with a garden and you can order a huge breakfast for extra pay.
Highlights of Tbilisi to Kazbegi Scenic Drive
ANANURI FORTRESS – fortress of the 16th century on the banks of the Zhinvali reservoir with frescoes inside that survived until our days. On a day when it is too hot, after visiting the fortress, you can go down to the reservoir and swim. There is a market nearby where to buy souvenirs and take photos in highlander's costumes.
ARCH OF FRIENDSHIP – a big arch at an altitude of 2385 m, built in 1983 in honor of the friendship between the Russian and Georgian people. From this arch, you get a view of the gorge, mountains and artificial lake. And as anywhere else near the touristy site, there is a market selling socks, honey, churchkhela, and berries. Prices are much cheaper than in Tbilisi. You can also rent a horse, ATV, or go paragliding.
KOBI CABLE CAR – a new longest cable car in Georgia that connects the village of Kobi in Truso Gorge and Gudauri. It offers an ascent from an altitude of 2701 m to the highest point of 2946 m. You can choose one of two routes (long or short) and go on a ride to admire the Caucasus mountains from above.
GERGETY TRINITY CHURCH – is an ancient building that dates back to the XIV century. It's also known as the Temple of the Holy Trinity and the only cross-domed church in the Kazbegi region. To reach it you can drive on a winding asphalt road by any car from spring to fall. In winter, part of the road is blocked with snow, so you need to park a vehicle halfway and go on foot.
For more highlights of the Tbilisi to Kazbegi road trip, read my guide to the Georgian Military Highway road trip.
Tbilisi to Vardzia Drive
Tbilisi – Mtskheta – Uplistsikhe – Gori – Borjomi – Akhaltsikhe Fortress – Vardzia Cavetown
This 270 km scenic drive route from Tbilisi to Vardzia has a cave town uniqueness that makes you step back in time. Almost every sight you visit on this road trip tells a story and lets you discover life in Georgia during different periods of time.
You'll get to see major cave cities and a medieval fortress from the 9th century, spend time in the home city of Stalin, try mineral water of volcanic origin from original source, and witness some stunning landscapes on the way.
Tbilisi to Vardzia road trip is also a fantastic road trip to take if you want to spend some time in Borjomi and do a side trip to Bakuriani. In fact, you can pause in Bakuriani for a day or two for hikes and lower temperatures.
The drive down to Vardzia can be long and slow although the distance is rather short. The reason for that is the member of activities each destination on this list provides.
If you rent an SUV car, it is easy to turn this road trip in a circular route and return to Tbilisi through Ninotsminda, Paravani Lake, and Dashbashi Canyon. In that case, you'll get to drive through untouched wilderness and geological marvels.
What to Know
Almost the entire route gets very hot from the end of June to the first part of September. If you still want to do it, you may need to plan it in that way when you visit cave cities early in the morning and Rabat (Akhaltsikhe) Fortress late at night. It is particularly beautiful at night since with all the illumination it looks like the fortress is floating in the air.
Where to stay
You won't be pressed to find a fabulous place to stay along this route. Mtskheta, Uplistikhe, Borjomi and Vardzia are full of options. Between them, there is Khashuri village popular because of the climate, healing mineral waters, and beautiful nature. Though my picks are:
Guesthouse Mtskheta-Kapanadze – a lovely guesthouse with a good price-quality ratio for stays in Mtskheta. If you end up spending the entire day in or around Mtskheta, why not stay overnight to experience local traditions and culture. This particular home offers outstanding hospitality, clean rooms, and beautiful views of the mountains. From some rooms, you can see Jvari church and Svetitskhoveli cathedral.
Hotel Borjomi Likani Health & Spa Center – one of the most sophisticated hotels in Borjomi. It is not just a hotel but a full-service resort. You'll find there impeccable service, beautiful rooms, and everything you need for a perfect stay. They have a spa center, pool, big territory with its own park, and a few restaurants. This is a hotel to relax at and disconnect from the busy world.
Vardzia Resort – another fantastic accommodation if you'd better stay closer to Vardzia. It offers luxurious rooms and cottages, great food at the restaurant, and an outdoor pool overlooking mountains and cave town. A range of comfortable and clean rooms includes breakfast in the nightly rate.
Highlights of Tbilisi to Vardzia Road Trip
MTSKHETA & JVARI – the ancient capital of Georgia, which is on the UNESCO list, beckons with its charm and coziness. It is mainly famous for the Jvari monastery on the opposite bank and the confluence of two rivers. However, besides Jvari, it is worth spending a few hours in Mtskheta too. Walk the main street, visit two large cathedrals, and stop for coffee or traditional Georgian food in one of the lovely cafes.
For cafes, by the way, my favorites are Ada Cafe, Creperie De Flore, and Ornament Express. In the last one, you get an astonishing view of Svetitskhoveli Cathedral.
UPLISTSIKHE CAVE TOWN – one of three cave cities of great importance in Georgia along with David Gareji and Vardzia. It consists of more than 700 caves carved into the rock and multiple tunnels. If you have been to other cave cities, like for example Demre or Cappadocia in Turkey and cave cities in Georgia, visiting Uplistsikhe may not be of big interest.
Otherwise, if this is your first trip to Georgia and you have more time in the country, it is definitely worth a visit. Especially if the weather is good. Although it will be more interesting to check this area with a guide to find out all the details of its ancient history.
SAMTSEVRISI CASTLE – is an important historical landmark of Georgia and one of a few preserved castles throughout the country. Today, there is a nunnery on the territory of the fortress, so visitors have access only to the non-residential part and church with frescoes. From the top of the hill, on a bright sunny day with good clearance, a panoramic view opens up all the way to the town of Gori.
BORJOMI – a city famous for its mineral water and Borjomi-Kharagauli National Park. When you get there, spend a day walking to Central Park with outdoor sulfur pools and mineral water right from the spring. Then go on a cable car ride to look at the city from above and walk around Borjomi on a self-guided tour to photograph unusual architecture.
AKHALTSIKHE CASTLE – one of the brightest and most interesting architectural masterpieces in Georgia where you can get acquainted with the rich heritage of Georgian and Turkish culture. The territory of the fortification is a kind of excursion into different eras.
It shows visitors an Orthodox church, the oldest mosque, amazing defensive structures and a museum of the Samtskhe-Javakheti region. Magnificent fountains, observation towers with unique panoramas, an exquisite scent of lavender, and a lot of greenery – you can wander here for hours.
VARDZIA – a huge monastery complex with cave monastic cells. It is very different from Uplistikhe town that you can also visit on this road trip. The caves consist of numerous winding corridors, dungeons with an incredible system of passages, and a unique collection of wall paintings. And additionally to numerous frescoes, a lifetime portrait of the legendary Queen Tamara has been perfectly preserved to this day.
Tbilisi – Racha – Lechkhumi – Kutaisi Mega Road Trip
Tbilisi – Gori – Tkibuli – Nikortsminda – Ambrolauri – Khvanchkara – Lailashi – Okatse Canyon – Kutaisi
This long but straightforward route is less-known among all scenic drives in Georgia. So it makes a perfectly laid-back ride for passengers who are not fans of too touristy places.
As you depart Tbilisi towards Kutaisi (and don't plan to stop in Gori or Mtskheta), expect to start seeing some scenery after you turn from E60 in the direction to Tkibuli. Before the tun, if you are hungry, stop at Oda or Antre Batono for a traditional Georgian meal.
The region of Racha is recognized as an alpine region in Georgia famous for its unique wine route and outstanding natural beauty. It offers the cleanest mountain air, waterfalls and turbulent streams. There are also hot springs for swimming, drinking mineral water, and alpine meadows.
Once in Racha, there is so much to do. Visiting vineyards, going to hike, cycle, or birdwatching are just some activities among all. You could easily spend a week in that region alone. When we went there for the first time, we planned a trip for 2 days. But then extended for 3 more days not covering even half of everything we wanted.
Besides Racha, you'll also get to drive through another winemaking region Lechkhumi and Imereti. Lechkhumi is known for canyons and soft gentle mountains and Imereti for gastronomy, ancient culture, and diverse nature.
Thus, if you're looking for a gentle escape and a slow pace, this can be a perfect 1-week road trip in Georgia.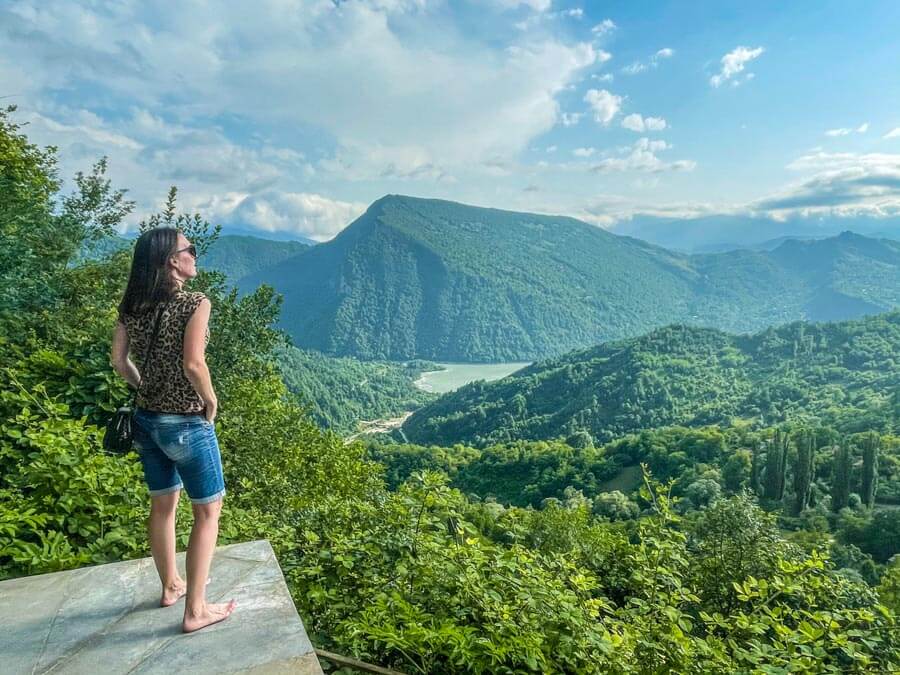 What to Know
You can tackle the route in both directions, either from East to West or from West to East. If you are flying to Kutaisi, you can rent a car there and drive to Racha before heading to Tbilisi. And then in Tbilisi, drop off a car or go on another road trip.
Outside of summer, you'll have the route mostly to yourself.
Where to stay
On this Georgian road trip, I would highly recommend making a base in the heart of the Racha region. Either in Ambrolauri or Khvanchkara. In this way, you will be able to do a winery crawl and conveniently go on a few side trips.
Sadmeli Winery – a unique guesthouse-winery with good food and a terrace with gorgeous views. It is an excellent choice for couples or those looking for a quaint and comfortable place to rest their heads. They have a range of plush and comfortable rooms to choose from and breakfast is included each morning.
Villa PorTina – if the town of Amrolauri seems more to your speed, then consider staying in this comfortable villa. There you'll find clean and comfortable rooms, a convenient location, and a very good breakfast.
Glamping Krikhi – this totally quirky accommodation is an excellent option for those whose budget is a bit higher. In this glamping tent, you can completely immerse yourself in nature, unplug and authentically experience the most awe-inspiring locale.
Highlights of Tbilisi – Racha – Kutaisi Road Trip
STALIN MUSEUM – a historic museum in a huge Soviet-style building dedicated to the "Father of All Nations". The halls display about 60 thousand exhibits directly or indirectly related to Stalin – photographs, documents, weapons, personal belongings, etc.
TSKHRAJVARI MOUNTAIN – a viewpoint on one of the mountains of the Racha ridge at an altitude of 1569m. The mountain is covered with coniferous and deciduous forests but its top is a rock – an excellent observation platform.
You can reach this viewing platform by a dirt road that branches off the Nakerala Pass. Another option is to go on a hike to enjoy the beautiful views. The distance is short, only 3 km, so you can stretch your legs after a long drive. Going by a sedan car is also possible but if this car has high clearance. In clear weather, a wide panorama of Soviet mining town Tkibuli, the surrounding forests, and mountains opens from this place.
ROYAL KHVANCHKARA WINERY – one of the leading producers of elite wines in Georgia. This winery is part of a factory which has been producing wines since 2001 and importing them all over the world. On the grounds of the factory, there is a little shop-museum where visitors are offered tours and wine tastings.
SHOVI (as a side trip) – quite an old balneological resort that stands on a plain surrounded by amazing coniferous forests, picturesque alpine meadows, and high mountains with peaks covered with glaciers. While I don't think Shovi deserves a separate trip (it's partially abandoned, incredibly old village), it is still an interesting place to visit if you are in the area. Shovi is one of those places in Georgia which has some of the cleanest air and beneficial mineral water.
Also, it is a perfect village from where to start some of the most beautiful hikes. If you look to pause in Racha for a few days, then don't miss a drive between Ambrolauri and Shovi. The route is very picturesque and hides some interesting sights.
SAIRME PILLARS – is a natural landmark of Georgia in the Lechkhumi region that appeared as a result of tectonic processes occurring in that area. To be able to see it you'd need to walk a trail which is around 3 km long. But the beauty lies not only in the pillars. From the top, you get an incredible view. The trail that leads to the monument is fascinating on its own. It snakes along the slopes of the mountains overgrown with a wild forest and ends by the pillars.
LAILASHI VILLAGE – a new Instagram spot in the middle between the regions of Racha and Lower Svaneti. Lailashi is famous for its mountainous landscapes, clean mountain air, and a pool with mineral water on a steep cliff. You can easily reach it by gravel road (in a good condition) even by a small car.
OKATSE CANYON – is the most picturesque canyon in Georgia. If you don't have much time to visit all places on this road trip, at least do not skip Okatse. Yes, it is too popular but for a reason. A 780-meter bridge that runs along one of the walls at an altitude of 140 meters opens up just fantastic views. So impressive!
Batumi to Svaneti Drive
Batumi – Kobuleti – Shekvetili – Ureki – Lanchkhuti – Kutaisi – Tskaltubo – Martvili – Mestia
This Georgia road trip is long but by no means boring! The route combines picturesque seaside villages, unique parks, viewing platforms, one of the deepest canyons, and a thrilling mountain pass. It's simply perfect for a quick leg stretch and change of scenery!
Batumi to Mestia drive is actually a great opportunity to see three different regions and explore the more remote parts at your own pace. Starting in Batumi you'll make your way through the coastal villages of Shekvetili and Ureki and then move on to ancient city Kutaisi. (But on the way make a stop at the "Georgian Flavor Tea" store in Lanchkhuti village to taste/buy some of the finest Georgian tea).
From Kutaisi continue your drive to a deep limestone Martvili canyon before hitting the ear-popping altitudes of Utviri and Chizhdi passes in Svaneti. When reaching Mestia, plan to spend at least a couple of nights to be able to enjoy superb scenery and excellent attractions.
Mestia, a final destination on this trip (final if you go by a small sedan car), provides so much. Incredible forests and rivers, multiple hiking trails to glaciers, mountains peaks, and glacial lakes are just in the vicinity. And since this village has excellent infrastructure, it is easy to spend there the rest of your trip.
What to Know
The stretch of the road between Batumi-Martvili-Mestia is an asphalt road in excellent condition. That part between Martvili and Jvari is a bit hilly since it goes through villages built at the foot of the lower Svaneti mountains. If you wish to visit all the places on this route, leave Batumi early to reach Svaneti before the sunset.
If visiting Georgia in winter, remember that days are short and you'll need more time to drive through the mountains due to snowfall. Thus you may want to plan a 1-night stopover in Martvili or even combine it with a visit to Kutaisi or Zugdidi.
NOTE: There is no need to rent an SUV unless you want to visit Ushguli.
Where to stay
Prefer to turn this road trip into a few days long holiday? Then make a stop for a night next to the magnetic beach or in a traditional guesthouse in Zugdidi.
Magnika Resort – one of the nicest hotels with a fancy swimming pool on a magnetic beach in Shekvetili. Pausing there for a night means you have the opportunity to spend time by the pine forest breathing the healing air and lay down on the sand with medicinal properties. This hotel combines the best of price and quality.
Casa de Khasia – although a bit out of the way this hotel is worth detouring from the main road. Located in Zugdidi's city center, it is within easy walking distance of all top attractions. And most importantly, it offers an authentic stay in clean modern rooms with great design and ethnic touches. A huge breakfast is included in the rate and hosts offer traditional experiences for an extra price.
Sunset Terrace Mestia – one of the best hotels in Mestia offering a bit of luxury and home feel at the same time. They are outside the city center but in a perfect location for those who have a car. The hotel has a range of rooms available to suit all of your needs and offers fantastic views at any time during the day.
Highlights of Batumi to Mestia Drive
MTSVANE-KONTSKHI – one of the most beautiful seaside areas in Georgia famous for Botanical Garden. Oh, and it's also famous for a coastal strip which is perfect for diving. So if you are a diver who is visiting Batumi, keep this place in mind. You can return on a diving tour from Batumi on any other day outside this road trip.
Botanical garden has some of the cleanest air in the Batumi area, a few observation decks, outlandish trees, and flowers. Usually, tourists visit it on a day trip from Batumi, but you can make it as part of a drive.
In fact, there are 21 sectors with plants from different regions of the planet. You can walk into the Mexican sector, North American, Australian, Asian, Japanese, and see plants common to those countries. It's definitely a very unique place to visit near Batumi!
MUSICIANS PARK – what an interesting park in Shekvetili! It's basically a territory with 37 sculptures of famous musicians and their melodies playing from the speakers next to them. At the entrance, there are fountains, paths through the eucalyptus grove, and carved wooden benches. Such a wonderful and unique park not to miss!
See coordinates here. Sheketili Dendrological Park with pink flamingos is very close, admission is also free. Here are a couple of photos from Musicians park:
MINIATURE PARK – a park "Georgia in Miniature" in the resort town of Shekvetili is a must-see for everyone. Here you'll see small copies of sights and historical monuments from all over the country. The miniatures are exact reduced copies with many details and all elements of buildings of the Georgian architectural heritage.
TSKALTUBO – this town resort is famous for its unique radon and sodium-magnesium-calcium waters that have a healing effect. Their medicinal properties are the main "bait" for those wishing to visit it for the purpose of recovery. However, besides waters, there are also karst caves with air enriched with mineral salts and healing microelements.
MARTVILI CANYON – another remarkable place to visit not far from Kutaisi on a road trip to Mestia. I would include this canyon on any road trip. Not just this one but also the one from Tbilisi to Batumi or from Kutaisi to Svaneti.
A 1.4 km-long canyon with waterfalls offers beautiful views, emerald water, boating, and a lovely walk. Even on the hottest day, it is fresher in Martvili Canyon than in Kutaisi.
ENGURI DAM & RIVER – a second tallest arch dam in the world. Near the dam, besides looking at it from above, there is nothing else to do. Excursions are not available and getting closer to the dam is not possible.
However, there is one interesting attraction. There is an opportunity to take a boat tour and sail 12 km on the river towards the canyon. Boats depart near the dam and you can arrange a tour already on the spot near the viewing platform. Those who are offering tours are usually walking there looking for tourists.
---
So this is my list of road trips in Georgia country. Have you explored Georgia by car yet? Would you add any other road trips of your own? Share with me in the comments, I'd love to know!
More Scenic Drives & Road Trips in Europe