3 Days in Switzerland – 8 Sample Itineraries for Any Taste & Time of the Year
Last updated on September 17th, 2023
Deciding on how to build 3 days in Switzerland itinerary can be challenging because this country offers an abundance of diverse landscapes and once-in-a-lifetime experiences.
I remember when we entered Switzerland on a road trip from Liechtenstein to Geneva and then through the south to Lugano Lake, I was somewhat lost and didn't know where to go first. And while we had more than 3 days in Switzerland, it was still challenging to plan our route without wanting to fit in as much as possible.
So I know what type of task it can be. This is why I wanted to prepare the best itinerary for Switzerland for those who have 3 days in the country. But since it is merely impossible to see everything in just 3 days, I decided to offer a few different routes for different parts of the country.
And thanks to my fellow travel bloggers, who did a great job suggesting their own travel agendas, you now have a chance to see the best of Switzerland by the region, depending on the city or town where you arrive without spending too much time on reaching places. Although to be honest, traveling around Switzerland is a pleasure in itself since you can see so much through the train or bus window and of course from a car.
So let's dive into these 3 days in Switzerland itinerary routes and explore many opportunities for Swiss travel. And the best part – you can combine them all in one big Switzerland itinerary if there is more time in the country and you have 5, 7, or 10 days for travel!
How to Travel 3 Days in Switzerland With Ease
Planning to visit Switzerland soon? Check these helpful resources to make travel easier:
---
Please note: This post contains affiliate links. I may earn a commission if you make a purchase by clicking a link (at no extra cost to you).
---
Switzerland Itinerary for 3 Day – Sample Routes
3 Days Switzerland Itinerary From Geneva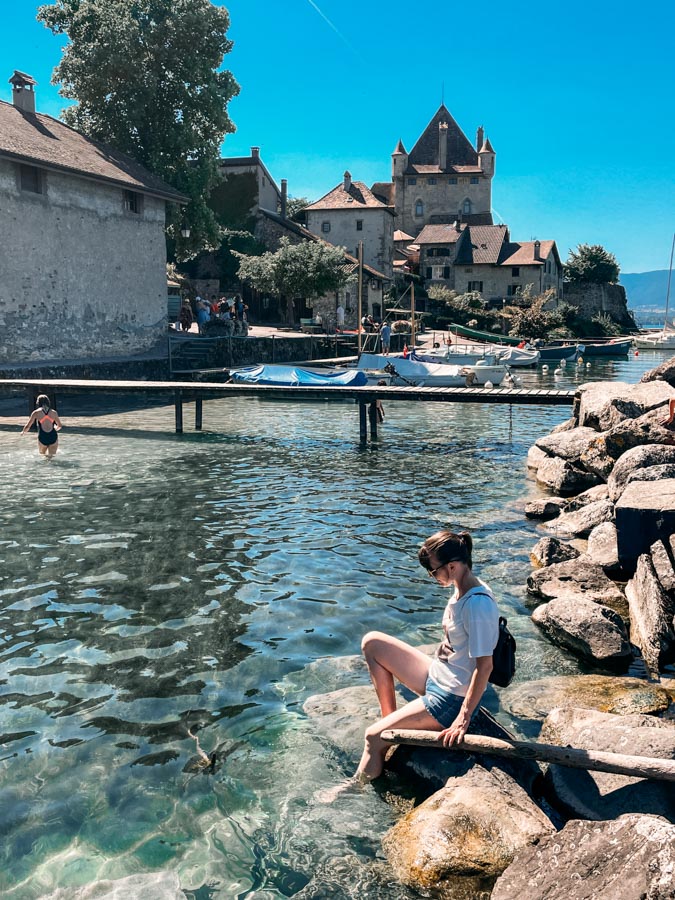 Contributed by: Sonia & Wojtek from www.happylittletraveler.com
Starting point: Geneva
Route: Geneva-Lausanne-Vevey-Montreux-Chillon Castle
Mode of travel: Car
Countless breathtaking views over the Alps, charming small towns, vivid big cities, and many water sports opportunities… Lake Geneva's surroundings are full of amazing places, and driving along its Switzerland part is a pure pleasure. It's definitely one of the best options for spending three days in Switzerland if you happen to be in Geneva and want to see more than just a city.
You can drive the following route at any time of the year, depending on your weather, temperature, and seasonal views preferences.
On the first day start early with Geneva City sightseeing – you'll have plenty of time to see the most important city landmarks, admire the views, and spend some money in luxury shops. Do not miss a walk around Geneva chocolaterias where you can taste delicious Swiss chocolate and maybe even go on a cruise on one of the famous steamboats. Stay in the city for a night, and leave for Lausanne the next day.
Spend the second day exploring Lausanne. Lausanne is a truly stunning city on Lake Geneva's shores. Take a stroll in its old town which is full of charming streets, visit the Olympic Museum, and let yourself be surprised by one of the most stunning views over the Alps.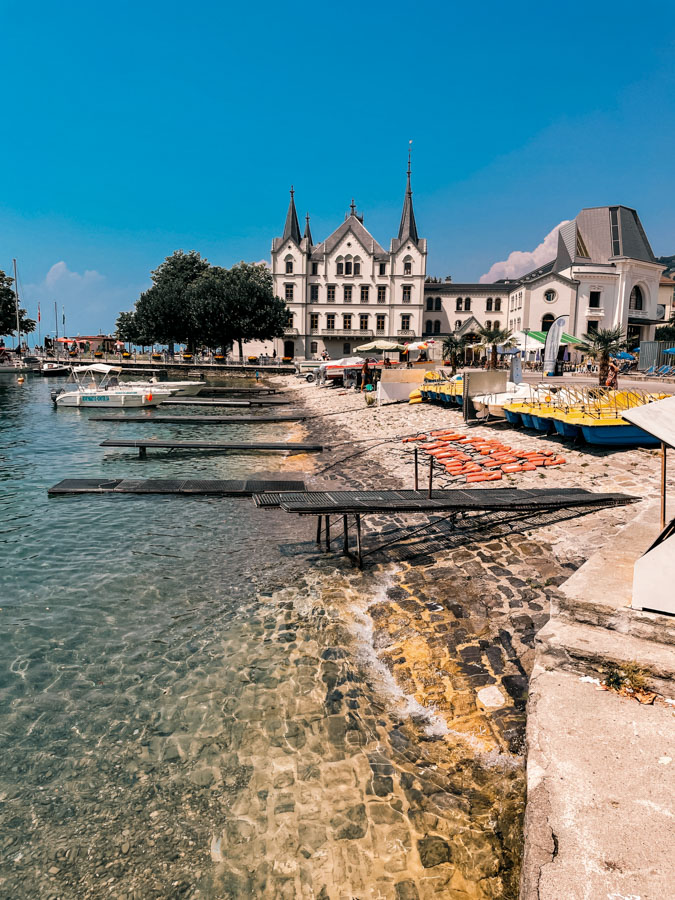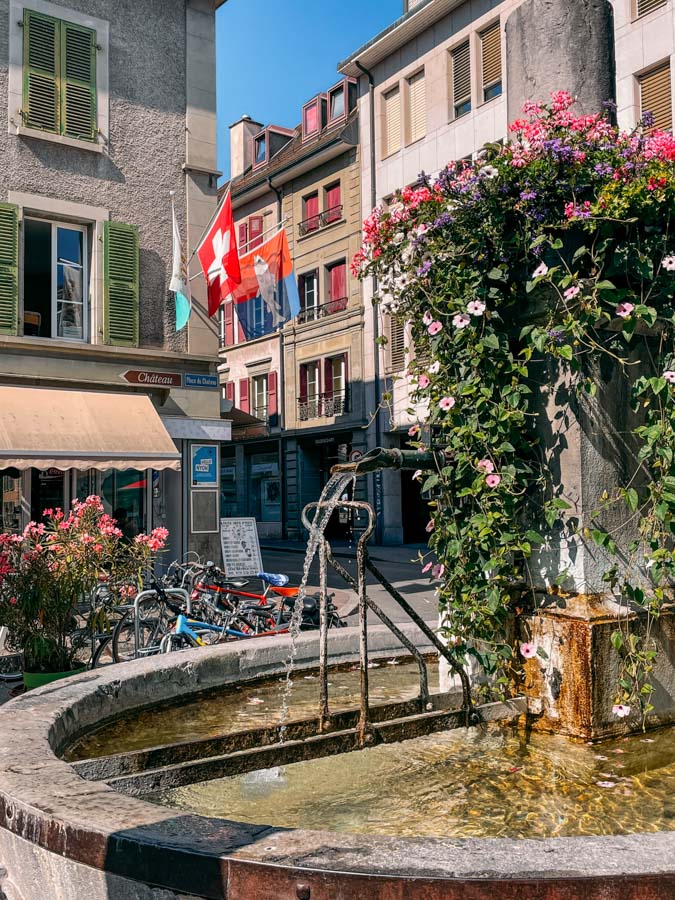 When you'll be ready head to Vevey on the same day. There take a nice relaxing walk along a promenade and enjoy more magnificent views. Stay for a night in one of the hotels in its charming old town.
The first half of your last day in Switzerland spend exploring Montreux, a charming small resort town that was once Freddie Mercury's home. For a grand finale of your trip head to Chillon Castle, a well-preserved medieval castle built entirely on an island.
On the way back to Geneva, if time allows or if you feel like extending the trip, make a stop in the lovely town of Nyon, a true gem on the lake.
Congrats, now you can brag that you saw the whole Swiss part of Lake Geneva!
3-Day Switzerland Itinerary From Zurich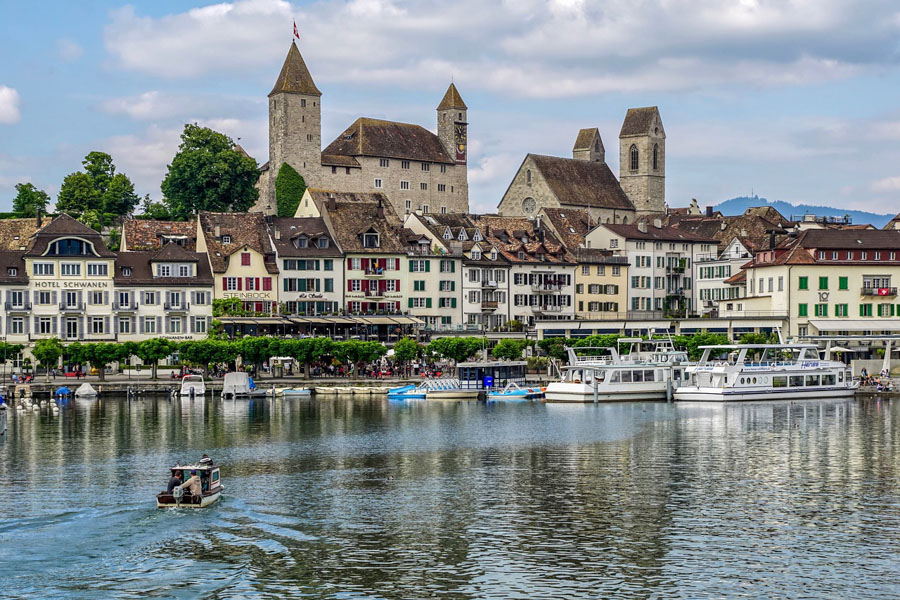 Contributed by: Angie Kunze from www.werenotinkansasanymore.com
Starting point: Zurich, Liechtenstein, or the southeast shore of Lake Constance
Route: Zurich-Aescher-Wasserauen-Seealpsee-Walensee Lake
Mode of travel: Car but it is possible with a combination of Train/Bus/Ferry & Walking
This three days in Switzerland itinerary will work best for those who have 3 days in Zurich and look to spend them outside the city. Also, it is a great route for those who have 3 day trip to Switzerland from Liechtenstein or let's say from around Lake Constance, especially from Bregenz and Lindau.
And get ready, this itinerary includes panoramic mountain vistas, picturesque alpine lakes, some incredibly scenic nature spots, and much more!
On day 1 we start at Berggasthaus Aescher, a hotel built into the rock face of a mountain in the Swiss Alps. Make your way to the cable car station in Wasserauen, and then up to the top where you'll find stunning views and the bucket list worthy Aescher hotel. Spend the day exploring the hiking trails. Aescher accepts overnight guests, so consider overnighting on the mountain in this unique hotel.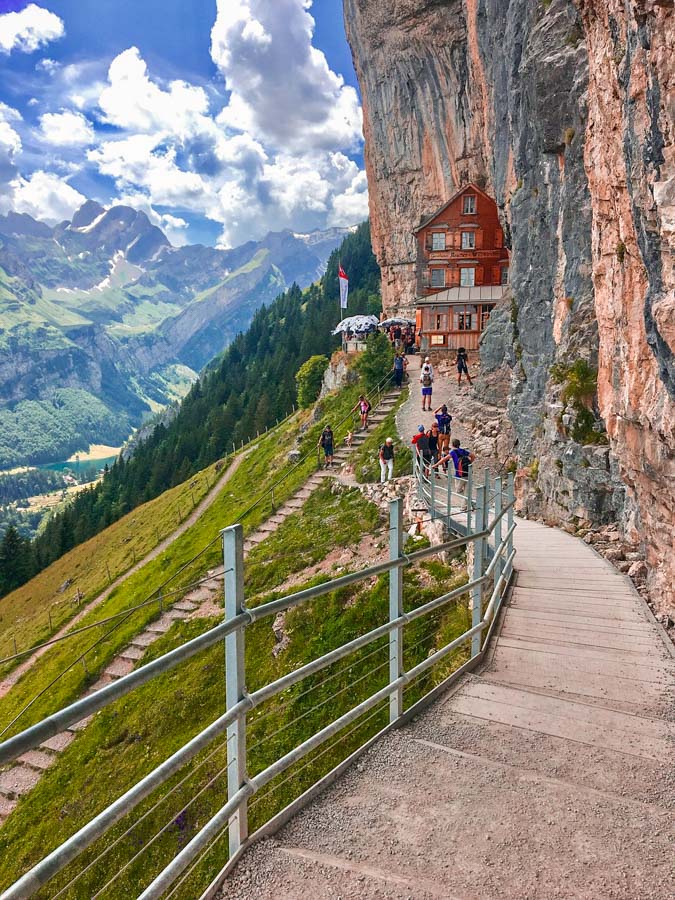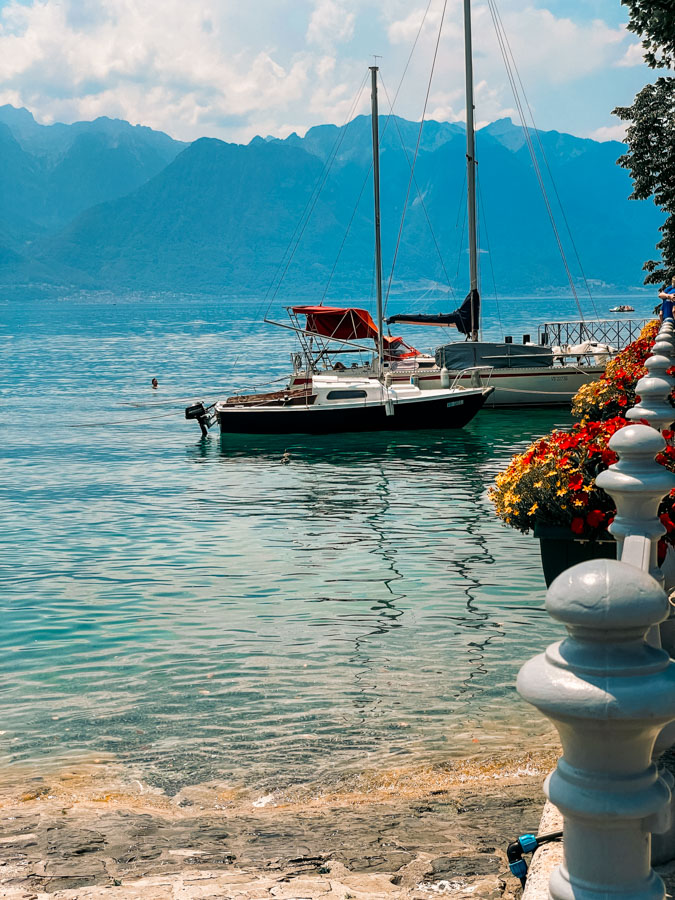 On day 2 walk to Seealpsee, a breathtaking emerald-green alpine lake, with an idyllic walking trail that circles the lake. Spend a dreamy night in one of the two hotels on the shores of beautiful Seealpsee Lake.
If you prefer not to stay on the mountain or at the lake, there is an adorable Swiss hotel, Hotel Alpenrose, near the cable car station in Wasserauen that makes a great base for exploring this area.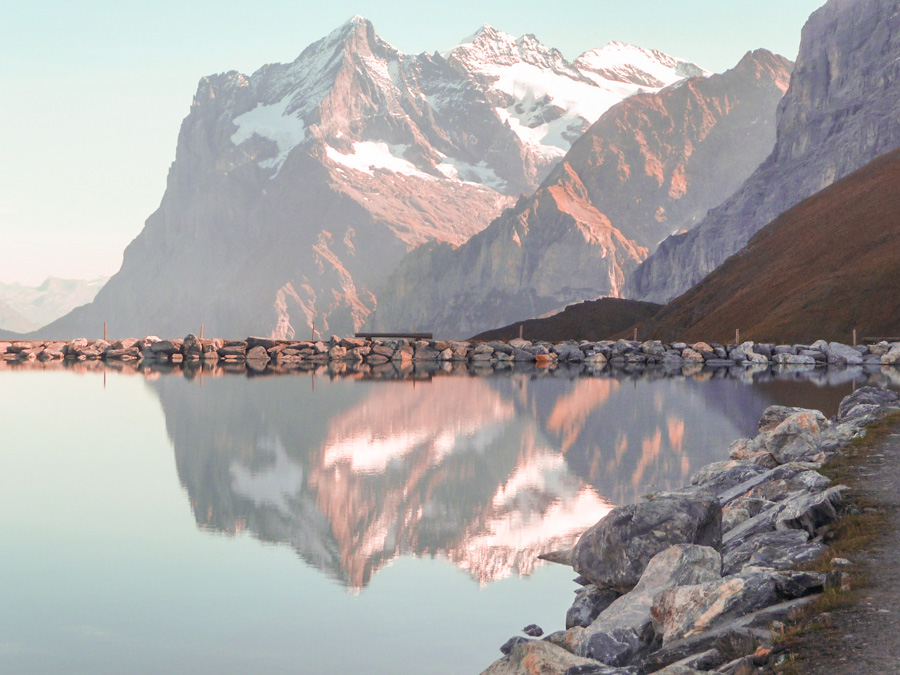 On day 3, drive one hour from Wasserauen to Walensee Lake, and make your way to Paxmal, a columned monument that looks like a Roman temple. The monument has a Roman-style bath in the foreground and sits in front of a mountain backdrop, simply stunning!
Another worthwhile stop in the area is Seerenbach Waterfall, a 3-tiered waterfall with a dramatic 600-meter drop!
Spend the evening catching a performance at Walensee-Bühne, a unique outdoor performing arts theater, with a lake backdrop. You can either spend your last night here on the lake or head back to Wasserauen if you chose to home base there.
Switzerland in 3 Days Around the Bernese Oberland Region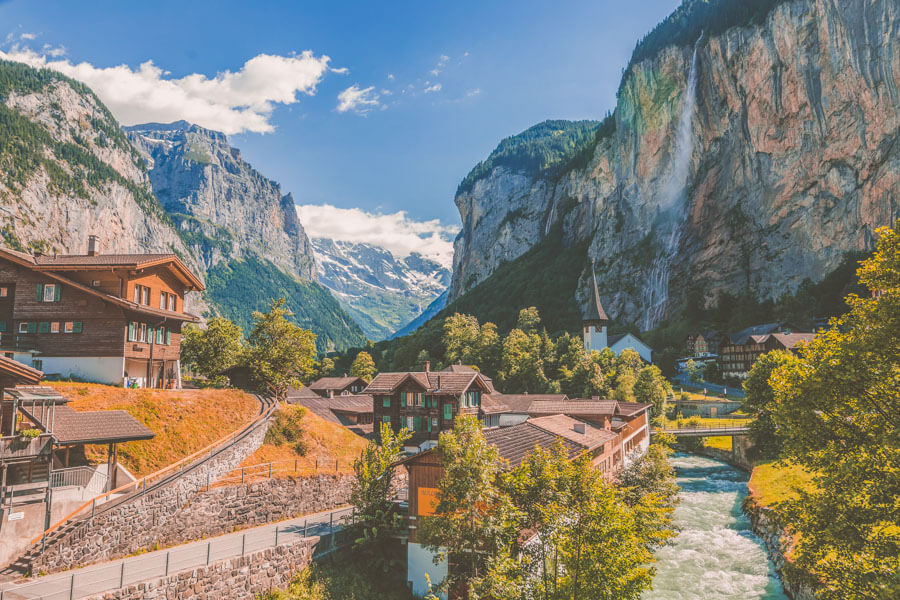 Contributed by: Marina from www.paulmarina.com
Starting point: Grindelwald
Route: Grindelwald – Wengen – Lauterbrunnen – Mürren
Mode of travel: Cogwheel Train, Cable Car, and Mountain Train
One of the most beautiful villages to visit in the Bernese Oberland region are Grindelwald, Wengen, Lauterbrunnen, and Mürren. Fortunately, these little Swiss hamlets are connected via a high alpine train network, making this an adventurous journey of a different kind.
I suggest you start out in Grindelwald, a ski resort town which is also known as a hikers' paradise. A visit up to the First Cliff Walk will give you the most stereotypical Swiss views, with the Eiger towering over the village.
On day two, take the iconic cogwheel train to Wengen, the Wengeneralpbahn. This train crosses the scenic Kleine Scheidegg and stops at Wengen, a ski resort town worth exploring. Later in the day, take the train downwards to Lauterbrunnen where you will spend the night.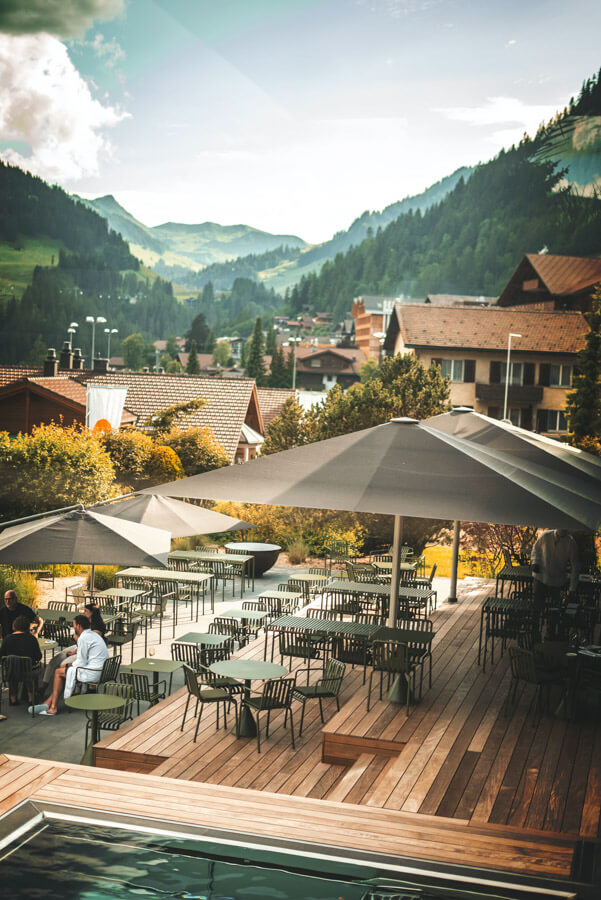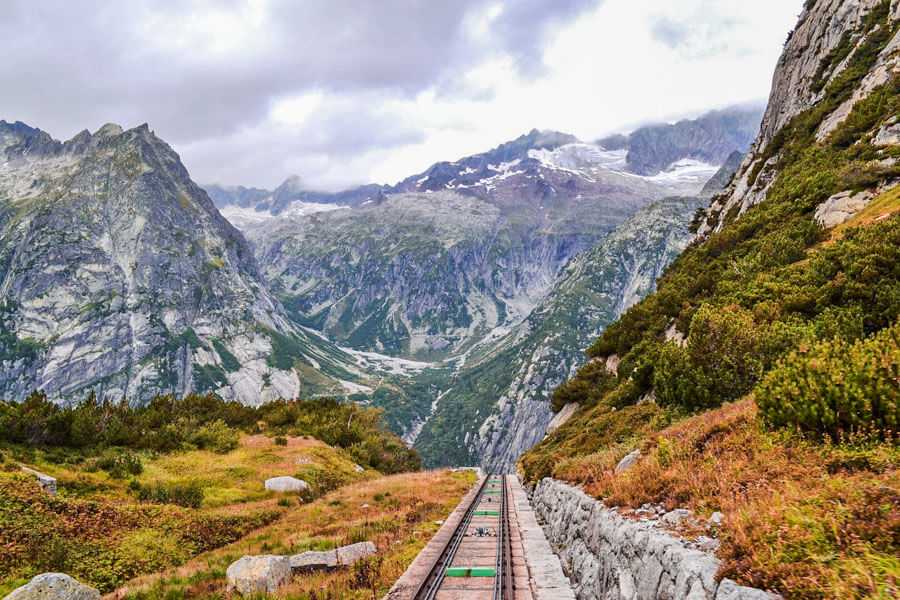 On the third day of this Swiss itinerary, take the cable car and mountain train to Mürren, a village located on the mountain plateau above Lauterbrunnen.
Mürren is a car-free village and from there you will get the most stunning views of the three summits – the Eiger, the Mönch, and the Jungfrau mountain peaks. You can spend a relaxing day hiking the area around Mürren, go all crazy on the via ferrata, or travel further up to the Schilthorn summit, the choice is yours.
And for the place to spend a night, I recommend either staying over in Mürren (like Hotel Edelweiss right in front of the mountain) or going back down to Lauterbrunnen.
I particularly love this Switzerland itinerary as it brings you to the Bernese Alps which are stunning all year round. Winter sports lovers will appreciate the area in the colder months and hikers will prefer to visit in the warmer months of the year.
Alternative 3 Days in Switzerland Itinerary From Geneva
Contributed by: Iris from www.mindofahitchhiker.com
Starting point: Geneva
Route: Geneva – Sion & surroundings – back to Geneva
Mode of travel: Train, Bus & On Foot
Here is another idea for how to spend 3 days in Switzerland if you are visiting Geneva on a quick trip and want to see a country's whole spectrum in a short time but do not feel like staying on the lake.
Geneva is well-connected internationally and of world fame, but sunny Sion in Valais canton has a very different vibe and is less than two hours away.
With this itinerary, when you have one day in Geneva, I suggest you spend your first day enjoying the highlights of Geneva. Of course, visit the Lake Geneva waterfront with its fountain, the United Nations office, the conservatory and botanical garden, Parc des Bastions, and the confluence of the Rhône and Arve rivers. If time allows, go to the CERN particle accelerator exhibition which is a little out of town.
After one night, take the train to Sion from Cornavin train station. Enjoy the ride as one travels parallel to the north shore of Lake Geneva and the many vineyards in the upper Rhône valley. Upon approach to Sion, the two iconic hills of Valère and Tourbillon are already visible.
After checking into an Airbnb or hotel, go for a scenic walk to the 5th-century Sous-le-Scex burial church, the town hall of Sion with its astronomical clock, and the Sion Cathedral.
Then it's time to climb the two hills. The first leads up to the Valère Basilica, which houses the oldest playable organ in the world. There are monthly concerts and in July and August, there's one every Saturday. It's a steep climb up to the taller hill of Tourbillon Castle with excellent views of the entire valley.
On the last day, visit the underground lake of Saint-Léonard a short train ride away. It's a guided tour that requires booking in advance, especially on the weekend.
Afterward, return to Sion by train and take bus 381 to Les Pyramides d'Euseigne. These fairy chimney rock formations are in a truly scenic location and mark the start of a hike to the Combioula hot springs down into the valley back to Sion.
After a long day of enjoying nature, finish with a glass of Valais wine and a platter of local charcuterie before sleeping another night in Sion or returning to Geneva.
3 Days Itinerary Around Major Swiss Cities
Contributed by: Lavinia from www.continenthop.com
Starting Point: Zurich
Route: Zurich – Lucerne – Interlaken
Mode of travel: Train
This itinerary for Switzerland lets you achieve three goals. First one – to get acquainted with the country through a visit to its three beautiful (and important) cities. Two – have a combo trip where you can also take a peek into Swiss nature. And number three – go on a famous (and scenic) train ride through Swiss landscapes.
Let's start this itinerary in Zurich, our starting point, but you can also follow it from Lucerne.
Zurich provides an ideal blend of urban sophistication and natural beauty. Spend your first day exploring this cosmopolitan hub, strolling along Lake Zurich's picturesque shores and indulging in some retail therapy on Bahnhofstrasse, one of the world's most exclusive shopping streets.
Don't miss the historic Old Town, where you can marvel at the magnificence of Grossmünster and Fraumünster, two magnificent churches. And it is here where you can do a fondue tour with wine tasting. For accommodation, I recommend the stylish and centrally located Baur au Lac Hotel, where luxury meets comfort.
On the second day, we'll take a scenic train ride from Zurich to Lucerne. When in Lucerne, explore the well-preserved Old Town, cross the iconic Chapel Bridge, and see the magnificent Lion Monument.
Take a boat ride on Lake Lucerne and soak in the surrounding beauty to add a touch of magic to your day. Here, I highly recommend Hotel des Balances, located along the river with stunning views.
On the third day, we'll continue our journey to Interlaken, Switzerland's adventure capital. The train ride from Lucerne to Interlaken is a visual treat, passing through lush meadows and towering peaks.
Once in Interlaken, try paragliding over the Swiss Alps, a thrilling hike in the Jungfrau region, or an unforgettable train ride to Jungfraujoch, the "Top of Europe." If you feel like staying overnight there, look into Hotel Victoria Jungfrau Grand Hotel & Spa as it offers a comfortable and luxurious stay with stunning mountain views.
So there you have it: a three-day adventure through Zurich, Lucerne, and Interlaken. Don't forget to savour the local cuisine, especially taste delicious Swiss chocolates and sip on refreshing Alpine beverages.
And also remember – while this Switzerland itinerary will work great for any time of the year trip, the spring and summer seasons are especially beautiful!
NOTE
: You can do this itinerary partially on a packaged tour. Just look for a full 12-hour tour from Zurich to Jungfraujoch
like this tour
where everything is taken care of for you.
3 Days Swiss Itinerary to Zermatt
Contributed by: Alyse from www.theinvisibletourist.com
Starting point: Bern
Route: Bern – Zermatt – Lucerne
Mode of travel: Train
This itinerary is your best pick if let's say you have a weekend trip to Switzerland and arrive in Bern or Lucerne but then also want to visit the famous Zermatt municipality.
So let's start our 3 days in Switzerland in Bern, the country's often overlooked capital. With reminders of its medieval roots at every turn, there is enough to see in Bern in one day.
Walk in the footsteps of Einstein, admire the old astronomical clock, see the city's bears at Barenpark, and enjoy scenic views over Bernese rooftops from the Rosengarten (don't miss the sakura in spring!) Hotel Bristol in Bern is in a perfect location in the city center as it is only a moment away from the train station.
Bern's relatively central location makes it a great base for day trips, and just over 2 hours by rail away is Zermatt. Home of the iconic pyramid-shaped Matterhorn mountain, this picturesque ski village and its scenic modes of transport will take your breath away!
Take the Gornergratbahn cog railway from the village to a mountain summit with sweeping views of the Matterhorn, as well as cable cars to an ice cave at Matterhorn Glacier Paradise. Head back to Bern to spend the night.
On the final day head out to Lucerne, one of the most beautiful cities in Switzerland. Just one hour by rail from Bern and also steeped in medieval history, lakeside Lucerne sits in the shadow of the stunning Mt Pilatus.
It's possible to stay in Hotel Pilatus Kulm at the mountain's summit with an elevation of 2132m above sea level! Explore the winding cobbled pathways, enjoy panoramic city views from the Old Town Walls, walk the oldest covered wooden bridge in Europe, see the Lion Monument, row on the Reuss River, and more.
You can do this itinerary year-round, however, the snowy landscapes are amazing during winter!
3 Days in Switzerland to Explore Ticino Canton
Contributed by: Joanna from www.theworldinmypocket.co.uk
Starting point: Lugano Lake
Route: Lugano – Bellinzona – Ascona
Mode of travel: Car, Bus, or Bike
A great way to explore a bit of the Ticino Canton of Switzerland is by visiting Lugano, Bellinzona, and Ascona. These pretty cities are within close distance of each other, which is great when you only have three days to explore them.
You can travel between Lugano, Bellinzona and Ascona either by car, bus, or bike. The latter is a great choice because it is eco-friendly and the scenery is pretty spectacular.
To ride a bike from Lugano to Bellinzona takes less than three hours, whilst from Bellinzona to Ascona, just over one hour. And it is best to stay overnight in a different city, to see its nightlife.
Start these three days in Switzerland with a day in Lugano, the most Mediterranean city in the country. In Lugano, you can explore the beautiful city, which has Italian architecture, go on a boat trip around the lake of the same name, climb Monte Bre, and visit the beautiful churches in town.
Bellinzona is known for its three medieval castles, which are listed as Unesco heritage sites. If you visit in autumn, don't miss the harvest festival, in which the city celebrates the winemakers over 4 full days.
Ascona is a great place to relax, after three fast-paced days. There you will find pretty cafes lining up the waterfront and many museums with art galleries. The city attracts artists from all over the world since it is famous for its artists' hub on the top of Monte Verita. So you can surely expect to find a plethora of artistic delights for every art enthusiast to enjoy there!
NOTE
: If you plan to use this Switzerland itinerary when visiting from Italy and want to come by car, look for a
car rental in Milan
. Prices there are much cheaper and the road to the Swiss side of the lake is gorgeous!
3 Day Switzerland Train Tour From Bern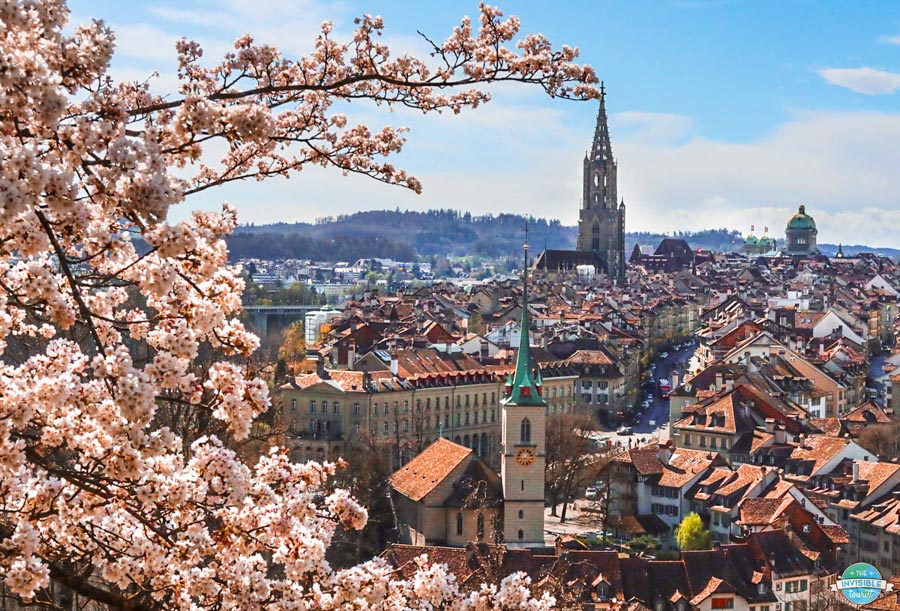 Contributed by: Melanie from www.postcardsandplaces.com
Starting point: Bern
Route: Bern-Vevey-Bern
Mode of travel: Train
Here is one more Switzerland itinerary if the city of arrival is Bern, you have only 3 days and want to take it slowly but include train travel as well.
If this is your first time in Switzerland, do not rush to leave Bern. Even though this city is not among the most famous places to visit in Switzerland, it has a small-town feel. Since it's situated next to a meandering Aare River, it has some gorgeous views as well.
With a three-day visit, the medieval-era city is worth taking a couple of days to explore, and movie fans will enjoy a day trip to a museum dedicated to a Hollywood icon.
The historic centre was designated a UNESCO World Heritage site in 1983 and is a lovely place to stroll around. Take in the sight of one hundred elaborately decorated water fountains. The medieval Zytglogge clock tower is an impressive landmark. Its figurines move on the hour and there are guided tours to view the inside mechanisms. There is also the Berner Munster church, with stairs to the top that lead to a great view.
When staying in Bern, the nearby town of Corsier-sur-Vevey on the northeastern shore of Lake Geneva is worth a day trip by train. Silent film star Charlie Chaplin moved to Vevey in the 1950s after being exiled from the USA and his family home, where he lived until the end of his life, is now a museum.
Chaplin's World, the informative and fun museum, is accessible by city bus from the train station. Fans can also visit his statue near the lake, large-scale murals around town, and grave at the local cemetery before returning to Bern.
With another day in Bern, you can visit other landmarks, like the famous bear pit. Bears have been kept there since the 16th century, and now they're also housed in another open enclosure nearby.
Or shop at artisan shops and galleries in the six kilometers of charming arcades. There is a selection of interesting museums in the capital, such as the Zentrum Paul Klee about the Swiss-born modern artist, the interactive Museum of Communication, and the Museum of Fine Arts.
FAQs About
Is 3 Days Enough in Switzerland?
Honestly? No. Three days in Switzerland is too little time to see everything this country is famous for. Switzerland seems to be small and it may feel like you can drive through it in a day. But in reality, the beauty of landscapes and all those lovely small alpine villages amazes so much that you'd need much more time to discover at least half of the places.
Generally speaking, 3 days in Switzerland is that amount of time which offers a taste of the country's beauty and some of its highlights. But expect to miss on many attractions as you simply can't explore everything in just a few days.
Yet, it is possible to maximize your time. Just concentrate on one or two regions for three days instead of hopping around trying to see it all.
3 Days in Switzerland Cost
The final cost will depend exactly on the 3 days itinerary you choose and list of activities. Traveling on a budget in Switzerland is tough but still very possible.
Mark and I had a few different trips in Switzerland that lasted on average 3-4 days and interestingly, on all of them, we paid different amounts of money.
On the first one in eastern Switzerland, we spent around $210 per day for two which included accommodation (on average we paid $100-$120 per night for a room in someone's home), food (only homecooked meals and snacks for the road, all hosts allowed us to use their kitchen and some included breakfast), and gas for the car (we rented a car in Poland which was much cheaper and we had a mega road trip through Europe).
On this trip, we didn't buy anything else but hiked a lot and just enjoyed natural wonders (which are abundant in Switzerland). Also, we never paid for parking (there are many free parking spots, even in cities) and used free tours (once in Geneva and once in Bern) which are not free as you pay tips but still cheaper than regular group tours.
Prices are still relevant as here is for example one of the houses where we stayed in Lausanne near Lake Geneva.
During another 3 days trip in Switzerland, we decided to splurge a bit and have a treat without counting every spent penny. Then we spent around $1000 for three days.
But this trip included an itinerary in western Switzerland around Geneva Lake and wine region around Martigny (actually on that trip we also went to nearby Chamonix in France).
We still stuck to the same type of accommodation where we paid around $120 per night, but other expenses included eating out (which was very pricey), cable cars, and train (which took for the most part a bigger part of the budget). We also spent quite a lot on gas since gas in Switzerland is expensive and we drove in many directions trying to see as much as possible every day.
So as you can see, the cost of travel in Switzerland per day can be rather low (as for Switzerland of course) but also extremely high. It all depends on how strict you are with following the budget and how much travel planning you are ready to do.
---
Alright, this is it for now. More posts about Switzerland are yet to come!
More Ideas for How to Spend 3 Days in Europe & Beyond