Guide to Bernese Oberland Region – Most Beautiful Places to Visit & Insight
Last updated on September 17th, 2023
Bernese Oberland in Switzerland is a mountainous region in the canton of Bern. It stands out from other similar regions due to its largest glacier in Europe, some of the tallest and most iconic mountain peaks, numerous waterfalls, lakes with turquoise water, authentic alpine villages, and many many hiking trails on the Bernese Alps.
Perhaps you've heard about Bernese Oberland thanks to its subregion Jungfrau that surrounds the famous Jungfrau mountain which is a gateway to Switzerland's most expensive ski winter resorts.
Mark and I happened to drive through Bernese Oberland when on our mega road trip through Switzerland from Lichtenstein to Nyon town on Lake Geneva. Since we were on the way to a spontaneous housesit in Nyon, we didn't prepare much for a trip and didn't know what to expect.
But then after seeing all the incredibly scenic landscapes (that actually reminded me quite a lot about Mestia in Svaneti in the Caucasus region), we decided to return to Bernese Highlands to explore it more in depth.
And I wanted to share a list of the most beautiful places in Bernese Oberland that are great introductions to the Swiss beautiful landscape scene.
Only in this one region, you can spend your whole Swiss holidays as there is really a lot to do and see, and the entire area will not let you leave easily. But if you don't have much time then make sure to include in your Switzerland itinerary at least a quick visit to this land!
---
Please note: This post contains affiliate links. I may earn a commission if you make a purchase or booking by clicking a link (at no extra cost to you).
---
Where is Bernese Oberland in Switzerland?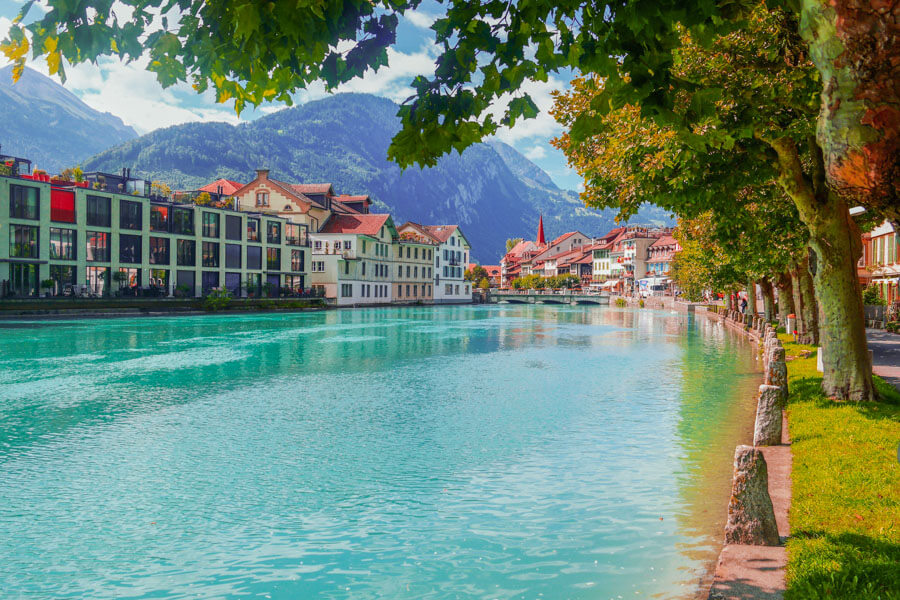 The Bernese Oberland is a geographical and cultural region within the canton of Bern in the central part of Switzerland. It starts near the cities Biel and Solothurn and stretches south through Bern to the Bernese Alps which are famous for dramatic alpine landscapes.
But as you move more southward, you'll be finding fairy-tale-like towns, villages, and lakes that showcase simply unreal natural beauty of the area.
The town of Interlaken is often considered the gateway to the Bernese Oberland and is one of the most famous places to visit in Switzerland. Yet, while being a popular base for exploring the area, it is just overly touristy and doesn't feel authentic anymore.
I'd say it is better to avoid spending much time there and instead go to one of the places you'll find below. The region is well-connected by rail and road networks. But even if you don't have a car, reaching places will not be a problem.
How to Reach the Bernese Oberland Region
There are various ways to visit the Bernese Oberland and some of them suit only the most adventurous ones. But here are some of the most common and most convenient ways to experience the region:
By Train
Switzerland's efficient train system makes traveling to the Bernese Oberland not just convenient and quick but very scenic. You can easily travel between many cities by train and from cities hop on a regional bus to get to alpine villages or towns.
If choosing to travel by train, look into purchasing the Swiss Travel Pass or Berner Oberland Regional Pass to have access to trains, buses, and boats in the area. Both of these passes make it easy to explore different parts of the region.
If traveling with children, the Swiss Family Card may come in handy as it allows kids to travel cheaper or free at all. Purchasing it is possible at every Swiss railway station and it allows children from 6th to 16th years old to travel free of charge when accompanied by at least one parent holding a Swiss Travel System pass.
By Car
Mark and I traveled to Bernese Oberland by car and it was the best decision as it allowed us to see places that most tourists never get to see. And we always parked for free, including in smaller towns and villages.
The biggest challenge with traveling around Switzerland by car is the cost of a car rental as cars are quite expensive at any time of the year.
But what I could recommend you do, if you have more time on vacation – fly to Lyon, France or Milan, Italy to rent a car there and drive to Switzerland.
Renting a car in Lyon as well as car hire in Milan is much, much cheaper than in any city in Switzerland. The drive time is not that long and you can see many other beautiful places along the way.
These cities are also well connected with rest of Europe, Canada, and the US, so flying in is very possible on a low budget too.
By Cable Cars & Funiculars
The Bernese Oberland is home to numerous cable cars and funiculars that take visitors to mountain peaks, offering breathtaking panoramas. So you can easily move between villages and mountain peaks by this type of transportation.
The most popular trips include rides to the Jungfraujoch, Schilthorn, and First. But there are many more to enjoy.
Just make sure to purchase one of the travel passes that helps to save on transportation if traveling in the region for at least 3 days.
Why Bernese Oberland is One of the Most Beautiful Regions in Switzerland
Because it has a combination of different Swiss landscapes, incredibly cute mountain villages with scenery from out of this world, and a huge choice of outdoor recreational activities.
I know I can say so about other Swiss regions too but you have to see all my photos to understand what I mean. Or take a look at my reel below. I made this video on the Thunersee, one of the most inspiring lakes in the Bernese Oberland region. But it is just one of many gorgeous landscapes there.
So shortly, what makes Bernese Oberland one of the most beautiful places to visit in Switzerland is all about the following :
Its iconic mountain peaks. Bernese Oberland is home to some of the most visually striking mountains in Switzerland, including the Eiger, Mönch, and Jungfrau. These mountains have sheer size and dramatic rock formations as well as pose a challenge to climbers and mountaineers.
The cascade waterfalls that adorn the mountains and snow-capped peaks even in summer.
Cute fairy-tailish Swiss villages. Some of the most famous ones are Grindelwald, Wengen, and Mürren. They all offer a blend of traditional alpine architecture with flower-filled balconies and impressive mountain backdrops. Visiting even one of them will let you glimpse into traditional Swiss mountain life.
Its scenic train routes & cable car rides. The Bernese Oberland is well-connected by scenic train routes, including the Bernese Oberland Railway and the Jungfrau Railway. Both of them offer breathtaking views and are considered engineering marvels. But there are also multiple cable car systems that provide the same mesmerizing views.
Glaciers. Bernese Oberland is home to several glaciers, including the largest one in Europe Aletsch Glacier. Many of them contribute to the alpine landscape of this area and it is even possible to go on hikes to some.
Most Beautiful Places to See in Bernese Oberland
Jungfraujoch Mountain Pass
One of the most popular attractions in the Bernese Oberland is the Jungfraujoch, which can boast a plethora of superlatives like 'the most,' 'the best,' and 'the greatest'. Because it really is an incredibly beautiful place in entire Switzerland that takes a breath away.
Jungfraujoch is a mountain pass that is often referred to as the "Top of Europe." You'll find it on elevation 3454m between two mountains Mönch (4 107m) and Jungfrau (4 158m) with the highest railway station on the European continent, Ice Palace, and an entertainment complex with tunnel expositions from the construction of the Jungfraujoch.
There are also a few observation platforms that offer panoramic views of the surrounding mountains and glaciers, particularly a view of the longest glacier in Europe – Aletsch Glacier.
The journey to Jungfraujoch includes a scenic train ride but there is also an option to cover part of the distance to the top on a hike.
One thing to be ready for – prices. The cost of visiting the Jungfraujoch is quite expensive.
Grindelwald
The small resort town of Grindelwald in the Bernese Oberland is actually that place from where you can visit Jungfraujoch. It also offers skiing in winter and hiking in summer and serves as a base for rock climbing to the legendary northern slope of the Eiger mountain.
But the main thing here is not that.
Grindelwald is just an amazing 'Glacier Village' in Switzerland where you can see glaciers on all sides. They surround it on the Jungfrau mountains and descend right from the mountains to the village itself. You'd want to make a stop here (especially when on a road trip) and see this beauty even if you don't plan to spend much time in the area.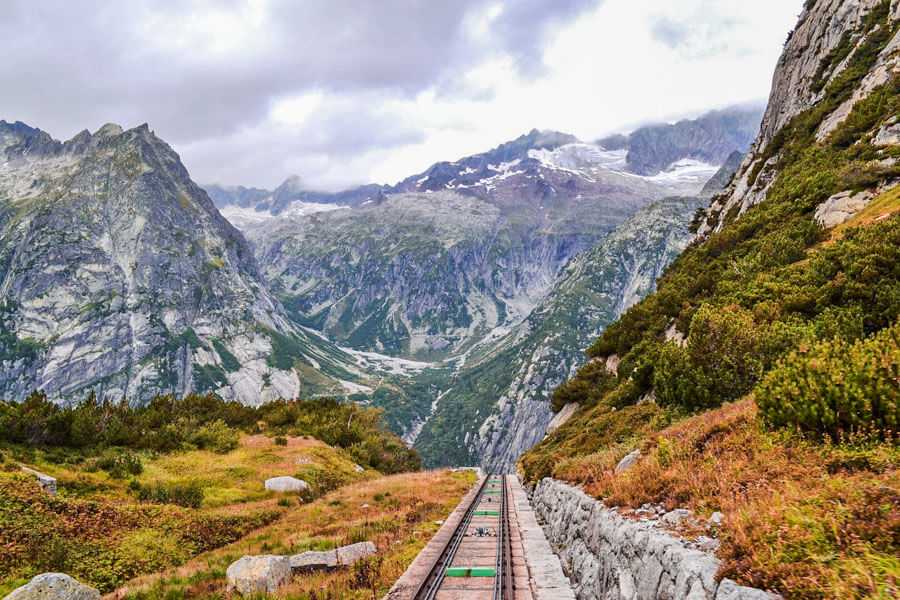 There is a well-developed cable car and mountain railway system that provides access to various viewpoints and mountain peaks (including Jungfraujoch that I mentioned above) which allows to have multiple trips to the mountains in a single day.
The most spectacular things to do in Grindelwald are to take Eiger Express Cable Car with the view of the village from above (you can open the small window in a cable car to record videos), go on a First Cliff Walk, and to hop on a series of trains from Grindelwald to the Jungfraujoch station.
Aletsch Glacier
This is the longest glacier in Europe (stretches 23 kilometers in the Swiss Bernese Alps) which you can see from the observation deck from the Jungfraujoch. It is one of the most striking places in the Bernese Highland region which holds a special fascination due to its distinctive contours, with many seeing them resembling a handcrafted road or the grand channel of an ancient river.
The silence and stillness of the ice can be deceiving – the Aletsch Glacier is alive and breathing. It is notable for its thickness of about 100 meters and the extraordinary purity of its icy body. The glacier's slow and majestic movement covers a distance of 200 meters per year.
Aletsch is protected by UNESCO as a natural World Heritage Site and is a contender for inclusion in the list of the 'Seven Natural Wonders.' Additionally, since 2005, the Aletsch Glacier has been officially recognized as a nature reserve, harboring an almost relic wild forest.
Several cable cars lead to it from Grindelwald offering beautiful scenic routes to explore. You'll travel through a 10-kilometer tunnel amidst dazzling white slopes. And then take a high-speed elevator to the observation deck, where you'll get panoramic views of the entire Alpine range, along with a meteorological station and observatory.
Lauterbrunnen Village
Bernese Oberland region has a few scenic towns and villages but this one is probably the most famous one. Plus it is also among the most scenic villages in Switzerland with green valleys, mountain hotels, and colorful alpine meadows. Thanks to its beauty, it became the prototype of the fairy-tale world of elves in the famous movie "The Lord of the Rings".
This village is a gateway to the Lauterbrunnen Valley with 72 Falls and it sits at the foot of the 300-meter Staubbach waterfall, one of the highest waterfalls in Europe. In fact, the number of waterfalls around the village was the reason why it got the name Lautre Brunnen which from German means "Loud Waterfall" or "Loud Fountain".
As the name of the village suggests, the main attraction here is undoubtedly the breathtaking waterfalls with Staubbach Falls being a king. Everything you want to do here is just to walk in all directions and contemplate dreamy nature from out of this world.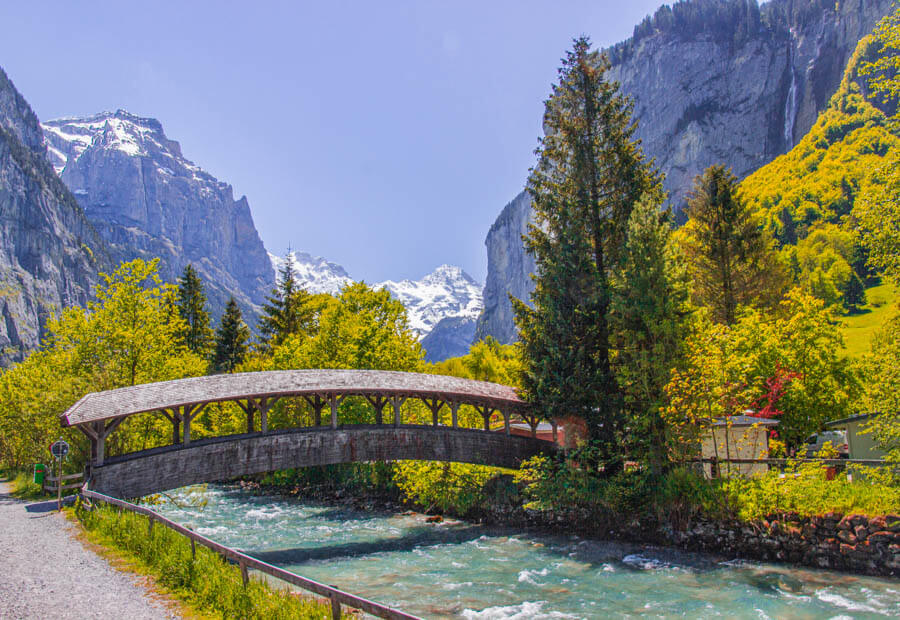 NOTE
: Accommodation in Lauterbrunnen is very expensive, the cheapest options disappear fast. If you would like to stay there overnight, book in advance. If your budget is on the lower side, look at chalets in the nearby village instead like Wengen for example.
Hotel Jungfraublick
always has rooms on offer, even in the high season.
Trümmelbach Falls
Located in the Lauterbrunnen Valley, the Trümmelbach Falls is a series of impressive waterfalls inside a mountain. They are formed by the melting waters from the Jungfrau, Eiger, and Mönch glaciers and provide a unique natural spectacle.
The waterfall consists of ten cascades and underground galleries with bridges.
This is the largest underground waterfall in Europe that carries all the melted glacial water from the Jungfrau down into the valley – up to 20,000 liters of water per second. More than 20,000 tons of pebbles and stones a year come out with the current, making a deafening noise that makes the whole mountain tremble.
You can view the waterfall using an elevator and illuminated tunnels and make sure not to miss it! This waterfall is the only glacial waterfall in the world that visitors can view from the inside by taking an elevator, passing through underground galleries, tunnels, paths and platforms built back in 1913. Unbelievable place!
Meiringen in the East of Bernese Highlands
This charming town in the very eastern corner of the Bernese Oberland region turned out to be my favorite place where to stay for a couple of days while exploring the highlands. Mark and I ended up here solely by accident when road-tripping through Switzerland and detouring to Meiringen after being caught in a storm in the nearby region.
After spending a night and waking up to the sound of a waterfall across the street from our accommodation, I totally fell in love with this place. And there were many reasons for that!
First, its nature. Meiringen is surrounded by mountains on all sides that create a stunning backdrop. The Wetterhorn, the Hasliberg peaks, and the Engelhörner are just a few examples of the impressive mountains in the area. You can see mountains from the town and pretty much from every building (balcony or through the window).
Second, the waterfalls. Meiringen is home to several captivating waterfalls. The most famous is the Reichenbach Falls, which cascades down a rocky cliff and Aare Gorge with impressive smaller waterfalls and a narrow gorge carved by the Aare River. But you can see smaller (not so known) waterfalls right in the town too! We saw one from the window of our accommodation and it was so magical!
Here is our view of the waterfall I talk about…
And the last thing, Meiringen is also known for its association with the renowned fictional detective, Sherlock Holmes. It is here that the author Sir Arthur Conan Doyle placed the final showdown between Sherlock Holmes and his nemesis, Professor Moriarty, at Reichenbach Falls.
P.S.
If you feel like staying in Meiringen too, look at accommodation options
near this loft
. We stayed in the apartment next to it on the Bahnhofstrasse (street) and could see the waterfall and mountains.
Oeschinensee (Lake)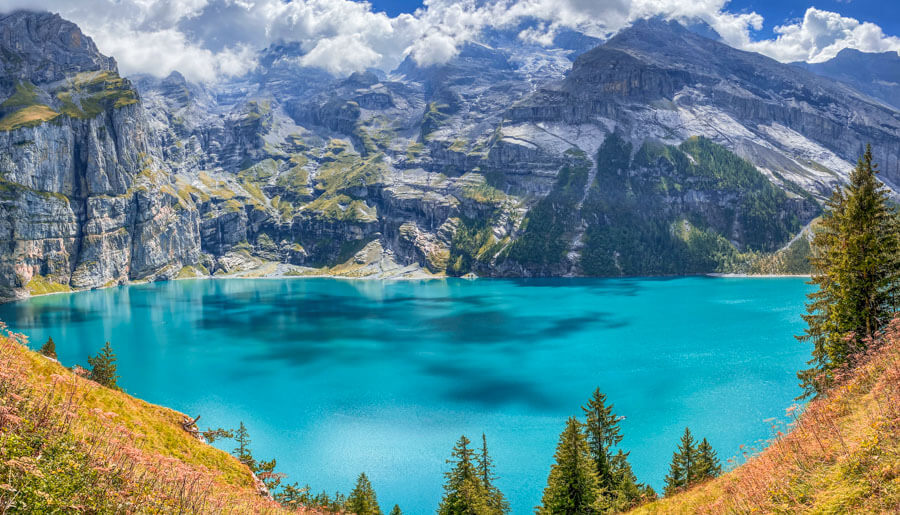 Among all lakes in the Bernese Oberland region, this one captivates with the most charm. And that's not because of the size of this wonder but because of the breathtaking landscapes and the pure air that surround it.
Every year, the lake's surface freezes, with ice usually gracing its presence from December to May. But even in winter, Oeschinen doesn't cease to be a tourist destination. Almost all year round, you can indulge in the experience of fishing on the lake, immersing yourself in the tranquility of this icy paradise.
To reach Oeschinen Lake, go to Kandersteg village (another beautiful Swiss alpine village) and embark on a thrilling journey aboard the cable car, whisking you away to the upper station.
From there, take a mere 20-minute descent (available only in warmer months) but not by ordinary means, but through the exhilarating adventure of a summer bobsled monorail (this one). Such descent is not just a mode of transport, it's an attraction in itself, adding a touch of excitement to an unforgettable escape to the lake.
Schilthorn Mountain
Bernese Alps have a lot of noteworthy mountains to visit. But one of the most notable ones is definitely the Schilthorn, famous for its revolving restaurant Piz Gloria, which featured in the James Bond movie "On Her Majesty's Secret Service." You can see it in the photo above.
The observation terrace on the mountain (altitude of 2970m) offers magnificent views of many famous peaks of the Bernese Alps including the Grosshorn (3762), Breithorn (3782), Eiger (3970), Mönch (4107) and, of course, Jungfrau (4158). The last peak is known for being next to the world's highest METRO station, Jungfraujoch, built at an altitude of 3454 m and opened in the 19th century!
On the mountain, it is very possible to spend even half a day as there you can admire nature, go skiing, and buy various souvenirs.
To get to the top, you need to hop on the cable car (actually 4 of them with transfers!), which was built in 1967. And through the window enjoy views of the waterfalls of Lauterbrunnen and the scenery of Mürren. In less than 30 minutes, you'll get to the top.
On the way back, to have a little adventure, you can hike down if visiting in summer and early fall.
Adelboden Alpine Village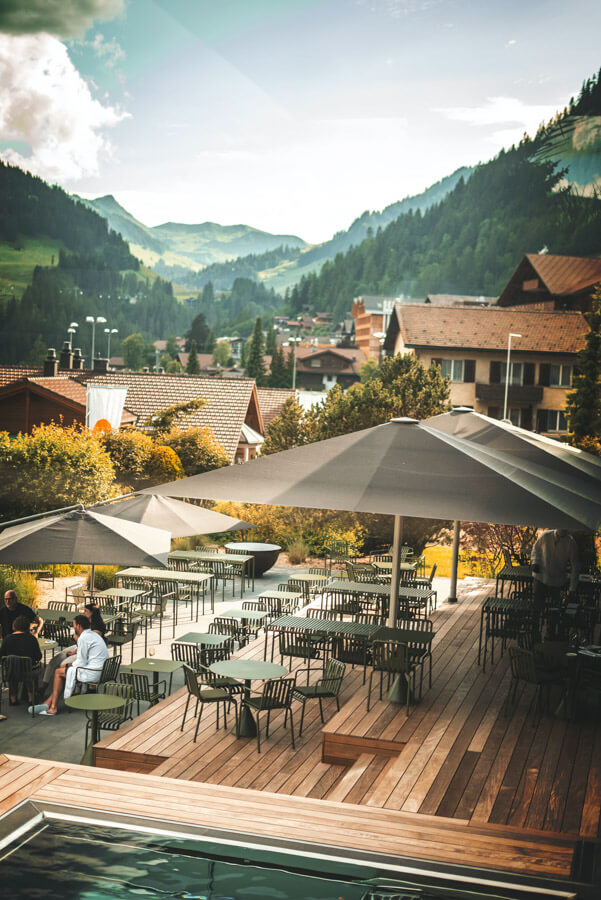 Adelboden village is an idyllic Swiss village in the western part of the Bernese Highlands region lined with charming chalets. It is a quiet, picturesque corner with perfect conditions for a family vacation.
Most popular it gets from November to April as its ski slopes attract tourists from all over the world. With over 200 kilometers of skiing and snowboarding trails, it is one of the most popular places where to ski in Europe.
However, Adelboden is also an excellent destination for summer travel as it offers a network of scenic hiking trails and climbing routes suitable for all levels of hikers. Popular trails include the Tschentenalp Flower Trail and Engstligenalp Panorama Trail to Engstligen Falls, one of the largest waterfall systems in Switzerland.
And, as in many other spots around Switzerland, this part of Bernese Oberland also has several wellness facilities and spas where to rejuvenate and relax.
Lake Brienz
This lake, also known as Brienzersee, is among the most beautiful lakes in Switzerland. And it was going to make this list.
Located in the northern part of the Bernese Oberland region not far from Lucerne City and Lucerne Lake, it has a distinctive turquoise color due to the presence of glacial sediments in its waters. And thanks to the picturesque mountains, including the famous Brienzer Rothorn and the Swiss Alps, it looks like it came straight out of the postcard.
The lake stretches for approximately 14 kilometers (8.7 miles) in length and is around 3 kilometers (1.7 miles) wide at its middle point where almost every kilometer offers incredible Swiss landscapes.
One of the most famous towns situated on the shores of Lake Brienz is Interlaken which serves as a gateway to various outdoor activities in the surrounding area, such as hiking, boating, and paragliding.
However, it is better not to spend much time there since Interlaken is just always teeming with tourists.
Instead, go east to explore the lake's beauty and visit charming villages like Brienz and Iseltwald. If you don't have time to do it, then at least give preference to Bonigen, east of Interlaken. It has direct access to the lake with kayaking opportunities in summer and separate kayaking on Brienz in winter.
If you are a fan of scenic roads (either by car or bike), then follow the road along the northern shore toward Brienz which is full of natural wonders along the way.
Lake Thun – Bernese Oberland West Side
One of the largest Swiss lakes Lake Thun lies in the west of the Bernese Oberland region and is also one of the most beautiful places to visit in Bernese Highlands, although most people usually skip it altogether. Swiss often call this lake the 'Riviera of the Bernese Highlands' with scenic beauty and a pleasant climate year-round.
Lake Thun is a turquoise lake with many bays and small villages on a stretch of land over 50 kilometers long. As with Lake Brienz, Lake Thun is also surrounded by mountains on all sides with the most famous of them Mount Nysen (you can see it in my picture) that many people know by the "Swiss Pyramid" for its triangular shape.
On the slope of this mountain is the longest staircase in the world, 3.4 km long with 11674 steps that lead up the mountainside to a height of 2362 meters! From the top of this mountain, you get panoramic views of Lake Thun and the Bernese Alps.
But my favorite part of the lake is actually on its northern side which opens up views of Nysen Mount and is full of beautiful valleys.
Towns of the lake that are worth a stop (besides Interlaken) are Thun (in the west) and Spitz (on the south shore). But I also recommend you visit Sigriswil, Merligen, and Beatenberg.
The railway from Bern runs along the southern shore of Lake Thun to Interlaken. Between Interlaken and the city of Thun, bus number 21 runs along the north coast. So it is quite easy to travel around this part of Bernese Oberland by public transport.
Best Time to Vist Bernese Oberland – Things to Keep in Mind
The answer to this question depends on two things. First one – which part of the region you are interested to visit and second – what your budget is.
If you are traveling on a tight budget but want to see the most popular Swiss region in the Bernese Alps without too much hiking, you may want to plan your trip for September, first part of October, or for May.
It is a great time to save on accommodation and car rental and avoid crowds of tourists. Also, late spring brings beautiful blossoms and emerging greenery, while early autumn offers stunning foliage as the leaves change colors. It's also a great time to catch some local festivals.
Summer is the most popular time to go to the Bernese Oberland (especially to its Jungfrau region) as the weather is generally pleasant and the region is lush and green. This season is ideal for those who want to go hiking and get closer to glaciers and lakes. However, be ready to spend a fortune when traveling around the region at this time.
Winter is probably the least pleasant time to go to Bernese Oberland, especially if you don't ski. The winter season means too many unpredictable days when mountain passes are closed and several alpine villages can be inaccessible.
For example, charming car-free villages of Wengen and Mürren in the Lauterbrunnen Valley may have limited access in winter if there are heavy snowfalls. Some transportation options there, like cable cars, may operate on reduced schedules.
Susten Pass for example is pretty much always closed in winter due to snow and ice. Grimsel Pass is also often closed if there is heavy snowfall or challenging road conditions. So you will need to be ready to adjust.
But one thing that no one can deny is beauty of the region – winter sceneries are just incredible no matter where you go.
More Beautiful Places Like Bernese Oberland in Europe
Get some inspiration through my other posts as Europe is full of lesser-known gorgeous destinations!
Have you been to Bernese Oberland and Jungfrau region yet? Share what your favorite place was!