Bay of Kotor Travel Guide: Things to Do, Best Hotels & Travel Tips
Last updated on July 12th, 2023
The Bay of Kotor, also known as Boka Bay, Boka Kotorska Bay, or simply the 'Southernmost Fjord of Europe' is a must-visit destination in Montenegro, no matter if you are visiting on a mega road trip or a quick 5 or 7 days in Montenegro trip.
In addition to the famous towns of Herceg Novi, Kotor, Tivat, and Perast, there are fascinating places worth exploring along the entire coastline of Kotor Bay. Things to do are ample particularly from the end of spring to early winter, so you'll definitely stay busy!
I traveled around Boka Bay on many occasions when living in Budva simply because it was one of my favorite spots in Montenegro. Recently I revisited this destination to check how much it changed. And it did change quite a bit. Many new places opened and older ones got restored. So the entire area became like a museum under the open sky with dozens of attractions.
If you follow my tips from this post with places to visit along the Bay of Kotor, you'll see how much is there at almost every kilometer. If time allows, I recommend you stay somewhere on Kotor Bay (I include a few awesome accommodation options below) to experience it in full as with the number of things to do there is no way you can cover it all on a short trip, even in one full day!
NOTE: I traveled around Kotor Bay by car, this is why I structured this post in a way where you need to have a car as well. Driving in this part of Montenegro was easy, parking was challenging in August but still manageable.
But of course, you can travel to all the places I mention by public transportation and taxi. Or you can simply rent a scooter from the best rental car company in the region.
If you need a car, check their deals below and don't miss my tips on car hire in Montenegro to be able to score a cheap car rental in summer.
---
Please note: This post contains affiliate links. I may earn a commission if you make a purchase or booking by clicking a link (at no extra cost to you).
---
Bay of Kotor Climate – What You Need to Know
At first sight, it may seem that there are no climate differences between Kotor Bay and other destinations along the Montenegro coast. But if I compare it to (let's say) nearby Budva, which is only 30 km away, I'll show you quite a few significant differences that can fundamentally impact your vacation.
This is why when planning a trip to Montenegro, take them into account as these differences will help you understand the region better and answer an important question if it is worth choosing Kotor Bay for a base and how much time to spend in the area.
The first thing to know is that the entire Bay of Kotor is surrounded by cliffs on all sides. They are analogous to the Norwegian fjords. However, in Norway, the fjords are glacial, while in Boka Bay they are tectonic. They begin just 100 meters from the water's edge which means that all the cities and villages are situated by or on the steep slopes.
Due to these surrounding fjords, you have the following:
The sunrise starts about an hour later than on the coast.
It also sets about an hour and a half earlier due to the fjords on the horizon. Especially noticeable it is in Kotor, Perast, and Risan.
The daylight here is 2 to 2.5 hours shorter. As a result, the water is colder compared to the sea.
Water in the Bay of Kotor is very deep, with an average depth of over 30 meters. Just 10 meters from the shore, the depth often reaches 15 meters or more. This is another reason for the cold water in the bay.
Additionally, a significant number of mountainous and cold springs flow down from the mountains of the Bay, especially during the spring season near Kotor and Perast. These streams further cool down the water in the bay.
NOTE
: In Kotor Bay, for the most part, there are no long beaches as fjords surround it from every direction. The only exception is
Herceg Novi
with more sunshine, warmer water, and decent beaches. However, the city is located almost at the very exit of the bay into the sea.
Kotor Bay Cities – Comparison & Things to Know
Bay of Kotor has many different points of interest. I talk about its best things to do below but here in this section, I want to briefly cover the most popular cities in the bay. They are great places where to stay when in Montenegro and offer a different number of activities in terms of beach vacations and cultural sightseeing.
Kotor City
Kotor is the oldest city in the bay with a vast number of defensive and historical structures. There are hardly any beaches here, but in terms of medieval architecture, there is no other city in Montenegro that can compare to Kotor.
Beach experience: 2-3 out of 10
Sightseeing opportunities: 10 out of 10
It is best to come here for at least a full day to explore the city or to stay here for at least a night to immerse in the atmosphere.
See my comprehensive guide to Kotor with many things to do.
Perast Town
Perast is one of the most romantic towns in all of Montenegro. It is very small, and you can leisurely explore the entire town in about 40 minutes. Highlights here are breathtaking views, the excursion to the nearby island of Our Lady of the Rocks, and the city's beautiful architecture itself.
Beach experience: 1 out of 10. There are no beaches in Perast. You come here for cultural sights, not beaches.
Sightseeing opportunities: 8 out of 10. Everything is fascinating, but quite limited as the town is very small.
A visit to Perast, including the trip to the island, will take about 2-3 hours. It is best to come here in transit while traveling around Kotor Bay by car.
Tivat City
Tivat is another major city in the bay that hides a few lovely gems and is a gateway to some quieter beaches. While there are hardly any beaches and there is no medieval architecture directly in the city, Tivat province has a lot to offer and you shouldn't skip it. It is also one of the best places where to rent a car in Montenegro.
Beach experience: 4 out of 10.
Sightseeing opportunities: 4 out of 10.
There is a lot to do in Tivat province and if you are a hiker, you'll find many hiking trails from Tivat that open fantastic views of Kotor Bay.
It features a large marina for yachts and the luxurious residential complex of Porto Montenegro
Read my extensive guide to Tivat City and Province packed with many things to do.
Herceg Novi City
Bay of Kotor's largest city has expanded so much during the last few years that it became one of the must-visit places in Montenegro. You'll find plenty to see there, including the old town and the fortress on the mountain.
Moreover, it is worth visiting Herceg Novi for some of the best beaches in the entire Boka Bay. While the beaches in Budva, Petrovac, and Ulcinj are undoubtedly better, in the context of the Bay of Kotor, they are top-notch.
Beach experience: 5 out of 10.
Sightseeing opportunities: 8 out of 10. The city boasts a long and beautiful promenade that stretches almost 9 kilometers with many attractions.
Herceg Novi is a great destination for a week-long vacation. It offers beaches, more sunshine than in Kotor, various cultural activities (even in winter), the Blue Cave, and yacht cruises around Kotor Bay. Additionally, just 6 kilometers away from the city, you can reach the Croatian border from where to go to the world-famous city of Dubrovnik.
Don't miss my guide to Herceg Novi with popular and lesser-known things to do.
Risan Town
One of the least popular towns in the Bay of Kotor is also the second most ancient town of Boko Bay. It is very different from Perast and is very local where you can see untouristy Montenegro and feel real Montenegrin spirit. Risan is definitely worth a visit for one but very unique attraction – ancient Roman mosaics.
Beach experience: 4 out of 10. There is a couple of small beaches in Risan but in summer they are quite crowded and water in some areas blooms.
Sightseeing opportunities: 4 out of 10. Besides the Roman mosaics museum, you'll also find some hiking areas in the area and old churches.
Risan is a nice town where to stop on a drive from Dubrovnik to Kotor or in general when having a car and driving around the Bay of Kotor.
More Places in Kotor Bay to See
The Bay of Kotor is not only about these 5 destinations and to be honest one day in the bay is not enough.
There are dozens of villages at the very edge of the water that are also worth a stop. Some are even perfect where to base yourself with lovely accommodation options overlooking the bay from luxurious (like Hyatt Regency Bay of Kotor) to more budget-friendly ones (like Apartments Windrose).
The most prominent villages to visit around the Bay of Kotor are Orahovac, Donja Lastva, Gornji Stoliv, Prcanj, Bijela, Zelenika.
All of them are very small. If you do not slow down, then in 20-30 seconds you will completely pass them and not even notice what you passed. Although they are well worth a stop be it for scenery, a nice delish restaurant, an ancient beautiful church, beach club, or hiking trail nearby.
You can find a detailed list of all the cool locations and attractions of the Bay of Kotor and entire Montenegro on my map. But below I highlight some of the Bay of Kotor's lesser-known (yet amazing) places to add to your Montenegro itinerary.
16 Unique & Cool Bay of Kotor Things to Do
I organized my list of things to do in the Bay of Kotor in such a way that you start your journey from the Croatian border and continue along the coast from Herceg Novi to Tivat. Although of course, you can use it for any other itinerary where your starting point is Kotor, Tivat, or any other spot on the Boka Kotorska Bay or anywhere else in Montenegro.
This Kotor Bay travel guide will also suit perfectly those travelers who are coming from Dubrovnik to Kotor by car and have the opportunity to stop wherever they want. You can even rent a car in Dubrovnik and drop it off in Montenegro (or back in Croatia) for more convenience.
Visit the Gateway to the Bay of Kotor – Prevlaka Peninsula
So, let's start exploring Kotor Bay from its most distant point near the border of Croatia and Montenegro.
And there, I highly recommend you at first stop the Prevlaka Peninsula, which is a disputed territory between Croatia and Montenegro but today is effectively under the control of Croatia.
One of the prominent attractions there is the well-preserved Prevlaka Fort, constructed during the late 19th century under the rule of Austria-Hungary. It forms part of a fortified system strategically positioned at the bay entrance, alongside forts Mamula and Arza.
Exploring these impressive ruins offers breathtaking panoramic views of the open sea, the Lushtica Peninsula with forts Mamula and Arza, as well as the captivating city of Herceg Novi in the bay.
Drive to the Church of St. Elijah That Opens the View of Bay of Kotor
Another Bay of Kotor must-visit location is the Njivice Peninsula (where you'll find some cheap cafes with traditional food like this one), located within Montenegro.
A delightful drive up the road will lead you to St. Elijah's Church, perched on a mountaintop. From there, you can relish panoramic vistas of the bay, the Croatian coastline, and the majestic Orjen mountain range.
Don't miss the opportunity to witness the awe-inspiring sunset from the observation deck near St. Elijah's Church. Adjacent to the church, you'll find a monument and tomb dedicated to the fallen French soldiers who lost their lives during the Napoleonic Wars in 1806.
Find a Different Vibe at Ranch Aryen
While you're on the Njivice Peninsula, make sure to explore Ranch Aryen, a remarkable park that features a restaurant, a small eco-hotel, a petting zoo, and a horse club.
It's an ideal place to indulge in horseback riding and enjoy a memorable experience amidst the picturesque surroundings. Ranch Aryen is also a cute little gem for parents traveling with kids around Boko Bay or for those who are slowing down in Herceg Novi.
You can find more information about them on their website and see the location here.
Experience Luxury at Portonovi – Resort Village by the Sea
This destination on the Kotor Bay is within Herceg Novi city municipality famous for its luxury waterfront mini-village with everything that you can think of.
Come here to visit or stay in an exclusive 5-star hotel the One&Only, which has the Chenot Espace wellness center following the legendary Henri Chenot system, top-notch Mediterranean dining options, a luxury marina accommodating superyachts, and an array of boutiques, galleries, and clubs.
Despite its grandeur, the Portonovi area maintains a peaceful and family-friendly atmosphere, inviting visitors to enjoy leisurely walks along its lovely waterfront and taste a meal at one of its cafes or restaurants. And nearby Tapasake beach club features sandy beaches with gentle access to the sea, a rarity in the Bay of Kotor, and the entire Adriatic coast of Montenegro.
Eat, Swim & Sunbathe in Bocasa Restaurant & Beach Club
The next stop I offer you to make is in the village of Kamenari, where the Kamenari-Lepetane ferry line operates.
There, it is worth visiting the restaurant and beach club Bocasa. In this place, you can sample the chef's Mediterranean cuisine, enjoy the views of Boka Bay, relax, and take a swim at the restaurant's beach.
For more photos of their creative space, refer to their insta page.
Indulge in Delish Coffee on the Boka Bay – in Verige65
Another place worth stopping by when traveling around the Boka Kotorska, even just for a cup of coffee, is the panoramic restaurant Verige65.
Located on the shores of the narrowest part of the Verige Strait in Boka Bay, it offers breathtaking views of Boka Bay, the town of Perast, and the surrounding mountains.
If you feel like indulging in both the views and the cuisine, the restaurant offers a variety of dishes from different countries, all prepared with a unique touch. Vegetarian options are also available. Check how inspirational their views are.
Slow Down (& Camp) in Old Fishing Village of Morinj
The old fishing village of Morinj is worth exploring for travelers on the Bay of Kotor too.
Here, the mountains slightly recede from the sea, creating a picturesque valley. For those traveling by car with tents or campers, there is an opportunity to stay at the Naluka camping site located at the mouth of the river.
Across the road, you'll find a convenient beach with cool and clean water, even in the hottest weather, thanks to numerous springs and an underground river.
Visit Ćatovića Mlini Restaurant (Not Just for Food)
One of my favorite places to visit along the Kotor Bay is a true attraction in the village of Morinj the restaurant Ćatovića Mlini. It is not just a place where to eat on Kotor Bay but also where to enjoy a beautiful territory.
Twenty years ago, this same area was home to just an old mill on the river and a few adjacent ancient buildings. But in recent years, it turned into a renowned fish restaurant in the Balkans, offering local dishes made from fresh fish and seafood and a beautiful space where to spend time.
The restaurant's territory deserves extra attention as it is a meadow with a branching river where fish, geese, and ducks swim. With multiple walking paths throughout the area creating a beautiful and atmospheric ambiance in any season, visitors can enjoy a lovely walk that makes you forget you are even on the bay at all.
See Lipci, a Prehistoric Village
The place called Lipci is one of the most ancient places in the Bay of Kotor known for its prehistoric rock drawings.
A rocky path (about a 15-minute walk) leads to this location from the main road, where you can park your car on the side. The images of animals from ancient times will leave a lasting impression, allowing you to feel like an archaeologist and explorer as you make your way through mountain trails and thickets.
Explore More Than Just Mosaics in Risan Town
The small yet ancient town of Risan is situated in the eponymous bay which is part of the Bay of Kotor. It is well worth visiting it to see the ruins of a wealthy Roman's villa and its remarkably well-preserved mosaics, which are over two thousand years old.
The decorated floors of the seven rooms have survived to this day, and the depiction of the god Hypnos in the villa's bedroom is considered one of the few surviving depictions of this mythical character.
For more information about the villa, church, museum of mosaics, and other attractions in the area, refer to this source.
Go on a Picturesque Hike Above the Bay of Kotor From Risan to Kotor
Bay of Kotor is full of interesting scenic routes great for professional and beginner hikers, where you hike on the mountains that come so close to the sea.
In fact, annually, usually in early May, the Boka Bay Trail race takes place here as one of the race routes starts in Risan and another one in Perast, with the finish line in Kotor.
These trails from the sea upwards to the upper ridge are part of the Mountaineering Coastal Transversal, the Coastal Hiking Transversal, or as it is also called the Adriatic Transversal (more information about them is here). Many villages of Boka feature some of the most beautiful sections of this trekking route.
You can hike them pretty much at any season, even when in Montenegro in winter, and hike only a short distance for views and photography.
Be Sure to Visit an Oyster Farm on the Kotor Bay
One of the must-do things on the Bay of Kotor includes a stop at the oyster and mussel farm as the bay is famous for them thanks to its perfect conditions for oyster growing.
My favorite oyster place on Kotor Bay is the oyster farm of Milosh in the village of Drazin Vrt. There is a covered area by the sea with tables where you can enjoy the freshest seafood with the Bay of Kotor views. The menu also includes a variety of very good beverages.
As anywhere throughout Boka Kotorska, the breathtaking views of the sea and mountains will continue to amaze you here.
NOTE
: Oyster farms close down for winter.
By the end of October
, very few remain operational and they reopen in April. In other coastal areas, there are no oyster farms as the cold waters of the Bay of Kotor are ideal for oyster cultivation. So do not miss this experience when traveling around Kotor Bay from spring to fall!
Do Not Miss Aquarium Boka (!)
For several years now, in the village of Dobrota, a suburb of Kotor, the only aquarium in Montenegro, Aquarium Boka, has been operating based on the Institute of Marine Biology.
It is one of the lesser-known places in Montenegro that showcases the inhabitants of the Bay of Kotor and the Adriatic Sea. You'll be able to see there many representatives of the marine fauna of this area including seahorses, jellyfish, bright starfish, and others.
This place will be interesting to visit for both adults and children visiting Montenegro. Find more information about them on their website.
Pause in a Former Sailor's Village Prčanj
The former seafarers' village of Prčanj, located near Kotor, is also worth exploring with its waterfront palace Tre Sorelle (Three Sisters), small beach, and a few ancient churches. The palace in Venetian style, built in the 15th century, is associated with the local legend of the three sisters who fell in love with the same sailor.
Unable to choose one, he set off on a voyage, promising to marry the sister who would wait for him. The sisters waited, with the eldest dying of old age first and her window being sealed with stones, followed by the middle sister with her window being bricked up. By the time the youngest sister died, there was no one left to seal her window. However, the captain never returned to those parts.
Since that time and until nowadays, the house became beloved by artists and writers maybe for its legend or for the location by the bay. While passing through Boka, take a moment to make a stop and admire this palace recalling the story.
Prčanj is also special in that way that it has two beautiful interesting churches. The first is the Catholic Church of St. Nicholas, located on the waterfront, with a Franciscan monastery building in Baroque style.
The second church is the Catholic Baroque Church of the Nativity of the Most Holy Theotokos. After St. Tryphon Cathedral in Kotor, it is considered the largest in Boka Kotorska (you can see it in my photo). The building is adorned with an impressive high staircase with balustrades, which itself is a sight to behold. The church's staircase is a favorite spot for wedding and romantic photoshoots, offering a beautiful view of the sea and mountains.
Stop in One of the Charming Villages on the Kotor Bay – Stoliv
In the village of Stoliv, those who love mountain walks can park a car near the post office and ascend the mountain road to Gornji Stoliv, where the Church of St. Ilije is located.
Its bell tower, in Venetian style, is clearly visible from below. The road itself is noteworthy as well with wide stone steps surrounded by chestnut trees.
It leads to an ancient abandoned village situated at an altitude of about 240 meters above sea level. Once inhabited by 1,200 people, now only ruins and a church remain there. But nearby, there are even a couple of cafes offering coffee and alcoholic drinks.
From this viewpoint (next to those cafes I talk about), you can get a bird's-eye view of Boka Kotorska Bay.
See Bay of Kotor From a Different Perspective at Verige Strait
In the narrow Verige strait, you can stop at a viewpoint and look down. At the very edge of the water stands a lighthouse and a tiny church, surrounded by walls like a miniature fortress — the Church of Our Lady of Angels, built in the 15th century.
It served as a defensive structure since from it chains were stretched across the strait to prevent enemy ships from entering Bay of Kotor. Hence the name "Verige," which means "chains" in Montenegrin.
You can descend right to the lighthouse and take photos of Boka from an unusual perspective. On one side, you will see the islands of Perast, on the other side, Kamenari, Lepetane, and Tivat Bay. On the opposite side of the strait is the restaurant Verige 65 that I mentioned earlier above.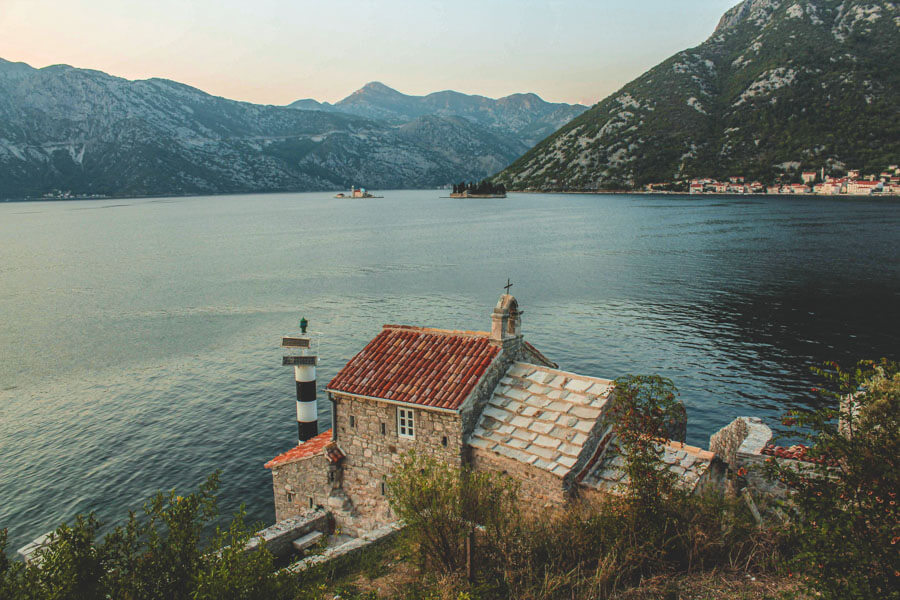 From this point by the lighthouse, the road leads to Lepetane and Tivat which is also worth a drive if you have a car. If not, I highly recommend you walk on foot with a camera since the landscapes there are simply amazing.
Where to Stay in Kotor Bay
Bay of Kotor is undeniably one of the best places where to stay in Montenegro. It will meet different needs and budgets besides only one – long beach vacation.
For a beach stay, it is better to consider other Montenegrin resorts but choose Kotor Bay when wanting a romantic stay in a heritage boutique hotel or luxurious large resort. Also, choose it if your budget is small and you'd love a secluded stay in a homey guesthouse with panoramic windows.
There are really many places where to stay in Bay of Kotor. But if I could highlight a few top places, I'd pick these as my favorite:
Travel Beyond Bay of Kotor, Montenegro
I have a lot of posts about Montenegro. Make sure to check them all out on my Montenegro travel guide page. Or find more inspiration below: