11 Must-Take Day Trips From Kotor, Montenegro (And 3 Places to Skip)
Last updated on October 17th, 2023
Not only Kotor is one of the most beautiful cities in Montenegro, but it also happens to be located in the area with close proximity to many sights and natural wonders. This is why you shouldn't miss an opportunity to go on day trips from Kotor to see historical settlements, some hidden gems, and landscapes with unspoiled nature.
And to help you understand where to go and what are the best Kotor day trips, I compiled this list of all the interesting places that are really worth checking out! Although at the end of the post, I also include a few destinations that are not the best picks for day trips. I explain why.
Whether you are looking to get closer to fjords, grottos with blue water, ancient monasteries or pristine beaches with oyster farms, I included them all and even more. And the best part – many of these Montenegro trips from Kotor can be done during the offseason too!
Planning a Trip to Kotor Last Minute?
Will be visiting Kotor soon and not sure where to start? I have a few suggestions for you, check them out!
Top Tours & Activities in Kotor:
Top Hotels in Kotor for All Budgets:
Planning to go on day trips from Kotor on your own? Then make sure to book a car rental in Kotor from a leading company to ensure good prices!
---
Please note: This post contains affiliate links. I may earn a commission if you make a purchase or booking by clicking a link (at no extra cost to you).
---
Must-Take Day Trips From Kotor on Any Visit
Kotor Day Trip to Perast & Ostrvo
One of the most popular day tours from Kotor is to the town of Perast, located right by the bay and main road. This picturesque small Adriatic town is like an open-air museum that shows magnificent examples of Baroque architecture against the backdrop of the natural scenery of the Bay of Kotor. It is a must-visit place on any Montenegro itinerary.
Many buildings there are like real palaces due to the fact that in the past, there were 12 noble families who lived in Perast. It was precisely them who built this town including all the Baroque mansions and churches that Perast is proud of to this day.
The most beautiful architectural masterpiece is the Bujović mansion, built according to the project of the Venetian architect. It houses the Perast Museum which presents a collection of sea maps, ship models, portraits of outstanding mariners, weapons, and archival documents. This museum will be especially interesting to families traveling to Kotor with kids.
The uniqueness of Perast lies in the fact that there are 2 islands nearby inseparable from the town both geographically and historically. One of them is the island of Ostrvo or as it is also called Our Lady of the Rocks. This is the only man-made island of the Adriatic with an 11 m high Byzantine-style Catholic church with museum on the second floor.
The second island is the island of St. George which also bears the second name "Island of the Dead". It has a cemetery where the famous Captain Perast was buried. The island is very picturesque, but you can only admire it from the water since it is closed to the public.
Day Tours From Kotor to Perast & Our Lady of the Rocks Island and Beyond:
If you intend to get to the island on your own, then you can do it by water taxi from Perast. The fare is around 5€ per person and travel time will take only a couple of minutes. In the summertime, leave as early as possible to avoid crowds.
Trip From Kotor to Budva Old Town & Surroundings
Budva is one of the oldest cities in the Adriatic. It is more than two and a half thousand years old. Located only 23 kilometers away from Kotor, it makes it easy and fast to go there on a day trip, whether you are renting a car in Montenegro and driving or traveling by public bus.
Being the main tourist center of the country and the capital of nightlife, Budva has beautiful beaches and a cute vibrant old town. It is worth devoting one long day to this city and the surrounding area.
Some of my favorite sightseeing spots and activities in Budva are:
Old Town with its church square, Citadel, door to the sea, museum, and beach cafe
A wall around the old town. If you don't want to walk along the streets of the old city, then walk along its perimeter along the walls, looking down at the courtyards, yachts, and the sea
Mogren Beach
Coffee-break in the panoramic cafe Vista Vidikovac
The ruins of the Mogren fortress
Park zone of the Slovenska Plaza Hotel
A boat trip to the island of St. Nikola to the beach
Podmaine (Male Orthodox) Monastery
Walking trail from Budva to Becici, as well as to Kamenovo beach through tunnels, or any other walking trail nearby
Fish farm 'Pojata' with restaurant and mountain waterfall. The only reason I recommend this place is the mountain waterfall, where you can swim in a natural pool

on a hot summer day. Additionally, this place will be interesting for kids since, in the summer, there are geese, donkeys, rabbits, pigs, a pond with fish, and a pool.

Round panoramic platform at the Church of St. Sava
Austrian fortress Kosmach

with a view over the Budva Riviera
When in Budva, you can also rent a kayak or paddleboard and go on a tour to coastal caves.
>> Also check this seaside day tour from Kotor to Budva and Sveti Stefan
Kotor Day Trip to Lovcen National Park & Cetinje
Before I go into details about this day trip from Kotor, allow me to tell you the following.
If you plan to be mainly along the Montenegro coast without going inland, then Lovcen Park is perfect for a one-day excursion. Especially if you don't have a car since there are many day trous from Kotor on offer. But there are also some nice hiking trails in the park for those who want to stay longer.
However, if on your trip you also plan to go to Durmitor mountains or Prokletije Park, nature and views there are 10 times more beautiful and impressive than anywhere in Lovcen. So in this case, I suggest you skip a day trip to Lovcen Park, you won't lose much.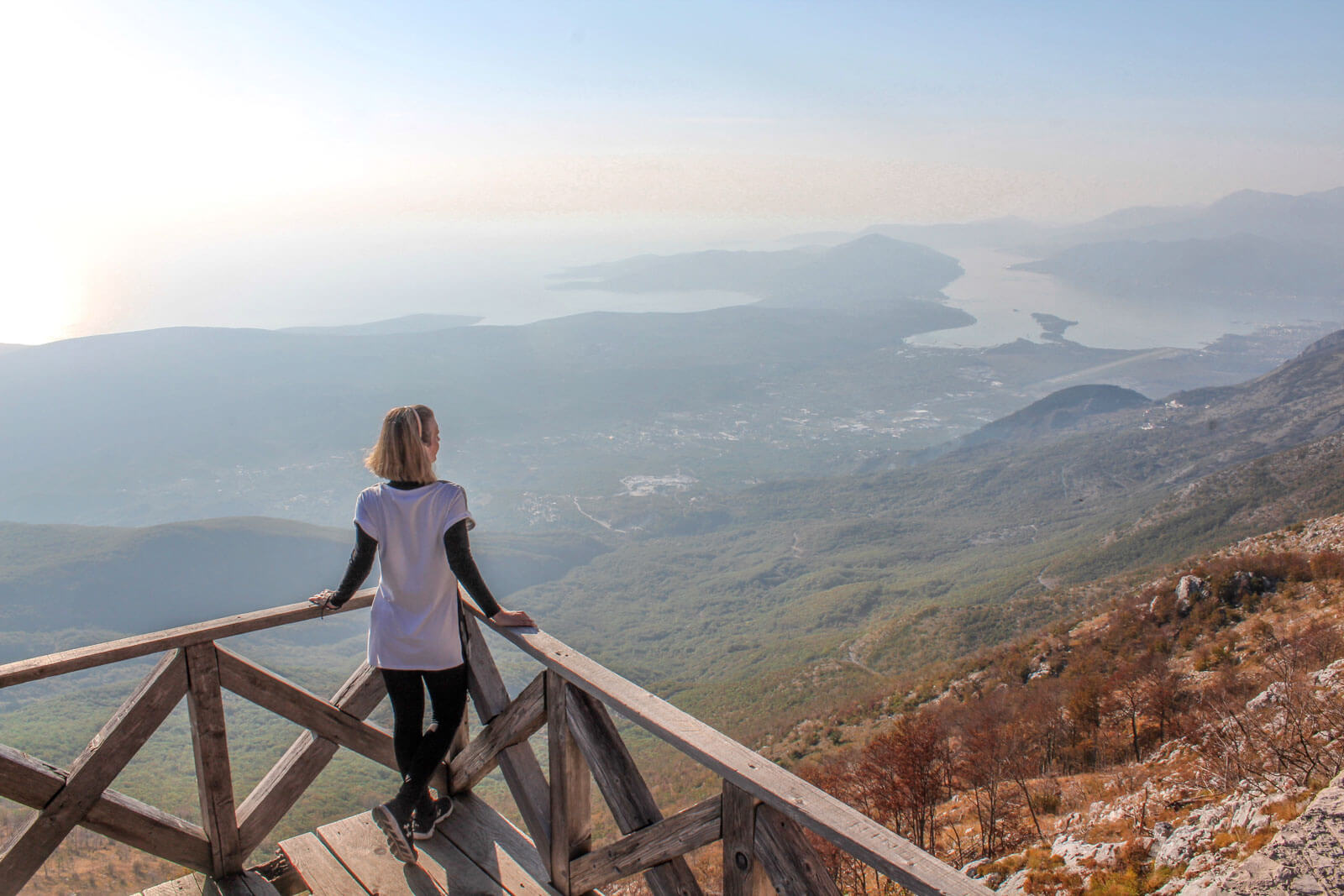 When going with a guide, choose a tour that shows many places during the day, not just Lovcen with Mausoleum. Like this 11-hour tour from Kotor that also includes a boat ride for example or Lovcen Park and Skadar Lake combined tour where you get to visit two major national reserves.
From Kotor to Lustica Bay
Lustica Bay is not really a tourist attraction but a beautiful place for walking, dining, and/or spending some time near the sea. This luxury looking marina is a relatively new project built by investors from Dubai, so you can expect it to be expensive. However, you can easily come here for a few hours or a day and not spend much.
This ambitious project includes not only a port and a luxurious hotel, but also a world-class Mediterranean restaurant, cafes, walking paths, shops, and a hundred or so private houses and infrastructure for residents.
The Chedi Luštica Bay, a 5-star hotel with a spa and beach, has opened on the seafront a few years ago. Its luxurious design has lots of vegetation, a clean sea with a panoramic boardwalk, beach (outside guests can visit for payment), beautiful views, and Mediterranean-style buildings. Their restaurant 'The Spot' occasionally hosts special events, such as wine tastings, live music performances, and themed dining experiences.
Not far from it, there is a small sandy Almara beach with a Beach Club where anyone can come for a day.
Also, there are several other cafes nearby that have very reasonable prices. If you get to come for breakfast, I recommend 21 Bistro Sea View and next-door bakery 'Pekanbaru Davidovic' with delicious borek.
Things to do here on a day trip from Kotor: Walk, visit the hotel, get a spa treatment, dine, and spend time on the beach. If you are not planning to go to the spa or stay on the beach (umbrellas and beach chairs rent prices are somewhat high) then you can easily make it a half-day trip from Kotor and combine it with other attractions as Lustica peninsula has a lot to offer.
I talk more about it in my Herceg Novi things to do post, if you'd like to draw more inspiration.
Must-Have Trip to Tivat & Porto Montenegro
Most people associate Tivat mainly with the airport, not knowing that there is actually much more to it. Yes, Tivat is a small city but there are enough interesting sites to see. Particularly Porto Montenegro which is a modern part of Tivat and the main infrastructure center of the Bay of Kotor.
Porto Montenegro is a luxury marina and waterfront development with a selection of high-end retail boutique shops, numerous restaurants, cafes, and bars offering a variety of international and local cuisines and providing a diverse dining and shopping experience. The concept of this place is to be an alternative to overloaded and terribly expensive city ports in Italy and France.
Here you'll find the most expensive shops and hotels and an amazing PMYC yacht club with a bar, restaurant, and an impressive 64-meter infinity swimming pool overlooking the sea.
Walk around, go for a cup of coffee with a view of the snow-white yachts, or rent a pedal catamaran or kayak and sail to the largest island in the bay Sveti Marco.
And for more details about Porto Montenegro and Tivat read my post about the best thing to do in Tivat city and municipality.
Prevlaka Island & Stradioti Island
Not far from Tivat, there are a few islands that tourists don't usually visit which are great to see together on a trip from Kotor on the same day when you come to Tivat.
The first one, Prevlaka Island (or Island of Flowers which you see in the photo) is easily accessible by car. You can park right after you cross the bridge to the island and then walk on foot.
In the past, during Yugoslavia times, Prevlaka Island was home to the sanatorium complex for the military. Today, it is abandoned and has a small monastery, museum, and ruins of another monastery.
The main reason to come here is for the great views, to swim and fish. By the way, if you are visiting Montenegro in summer and looking to escape crowds of people along the Montenegro coast, come to swim here. This island will be empty.
Stradioti or Island of St. Mark is the largest island in the Tivat Gulf, and actually in the entire Kotor Bay. From a distance on the shore, it seems that there is nothing on the island except greenery. However, from an airplane or helicopter, you can see old buildings and reed bungalows that used to belong to the French company 'Club Med' before the Yugoslav Wars.
No, I do not suggest any helicopter tours. Instead, if you want to have an adventure, you can get to the island in a kayak, boat, canoe, or floatie (just kidding). The best place to rent a boat or canoe is Tivat. Just make sure to wear closed shoes in the summer since there can be snakes.
Tour of the Bay of Kotor (Most Popular Excursion in Montenegro)
The Bay of Kotor is beautiful from any angle. You can admire its ancient cities when walking through the streets, you can sunbathe on its not very popular beaches, or you can go around the bay on a bike (a real adventure).
And what you also can (and absolutely should) do is to see Kotor Bay from the water as the view of the ancient cities from the deck of a boat is simply breathtaking!
The choice of tours around Boka Bay is big but all of them are more entertaining than educational. Usually, guests spend time on a boat that goes along the bay while listening to the guide and enjoying the views or sunbathing on the upper deck. Depending on the company, the tour program and amenities differ. But in any case, you will have a great day trip.
And my favorite part about this tour is availability. Kotor Bay excursion takes place in any weather and pretty much any season even when traveling to Kotor in the fall or winter.
In really windy weather which makes the sea stormy (not in the bay but in the open sea), for the sake of the safety of passengers, the captain may prohibit the ship from entering the Herceg-Novi Bay and the Blue Cave. But that is more common for winters in Montenegro. In the summer this happens very rarely.
>> Full-day Bay of Kotor trip by boat with a professional guide, snacks, and swimming
Day Trip Around the Bay of Kotor By Car
Another must-have experience for a Kotor day trip is to explore it slowly by car. Being one of the best road trips in Europe with hidden pearls of architecture along the narrow winding road, the entire stretch of the bay is full of interesting places, including some locally favored establishments.
If you haven't hired a car yet, I recommend you rent it from a local through Localrent since they can deliver it to the door of your accommodation in Kotor. Otherwise, to save money rent it from an international company at the Tivat airport.
Some of the top places to visit in Boko-Kotor Bay by car during one day are: Tivat, Dobrota, Perast (if you haven't visited on a tour yet), Prcanj, Gornji Stoliv, Ostrvo, Saint George islands, Roman Mosaics in Risan, Tvrdjava Unter, Morinj with one of the most beautiful beaches in Montenegro, Kamenari, Portonovi, and Herceg Novi.
The mandatory part of the program for me always includes a stop at the Al Posto Giusto restaurant in Tivat with excellent European cuisine and delicious hot apple strudel with two scoops of vanilla ice cream and Mussles and Oyster Farm.
But for all the stops and cool places to visit along Boka Bay, you should read my guide to the Bay of Kotor by car.
Rent a car in Kotor with a low (or no) deposit
Ostrog Monastery Day Trip With a Few Sights on the Way
The main holy place in Montenegro – the Ostrog monastery is carved in the rock above the Belopavlichka plain at an altitude of 900 m above sea level.
This is a place of incredible beauty, faith, and spirituality. Also, this is the most visited place by pilgrims in Montenegro and people from all over the Balkans. On Holy Saturday, people tend to gather on the platform in front of the monastery and lie down on mattresses to spend a night in prayers. They believe that every "true" Orthodox believer should do that.
Many travelers try to visit Ostrog. Montenegrins even bring small kids and babies to get closer to relics. For some, it may be better to go on an organized day tour from Kotor and be part of the group than to go on their own.
If you prefer to visit Ostrog without a tour, it is better to go from Kotor through Podgorica (that road is only 6 kilometers longer) and see a few other attractions on the way like another monastery in a cave – Serbian Dajbabe Monastery. Not far from it, there is a waterfall 'Nijagara' and restaurant with the same name.
On the way back, if you still have daylight, make a stop at Slano Lake.
>> Check private day tour to Ostrog & Rijeka Crnojevic
Trip to a Skadar Lake Through a Scenic Road
Skadar Lake or Shkodra is the largest lake in the Balkans. It is worth going there if you would love to explore one of the islands, see unique flora and fauna, abandoned fortresses, and cute villages on its banks. And also do not miss a boat tour offered by locals on the spot.
The best way to visit Lake would be by car. Excursions to Skadar Lake, sold by travel agencies in coastal cities of Montenegro, do not show the real beauty of the lake. A lot of tours are short, guides do not go into details or tell stories about local life. And there are many settlements around the reservoir and a lot of interesting facts to learn.
The gate to Skadar Lake is the village of Virpazar. It is the most touristy place on the lake with a lot of people in the summer. In Virpazar, you can rent a kayak, go to the restaurant, and climb the Besac castle.
Although I personally don't like Virpazar since it's too touristy. So instead, I recommend you to go to Dodosi, Karuc, and Godinje which is a lesser-visited and known village on Skadar lake, even though it's only 10 minutes away from Virpazar. It is famous for its wineries and beautiful scenery.
Stop at Winery Garnet to taste great wine and national cuisine, for example, fish from Skadar Lake or homemade goat cheese. The owner Mishko can show you his winery and rent a canoe or motorboat.
If you want a full-fledged excursion with historical facts and an interesting walk in Godinje, Mishko can offer it to you too and have a tour in English. Contat him in advance to find out about the price and make arrangements. For a faster response, contact him on Instagram.
On the way back to Kotor, instead of taking the same highway road through the tunnel, make a loop and go on a scenic drive through Donji Murici to Cafa Stegvas panoramic point from where you get to see Albania.
NOTE: in August, the water blooms, so you may get the wrong impressions about this place. The ideal time for visiting is May through early July or September through November.
>> A good full-day tour from Kotor to Skadar Lake combined with the visit to Lovcen
Day Trip From Kotor to Lipa Cave & Rijeka Crnojevica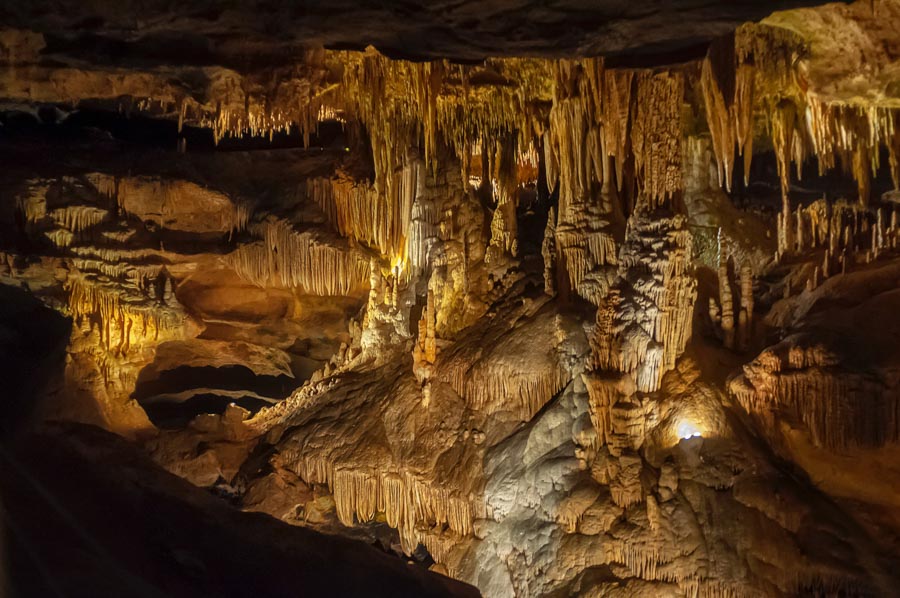 Rather a unique place to visit from Kotor, but it is a good option on a very hot July or August day and when traveling with kids. The temperature is always around 7-10C degrees which helps to cool off when it's hot.
Among the thousands of caves in Montenegro, Lipa Cave is the only one equipped for visits. And it is one of the largest caves in the Balkans. In some ways, it reminded me of the longest cave in Europe located in Liptovsky Mikolas Slovakia.
Inside the cave, there are paths and lighting, outside a cafe with a bathroom. Visitors can walk around the designated area on guided tours to explore the cave and witness its impressive geological formations in the form of stalactites and stalagmites that formed an underground river.
Lipa Cave is conveniently located next to Cetinje, so you can combine these two visits with another visit to Lovcen National Park.
For opening hours and prices, check Lipa Cave website.
Kotor Day Trips That I Don't Recommend Taking & Here is Why
Durmitor National Park
Durmitor National Park day trip from Kotor is not a good idea and I seriously don't recommend doing it. It takes almost 3 hours to get to the park one way but honestly, there are quite a few things to see along the way. With a few stops, you could be driving 5-6 hours one way if not longer.
Even if you don't make any stops and go to the park alone, it will still take 6 hours of your time just to drive to the park and back.
Usually, tourists who go to Durmitor for a day, get to see only the most touristy part of the Black Lake, Durdevica Bridge, and sometimes drive on a scenic road Sedlo Pass. Sometimes it is still possible to fit in rafting or even halfway hike to Bobotov Kuk.
How much else can you squeeze in one day? In fact, not a day but 7-8 hours. In the spring or fall months when days are shorter, it's even less time. However, there is so much more in and around Durmitor Park.
For the best experience, it is recommended to go to Durmitor for at least 2 days. During this time, you'll be able to experience the beauty, try local food, and possibly go on one of the hikes that I talk about in my post about Durmitor hiking.
Whitewater Rafting in Tara
Whitewater rafting in Tara is an absolutely astonishing adventure that should be on Montenegro's bucket list. However, as with Durmitor National Park, spending 5-6 hours in a van just for a few hours on a river rafting boat just doesn't seem to make sense.
If you want to go from Kotor to the mountain canyon for the rafting, it is better to combine it together with a trip to Durmitor. And for that, devote at least 2 days and spend one night in the city of Zabljak or in the mountains nearby.
One day is just not enough time for rafting and local natural landmarks. You'll be tired of never-ending serpentines (about 450 – 500 km). And the mountain area is not a place where to rush. The northern part of Montenegro is a place for relaxation and enjoying the beauty of nature.
If you are still convinced you'd like to go on a whitewater rafting tour from Kotor, choose at least that tour that lasts 12 hours. The drive itself takes 3 hours one way, so you want to make sure you are not tired.
Dubrovnik
The only time when I recommend going on a Kotor day trip to Croatia is when you have seen it all and base yourself in Herceg Novi. While technically it is possible to do a quick trip, it is generally not recommended due to the distance, border crossing times, and the abundance of attractions on the stretch of the road between Dubrovnik and Kotor.
Since the journey involves traveling through several border crossings, it can take a significant amount of time, especially during peak tourist seasons.
Also take into consideration that Dubrovnik, known as the "Pearl of the Adriatic," is a major tourist destination that deserves ample time to explore its cultural and architectural treasures. Rushing through these attractions on a day trip may not allow for a truly immersive experience.
I am an advocate for slow travel which is more qualitative and rewarding at the same time. So I don't believe that you'll have quality time when visiting Dubrovnik on a day trip from Kotor. You'll appreciate it much more by devoting at least 2 full days to this trip.
Where to Stay in Kotor – My Favorite Apartments & Hotels
VILLA MARINER: a beautiful apartment on the peninsula between Kotor and Tivat. It has its own beach and pier. Located in a quiet village Prcanj but is easy to get to from Kotor.
BOGDANOVIC APARTMENT WITH SEA VIEW: A clean and spacious flat in Dobrota which is only a few minutes walk from Kotor. Being only a few steps from the private beach, this apartment has a beautiful sea view from the balcony.
ASTORIA HOTEL: a lovely historic accommodation in the Old Town of Kotor. It has a very unique interior and decor, clean rooms with large beds, and the best location. The hotel, although looks like it was built in a cave, has modern furniture and bathrooms.
HOTEL R PALAZZO: a modern and relatively new hotel in an excellent location in Dobrota that offers absolutely unbeatable views. It features spacious rooms with a modern design, a gym, outdoor pool, sauna, and stunning views of Kotor Bay. Come here to destress and get full relaxation.
More Montenegro Travel Inspiration
Are you looking for more inspiration for travel around the Balkans? I have a ton of posts on Turkey travel and then if you are visiting Romania, check my post on Bucharest to Brasov day trip. For Bosnia & Herzegovina, here are Sarajevo restaurants and cafes guide and must-do activities in Sarajevo.
Did you want to receive more updates on Montenegro travel? Then subscribe to my email.
More Posts About Day Trips Around Europe