Practical Tips on How to Find and Rent Apartment in Montenegro (Long-Term)
Last updated on June 11th, 2023
During our time in Montenegro, we rented three different apartments while living in Budva. At some point, we thought to move to Kotor, Bar and even Zabljak and checked quite a few different homes in those cities, but things didn't work out so we just stayed in Budva.
Living in Montenegro and renting an apartment there was quite an interesting experience. To have a pleasant time and enjoy the country though, it is very important to rent the right type of accommodation in the right place.
That's why in this post I would love to share with you a few details on how to rent an apartment in Montenegro if you are planning to stay/live there longer than 3 weeks. There are a few things to know and look for.
Before I jump into details, here are a few more posts on Montenegro that may be helpful in your planning:
Renting Apartment in Montenegro During the High Season vs Low Season
Montenegro, like many other beach vacation destinations in Europe, depends on tourists. That's why prices for rentals significantly increase in price when summer comes. The high season in Montenegro starts in June and ends in September with July and August being the most expensive months. October through April is considered winter in Montenegro or the low season.
During the high season, it is very challenging to find reasonably priced accommodation, especially if booking with little time in advance. All cheaper options are not always of the highest quality while those that are nice and in a good location are extremely overpriced.
During the summer, there is absolutely no chance to get a weekly or monthly discount since every single home which is on rent is in great demand. All apartments or villas are offered on a daily rate basis.
Even if you take a look at Airbnb, you'll see that no discount is given no matter for how long you try to book accommodation. Sometimes though for June or September it is possible to get a discount if a home is located farther from the coastline or main tourist attractions. Otherwise, expect to pay only a daily rate.
In the low season, those apartments, villas, or hotel rooms that in high season are rented daily, owners prefer to rent for a long time and with a big discount. Ideally, they look to rent their homes out for the entire period from October to May. If you rent an apartment for the whole off-season, you can count on a good discount. In the case of renting it only for three months, the price will be slightly higher than half a year or the entire 8 months period.
If you are a digital nomad who would like to come and live in Montenegro during the whole year and rent an apartment for this entire time, expect a higher price per month. Owners try to compensate for the summer months and add up to a monthly rate.
If you are planning to spend your vacation in Montenegro and have a choice when to do so, visit better in May or September. July and August are incredibly busy and expensive.
Montenegro Accommodation in a Private Sector is One of the Cheapest
If you are a budget traveler who would like to live by the sea during your Montenegro holidays then look into rentals in the private sector.
In this case, you do not need to rent the entire house. There is always an option to rent one floor or part of a home. This option is quite convenient. The owners live in the same building as you. If you get any questions or concerns they are always there for you. And at the same time, the premises you live on still have a private kitchen, bathroom, entrance and often offer a backyard, garden or even pool.
If you are visiting Montenegro for a longer time and would like to be based in one city then the best advice is to rent a hotel or Airbnb in advance for a few nights only, once you get to your destination try to find accommodation on the spot.
For instance, in Budva, Bar, Tivat, Herceg Novi, Becici, Petrovac, and Sutomore almost every house in the private sector has a sign that says: "House for rent". Another option is to start looking online once you are already in the country. In this case, you'll have someone to show you a place.
Prices for this type of Montenegro accommodation start from 20 euros per night.
Montenegro Villas and Prices
Renting a villa by the sea is very common in Montenegro. Although, most villas can be found along the Bay of Kotor. They are not that popular along the coast. Such cities as Tivat, Kotor and Herceg Novi have plenty of options but they are usually more expensive. If you are looking for a quieter neighborhood and at the same time cheaper options, choose between smaller villages such as Risan, Bijela, Muo, Bigovo, Donji Stoliv.
To get to those places you need to have a car. Without one, it will be a true challenge. Since these villages are small, the nearest grocery store and all attractions are located in the nearby larger city. It may be problematic to go there every time by bus.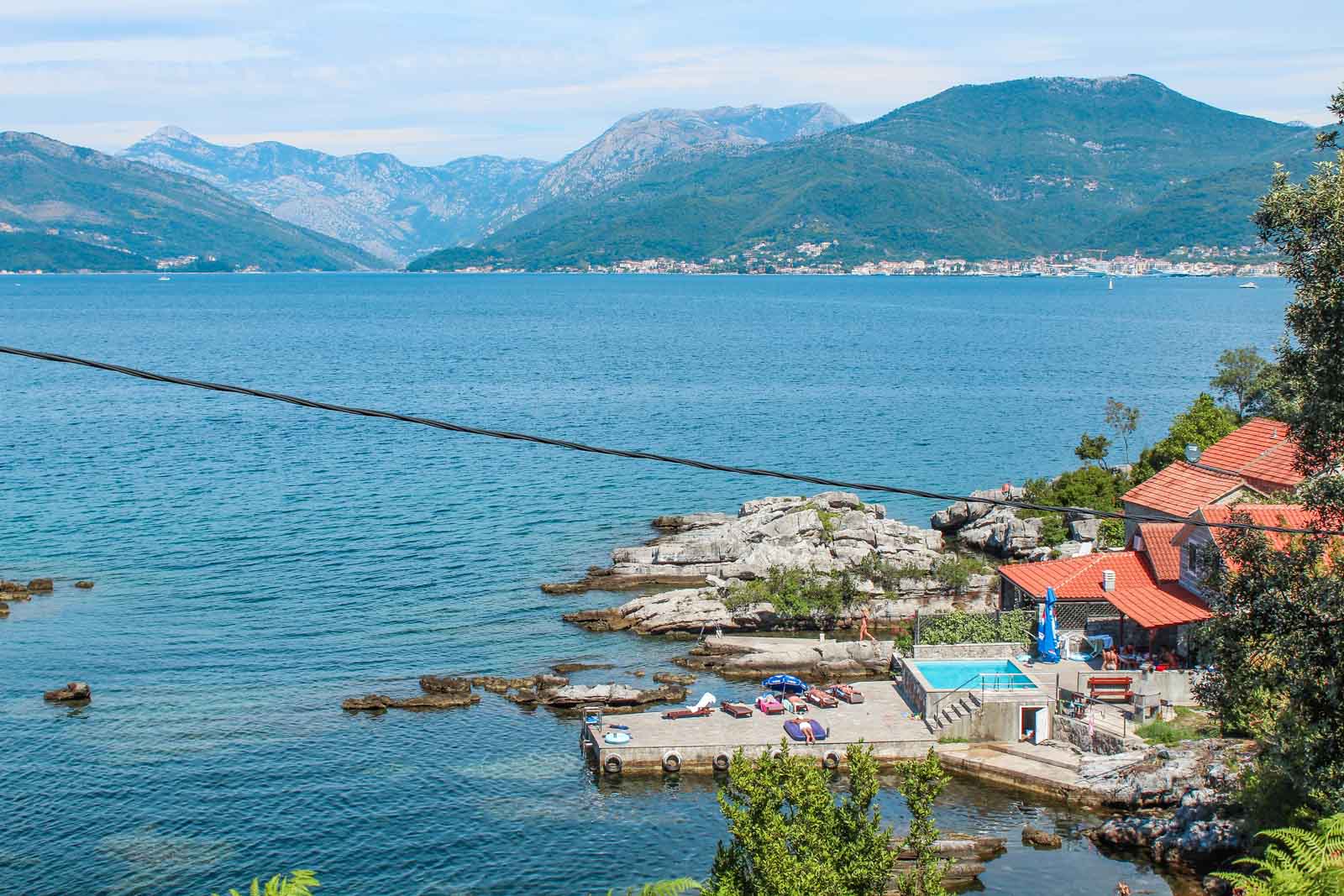 Prices for villas in Montenegro start from 240 euros/night. But usually, they are big and can accommodate a few families together. Each villa usually has several bedrooms, its own garage, and a parking spot along with a swimming pool.
Prices for Villas and Apartments in Montenegro
First of all, allow me to tell you that there are three different types of Montenegro apartments for rent. There are sobas (or flats,) studios and apartments (or suits.) I know, in English apartment and flat are synonyms but in Montenegro (as well as in Ukraine for instance) they mean two different things.
Soba (a flat) – a very basic and simple type of accommodation. It is basically a room with a bed, a hall and a closet, usually equipped with a small shower. The toilet is often shared with other sobas. There is no dining area here and full kitchen (if any at all.) Only minimal availability of furniture is guaranteed such as bedside table, mirror, chair, table, table lamp, and waste bin.
This is the cheapest type of accommodation. Sometimes it may be still nice and have newer furniture but very often it looks a bit ancient and "tired." Also, these rooms often don't have ACs, only fans.
Studio – it looks very similar to what you'll find in other parts of Europe. Although studios in Montenegro are often very small. In one room you get a bed, stove, fridge, tv, dining table and a tiny bathroom separated by a thin wall. Often AC is included.
For many travelers, used to wider spaces, sobas and studios will be rather uncomfortable.
Apartment – this is a new comfortable home that has gone through a modern renovation. It has an integrated kitchen, at least one separate bedroom, a bed with a comfy mattress (not just a sofa or older type of bedding to sleep on as in studios or sobas,) AC. These homes always look modern and new.
Prices for sobas, flats, and apartments depend on the city and distance from the sea. Usually, sobas cost around 150-200 euros per month. The price for a studio is between 200-300 euros. And the apartment starts at 250 euros.
The three most popular regions in Montenegro where to live are the Budva Riviera, the Bay of Kotor and the Barska (or simply Bar) Riviera. If you are not sure what each of them has to offer, here are a few details:
The Bay of Kotor
The Bay is not an open sea. It means that the water warms up sooner than in the sea but also takes more time to circulate and change. Swimming in Kotor city is probably not the best idea at all. Due to the high number of cruise ships that park there, the water is dirty.
Overall though, in summer, water in the Bay is generally warmer than in the sea. That's why if you are planning to rent an apartment or villa in the Bay of Kotor in May and sometimes even in the second part of April, it is a great idea. You will be able to swim there and enjoy the area with fewer tourists.
Another note about the bay is its beaches. They are sandy, have no waves and entering the water is easy and pleasant. If you are traveling to Montenegro with little children, beaches of the Kotor Bay are going to be perfect for them.
I think it's very difficult not to fall in love with this area. There are a lot of cozy pretty quiet towns like Dobrota, Risan, Perast, Kostanjica and others that captivate you from the first minutes.
Prices for accommodation in Kotor Bay start from 20 euros per night. There are thousands of options on Booking and Airbnb websites. But keep in mind, if you wait until summer you may encounter the situation when most of the properties are gone. It is advisable to start planning your trip and making reservations as early as possible.
Budva Riviera
Budva Riviera includes cities and towns near Budva along the coast. The largest and most famous one is Budva which is a bit noisy but very lovely. Budva is a party city but at the same time, it has a lot of activities for children, so it is a good choice for families.
There are both pebbly and sandy beaches, everyone can find to his taste where to swim.
The most famous places for a beach vacation in Budva Riviera are: Becici, Petrovac, Sveti Stefan and Budva.
Barska Riviera
Barska Riviera is less popular among tourists and often it is less crowded than Kotor Bay or Budva Riviera. At the same time, this part of Montenegro has smaller and shorter beaches and offers fewer accommodation options.
This region includes the next towns: Sutomore, Dobra-Voda, Uteha, Bar, and everything that is in between them.
Where Can You Find and Rent an Apartment in Montenegro?
It really depends on how long you are planning to stay. If only a few days then probably Airbnb and Booking are your best resources.
If thinking to stay 2 weeks or longer I recommend the next:
Realitica – locals actively use this resource, so you'll find ads here from both independent landlords and agencies. The website interface is available in English and German, although a lot of listings are often described in Serbian. I recommend just to translate that information into your language but send hosts a message in English. They can also use a translator or simply speak English themselves.
Nekretnine365 – very similar to a previous website. But besides Montenegro, you can also find apartments on this website in Bosnia, Croatia, Slovenia, Serbia, and a few other countries.
When we were looking for the apartment we searched on various websites including these two above but eventually found it through this facebook group. The group is in Russian and mainly Russian-speaking hosts offer their homes there. However, you can post your request in English and someone will definitely get back to you.
We rented 3 apartments through this group and were happy with our options. One time we rented from a Serbian guy and the other two came from a guy from Ukraine.
General Tips on Renting an Apartment in Montenegro
1. If you are planning to visit or stay in Montenegro during the colder months, keep in mind that most apartments and houses do not have central heating. When renting a home, it is very important to check what hosts offer to keep their guests warm. The description of the apartment as "bright, warm and dry" is very important. In Montenegro, winter is mild but still cold and rainy. If the apartment does not get enough sunlight and is not dry, you'll be having mold and damp all over the place. And it will be cold.
2. When looking for accommodation in towns along the Montenegro coast, check thoroughly the location for every single rental. The reason for that is active nightlife and constant honking and beeping. When it comes to honking, Montenegrin people, like Vietnamese, love practicing it on the streets of cities all the time, just on a bit smaller scale. Descriptions of rentals will rarely provide you these details, so it is your job to check if the apartment is not located next to the main road.
3. Another important detail is the distance from a rental to the beach, Old town, main street, etc. In many cities, a house can be located on a hill or closer to the mountains. So if in the description it says that a distance is only half a kilometer, double-check you don't need to walk it solely on a road with no sidewalk or up and down a steep hill. Also, owners often like to say that their apartment is located "not far from the beach" when in reality it is a cliff or rocky shore.
4. If you are booking accommodation in Montenegro independently, there is a tourist tax you'll need to pay. I believe only hotels and some apartments cover it for you but for the most part, a rental cost does not include a tax. Don't forget to pay for it within the first 48 hours in the country. It costs between 1-1.50 euros per day per person, depending on the county you are living in.
5. Do not be afraid to negotiate. Especially if you are renting for a longer period of time and during the offseason. Montenegrins don't usually inflate the price too much (unless it's summer) but negotiation is common.
6. Always make them sign a contract and write in detail what type of utilities are included in the rent and which ones are not. In our first apartment, the owner, before we rented a home, told us that the price we had to pay included everything. He didn't offer any contract and we didn't really insist to have one.
After our arrival and check-in, he asked to pay extra 100 euros for utilities while not checking an electric or water meter and recording the numbers. It was strange because in our second and third apartments utilities never cost us more than 35 euros per month.
7. If you are renting an apartment while being in the country and have an opportunity to go see it, check if all appliances work. In our first home, we had to contact our host multiple times because we kept finding broken or damaged things.
Pots and pans were completely ruined and we were not able to use them. Kettle and iron were broken. The bed frame was cracked. Our fridge was constantly leaking. The vacuumer didn't work. There were so many other things. Our mistake was not to check them in the beginning and then it looked as if we broke all of them.
8. If there is a choice to rent an apartment from a local, Serb or a foreigner, give preference to a foreigner. I am not biased or against anyone but in our experience (as well as hearing from many others who rented in Montenegro) Montenegrin and Serbian owners seem not to care much about anything.
It is part of the culture in Montenegro to be slow, not too involved, and kind of carefree. Often being late and not paying attention to details is considered to be the norm.
Owners of many homes we checked who were locals didn't want to sign any contract, didn't care about us not paying a tourist tax, couldn't understand why we had so many questions about the apartment, and most importantly, they did not deliver what they promised. The apartments always looked somewhat dirty or had broken or missing appliances that were not replaced. To our requests to change them, they promised they would but never did.
With foreigners, it felt easy and very professional. Those who live in Montenegro stay there long-term. The real estate business is the only field where they make money. They work hard and try their best to provide a good service. Not everyone speaks good English but the same applies to locals too. Overall, if using a translator, language is not a barrier at all.
---
***Some of the links above are affiliate. Following them does not cost you anything. In case you purchase or order something through one of them, we may get a small commission. The price for you stays absolutely the same no matter if you buy through our affiliate link or on your own.