6 Hikes in Montenegro That Will Leave You Speechless
Last Updated December, 2020
One of the best things to do in Montenegro is to go hiking. Still, many people who visit Montenegro mainly head to Kotor, Budva or other coastal towns, missing on all the beauty that lays inside the country. Don't get me wrong, these places are amazing. There are definitely a lot of things to do in Kotor and around it, in Herceg Novi and Ulcinj. Yet, I encourage you to go on a few hikes in Montenegro to see all the beauty of the mountains and nature.
There are hundreds of various trails to explore. We did a lot of them during the time we lived in Budva and would love to share a list of our favorite ones.
I know, most likely you won't be able to try all these hikes during your trip. But do not leave without going on at least one of them.
So here is my list of the best hikes in Montenegro you absolutely have to try:
Hike in Kotor to Sveti Ivan Fortress
This is probably one of the most famous hikes in Montenegro. And in general, Sveti Ivan fortress is well-known among tourists. However, they usually get there taking a road from Old Kotor and paying 8 euros per person for the entrance.
I recommend going to the Northern part of Kotor to start hike for free and with only a few people on the trail. Besides that it's free and less crowded (if crowded at all) it also opens a beautiful panorama of the city and bay area. The hike is a bit steep and will be somewhat challenging for kids and elder people. If you are used to hiking and walking a lot, you'll get to the top pretty quickly. If not, just make stops and take it slower.
Once you step on a trail, you'll start noticing a beautiful view of the city. The higher you go, the more spectacular view will be opening up.
For directions: this hike starts near Apartments Ana and zigzags for almost two kilometers up to the top.
What to know: much of the hike is in open sunlight, so it can get incredibly hot in summer. Have plenty of water with you, sunscreen and hat.
On the way back you can take Old Town road which is known as the ladder of Kotor and exit through the gate where others pay to enter.
WHERE TO STAY IN KOTOR
Kotor is a small town that flows smoothly into the neighboring town of Dobrota. There are several small towns on the coast nearby Kotor and lots of options to choose from. Montenegrins have a lot to offer.
Depending on the type of vacation and your budget you can find either a villa on the coast with a pool or private beach (most often a concrete platform), an apartment, a hotel room, a room in a guest house or a bed in a hostel.
If you are planning to spend only one night in Kotor, I would recommend looking into accommodation near the sea line in Dobrota. In this case, you will be waking up to an incredible view of the fjords in one of the most peaceful and gorgeous spots in Montenegro. Here are my personal top picks:
PALAZZO RADOMIRI: Those who travel by car, look for the cutest location and absolutely unbeatable views, will be amazed by this hotel. It occupies a stunning 18th-century palace full of history and luxury. The hotel features spacious rooms, gym, outdoor pool, sauna, private beach and offers yoga classes. Come to spend some quality time and get full relaxation.
APARTMENTS OLIVE: One of the most budget-friendly options in Dobrota with clean rooms that have everything you may need for a comfortable stay and daily life. Beautiful terrace Even though the apartment is located a bit farther from Kotor, you can still easily reach Kotor's Old Town on foot. Each room features a balcony and the hotel has a garden. This property offers the best value in Kotor!
APARTMENT PALATA BIZANTI: Fresh and clean one-bedroom apartment in a historical place in the city center. It has a kitchenette, washing machine, air conditioner and is close to a grocery store, restaurants, and all main activities.
For more information where to stay in Kotor and other cities in Montenegro, check my guide to where to stay in Montenegro.
Wolf Trail in Lovcen National Park
We found out about this beautiful hike by accident when were visiting Lovcen National Park.
While being on the way to Mausoleum, we decided to stop in a small village Ivanova Korita to get a snack and walk around. There, we found many trails that start right in the village and go through the park. During the time we lived in Montenegro we hiked most of them but our favorite turned out to be a Wolf Trail.
There was something magical about this hike. Perhaps because we visited in fall when the forest looked very dreamlike or maybe the reason was in the number of vistas and spectacular views.
Views you get on a trail are breathtaking. You can see the mountains, Tivat, sea and on a good day even Kotor Bay in a distance. My favorite part is that it is a loop and you don't have to walk the same path twice. The scenery is changing multiple times throughout the hike – you walk through the valley, forest, village, and rocky hills.
Follow our guide to hiking in Lovcen National Park where we talk in detail about this hike and a few other beautiful trails.
---
RELATED POST: 6 MAJESTIC HIDDEN PLACES IN MONTENEGRO YOU ABSOLUTELY HAVE TO SEE
---
WHERE TO STAY IN LOVCEN NATIONAL PARK:
Lovcen National Park is conveniently located not far from Budva, Cetinje, and Kotor. It can be always a one day trip if you are staying in one of those cities. However, if you decide to stay overnight in a park, there are only a few options to choose from: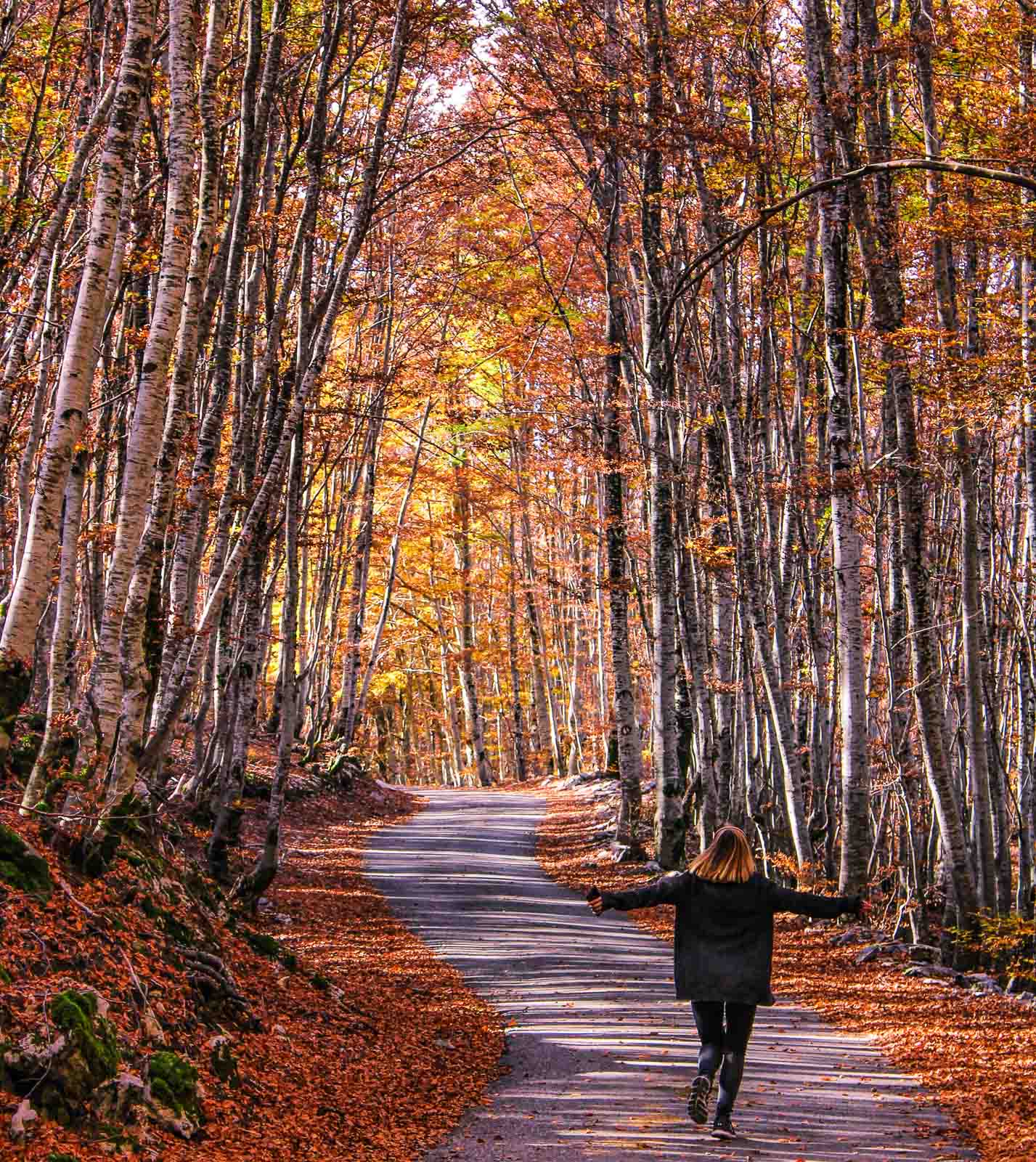 Hotel Ivanov Konak – this hotel is right in the heart of Lovcen National park. It has only a few nicely decorated rooms, a restaurant, ample parking, and satellite TV. Check their availability, but I have to tell you they often sell out their rooms with a lot of time in advance.
Hotel Monte Rosa – it a beautiful quiet hotel with gorgeous views of the mountains, pool, restaurant and bar with a spacious terrace. As many times as we visited Lovcen, this hotel was always packed. Check prices and availability here.
Holiday Home Windrose – an entire house with 3 bedrooms which is pricey for a couple, but if you are traveling with a big party, it may be something you'll absolutely love. This house is located right near the trail, in such a quiet and peaceful setting. We passed by it when we were hiking and thought it looked just like a house in Hansel and Gretel fairy tale.
For budget options, I recommend looking into Cetinje. This city is way cheaper than Budva or Kotor.
Curevac Hike in Durmitor National Park
It is one of the northernmost hikes in Durmitor National Park which brings you to the top of Tara canyon. On this hike, you get a view of the second largest canyon (after Grand Canyon) in the world.
Since the trail starts in the wilderness you need to have a car (read this post to know all the details about the car rental in Montenegro) to drive to where it starts. Just find on a map Curevac and follow the directions towards it. The road gets a bit bumpy so watch out when driving. You'll see a parking lot on your right where you can park and start your hike from there.
The path is well-marked and clear, but it is a bit steep and rocky. It may be challenging for small kids and elder people.
This hike is short and can be completed within 1.5-2 hours.
I recommend going either during the first part of the day or for the sunset. Going in the morning means that the sun will shine right on the canyon and you'll get a clear view and take good pictures. With sunset, the sun rays get right into your eyes and above the canyon making it difficult to see all the beauty.
I have a full guide to Durmitor National Park hiking, where you can find more amazing trails and add them to your Montenegro itinerary.
Savin Kuk Hike in Durmitor National Park
Everyone, who goes to Durmitor National Park, hears about Black Lake. In fact, local tour agencies, when introducing visitors to Durmitor park, usually bring them to Black Lake. So it is easy to find lots of information on hikes around the lake and nearby forest.
Savin Kuk hike is not anywhere near the lake but if you go all the way to the end of this trail you'll get a stunning view of the Black Lake from above.
This hike is very strenuous if you decide to do it without a chairlift.
When we were there in October the skylift was closed for the season, so we decided to give it a try and hike all the way to the top wearing just snickers and jeans. We were not thinking on that day, you know. And oh my gosh, how challenging it was. We hiked almost 3 kilometers one way (2 miles) with the elevation gain of more than 2 km (7K feet.) Crazy us!
But we've done it.
I recommend doing the entire hike only if you are an experienced hiker, who wants a strenuous workout, has proper shoes
, hiking pants
and a lot of time. Otherwise, take a skylift, save time and enjoy the same views. After you get to the top of the mountain by skylift, it will take another 30 minutes to hike to the summit.
What to know: It gets incredibly windy and cold on the top of the mountain. You may need to have a jacket with a hood even during the summer.
In order to reach this trail, you need to have a car. It starts near the restaurant KOLIBA in Virak and takes approximately 10 minutes to drive from Zabljak.
WHERE TO STAY IN DURMITOR:
The best place to stay would be in Zabljak town. Mark and I have stayed there in two different hotels and Airbnb apartment. Each of them was good in its own way. Read this post to find out details. All the information on the best accommodation is all the way in the end.
Hike to Kapetanovo Lake in Moraca Mountains
If previously mentioned trails are more or less known among some travelers, this hike in Montenegro is a true gem that no one knows about. Kapetanovo lake is located right in the center of the country, between Kolasin and Niksic. Not many people know about this place, that's why it's still one of the least visited and discovered gems in Montenegro.
In my opinion, this lake and surrounding nature look very similar to some scenery in Norway. In general, I believe many places in Montenegro look like some places in Norway, just in miniature.
To get to Kapetanovo lake you either have to hike around 5 km (3 miles) one way from the end of the paved road or go there by jeep.
In the summertime, you can camp, stay overnight, go on other hikes, picnic and even dine at one of the local diners. Also, in summer flocks of sheep and cows graze near the lake making it look a bit fairytalish. In winter, everything is closed and looks abandoned.
If you would like to hike a bit more, check another lake in the area – Manito lake. It would take around 40 minutes one way to get there.
The best way to get to Kapetanovo lake is through Niksic. But keep in mind that at some point the asphalt road ends and from there you need to hike (unless you come by jeep.)
What to know: In winter, the weather is usually cold and very windy, so perhaps hiring a jeep would work better. In summer, when nearby Niksic is baking hot, Moraca mountains experience lower temperatures.
WHERE TO STAY:
A trip to Kapitanovo lake can be done during one day from Kotor or Budva, or if being on the way from/to Durmitor National Park to/from the coast.
I wouldn't recommend staying overnight in Niksic because there is not really much to do in this city (except for eating and drinking in a few restaurants) and to me personally, some parts of this city look somewhat depressing. It's informative to visit and spend a bit of time but I wouldn't recommend staying overnight. However, it's up to you.
My picks would be to camp near the lake (if you are a camper,) stay in Savnik or combine with a trip to Zabljak.
In Savnik, I personally can recommend Eco Selo Nevidio. Even if you don't get to stay here, stop for lunch or coffee at their village-like restaurant with a lovely view.
Hike to Gate of Wishes and Old Military Road in Mrtvica Canyon
I have read a few guides about this hike in Montenegro but it seems not many people still do it. During all six hours that we spent hiking, we met only a few other people that seemed to be locals. Overall the trail was empty and quiet.
On this hike, you pass the village, cross a few bridges, walk along the crystal clear river, forest and hike through the deep canyon. Once you are in the forest, there are not any signs pointing to Gate of Wishes. So you need to make sure you don't pass by a side path that leads to it. There is only one side path on your left if you are hiking from the trailhead. Just don't miss it. We almost did because were busy talking.
This trailhead starts in Medjurecje village, where you leave your car, and has lots of signs. Partially it can be done as a loop and is rather long (around 15 km.) It's probably better to go on this hike if you travel from Podgorica or stay overnight in the area. In case you don't feel like covering all this stretch, just turn back after you visit Gate of Wishes.
If you plan to explore more than just Bay of Kotor and the coast of Montenegro, do not miss this hike. You will be definitely amazed.
WHERE TO STAY:
For accommodation, I recommend staying in Kolasin. Check availability and rates here.
---
Have you been on any hikes in Montenegro yet? Did you visit this country at all? Would you add anything to this list? I want to hear from you guys!
Was this post helpful? Pin it to refer to it later!