14 Exciting Day Trips From Lviv To See Western Ukraine
Last updated on July 8th, 2022
Lviv is a city that captivates from first sight and where many people want to return again and again. It has plenty to offer for a short vacation and for a long a few months stay. If this is going to be your first or twenty-first visit to the most romantic city in Ukraine, I invite you not only to dedicate your time to ancient streets, cathedrals, and themed cafes but also go on a few day trips from Lviv.
There are many wonderful places in the vicinity of the city where you can relax, learn something new and get away from the hustle and bustle.
Within 1-2 hours from Lviv, you can visit mysterious castles and monasteries, go rock climbing or hiking in the northern part of the Carpathian Mountains (that part which is closer to Lviv), see picturesque waterfalls and stormy rivers, and even visit wineries or cheese farms.
You can get to all these places by car, public transport, or on an organized (group or private tour).
We visited most of these places by car combining them together in a longer getaway. If you'd like to do the same and rent a car in Lviv, check my guide to Ukraine car hire to know where to rent and what to know.
Day Trips From Lviv to Castles
1. Trip From Lviv to Svirzh Castle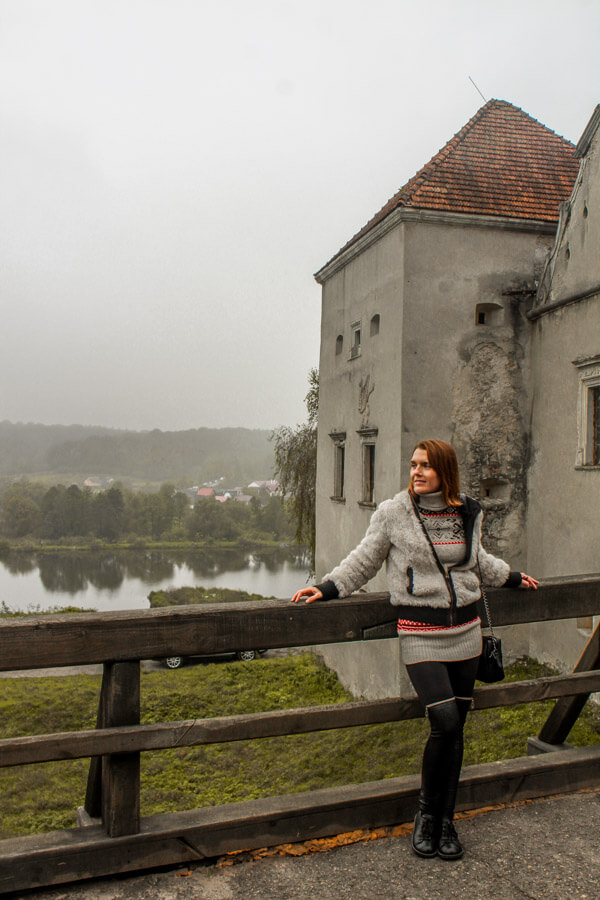 Svirzh castle is one of the lesser-known castles in Ukraine (among foreigners) that is worth a visit and should be on everyone's list. At first glance, it looks small and not very outstanding but when you get closer or inside, you'll notice how beautiful it is. And the best part is that it is located in the picturesque village of Svirzh. A wonderful nature, romantic atmosphere, and a breathtaking landscape make this castle an instagrammable spot for artists and photographers alike.
Founded in the 15th century, Svirzh castle, which was originally a defensive brick building, was repeatedly ruined and rebuilt. During the Soviet era, the building was converted into a school for tractor drivers and later it became a house of creativity of the Union of Architects. The new restoration in 1975-1983 gave it that look the castle has today. Many Ukrainians know this castle as a decoration for many movies filmed in Ukraine and the former USSR.
The reason you'd want to travel here is the atmosphere of a place, history, and beautiful nature. A building rises on a small picturesque mountain with a small green park on one side of it. There you can enjoy a walk and architectural beauty. The other side of the building is facing a magnificent natural lake and an ancient church from 1546.
NOTE: Svirzh castle is closed to outside visitors unless a reservation was made ahead of time. If you can't get inside, it is still an amazing place to spend half a day away from Lviv to walk around, have a picnic, pop into the nearby church, go on a stroll around the castle and village, and take in the views.
I highly recommend you to visit this castle but more than that, I am inviting you to join our tour which also includes a visit to a family-owned amazing winery.
How to Get to Svirzh Castle On Your Own
If you are using your own vehicle to get places then the easiest way to reach Svirzh castle is to take the H-09 highway to Bibrka and turn left onto the T-1411 highway. The road is in excellent condition, so driving there won't take more time.
If you are going by public transportation then the most convenient way is to go by bus departing from bus station #5 on Zelena Street. You need a bus Lviv-Peremyshlyany which usually runs every hour.
2. Lviv Day Trip to Olesko, Pidhirtsi & Zolochiv Castles
Olesko, Pidhirtsi, and Zolochiv castles are probably the most popular castles near Lviv that a lot of tour companies try to sell to foreigners. Some guides also call these three castle complexes the "Golden Horseshoe of Lviv region" and offer visits to all of them on one trip.
Olesko castle is one of the most famous and best-preserved castles in Ukraine. It is also considered one of the oldest fortresses in Ukraine during the Kievan Rus. The first written mention of it dates back to the end of the 14th century when the future King of Poland, Jan III Sobieski, was born there.
Today Olesko Castle is truly a place of famous exhibits. There are more than 1,500 exhibits in total that include many Ukrainian icons, wooden sculptures, a marble bust of Queen Barbara Radziwill, a portrait of the tycoon Mykola Vasyl Potocki, the battle painting "Battle of Vienna", unique collections of works by different sculptors, original furniture of the 17th-18th centuries and many other valuable historical monuments.
Pidhirtsi Castle is a magnificent example of a Renaissance palace from the 17th century that perfectly combines with the fortifications. This castle has a difficult history – it was destroyed three times but each time it was rebuilt and brought to its original state.
In the 50s of the twentieth century, after seeing many wealthy owners, a fire badly damaged the building. Thus the castle's interiors were almost completely destroyed. After restoration work, authorities established a sanatorium there and in the 90s they transferred it to the Lviv Art Gallery.
Today Pidhirtsi Castle is a wonderful complex for picnics, long walks, and photoshoots. It is surrounded by a beautiful ancient park with ancient trees and green lawns.
Zolochiv castle complex was built in 1631-1634 at the expense of Jakub Sobieski (Father of King Jan III Sobieski). It consists of two palaces – the Great Palace and Chinese Palace and has become the first on the Ukrainian land, equipped with canalization and heating system. Over the centuries of its existence, the castle has been a fortress, a royal residence, a manor house, an educational institution, and even a prison. Today this is a museum-reserve which is also a branch of the Lviv Art Gallery.
The castle has a cafe and a souvenir shop with some food. So if all this mystical atmosphere whets the appetite, there is a place to eat.
How to Get to Golden Horseshoe Castles
Getting to Golden Horseshoe Castles is possible on your own by car or by bus, or on an organized tour. There are multiple agencies in Lviv that offer a number of tours to Olesko Castle, including Pidhirtsi and Zolochiv castles too. We also have this tour on offer.
However, there is one thing you need to know before signing up for the tour with anyone. All three castles are part of the Lviv Art Gallery which does not allow any guides from outside. Any tourist coming on an organized tour to Olesko, Zolochiv, or Pidhirtsi castle would need to pay extra to get in and go with another guide. But the problem here is that most of the guides working at the castles are mainly Russian & Ukrainian speakers. Most of them can barely put two words together in English and offer a high-quality experience.
If you are still looking to visit these three castles on a day trip from Lviv, weigh these options first.
3. Full-Day Trip to Tarakanivskyy Fort
Tarakanivskyy Fort or as it is also called Dubenskyy Fort is a 19th-century architectural monument. It is located near the village of Tarakaniv, Dubna district, Rivne region, in a picturesque area above the river Ikva. The best way to visit is either on a separate half-day trip from Lviv or to combine with a tour to Lutsk or Dubno Castle that stands in the town of Dubno.
Tarakanivskyy Fort is another fortress of Ukraine which looks more like one ruin these days. Yet, the building attracts tourists with its dungeons and history and is called the Ukrainian Fort Boyard. Many people also say it is one of the mystical and haunted places in Ukraine since there are more than 200 Austrian soldiers buried under its walls.
It has the shape of a diamond with sides up to 240 meters. From the outside, it is surrounded by a deep moat with earthen ramparts fortified by strong walls. In the central part of the fort, there are two-story barracks that lead to four underground passages, laid under the second earthen rampart. There, you can still see where residential rooms, warehouse, and utility rooms for the artillery and commander of the fort used to be.
Visiting Tarakanivskyy Fort is not for everyone. It's more for people who like an adventure and old, somewhat creepy sights.
NOTE: If you want to visit, I recommend doing it on a tour or with someone who knows the area very well. According to historians and researchers, there are still active traps all around the Fort. Once trapped, a person falls into an underground pit. Therefore, it is better not to go on your own.
Are you interested to go? One of our tour guides can lead you there. Get in touch to find out the details!
How to Get to Tarakanivskyy fort
To be honest, this is the first time when I don't know what to say. Finding this fort is not easy. It is best to go by car and ask locals for directions because google maps don't show the right location.
But again, I do not advise going there alone. You can get lost in the confusing corridors. Plus with the guide, it's definitely going to be more interesting and educational.
TIP: If you decide to go by yourself, there will be some area where you'll need to walk after dropping a car. On that walk, you will come across tall grass that looks similar to dill. Do not touch it under any circumstances. This is a poisonous plant that burns the skin, making wounds painful and difficult to heal.
Day Trips From Lviv to Nearby Cities & Villages
4. Half-Day Trip to the Medival City Zhovkva
Would you like to see a perfect city in Ukraine? Then come to Zhovkva! This medieval destination was built on the concept of "ideal urban planning" which was widely used during the Renaissance and where each building is located to another one according to clearly defined proportions.
Zhovkva is not really a city, it's a cozy town with less than 20,000 population which is also one of the 7 wonders of Ukraine. Located only 30 km from Lviv, it is easy to get there on a day trip.
Zhovkva was previously considered the residence of the famous Jan Sobieski III who was famous for his love of majestic buildings and because of whom it got such a pretty look. But besides being an ideal city with beautiful structures, Zhovkva is unique in that way that it has 55 important and interesting architectural monuments, located in one place around Market Square. A lot of them are included in hundreds of famous masterpieces around the world.
Some of the most impressive ancient wonders are Zhovkva Castle, Holy Trinity Church (300 years old wooden church with beautiful iconostasis), the Town Hall, St. Lawrence's Church, Vicheva Square, Basilian Fathers Monastery, and Synagogue. A few hours would be enough to visit them.
You can just wander the streets from one neighborhood to another, enjoying the beautiful architecture and feeling the indescribable atmosphere. However, excursions and numerous sights are not the only things to do. You can also relax in one of the open-air cafes on the main square or go on a picnic in the central park of the city.
Would you like to see Zhovkva on an organized trip? Check the tour we offer which also includes a visit to Krehiv Monastery and a nature walk.
How to Get to Zhovkva On Your Own
If you are going to Zhovkva by yourself, it is easy to do that both by car and by public transport. The road from Lviv is in a good condition, so driving is not a problem.
By public transport, you can take a bus that departs from station №2 in Lviv or hop on a train at the central railway station.
5. One Day Trip to Drohobych
Drohobych is a wonderful old-time city – second after Lviv by population in the Lviv region. It was founded in the XI century but became visible as a settlement and started to develop actively in the other half of the XIX century when residents found crude oil. Drohobych got the first oil refinery and oil lanterns in Europe.
At the beginning of its history, it was known for salt production, later survived the oil rush, and after World War II for 20 years managed to be the regional center of the Drohobych region with a population of over one million people.
What is so special and interesting about Drohobych today?
First of all, the city is home to unique and ancient shrines. And you could see some of them on postcards of Ukraine. Some of the legendary structures are the Church of St. Yura, the second oldest Gothic church in Eastern Galicia – the Church of St. Bartholomew (from the late XIV century.) which is among the top-10 mystical churches in Ukraine. The local Choral Synagogue is also famous for its majesty, the largest in Galicia it was also the largest in (Eastern) Europe.
Second, Drohobych is famous for the salt plant. There, you can learn about the history and the process of salt production.
NOTE: While you can definitely go to Drohobych on your own, visiting historical places and the salt plant without excursion will be difficult to tell you the truth. With a guide, you can learn and see quite a lot. We have one day tour from Lviv to Drohobych which we also combine with a visit to a cheese farm, and a quick nature walk.
How to Get to Drohobych on Your Own
Of course, the most convenient way is to go by car. By public transportation, you can go by bus (#292 around 2 hours one way) or shared taxi (marshrutka) from bus station #8 (near the railway station) in Lviv.
There is also an option to go by train Kyiv-Truskavets that stops in Drohobych but the railway station in Drohobych is quite far from the center. The street connecting the city and station is not interesting and heavy with transport. Marshrutkas usually stop in the city center, so some people prefer to go by them.
6. One Day Trip From Lviv to Lutsk City & Lubart's Castle
Lutsk is the capital of the Volyn region in Ukraine, famous for a long history and lush greenery. The main attraction of ancient Lutsk is Lubart's Castle.
The first mention of it dates back to the XI century but its formation as a fortress dates back to the XIV century when Lutsk passed into the possession of Lubart, the son of Lithuanian Prince Gediminas. Before the Second World War, the building housed the Volyn Museum of Local Lore. And in 1985 it became a historical and cultural reserve.
Nowadays, Lubart Castle is home to a museum complex. On the first floor, you can visit the medieval prison and the exposition around it. On the second floor, you can see ancient artifacts found during archeological excavations and the museum of bells in Ukraine. From time to time, the castle hosts knights' tournaments. If you'd like to visit one, check out in advance a list of events in Lutsk.
Besides the castle, there are many more cool things to do in Lutsk in one day. An old town, unique museums, central Lesya Ukrainka Street with bustling life, street musicians, and multiple cafes can keep you busy for a few days, not just a day.
Would you like to go to Lutsk on a private tour? We can arrange it for you or invite you on a group tour which also includes a visit to the Tunnel of Love and/or Olyka Castle.
How to Get to Lutsk
Lutsk has a great connection with many cities in Ukraine, especially with Lviv which is nearby. The most convenient way is to go by train or by bus that departs from the main railway/bus station.
7. Half-Day or Full-Day Trip to Truskavets
Truskavets is a popular Ukrainian resort-town, famous for its healing springs and beautiful nature. Being at an altitude of 400 meters, it has fresh and clean air. Here you will find a huge variety of terrestrial and underground mineral springs that have various healing properties.
The city has about 30 sanatoriums specializing in the treatment of a large number of diseases and a wide amount of beautiful hotels that have both budget and luxurious rooms. The nature surrounding Truskavets is impressive – there are beautiful mountain landscapes, many green areas, and parks. Central Park 'Adamivka', by the way, has the oldest mineral water pump room.
When it comes to any historical sights, Truskavets has none. People don't go there for history or culture. The main reason to visit on a trip from Lviv (or from any other city in Ukraine) is to drink mineral water with different flavors, take a walk in one of many parks, breathe the cleanest air, visit a spa, stop for lunch in one of the cafes on the promenade, and enjoy peace and calm. Truskavets is a small but beautiful and compact town. In a day, a maximum of two days you could bypass it lengthwise and crosswise.
Depending on the availability of time and your goals on the trip, you can stay in Truskavets for a few days, a week, or spend a full wellness holiday. Some people come for one day, spend a night, and leave for the Carpathian Mountains the following day.
One day is enough for you to get acquainted with Truskavets and taste all kinds of water. But for a full experience to use water as a treatment, you'd want to stay there for a few days (which is an absolutely wonderful experience). For a longer stay, see a list of the best hotels.
How to Get to Truskavets
You can reach Truskavets by bus from the main bus station and by train from the main and suburban railway stations in Lviv. By car, T1416 and T1402 roads are the best roads for driving in that direction. E471 road is also in excellent condition but driving on it may take more time.
Nature Trips From Lviv to the Carpathians
8. One Full-Day Lviv Tour to the Turka Village
Turka is a small village in the Carpathian Mountains that was the capital of the people of Boyko origin, an ethnographic group that lived in the Carpathian region. Turka is famous for its beautiful architecture and a large number of parks. Oh, and a beautiful view of the river Stryi.
Also, the village has many historical monuments and ancient churches. Some of the most famous are the wooden church of St. Nicholas, the Church of the Assumption, the Church of the Blessed Virgin Mary.
For the fullest experience, I highly recommend visiting the Museum of Boykivshchyna (the land where Boyko people lived) which has a huge number of household items, costumes, utensils, tools, and art objects. Of course, it is better to go to the museum with a tour guide to hear interesting stories about the region and traditions and see the whole collection of ancient artifacts come to life.
But my favorite part about Turka is the opportunity to go biking on one of the most picturesque roads in the Ukrainian Carpathian Mountains. There are multiple different routes that can last from a few hours to a few days. Car traffic in that region is almost non-existent. So it is a perfect place to ride a bike while meandering among the Carpathian slopes and Boyko villages.
The best time to visit Turka is any time of the year. However, if you plan to include biking, then expect nice weather from the beginning of May until early October.
Would you like to go with us on this trip? We can organize it as a small private tour or invite you to join a group of other adventurous travelers. Inquire about it here.
How to Get to Turka on Your Own
By car, you can get to Turka in two or three hours. It all depends on whether you go through Stryi or through Staryi Sambir. Both roads are in good condition, although a stretch from the Staryi Sambir to Turka has a few cracks.
By train, you should look for a train Lviv – Solotvino, Lviv Tyachiv that stop in the village of Turka. The faster option will be to go by electric train Lviv – Syanky that departs from the Suburban Railway station in Lviv.
The last option is to go by bus departing from the main train station.
9. Day Tour to Tustan Historical & Cultural Reserve
Tustan is a special place in the Carpathian Mountains of Ukraine, called by many 'a place of power'. In the past, it was an ancient defense complex-fortress on the rocks and an important strategic point that guarded the western borders of Kievan Rus and later the Galicia-Volyn principality.
Today not much is left from the former Tustan fortress. Yet, the remains are part of the historical and cultural reserve of the same name. The remains, by the way, are on the rocks that are higher than 80 meters.
Every year in August the festival "Tu Stan!" takes place there. If you are visiting during this season, you can see ancient battles, medieval dances and enjoy live traditional music. On any other day, Tustan is a fantastic destination to come to admire the scenery, breathe fresh air, see ancient petroglyphs, and enjoy a day in nature.
Not far from Tustan, there are quite a few other cool places, like waterfalls, spas, culture centers, and mountain peaks. So it can be easy to turn a one day trip from Lviv into a weekend getaway. The same area in the early winter:
Tustan is a pretty popular spot, so you better come early in the morning to be able to take photos without crowds of people. The big advantage of the location is that it is convenient to get there by car since a road in excellent condition leads all the way to the rocks.
Would you like to go on this Lviv tour with one of our guides? We combine a trip to Tustan with a visit to the old cave monastery, Laznyy and Kamenetsky waterfalls, and one of the scenic hikes. If interested, request more details.
How to Get to Tustan
If you are going on your own and coming by car from Lviv, there are two ways how to reach Tustan Reserve. The first option is to take the highway E471 through Stryi to the village of Verkhnie Synovydne and then turn onto the road T1421 towards Urych. The second option is to take the highway T1416 and T1402 to the town of Skhidnytsya where to turn onto T1421.
If going by public transportation, the best way is to take a bus to the village of Urych from Lviv from the main bus station. You can also get there by train from the main and suburban railway stations. But the train is less convenient since you need to get off at the station in Verkhnie Synovydne village and hitchhike or hop on a bus to the village of Urich.
10. One Full-Day Hiking Trip From Lviv to the Parashka Mountain
If you are looking for a quick trip to the Carpathian Mountains for one day of hiking near Lviv, I recommend you to head to the Parashka Mountain in Sokolivski Beskydy National Park. In fact, this mountain is located very close to Tustan Reserved mentioned above.
Parashka is the highest point of the Lviv region from where on a clear sunny day you can see Lviv city in a distance. Also from the mountain, you can enjoy the panoramic views of the picturesque nature of the Carpathians. It is especially beautiful here in the morning when the lowlands are covered with a thick white fog.
The height of Parashka reaches 1268 m above sea level. You can start your ascent from different sides of the ridge – from the town of Skole or from the village of Korchyn. A hiking trail leads to the top and has marks. Not far from the Korchyn village towards Parashka, there is a small but beautiful waterfall Hurkalo.
How to Get There
If you plan to start your hike in Skole then you can reach it by regular buses from the Main Bus Station in Lviv on Stryiska Street. There are also trains from Lviv's main railway station on Dvirtseva Square and trains from the city's suburban railway station on Horodotska Street.
If you decide to start your route from Korchyn, then you need to transfer in Skole and take another local bus or use the services of taxis or local private carriers.
By car, you need to go from Lviv on the highway M06/E471/E50 to the city of Skole.
11. Day Trip to Vyhoda Village
Would you like to get to know the Carpathians Mountains from the window of a train? Then I encourage you to go on a day trip from Lviv to Vyhoda village where you can hop on the Carpathian tram and in just one day get acquainted with the nature and famous places of the region.
The Carpathian Tram is basically a mini-train that travels on a narrow-gauge railway only 70 cm wide. It consists of a locomotive and two open-air carts with soft chairs. Created with the support of the European Union under the initiative "Carpathian Narrow Gauge Railways", Carpathian Tram has good infrastructure and serves as a visiting center of the region. It passes by beautiful villages, forest glades, the Mizunka river with waterfalls, and mineral springs.
The tram trip usually follows the classic four-hour route (the most popular). However, there are also longer 8-hour tours.
Besides the Tram, there is also a Narrow Gauge Railway Heritage Center. It tells the history of the narrow-gauge railway and the woodworking industry and is open five days a week from Wednesday to Saturday.
The Carpathian Tram runs only then when there are enough tourists. If you want to go with your family without any other people, it is possible to arrange an individual tour. For that, you'd need to ask a local to help you (since workers' English is bad) and better call a few days in advance.
For the best experience in this part of the Carpathians, it is better to go with a guide. Get in touch if you need help arranging a transfer (in a private car, minivan, or bus), tram tickets, guide support, and meals. We can also create a customized tour which will include a visit to the monastery, mini hike, and/or cheese farm.
How to Get to Vyhoda
With this trip, the best way to reach the "Carpathian tram" is by private transfer or your own car. Going by public transportation will be a bit of a hustle.
For that, the best option is to choose any electric train to Stryi from the Suburban railway station in Lviv. In Stryi, transfer to another electric train "Stryi-Ivano-Frankivsk" and get off at the station of Dolyna. In Dolyna, you need to catch a bus going through Vyhoda (7 km ride).
12. Half Or Full-Day Trip to Groth Pryyma
Groth Pryyma is a natural grotto landmark near Mykolaiv town only 40 km away from Lviv. It is located in the old and densely planted forest near the main road and offers impressive views and interesting history. Groth Pryyma is known primarily for the fact that in this place archaeologists discovered an ancient Neanderthal site in Ukraine. But even without knowledge of the historical facts, the caves are impressive.
The cosmic alien landscape, complemented by green forests and a river, creates just an incredible combination. The caves seem to be made of huge bones, and from the upper tiers, there is a beautiful view of the rocks.
For the best experience, it is better to go for the entire day. It will give you plenty of time not only to hike to the caves but also walk in a beautiful wild forest. If you are lucky, you may see deer, hares, and pheasants. In colder weather, you can go mushroom hunting.
NOTE: If you rent a car and go on your own in summer, you can also make a short detour and stop at Zadorozhne Lake. It's a nice lake for a swim on a hot day.
How to Get to Groth Pryyma
The best way to reach Mykolayiv town is by bus from Lviv from the main bus station. You can also get there by train from the main and suburban Lviv railway stations. After arriving in Mykolayiv, you need to walk about 2 km to the grotto.
By car, the fastest road is highway E471 to Mykolayiv but then you need to turn on a dirt road to the forest and walk another kilometer or even less. If you feel like going with a guide, get in touch and we'll arrange that for you!
Day Tours From Lviv to Historical or Religious Sites
13. Trip From Lviv to Univ Lavra
Univ Lavra is one of the oldest monasteries in Ukraine where monks live in prayer and work. It is a monument of history, architecture, and religion that enchants with its beauty and fills with positive energy. The monastery has been standing in the village of Univ in the Lviv region for more than seven centuries. The exact date of its construction is not clear but the first mention of it appeared somewhere in the first half of the XIV century.
Univ Monastery or as it is also called Univ Holy Dormition Lavra is part of the Ukrainian Greek Catholic Church. Twice a year it attracts Christian pilgrims from around Ukraine.
The main reasons to visit this sacred place on a day trip from Lviv are:
• See one of the oldest centers of the Greek Catholic religion in the Galicia region. Its architecture is something that delights even the most non-religious visitors because the majestic monastery has gathered the best features of different eras.
• It is worth visiting the Lavra for the museum alone. It has a great collection of artifacts together with an extremely interesting collection of archaeological finds.
• The miracle water stream and icon of the Virgin Mary are famous far beyond the country. Anyone who is interested in the history and religion of Ukraine should see them.
• Enjoy nature. Lavra is surrounded by hills and forest which creates a fabulous picture and atmosphere.
• Meditate. This monastery is a wonderful place for religious and non-religious people to come to spend a few hours or a day in prayer, tranquility, or just in silence to be able to get all thoughts together.
NOTE: You can always combine a visit to Univ Lavra with a trip to Svirzh Castle, mentioned above.
How to Get to Univ Lavra From Lviv
You can take a direct bus (not really a bus but a marshrutka-type shared taxi) from Lviv to Univ from the main Bus Station №6, located at 154 Lychakivska Street.
By car, getting to Univ is easy and quick if you take the highway H-02. A trip will take about an hour and the road is good. However, do not turn to Lavra from the main road to go through the field. Better drive through Univ. The road is longer but in much better condition.
14. Lviv Day Tour to Pochaiv Lavra
Pochaiv Lavra in Ternopil region is one of the greatest shrines of the Orthodox world and is second, after the Kyiv-Pechersk, Lavra in Ukraine.
It is a majestic architectural ensemble that consists of 16 churches, the archbishop's residence, a bell tower, and monk cells. All buildings are ideally combined with a picturesque landscape, a rocky slope of a mountain, and hills. Among the shrines of the Pochaiv Lavra are the footprint of the Mother of God, a spring with healing water, a miraculous icon of Mary, and cells of St. Jacob.
The monastery was founded by monks in 1240-1241 when they came here escaping from the Tatar-Mongols invasion of Kyiv. The first rooms of the monastery were caves in the mountains and the first building was a small wooden church of the Assumption. It was then in the 13th century, according to legend, that Mary appeared to the monks in a pillar of fire above Pochaiv Mountain leaving the imprint of her foot on one of the rocks.
Pochaiv Lavra has very strong energy. In addition to excursions on the territory of the monastery, tourists can meditate, go down to the crypts of St. Jacob, visit the Assumption and Trinity Churches and the healing spring and the hermitage of St. Anna. There, if you wish, you can plunge into healing water, buy flint as well as herbs and honey which are sold by the nuns of the local monastery from their apiary.
To get a full understanding of this place, I recommend you to visit with a tour guide.
NOTE: Getting to Pochaiv Lavra is time-consuming. On average it takes around 3 hours to reach it from Lviv. For one day trip, it may be exhausting. You can combine it with a visit to Kremenets or Dubno (Tarakanivskyy Fort mentioned earlier), Zolochiv, Pidhirtsi, Olesko castles, or Ternopil. For that, it may be better to turn it into a weekend trip.
How to Get to Pochaiv Lavra
For independent travelers who want to go by public transport, there are a few options for how to reach Pochaiv. First is to go by electric train from the suburban railway station in Lviv to Radyvyliv. In Radyvyliv, near the railway station, there are many marshrutka shared taxis going to Pochaiv. You can just ask locals where is 'marshrutka to Pochaiv' and they will point in the right direction.
---
Alright, so this is my list of the best day trips from Lviv, Ukraine to take on any visit. Each of them will help you understand the country a bit better and see the beauty of the Carpathian Mountains. If you are looking for a guide, allow us to plan your itinerary and show you around. Get in touch and let me know what exactly you are looking for. I'll be happy to help!
More Lviv Travel Resources
Are you just planning a trip to Lviv or are you already in the city? I have a list of other posts that will be helpful. Foodies should check out my guide to the best breakfast in Lviv, where to find the best coffee in Lviv, and where to eat in Lviv. For things to do, see the best places to visit in Lviv in any season.
If you are traveling to Lviv from Krakow and need tips on all types of transportation, I have them here.
Moving to Lviv for a longer period of time? See my post about where to live in Lviv. Wondering what other Ukrainian cities are like? Check this post.