15 Best Cities in Ukraine You Have to Visit on Your Trip (And 4 to Skip)
Last updated on July 25th, 2022
Among all cities in Ukraine, there are 187 cities of regional significance, meaning cities that are economically, socially and culturally developed and have a population of over 50 thousand people.
Out of all these cities, some are very young since they were created only 30-50 years ago while others are ancient over a thousand years old. Some are modern and historically rich and some are a bit neglected and unremarkable.
I am not going to talk about all Ukrainian cities. In today's post, I'd actually love to talk about Ukraine's best tourist cities great for visiting. They are pretty, interesting places to discover and spend time in. Some are so lovely and amazing that they are actually great cities where to live too.
But the main idea is not to talk about the best cities to live in Ukraine (I am actually working on a separate post just about that). This post highlights Ukraine's top cities to visit as a tourist.
Some of them will be more interesting for one group of travelers while others may seem to be boring. It depends on what type of traveler you are and what exactly you are looking to find in each place.
Don't judge the place and make conclusions after reading captions only. Read what each city has to offer and what it can possibly give you. If you need more travel tips for Ukraine, check my guide. If you have more questions, see all my posts in the Ukraine travel blog section or drop a comment below, I'll do my best to help!
Best Cities in Ukraine to Visit on Your Trip
1. Kyiv – One of the Oldest Ukrainian Cities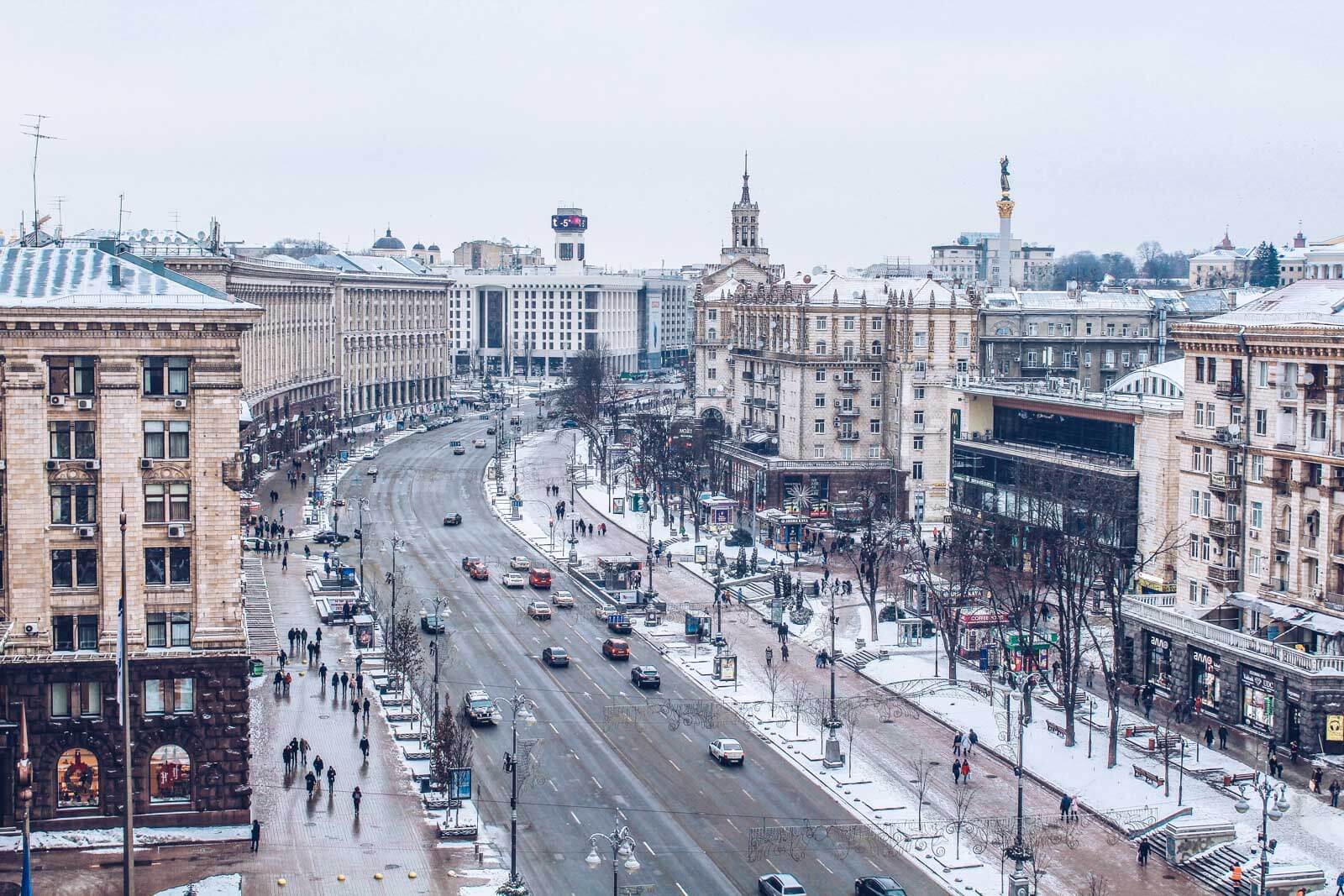 Of course, the fact that Kyiv is on this list will not come as a surprise to anyone. A lot of travelers fly there and start their journey around the country from Kyiv. It is one of the top cities in Ukraine to see and explore.
Kyiv is the capital with a thousand-year history. You can find this history in the calm waters of the Dnieper River, in the crowns of trees on the Kyiv slopes, in the bells of lush churches, in the walls of fortresses, on wide boulevards and narrow streets.
One of the 10 most beautiful metro stations and one of the 5 highest monuments in the world are located in Kyiv. In 2019, it was recognized as the greenest metropolis in Europe. No wonder it did! There are more than 70 parks and squares around the city.
Kyiv is home to many sacred places and religious monuments, churches and cathedrals, architectural objects, and statues. If you decide to make a trip here, definitely visit the Kyiv Pechersk Lavra and St. Sophia Cathedral, Vydubitsky and Mikhailovsky Golden-Domed Monasteries, St. Vladimir's Cathedral, and St. Nicholas Church, St. Alexander's Church, and the Church of the Assumption of the Virgin Mary Pirogoshchi.
Also, don't forget to take a fascinating walk along historic Khreshchatyk street, visit Independence Square, walk through a landscaped alley, go to the Sophia Kyivska national reserve and buy an original souvenir on St. Andrew's Descent.
When thinking about where to stay in Kyiv, check Bursa hotel for a unique stay on a budget or Garden Hostel if you are a backpacker.
Are you visiting Kyiv in winter? Check my guide to things to do. For any time of the year trip, check my Kyiv monthly weather guide and the best breakfast places in Kyiv post.
Check prices and availability for Bursa Hotel on Booking.com
Check prices and availability for Hostel Garden on Booking.com
2. Chernihiv – Another Ancient City in Ukraine
Chernihiv is another ancient city in Ukraine. The first mention of it was in 907, although archaeological excavations indicate even earlier human settlements in the area. In 2021, it celebrated 1114 years since its founding. Once a thriving and important center of medieval Kievan Rus and the first East Slavic state.
It has an amazing variety of religious buildings of the X-XIII century and unique examples of medieval Slavic church architecture.
One of the oldest churches in Ukraine – the Transfiguration Cathedral, which was built in the 11th century and contains stunning frescoes and ancient interiors is here. And by the way, a few ancient churches of Chernihiv are mentioned in a few books about Ukraine.
Chernihiv is the most important city in the East European historical period before the Mongol invasion. It can be easy to visit on a weekend trip from Kyiv.
Why it can be interesting for you as a tourist? I give more answers in my very long guide to Chernihiv. Give it a read.
3. Lviv – the Most European-Like City in Ukraine Famous For Chocolate & Coffee
One of the most famous cities in Ukraine is sooo famous that you definitely heard about it. For many people (and for Mark and I including) Lviv is a favorite city. Everyone who has been to Lviv, remembers its aromas of coffee and chocolate, picturesque cobbled streets, unique architectural work, and quirky breakfast places.
People come here for the romance, atmosphere of the old city, and historical sights. An incredible number of churches, temples, and castles make it truly medieval and fabulous, especially during the Christmas holidays.
Lviv is also considered a UNESCO World Heritage Site. Recently, it has turned into the restaurant capital of Ukraine, thanks to a network of unusual restaurants and cafes.
In Lviv, you need to walk a lot and not be afraid to venture off the main streets looking into every courtyard. Also, you have to devote time to at least one day trip from Lviv to castles or the Carpathian mountains. Throughout the year, there are some unique festivals (like a festival of ice cream for example) and street parties.
One of the must-visit places in Lviv is one of the atmospheric cafes. I have two guides to the best restaurants in Lviv and the most atmospheric Lviv cafes. You'll definitely need them for your travels!
4. Truskavets – Beautiful Neighbor of Lviv, a City With Medicinal Properties
Truskavets has an important advantage over other cities in Ukraine. First of all, it is known for mineral waters and health centers. Second, no more than 15 thousand people visit per year. Therefore, you can enjoy a quiet resort city without too much noise and hustle.
Truskavets is a very small city with a population of a bit more than 30 thousand people but it has a lovely center and modern, cozy streets. With more than 100 hotels, resorts, and health centers, it offers relaxation for all tastes and budgets. And all of the hotels are ridiculously cheap. You can be staying in a refined modern spa hotel for less than $150 per night while having your medical treatments and food included. Or in a nice budget chalet-style hotel that costs less than $50.
Some people come here for mineral springs while others have fun in numerous cafes and clubs.
Between the healing procedures, you can visit one of the museums in the city, see the ancient architecture, or go on one of the excursions.
Truskavets is located in the area with vast forests, including coniferous trees. So being here is very beneficial for many reasons. This Ukrainian city is great for visits with children, for solo travels, couples, and anyone else who wants to improve his health.
Check how affordable but nice accommodation options are.
5. Chernivtsi – the Main Rival City of Lviv
The capital of the Bukovina region and the cultural center of western Ukraine, Chernivtsi is as old and beautiful as Lviv. It's just smaller but has cozy, almost chamber streets with exquisite architecture. In 2012, it was recognized as the most comfortable city in the country.
The hallmark of the city is the UNESCO site Chernivtsi National University. Why? Because it's the perfect set for Harry Potter scenes! The building strikes with its appearance alone and holds many secrets of its history.
Almost all the sights of Chernivtsi are in the center, so walking around them is easy on any day and any season.
Travel guides often call Chernivtsi "small Paris of Ukraine". The city is really small but it has many interesting sights that can keep you busy for at least two days. I advise you to combine a visit to Chernivtsi with a visit to Kamyanets-Podilskiy (which I also mention on this list).
By the way, in the Chernivtsi region, you can find a piece of the Netherlands: in the village of Luzhany in the spring, thousands of beautiful tulips bloom.
6. Yaremche – One of the Smaller Most Beautiful Cities in Ukraine Mountains
The low-mountain resort of Yaremche is located at the foot of the Carpathians. It became widely known thanks to the popular mountain route "Dovbush trail", a hiking trail that winds along the beautiful beech-juniper-fir forest, rising to the top of the mountain.
Technically speaking, Yaremche is not a city, it is more of a town but I am still going to include it on my list of the best cities to visit in Ukraine. Why?
Because Yaremche is a Hutsul town in the Carpathians, the nearest large settlement from Ukraine's main winter resort – Bukovel. It is famous for its traditional architecture, Hutsul cuisine, ski resorts, and the largest souvenir market in the Carpathians. A lot of travelers who come to ski in winter or hike and camp in summer, go through Yaremche as a connecting point.
Like Brasov in Romania, a gateway city into the mountains, Yaremche plays the same role in Ukraine. It is just way smaller than Brasov.
The city is surrounded by mountains in the picturesque valley of the Prut river. It has healing mountain air, dense forests, and clear lakes. Through Yaremche, a scenic road is leading to the top of the highest mountain in Ukraine – Hoverla. From there you can also visit Bukovel resort with quirky hotels or go south to Vorokhta and Verkhovyna.
I definitely do not recommend planning a trip only to Yaremche. Because in the town alone there is not much to do. However, recreational complexes and resorts built around the springs of mineral water with healing properties, nature, and hiking trails around, can keep you busy for many days.
7. Ivano-Frankivsk – New Trendy City in Ukraine With Rich History
Travelers who have been to Ivano-Frankivsk before, mainly know it as a city where to stop on the way to Carpathians and Transcarpathia. It is there where you come by train and then hop on a bus to the mountains or rent a car and start your road tripping adventure.
But hey, why not take the time to get to know the lovely and incredibly colorful city?
If I had to say in a few words what Ivano-Frankivsk is like, I'd immediately answer that it is a cozy city, rich in art institutions and constant events, beautiful landscapes, cafes and bars. Oh, a restaurant scene there is seriously big.
Ivano-Frankivsk is truly the cultural center in the Western Ukraine. Visiting there at any time of the year is great. In the summer, it becomes surrounded by greenery and flowers. In the winter, it gets covered with snow.
If you decide to visit, make sure to stroll along the famous Independence street, visit the wonderful "City Lake", and go to one of many cute cafes and restaurants.
Other places to go to are the architectural monument in the Baroque style with elements of the Renaissance – the Collegiate Church, Town Hall on Rynok Square, and Resurrection Cathedral.
8. Odesa – the Most Popular City by the Black Sea
Odesa is a very popular city in Ukraine. And it is famous for many things. One of them is the fact that it is a colorful city on the seashore. And it has a beautiful historic area. Another one is that the city is famous for its atmospheric courtyards and old streets.
I don't know if you'll enjoy Odesa but I recommend you to visit and decide for yourself. It's a city of contrast with many attractions, a large number of exhibitions, and historical monuments.
For some people, Odesa can be quite overwhelming, especially if visiting in summer. With kilometers of Black Sea beaches and plenty of entertainment both day and night, in summer it gets busy, overcrowded, hot and service is bad.
Once you visit, make sure to walk around one of the ports and the legendary Odesa courtyards. Also, don't skip a cable car with incredible panoramas of the sea, meet the dawn on the beach and visit one of the oldest markets in Europe Privoz Market and go to the famous Ibiza Beach Club.
9. Dnipro – Unique Eastern-European City Full of Surprises
What's interesting, among Ukrainians, a lot of people consider Dnipro to be purely industrial. Which makes sense because there are quite a few factories, metal-working sops, ferrous metallurgy, machine-building companies, and other branches of heavy industry.
In fact, it is one of a few cities in Ukraine that offers excursions to operating industrial facilities or abandoned factories. Of the existing enterprises, for example, Interpipe and the Southern Machine-Building Plant still accept tourists. For details, check this website.
To me personally, Dnipro is a boring city (sorry). However, I have been hearing from many foreigners that for them it's rather a unique city in Ukraine. They find this uniqueness in the combination of the industrial type of vibe and modernism. Many international tourists like its Soviet looking architecture and lively and bright atmosphere.
The main attraction Dnipro is famous for is Monastery Island (Monastyrs'kyy Ostriv) with an artificial waterfall at an altitude of seventeen meters. The place is very romantic. You can reach it via a pedestrian bridge or by using the high-speed tram. There is an observation deck from where you get to see a stunningly beautiful panorama of the city and its surroundings. The island looks very magical with Nicholas Church in white color with a gilded dome.
Besides the island, other popular sights are Katerynoslavs'kyi Boulevard, Globa Park, European Square, and Shevchenko Park. Also, you can visit the zoo and aquarium, water park, and horse yard. If you come here in the summer, there is a small beach. And of course, during any time of the year, you can eat delicious food in many quirky local cafes and restaurants.
10. Kharkiv – Modern, Clean and Dynamically Developing City of Ukraine
The second-largest city in Ukraine is also the first capital of the country. Kharkiv has a lot of lovely streets and is famous for its monumental Stalinist architecture as well as the symbol of the constructivism style – the building of the State Industry Committee. Additionally, it has a few universities and is considered a student city.
Let's be honest. Kharkiv is not for everyone. It surprises with a big amount of monumental concrete buildings and a small number of ancient churches.
The main square, built in the twentieth century and called the Square of Freedom, impresses with its size. It is the sixth-largest in Europe and covers an area of fourteen hectares. In 2008, Queen and Paul Rogers gathered there the largest audience in the history of the group.
The first thing that will definitely amaze you on your arrival is a beautiful train station. Once you arrive, be sure to take a walk along Sumskaya Street and check the city's cafes, churches, and many modern art objects. From murals on the walls of high-rise buildings to modern art galleries, there is a lot to see. By the way, entry to most of them is free.
NOTE: On August 23, Kharkiv celebrates City Day, and the following day, August 24 Ukraine Independence Day. There will be a lot of celebrations and crowds. For some people, it may be the worst day to visit.
11. Zaporizhzhya – "Cradle "of the Ukrainian Cossacks
To be honest and objective, Zaporizhzhya city is not really a place that should be on everyone's Ukraine itinerary. And I will not be recommending you to visit it on the first trip to Ukraine. Still, it's here on this list. Why? Because I believe this another Soviet looking city will be to the interest of those tourists who want to see vivid examples of architecture of the 1930-1950s.
If you are interested in buildings of constructivism, Soviet art deco, and Stalin's empire, welcome here. They are all over the city.
Also, Zaporizhzhya is famous for its unique cultural heritage and is the center of the Ukrainian Cossacks.
In the very "heart" of the city, slightly below the thresholds of the Dnieper, is a picturesque island and a national reserve – river island with a fortress replica Khortitsa. The natural wealth of the island surprises with its beauty. Its area, which is 2500 hectares, has its own coniferous and oak forests, steppes, and meadows. The abundance of sunlight, dry air, fresh water, and other favorable climatic conditions have created a diverse flora here, which contains the rarest species of flowers, herbs, and shrubs.
If you are a camper, you are welcome to come and camp on the island, see the industrial center of the region, learn about Zaporizhs'ka Sich times, and see the Soviet part of the city.
12. Vinnytsya – Ancient City on the Banks of the Southern Buh River
Vinnytsia is a modern and comfortable city that has the largest multimedia fountain in Europe with lighting and musical accompaniment. It is built on the Southern Buh River, near Kempa island.
In order to feel the atmosphere of the city, take a leisurely, walking tour through the center and streets of the old Jewish quarter, which in the old days was called "Jerusalemka". Guests of Vinnytsia will see ancient architectural monuments, a defensive structure of the mid-14th century – the Jesuit Monastery or "Mura".
Vinnytsia is a small city where one day is enough. The best option to travel here is on the way to Lviv or Carpathian Mountains with a quick stop here. You can come in the morning, spend one day and then hop on a train to your next destination.
If you decide to include Vinnytsia on your Ukraine itinerary, once in the city, you can visit the botanical garden, get acquainted with the masterpiece of wooden architecture – the Nicholas Church in the Old Town, visit the Orthodox Transfiguration Monastery and the Church of the Blessed Virgin Mary of Angela. History lovers can visit the Regional Museum of Local Lore to get acquainted with the Podillya region of Ukraine.
Also, Vinnytsia is a great city for medical tourism in Ukraine.
13. Kam'yanets-Podil'skyi – Small Old City Full of Historical Architectural Sights
This is one of the most atmospheric cities in Ukraine. Due to the abundance of historical monuments, some people call it an open-air museum.
According to the number of preserved architectural sights, Kam'yanets-Podil'skyi takes 3rd place after Lviv and Kyiv. There are already 200 of them. The most famous – Kamianets fortress is included in the list of 7 wonders of Ukraine. Recently, historical reconstruction was done there, and now it is not just a castle museum, but a place where craftsmen reproduce traditional crafts.
The fortress served as the backdrop for many historical films and the oldest Turkish bridge leads to it.
In addition to architecture, Kam'yanets also impresses with the beauty of nature. Since it's in the Khmelnytskyi region (famous for natural landmarks), you can easily combine a trip there with a road trip around the region. Khmelnytskyi city is also worth your time.
Speaking of nature in Kam'yanets, there is a canyon right in the city with the walls reaching 50 meters in height, and the Smotrych river seething at the bottom. This canyon divides the city into New and Old cities. The latter retained many attractions, including the Polish Market Square with the oldest town hall in Ukraine.
Another feature of Kamyanets is murals. Since 2011, the festival "Re$public" has been held here annually. And during this time 50 houses are decorated with bright drawings by artists from around the world.
In the summer, Kamyanets sees numerous festivals, some of the most popular ones are the musical RespublicaFEST and the balloon festival.
14. Lutsk – Beautiful, Ancient City on the Picturesque Bank of the Styr River
Over the past decades, Lutsk has become a modern European city which is compact and environmentally friendly. It has good recreational potential, many cultural and historical monuments.
Lutsk is one of the most populated cities and regional centers. Also, it is one of the oldest cities in Ukraine. It existed for about a thousand years but so far no one can say exactly when it came about.
Such an ancient age of Lutsk undoubtedly affected the architectural appearance of the city. Here you can find both very ancient buildings, the oldest of which is Lubart Castle, and more modern such as the House with Chimeras.
In general, Lutsk has many places that are worth visiting. First of all, it is the oldest square in the city – Market Square, the pedestrian street of Lesya Ukrainka, where you'll find numerous cafes, galleries, and shops.
Among other attractions, visit the Peter and Paul Church (XVII – XVIII century), Lutheran Church, House of the Gospel, Dominican Monastery (first built in the XIV century, restored in 1321), Brigidok Monastery (XVII century) with its dungeon leading directly to the Styr River, the Great Synagogue (XVII century), which once served a defensive function and has a corresponding tower and Holy Trinity Cathedral (XV century), with the bell which offers a beautiful view.
15. Uzhgorod – Another Ancient & Surprising City in Ukraine
Uzhgorod, the smallest regional center of Ukraine and the capital of Transcarpathian Ukraine, also hides a thousand-year history.
It is known for May sakura blossom, a castle in the very city center, and wine festivals. Between the end of April and mid-May, the Maly Galagov district turns into a blooming garden. The longest Linden Alley in Europe, stretching along two embankments – Student and Independence, is beautiful to see and walk through.
Here you can hardly find tall buildings and the city center is paved with cobblestones. Each tourist must not only see all local attractions but also find all 25 mini-sculptures hidden in the city. Each of them is dedicated to a famous person or event.
Since Uzhgorod is almost on the border with Slovakia, getting here from any city in Ukraine takes some time. The best way to visit would be if you are coming by train from Budapest or Kosice. Otherwise, if you are in the country only for a week or two, it's probably better to skip unless you are visiting for the wine festival.
Cities in Ukraine Where I Don't Recommend Going
There are places in Ukraine where, if you visit, you won't get much. And there are some cities in Ukraine where not many activities exist for a tourist. Getting to them still costs money and takes time but you may be quite disappointed at the end of the day.
So, a few cities I do not recommend going to are Mykolaiv, Kherson, Kryvyi Rih, and Donetsk.

I remember how cozy and pretty Donetsk used to be. Twelve years ago, when going there to attend a conference, I had a chance to get acquainted with the city. I noticed from the first minutes, how clean, very green, and taken care Donetsk was. At that time it had so many lovely restaurants, cafes and nice hotels to stay in.
Today, Donetsk is one of the war-torn cities in Ukraine that lost its identity. I have a friend whose family is still there and he tells me that until this day shooting happens on the streets on a daily basis. Visiting Donetsk is not safe and smart.
As for other cities, Mykolaiv and Kherson, for instance, are the most dangerous cities in Ukraine when it comes to crime. They have a low quality of life, poor infrastructure, and nothing interesting for a tourist.
Kryvyi Rih has a very bad ecology. It is one of the most "unhealthy" cities in Ukraine where the air is so dirty that it gives you headaches, causes shortness of breath and irritated nose and eyes from the first minutes you arrive there.
---
Did you visit any city on this list? Tell me which one was your favorite!