Travel Tips for Ukraine: 22 Important Things to Know No Matter When You Go
Last updated on April 25th, 2022
After writing my post about what is it like to live in Ukraine as a foreigner, a lot of readers started asking me various travel-related questions.
So, I decided to write this guide with travel tips for Ukraine.
These tips are basically my answers to all the questions that you guys asked me. If you have another question and don't find an answer here, please, feel free to let me know in the comments. I am happy to answer and include it in the post, so others know too.
If you are curious to know why we keep coming back to Ukraine, read Mark's post here. He shares his point of view and vision of Ukraine. If planning a trip to Kyiv any time next year, find out what is the best month to visit Kyiv.
Getting to Ukraine Tips
1. Visa to Ukraine
Entry into Ukraine for citizens of different countries is regulated in different ways. Citizens of the European Union, the USA, Canada, and a few other countries can enter Ukraine without a visa. At the same time, the period of stay for most of them is limited to 90 days during the 180 days period. You need to double check though because citizens from Turkey, for example, can stay only 60 days, from the UAE 30 days and from Hong Kong 14 days.
Citizens of other countries who need a visa to visit Ukraine, can usually obtain it at the embassy, or get an electronic visa.
The price of a single visa to Ukraine is $65. It can be higher if the price of a visa to this country is higher for citizens of Ukraine. The price of the e-visa is $85.
If you are traveling without a visa, there is no need to register or give your fingerprints. If you are a citizen of a country that needs a visa, your fingerprints will be taken at the border crossing.
TIP: When entering Ukraine, do not say that you are in transit through Ukraine to a third country if, in reality, you are not. There are a lot of cases when border officers stamp passports with transit visa for 3 days which doesn't allow to stay in the country longer. Always say that the purpose of your visit is tourism (if it really is.)
If you travel by air, an officer at the border may ask you to show a return ticket. Or maybe he won't. It really depends on the person. Just keep in mind that he can, so have an answer ready. Even if you don't have a ticket, be honest about it and tell about your plans and itinerary. It shouldn't be a problem.
2. Ukraine Sim Card Purchase
I highly recommend purchasing a SIM card once you get to Ukraine. First of all, it is extremely cheap. Second, it will make life so much easier for you.
There are three mobile companies in Ukraine: Life, Kyivstar, and MTC. Locals mainly stick to the first two but I personally lean towards Life. My family and I used the services of each of these companies with Kyivstar always being a leader. But lately, their prices increased while the quality of Internet coverage and reception got worse.
Each of the companies has an easy signup procedure, free minutes, free calls to numbers of the same operator, etc.
On average, a monthly price for a good number of minutes and data is $3-5. Unlimited is around $10.
To buy a pre-paid sim card, you can stop at a company's store, a shop that sells cell phones and electronics, any kiosk that sells newspapers (although they probably won't speak English there), or a small stand where you can see an advertisement of mobile companies.
Every airport in Ukraine has a small shop where you can buy a sim card too.
TIP: You should have an unlocked phone and in official company's stores a salesperson may ask for a passport.
3. Money And Credit Card Tips
The local currency in Ukraine is Hryvnia. You can exchange money pretty much anywhere but I always recommend doing it in banks. Upon arrival, you can always exchange a few dollars or euro right in the airport or railway station.
If you prefer using a credit card, you can easily do it anywhere around Ukraine, except for markets, small towns, and villages. ApplePay is available too.
My biggest advice to you is to never keep a lot of banknotes in your wallet. Just in case. You never know who is going to stand next to you and see how much money you have. Better pack with you a waist wallet (like this one, for example) and keep your credit cards and banknotes there. Put just one main credit card (that you always use) and a smaller change in the wallet.
I am not saying it to make you worried (because nothing is going to happen.) But that's a simple precaution to take if you are planning to be in crowded places or let's say markets.
Transportation in Ukraine
4. Getting Around Big Cities
The most convenient way to travel around the big city is by metro. It is open from 6 am to midnight, is always faster, easy to navigate, and has signs and announcements in English. Although, it hasn't been upgraded yet and doesn't have AC.
From early morning until late evening, shuttles (or marshrutkas) and buses run on the city streets, as well as trams and trolleybuses. However, they are convenient mainly for covering short distances and outside of rush hours.
Unfortunately, they don't have AC (except for new buses,) so in summer when the weather is baking hot, taking public transportation turns into a challenge.
5. Getting Around Smaller Cities
Very similar to big cities, just without a metro. Trolleybuses, marshrutka taxis, and cabs are your best bet. Marshrutka buses, by the way, are public share taxis that operate in each city and cover different routes and distances. Usually, they have a list of stops written on a side but since it's all in Ukrainian, it won't make a difference for you anyway.
I suggest either using google map for public transportation or asking one of the locals who are at the stop too. Google maps are not very accurate in regards to public transportation in Ukraine and don't show all buses, so I would ask a local at the stop what number of marshrutka or bus you have to take to get to your destination. Just ask a younger person. Older people usually don't speak any English.
If taking public transport is not your thing, Taxi838, Bolt, and Uber are your best friends. Although, not every city has the same taxi service.
6. Traveling Between the Cities
Trains, trains, and more trains! Express trains or as they are called InterCity trains are usually the fastest and can cover the distance two times faster than the regular ones. Also, they are the only ones that have AC.
Taking a bus between Ukrainian cities is not the best idea. And the reason is not the quality of roads. Most of all because a lot of intercity buses are old, don't have AC and they are not really comfortable. If you want to go, for example, on a day trip to a nearby city and cover a short distance, a bus is a great option. Otherwise, hop on a train instead.
But, if you are thinking to travel from one corner of the country to another (let's say from Lviv to Kharkiv or from Chernihiv to Odesa) then a train ride can last forever. In this case, look into flights. With each year air travel becomes more and more affordable in Ukraine.
If you are looking to purchase train tickets in Ukraine online, choose either the official websites of Ukrainian Railways or third party Tickets.ua. I personally always use them and am happy with the service.
|| RELATED POST ||
Traveling From Krakow to Lviv (And Back) By Bus, Train or BlablaCar. What's Better?
7. Uber and Taxis in Ukraine
When it comes to taxis in Ukraine, you need to remember that not in every city you'll be able to call a cab. Not every operator speaks English and it may be challenging to place a request. Your only option may be Uber, Bolt, or Taxi838.
In Kyiv, my favorite taxi company is StudentTaxi.
Uber is represented in 7 Ukrainian cities only. They are Kyiv, Odesa, Lviv, Kharkiv, Dnipro, Zaporizhia, and Vinnytsia.
If you are looking for the cheapest taxi to take from Kyiv airport to the city center (or any other destination) but still travel in comfort, choose StudentTaxiKiev. If you have a local sim card, give them a call. Operators speak English. Otherwise, download their app or leave a request on the website.
We have been using this company multiple times. Drivers are always on time, cars are simple but comfortable and it is the cheapest taxi company in Kyiv. Even cheaper than Uber.
8. Renting a Car in Ukraine
Renting a car in Ukraine is not as popular and developed yet as anywhere else in Europe but it is definitely possible. The best option for you as a foreigner would be to rent a car at the airport in one of the major cities. The reason I am saying that is because agents at the airports will speak English. In other cities, they probably won't. Mark and I rented a car in Khmelnitsky city and were very happy with our experience.
On average, a daily price rent is between $20-50, depending on the vehicle.
You know, in the past, I would have told you that you do not need to rent a car in Ukraine. The only time I was recommending it to foreigners was when they wanted to explore outside bigger cities, go to the Carpathian mountains, drive from Kyiv to Dnipro, or to Odesa.
Today, I have a different piece of advice for you. Yes, rent a car in Ukraine and go explore! The government finally started to build roads (with picnic areas) and they start looking just like in the EU. Getting to most places is now so enjoyable and fun.
For the mountains, Lviv or Chernivtsi are the best cities to rent a car. But driving on country roads (not highways) may be still a bit stressful. Country roads have cracks and holes and some drivers are somewhat crazy. But if you have experience driving in Georgia (country), Egypt, one of the countries in SE Asia, or even NYC then relax. Compared to drivers in those places, Ukrainians are pretty chill.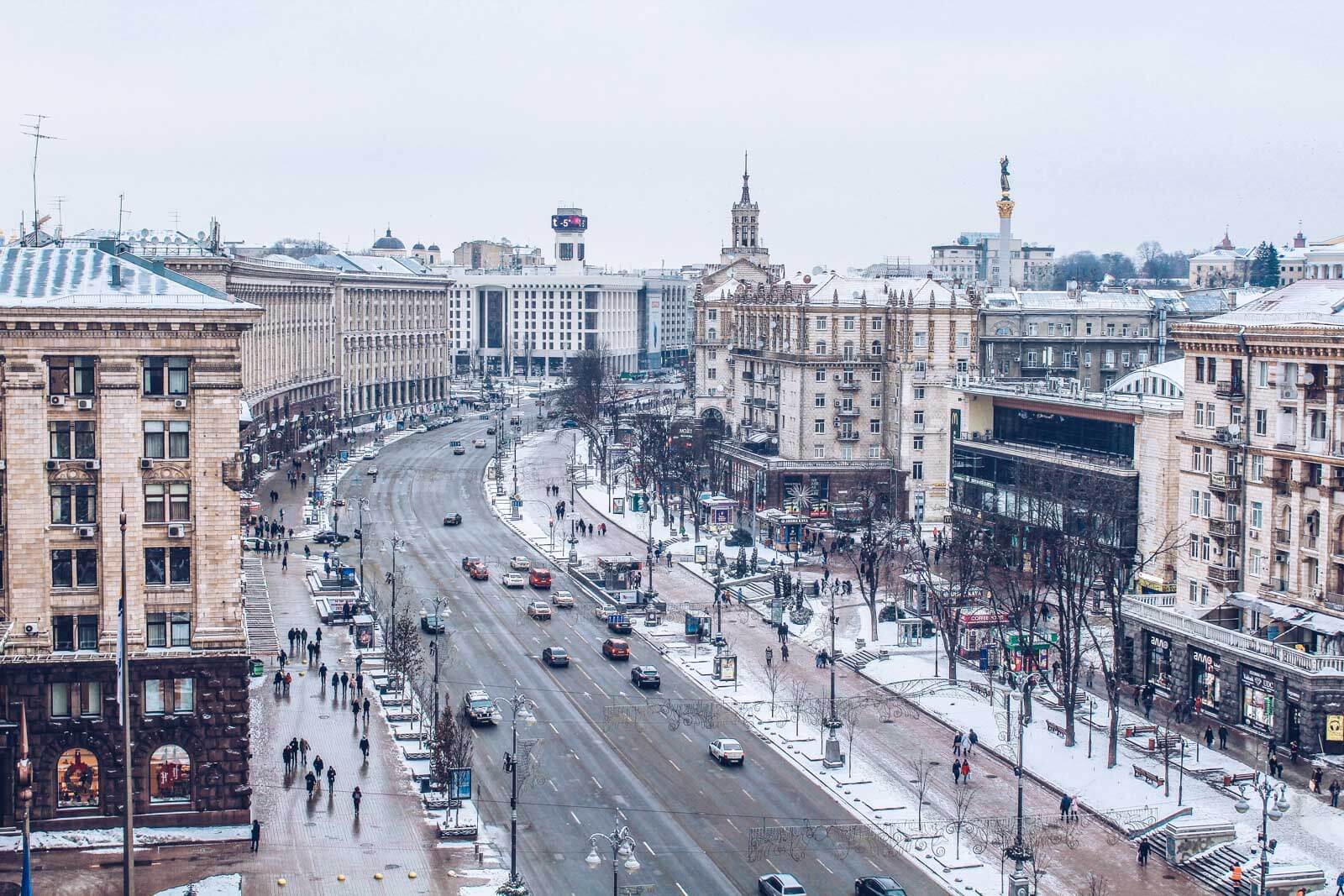 Scams in Ukraine to Be Aware Of
You know, when I went on Google and checked what others are saying about scams in Ukraine, it made me wonder. First of all, if people update their posts at all and second, how much time they've actually spent in Ukraine.
A lot of scams on Ukraine I found online barely take place today. Some of those that still exist are very common around the world, not only in Ukraine. Taxi scams, money scams, rental, and beggar scams. Mark and I faced a lot of those in many countries in SE Asia, Africa, and even in many other parts of Europe.
If you hang out mainly in touristy places and do not pay attention to what's happening around you, of course, you will be scammed.
Overall though, scams in Ukraine are not widespread. You should be aware of them but relax. Most people are nice and won't try to scam you. Also, a lot of them are directed at locals too, so don't assume it's only a tourist's factor.
Here are some of the most common scams in Ukraine (except for dating ones which I am not talking about in this post.)
9. Beggars Scams
Beggars in Ukraine (as in many other countries in Europe) belong to some type of a criminal group. You'll see them in the metro, near churches or just walking in the main square.
There are all types of beggars you can think of. But you shouldn't be giving money to any of them. Some are pregnant women with babies, others are disabled war veterans, parents of sick children, owners of abused animals, elder people, etc.
They all form a group of people who do not have a home, work, bank accounts, life aspirations, and goals. And they do not want to have any of those. Usually, someone stands behind them and controls this business. In many cases, real criminals join groups of beggars trying to run away from justice.
All these people live by today, hide behind the "beggar image," and support illegal ways of making money. You should not be falling into their trap and giving them money.
Yes, there are a lot of elder people in Ukraine whose pension is so low that they can't get their needs met. But those people are not standing on the streets asking for money. They are ashamed to do so.
There are local nonprofits that fundraise money for various purposes. If you want to contribute, better donate to those (but make sure that's legit organization.)
10. Utility Service Worker Scam
If you are renting an apartment and staying in Ukraine long term (or even a few days,) you may encounter a situation when someone rings on your door, introduces him as a utility service worker, and says that he/she needs to check your electricity or water meter.
This person may come up with something else. He can say that he is a maintenance worker or in rare cases Jehovah's Witnesses. His goal is to get into the apartment and see how many people live there and how much valuable stuff is inside.
This situation is not common at all. First of all, robberies are not that common. Second of all, nowadays all apartment complexes have a locker on the front door to the building. You shouldn't worry about anything but you have to know that this scam exists.
Some locals get into the trap simply because they really believe this person is a worker. And workers usually know the code for the front door.
My advice to you: if you are staying in the apartment and someone rings on your bell, just ignore and do not open. Pretend no one is home. Your host will not show up at your door without telling you in advance.
If that's a real worker, he'll get in touch with a host later.
Again, it is not common at all. But just in case remember, do not respond to the doorbell unless you expect someone.
11. Money Scams at the Markets
This is one of the most popular scams not only in Ukraine but the entire world. Some people in every country, absolutely every country, believe that all tourists have a lot of money and it's not a big deal to lie to them and make a few pennies on them.
If you go to a market in Ukraine, there is a chance that a seller will tell you a higher price than it actually is. Just because you are a tourist. In fact, you don't need to be a foreigner to experience that. Sellers do it to Ukrainians too, just on a different level.
It doesn't happen often but it does happen. There are a lot of cool people who'll try to help a foreigner. But at the same time, there are still others who'll try to cheat.
If you've traveled the world and lived in other countries, you know this scam and don't worry about it at all. But, if you haven't traveled much and come from a Western world country, just know what to expect. But I think you probably won't be going to a market. There are so many stores and smaller shops around each corner.
12. "Meet the Girl" Scam
This scam is not that common as it used to be but it still takes place. If you are a guy who plans to go to bars and clubs, be aware of this scam. Actually, not necessarily bars and clubs. It can really happen anywhere.
How it works is when a girl comes to you and tries to introduce herself. You should be alert when it happens.
You see, in Ukrainian culture, a girl will never make the first step and start talking to you, even if she likes you. She'll be giving eye contact, may even stare at you but she won't make the first step and be the first one who initiates a "let's get to know each other" conversation. Unless it's a random conversation.
So, my Ukraine travel tip for you is next. If some random girl stops by and tries to invite you for a drink, exchange phone numbers, or says that she likes you and wants to get to know you, this is a red flag. Girls in Ukraine don't do that unless they want to get something out of you. Just watch out!
Misconceptions and Stereotypes About Ukraine
13. All Ukrainians Drink Alcohol
Somehow a lot of foreigners assume that if someone is from Ukraine, he or she automatically loves vodka and other alcoholic beverages. Some people believe that Ukrainians have it on a daily basis (with a slice of fat) and drink a shot before going to bed.
During almost 10 years I spent in the U.S. living in 5 different states, some of my colleagues and random acquaintances were always surprised hearing that I don't consume any alcohol at all. Every time their response was the same: "You are from Ukraine, how so that you don't drink? Everyone in Ukraine drinks!" I guess they know better.
Later, during all our travels from Istanbul to Kuala Lumpur, people were saying the same exact thing.
Every time it was just so strange.
No, not everyone in Ukraine drinks alcohol. More than that, some people may get offended by others who are too pushy when it comes to drinking.
If you are meeting people in Ukraine who tell you they don't drink alcohol, please, do not make ignorant assumptions and mindless jokes. Some people take it personally.
14. Ukraine is the Same as Russia
To this day, many foreigners at best consider Ukrainians to come from Russia, and at worst they don't even know in which part of the world Ukraine is. Many believe that Ukraine is essentially a part of Russia but people just rebel and want to separate.
There is even this perception that winters are fierce and snowy, people walk in fur caps with earflaps, and you can find a bear in the courtyard in the villages.
It is believed that even Ukrainian and Russian languages ​​are very similar. This is a very big mistake since they have only about 50% in common.
For example, if you try to communicate in the Ukrainian language with a native of Russia, he/she will not understand most of the words. Some words are similar, but we say them in Ukrainian with a different accent and know two languages since we speak both of them from childhood.
Ukraine is not the same as Russia and it is not part of Russia. It has a lot of rich history, culture, and traditions that differ so much from our neighbor.
20 years ago it was probably OK not to know where Ukraine is. But today, it's really odd. You don't need to be a geography geek to know a world map. With the Internet and online maps, you can learn within only a few minutes where Ukraine or any other country is.
15. There is not Much to Do in Ukraine
Travelers often skip Ukraine on their travels thinking that there are not a lot of things to do and see. I want to prove you wrong.
Every country in the world has something interesting and unique to show. If someone you know is not interested in Ukraine, it does not automatically put this country on the list of the least interesting ones.
If you are traveling for rock or alpine climbing, yeah, Ukraine is not the right place for that. You will be disappointed. There are also no pristine beaches with palm trees and it's not a destination for your yoga travel bucket list.
But, if you are a foodie, lover of history, haunted abandoned places, nature, and adventure, welcome to Ukraine. If you plan in advance what to do and where to go, you will have an amazing time. It is a great country for medical tourism, for digital nomads, for those who want to learn Russian, go to school or just see a totally different Europe.
To inspire you, I invite you to read at least some of my posts about all the amazing things to do in Ukraine. Some of them are about the day or weekend trips from Lviv, lovely mountain and forest stay in Bukovel, and royal breakfast in Lviv. See this page with posts about places to visit in Ukraine to get inspired.
And you know what, you also have to come and visit Ukraine in winter, there are tons of activities to enjoy!
I have a lot of posts on what to do in Ukraine and constantly adding more information. Make sure to check this page of my Ukraine travel blog or subscribe to my newsletter to know when the new post is up.
16. Ukraine is not Safe to Visit
The biggest myth about Ukraine, which is now spread around the world because of the unstable situation in my country, suggests that traveling to Ukraine is a dangerous activity.
People know too little and assume that bullets are whistling over others' heads in every Ukrainian city. Of course, in that case, you don't want to travel to such a country. But this is not what Ukraine is like.
Yes, unfortunately, the war still takes place in the East. Every Ukrainian in one way or another was affected by it. Some people lost sons, brothers, and husbands. There are dozens of monuments around the country dedicated to soldiers who died in a war with Russia. You'll see them in each city you travel to. Other than that, you won't be able to tell that the country is still in conflict.
Ukraine is absolutely safe, come to visit!
A Few More General Travel Tips For Ukraine
17. Tipping in Ukraine
Tipping in Ukraine is not really common and widespread. Although in large cities in many restaurants visitors tend to leave some tips and waiters are grateful for that.
If you didn't like the service or simply don't feel like leaving tips, do not stress about it. Tipping is not obligatory and no one will talk behind your back for not leaving some change on the table.
In cafeterias and restaurants of local fast-food chains or canteens, people don't leave tips at all.
In some fine dining restaurants, 10-15% of service charges may be included in the total bill and you can find this information on the first page of the menu.
18. Health care in Ukraine
Today, about 200 Ukrainian medical institutions, both private and public, are receiving foreign patients. As a rule, these are specialized clinics that practice innovative methods of treatment, and doctors in those clinics have a lot of experience performing surgeries and treating illnesses.
As for services, the most popular ones among foreigners to Ukraine are reproductive medicine, dentistry, ophthalmology, aesthetic medicine and cosmetology, plastic surgery, general surgery, cell & tissue engineering, including the possibility of using cord blood bank and stem cell therapy.
Various sanatoriums and resort rehabilitation centers become more and more popular too.
If you have been thinking about receiving health care in Ukraine, it is a good time to do so. In a number of areas, Ukrainian prices for medical services are noticeably lower than foreign ones. The quality is always as good as in the West, and often it's even better.
Another important factor to consider if thinking to travel to Ukraine for medical tourism is that you won't need to wait for getting a specialized treatment. If in Europe or in the States, for instance, the patient is forced to wait for weeks and sometimes months to get a surgery or do dental work, in Ukraine he/she can get it done within a few days (sometimes hours) from the time he went to the clinic.
If you decide to get medical treatment in Ukraine, you can organize everything on your own or use the services of agencies. They usually control all your stay and take care of every detail such as visas, tickets, transfers, housing, and interpreters. Often, if patients want, they even organize leisure activities between their treatments.
19. Gypsies in Ukraine
I decided to include this travel tip for Ukraine on my list after getting quite a few questions regarding the gypsies.
Yes, you do have to be careful around them and if possible, stay away from them at any cost.
Among gypsies, as well as among all nationalities, there are honest and decent, kind, and attentive people. But there is a number of representatives of this nationality, who are accustomed to earning money by deceiving others and committing a crime. And somehow, they found their way in Ukraine.
When you see a group of dirty gypsies hanging out together in crowded places, usually near the railway or bus station or, for example, near the markets, walk away.
They tend to blend with the crowd and pretend they are doing their own thing. When in reality, they look for someone to rob. Usually, only women and children do that. Men stay aside.
Naturally, most of us bypass a group in motley dresses but sooner or later someone still gets caught. You don't want to be that someone, so watch out every single time you see a group of gypsies (mainly women.)
So, if you see a few gypsy men smoking cigarettes and standing aside, I wouldn't worry. But if you stumble upon a group of women who try to surround you and start a conversation, hold to your belongings, do not look into their eyes, do not talk to them, and walk away.
Just don't show that you are scared. They stay away from emotionally strong people. They are clever psychologists who use subtle approaches to confuse and deceive others. It is enough for them to look at the person, at the expression of his/her face, in order to determine how emotionally weak or strong this person is. And then do their job or leave you alone.
If anyone of them gets too pushy and keeps following you, use your firm voice and tell them to get off.
All of this is very rare to happen. Most people never encounter any negative situations with gypsies. I personally did on many occasions, so now I am applying extra caution.
There is a really small chance you'll come across these people too. But if you do, just know how to act.
20. Traveling With Food Allergies in Ukraine

Someone who has severe food allergies may find it difficult to travel in Ukraine. If being gluten/sugar/dairy-free is not an allergy but part of your lifestyle, that's a different story.
Why I am saying this is because most people in Ukraine are not aware of food allergies. Also, a lot of products may contain gluten or dairy, even if an ingredient list does not say so.
If you have a severe allergy to some food and can get sick from a tiny amount of it (or even from having it around) you have to be very selective with places where to go in Ukraine. In grocery stores, do not buy any packaged or processed foods even if you think it shouldn't contain specific ingredients.
A lot of restaurants and cafes around big cities can accommodate your request to omit some ingredients and cook exactly what you ask for. But still, you need to know where to go. And triple check on your order, emphasizing how serious you are.
From time to time, I personally go gluten and sugar-free and never have a problem with it. But it's different for me since I am a local. For you, as a foreigner, in the beginning, it may take some time to adjust.
In my opinion, the most difficult to adapt is going to be for a vegan person who is planning to travel or stay in Ukraine long term. Animal products are everywhere. The only option is to cook at home most of the time.
21. How to Transfer Money to Ukraine
If you are looking for the best way to send money to Ukraine, I recommend doing a bank transfer. In my experience, this is a convenient, fast, and cheaper way than Western Union, Moneybookers, Webmoney, Payoneer, or Skill, for instance.
Although, if a person you want to transfer money to has already an existing account with any of these electronic payment systems then you may try them, it's going to save some time. Otherwise, I would go with a bank.
For that, your relative (or friend) at first should open a foreign currency account in one of the following banks: Raiffeisen, Privat Bank or Aval, and provide you with all the information your bank requires (like a swift number, routing number, etc., they'll tell you.) Even if this person has already a bank account, most likely it is for a national currency only. Opening an international one is easy and takes little time.
Transferring through a bank is always better. You can schedule the transfer, recall your payment, and do a transaction not leaving your home.
Once you transfer money on your side, a recipient in Ukraine will get it within 2-4 hours.
All the banks I mentioned above are good, stable, and provide the highest service. The only thing, some of them charge a commission for incoming money which they subtract from the amount you send. If there is a commission though, the amount is very reasonable.
I personally had a very pleasant experience when transferring money to Ukraine. Banks are interested in these transactions and go above and beyond when helping their customers.
22. Shipping to Ukraine From the USA
During the time I lived in the US, I was using the services of various companies to ship some items to Ukraine. None of them was as good as meest.us.
They deliver to quite a few post-USSR countries, including Ukraine, and pride themselves on very good service, reasonable prices, and quick delivery. You can choose how to ship, either by plane or ship, which defines the price.
USPS takes way more time to deliver a package and is very expensive.
---
More Ukraine Travel Resources
Planning a trip to Ukraine? Read my very comprehensive article about what to expect from Ukraine when it comes to prices, quality of life, and lifestyle.
Going to Lviv? Check my post to all Lviv districts to get an idea of where to rent an apartment.
Best Cities to Visit in Ukraine – top cities to see and what to avoid.
Where to Eat in Lviv – the best restaurants and cafes with Ukrainian and international food.
Alright, for now, this is it for travel tips for Ukraine. If you have any other questions to ask, a comment section is yours!