15 Delightful Places to Visit & Things to Do in Kiev in Winter
Last updated on May 15th, 2023
If you somehow think that visiting Kiev in winter is not the best idea, I want to prove you the opposite. Yes, it snows. Yes, often it's grey. But if it snows, it gets very beautiful.
When I lived in Kiev, winter was my least favorite season. At that time I lived in the suburbs, had to take a bus and metro, and then walk another 20 minutes to get to work. Doing it every day twice a day made me hate winter in Kiev and winter in Ukraine in general.
Today, ten years later, after living in the States, Asia, and a few countries in Europe, I am so happy to be back and walk the familiar streets of one of my favorite cities. And walk them in winter as well.
I love Kiev not because it used to be my home city for many years. No. I love it for coziness and charm, thousands of gardens and parks, golden domes of churches, and pretty architecture. I love Kiev for people, day trips, vintage shops, and all those cute atmospheric cafes where you can hide with a book or laptop on a rainy or snowy day.
Many people will tell you that winter is not the best time of the year to visit Kiev. But I think differently. There are plenty of things to do only in wintertime. Take a look at some of them, come to visit, and have a wonderful time!
---
Please note: This post contains affiliate links. I may earn a commission if you make a purchase or booking by clicking a link (at no extra cost to you).
---
Where to Stay in Kiev – My Favorite Places
GARDEN HOSTEL: This hostel is a great option for budget travelers to stay alone or with a family. The territory of the hostel is private, green, with parking space, a library, and a children's playroom. The category of rooms is diverse and modern. A lot of rooms have kitchens. Restaurants, cafes, and supermarkets are less than 500 meters away. Prices for rooms start from 150 UAH ($6.25).
OLYMPIC STUDIO APARTMENT: A small but beautifully designed studio in the center of Kiev near the Olympic Stadium. I love that area and know this apartment. It is a nice option for budget travelers who don't like hostels. If you choose it or will be in the area in any case, check out TAKAVA Coffee-buffet. This cafe is famous for its great vegetarian desserts.
BURSA HOTEL: A modern, clean, and welcoming boutique hotel in the city center. A few minutes away from some of the most famous landmarks, one of them is Andreevskiy Spusk. In addition to the hotel, there is a rooftop bar "1818", a cafe "Beliy Shum" and a gallery of modern art. Prices for this boutique hotel start from $27 per night. Experience a bit of luxury on a budget.
MaNNa BOUTIQUE HOTEL: An absolutely gorgeous authentic boutique hotel in one of the most beautiful neighborhoods of Kiev surrounded by lots of quirky cafes and restaurants. Each room has stylish decor, an interesting and unique design, is clean, and has all the amenities you may need, even the floor heating. Another a bit luxurious hotel that doesn't cost a lot of money. Rooms start at $40 per night and guarantee an excellent stay.
Things to Do in Kiev in Winter
1. Walk Volodymyrska Hill
Volodymyrska Hill, located right behind St. Michael's Golden-Domed Monastery, is considered to be one of the most romantic parks in Kiev. In winter not many people visit and the place is absolutely quiet. It is also very charming and a bit magical with all the trees and benches covered with snow.
This park is a marvelous spot for capturing beautiful photographs and overlooking the left bank of Kiev.
The area is small but in case you start feeling cold you can always hop on a funicular and ride down to Poshtova Square where many cafes are.
|| READ MORE ||
LIFE IN UKRAINE: THINGS YOU SHOULD KNOW AND TINGS TO EXPECT
22 IMPORTANT UKRAINE TRAVEL TIPS FOR ANY SEASON
2. Visit Mysteckyi Arsenal Exhibition Center
Mysteckyi Arsenal Exhibition Center is the largest and most stylish exhibition complex in the country. The building, which once was a real warehouse-arsenal, is now hosting the largest and most influential events of Ukraine such as Fashion Week, presidential press conferences, and various large-scale exhibitions and festivals.
You may visit one of their exhibits, take an excursion, or pop in a cafe to get a cup of coffee and super delicious spinach and salmon pie. Check more details here.
Mysteckyi Arsenal is located near Kiev Pechersk Lavra. It's pretty convenient to visit these two places during one trip.
3. Visit Kiev Food Market
The Kyiv Food Market space opened on the territory of the former Arsenal Pavilion which was built in 1801. After its opening in 2019, it quickly acquired the name of the "main city court" in Kiev. This is already the second institution of its kind, which opened in the capital. The first one was Odessa-mama.
The food market was designed to unite the best restaurants of the city in one place so that anyone could get a real taste of Kiev. And it did well.
About two dozen restaurants, bakeries, bars, and cafes, each of which adapted its menu to the market format, offer different foods and drinks. Try locally made burgers, Ukrainian pierogi, cheese and meat platters, ribs, wine, salads, and much more. On weekends it is hard to get a table and prices are a bit higher than average. But it is definitely a cool place to spend a chilly winter day in Kiev in the company of friends.
A visit to the food market can be well combined with a visit to Mysteckyi Arsenal Exhibition Center and Kiev Pechersk Lavra.
4. Go Iceskating & Celebrating Winter Festivals in Expo Center of Ukraine
The Expo Center of Ukraine (also called VDNG) is a cultural and innovation center that occupies 286 hectares of territory and has 180 buildings and structures. 20 of those buildings have the status of historical and cultural monuments of Ukraine.
VDNG is a unique place to visit in Kiev during any season although in winter this Expo Center opens a seasonal entertainment park called "Winter Country". One of the key places here is a skating rink under the open sky. However, ice skating is not the only activity.
There is also a traditional food court "Bavarian Yard" where all guests can warm up with a glass of mulled wine and eat various Ukrainian style dishes. The park has tubing slides, extreme rides, a rope park in trees, the central office of the Ukrainian Santa Clause (who is actually not a Santa but a Grandfather Frost), horseback riding tracks, an ice sculpture park, and holiday Christmas markets that last all the way into January.
Expo Center of Ukraine is a wonderful place to visit in Kiev with kids, with your partner, or even as a solo traveler. Everyone here will have fun. Kids and adults can get acquainted with the process of making glass Christmas decorations, visit a small animal zoo, puppet theater, buy gifts and souvenirs, and much much more.
Opening Hours and Program
The winter park in Expo Center is open from December 7th to March 1st. You can visit any time but there are a few dates when organizers run several interesting holiday celebrations. They are:
December 7 – the grand opening of the "Winter Region at VDNG";
December 31 – January 1 – New Year celebration with various shows, performances, and concerts.
February 1 – 2 – a weekend of liquors.
February 8 – 9 – a weekend of vareniki (the same as polish pierogi).
On February 15 – 16 – a weekend of love (St. Valentine's Day).
February 22 – 23 – a weekend of Salo (cured pork fat).
February 29 – March 1 – Maslenitsa weekend.
Prices for any activity start from 35UAH ($1.4). Ice skating starts at 120 UAH ($5) and the price includes the rent of skates. Surprisingly, the Expo Center's website is only in Ukrainian. But I
Address: Academika Hlushkova Avenue, 1, Kyiv.
Working hours of the park – from 09:00 to 23:00.
5. Learn How to Cook Ukrainian Dishes Through a Cooking Class
Do you like to eat? Do you like to cook? Why not try both on the tastiest cooking master class in Kiev?
There are regular various cooking masterclasses where everyone can learn the mystery of cooking. And they serve as a great activity when outside is cold.
Going on a cooking class is a great way to meet new people and learn how to cook traditional Ukrainian dishes according to old recipes.
If you are looking for some ideas, I can recommend this class or this one. However, there are many other options to choose from.
6. Visit Chernobyl National Museum
Have you heard about the Chernobyl accident? If not, I am going to drop some serious facts on you, get prepared.
Chernobyl is a restricted city in Northern Ukraine, not far from the border with Belarus. In 1986 the city faced the worst Nuclear disaster the world has ever seen. Soon after the explosion at the Nuclear Power plant, Chernobyl was abandoned and became a ghost city.
The National Museum "Chernobyl" is also an archive where visitors can learn all the details about this unfortunate event. It is a great place to visit in Kiev in winter. Come and see documents and educational exhibits that reflect on the past and show the history of the Chernobyl disaster.
7. Pay a Visit to Pinchuk Art Center
Pinchuk Art Center is the oldest contemporary art center in the country. Here you can visit a gallery with Ukrainian contemporary art exhibits, attend film, music, literature events, participate in various lectures and talks, and then go to the bookstore with extremely cool books on contemporary art.
Finally, visit a white coffee shop "One Love Coffee" on the 6th floor with awesome views of the rooftops of Kiev. I am sure you'll want to stay a few hours in the coffee shop to enjoy their refined coffee, delicious desserts, view, vibe, and various catalogs on art. If you are looking for the best breakfast in Kiev, ONE LOVE Coffee is among the best restaurants for that.
For more details on Pinchuk Art Center, check their website.
|| READ MORE ||
10 FOODS OF UKRAINE YOU HAVE TO TRY THAT YOU DIDN'T KNOW ABOUT
8. Go See "Kiev in miniature" Park
The best and the only way to visit all the city's landmarks in one hour would be to visit the "Kiev in miniature" park. Well, if you ask me what are the best things to do in Kiev on any day, I'll vote for this tiny city in a huge city place.
Although, I still encourage you to visit the same park in winter. It provides an opportunity to look at familiar locations from an unusual angle. Besides that, since the park is located on the river bank near the beach, in summer this area gets usually crowded and busy. In winter, on the contrary, it is quiet and empty.
All the miniatures are well made and give a precise idea of how real buildings look like. It takes between 1-2 hours to explore everything and costs 80UAH ($3.3) to enter.
If you get cold and feel hungry, at the end of your tour stop at Olvi restaurant to warm up and get traditional food at very reasonable prices.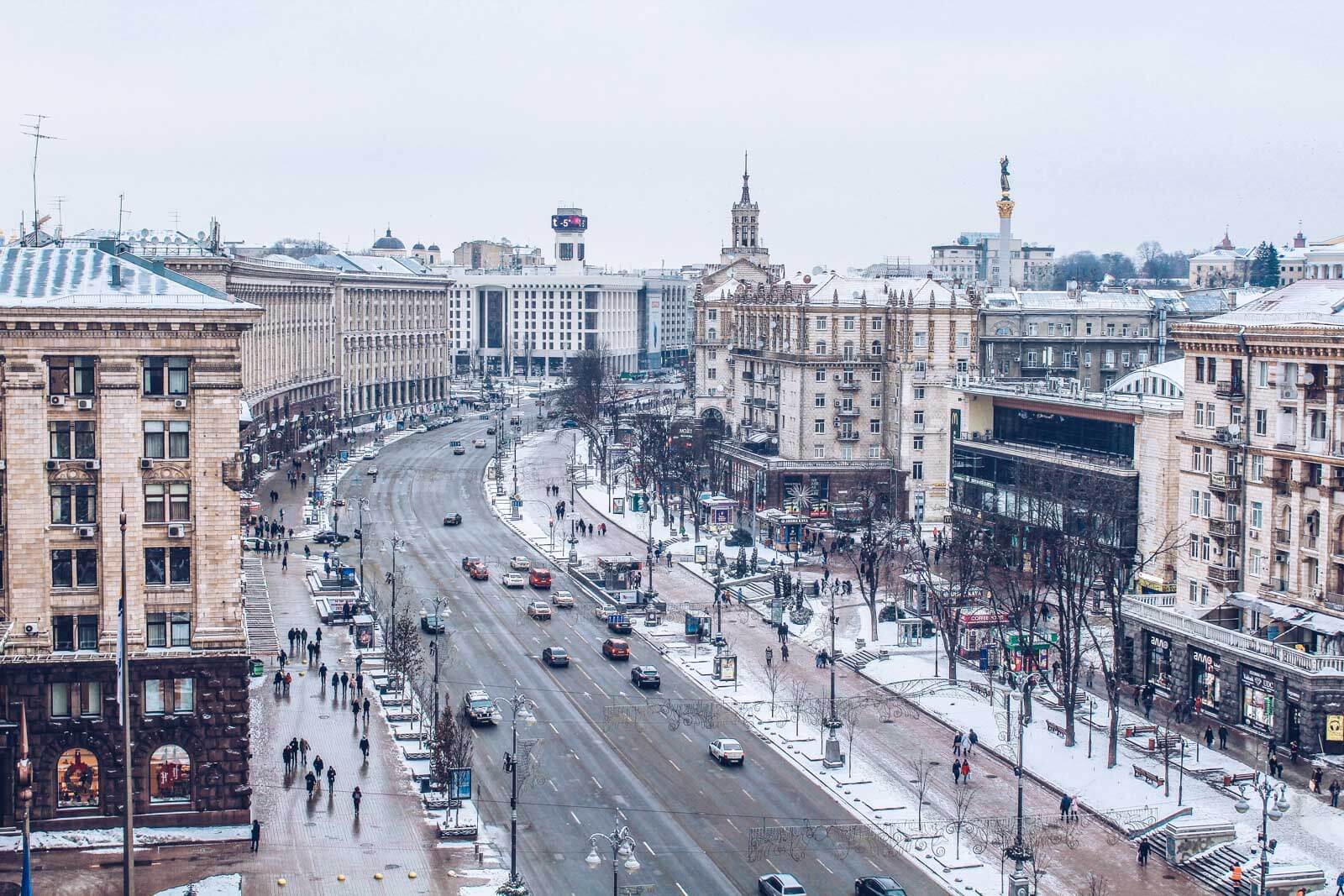 9. Ride a Dog Sled
Usually, you think about Norway, Finland, or Alaska when hearing about dog sledding, right? But the capital of Ukraine has it too if the weather is permitting of course. It is actually one of the coolest things to do in Kiev in winter if there is enough snow. This attraction is cheap and located in the city. Don't worry, you don't need to drive a team of dogs. You can take a passenger's seat and let a professional musher take care of everything.
The best place for dog sled rides is lake Telbin in the Bereznyaki neighborhood. There, a 500-meter track is laid by the lake where sleds take place. Both adults and children can ride, however, the total weight should not exceed 110 kg (240 pounds.) The price of the "race" starts from 175 UAH ($7), and as a bonus, you get a free photo session. With the permission of the musher, you can also "steer" and control the dog sled for a little bit.
10. Relax in a Traditional Style SPA – Bath of Aphrodite
The SPA Afrodite is a complex offering visitors to relax in jacuzzi style tubs (in other words cast iron pots) with hot water with a great view of the river under the open sky. The water is really hot (between 40-45 degrees Celsius or 104-113 Fahrenheit) with a fire underneath a tub to maintain a high temperature. Those who get too hot can take a dip in the cold river (which is a few steps away.)
Here, you can also get a massage, book a bungalow on the water, or a hotel room. Food and drinks are offered for an extra payment but you may take your own if you wish.
Visiting a bath of Afrodite is a very unique experience. It doesn't have anything in common with traditional Russian style banya. These baths are very common in Western Ukraine, especially in the Carpathian region. Visit it in Kiev on a cold winter evening to relax and rejuvenate. This type of treatment is very beneficial for skin and overall health. I know you will enjoy it because it is very authentic and quirky!
See more details here.
11. Go Listen to An Organ Concert in St. Nicholas Cathedral
The Gothic-style building in the business center of Kiev, which is St. Nicholas Cathedral, often at first reminds a castle, temple, or even a theater. A lot of visitors take photos and check the building inside not knowing that there are concerts on specific days.
If you enjoy organ music, visit one of many concerts. The organ is unique and the only one in its origin.
The Czech company has designed it specifically for the St. Nicholas church, taking into account the features of the room. After the instrument was assembled and thoroughly tested in the factory, it was dismantled, transported in parts, and then reassembled and installed in Kiev.
Today, besides the organ, piano, violin, cello, flute, harpsichord, and other musical instruments are played at the concerts too. The program is presented by works of both contemporary and legendary composers: Bach, Handel, Chopin, Mozart, and others.
Unfortunately, the website for the National Organ and Chamber Music Hall is for the most part in Ukrainian. But concerts are held every other day starting at 19:30 pm. I advise to stop by during the day to purchase tickets for the upcoming concert. Prices start from 50 UAH ($2).
Address: Velyka Vasylkivska St, 77. If you have a Ukrainian SIM card, you can also call to inquire about the exact date for the concert. Details are here.
12. Go for a Winter Walk in a Botanical Garden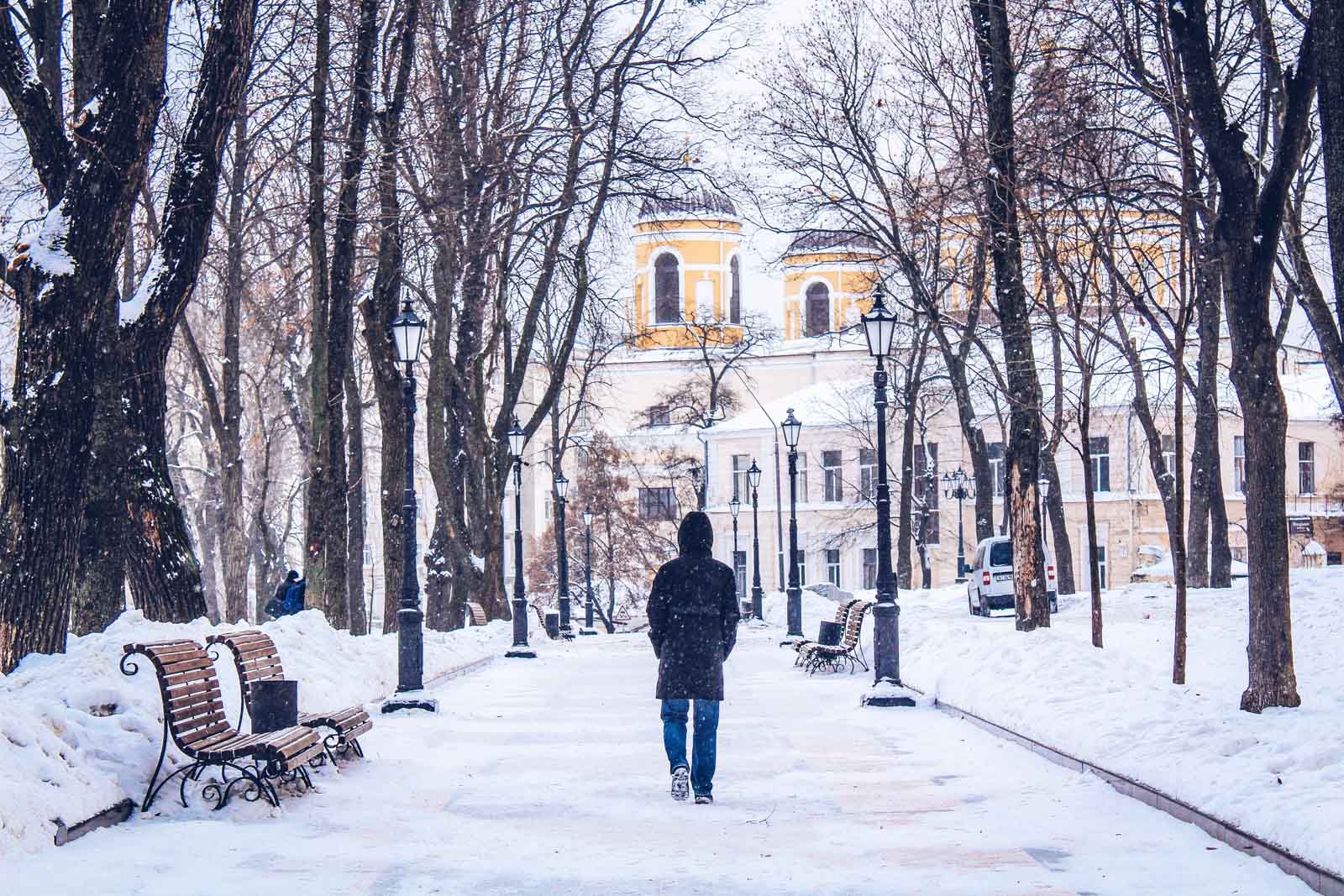 One more wonderful place for winter walks in Kiev is a trip to Botanical Garden. There, you can capture beautiful photos as you would in Volodymyrska Hill park. In fact, you can find not only winter but summer colors in this garden too. There is a greenhouse with tropical plants and flowers. As one of the first gardens in Ukraine, it delights its guests with a huge variety of trees, flowers, and shrubs from all over the world.
The garden is big enough and it may be chilly to walk through its entire grounds. At the entrance gate ask for directions to the area where you get a fabulous view of the left bank, golden-domed churches, and Dnipro river. If you get cold, stop at the greenhouse.
The botanical garden is located almost in the center of the city, just a few steps from the metro. Getting here is easy and quick.
13. Get a Ride in a Tram-Cafe
Tram-cafe is not well known among locals, this is why most likely you, as a tourist, haven't heard about it too. It is one of the most atmospheric cafes in Kiev which offers a truly unique experience.
A real old tram was slightly changed and decorated to look like a cafe. It has tables, a bar, and is 22 degrees Celcius (72 Fahrenheit) warm inside. It departs from Kontraktova Square and offers a few different excursions. One of them is a day and night excursion of old Kiev, another one to a historic neighborhood, climate resort Pusha Voditsa.
Usually, an excursion lasts from 1.5 to 3 hours. You can purchase coffee or tea but there is no food, so feel free to take your own.
To be able to ride in this tram, you need to make a reservation. The website is still in Russian, so I am not directing you there. Get in touch via email or phone (if you have a local sim card) to make a booking: 068-121-67-01 or [email protected]. They are very prompt with responses and usually reply within an hour.
It is another unique experience in the capital of Ukraine. Wind in a tram through the streets of Kiev while listening to interesting stories about the city's past.
14. Get to Know Ukraine at Ethnographic complex "Ukrainian Village"
Ethno Complex Ukrainske Selo (Ukrainian Village) is located slightly outside of Kiev and represents different villages of Ukraine. There, you can walk through old houses from different districts, an orthodox church, a little amusement park and learn about Ukrainian land and folk. Also, on the grounds, you'll find a restaurant and a few ethnic huts.
Ukrainske Selo is a cool destination during each season but in winter you have a chance to see for yourself what folk Ukrainian traditions and rituals are all about. For instance, each holiday is brightly celebrated there with dances, carols, cooking, and selling Ukrainian traditional dishes, and some historical events. You can also participate in one of the craft classes such as blacksmithing, bread baking, embroidery, etc.
For more details, take a look at their website here and check what others are saying on TripAdvisor.
|| READ MORE ||
5 FASCINATING FACTS ON UKRAINE TO CONVINCE YOU TO VISIT
15. Visit Cossack Village Inside Kiev City
Cossack Village or as it's called Mamajeva Sloboda is very similar to "Ukrainian Village" with the difference that it is located in the city and takes around 15 minutes to get there from the center. If Ethno Selo mentioned above represents more of Old Ukraine, especially more villages, then Cossack Village has thematic exhibits on particularly Ukrainian nature, cossacks settlements, architecture, and way of life.
In winter you can order here a special Cossack holiday program or watch a Cossack show, go on an excursion, just walk around and get acquainted with how Cossacks lived, visit evening magical parties, make and eat Ukrainian dumplings, visit a residence of St. Nicholas, make Christmas candles of wax and so much more.
I, as a local, personally love this village for the number of activities it has for its visitors. There are plenty of things to keep you busy all day long if you wish. Their restaurant offers food and drinks from the 18th century.
For more details, check out their website.
---
Indeed, Kiev in winter is often snowy and grey. And it is always cold. Although, getting the right type of clothes and knowing where to go guarantees you will have an unforgettable time.
I hope these a few attractions will keep you busy on a winter day in Kiev. More posts are yet to come. Sign up for our newsletter to know when the next post is published and don't forget to pin it to share with others.
And have fun!
********************************************************
Are you looking for more winter content? If yes, take a look at the following posts, they may help you plan your travel itineraries:
Visiting Spain in Winter: All Questions Answered
Madrid in Winter: What to See, Where to Go & What to Expect?
12 Cheapest Places to Travel in Europe in Winter – Let Magic Happen
Visiting Montenegro in Winter – What Can You Expect?