28 Most Beautiful Cities in Turkey & What You Get Visiting Each of Them
Last updated on December 7th, 2023
Looking for the best cities in Turkey to visit on your trip? Well, there are quite a few of them, are you ready?
Whether it's stunning beach destinations and bays, ancient historic sites and wonderful mosques, or delicious cuisine and hospitable population, cities in Turkey always have something in store for all types of travelers.
Many people who plan their holidays in Turkey usually come to have a beach vacation, spend a few days in Istanbul, go to Cappadocia, and possibly a few ancient sites. But the majority doesn't really come for cities alone.
However, Turkish cities promise memorable experiences with some surprising things to do! With so many attractions in or around them, it will be difficult to fit everything into your Turkey itinerary, so you will surely want to return to this country again and again!
If you love visiting cities and aim to see at least a few of them on your trip, get ready. You may have a hard time deciding where to go and what to skip. Turkey is a huge country and the number of wonderful cities is high enough.
But I hope with my list of these best and most beautiful cities in Turkey you will be able to prioritize and pick the top cities for you to visit. This list is based on my own travels around this country and on my own Turkey bucket list. Let me know if you've been to more Turkish cities and which ones of them were your favorite!
And then if along the way you want to pause in one or a few lesser-known beach towns in Turkey, make sure to do it from April to October. For the most adventurous experience, rent a car in Turkey and go on a drive!
---
Please note: This post contains affiliate links. I may earn a commission if you make a purchase by clicking a link (at no extra cost to you).
---
How Many Cities Are in Turkey?
If you follow the information from Wikipedia which defines a city as a settlement that starts with 30,000 people, then you'll see that Turkey has more than 200 cities with Istanbul being the biggest Turkish city.
But if I stick to the definition that a city is an area with at least 100,000 inhabitants, then this number drops to 82.
And among all 82 cities in Turkey, I wanted to talk about 28 that I believe are the most interesting and fascinating places to visit. I have been to the majority of them on my own and hope to revisit others in the nearest future as I return to Turkey every year for a few months.
How to Travel Between Turkish Cities?
To travel between cities in Turkey, you can opt for one of several transportation options. But your final pick will depend on the distance between cities and where exactly you want to go.
If you plan to see different parts of the country, then your best bet is to hop on a plane. Domestic flights in Turkey often cost less than dinner for one in a restaurant, so flying around in Turkey is very affordable and saves you time.
But if you like road tripping and are ready to cover a few cities in one trip, it is better to rent a car.
Check prices for car rentals with one of the best companies in Turkey and to know how to find the cheapest car rental in high season follow my tips on Turkey car hire.
Map of the Best & Most Beautiful Cities in Turkey
Beautiful Most Famous Cities in Turkey That You Cannot Miss
1.) Istanbul – Largest & Most Epic Turkish City
I want to start my list of the best cities in Turkey with one of the most historically rich, and vibrant cities that has to be on everyone's list and that is Istanbul!
Being the most populated city in Turkey and one of the biggest cities in the world, Istanbul offers a huge number of attractions related to three periods at once – Byzantine, Roman, and Ottoman.
It is the only city with such a unique geographic location and the only city with an endless number of things to do. In the north, Istanbul is washed by the Black Sea. In the south by the Marmara Sea. And European and Asian continents are divided by the Bosphorus Strait.
Not a single person will remain indifferent after visiting Istanbul. This city will especially appeal to fans of outdoor activities because many sights, museums, and quirky restaurants will not let you stay in the hotel for too long. And if you decide to get an Istanbul museum pass, you can even see more in less time.
I love Istanbul for so many things! For its very unique mansions and palaces where you can even spend a night. For ancient landmarks and monuments, magnificent imperial squares, and cozy private courtyards.
Sultanahmet is striking in its beauty, which has preserved its medieval features. Arnavutkoy with its fishermen and some of the best fish restaurants can surprise even the most demanding gourmet.
Karakoy is home to the best fish sandwich and one of the most beautiful ports. Cihangir is stylish, Nisantasi is posh with elegant streets, luxury boutiques, and high-end restaurants. And then Balat and Fener neighborhoods with multicultural heritage and some authentic hidden gems.
Istanbul is always so different. It has those giant modern avenues but also narrow old streets, medieval oriental bazaars, and new modern shopping malls. Different times and cultures have come together and made it one of the most interesting major Turkish cities!
You can spend one day in Istanbul, 4 days in Istanbul, or a whole week and still have plenty of places left for other visits as there are many cool locations to visit near Istanbul and awesome destinations where to go on a weekend getaway.
Top Things to See in Istanbul:
I could talk for a very long time about things to do and see in Istanbul. Instead, I invite you to read my guides where I share the best of the city after spending a good chunk of time living there.
41 Best places to visit in Istanbul is a good post for all tastes and budgets. If you are visiting Istanbul for the first time or need to know Istanbul prices, see my other posts.
Make sure to read about where to stay in Istanbul and neighborhoods to avoid before booking your hotel. And Istanbul travel tips to know before you go. If arriving in Istanbul by plane, get tips in the Istanbul airport transfer guide.
Also, when staying in Istanbul for at least 5 days, make sure to take a boat and venture to one of the Princess Islands. Especially to the most romantic island of all – Burgaz Island.
Beautiful Place to Stay in Istanbul:
If I had to pick only one hotel where to stay in Istanbul, I'd probably go with Mr CAS Hotels property. It is just a beautiful hotel in the heart of Istanbul (in Beyoglu) where price meets quality.
If instead, you want something totally unique and secluded, take a look at Sumahan on the Water. And then if you just want to spend a night in quiet budget accommodation, check out this list of the cheapest apartments under 50$ a night.
2.) Ankara – Beautiful Capital of Turkey
Although the country's capital is often overlooked by tourists, Ankara is a fascinating destination and one of the most beautiful cities in Turkey with a fresh vibe.
It is currently a sophisticated modern city that is home to countless embassies. But Ankara also has many fine restaurants and trendy cafes, five-star hotels with an excellent level of service, and some interesting museums and parks. Even though at times the city can still feel like a kind of concrete jungle.
I loved Ankara's Old Town with its cobblestone streets and an old castle in the middle of the city. The castle has a museum of Ottoman civilization and incredible panorama.
There are also many old Christian churches and medieval Muslim mosques with the Kocatepe mosque being the symbol of the city.
Ankara, of course, is not a seaside resort destination and not anywhere similar to Istanbul. But spending a few days there is very surprising since there are a lot of local traditions and beauty to enjoy.
Top Things to See in Ankara:
A fun and lively place is the impressive Museum of Anatolian Civilizations. It's a number one must-see attraction along with the expansive Anitkabir Attaturk Mausoleum.
Beautiful Place to Stay in Ankara:
Divan Cukurhan is definitely the most beautiful, stylish, and authentic place to stay in Ankara. Being in a historic building from the 18th century and perfect location, it features stunning facilities and luxurious amenities.
3.) Alaçatı – Town of White Sand Beaches & Colorful Houses
Well, Alaçatı is technically not a city but a town located on the Cesme peninsula off the coast of the Aegean Sea. Until recently it was still pretty unknown with only fishermen and artisans living there. But then it started to attract many tourists (especially during the high season) and the population started to increase every summer to the size of a city.
Alaçatı has gained considerable attention for its unique architecture, bohemian atmosphere, and access to beaches with azure water. There are many lively cafes, boutique shops, trendy restaurants, and cozy heritage hotels. Each corner has either a bustling local market with fresh produce or a local shop with handmade crafts and local delicacies.
Hotels there, by the way, are known for their unique style and personalized service. There is a big number of Pansiyons that offer a cozy and homely atmosphere, often run by local families.
What makes it truly one of the most beautiful places in Turkey is the number of beaches around Alaçatı with white sand, also quick access to wineries, and of course traditional stone houses with wooden balconies, arched doorways, and traditional tile work.
Top Things to Do Alaçatı:
Alaçatı is renowned for its exceptional wind conditions, making it a paradise for windsurfers and kitesurfers. So one of the top things to do here is of course go to the beach and participate in water sports. Or learn how to dive as the town is home to some of the best diving centers in Turkey.
The relief of the seabed there is with shallow depths which is ideal for families, especially with small children. Shoals from fifty centimeters to one and a half meters deep stretch for hundreds of meters.
Alacati also hosts various cultural events, art festivals, and exhibitions from April to October, adding an extra layer of charm and vibrancy to the overall experience.
Beautiful Place to Stay in Alaçatı:
The number of beautiful authentic hotels is really high. But if I could choose only 2 places where to stay, I'd choose the Bay C Hotel with an outdoor pool and La Grenadine Hotel housed in a 120-year-old local stone building in the center of Alacati.
4.) Göreme – the Place of Whimsical Fairy Chimneys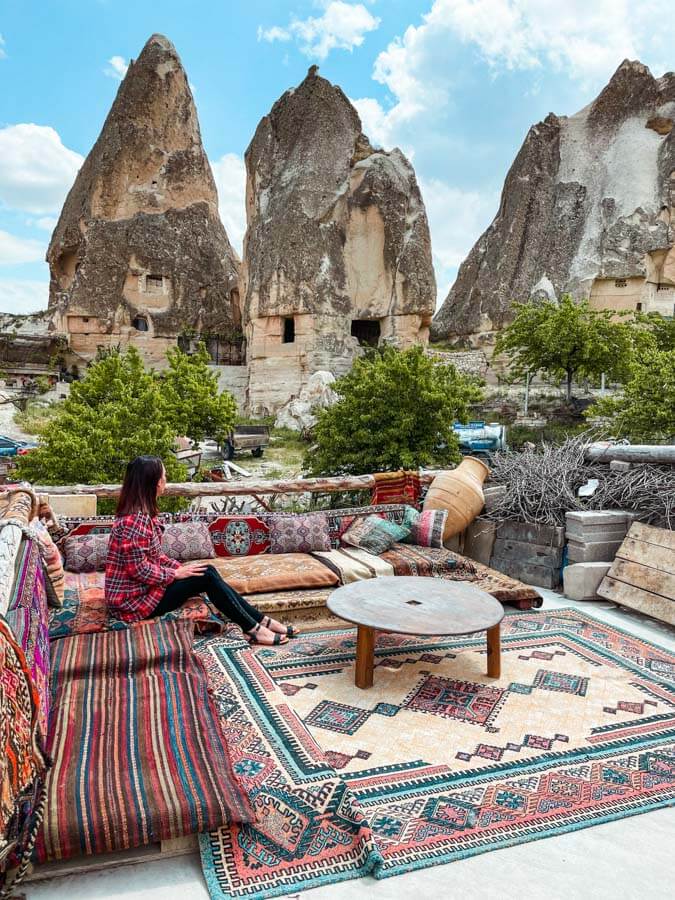 As Alacati mentioned above, Goreme is also not a city. It is a town that has a population of a bit more than 2000 people. But due to its popularity in summer and influx of tourists, the size of the population grows massively when tourists season begins. This is why I can say with confidence that in summer Goreme feels like a city.
Nestled in the heart of Cappadocia, Goreme undeniably stands as one of the most beautiful places in Turkey as well as one of the most popular.
If you have never been to the Cappadocia region before, start with Goreme with its surreal landscape, characterized by whimsical fairy chimneys, towering rock formations, and vast valleys. These unique geological formations, shaped by the forces of nature over centuries, will transport you to a world that feels straight out of a fairytale.
One of its most remarkable features is its ancient cave dwellings and rock-cut churches. Throughout history, people carved out homes, churches, and monasteries within the soft volcanic tuff, leaving behind a stunning legacy. Exploring these fascinating rock-cut structures is like stepping into the past and experiencing the rich history of the region firsthand.
Top Things to Do in Goreme:
Beyond its natural and historical wonders, Göreme offers a range of activities and experiences. Some of the most popular ones include hot air balloon rides and hikes through different valleys.
But the city also serves as a gateway to the wider Cappadocia region, allowing for exploration of other captivating sites such as the Underground Cities and the Open-Air Museum.
Beautiful Place to Stay in Goreme:
I have a post about cave hotels in Cappadocia that includes beautiful hotels in Goreme.
But some of my favorites are Arif Cave Hotel which is a great option for mid-budget with the best views of the balloons and Seki Cave suits the most romantic hotel in the northern part of Goreme.
Most Beautiful Coastal Cities in Turkey
5.) Izmir – the Most European-Like Turkish City on the Aegean Coast
I'll start my list of the most beautiful cities in Turkey with the third most populous city Izmir. In ancient times it was known as the Greek city of Smyrna which used to be one of seven churches addressed in the Book of Revelation.
Located on the Aegean coast, Izmir has many archaeological sites of ancient civilizations located in the city and around it. And they have been preserved very well until our days.
Izmir has always been a port city in Turkey. Today, it has an embankment that is almost 35 km long, equipped with bicycle and walking paths. Bike rental shops are very popular there, so you can just rent a bicycle and go explore the city on two wheels.
Apart from being a huge port city, Izmir is teeming with life and energy. With a lovely waterfront full of great restaurants and multicultural heritage, it is very easy to find many delicious dishes in traditional restaurants. The fantastic oriental bazaar is a great place to stroll through. And then visit one of many old churches and mosques, as well as great history and art museum.
Izmir is particularly a nice destination for sightseeing and shopping. It will take more than one vacation to explore attractions around the city and visit shopping centers, boutique shops, cafes, and restaurants. You should also see Izmir's sunsets because they are amazing.
Top Things to See in Izmir:
In Izmir city, first of all, don't miss Tarihi asansör. It is a lift that connects two neighborhoods – one on the seashore and another on the top of a steep cliff.
Among other things, go to the famous Ataturk museum, walk to Republic Square, and Trade Harbor located next to it. This is a beautiful area with many modern buildings, including several large shopping malls and the Stock Exchange building – a true example of modern architecture.
But the best attractions in Izmir are located nearby. Just some of them are Cesme, a resort town with small cozy boutique hotels in the Greek style, Alacati, Seferihisar, Ildir village, and ancient city Pergamon.
Beautiful Place to Stay in Izmir:
Izmir like any other city in Turkey has a big choice of hotels for any taste and budget.
If you are looking for something sophisticated yet on a mid-budget, check hotels in the southern part of the city like Buyuk Konak Hotel or Met Boutique Hotel with austere rooms.
6.) Ceşme – Great City For Beach & Wellness Holiday on a Budget
Cesme is a small city on the peninsula of the same name next to Alacati which I mentioned above. It is located 80 km west of the large city of Izmir next to the Greek island of Chios. Like many other Turkish cities along the coast, Cesme also offers resort-type vacations by the sea.
However, it is considered a small resort city by Turkish standards. There are not many hotels (about two dozen), but there are several hundred guest houses, apart-hotels, flats and houses available for rent. Many people in Turkey own a flat or a small house in Cesme where they love going to for summer vacation.
The range of attractions is rather modest. There are mainly two small water parks, a fortress about 500 years old, a local history museum, and excavations of the ancient city of Erythrai.
Yet Ceşme has gained the status of a popular western resort city due to its unique nature and high level of tourist infrastructure. It differs significantly from the nearby Alacati and other Turkish seaside cities in its appearance, in particular, the architecture has a lot of Greek motives.
Another thing that I noticed was how clean and well-groomed Cesme is. It is hidden in flowers and greenery, has many walking paths and neat sidewalks. Its houses, playing with colorful paints, create a special atmosphere and simply lift up the mood.
Cesme has a number of well-maintained beaches and the ideal climatic conditions turn this miniature corner into a real paradise for summer holidays. But the best part – this city allows combining beach and wellness holidays in Turkey since there are sources of mineral water and healing mud.
Top Things to See in Cesme:
It is always nice when, in addition to the beach, you can go to explore local attractions. And among them are Cesme Castle, Cesme Museum, and a neat embankment with palm trees and multiples cafes.
Among the best beaches are Ilica, Tekke, and Cesme Altınkum beaches.
Beautiful Place to Stay in Cesme:
Ipekyol Boutique hotel – unique, beautiful, small family-owned hotel in the center of Cesme. There you can experience all wonders of Turkish hospitality and authenticity.
There are only 6 rooms available for rent in a home that used to be an old Greek house. Each room has decorations from different parts of the world and there is a gorgeous territory with a pool and garden.
However, lately, they accept reservations only from May to September and close for the rest of the season.
7.) Bodrum – a City of Flowers and Fashionable Parties
Even though bright colorful Bodrum has the largest number of nightclubs, bars, and discos, there is much more to this destination than just flowers and parties.
This city has a good selection of accommodation (from five-star hotels, apartments and villas to inexpensive guesthouses), many interesting cultural and historical sights, scenic views, sandy and pebble beaches with excellent infrastructure, and much more.
Bodrum is undeniably one of the most beautiful cities in Turkey that has everything you'd want for a holiday destination. Its Aegean character shines through the traditional whitewashed houses, delightful little cafes, and cobbled alleys that you can find everywhere.
While it is a historic site with a stunning castle, ancient ruins, and an impressive amphitheater, Bodrum's elegant bars, trendy restaurants, and vibrant nightlife make it more contemporary.
What makes it special is the weather. Among all Turkish cities to visit on the coast, Bodrum is the best for travel in July and August. In summer, Bodrum's weather is hot, dry, and windy which helps to tolerate the heat. The most favorable months to visit are June through September.
Top Things to See in Bodrum:
There are many interesting cultural and historical sights to visit in and around Bodrum. The medieval castle of St. Peter (Bodrum castle in other words), ancient Mausoleum, Museum of Underwater Archaeology, ancient ruins of Halicarnassus are just some of them.
To find out what else is there, check my guide to the most beautiful places to visit in Bodrum. This post includes instagrammable places, fancy cafes, beach clubs and more.
Among other things to do, don't miss a boat tour from Bodrum to swim in crystal clear blue water. Or take a ferry to the Greek island of Rhodes which you can reach in 3 hours from a city pier.
Oh, and how could I forget about sunsets. When in Bodrum, find time to travel to the western point of the peninsula and watch the incredible Bodrum sunset.
Beautiful Place to Stay in Bodrum:
If you are dreaming of a luxurious stay in the vicinity of Bodrum with incredible views, check out this sophisticated Kaya Palazzo Resort.
Budget travelers will surely enjoy a stay in Bodrum's Old Town in this instagrammable guesthouse.
8.) Marmaris – One of the Sunniest Coastal Cities in Turkey
Of course, the list of the most beautiful cities in Turkey couldn't be complete without Marmaris. It is another small Turkish city on the shores of the Aegean Sea which is so beautiful and bright that it makes it difficult not to want to visit it.
Marmaris is relatively close to Izmir and only three hundred kilometers west of Antalya. Many people make a stop there on their Turkey road trip while others choose it as a base for a sea vacation.
In my experience, it is a perfect small city where to make a base for a few months since the number of activities on the peninsula is huge. Plus, the Greek island Rhodes is only a short boat trip away which is very easy to go to from Marmaris.
The city itself has a modern tourist infrastructure, several resort areas, many interesting sights, about a hundred high-star hotels, and more than a thousand villas.
Marmaris is very similar to Bodrum in some ways. But the city offers tourists a beautiful long beach and many restaurants, boutiques, water parks, and nightclubs nearby. Many local hotels operate on the all-inclusive system and almost the entire coast near Marmaris is occupied by yachts.
Top Things to Do in Marmaris:
Hit the beach! The beaches of Marmaris are considered one of the best beaches in Turkey, with most of them having Blue Flags. One of the places that I love the most is the nearby village Selimiye that boasts a luxurious type of accommodation, sweeping views and its own lovely beaches.
Marmaris Marina, grand bazaar, Bar Street in the center of the city, Castle, the city's embankment are those spots that should be on everyone's list of the best things to do. Also, Marmaris is famous for its vibrant nightlife. If you are a club person, you'll surely love Talk of the Marmaris bar and Joy Club disco bar.
Beautiful Place to Stay in Marmaris:
If you have a car, I highly recommend you stay not in Marmaris, but in one of the adjacent villages. Turunc village, for example, has some of the most unique and fancy hotels with prices that can fit budget travelers too.
One of my favorite hotels is Pilos Deluxe hotel. It is much more beautiful than photos tell, with a chic interior, interesting location, and all those amenities that make a stay that extra special.
9.) Fethiye – Another Beautiful Turkish City at the Junction of Two Seas
Among all cities mentioned on this Turkey city list, Fethiye is one of the smallest. Yet, the number of resorts, historical and natural attractions is so big that you can't even tell.
Officially it is the easternmost city on the Aegean coast, although it is considered to be on the shores of the Mediterranean Sea. Located in a beautiful natural harbor, Fethiye is stunning with its turquoise waters and forested hills.
The city and its surroundings provide a comfortable, varied vacation with clean beaches, water sports, restaurants, cafes, and nightclubs. Beaches are ideal for relaxing and you can easily take a yacht cruise around the bay or go to one of the nearby islands.
Although the city of Fethiye was almost destroyed by an earthquake in 1958, it has been impressively brought back to life, with many of its ancient sites still intact. The stunning tombs of Amyntas Rock are certainly worth a visit as is the ancient city of Cadyanda nearby.
Top Things to See in Fethiye:
There are many historical monuments around Fethiye that were created in different eras.
You should definitely visit the city Museum of Historical Artifacts, the White Mosque, and the Crusader Fortress on the hillside above Fethiye offering incredible views.
Other points of interest are the Amyntas Tombs, the ancient cities of Pinara and Telmessos, Saklikent Gorge, the ghost town of Kayakoy, and the Valley of Butterflies in Oludeniz. Fethiye to Pamukkale route is also full of sights and interesting activities, so it is easy to combine a trip to this city with one of the most famous Turkish landmarks.
Beautiful Place to Stay in Fethiye:
Hotel Unique Boutique Class – one of my favorite hotels in the center of Fethiye. It was built on the hill which means guests have spectacular views of the marina and the city.
The design of the hotel reminded me of Bali with its quirky hotels where everything has so much detail and creativity. Besides quiet stylish rooms, there is a gorgeous outdoor infinity pool, beautiful terrace and garden, and a small cozy restaurant.
10.) Kusadasi – Turkish Nice
Kusadasi became another popular seaside city in Turkey thanks to numerous travel companies. It is known for a high number of hotels, restaurants, bars and nightclubs along the coast where guests can enjoy noisy parties.
The number of hotels, compared to other Turkish resort cities, is not high. But many of them are of a five-star standard.
Kusadasi also has an excellent entertainment program such as water parks and various attractions, and its sandy beaches with azure water, soft golden sand and a gentle entrance to the sea are perfect for all types of travelers.
During the high summer season, up to half a million tourists come to Kusadasi, mainly from the UK and Ireland. Therefore, the local staff speaks very good English.
Besides the beautiful beaches and stunning sea views, Kusadasi's proximity to famous historical and natural landmarks is another reason why more and more people visit each year.
The archaeological site of Ephesus is mesmerizing with its splendor. While the Dilek Peninsula National Park is a great place to immerse yourself in nature. Sirince, a mountain village with its fruit wine cellars and shops is a short drive away. And Greek Island Samos is also very close.
Top Things to See in Kusadasi:
Since Kusadasi is one of the best cities in Turkey for sea vacation, one of the top things to do is definitely to go to the beach. Also, head to Kusadasi harbor and Pigeon Island, see a Byzantine fortress from the 13th century above the island, try windsurfing and water skiing.
Not far from the city there are thermal springs, the Dilek National Park with the nearby Zeus Cave, and the Kursunlu Monastery. In Kusadasi, you can visit the Kaleici Mosque and the Kale district with narrow old streets.
Beautiful Place to Stay in Kusadasi:
If you'd prefer to stay in a trendy and charming hotel with a private beach, infinity pool, and sweeping views that is not far from the center, head for Charisma Deluxe Hotel.
11.) Antalya – Resort & Port City in the South of Turkey
One of the main cities in Turkey Antalya is underrated by many. It has much more to offer than just all-inclusive hotels on the Mediterranean coast and parties.
Antalya is a wonderful city to visit in Turkey and one of the best cities where to live. Everyone can find something to their liking there and have a great time. The beach season lasts 6 months a year, but even in winter in Antalya, there is still a lot to do. And two weeks of vacation will not be enough to see everything.
Antalya is steeped in history, where the old center of Kaleici is especially delightful with beautiful Ottoman houses, narrow streets, and alleys. Nearby lies the Roman-era harbor – a great place to stop and breathe in the sea, as well as several beautiful beaches ideal for relaxing.
Not far from Antalya there are several popular resorts such as Belek, Side, Kemer, Tekerova, and others that are full of different hotels with good service. The city's coastline looks absolutely stunning and the towering hills offer great mountain views.
Before visiting Antalya for the first time, I didn't really have any desire to go there at all. But after finally moving to Antalya city, I realized how beautiful this destination is and how comfortable my life can be there.
Top Things to See in Antalya:
A list of things to do in Antalya is really long. In short – you shouldn't miss old town Kaleici, Mustafa Kemal Ataturk Museum or/and Museum of Ethnography. All of these places will bring you back in time in the days of the Ottoman Empire. Beaches of Konyaalti, Lara and Mermerli with their beach clubs are no less popular.
In the city itself, there are the famous Duden waterfalls, which flow straight into the Mediterranean Sea from a height of 45 meters. You can watch them from the observation deck or see them from the water on a boat trip.
One of my favorite things to do is to rent a car in Antalya and go on a road trip. You can literally go in any direction and find lots of activities. I went on many road trips and wrote about a few in my posts about Antalya to Fethiye by car and Antalya to Pamukkale drive, give them a read. And for more ideas on what to do in Antalya province, see my post about Antalya day trips and tours.
Beautiful Place to Stay in Antalya:
Antalya boasts too many nice hotels that it may be even difficult to choose which one to book.
Among my top picks is a boutique hotel Casa Sur in Old Town and Titanic Mardan Palace all-inclusive hotel.
12.) Kemer – the Greenest City on the Mediterranean Sea
Kemer, in the Antalya province on the Mediterranean coast, occupies a special place among the most beautiful cities in Turkey. It includes resort villages Beldibi, Goynuk, Kiris, Camyuva and Tekirova.
Most of the territory around Kemer is mountains and coniferous trees. This is why it has the most beautiful landscapes and the healthiest air. The beaches here are pebbly, and the sea, thanks to this, is clean and transparent.
All local beaches in Kemer are built up with all-inclusive hotels that by the way are the cheapest five-star hotels in entire Turkey.
I personally love Kemer not for hotels but for nature and the ability to enjoy all the beauty without staying in a hotel. Unlike Belek, where the entire coast is taken by hotels, in Kemer the hotel area is not gated. Even if you stay somewhere else, you are welcome to come to Kemer for a day or a few and have access to the beach. Pay a visit to its beautiful parks, walk a path by the sea, and just enjoy the area.
Top Things to See in Kemer:
The sights of Kemer are mainly natural beauties and the ruins of ancient cities. The Yoruk Park is located in the northern part of the city by the sea. This is a live ethnographic exposition dedicated to the history of the Turkish people. You know, that kind of open-air museum that tells about the way of life of the nomadic Turkmen tribes.
In the vicinity of Kemer, there is an ancient city of Phaselis, Goynuk Canyon of incredible beauty, and Mount Tahtali. The last one can be reached by a cable car Olympos Teleferik.
Beautiful Place to Stay in Kemer:
There are dozens of wonderful hotels where to stay in Kemer. Among all, I want to highlight one where we stayed for my birthday Seven Seas Hotel Life. It is not directly in Kemer but an adjacent village Goynuk (which again, is part of Kemer). The hotel is small but it has everything you need and more.
I spent 2 full days looking for a nice all-inclusive for my birthday (ha!) and eventually chose Seven Seas which completely exceeded all our expectations. Check hotel reviews to see how phenomenal this property is! My review is among others on that list too.
13.) Belek – the Most Expensive City on the Mediterranean Coast
This coastal city is among the most expensive, yet at the same time most visited cities in Turkey. Located on the shores of the Mediterranean Sea in the province of Antalya, Belek is famous for its sandy beaches with a total length of over 20 km.
Most of the shore in Belek is lined with five-star all-inclusive themed hotels and many golf courses. Belek's beaches are simply magnificent. They have Blue Flags, as well as soft sand and gentle descent into the sea, clear, clean water and wonderful modern infrastructure. An ideal place for a family vacation.
If you don't plan to stay in Belek, don't visit for the sake of an excursion or walk. There is nothing to do in the city alone besides spending time in hotels that look like real artwork.
It is worth choosing Belek only if you want to spend your holidays in Turkey in a hotel on a sandy beach.
Belek can be also safely called a large SPA city due to the number of mineral springs there.
Top Things to Do in Belek:
Aside from resorts, you won't find much to do in Belek city. Top places where to spend a day are the Land of Legends waterpark, National Park Koprulu Canyon (that you need to drive to), Kadriye village famous for its huge bazaar, and Aspendos ancient city (outside Belek but not far from it).
Beautiful Place to Stay in Belek:
For the best experience, I recommend you settle in a hotel on the first line. The next lines go after the golf courses, far from the sea.
My top pick hotel is Xanadu Resort Hotel. It's a huge 5-star hotel with varied cuisine and countless activities that are available even during winter vacation.
14.) Mersin – Lesser-Visited Port City in Turkey
Mersin is one of the most unique cities to visit in Turkey for many reasons. First of all, it is a city with 50% of the population under 24 years of age due to many universities around.
Second, it has a huge port with a cool embankment with dozens of cafes and shops which is an ideal place for leisurely walks and admiring the picturesque Mediterranean landscapes. Third, it is one of the warmest cities to visit in Turkey in winter.
Tourists began to appear in Mersin quite recently. This is why there are not too many fancy hotels as in other coastal cities in Turkey. Due to its important economic importance, all the attention was paid to the development of the industrial and commercial sectors. And this was quite justified since the piers and docks of the port have a capacity of 3800 ships per year.
You won't find there many clubs and discos usual for Turkish cities by the sea. But the presence of clean, certified beaches and warm sea, as well as palm and myrtle alleys and parks clearly indicate the huge tourism potential of the city. Also, even though there are mainly young people in Mersin, at night around 10 pm it becomes very quiet. Liveliness remains only in the port.
In the vicinity of this city, there are a few high-quality hotels with an all-inclusive system and entertainment programs. Thanks to a large number of cozy bays, coves, and rocky coasts, you can feel yourself a hero of pirate novels.
Top Things to Do in Mersin:
Mersin is not famous for any striking attractions. Mugdat Mosque, Anamur Castle, Museum of Archeology, Naval Museum, and Tarsus ancient city are among the top places to visit.
One of the places that I really liked was Tarsus Waterfall on the way to Adana.
Beautiful Place to Stay in Mersin:
Accommodation in Mersin is rather ample. You'll find hotels from 2 to 5 stars, apartments, luxury villas, and family hostels. If you travel for a beach vacation, then look for accommodation on the outskirts. If for an excursion, then in the city center.
One of the nicest places near Mersin Marina is Divan Otel.
15.) Alanya – the Sunniest City in Turkey
Rocky capes on the coast, sandy bays, clean sandy and small-pebble beaches, shallow sea, affordable prices in hotels… These are the main features of Alanya that attract tourists. But besides them, this city has an incredible number of attractions. The territory is simply strewn with fortresses, temples, and clean streets. But most importantly, a special atmosphere that can not be found anywhere else.
Alanya has been generously rewarded with nature and since it's protected by the Taurus mountains range, there are almost no winds inside the city which makes it a warmer place in winter.
People who come on vacation will find many cafes, restaurants, and lounges that will allow to have a good time and enjoy exclusive national cuisine with drinks.
Alanya is considered a German and Russian resort because most of the foreign tourists are either from Germany or Russia. Prices for hotels range from the cheapest to the most expensive ones. However, overall, Alanya is known as the cheapest city in Turkey for vacation.
As with Antalya, Alanya also didn't interest me much. But once I visited and spent some there, I realized this is a very nice city where to spend cold European winters or even come and live when moving to Turkey. And of course, Alanya is also a beautiful Turkish city to visit outside beaches.
Top Things to See in Alanya:
First of all, walk around Alanya's Old Town with its old streets. Then go to Kizil Kule tower for mesmerizing views, take a funicular to see Cleopatra Beach from above, and be sure to climb the Castle. It is here where the highest point of Alanya and an impressive observation deck is.
Not far from the city there is a very unusual park Kedi Evi where local cats live. In addition, there are fountains, sculptures, gazebos, and restaurants.
One of the highlights of Alanya is a unique Cleopatra Beach. A picturesque coastal strip of white sand, a gentle entrance to the water, "Blue Flag", and all the necessary infrastructure make it one of the best beaches in Turkey. It is worth visiting this beach even if your hotel is located at another point on the Alanya coast.
Night entertainment in Alanya is as good as during the day. The most popular clubs are Las Vegas Cafe & Bar and Sess Night Club.
Beautiful Place to Stay in Alanya:
Mukarnas Resort & Spa – not directly in Alanya, but in the small resort village of Okurcalar near Alanya city. I saved this hotel for our possible future stay and wanted to share. It has very beautiful architecture. It was inspired by the splendor of Seljuk palaces but built with modern comfort elements.
Most Beautiful Cities to Visit in Eastern Turkey
16.) Mardin – One of the Most Mysterious and Fascinating Cities in Southeastern Turkey
Ancient Turkish city from oriental tales Mardin should be on everyone's itinerary. It is a city in southeastern Turkey with incredible oriental architecture and ancient Christian history.
Many Turks admire this city even without ever visiting it. And almost everyone in Turkey is curious about Mardin and wants to see with his own eyes.
For the first time, Mardin was mentioned in 4500 BC. Its old town is under the protection of UNESCO which did a great job preserving the buildings in their original form until our days.
A visit to this incredible city is a must for connoisseurs of history. There you can walk along a thousand-year-old street or sit in a cafe over a cup of hot tea, as the locals did 400 years ago.
Christian churches, that were built by Syrian Orthodox Christians, dilute the oriental flavor. Mardin mosques differ in their architecture from ordinary Turkish ones. They are more like Arab mosques because for about 450 years the city was under Arab occupation from 640 to 1104.
Top Things to See in Mardin:
Mardin doesn't have any problems with the tourist flow. Not in the sense that there is the same number of tourists like on a summer evening at the Blue Mosque in Istanbul, no. But this city is quite popular as a historical and cultural destination too.
Of course, in a city like Mardin, it is better to start a visit with a trip to the museum. For example, the Mardin Museum on Cumhuriyet Square in the center. Or the Sakıp Sabancı City Museum. But for the most interesting experience, walk around another museum which is completely free of charge. And that is a live museum – Mardin Old City.
In fact, Mardin is only one of a few cities in Turkey that I'd recommend you to visit with a guide. There is so much there that you'd need someone to guide you through the labyrinthine alleys. With the help of a knowledgeable guide, you'll understand stories behind historic buildings and the old-world atmosphere.
Beautiful Place to Stay in Mardin:
For a touch of Mardin luxury, Mirsoum Hotel in the heart of Old Mardin has gorgeous rooms footsteps away from all major points of interest. This impressive stone boutique mansion was built according to the canons of authentic Turkish architecture.
17.) Sanliurfa – Sacred Turkish City
You'll find this city in the southeast of Anatolia. It is the capital of the province of the same name also known as Urfa and "City of the Prophet".
Sanliurfa has many beautiful old buildings with a rich history and the oldest temple complex on earth Göbekli Tepe, built around the 9th millennium BC.
Until the final establishment of the Ottoman Empire in the 17th century, it was constantly conquered, burned, and rebuilt. Nowadays, it is a lively, well-developing city. Lots of its greenery on the streets contrasts nicely with the semi-desert landscapes that begin outside on the outskirts.
Many people come here on pilgrimage, to meditate and connect with their inner self. Others come on tours since it's one of the most interesting places to visit in Turkey and learn about its different past.
New urban development projects mean the city is rapidly changing. But its ancient past still shines in the form of the stunning Dergah Park and mosque complex. In the old part, which is very different in appearance from the new one, there are temples, ponds, parks.
Top Things to See in Sanliurfa:
You should definitely visit the Sanliurfa Museum with 3 halls of archeology and ethnography, exhibition conference rooms, and a library. The basement houses a storage facility, a photographic laboratory, and a research laboratory.
Also, must-sees are a cave where the prophet Abraham was born, the Rizvanie Mosque, Great Mosque of Urfa, Dergah Park, the ruins of the Urfa fortress, eight Turkish baths from the Ottoman Empire, and of course Göbeklitepe an important archaeological site.
Beautiful Place to Stay in Urfa:
A fantastic choice for mid-range accommodation is Palmyra Boutique Hotel, occupying a Syrian building near the old city center. It is an amazing boutique hotel with an authentic atmosphere.
18.) Van – Beautiful Biggest City in Turkey's East
In the very east of the country, literally a few kilometers from the Iranian border, there is the Mystical Lake Van with saltwater and soda. This is a unique place that helps in the treatment of arthritis and rheumatism.
Lake Van is considered one of the most beautiful places to visit in Turkey. But a lovely bonus to it is the biggest city on the lake with the same name, which is simply overflowing with historical sights.
Van, at first sight unremarkable, a real jewel for lovers of the history and culture of the ancient world. It was deserted during the First World War, and an earthquake in the 1950s destroyed its Ottoman architectural heritage. But the city managed to preserve the ancient castle Van Kalesi, beautifully located right on lake's shore.
From Van, it is also good to explore the area with the notable Armenian church on Akdamar Island.
Top Things to Do in Van:
In addition to lake Van ruins and Armenian churches, other highlights of Van are ancient castles that stand guard over the hills and the Turkish Van cats. A rare cat breed is distinguished by its "van pattern", where its color is found only on the head and tail, while the rest of the cat is white, and often has different colors.
Van Castle offers magnificent views of the highlands from its summit at the top of the peak.
You should also explore the Kavustepe Castle, located just a few miles south of the city. Other must-see attractions include the 10th century Holy Cross Cathedral on Akdamar Island.
Beautiful Place to Stay in Van:
Van is not fully developed for tourists yet. So there are not many nice hotels to choose from. Among all of them, Ronesans Life Hotel seems to offer a sufficient dose of comfort and style as well as convenience.
19.) Erzurum – the Most High-Altitude City in Turkey
Erzurum is another ancient city in Eastern Turkey that is well worth a trip. It once belonged to Russia, Byzantium, Armenia, and Persia and this is why also has early history Turkish monuments. However, the main reason people travel there is not that.
A bit more to the South of Erzurum is Palandöken resort which offers excellent skiing in winter. In summer the town sometimes serves as a base for mountain hikers and rafters heading into the East Pontic Mountains. The season starts in December and ends in May which implies that winters are cold and snowy. The average temperature in January is -10.
Erzurum is the most high-altitude(1700 m) and open to wind and sun city in Turkey. It has the most frequent earthquakes and one of the most devout residents in the country. Some local women there wear a dark-colored "charshaf" (Ottoman-style robe-like dress) to match the steppes surrounding the city. Others wear a black chador borrowed from Iran.
Due to its strategic position at the intersection of trade routes from Persia, the Caucasus, and Western Anatolia, Erzurum has always been the subject of dispute between many rulers. Therefore, by tradition, a strong military garrison is still located there.
Top Things to See in Erzurum:
Besides a ski resort, the city itself also deserves a visit. There are many attractions worthy of attention and just some of them are the Ulu Mosque, Cifte Minareli, Lala Mustafa Pasha mosque, and the city fortress.
You also should taste a Kadaif, a local dessert from long vermicelli with syrup and nuts. It is available anywhere in Turkey but Erzurum, being the place that invented it, has the best kadaif ever.
Beautiful Place to Stay in Erzurum:
Erzurum doesn't have many hotels, although you won't have any problem finding a place where to stay, no matter what your budget is. In Palandöken, take a look at Polat Erzurum Resort Hotel.
Best Cities in Turkey That You Didn't Hear About
20.) Edirne – Turkey's Gateway to Europe
Edirne, as a city in the northwest of Turkey near the border with Greece, also used to be the capital of the Ottoman Empire. It preserved fantastic old imperial buildings, Ottoman palaces, historic houses, and mosques. You'd probably need at least a few days to see them all together with modern neoclassical architecture, colorful bazaars, and interesting ancient bridges.
The Selimiye Mosque, for example, is a must-see spot in this beautiful Turkish city. And the Old Quarter is extremely interesting to walk through.
Due to its strategic location and proximity to Greece and Bulgaria, Edirne has a European influence and is often called the gateway of Turkey to Europe. It is one of a few main Turkish cities where two religions (Orthodoxy and Islam) and cultures meet and exist very well together.
There are many reasons why to visit Edirne and one of them is Turkish cuisine. Local restaurants offer a variety of delectable dishes and drinks.
For the best experience, it is best to visit Edirne during the period from April to June and September-October. July and August are just unbearably hot. Although summer has a big traditional Kirkpinar Olive Oil Wrestling Festival.
Since the city is located not far from the Gulf of Saros, there are excellent beaches within a short drive. The most developed and beautiful beaches in that part are between the town of Enez and the city Keshan.
Top Things to See in Edirne:
The oldest part of Edirne is an old atmospheric city, once surrounded by fortress walls. It is so pleasant and interesting to walk there and visit the old synagogue which is the largest Jewish religious building in Turkey.
Another must-see is a small stone Christian church in Old Quarter, Gazimihal bridge, Macedonian tower, and Karaagac Walking Street.
Beautiful Place to Stay in Edirne:
The Plaza Hotel – a modern hotel with excellent reviews and a perfect location. It takes only a few minutes to walk to all the main sights, shops, and restaurants.
21.) Safranbolu – City-Museum on the UNESCO World Heritage List
Safranbolu is not a famous Turkish city to visit but it is undeniably very special. It is located near Zonguldak (a beautiful Turkish city on the Black Sea coast) and not far from Ankara, which makes it easy to go to if you have a car and cruise around.
Safranbolu is the brightest example of Ottoman architecture and is a well-preserved example of urban development from the Ottoman era. In 1994, among other 9 sites in Turkey, it was included in the UNESCO World Heritage List. And it's also on the list of the twenty best-preserved cities in Europe.
This destination, originally owned by Paphlagonia, a Roman province, has seen many civilizations, including the Roman, Byzantine, Seljuk, and Ottoman empires. It was an important point on the Silk Road route. And it was here where the residence of the imperial family was located.
Safranbolu owes its name to the saffron growing in the area which is used to add aroma and exquisite taste to desserts and other dishes of Turkish cuisine. Also, this plant is part of a unique paint used for the production of Turkish carpets.
I added Safranbolu a long time ago to my Turkey city wish list with its extremely rich historical and cultural heritage. I want to visit to see some of its wonderful architectural monuments, which are examples of Turkish architecture, preserved in the original environment.
Top Things to Do in Safranbolu:
Besides multiple architectural historic gems, other attractions include museums and various mosques. There is also Hidirlik Hill with a wide panorama of the city, Coppersmith bazaar, and Tarihi Cinci Hammam. All of them are worth attention.
In addition, the picturesque nature of the area where the city of Safranbolu is located is striking in its beauty. If this is not your first visit to Turkey, rent a car in Istanbul and go on a road trip along the Black coast visiting Safranbolu nature and city on a side trip.
Beautiful Place to Stay in Safranbolu:
Huma Hatun Konaklari Hotel – a traditional Ottoman house in an excellent location near the center but in a quiet area.
22.) Eskişehir – Venice of Turkey With Disney-Like Park
I discovered Eskişehir for myself just recently when planning a drive from Bursa to Ankara and looking for unique places to visit along the way. And to my huge surprise, after talking to many of my Turkish friends I found this incredibly beautiful city which (as per locals) has the best quality of life and rich culture.
Eskişehir is now a new fast-growing European-like city in Turkey that is also called "Turkish Venice" due to its many enchanting canals that wind their way through different neighborhoods and are reminiscent of the famed canals of Venice.
But that's not the only feature that makes this Turkish city beautiful and special.
Eskişehir is home to an enchanting destination that shares similarities with the magical world of Disney, known as Eskişehir Wonderland. Just like Disney parks, this park also features meticulously designed and themed areas, enchanting attractions, and a focus on creating a whimsical atmosphere with a big number of attractions for all ages.
Top Things to Do in Eskişehir:
With the largest Wonderland amusement park in the region, it can be difficult to plan anything else to do in this city. Yet the reality is – there are tons of activities.
Make sure not to miss a walk around the historic Odunpazarı district with well-preserved Ottoman-era architecture, rent a bike (the city is also very bike-friendly) and pedal around, visit Turkey Independence Museum, and of course take a scenic boat ride or have a leisurely walk along the riverfront promenade.
Where to Stay in Eskişehir:
If you are like me and appreciate staying in small heritage hotels, then look into Yuva Butik or Arasta Konak Otel.
23.) Bartin – One of the Newer Resort Cities in Turkey on the Black Sea
Among all the coastal cities in Turkey, Bartin is the most unknown one. I wanted to add it to this Turkey city list because you need to discover it before everyone else gets there.
It is already a new tourist hot spot, yet for now just among the Turkish tourists. The city is home to canals and bridges over the river (very similar to canals in Eskişehir, just on a smaller scale) that make it look like Venice.
Bartin also has a few historic districts showcasing a fascinating blend of architectural styles, reflecting its Ottoman and Byzantine heritage. But one of its true gems and highlights is Amasra, a small coastal town located within its borders. Amasra has a lovely old town nestled between two peninsulas with a castle which in some ways reminded me a lot about Herceg Novi in Montenegro.
Once there, besides nature and historic spots, you also need to pop into local seafood restaurants as Bartin is famous for its fresh fish and seafood delicacies. Sample the flavors of the Black Sea cuisine since it is different from the cuisines of other regions. It puts its emphasis on seafood, corn-based dishes, and hearty flavors.
Bartin is located not far from Safranbolu. Thus you can visit both of these cities together on a trip from Ankara or even Istanbul.
Top Things to See in Bartin:
If you want to go to the beach on the Black Sea coast nearest to Ankara and Istanbul, Bartin is your new beach destination with Amasra captivating coastal town a short drive away.
As for the city alone, do not miss the wooden houses from the Ottoman era, Aya Nikolas Church that dates back to 1319, and the Ibrahim Pasa Mosque. In the vicinity of the city near the sea, you can visit the ruins of the ancient cities of Sesamo and Kromna.
In Amasra, besides going to the beach, take a stroll around the ancient citadel, perched on a rocky peninsula overlooking the Black Sea and offering panoramic views of the town and the coastline.
Beautiful Place to Stay in Bartin:
Kaf Konak – a historic wooden house with traditional but modern rooms. The price includes breakfast in a beautiful garden.
24.) Isparta – the City of Roses, Lavander, & Mountain Lake
Isparta is another beautiful city in Turkey that's not on the travel radar for many people. The city itself does not really have a lot of attractions but it is rich in natural landmarks that lay in the vicinity on all sides.
Among Turkish people, Isparta is known for a few things. First one – for the lavender fields and its rose oil, which is produced according to the best Bulgarian recipes and ancient technologies. Souvenir shops sell soaps and perfume compositions based on rose oil or lavender, natural cosmetics, and sachets.
Second thing that makes Isparta famous is the beautiful Burdur Lake and Lake Eğirdir with picturesque towns on its shore and the most striking town among all Eğirdir. Hidden among the rocks, it is great for walking and meditation.
There are also many gorges and caves in the Isparta region. The most interesting is the Insuyu Cave, the total length of which is 760 m and Gölcük Nature Park located on top of the mountain of the same name.
In winter this part of Turkey is a nice place for skiing since the Davras ski center opens its doors and offers to get a ride on their one of the longest cable cars in the world.
Top Things to Do in Isparta:
Isparta is a great city where to stop when on a road trip from Pamukkale to Cappadocia or if you want a unique day trip from Antalya.
Depending on the season when you visit, explore the fragrant rose gardens of Isparta (in May-June) to witness the colorful fields and learn about the rose oil production process.
From spring to fall, head to the Gölcük crater lake surrounded by pine forests. Take a leisurely walk around the lake, have a picnic, or enjoy a refreshing swim in its waters.
Places to Stay in Isparta:
As always, I'd recommend you look into traditional Turkish homes to connect with the local culture. One such example is Aliya Konak guesthouse near Burdur Lake with traditional Turkish breakfast and dinner included.
Other Beautiful Turkish Cities That You Should Visit
25.) Bursa – the First Capital of the Ottoman Empire
The fourth-largest city in Turkey has grown rapidly in recent years and was once the first capital of the Ottoman Empire.
These days Bursa is a modern city with a slightly chaotic atmosphere, where the ugly industrial outskirts are in stark contrast to the historic center, which by the way is delightful in every sense.
With some fantastic mosques, mausoleums and museums, Bursa has a lot to offer the tourist and the devout population is very welcoming and friendly. It was here, when Mark and I visited, where everyone was incredibly friendly and helpful and welcomed us in a way we never experienced before.
Among tourists, Bursa is mainly famous for nearby Uludag Mountain with excellent ski slopes. But it is an important city to visit for history and culture since most of the notable sites date back to the early period of the Ottoman Empire. Also, there are many brilliant hamams and restaurants.
Among Turkish people, Bursa is known for silk, chestnuts, peaches, a laid-back atmosphere, and ancient settlements of the Ottomans and Seljuks which form a UNESCO World Heritage Site.
Top Things to Do in Bursa:
You can visit Bursa all year round. In the summer you can go to the mountains or to the coast of the Sea of ​​Marmara. And in winter you can relax in all-inclusive winter resorts. Comfortable weather creates perfect conditions for travel in the off-season, especially for sightseeing tours.
Among the top things to see in Bursa are the Ulu Mosque, Tombs of Osman and Orhan (mausoleum of the founders of the Ottoman Empire and their families), Bursa Teleferik, Koza Hani Silk Market, and Cumalikizik village nearby famous for incredibly delish Turkish breakfasts.
Beautiful Place to Stay in Bursa:
Kitapevi Otel – is a boutique authentic hotel with rustic but modern design and furniture. Breakfast comes included in the nightly rate.
26.) Trabzon – Busiest Port City on the Black Sea Coast of Turkey
One more port city in Turkey built on a Black Sea coast near Georgia in the past had a strategic location on the old Silk Road. This is why it has been ruled by different cultures for millennia and has a rich history.
Trabzon since ancient times was not just a large port but a big trade center. It was founded by the ancient Greeks in the 8th century BC and until the 20th century, many Greeks and Armenians lived there leaving monuments and architecture from different cultures and styles.
This seaside city may not be the best place for a beach holiday. But it has its unique vibe, an abundance of historical monuments, good shopping opportunities, and a wonderful landscape. In fact, you should rent a car and go to the nearby mountains and black tea region Rize for turbulent mountain rivers, beautiful waterfalls, and tea plantations.
Top Things to See in Trabzon:
A historical site that will impress anyone is the Soumela Monastery. It is one of the oldest Orthodox monasteries in the world, built in the 4th century and located in the picturesque mountains.
Another famous landmark of Trabzon city is the Hagia Sophia and Fatih Mosque. The second mosque is home to original works of Ottoman art. Uzungol Lake is another place that is quite popular among some travelers. But lately, it became so touristy that it has lost its charm. Instead of Uzungol, go to Hamsikoy village built by the river in the mountains where you'll find very similar landscapes.
Trabzon also has excellent restaurants and cafes with unique dishes inherent to this region only.
Beautiful Place to Stay in Trabzon:
Samlioglu Villa – is a traditional Ottoman-style house with a traditional breakfast and gorgeous view of Trabzon.
27.) Konya – Religious Center of Turkey
I would love to finish my list of beautiful cities in Turkey with one of the oldest cities in the world and the largest religious center in Turkey – Konya.
It is not like any other city in Turkey. Everything there is so imbued with the spirit of conservatism that this atmosphere literally permeates its residents and guests.
Konya knows how to attract with its cultural and religious monuments, which allow you to plunge into the history of Islam and immerse in the spirit of the Mevlevi Order. Visiting this picturesque city allows one to discover a completely different Turkey, highly spiritual and conservative, immortalized in numerous attractions.
Therefore, if you are interested in the traditions of Islam and its history, or you would just like to see the country from a different, more elevated angle, then devote a few days and go to the city of Konya.
We visited it on a road trip from Antalya to Cappadocia and it was an interesting discovery. Although I made a mistake and didn't dress conservatively. You can see on photos above what I wore on a trip to Konya which made me feel uncomfortable. This is the only city so far (among all I've been to in Turkey) where what you wear is taken very seriously. No one told me anything but I could tell people were staring at me with too much interest and a bit of condemnation.
Still, I absolutely loved a visit there and want to return!
Top Things to Do in Konya:
As the oldest and most conservative city in Turkey, Konya cannot boast of noisy parties and fireworks of entertainment. The sights of the city are its cultural heritage, architectural monuments, archaeological finds, religious artifacts, and museums.
If you get to visit this city and can go to only one museum, then I highly recommend choosing Mevlana Müzesi or Karatay Medresesi. The first one is dedicated to religious leader Mevlana who inspired the Mevlevi dervish order and shaped this movement into a conscious religious movement. And the second museum showcases works of Seljuk enamel tiles.
After the museum, don't miss Alaeddin Tepe Hill and Çatalhöyük. Alaeddin Hill is a park in the center of the city where the locals of Konya come to the waterfront in the evening to walk and drink tea in the gardens. Çatalhöyük is one of the largest and oldest settlements of the Neolithic era.
An of course Konya's cafes and restaurants. As any Turkish city, Konya has quite a few amazing restaurants where to try local food.
Beautiful Place to Stay in Konya:
My top pick for a boutique hotel in Konya is Hich Hotel in a very calm neighborhood next to all famous sights.
28.) Çanakkale – Gateway City in Turkey to Ancient Troy
Çanakkale is a well-known beautiful port city in Turkey on the southern coast of the Dardanelles, which connects the Marmara and Aegean Seas.
Like Istanbul, it is geographically located both in Europe and in Asia and is separated by a strait. Although the city of Canakkale itself occupies the territory on the Asian side.
This city is suitable for those who appreciate meaningful travel. Since Çanakkale is located not only at the junction of two continents but also two cultures, it has an interesting history.
But the most important thing is that it is the gateway to ancient Troy and is the site of the Trojan War. Its ruins were included in the UNESCO World Heritage List in 1997. The first thing that will catch your eye when arriving in the center of Canakkale will be a wooden statue of the Trojan horse. This is a copy of the figure from the movie "Troy" which serves as a popular background for photos.
But besides the historic part, this ancient city can also offer relaxation on its beaches as well as a few cool wineries and some excellent restaurants.
Top Things to Do in Çanakkale:
Discover Ancient Troy, go to Çanakkale Archaeological Museum, Naval Museum, and visit a well-preserved Ottoman fortification Kilitbahir Fortress.
If time allows, embark on a day trip to the Gallipoli Peninsula, paying homage to the soldiers who fought during World War I and reflecting on the history and sacrifices made during the Gallipoli Campaign.
Best Places to Stay in Çanakkale:
On my trip, I stayed in a budget accommodation Kinzi House which was close in close proximity to all sites.
More Inspiration For Turkey Travel
If you landed on this page for the first time, let me tell ya that I have a lot of content about Turkey and constantly add more! I live in Turkey for part of the year and absolutely love discovering this country at a slow pace!
See more of my posts that will help you plan your trip:
More Beautiful Places in Europe