5 Things No One Tells You About Cave Hotels in Cappadocia
Last updated on October 27th, 2023
Thinking about choosing one of the cave hotels in Cappadocia for your stay? I can totally relate!
Cappadocia is known not only for its unique landscapes but also for its unusual cave hotels. Everyone who travels to Cappadocia has a dream goal to spend at least one night in such a unique and beautiful accommodation. Why? Because it is incredibly romantic and authentic at the same time.
There are only a few destinations in the world that offer stays in cave hotels! And they are Italy, Mexico, Spain, Tunisia, Egypt, and some places in the US. But a bigger part of them is located in Turkey and includes Cappadocia luxury cave lodges, Sultan cave suites, and Ottoman cave houses.
Staying in a cave hotel is definitely one of the best travel experiences to have in life. And it is well worth your money. But before you book your room, I want to offer a few tips to help you choose the best cave hotel.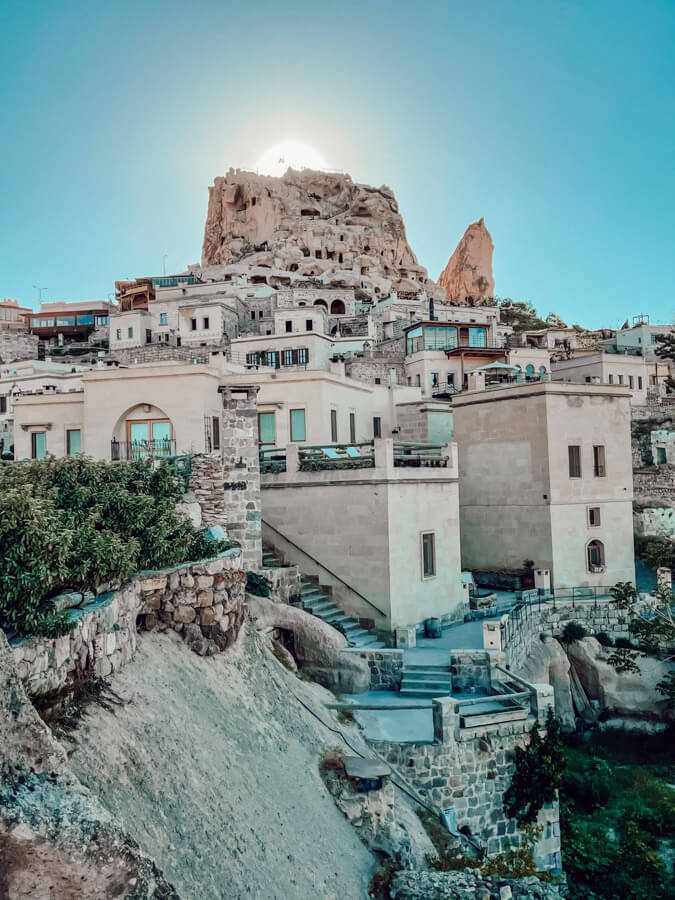 So below, you'll find not only a list of the best cave hotels in Cappadocia but also learn about the disadvantages of staying in some of them. Find out what to expect from a stay in a cave hotel and how to pick that perfect one that will meet your needs and budget.
And happy travels! Staying in a cave hotel will be something you'll never forget!
---
Please note: This post contains affiliate links. I may earn a commission if you make a purchase by clicking a link (at no extra cost to you).
---
What is a Cave Hotel in Cappadocia?
What comes to your mind when you hear the word "cave hotel"? Some people may think of a cold, dark room for a tiny budget. But this is definitely not about hotels in Cappadocia!
Many of the Cappadocia cave hotels are entire palaces. Yes, they have rooms in the rock, yet they are well equipped. These cave hotels have all the amenities that modern hotels have. And they are ideal for a romantic getaway or honeymoon in Cappadocia.
Of course, overnight stay in such hotels will not come cheap. But the beautiful panoramic views, royal breakfasts on the terrace, and luxurious rooms will remain in memories for a long time.
But don't think that all cave hotels in Cappadocia are mega expensive. In my Cappadocia hotel guide, I'll show you lots of options for budget accommodation as well.
What is Exactly a Cave Hotel?
Cave hotels in Cappadocia are hotels in rocks or fairy chimneys. Fairy chimneys are called conical outcrops made of soft tuff where the locals used to live in the past. Other names are 'hoodoo' or 'peribajalars'.
Almost all hotels are only partially located in the rocks – they have both cave and ordinary rooms, built on top of the caves or next to them. There are also ordinary hotels with cave styling. They look just like cave hotels when in reality they are not. It is not easy to understand from the photo alone whether it is a real cave hotel or handmade. Even the word cave in the name does not guarantee authenticity!
Modern rock hotels are very comfortable and well thought out. They have bathrooms, ventilation, lighting, Wi-Fi, and beautiful old Turkish-style furniture that completes the design. And their interiors are simply gorgeous – smooth tuff lines, soft dim lights, colorful carpets, and interior details such as lamps, vases, amphoras, and paintings.
Cappadocia luxury cave hotels are often multi-tiered and have a nice bigger area with a restaurant, pool, and terrace, from where you can watch hot air balloons.
How Expensive Cave Hotels in Cappadocia Are?
In the old days, people built homes in Cappadocia caves out of despair. In nowadays world, people travel from all over the world to pay money to stay in a cave. If only the former residents of these cave houses would know how much money a new generation is ready to spend for such an experience!
Prices for stays in Cappadocia cave hotels depend on a few factors – the size of the property, type of accommodation (real cave hotel or handmade), location (what type of views it offers), and season.
The number of rooms in (all) cave hotels is very limited and since there are always a lot of guests, prices are always high in the high season. Prices for basic cave rooms in small hotels start from €40 ($47) per night. But on average a bigger suite in a hotel with a nice territory, restaurant and possibly pool goes for about €100 ($118) per night between May and October. But so much is an all-inclusive vacation in a very good five star resort by the sea.
Since prices for Cappadocia cave hotels depend on the season, they are the cheapest in winter. But hey, this is not a bad season to visit. In fact, visiting this part of Turkey in winter has a lot of advantages.
If visiting Cappadocia in the busy spring to fall season, there are still a lot of good and inexpensive cave hotels to choose from. I talk more about them below.
But keep in mind one thing – Cappadocia is super popular any time of the year (okay, it slows down a bit in winter).
Book your cave hotel with a lot of time in advance. If planning a trip in summer, make a reservation a few months or even six months before your trip. Find out in advance when is Ramadan and Eid al-Adha holidays in Turkey – during those times it is difficult to find any type of hotel in Cappadocia, not just cave suites.
Disadvantages of Staying in Cave Hotels That You Need to Know About
Staying in a cave hotel in Cappadocia is definitely one of the most unique experiences. And you'll hear that from anyone who has ever stayed in this type of accommodation. I also stayed in a few cave hotels in different regions of Cappadocia and loved all those experiences, although there were a few things that disrupted my comfort.
Cave hotels are beautiful and unusual, yet not everything is so perfect as it always seems in photos.
There are a few drawbacks about them that can spoil part of your vacation. So you need to know for sure they will not be a problem for you during the stay. Not many people talk about them (or do they talk at all?) but I wanted to bring them up and cover them in this post.
Not all hotels have these disadvantages, but they are still common:
The Main Disadvantage is Dampness & Humidity
Some luxury Cappadocia hotels have room cave suites on the ground floor with the only window overlooking the courtyard. Others won't have windows at all. Ventilation in them is rather poor.
In most cases, those types of rooms have stale and damp air, although some may have dehumidifiers working. Due to the dampness, the bed linen feels also damp and cold, and you may need to sleep in a sweater even if it is warm outside.
People who have breathing problems and allergies to mold will have difficulty sleeping or being comfortable in a cave hotel room. Opening one window will not help with ventilation.
Some Cave Hotels Have Too Confined Space
Some rooms that don't have enough windows can also have low ceilings and resemble a real cave. With stuffy air and closed space, people who suffer from claustrophobia can feel anxious and have panic attacks. A desire to have a unique stay can turn into a traumatic experience.
To make sure the hotel is not damp and rooms are designed in a way that you get some natural light and ventilation, I advise you to read reviews, especially negative ones. Look carefully at all photos of the room and check for windows, see if the bathroom is separated from the room by a door and if the room overlooks the courtyard or street.
TIP: If you have breathing problems or are claustrophobic, the best place to stay in Cappadocia for you will be a stone hotel. Stone hotels are built as caves with the only difference that they are stone. Everything should be fine there with ventilation and heating! Also, Cappadocia has ordinary European-style hotels, so they may work better for you too.
I, as someone who suffers from claustrophobia and anxieties, personally enjoyed a lot our stay in a budget accommodation Luwian stone house. It didn't have a terrace from where to see the balloons and it was much more simple than Apex Cave Hotel (where we also stayed) but the room was more to our liking. Apex was perfect for the views and terrace.
It Takes a Lot of Time for the Water to Warm Up
Another drawback of cave hotels is a fact that water heats up longer there. In some hotels, you need to wait up to 10 minutes for the water to become warm, not even hot. And if it's not hot, you can't even use a jacuzzi at certain times.
However, this becomes a problem rather for smaller budget hotels. Luxury properties with full occupancy usually don't have it.
Falling Pieces of Tuff
Another thing that you need to know about when choosing to stay in a cave hotel in Cappadocia is that there is a possibility of falling tuff. For some people, it is not a big deal but for others, it can be a real problem.
All cave rooms are carved into soft tuff which constantly crumbles, even if left untouched. If you leave your suitcase open for the night, it may happen that in the morning your clothes can be covered with tuff. As well as small pieces of tuff can fall onto you while you are sleeping.
It didn't bother us at all but it may bother you. Keep your suitcase closed so you wouldn't need to clean all your belongings off tuff in the morning.
The Mobile Connection & WiFi is Not Stable Inside the Cave Rooms
I don't think it is a big problem that should stop you in any way from staying in a cave hotel. But it is something to keep in mind if you plan to work on your vacation or getaway to Cappadocia.
A lot of cave suites (due to cave walls) have a bad cell phone signal as well as wifi coverage unless the router is located nearby. So do not expect fast Internet when choosing to spend a few days in a cave room.
Design Mistakes
Another nuance about cave hotels is design's misses. At first glance, rooms seem to be beautiful and perfect. But then you start noticing how many completely inconvenient solutions were used in the design.
For example, often the bedroom is at the back of the cave suite where there are no windows and it happens to have a bathtub next to the bed. Well, having a bathtub in the room looks romantic but in cave hotels that actually causes high humidity.
Sometimes the bathroom is not walled in any way or is separated by a curtain or glass. Not everyone will be able to use it when traveling with a partner or children.
Thus, before booking a room in a cave hotel, thoroughly read the description and check all the photos.
11 Best Budget Cave Hotels in Cappadocia
Among all the disadvantages, there are still many more advantages why it is worth choosing a cave hotel for your stay. If mentioned disadvantages do not bother you, take a look at the following lists of the best Cappadocia cave hotels.
Let me start with the cheap cave hotels in Cappadocia, located in all 3 towns – Goreme, Urgup, and Uchisar. There are a lot of cheap accommodation options but I selected those budget hotels that deliver the best type of service and amenities.
They are relatively inexpensive but beautiful cave rooms with high ratings and good reviews, a private bath, a window, and free parking. These hotels have both inexpensive, simpler rooms and beautiful suites at a higher price.
I want to start with this hotel since we considered staying there because of their location and variety of unique rooms. Ada Caves is located a bit outside of the busy Goreme center but still a few minutes walk away.
They have a terrace overlooking the Red and Rose valleys but since the hotel is facing Goreme National Park, from there you can also see Goreme town, fairy chimneys and the highest Sunrise point in Goreme. And of course, the terrace opens up views of hot air balloons flying in the morning. You can have breakfast on the terrace which is included in the price and is very varied.
One of the main features that the hotel prides itself on is the variety of rooms they have for all tastes and budgets. You can book a stone room, a room that is part of a cave or a traditional classic room built in a newer part of the building.
Antique-style rooms have carved wood furnishings, stone-clad walls, colorful carpets and curvy lamps.
Compare prices and read reviews, check: Booking
Although this hotel has almost the lowest price in Cappadocia, it is almost in no way inferior to competitors. It is as grand as many other hotels of the same quality at higher prices.
Elite Cave Suites is located on one of the highest points of Cappadocia which makes the view even more mesmerizing. Also, it is in a very quiet part of the town very close to many attractions. You can walk to Sunrise point, to restaurants and shops, as well as to Goreme Open Air Museum.
This epic cave hotel offers free parking, 2, 3 and 4-bed rooms, cave rooms, an observation deck (terrace) overlooking the balloons, and one of the lowest prices.
Compare prices and read reviews, check: Booking & Hotels.com
This hotel has a garden and a terrace with beautiful views of the balloons. Breakfast is served either on the terrace or in the restaurant with panoramic windows, so in either case, you get to see the valley with balloons flying in the morning.
Maccan Cave hotel offers free parking, Wi-Fi, room service for an additional fee, the ability to book a tour or hot air balloon flight.
It is one of the cheaper top cave hotels in Cappadocia with good reviews which is good for people on a budget.
Compare prices and read reviews, check: Booking & Hotels.com
Among cheap cave hotels in Cappadocia, Azure Cave Suites has a very interesting location. It is not far from Goreme in a small village Cavusin not far from Fairy chimneys and Sunset View Point.
Staying at this hotel, you will find yourself on the top of one of the hills of Goreme National Park, in the romantic setting of a cave room. From 2 beautifully equipped observation decks, there is an opportunity to observe the flights of balloons, take unique photos and videos.
The friendly staff greets everyone as the dearest guests and makes you feel at home. Almost all rooms are very spacious and comfortable and have seating areas, fireplaces, and interesting design features. There is even a royal cave suite with its own hammam.
In the reviews, you can see many words of admiration for the interiors of the cave rooms, plentiful breakfasts, and cleanliness of the bathrooms.
Compare prices and read reviews, check: Booking & Hotels.com
In this cozy mini-hotel you can spend truly unforgettable days on a romantic getaway to Cappadocia. The owners and employees do everything to ensure that the stay of their guests is calm and pleasant.
You'll find there extraordinary hospitality, wonderful authentic rooms, and all amenities needed for a comfortable stay. There is only one caveat about the poor soundproofing in one of the rooms. So if you are sensitive to sound and possible noise, leave a note in your booking with the request to place you in a quiet room.
Arif Cave Hotel also has an excellent location at an altitude that guarantees stunning views around. It is close to the city center but has a peaceful atmosphere. Many guests who come to stay here have the impression that they are visiting their relatives as they receive such a warm welcome.
Compare prices and read reviews, check: Booking & Hotels.com
This is another great hotel complex in Goreme located in the rock on several levels. It has a small pool, garden, and homey vibes. In the morning, from the terrace, you can watch dozens of colorful balloons soaring in the sky.
Based on the reviews, it looks like what differentiates this hotel from other budget hotels in Cappadocia at the same price is their staff. Everyone says that the staff is very accommodating and makes you feel at home from the first minutes.
Roc Of Cappadocia is a 3* hotel that offers a perfect balance between the quality and cost in Cappadocia.
Compare prices and read reviews, check: Booking & Hotels.com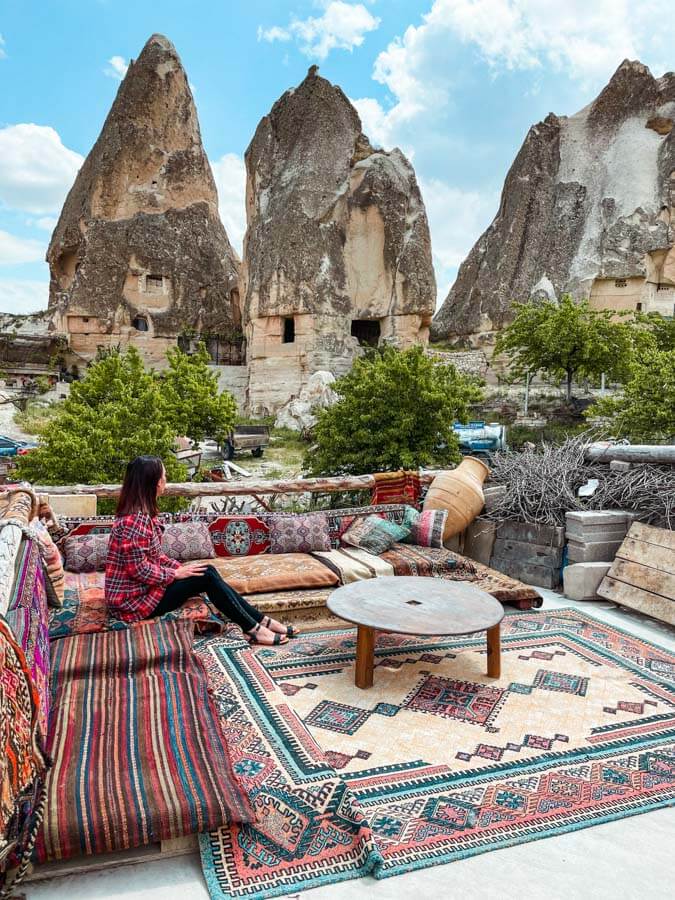 This small, cozy hotel is another best hotel in Cappadocia for people on a mid-budget. Located in the center of Goreme, it is close to the open-air museum. On the roof of the hotel, there is also a beautiful terrace that offers a steep view of the village as well as of the balloons.
The lounge has a vaulted ceiling and comfortable armchairs in Ottoman style which are perfect for both instagrammable photos and some laptop work.
Buffet breakfast is included in the price, there is a free shuttle to Goreme bus station and free parking available for guests who have a car.
Compare prices and read reviews, check: Booking & Hotels.com
Located in the center of the town of Goreme, this cave hotel is a real oriental fairy tale in a modern way. Well-appointed rooms with loft interiors, exclusive antique furniture from the 19th century, and modern amenities are the main attributes here.
The surrounding views, with mushroom rocks and a cavalcade of colorful balloons, are amazing. The owners of Charming Cave Hotel treat guests as close relatives, creating an atmosphere of cordiality and warmth.
Catering at Charming Cave Hote is at the highest level – a local restaurant offers excellent breakfasts and there are many cafes around where you can have a tasty and inexpensive meal.
The feeling of a romantic fairy tale will not leave you from the first to the last day there.
Compare prices and read reviews, check: Booking & Hotels.com
Do you want to stay in a mountain castle with incredible views? The Traveler's Cave Hotel is a suitable option since it is located on the top of Goreme Hill.
Stone walls of atmospheric rooms, fireplaces, open terraces create the atmosphere of a medieval castle, where different eras coexist successfully. Beds with openwork metal headboards, bright antique carpets, and 18-century armchairs coexist with satellite TV, air conditioning, a shower and a bathroom. Some rooms have a spa bathtub.
Traveller's Cave Hotel has both cave rooms and stone rooms available at different prices, so you have a nice choice. Also an open-air buffet restaurant, outdoor hot tub, and many terraces with incredible views of Rose Valley and spots for photos.
Compare prices and read reviews, check: Booking & Hotels.com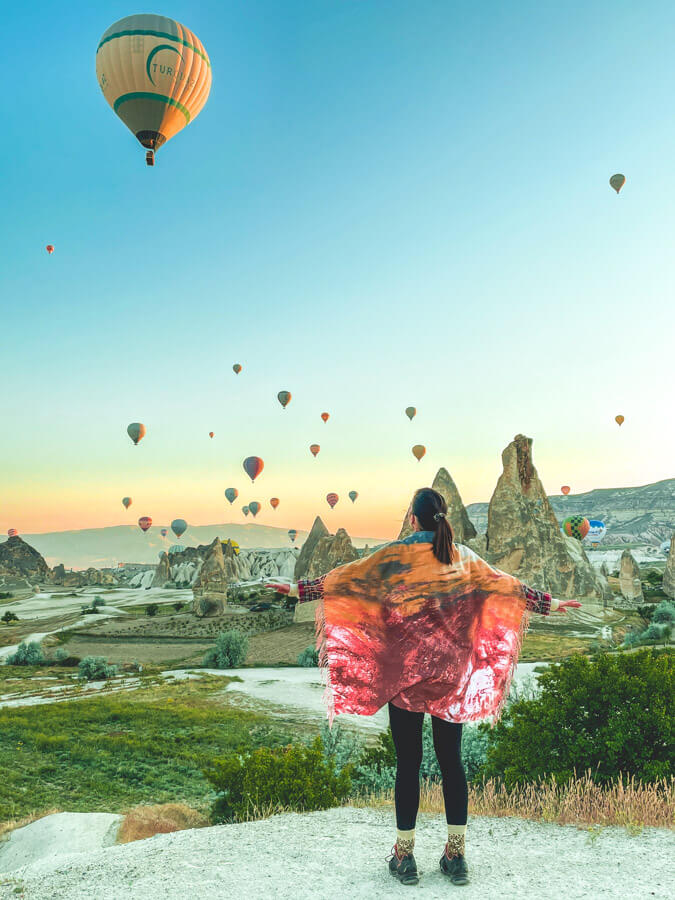 The location of Emit Cave hotel is in the epicenter of all the balloons that fly literally over the heads of guests. The outdoor terrace is an excellent observation deck from where you can observe the incredible beauty of Goreme.
Cozy cave rooms that have everything you need are conducive to a quiet and comfortable stay. Restaurant serves buffet-style Turkish and American food. And hotel offers a bicycle rental service for excursions in the surroundings.
Compare prices and read reviews, check: Booking
Here is the last on my list budget cave hotel in Goreme that I often see on Instagram. People like to choose it due to its location – the hotel is surrounded by seven fairy chimneys which make it look so interesting and beautiful! Take a look at photos to see what I mean.
And the rooms there are traditional cave rooms in Anatolian style – with carpets, mosaics, wooden furniture, lamps, and other decorative elements. Inside the hotel in the inner courtyard is a pool with a fairy chimney in the background which makes it a perfect setting for insta photos.
Local Cave House hotel also has a terrace from where you can see the valley and enjoy a view of hot air balloons in the morning.
Compare prices and read reviews, check: Hotels.com
12 Best Cappadocia Cave Hotels For Higher Budgets
The following list of cave hotels in Cappadocia consists of hotels with the best reviews and highest ratings across multiple aggregators. Many of them have a terrace overlooking the hot air balloons, pools, and restaurants.
These hotels cost mainly $70-110 per day, depending on the room category. But I also included more expensive hotels that are real masterpieces that are worth mentioning. Almost all of them are located in Goreme but there are a couple in Uchisar and Urgup (because these two towns have the most sophisticated and unique hotels).
This is the most famous cave hotel in Cappadocia with the best views of flying hot air balloons. More than half of the Instagram photos were taken on the terrace of this property.
Its grandeur can surprise even the most sophisticated tourists. Almost all the rooms of the Sultan Hotel are carved into the rocks like caves and decorated in the fashionable loft style. They have antique furniture from all over Turkey – antique beds, armchairs, tables with wrought iron legs that look harmoniously against the background of natural stone.
Thanks to the large windows, the rooms in this hotel do not look like gloomy caves. Many rooms have balconies or terraces overlooking Goreme Park. They are all cozy and never too hot.
This hotel is always booked months in advance. If you know you want to stay there, you need to make a reservation at least six months ahead of time!
Compare prices and read reviews, check: Booking & Hotels.com
One of the most beautiful cave hotels in Goreme that also has some of the best reviews and highest ratings on Booking. It is in no way inferior to Sultan Cave Suites and even in some ways much better.
All its rooms have natural stone walls and marble bathrooms. The famous feature is that it has several observation decks offering views of Goreme and morning hot air balloon flights. Thanks to those viewing areas, all guests have enough room to sit down and take photos without interfering much with each other.
Compare prices and read reviews, check: Booking & Hotels.com
This is another excellent cave hotel in Goreme with a high rating. It has one of the best locations and offers a nice terrace from where it is convenient to observe the morning flight of balloons over the valley.
Kelebek hotel features an outdoor pool, spa, and its own Turkish bath. All rooms in the hotel have unique designs. There is a separate suite for couples on honeymoons in Cappadocia. If you are looking for a little luxury at an affordable price, this property is an excellent choice.
Compare prices and read reviews, check: Booking & Hotels.com
This boutique luxury Cappadocia cave hotel, which has been rebuilt from an old monastery, is located in Uchisar village. It is absolutely one of the best places to stay in Cappadocia for couples. Argos hotel is famous for exceptional views, services, food, and beautiful unique rooms.
The hotel's corridors are connected by tunnels dug centuries ago. Some rooms have a private pool and there is also a shared outdoor infinity pool with views of the valley.
Argos is also famous for the 1500-year-old Bezirhane room – a place where, in ancient times, oil was squeezed out of seeds. Bezirkhan has such incredible acoustics that it became a place for concerts. If you come to visit Cappadocia for one of the coolest and happiest festivals in Turkey Cappadox, you'll be able to visit a festival concert that takes place in Bezirhane.
Compare prices and read reviews, check: Booking & Hotels.com
Taşkonaklar Hotel is another property in Uchisar which also ranks high among the finest boutique cave hotels in Cappadocia. It was built on the site of ancient houses that have been meticulously restored.
Taşkonaklar has impeccable décor, clean and comfortable rooms. It is the ideal choice for those looking for luxury at a reasonable price.
This is one of the hotels where we stayed and which we absolutely loved. My favorite part was the jacuzzi on a mini terrace of our room and the views of Pigeon Valley.
Although you don't get to see balloons from this hotel in the morning (you can see them far away in a distance), it is a perfect place to stay for people who love peace and quiet and want to stay in a more upscale area of Cappadocia.
Compare prices and read reviews, check: Booking & Hotels.com
The original architecture of the hotel gives the impression of a magical palace carved out of rock. It is, indeed, located on the side of a mountain, and its rooms are natural caves, painstakingly transformed into cozy rooms.
This is a family-run resort located in the heart of the ancient city of Goreme, delighting tourists with its unique look.
The designers sought to preserve the natural environment in the loft style in the interior design, adding elements of artificial beauty. Based on reviews, the holidaymakers love this hotel for the uniqueness, quality and comfort of the rooms with large bathrooms with modern design.
Seems like everyone who visits loves the breakfast buffet which is served on the outdoor rooftop terrace. Panoramic views from there are impressive with mysterious beauty.
Compare prices and read reviews, check: Booking & Hotels.com
Luvi Cave Hotel in Cappadocia on multiple aggregators gets the best reviews and highest ratings for its stylish rooms, outstanding service, and rooftop balcony terrace with instagram views.
The terrace reveals the beauty of Cappadocia for tens of kilometers into the distance. In the morning you can admire the graceful dance of balloons and in the evening relax with a glass of Cappadocia wine watching the sunset.
Compare prices and read reviews, check: Booking
Karlik Evi Hotel in Uchisar is not fully a cave hotel. It is more of a stone hotel with unique styling, but I couldn't miss it for two reasons.
The first one – it combines the authentic idea of a stone cave with modern technology. There are unique suites with a glass roof through which you can see the stars at night and in the morning you can watch the sunrise and the flights of balloons without leaving the terrace.
And the second reason – this hotel also has two swimming pools, a private garden, and all day long private breakfast.
Compare prices and read reviews, check: Booking & Hotels.com
Another luxury hotel in Uchisar that I couldn't miss and for that reason that it has a terrace facing the right direction at dawn and the trajectory of the hot air balloons.
Another very cool thing about them is the bathrooms in each room. They have amazing Instagram-worthy tubs and windows overlooking the Pigeon Valley. Morning views will be unforgettable and you can take many unusual instagrammable photos.
Compare prices and read reviews, check: Booking & Hotels.com
And here is one of the most beautiful and unique Urgup hotels. If this is your returning visit to Cappadocia or if you want to stay next to Goreme National Park, look into this 5-star hotel. In 2018, Kayakapı Premium Caves was named the best luxury hotel in Turkey.
It features a lovely garden, incredible spa and outdoor pool. From the terrace, you can enjoy a beautiful view of the National Park and Three Beauties in the distance.
All rooms at this cave hotel are beautifully decorated and have underfloor heating. There are two-room family suites and royal suites with an in-room pool, and even a separate villa with a private pool. If you would like to stay in one of those accommodation options, make a reservation ahead of time since they are popular among couples on romantic getaways and honeymooners.
Speaking of honeymooners. Kayakapı Premium Caves also offers special packages for people on their honeymoons. The hotel managers will carefully plan everything to make your honeymoon in Cappadocia the most unique event in your life.
Compare prices and read reviews, check: Booking & Hotels.com
One more outstanding cave hotel in Urgup village that is worth mentioning a few words about.
It is the oldest hotel complex in Cappadocia. Previously, the building was a Greek church, built in 1760. Now it is one of the most instagrammable hotels in Cappadocia. Thanks to the unique architecture of the hotel, you will have a feeling that you are back in the Renaissance.
Sacred House has a sauna, spa, hammam and cave pool. The spacious rooms are beautifully furnished and have a large number of antiques from the 18th-19th century. Near the hotel is the beautiful historical Asmalı Konak mansion.
Compare prices and read reviews, check: Booking & Hotels.com
This is the most expensive and beautiful hotel in Cappadocia – prices there start from $550 per night.
It has a beautiful terrace with panoramic views of the valley and balloons. The hotel has an outdoor pool and an award-winning restaurant. This is where Instagrammers take all their photos.
It is not by chance that the Museum Hotel has such a name. There is a true museum atmosphere thanks to its exquisite decor and authentic artifacts. Rooms are decorated with antiques and some have faucets with white and red wine. A terrace overlooking the balloons, pool, spa, and jacuzzi is a beautiful addition that contributes to a great holiday in Cappadocia.
This hotel is popular all year round. Even though the price is high, it is always booked. Make your reservation several months in advance.
Compare prices and read reviews, check: Booking & Hotels.com
More Turkey Posts
I have a lot of content about Turkey and constantly writing even more! This is the country where I am based for part of the year and which I absolutely love! Check some of my other posts about Turkey to plan your trip: