How Many Days Do You Need in Cappadocia? (+Suggested Itineraries for Different Stays)
Every time I help someone create an itinerary for Turkey, people always ask me how many days in Cappadocia are enough for a visit. So I thought why not write this post with answers that help to decide how much time to spend in this region.
Generally speaking, Cappadocia is not a destination where to rush. This enchanting land with unique landscapes, underground cities, and hot air balloon rides captivates from first sight and makes you want to stay a little bit longer.
If you want my honest opinion (after visiting Cappadocia numerous times and helping others plan their holidays there), I'll say that a couple of days in Cappadocia (with only 1 night of overnight stay) is never enough. You'll surely need more time.
But how much more time will depend on how many days you plan to spend in Turkey overall (and how much of other places you want to see) and what your preferences and interests are.
However, remember that the final answer about how many days to spend in Cappadocia is not just about time. It's about curating the ultimate adventure as the number of activities in the region is high (and unique, meaning you can and should have certain experiences here as there won't be a chance to have them anywhere else in Turkey).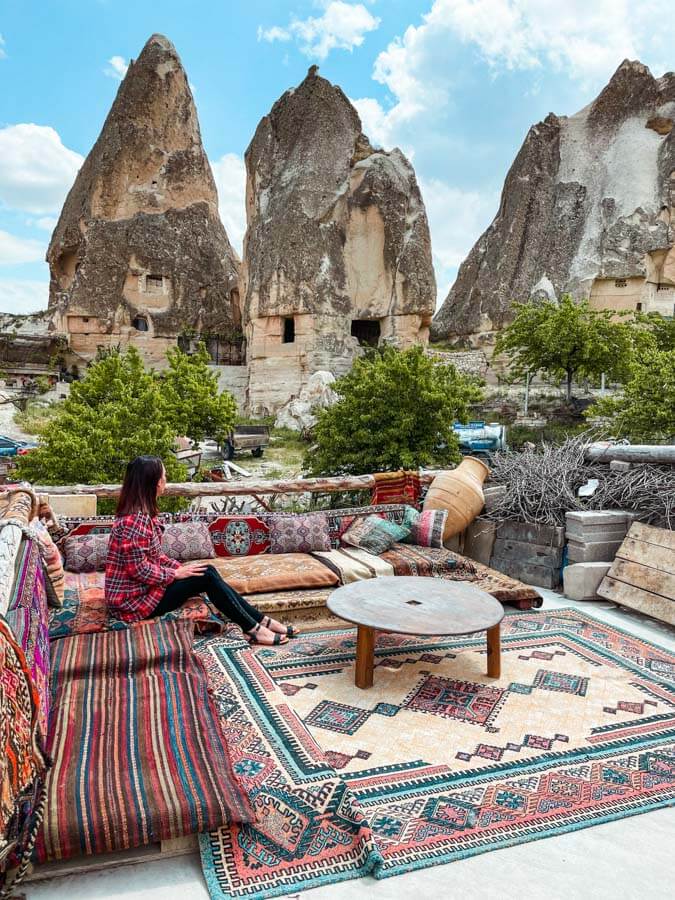 So let's determine the ideal duration for your stay in Cappadocia, ensuring that your adventure is nothing short of extraordinary. And let's decide on it way before your actual trip as last-minute decisions can affect the depth of your experience.
Traveling to Cappadocia Last Minute and Need Tips on Tours & Places to Stay?
See them here below with a few other tips!
Not-to-Miss Tours in Cappadocia:
Beautiful Places Where to Stay:
---
Please note: This post contains affiliate links. I may earn a commission if you make a purchase or booking by clicking a link (at no extra cost to you).
---
How Many Days Are Enough for Cappadocia?
Before I say anything else, first, I want you to imagine this – you are stepping into a fairytale world full of whimsical rock formations that defy gravity, hidden caves with secrets to unveil, and a sky filled with hot air balloons painting the dawn.
Is this a place where you'd like to spend some time and truly savor a fantasy realm?
If yes, you'll want to spend a minimum of 4 full days in this magical world. But remember, the more, the merrier because Cappadocia is that land which is difficult to leave.
With 4 days in the region, you will have enough time to visit the Goreme Open-Air Museum and a couple of valleys (famous for different landscapes), ascend to a stone sentinel Uçhisar Castle that reveals Cappadocia's vast, undulating scenery, at least one of the underground cities (a must-see in Cappadocia), and of course, fly in a hot air balloon and watch balloons fly at sunrise (should be two different activities).
But, wait, there's more! The realm of Cappadocia has secrets hidden around every corner, waiting to be uncovered. Pottery-making, wine-tasting, visiting a leather factory, carpet factory, local villages, and off-the-beaten-path places that are unique to this region can easily make you want to extend your stay.
So, in order not to rush, I recommend you spend 3 nights and 4 days in Cappadocia as you'll see that the time will melt away like ancient stone. Less than that will require you to give up on some activities.
But what if your schedule is constrained or you're choosing to bypass certain of Cappadocia's experiences, the answer takes on a different hue.
How Many Days to Spend in Cappadocia If…
1) …You Are Short on Time?
If you are visiting Turkey on a quick trip and plan to spend 7 days in the country (or slightly more) and want to incorporate a trip to Cappadocia into your itinerary, then 4 days in the region may seem like a lot.
In this case, when you are short on time and want only to experience the essence of Cappadocia, then a minimum of two days will give you a good presentation of the area.
Are 2 days enough in Cappadocia? Honestly? No, it is not enough.
But with this amount of time, you can still get a good introduction to the region. Just remember to prioritize and build your itinerary ahead of time with all the things you want to do. Remember that you'll also need to skip many activities and decide before the visit where to go not to waste time thinking during the trip.
In this short timeframe, you can only explore the most iconic attractions within Goreme, Uchisar, and Cavusin. There won't be time for underground cities (or if you go to them, you'll miss the highlights of these towns) and for distant valleys (that are really worth visiting).
Also, chances of flying in a hot air balloon are low (especially if traveling to Cappadocia from November to April) as often flights get canceled and are pushed to the following day. But if you have only 2 days, there won't be any opportunity to reschedule the flight.
However, if you still have 2 days in Cappadocia and there is no way to make a trip longer, just pack your days tight. And do not be upset if you don't get to fly in a hot air balloon during your time as there are many other things to do in the region! Also, do not cancel your trip just because you can't fly in a hot air balloon. 2 days are still better than nothing!
Here's a suggested itinerary for 2 days in Cappadocia:
Day 1:
Arrive in Cappadocia and check into your accommodation. Visit the Goreme Open-Air Museum, where you can explore cave churches and even a monastery.
Stroll around the fairy chimneys in Goreme Valley, go to nearby Uchisar to walk around its streets and go to the castle, and in the evening head out to one of the points in the area for the sunset.
Enjoy a traditional Turkish dinner before ending your day.
Day 2:
Start a day very early to join a hot air balloon flight (with breakfast). After that, visit Love Valley and take a tour of an underground city, such as Derinkuyu or Kaymaklı.
If visiting Cappadocia during the warmer months, do not miss a chance to go hiking in one of the valleys. There are different routes and different difficulty levels that will leave a lasting memory.
If during your 2 days in Cappadocia, a balloon flight is canceled, then in the morning go to one of the points to watch the sunrise, return to the hotel to have a hearty Turkish breakfast, and continue as suggested.
Depart Cappadocia in the evening.
2) …If You Don't Plan to Fly in a Hot Air Balloon?
Cappadocia is famous for its hot air balloon rides, yes, but this is not the only reason why to visit.
If you prefer to skip this adventure (due to fear or for any other reason), you can still have a memorable trip. In this case, a 3 to 4-day trip is ideal. This extended stay permits a deeper exploration of the region's rich heritage, without the rush of a typical two-day itinerary.
Believe me, even without a hot air balloon flight there will be a lot of interesting things to do which will make you fall in love with Cappadocia!
A quick suggested itinerary for 4 days in Cappadocia that doesn't include a hot air balloon ride:
Day 1 and Day 2:
Follow the Day 1 itinerary above. On Day 2, the first thing in the morning – rise early for a beautiful morning on the terrace of your hotel from where you can watch hot air balloons fly in the sky (and make sure to book a hotel with the terrace). Otherwise, go to the Red Valley for the sunrise to watch balloons there.
After breakfast, plan to explore the Ihlara Valley, known for its scenic hiking trails and rock-cut churches. Spend a relaxing afternoon at a local hamam (Turkish bath) for an authentic spa experience.
Day 3:
Visit the Zelve Open-Air Museum, which is less crowded and offers a serene ambiance. Discover Avanos, a charming town famous for its pottery. Enjoy a Turkish wine-tasting experience at a local winery.
Day 4:
Immerse yourself in the local culture by taking a cooking class or visiting a traditional Turkish village. Explore the less-visited but equally intriguing sites like Mustafapaşa and Sobesos.
By spending 3 to 4 days in Cappadocia without the hot air balloon experience, you can delve deeper into the region's history and culture, while still appreciating its landscapes.
Do you want to see as much as possible during the 4 days in Cappadocia? Then consider one (or a couple) of these unique tours:
3) …If You Are on a Budget?
One of the best things about Cappadocia is the fact that it is still quite affordable. Yes, many experiences come at a hefty price but there are still many cost-effective options in terms of both activities and accommodations (including cave hotels).
So there are many ways to plan a long visit to Cappadocia (4-5 days) and see everything without spending much. Just be ready to explore everything on your own and choose only budget-friendly attractions.
Also, rent a car as with it you can see more without the need to join a tour (and save big). In fact with a car and willingness to wake up early and go to bed late, you can fit everything in 3 days and do a lot!
Read my guide with tips on car hire in Cappadocia to find a cheap rental and my list of things to do in Cappadocia with a car to know where to go to explore the entire region.
How Long to Stay in Cappadocia If You Are Visiting in Winter?
Cappadocia is not a seasonal destination. Unlike Antalya in winter or most seaside villages and beach towns where many experiences are not accessible from December to February, in Cappadocia tourism continues.
In fact, a winter visit to Cappadocia unfolds as an opportunity to witness the region's unique charm. It is a time when the land of fairy chimneys and ancient caves dons a snowy coat, transforming into a magical wonderland.
And to fully immerse yourself in this enchanting atmosphere, a multi-day stay is also essential. In winter, chances of flying in hot air balloon decrease (because of the wind) but do not shut down completely. If you get to fly, you'll witness a contrast between colorful balloons and the white canvas of the earth below.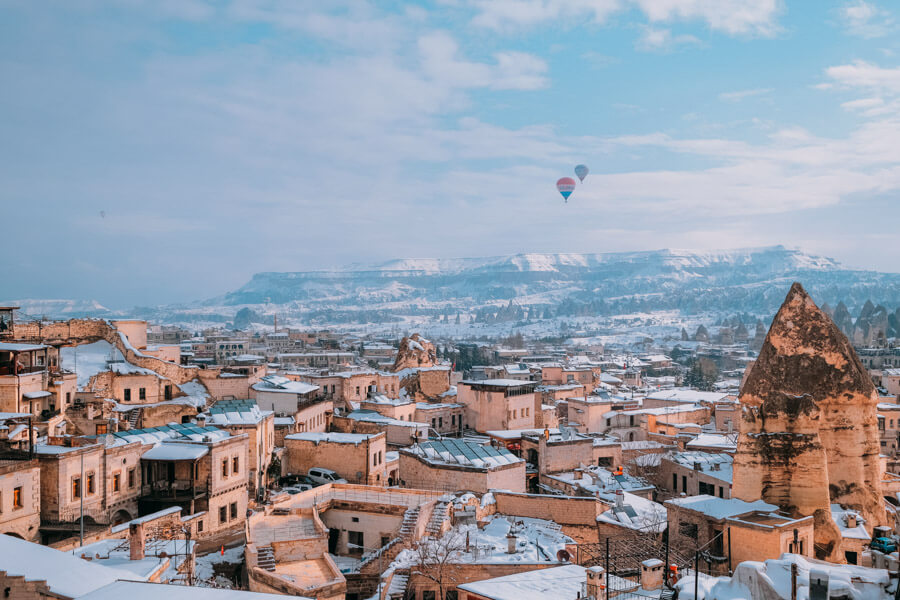 In winter, there is a chance to experience absolutely everything that you'd experience in summer, with the only difference being that you can't go on many hikes (but in summer you can't as well because it gets too hot). Additionally, you can savor unique winter activities, from enjoying warm apple tea by a cozy fireplace to sampling hearty Turkish winter dishes.
So do not plan to spend fewer days in Cappadocia in winter just because you think there won't be much to do. You'll have plenty of activities! Just pack the right type of clothes and plan to spend as many days as you want (or your trip schedule allows you).
Is 1 Day in Cappadocia Enough Time?
I saw some companies offer a one-day trip to Cappadocia from many Turkish cities, including Istanbul, Izmir, Dalyan, Antalya, and others.
Is 1 day enough? No, it is never enough.
One day in Cappadocia can provide you with a brief introduction to only some of the highlights. But be realistic and manage your expectations. Cappadocia region is huge with many things to do. Getting from/to the airport takes some time too.
In a single day, you can typically experience a hot air balloon ride (if arranged way in advance and weather is nice), visit one or two key attractions, and capture the landscapes on your camera. This is pretty much it.
Cappadocia has so much more to offer in terms of its unique history, hiking trails, underground cities, and cultural experiences that it would be a pity to spend only 1 day there, seriously.
In case your schedule is very tight, try to extend your stay to at least 2 days, one day is just too little time. It always makes sense to spend 1 day in Istanbul on a layover because depending on the airport where you land, you can still see quite a lot. With Cappadocia, things are different and one day will not be enough.
Conclusion – So, How Many Days in Cappadocia Are Enough?
4 days in Cappadocia are enough to see the region and have a mix of different experiences.
5 days are better if you want to include camping and all-day hiking through one of the valleys and/or possibly see the nearby region like going for a day to Konya for example or to Hacibektas to learn about the Bektashi order of Sufism (a spiritual path within Islam with its own unique beliefs, practices, and rituals).
3 days in Cappadocia can be also enough if you are ready to hop from one place to another or be ready to skip some attractions and sights.
1 and 2 days in Cappadocia are not enough but with 2 days you still get a decent introduction to the region and possibly even do a hot air balloon ride.
More Posts to Plan a Trip to Turkey