5 Things to Know Before Planning a Perfect Honeymoon in Turkey
Last updated on September 23rd, 2023
Are you thinking about spending a honeymoon in Turkey? It is an excellent destination for newly married couples and for those who have been married for a long time but seek a romantic getaway to Turkey today.
And the best part? A country with scenic ocean views, distinct food and culture, and a wide range of romantic honeymoon hotels is surprisingly very affordable. No matter what your budget is you can have a truly memorable wedding trip.
You can come to spend it in one area or pack your wedding itinerary with dozen of different spots and have an equally terrific time. While the Aegean and Mediterranean coasts have plenty of activities and while Cappadocia has the highest number of romantic things to do, you will also love exploring other parts of the country and all the adventure and beautiful sights that it holds.
Below you can find tips about the best honeymoon places in Turkey, when is the right time to go, what are the best Turkey Honeymoon hotels, and a few romantic trip ideas. The only place that I don't mention on this list is Istanbul simply because I plan to write another guide to a honeymoon in this wonderful city.
---
Please note: This post contains affiliate links. I may earn a commission if you make a purchase by clicking a link (at no extra cost to you).
---
Why Choose Turkey For Your Honeymoon
There are too many reasons why Turkey is a wonderful destination for a honeymoon, as for any other type of holiday or vacation. But number one thing that you can be sure about is that Turkey will be romantic, luxurious, diverse, and posh.
Besides stunning nature and a variety of attractions, this country knows how to offer a worry-free concept of all-inclusive hotels, outstanding service, and various entertainment options for couples on different budgets.
With 9 months of sunshine, interesting ancient cities and stunning architecture, fancy shopping malls and amusement parks, world-class beaches, spas, and offbeat dining establishments, you can expect to have a truly wonderful and unforgettable honeymoon.
In fact, Turkey boasts the longest tourist season in Europe, which lasts from April to November and has mild winters with its own charm. So if you want to come for your honeymoon in Turkey in winter, you can rest assured that you will have a wonderful time too. And with the number of upscale hotels, you can expect to be treated like royalty.
The best part that many people will be happy to find out about is the ability to spend a honeymoon on a specific budget. If some other countries that offer honeymoon packages (like UAE, Italy, or even nearby Greece for example) are oriented on higher budgets, Turkey has a variety of budget-friendly hotels and activities to choose from.
So no matter how long your honeymoon in Turkey is going to be and how much you are ready to spend, this occasion is bound to create memories that will be cherished for a lifetime.
Where to Go on Your Turkey Honeymoon
With four seas, multiple types of coastlines, different types of accommodation, and a long list of beautiful Turkish cities, there is something for everyone to choose from.
However, choosing the best honeymoon destination in Turkey may be challenging due to a few things. First of all, the country is really big and the amount of activities is so diverse that it may be difficult to decide. Second, those activities are not only related to beaches or excursions.
Some honeymoon packages included cruises, stays at hot springs or ski resorts, theme park wedding trip, winery or adventure honeymoon, or romantic coastal road trip.
In order to understand what is the best honeymoon place in Turkey for you, first you need to determine what type of wedding holiday suits you best and how much money you are willing to spend on that.
Once you have these questions answered, it will become easier to choose an ideal honeymoon destination and type of accommodation.
3 Top Things to Do For Couples on a Romantic Trip to Turkey
Take Flight on Hot Air Balloon Ride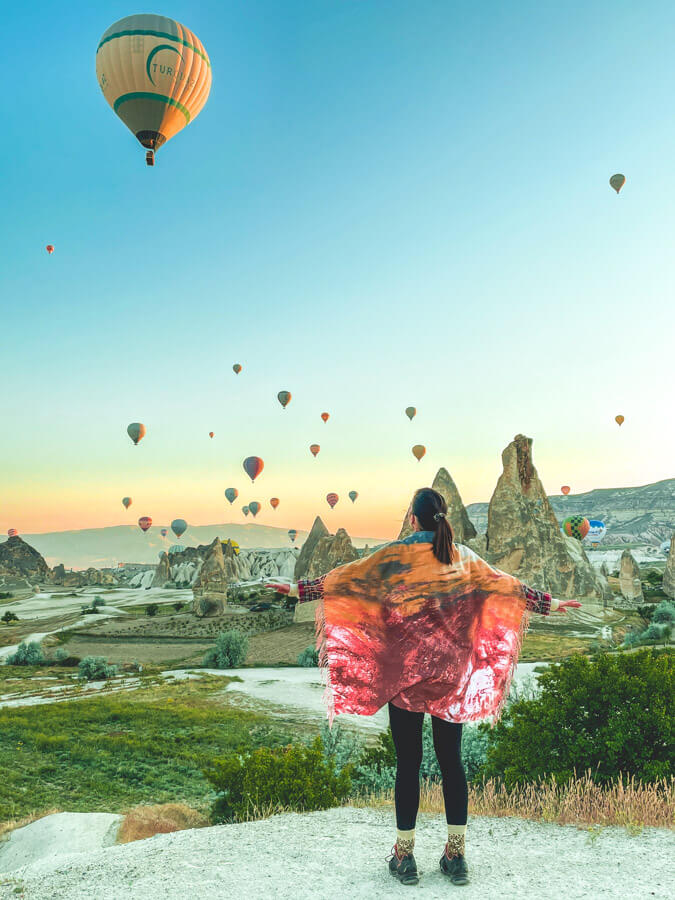 Of course, everyone has their own view of what romantic activity is. But probably everyone will also agree that a hot air balloon ride is very romantic and idyllic. Romance gets definitely in the air when you take a hot air balloon ride not only in Cappadocia.
But did you know that you can also ride in a balloon in Pamukkale? Enjoy the unforgettable experience of watching the sunrise together over the travertines and make memories that will last a lifetime.
Enjoy a Romantic Dining Experience
You know, among all countries I've been to I can't recall any other country with such a high number of rooftop restaurants and cafes by the water, be it a lake, river or sea. Turkey has so many of them.
No matter where you go, you will easily find restaurants in beautiful unique locations with a romantic setting. And if you are in Istanbul, save these romantic restaurants in Istanbul.
Romantic Dining Experiences in Turkey
Have a Romantic Boat Trip Adventure
Another thing that Turkey is famous for is boat trips. Istanbul is not the only city that offers cruises on the water. Anywhere along the coast, you can join either a public tour or rent a boat and go on your own to one of the islands, coves and or just cruise on the sea overlooking the landscape.
But to make it more romantic, do an evening dinner cruise or dine with your partner aboard a beautifully decorated boat. Some packages are created specifically for couples on romantic escapes and include a candlelit meal, musical entertainment, and traditional dance shows.
Unique Boat Trips in Turkey
Best Time to Honeymoon in Turkey
Turkey is a destination perfect for visiting all year round. Of course, you just need to be smart about planning a winter itinerary and not to expect to have a beach holiday on the Aegean or Mediterranean sea during that time.
The winter months, which span from November to March are the lowest season to visit Turkey. Yet, the number of outdoor activities is high and the weather is nice for stays by the pool in the South of the country and for excursions on foot.
Visiting in summer will definitely guarantee warm (hot) weather perfect for the beach and sun. However, visiting during this season will not allow seclusion in your honeymoon and will mean that you need to pay incredibly high rates.
With temperatures reaching 40C degrees in July and August, stepping out somewhere else besides the beach and mountain canyons will not be an option. So if you'd like to include excursions in your honeymoon itinerary, July and August are not the best months.
Being a Muslim city, it is important to note that during the holy month of Ramadan, timings for venues and activities may change. Not all dining options may be open and at the end of Ramadan when everyone celebrates, hotels are going to be sold out. So it is best to check beforehand.
And to help you get an idea of the most sought after spots and experiences for honeymooners to Turkey, I compiled a list of the:
10 Best Unique Honeymoon Destinations in Turkey
Belek, Antalya
Belek is considered one of the most elite resorts on the Mediterranean coast of Turkey. It is famous for a high number of upscale 5-star all-inclusive hotels (many of which operate on an adult-only concept) and various packages for couples on their honeymoon in Antalya.
But besides some of the world-class hotels, Belek also has a magnificent sea, cedar, eucalyptus and pine forests, rich fauna and flora, wide sandy beaches, and clear water. The surroundings of the resort are part of the Köprülü Canyon Natural National Park where a very different world opens up.
What makes this resort unique is the climate which allows to receive tourists almost all year round. Summers are hot and humid but winters are mild. Even in winter, the air temperature remains within plus 10-15C degrees. And since many hotels have outdoor heated pools and spas, spending your honeymoon there even in January can be very special.
Belek holds so many opportunities for entertainment and beautiful vacations. The only thing that the resort is lacking is large nightclubs. For this, you'd need to go to Antalya.
Other than that, Belek is perfect for couples on romantic getaways and honeymooners. You can combine your stay in an all-inclusive hotel with hiking or horseback riding, jeep safaris or rafting, excursions to ancient cities, and much more.
Best Romantic Hotels in Belek
Adam & Eve 5* – a luxury hotel that impresses with its vast territory, the concept of "adult-only", and unusual entertainment. Throughout the day, there is a rich animation program by the pool and beach, gradually turning into a night concert or show.
The hotel has 7 a la carte restaurants, bars, and disco on a specially equipped pier. Most guests here are couples who prefer comfort and vivid impressions. If booking your stay, check what they have on offer for honeymooners. There are often special offers and packages.
Maxx Royal Golf Resort – another huge, luxurious hotel for couples searching for honeymoon hotels in Turkey. You'll find here a long private beach, spa, diving center, mini water park, multiple restaurants and bars. This hotel is open to adults and kids.
Rixos Premium Belek – this luxurious hotel is more like a huge complex with one of the largest shopping malls. It has an area of over 400,000 square meters with various gardens, golf fields, a magnificent 12,000 sq m water park, and a well-maintained 1 km long beach. But those are not the only highlights. Hotel's gastronomic infrastructure is also perfect with 12 bars and dozen of restaurants.
Bodrum Peninsula
Another wonderful honeymoon destination in Turkey is Bodrum, the most European-like resort city in Turkey. Large shopping centers, elegant restaurants and bars, beautiful yachts, incredible sunsets, entertainment for every taste… you'll find all of this in Bodrum. Even with its architecture, Bodrum has something in common with the Italian or French Riviera.
But if you are looking for quiet luxurious seclusion, then choose not Bodrum city but a smaller beach town on the peninsula. Bodrum is known for its loud parties, bars and discos, and mainly smaller hotels and guesthouses.
For a honeymoon atmosphere, it is better to plan your stay in one of the towns scattered along the peninsula such as Göltürkbükü, Yalıkavak, or Toba for example.
They usually have large territories, its own beaches, and spas. Staying in a hotel there will be much more romantic and then you can travel to Bodrum city for a day or go on a boat trip to nearby islands.
Best Bodrum Honeymoon Hotels
Voyage Bodrum 5* – the best romantic hotel in close proximity to Bodrum old town for people who want to be close to the city. It is built in the Greek style and located near a sandy-pebble beach with blue flag and the Castle of St. Peter, one of the main local attractions. Rooms offer views of the sea, pools, garden or castle.
Voyage Bodrum is suitable only for adults and its own entertainment program makes it popular among young couples who prefer a bright holiday. For newlyweds, the hotel has developed a special honeymoon concept with breakfast in the room, fruits, and other bonuses.
Mandarin Oriental – a dream hotel that was recognized to have the best spa in Turkey. Personalized luxury here meets style, outstanding service, and the enchanting atmosphere of Bodrum's Cennet Bay.
With only 29 hotel rooms, the property feels very homey. There is a private beach, 3 restaurants, an indoor pool and 3 outdoor pools, and 3 bars/lounges. Because of a very elegant Asian atmosphere, you even forget that you are in Turkey.
Allium Bodrum Resort & Spa – an exquisite luxury boutique hotel with 36 rooms with sea views and 9 villas. It has a private beach, lush garden, and dramatic waterfront location. Being located near Yalikavak town gives easy access to many restaurants, bars, boutique shops, and a lovely harbor.
Book a suite to enjoy larger lounging areas, generous seaview terraces, and be able to treat yourself to a leisurely breakfast on your balcony.
Kas, Antalya
Among all places I have been to in Turkey, I can honestly highlight Kas as one of the most romantic towns. Due to the fact that it is located on the very coast of the sea and is surrounded on three sides by high mountains and a pine forest, it looks like a very cozy charming settlement.
Small white houses with roofs with red tile, narrow cobbled streets winding down to the turquoise sea, flowers blooming everywhere and cats roaming around – all of this gives some sort of a spirit of romance and tranquility.
Despite the increasing number of tourists each year, Kas has retained the charm of a provincial Turkish town. It still has this relaxing atmosphere that allows unplugging from the world. But besides its pleasant atmosphere, Kas prides itself on being the main point of adventure tourism in the region.
Diving, snorkeling, yachting, trekking, kayaking, paragliding, cycling and hiking do not make a complete list of what you can do in Kas additionally to relaxing and lazing around in the lounges on picturesque rocky beaches.
Thus, if you are looking to have an active honeymoon in Turkey, look at Kas. And if the number of local activities is not enough, there are many interesting historical sights in close proximity along the coast.
Romantic Hotels in Kas For Couples
Suna Sun Boutique Hotel – this hotel isn't as sophisticated as other hotels on this list. But it is still one of the best options among the romantic hotels in Kaş with its seafront location, own swimming platform, Bali-style spa, private beach, and restaurant. There are only 14 rooms and children are not allowed.
Hotel Villa Mahal – not directly in Kas but in another romantic town nearby Kalkan. It is actually the most popular award-winning hotel in that area. This property combines different styles such as chic luxury and stylish business.
The highlight here is an infinity pool with sea views and massage services in a natural cave inside the rocks. Ideal for a romantic getaway or honeymoon.
NOTE: Kas is a perfect spot for Turkey honeymoon from April to late October, sometimes November. During the winter, many venues are closed.
Lara, Antalya
Lara is a prestigious neighborhood in Antalya on the coast that is popular among wealthy Turks and European tourists. Many people come here for vacations year-round, creating demand for dozens of large shopping malls, the most pretentious restaurants and bars.
Additionally, you'll find everything else that is required for a comfortable living and short-term vacation. Cafes and different entertainment venues, parks with jogging and bike paths, tennis courts, football fields, and a long sandy beach – one of the three best beaches in the area.
Lara is undeniably another fantastic place to come to for a honeymoon in Antalya. Especially, if you'd like to be within the city limit.
Its 5-star hotels deliver the highest standard and its endless sandy beach allows you to enjoy swimming, sunbathing and active sports in peace. And then if you feel like exploring the city, it's just a quick bus/taxi ride away.
Best Romantic Hotels in Lara
Lara Barut Collection – an ultra all-inclusive hotel offering the perfect honeymoon experience. Here you can have a quiet but at the same time fun and dynamic luxury staycation. Since the hotel uses only natural materials and pays close attention to small details, it attracts customers with high demands.
Thanks to the proximity to the city and airport, many accommodation options that combine comfort and exclusivity, and a large number of greenery, you are sure to fully enjoy this part of the Mediterranean.
IC Hotels Green Palace – a very good budget-friendly all-inclusive hotel for couples on honeymoons and romantic escapes. It has its own sandy beach, evening and day entertainment, excellent service and food, and spacious rooms in a classic style.
The hotel is suitable for any occasion but if you choose it for your honeymoon, send them a message mentioning that. Extra amenities are available for couples on a wedding trip.
Titanic Mardan Palace – a truly grand hotel offering luxurious stays for the most demanding guests. At your service: outdoor and indoor pools, SPA, live music, various animations, and cuisines of different countries.
Cappadoccia
I have the impression that no post about Turkey can be complete without Cappadocia. Seriously. It's just so unique, mysterious, beautiful, photogenic, and romantic place where you can come on any occasion and get a sense of celebration.
What differs Cappadocia from all other regions is that here you can have a romantic trip 365 days a year. No matter if you come on a honeymoon in summer or on the coldest day in December, you'll have an unforgettable experience!
What is great about Cappadocia is terrific weather regardless of the season. Each period is characterized by unique colors, landscapes, beautiful valleys, and of course amazing cave hotels for all budgets.
In summer, Cappadocia hosts various festivals and concerts. In spring and fall, when the temperature is the most comfortable, there are many hiking trails to follow and it's a good time to discover cave cities on foot. Even in winter Cappadocia, there is the same offer of tours and wide offer of events.
Among things to do for couples, besides cave hotels and hot air balloon rides, Cappadocia offers all kinds of romantic activities. You can explore the mountainous terrain by jeep, ride horses through the valleys, watch incredible sunset on a wine tour, take part in various excursion programs designed for couples only, or rent a convertible to cruise around.
Everyone will find something to do to their liking in this gorgeous region!
Best Hotels For Honeymoon in Cappadocia
Taşkonaklar Hotel – a 4-star hotel in the quiet village Uchisar, not far from the Uchisar Castle and historic center. There are only 20 rooms but for a honeymoon you may want to book a suite with the jacuzzi with this view. The hotel has a bar and restaurant.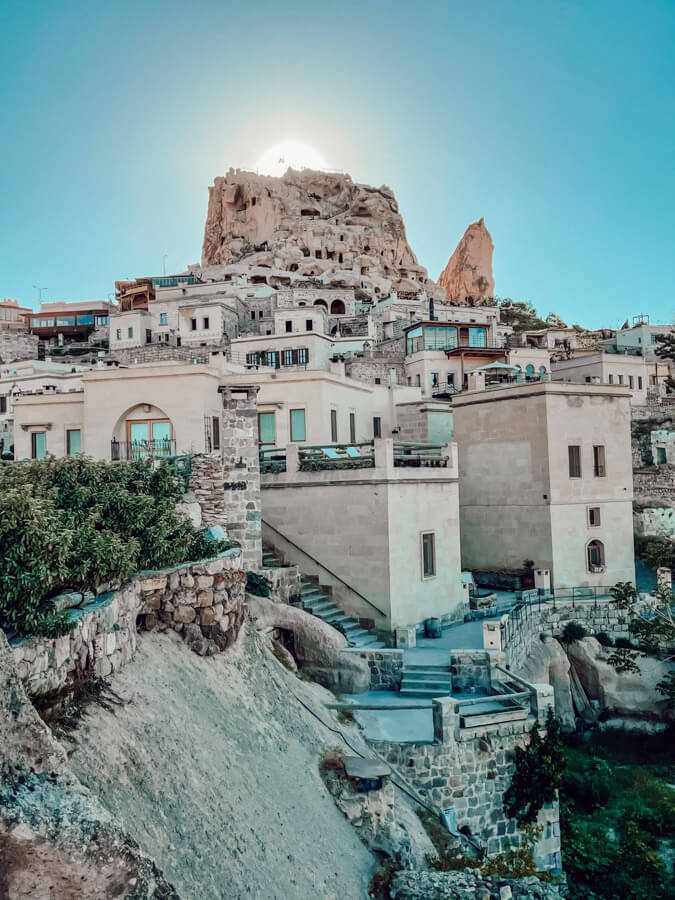 Kayakapi Premium Caves – being in close proximity to Göreme Open Air Museum, this hotel was ranked among Tripadvisor's Top 25 Hotels in Turkey by user ratings. It was the first boutique hotel of Cappadocia which adheres to high standards until today.
With a total of 36 rooms, a seasonal outdoor pool, a restaurant, and a fully equipped spa, it offers special honeymoon packages.
Argos in Cappadocia – a luxurious boutique hotel that looks like a modern monastery. It consists of mansions connected by underground tunnels that were dug by the hands of the people who once lived there.
All 51 rooms are totally gorgeous but some have their own tiny pools. Continental breakfast is included. The highlight of this property is a 1500-year-old Bezirhane section of the hotel with wonderful acoustics that hosts concerts throughout the year.
For more hotels and things to know before booking cave accommodation, check my tips for finding the best cave hotel!
Check Some Honeymoon Activities in Cappadocia
Izmir Province
When I recommend Izmir as a place where to spend a honeymoon in Turkey, I imply the province, not the city. Izmir city is on the top of my list too but to create a truly romantic experience you'd want to stay in Alacati, Cesme, Foça or Seferihisar. Oh, and in another trendy destination Sirince in the Southern part of Izmir not far from Kusadasi.
If you are wondering what the honeymoon would be like and things to do and see, here is my recommendation about Sirince.
Time will fly very fast in Izmir with all the dining establishments, beaches, and nightlife. And from there, you can travel by car and visit the gastronomic paradise of Izmir Urla.
While I love Izmir, I understand it is not for everyone. Those people will like it who want to be at the heart of newest trends (Izmir is the most progressive city in Turkey), who are gourmands and love stylish venue options, who want to experience Turkish village life together with the bustling city (and that's all within short distance), and those who do not hesitate to spend for high quality.
Best Hotels For Couples in Izmir
Alavya Hotel – a stone boutique hotel in the old part of Alacati. While this property has a location in the center of all events, its peaceful ambiance intertwined with nature makes you believe that you are somewhere on the island. The highlight here is the delicious food and live jazz music performances. You'll also find a spa with a gym, sauna, Turkish bath, massage services, and yoga classes.
Nisanyan Hotel – a boutique hotel in Sirince built and designed by Turkish author Sevan Nisanyan who was the pioneer of boutique hotel management in Turkey. This property has one of the best locations in Sirince offering fantastic views, a romantic restaurant, and mansion-style cottages or stone houses.
Bramasole Buik Otel – a beautifully decorated hotel with a touch of luxury for people on a budget. It is a small property with less than 20 rooms where guests feel at home and treated like royalty at the same time. There is an outdoor pool and breakfast included in the rate.
Göcek, Mugla
Gocek is a small town near the sea located in a beautiful bay with the same name near Fethiye. It has an unusual geographical location, which makes it very similar to Kemer. Its southern part is the Mediterranean coast and the rest of the town is surrounded by the Taurus mountains.
Oddly enough, but most of the population of the town is foreigners, mostly Britons. Some people I met said that Gocek reminds them of a small town in England only with the warmer climate.
Speaking of climate. The climatic conditions in Göcek are very similar to those of southern Greece. You can already swim in the sea in April but the first cool days come in October.
The main highlight of this little town is relaxation and a luxurious quiet feel. A turquoise sea, peaceful environment and snow-white yachts offer all conditions for an opulent honeymoon. And the historical sights of the ancient world are located nearby – on the way from Fethiye to Pamukkale, a stretch of the Turkish Riviera that is a must-visit place.
Romantic Hotels in Göcek
D-Resort Gocek – the most elegant and beautiful hotel in Göcek. It has its own cove and private beach with incredibly beautiful sand. With 4 restaurants, a fully equipped spa, outdoor pool, and gym facilities you could easily spend the entire honeymoon just here.
Rixos Premium Gocek – the hotel is located on the shores of the picturesque bay offering amazing views after sunset. Guests have the opportunity to relax on a local beach or take advantage of the free sea transfer and sail on a yacht to Secret Beach.
Standing at the foot of the evergreen Taurus Mountains, the hotel has a vast area that resembles a park with conifers. It is an all-inclusive adult only property with high standards of service and guest comfort.
Fethiye
Fethiye is a charming small town at the junction of the Aegean and Mediterranean seas which is an incredibly popular honeymoon place in Turkey. Why?
First of all, because nature here has done a great job, creating intricate patterns of coves and canyons along the coast. And locals supplemented the surrounding landscape with beautiful architecture.
Second, a wonder of Turkey with pristine beaches and crystal clear water Oludeniz Bay is located nearby. Turquoise water and rocks surrounding the bay create an extraordinary landscape that amazes the most sophisticated honeymooners with its fantastic beauty.
Those who love nature, beaches, hiking, yachts, atmospheric places, good food and stylish restaurants and bars will love going on a romantic trip to Fethiye.
Choosing it as your main honeymoon destination will allow you to see the most interesting places of the Turquoise Coast (including Oludeniz) and spend days in a very pleasant and relaxed atmosphere typical of a small seaside town.
Best Hotels in Fethiye For Couples
Seaview Faralya Butik Otel – instead of staying in Fethiye, you can make it extra romantic and head south to a small village Faralya which is full of stunning hotels. Seaview Faralya Butik hotel is one of the most romantic properties in that area.
It has only 10 suite rooms made of cedarwood. All rooms come with a private terrace, pool and jacuzzi. It's a dream place to stay in!
Lissiya Hotel – a 4-star hotel in another small village south of Fethiye, surrounded by mountains and offering sweeping views around. It has a total of 12 rooms situated in independent locations, so guests do not get to see each other.
Every suite has a fireplace, balcony, AC, and jacuzzi. Honeymooners can choose a special Honeymoon Suite with a heart-shaped pool. Apart from private pools for the rooms, there is also a communal outdoor pool, restaurant and bar.
Hotel Unique-Boutique Class – an exquisite boutique hotel in an old stone building in Fethiye marina for those who would like to be in the center of all events. The perfect location of this hotel allows one to walk to the port, visit Telmessos Tomb, Fethiye Museum, Fish Market, and many boutiques with cafes.
This hotel offers a garden, swimming pool, spa, hammam, national Turkish cuisine restaurant, bar, and free parking. The colorful premium rooms are decorated in a traditional Turkish style. Some rooms have a private spa bath on the terrace.
Hisarönü, Marmaris
Hisarönü is another picturesque village perfect for honeymoons and romantic getaways on the Turquoise coast of Turkey. It is conveniently located near the main highway between Marmaris and Datcha in a bay with secluded coves, fjords, lagoons, and white beaches.
Among the highlights of the bay are numerous uninhabited islands, striking in their beauty. Created by nature from lava and tuff, they have become a real attraction that can be visited on a tour or private boat.
The water in Hisarönü is so clean and transparent that you can see the bottom of the bay at a depth of ten to fifteen meters. In addition, the water warms up quite well in summer and stays warm until mid/late October.
Fishing, yachting, horse riding, hiking, and sightseeing are popular activities in the area. And there are quite a few lavish hotels in the area perfect for seclusion.
Lovers of tranquility and silence will also like Hisaronu Bay in the off-season – virgin nature, rare rains, coupled with empty beaches, only give the place a special atmosphere and flavor.
Romantic Hotels in Hisarönü
D-Maris Bay Hotel – a large 5-star hotel with 5 blue flag beaches, 6 restaurants, a fully equipped spa, tennis court and large outdoor pools. They often close bookings during the off-season through aggregators, so you may want to contact them directly.
Golden Key Bordubet – a unique half-board hotel in Hisarönü that offers two different nature settings. On one side it faces a private beach and on another side, a beautiful river with swans. There is also an outdoor pool, tennis court, 3 restaurants, and 2 bars on the property.
Cunda Island
Cunda Island on the Aegean Coast of Turkey near Canakkale, also called Alibey Island, is one of the most romantic places to visit in Turkey.
It is ideal for those looking to relax in a remote, authentic place while enjoying history and nature. The Aegean Sea around Cunda is full of bays and islands, and every site here is a hidden paradise.
The history of this island dates back to ancient Greece, so you'll see a lot of Greek-style architecture, find old churches, cobbled streets, and restaurants serving Greek and Turkish cuisine. Some streets are so ancient, they were not even paved with asphalt.
While Cunda Island is very romantic, it is small. After 3 days there you may be bored. You'd want to have a car to be able to visit nearby cities and villages, including Kucukkoy and Ayvalik, as well as travel to ancient city Bergama, Canakkale peninsula, and a beach town Dikili.
Best Romantic Hotels in Cunda Island
Cunda Despot Evi – an ancient house from 1862 is in the very eastern part of Cunda Island closer to Ayvalik. The location is wonderful because it is right near the sea with views of Ayvalik and at the same time close to Old Cunda where you could walk.
All 28 rooms here were individually decorated and include breakfast. Spa, outdoor pool and nice restaurant is here as well. They also offer honeymoon packages and organize weddings.
Sukha Cunda Otel – an 18-room boutique hotel with a free buffet breakfast on the opposite side from Cunda Despot Evi. This location is particularly great for a summer trip since the hotel is facing north. Rooms here have decorations with details specific to Greek architecture. There is also an outdoor pool and free parking.