1 Day in Istanbul Itinerary – 2 Routes Depending on the Airport Where You Land
Last updated on September 25th, 2023
Prepping your 1 day in Istanbul itinerary can be quite a task because the city is huge! You cannot create just one single itinerary and use it for any visit.
Because depending on the airport where you arrive, the route should be different in order to spend more time sightseeing rather than reaching places.
This is why I wanted to create two different Istanbul itineraries for 1 day visit and show you how to have high quality time in Istanbul no matter if you are arriving at Istanbul IST airport or Sabiha Gokcen airport. They can be a good start for a layover or if you plan your Turkey itinerary.
In case plans change and you can extend a trip, just use both of these suggestions to plan an Istanbul itinerary for 2 days.
And if you need to tailor another itinerary with specific needs in mind, get in touch, and let me know what exactly you are looking for!
Travel Tips for Your Istanbul 1 Day Itinerary
Planning to visit Istanbul soon for 1 day only? Check these resources to make travel easy:
Top Tours in Istanbul:
Top Places Where to Stay in Istanbul for 1 Night:
---
Please note: This post contains affiliate links. I may earn a commission if you make a purchase or booking by clicking a link (at no extra cost to you).
---
Is One Day in Istanbul Enough?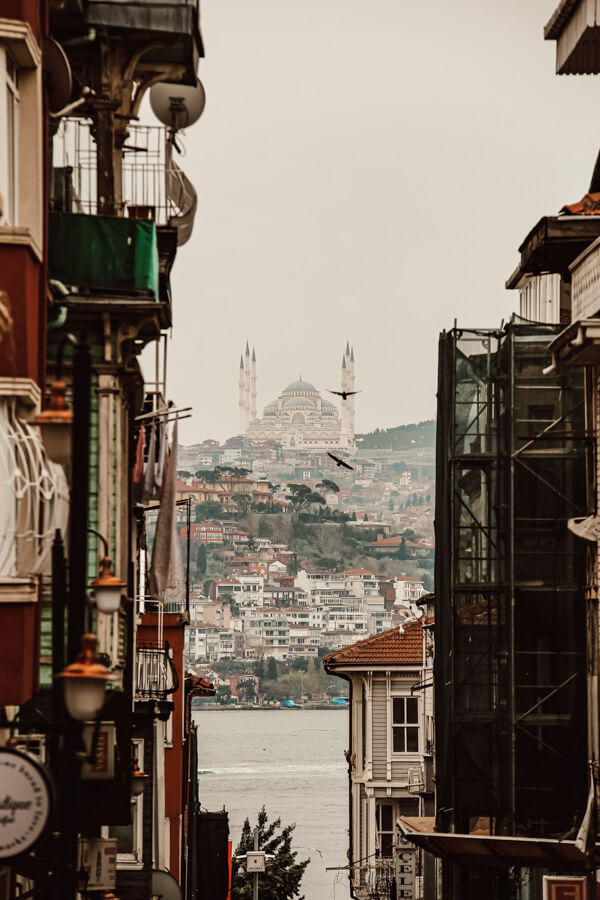 Want to hear my honest answer? No.
One day in Istanbul is never enough but if you have that much time on a stopover (or for any other reason), then it is very possible to spend this one day qualitatively.
My main recommendation for you is this. If you don't plan to stay overnight in Istanbul and just arrive for 1 day, try to book your flights in a way that you have as much time in a day as possible. There is a long list of things to see in Istanbul in 1 day and you'd want to pack as much as possible.
Do not forget that you will spend time reaching the city from the airport. So if there are less than 8 hours between flights, it will be very challenging to go to the center and back and see Istanbul highlights.
1 Day in Istanbul Itinerary (If You Arrive at IST Airport)
If you only have a day in Istanbul before catching your next flight and you have landed at the main Istanbul Airport (which is IST airport), you can consider yourself lucky, as you're on the European side, where the majority of the most exciting spots are located.
So here's my proposed itinerary for one day in Istanbul's European side…
1- As a Start, Get to the Taksim Square
You can start your day in Taksim Square, to which you can reach by either a cab ride from the airport, a private transfer arranged in advance, or by an airport bus, which will take you to the area.
Yes, Taksim is a bit of a cliché, but for good reasons, some of which are:
It is a landmark, probably the most famous spot in the city
As well as being a big tourist attraction itself, it is very close to some of the other popular tourist attractions, such as the Blue Mosque, Topkapı Palace, Dolmabahçe Palace, etc.
It is also very close if not within walking distance to some of the city's most interesting and popular districts and neighborhoods
In a condensed area, you have all you need – from stores of famous brands to local pubs to some of the best restaurants in town, to boutiques, art galleries, coffee shops, museums, and much more…
It is relatively easy to find a cab there, and there is a subway station as well, so you can go pretty much anywhere you want in the city
2- Get Breakfast/Brunch at a Local Restaurant
While you're in the Taksim area, there are a lot of places where you can have a good old Turkish breakfast or a savory brunch. And since you are on a layover having just one day in Istanbul, it is absolutely a must to have breakfast Turkish way. So I list a few awesome recommendations where to find it around Taksim:
Havyore – A restaurant that serves dishes specific to the Black Sea region of Turkey, it is a local favorite, and has a wide range of interesting dishes. There are a lot of vegan options as well.
Lades Menemen – Lades is a very-well known breakfast spot in İstiklâl Avenue, and one of the best places to have "menemen", a Turkish style scrambled eggs and tomato dish usually enjoyed at breakfast. So if you have not had breakfast yet, you should give Lades a go.
Fıccın – Another local favorite, Fıccın is also located on the İstiklâl Avenue and serves Turkish tapas (meze), rakı, as well as a variety of hot dishes. You can visit this restaurant for lunch, as well as dinner later if you have time.
3- Take a Stroll on İstiklal Avenue
After you're done with your food, it will be a nice idea to burn some calories while seeing one of the city's landmarks.
Stretching for 1.4 kilometers (0.87 miles), and visited by tens of thousands of people every day, Istiklal Avenue is quite possibly the most famous street in Istanbul. It is a relatively narrow street that starts at Taksim Square and goes all the way to Galata, with endless shops, restaurants, and cafes on each side.
Take a walk there, get ice cream, go into a shop, or go see the Galata Tower at the end. Just spend an hour or so on this street to get a glimpse into the soul of the city.
Also, try to get on the nostalgic tram as well, it's worth it!
When it comes to how much time in total to spend on Istiklal, I'd recommend you not to too stay there for too long. There are more places that are worth the time, especially when you are on a short only 1-day visit to Istanbul.
4- Visit Galata Neighborhood
After Istiklal Street, I suggest you slowly move towards Galata Tower where (if you wish) you can pay an entrance fee to get a 360 degrees view of Istanbul.
Galata Tower is located in the Galata neighborhood which on its own is one vibrant place full of small businesses, colorful homes, and steep cute streets where it is really enjoyable to walk.
Once there, do not miss Mundo Novo Coffee & Patisserie as a wonderful cafe where to try Turkish coffee. They also make nice traditional coffee drinks and have delish desserts.
From Galata, my recommendation for you is to walk down to the ferry terminal and take a ferry to go to Eminonu side where some of the most iconic historical places in İstanbul are located.
They are quite close to Taksim/İstiklâl Street as well so if you want to skip Galata, getting to them from Istiklal is easy too but you'd still need to walk part of the way to reach a tram.
But I recommend you take a ferry in particular because trams are common pretty much everywhere but ferries are quite special to Istanbul. It's like an attraction on its own which makes you fall in love with this city.
5- Go to One of the Historic Landmarks in Eminonu or Fatih
Eminonu and Fatih are two of the districts in Istanbul with smaller neighborhoods that have a ton of historical places as they are exactly those parts of Istanbul that saw Byzantines, Romans, Ottomans, and nowadays modern-day Turkish people.
There is a lot of history in Eminonu and Fatih and you absolutely have to add at least some sites from both of these places to your 1 day Istanbul itinerary! It is here where you'll walk into Sultanahmet, the old town of Istanbul where sultans lived.
Some of your options here are:
The Grand Bazaar
One of the oldest bazaars in the world, The Grand Bazaar is a marketplace that covers an area of 30.000 m2 with thousands of small shops.
Inside, you can find a range of items from hand-made souvenirs to Turkish rugs, spices of all kinds, local clothes, and more.
If you prefer to go here right after Istiklal Street, it is roughly a 25-30 mins cab ride from Taksim.
The Blue Mosque
Another Istanbul landmark located in the Fatih area, the Blue Mosque (or Sultan Ahmed Mosque), is a majestic Ottoman-era imperial mosque.
It was added to the UNESCO World Heritage Site list in 1985 as a part of the "Historic Areas of İstanbul". It is an absolute must-visit place for any trip, whether you are having 4 days in Istanbul or a quick 1-day stopover!
Topkapi Palace
Oh, and this is a magnificent palace complex that served as the primary residence of Ottoman sultans for nearly four centuries. It was the political, administrative, and cultural center of the Ottoman Empire which also deserves a peek.
However, with Topaki it may be a bit of a challenge to visit as the palace territory is huge and you do need to have more than one day in Istanbul.
Yet, if you are in the area, stroll by its walls (where you do not need to purchase a ticket) and feel the grandeur of the place where Ottoman rulers lived. Then go for a quick walk through Gulhane Park, loved by sultans' women from the harem.
From there, it is a short walk to the Hagia Sophia Mosque which began as a cathedral in the Byzantine Empire (and served as the world's largest cathedral and the spiritual center of Eastern Orthodox Christianity) but turned into a mosque by Ottomans.
Today, the Hagia Sophia is not only a place of worship but also a historic and architectural marvel that reflects the rich history and cultural diversity of Istanbul.
For an independent visit to Topkapi Palace, refer to this page. To save time and visit Topkapi and Hagia Sophia together this 3-hour affordable tour is a great start.
ALTERNATIVE OPTION: If you decide not to go to Fatih or Eminonu from Galata (for example you want to spend more time around Istiklal), another place where to feel the history is Dolmabahçe Palace in Beşiktaş.
It once used to serve as the primary administrative center of the Ottoman Empire. It's the largest palace in Turkey with an area of 45,000 m2, and also the final house of Mustafa Kemal Atatürk, the founder of the modern Turkish Republic.
Reaching it from Taksim is quite easy as you can literally walk and see other streets of Istanbul.
---
TOURS TO JOIN IF YOU HAVE ONLY 1 DAY IN ISTANBUL FROM IST AIRPORT
---
5- Check Out Neighboring Neighborhoods
Once you're back (and if you still have time or if you have skipped the previous suggestion), you can check out a different neighborhood for a change.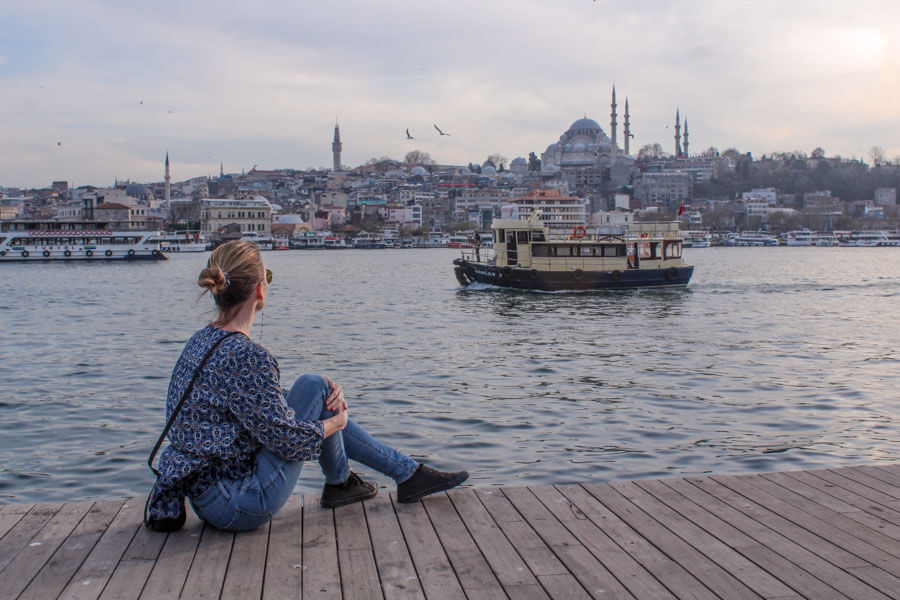 As I have stated before, Taksim is quite close to some of the best districts/neighborhoods in İstanbul. And among the ones you can (should) visit are:
Nişantaşı– 20 minutes of walking or 5 minutes of cab ride from Taksim, or a single subway

stop

Beşiktaş– More or less the same as Nişantaşı, minus the subway option
Cihangir– 5 minutes of walking distance
Karaköy– The area you reach when you go downhill from Galata, near the sea
Or, if you want to experience something completely different, then hop on a bus and go to Arnavutkoy, a fishing neighborhood with a completely different way (and feel) of life.
From Taksim, bus #40T goes directly to Arnavutkoy (and beyond) by the coastline which also gives access to some nice Bosphorus views.
6- End You 1 Day Istanbul Itinerary With Turkish Food
And for those who are not really interested in Turkish cuisine for some reason or another, here are some international recommendations:
Çok Çok Thai – Probably the favorite Thai restaurant in the area, Çok Çok Thai offers an authentic menu of delicious Thai dishes.
Mikla – A Michelin-starred fine-dining restaurant, Mikla sits at the top of The Marmara Hotel (the one that is in Şişhane, near the end of İstiklâl Avenue) and boasts a wonderful Bosphorus view.
It is not usually easy to find a table in Mikla without reserving a place days before. But you might get lucky, and you can always go there to enjoy some tasty cocktails against a lovely view of the city.
Or if you wish to do what almost all tourists do, you can stop by Kızılkayalar Restaurant, which is right in the middle of Taksim Square, for some döner kebab or wet hamburgers (a local favorite). You will easily recognize this place by the crowd of people from around the world that has gathered in front of it.
Also, you can check my posts with many cool places to eat in Istanbul as I include a few restaurants in this area.
Istanbul 1 Day Itinerary (If You Arrive at Sabiha Gökçen Airport – SAW)
Now, let me introduce you to another itinerary for Istanbul in a day for that time when you arrive at Sabiha Gokcen Airport. From Sabiha, in order to save time and see more, I suggest you plan a day differently and dedicate some time to the Asian side.
Though not as popular as the European side, Istanbul's Asian side has a lot to offer as well – actually too much for a single day. But I'll try to pack in as much as I reasonably can.
1- Start at Kadıköy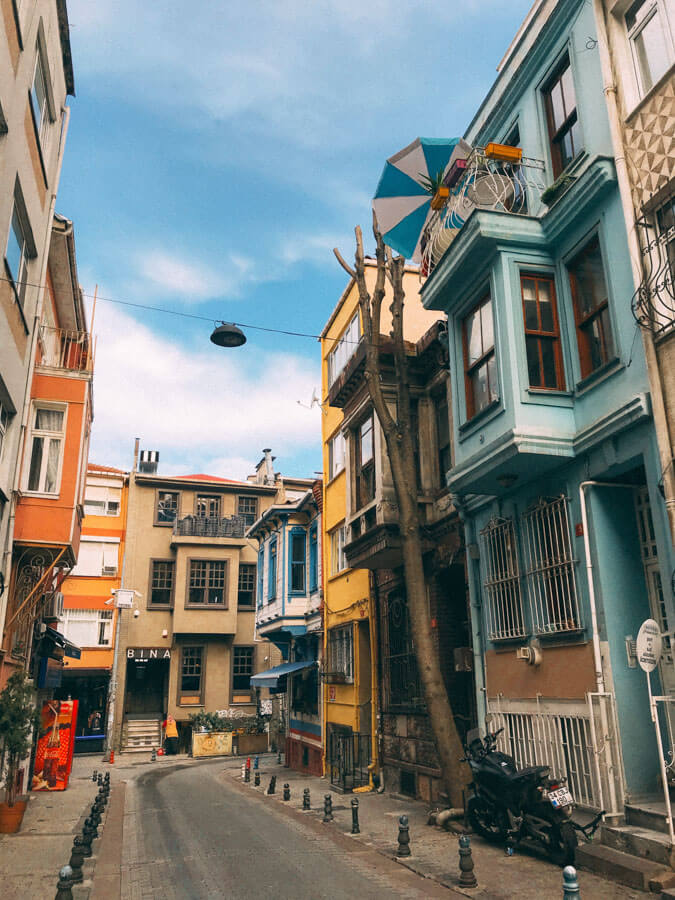 You can easily get to Kadıköy with, again, an airport bus, or by a cab ride from Sabiha Gökçen Airport or a private transfer.
Basically, Kadıköy is to the Anatolian side of Istanbul what Taksim is to the European side. It is the most popular district and offers a lot of options to those who wish to spend a joyful day in the city.
Kadikoy has a mixed crowd of students, artists, old İstanbulites, famous people, and, of course, tourists.
It is an Istanbul cliché that people from the European side don't really like the Asian side, and vice versa. But lately, Kadıköy is appreciated a lot by the "Europeans" as well, mainly because they think the "old İstanbul culture" is better preserved there, as it is not (yet) invaded by foreigners as much as Beyoğlu is.
Kadıköy is full of art galleries, local and international restaurants, small pubs, luxury bars, Turkish tea joints, third-generation coffees, local markets, and so on…Fundamentally, you can spend a whole day there without getting bored.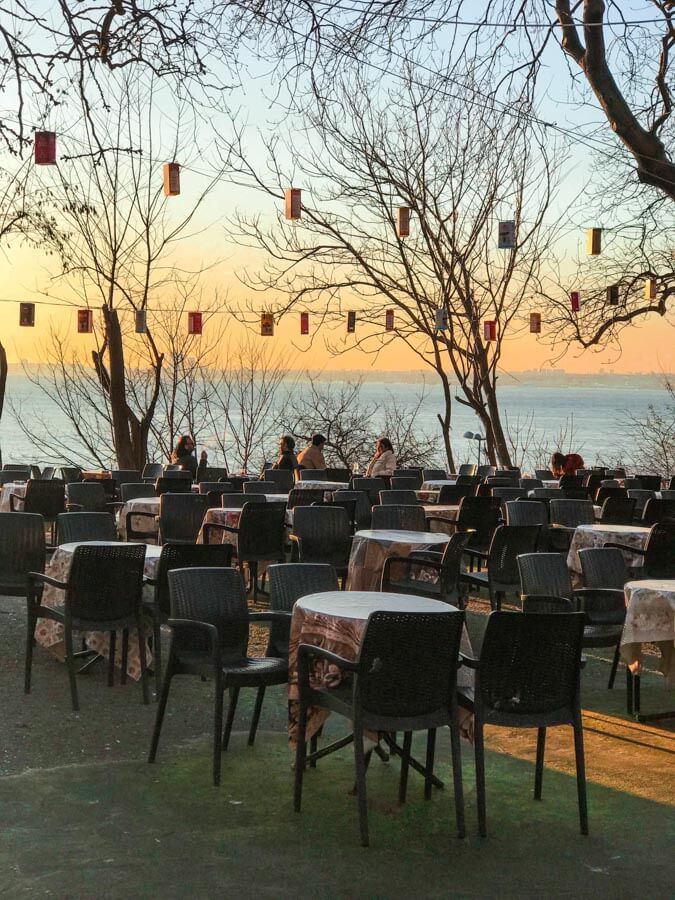 So whether you want to stay in a single place or explore the city a bit, Kadıköy would be a nice starting point.
2- Get Breakfast/Brunch at Kadikoy Local Cafe
As with my previous itinerary where I recommend you start a day in Istanbul with Turkish breakfast, here I recommend you do the same. Turkish breakfast is king and you can't leave without trying it!
Here is my top breakfast place recommendation while you are in Kadıköy:
Naga Putrika – Located in Moda (which I will talk about shortly), Naga Putrika is a famous place to have "serpme kahvaltı". A type of Turkish breakfast in which your table is filled with small plates including all kinds of local stuff – different types of cheeses, jams, olive oil, butter, Turkish sausages, and whatnot.
If you start your day early and want to have a Turkish kahvaltı experience, you cannot go wrong with this breakfast place. They serve breakfast all day long, so you can have it even in the afternoon if your plane arrives later.
In case you are not in the mood for a Turkish breakfast or if you arrive in the second half of the day, then I suggest you check out:
Ciğerci Hulusi – In a different part of the neighborhood there is this kebab place that is much celebrated amongst the locals. It's famous for its liver kebab. This might sound unpleasant to some, but if you are a meat eater, you should definitely try this.
Yanyalı Fehmi Lokantası – Another classic of Kadıköy, Yanyalı Fehmi is an old-school Turkish "lokanta" (diner) that serves some of the best examples of Ottoman cuisine. If you wish to try something truly authentic, you can visit this restaurant.
3- Relax at Moda Sahil (Kadıköy)
If you are not hungry anymore (or wish to skip the food experience for now), you can move on to Moda, which is a hipster neighborhood of Kadıköy, a couple of minutes of walking distance from Kadikoy's center.
Moda Sahili (Moda Coast) is where people from not just the Anatolian Side but all parts of Istanbul come to have some fresh air and relax by the sea.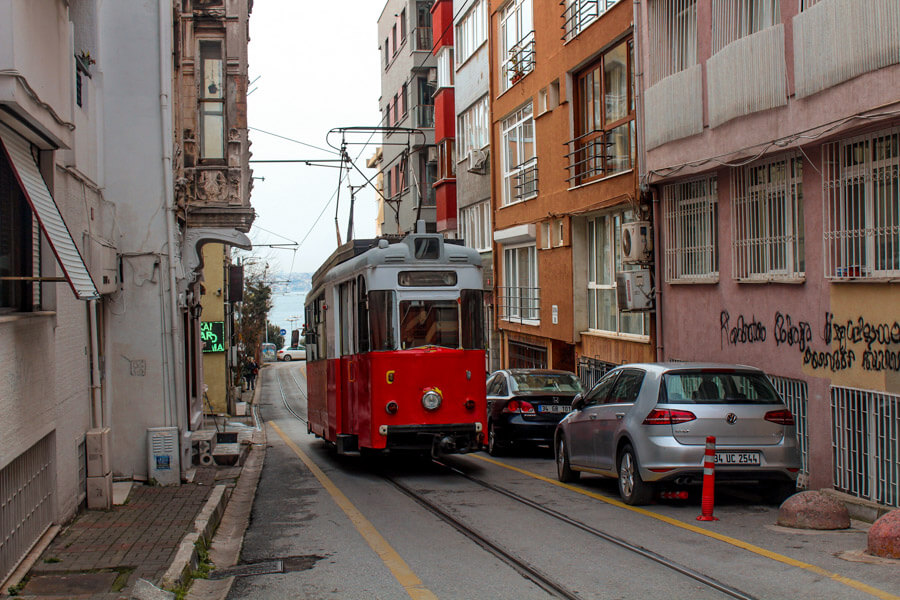 It is a so-to-speak upper-class neighborhood of Kadıköy with beautiful streets, chic restaurants and cafes, agreeable people, and a beautiful coast, which is also a public park that is called Moda Sahil. This park goes by the water and is one nice place for walking, people-watching, and photography.
It is so enjoyable just to walk through the streets of Moda popping into its cafes and small shops. You can grab a few drinks and/or snacks from a local market or any cafe that you like (there is a ton of them in Moda!) and just sit by the sea for an hour or so relaxing.
4- Explore Üsküdar
Kadıköy together with Moda can take all your day but if you want to see something else, then I recommend one of two options.
First one is to go to Üsküdar (and second is below as an alternative), one of the most famous historical neighborhoods of the city. This district is a cultural center of Istanbul (mainly for the conservatives) since the Ottoman times.
You can reach it by a quick ferry ride from Kadıköy or just take a cab and it will take you around 15 minutes to get there, provided there is no traffic situation.
Once in Uskudar, you can just get lost in the streets, sit at an old-school Turkish tea place by the sea, or visit some historical landmarks such as the Beylerbeyi Palace, which was used as a "summer house" by the Ottoman Sultan Mahmud the Second.
Another place worth a stop is the Mihrimah Sultan Mosque, made by the famous Architect Sinan, for the daughter of Suleiman Magnificent.
5- Visit the Maiden's Tower
While in Üsküdar, you cannot skip a visit to the Maiden's Tower, one of the most popular symbols of the city of Istanbul, and still a huge attraction not just for foreigners, but locals as well.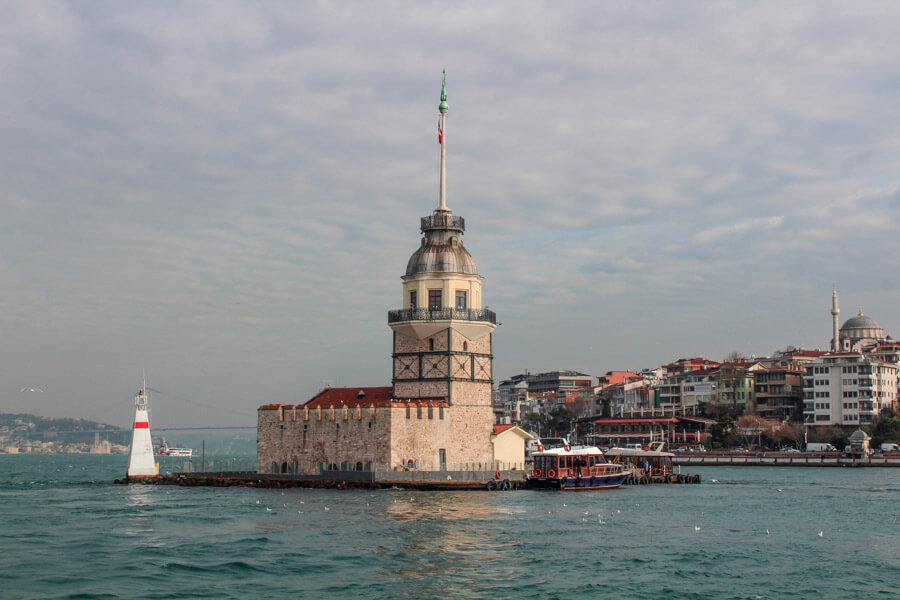 Recently renovated, this beautiful small tower in the middle of the Bosphorus is easy to reach with a small boat ride from Üsküdar. And there is also a restaurant there if you want to have lunch/dinner in an unparalleled atmosphere by the sea.
Read details about what you get and how to visit on the Tower's website.
ALTERNATIVE ROUTE: If you don't feel like going to Uskudar, you can always take a ferry from Kadikoy to Karakoy. And in Karakoy, follow tips from my 1 day Istanbul itinerary in the first section.
Then in Karakoy don't leave somewhere else but better explore Karakoy (as it is another vibrant and cool neighborhood) and on the way back hop on a ferry to Kadikoy around sunset time. In that case, you'll be able to watch a beautiful sunset over Istanbul!
And then in Kadikoy stop for dinner at:
Güneşin Sofrası Meyhane – (or if you have time earlier also try this restaurant) famous for a Turkish meyhane experience which includes some rakı, meze (Turkish tapas), and fresh seafood.
It is located in Kadıköy as well, and on top of delicious dishes, it has a lovely atmosphere, reminiscent of an old Greek tavern.
---
TOURS TO JOIN IF YOU HAVE ONLY 1 DAY IN ISTANBUL FROM SABIHA GOKCEN AIRPORT
---
6- Return to Sabiha Airport or Go to a Hotel for the Night
Finish your one day Istanbul visit at Kadikoy too as it makes it easy to hop on a bus there (in the area near the ferry terminal) and head back to the airport.
In case you are staying for the night, I recommend you choose accommodation in Kadikoy or Karakoy for an easy commute on the following morning.
Happy travels, enjoy your one day in Istanbul layover and if you need more help with building your customized itinerary, get in touch!
If You Have More Than 1 Day in Istanbul
If you landed here for the first time, let me tell you – I have a ton of posts about Istanbul (and Turkey) as I am living there for part of the year, and share my favorite tips!
So, if you will be visiting Istanbul for more than one day, check more neighborhood guides and things to do to know what else you can do in this city. And believe me, there is a lot to do!!!
Beyond Istanbul
More Itineraries for Travel in Europe & Middle East