8 Best Beach Destinations in Turkey From Istanbul for a Quick Trip
Last updated on August 21st, 2023
With a considerable number of incredible beach destinations in Turkey that are easily accessible from anywhere in the country, it would be a mistake not to visit at least one of them on your trip. Especially when the main city of your stay is Istanbul because from there you can fly anywhere in Turkey in a fraction of time.
If you are visiting Istanbul during the hot season (sometime from the end of spring to October) and want to hit the beach, consider one of these Turkey beach resort towns. Thanks to their favorable location and a good air connection with them, you can go there even on a day trip from Istanbul. Although let's be honest, one day is too little time. You'll regret you didn't book your stay for longer.
You'll notice throughout the post that among all Turkish beach destinations, I excluded some. And that's for a reason. You see, I visited many different corners of Turkey by the sea. Many of them are excellent for summer travel but not all are great if you have limited time in the country and spend most of your a few days in Istanbul.
This is why in this article I solely wanted to highlight those beach resorts that are perfect for visiting on a short trip from Istanbul particularly in summer or when the weather is hot. Others that didn't make this list are wonderful either for a longer vacation, during a stay in all-inclusive hotel, or outside the summer season. I mention which ones exactly at the end of this post.
Also, I have a separate post with lesser-known beautiful beach towns in Turkey in case you have more time and want to plan something special.
---
Please note: This post contains affiliate links. I may earn a commission if you make a purchase or booking by clicking a link (at no extra cost to you).
---
Best Beach Destinations in Turkey Near Istanbul
Below are a couple of my favorite beach destinations in Istanbul. I'd say that if you are visiting Istanbul for the first time in summer and look for a beach where to cool down on a hot day, these two options are excellent picks.
First of all because of the beach thing you also get to do some sightseeing and see two beautiful Istanbul districts.
Princess Islands – Best Beaches in Istanbul City for Swimming
Going to one of the Princess Islands is the easiest option for those who are looking for the best beaches in Istanbul and do not want to fly anywhere. And visiting this part of Istanbul from June to August is truly the best time.
The archipelago (which is transport-free) is the only one of its kind in Turkey where all visitors move around on foot or by bike.
All four islands have beautiful shores with some of the cleanest beaches in Istanbul. You can get to them by ferry on your own or as part of an excursion.
While there are no beach resorts on the islands, the number of boutique hotels that provide breakfast is high. However, with the proximity to Istanbul, you can really have a day trip to the islands and that will be enough to get an idea of it is like.
If you are looking for a mini beach vacation in Istanbul in summer and thinking to stay overnight on the Adalar as well as have access to many good restaurants and a variety of activities, then choose the largest Buyukada island. But if you prefer a quieter island with clean and not crowded beaches, then go to Heybeliada or the romantic island Burgazadasi.
Ride bikes around the islands, try fish sandwiches and enjoy the beaches, they are really the best in Istanbul.
Sile – Nice Beaches in Istanbul on the Black Sea Coast
Okay, alright, I'll admit it. There are many nice swimming beaches in Istanbul great for a day trip. But especially beautiful are those in the north on the Black Sea coast. They are located at distances that you can reach in a couple of hours as if you were going to work. (Well, it was taking me often two hours one way to get to my work in Los Angeles when I lived there.)
So don't worry, if you are limited in time but still want to go to the beach in Istanbul, you can do it right in the city. There is no need to go to the Aegean or Mediterranean sea in order to swim, sunbathe and enjoy the summer. Just go to the Black Sea!
Among all beaches on the Black Sea coast, my favorite ones are probably in Sile. They spread over an area of ​​60 kilometers, some of them earned a blue flag, and there is one sandy beach of about 10 kilometers long. So the choice is big.
Some of the beaches that are worth mentioning are Uzunkum Beach, Ayazma Beach, Ağlayankaya Beach, and Kumbaba Beach. Ayazma, a public beach, has a blue flag as well as it is a natural protected area. The water of the sea is blue and clear.
Since it is a public beach, the entrance is free which makes it one of the most popular beaches in Istanbul for a weekend trip. This is why it always gets crowded and noisy. Thus be sure to visit either during the week or come early on weekend to reserve a spot. You can also rent a sunbed here with umbrella.
The best way to reach Sile is by car. The distance is 60 kilometers from Istanbul center which you can cover by car within 45 minutes. With public transportation, buses to Sile depart from Üsküdar on the Asian side of Istanbul.
TIP: Do you need tips on where to rent a car? I rent only through LocalRent or DisocverCars. For more details, read my post about what to know before hiring a car in Istanbul.
Incredible Turkey Beach Resorts Easy to Reach From Istanbul
Thanks to air travel, which is very popular and well developed in Turkey, you can even have a beach day trip from Istanbul and come back the next morning. Although for an eventful trip, it is much better to plan at least 2 full days (1 night) at one of these destinations. The longer the better, you'll understand that on spot!
I know many people who live in Istanbul who travel to one of these beach destinations just for a weekend. Like some of my friends. They like to leave on Friday afternoon after work and return on Sunday night. You can plan the same (but go during the week instead to avoid crowds) and be ready to have your days packed with activities since there is a ton of things to do!
And here are my top ideas for where to go:
Marmaris – Quick All-Inclusive Nature Escape from Istanbul to the Aegean Sea
Marmaris is a classic Turkish resort town with very nice all-inclusive hotels and B&Bs which is very easy and quick to reach from Istanbul. Although it is much more interesting than Antalya or Alanya for example. In summer, it is also not as hot and if you are short on time, it represents a much better opportunity for a beach holiday from Istanbul.
The nearest to Marmaris airport is in Dalaman. Getting there is possible by a direct flight with Turkish Airlines or low-cost Pegasus. The flight lasts around one hour and is on schedule throughout the day many times. So if planned ahead of time, it is easy enough to leave very early and return late at night and have such a beach day trip from Istanbul.
Flying to Marmaris is worth not only for beaches and all-inclusive stays but also for nature and nightlife. Compared to Bodrum it is much, much calmer but every year it grows more.
Best beaches of Marmaris are situated in Icmeler and Siteler outside the city, reaching them is possible by dolmush (shared taxi), cab, or by car if you decide to rent it.
And once there, do not also miss interesting excursions from Marmaris of the Dalyan Delta and a boat trip around Marmaris Bay for blue water and beautiful coves.
For a nice hotel by the beach in Marmaris town on a mid-budget, I can recommend Emre Beach Hotel and 8 Oda Marmaris. While the first one is all-inclusive by the beach, the second hotel is in a family-run style, a traditional Turkish B&B. It has lovely sea views, situated in the old part of Marmaris and is only within a short walk to the beach.
And then if you want to explore beyond Marmaris, I recommend you not to miss Dalyan town with its diverse ecosystem.
Bodrum – Luxurious Beach Trip From Istanbul to the Aegean Sea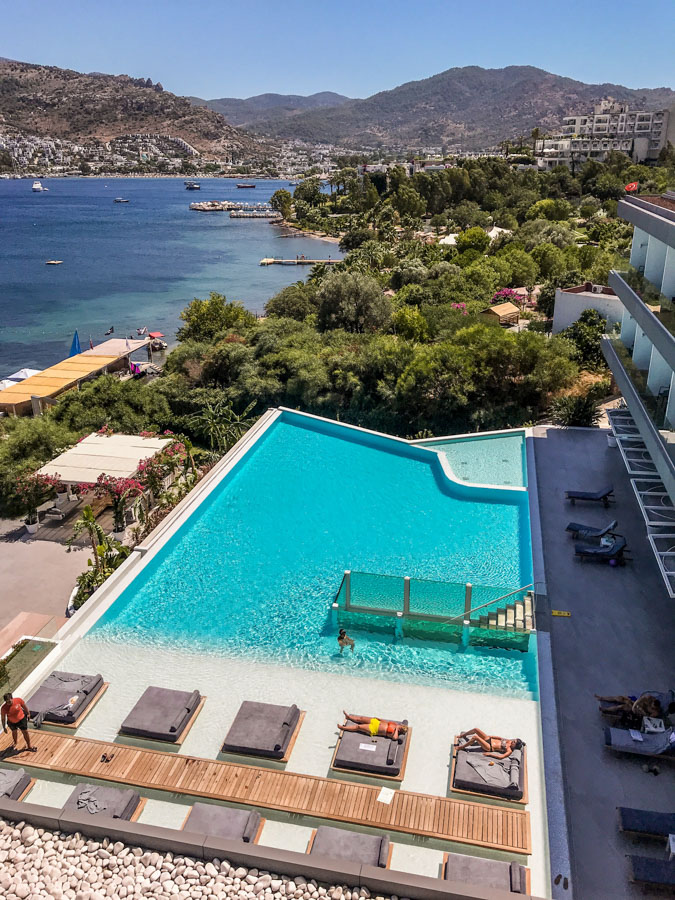 Bodrum is the most popular resort town on the western coast of the Aegean Sea in Turkey which makes a perfect weekend trip from Istanbul. One of my Turkish friends who lives near the Sabiha Gokcen airport often goes there for a day (I am not joking) to her summer house because flying to Bodrum takes less time than commuting to her work on the European side of Istanbul.
So yes, you can easily arrange a spontaneous trip to Bodrum from Istanbul if not for a day (I personally believe that's not enough time), then for two.
Bodrum is beautiful and luxurious, it has incredible beaches, fantastic sunsets, and coves where to swim in blue water. It will attract you not only with a comfortable beach holiday but also with a high historical and architectural significance.
Bodrum has many ancient architectural monuments such as fortresses, castles, reservoirs, and windmills. Most of them with majestic snow-white facades belong to the Greek architectural style and often on the peninsula you feel like visiting Greece rather than Turkey. Because the appearance in many ways is reminiscent of some Greek islands, which are very close to sail to.
Compared to other beach destinations in Turkey, Bodrum is considered one of the most expensive ones. It attracts many celebrities, politicians, athletes and the elite who are frequent guests there. Yet, at the same time, you can find a variety of hotels in Bodrum – from luxurious fives to apartments that don't cost a fortune.
I spent a lot of time in Bodrum and know the peninsula very well. If you need tips on the best hotels, feel free to send me a message and let me know what you look for. I'll help you find the best property for your needs!
Does my content help you plan your trip? If yes, I'll appreciate a cup of coffee from you, so I could produce more free guides and itineraries!
Oludeniz – Most Beautiful Beaches on Turkey Turquoise Coast
Another beach destination in Turkey well worth a trip if you'd like to add a beach day to your Istanbul itinerary. Reaching it is quick and easy and due to its small size, Oludeniz is a perfect spot for a short-term visit.
Oludeniz is a stunning resort village in the province of Mugla not far from Fethiye whose beauty is not inferior to Marmaris or Bodrum. It is famous primarily for the blue lagoon, which you can often see on many postcards and advertisements of Turkey.
In addition to the fantastic sea and mountains, this place is famous for its paragliding flights over the lagoon and for the Butterfly Valley, one of the most beautiful bays of Turkey.
To get the most out of your trip to Oludeniz from Istanbul, I recommend you fly to Dalaman, rent a car (don't forget to read my other post about car hire in Turkey here), and drive to Oludeniz.
In this case, you'll be able to see some stunning places on this drive. Feel free to glean some ideas from my post about Fethiye to Pamukkale road trip where I mention stops on the stretch between Dalaman and Oludeniz.
If you choose this route, it will give you a chance to see a bit of the Torquise coast together with the beach getaway. Otherwise, if you do not want to rent a car, you can order a transfer from Dalaman airport to Oludeniz.
As for the hotel, for a very exclusive and unique stay, choose Oludeniz Loft (adults only) or La Boutique Maya hotel.
Kas – Most Romantic Beach Town on the Mediterranean Sea
Kas is a real gem among beach destinations in Turkey that will never go old. Local beaches and peninsulas there are reminiscent of Greek villages. And not far from it is perhaps the most picturesque beach in Turkey – Kaputash beach.
From the fate of other cities on the Turkish Riviera, built up with huge chain hotels and crowded with tourists, Kas has never had a "successful" location from the point of view of mass tourism. First of all, it is located 180 km from the Dalaman airport and 192 km from the Antalya airport. Second, the lack of sandy beaches makes it practically unsuitable for families with small children.
Yet, it is one of the most charming places to visit in Turkey. And that's because of the white houses that sit on the rocky ledges of the mountains surrounded by lush greenery and diluted with bright pink spots of blooming bougainvilleas and hibiscus.
While beaches here are for the most part rocky, the sea is amazingly clean and transparent. In fact, it is considered some of the cleanest sea in Turkey.
Kas is part of the province of Antalya, but getting to it is a bit closer from Dalaman. So as with Oludeniz, you can just fly to Dalaman, rent a car there and drive towards Kas turning it into a road trip along the Turquoise Coast.
And then if there are a few spare days, plan to check beaches of both Oludeniz and Kas together along with ancient ruins of Roman cities. Make sure to use my other post about Fethiye to Antalya road trip to plan this drive and not miss some important sights.
Kas is also known for having many beautiful hotels perfect for romantic getaways such as part of honeymoon to Turkey. If you need a recommendation for where to stay in Kas on a beach trip from Istanbul, take a look at the street where Rhapsody boutique hotel is located. This area is excellent for people who come to party and hang out at the beach.
For more secluded stays, the peninsula is a much better choice, particularly that area where property Marsala and Lukka Exclusive hotels are located.
Izmir – Trip From Istanbul to the Beach & Ancient World
Izmir is another city on the sea which is very easy to visit in summer from Istanbul if you'd love to hit the beach. But as with previous destinations, it is preferable to devote at least 2 full days (1 night) there.
Izmir is Turkey's most secular and liberal city located on the Aegean Sea with cooler weather and water. Its best beaches are situated outside the city in the region of Seferihisar (in the south) and Cesme (west).
For those who plan a short trip from Istanbul to Izmir to have a beach getaway, I recommend heading straight to Cesme or to one of the villages to have a nice beach vacation. Some of my favorite villages are Ildir, Alacati, and Sigacik. All of them are full of hotels, nice upscale resorts, and guest houses. Also, they all have great beaches and picturesque bays.
This part of Turkey is very popular among British and German tourists as well as Turkish people from all over the country. You won't find here loud noisy nightlife and tourists from all over the world. It is a perfect beach destination for families with kids, older couples, and those who appreciate tranquility together with a quiet environment.
The flight from Istanbul is a bit longer than one hour and often costs less than what you'd pay for a meal in many countries around Europe.
Getting from Izmir airport to one of these places is a long journey, so to save time, it will be more efficient to arrange a transfer or rent a car instead of using a public bus. Especially if you are visiting from Istanbul on a day or weekend trip.
Kusadasi – Incredible Sand Beaches on the Aegean Sea
The port town of Kusadasi on the Aegean coast is another wonderful beach destination in Turkey from Istanbul if you have more than one day to spend there. You can fly to Izmir airport and from there in about 1 hour to reach Kusadasi by car or private transfer. Since the road may take half a day to travel from Istanbul, it is much better to plan a couple of days on the Kusadasi coast or possibly more.
This small but cute Turkish city started as a fishing village but grew into a fashionable resort with excellent hotel complexes of various "star" ratings, elite restaurants, and cool nightclubs. And all because Kusadasi today is a cruise port, cruise liners of different sizes and beauty moor to its piers every day in summer.
Exactly from here, it is close to the ancient city-museum of Ephesus. So just in 30 minutes, you can plunge into the atmosphere of past times and visit a very different ancient world.
Kusadasi is famous for its gentle entrance to the sea and nice sandy shore, hence it is suitable for families with little children. There is also a large selection of hotels from 3 to 5 stars with most of them being all-inclusive. In addition, unlike the same Antalya or Kemer, the humidity here is low and the heat is easier to bear which makes it an excellent beach resort for summer travel.
Additionally to the beach vacation, there are many other things to do here. You can fly with a parachute, ride with the breeze on motor boats and jet skis, visit the water park, have fun at the night disco, visit nearby ancient sites, and also go on an unforgettable sea voyage on a yacht.
If you are thinking to come to Kusadasi on a quick getaway from Istanbul, choose a hotel in the northern part of the city on the stretch between Club Marvy and Charisma Deluxe hotel. In this case, you'll save time on the road to the resort.
Why I Don't Include Other Beach Destinations in Turkey on This List
There are many more beach destinations in Turkey that are worth a visit. For example, Antalya region with many of its wonderful resorts, Alanya, Mersin, and pretty much the entire Mediterranean coast full of many cute towns and villages. Many lakes in Turkey also have a beach season in the summer and many Turkish tourists flock there for a few days.
Yet, I don't recommend them. Why? Because first of all, the Mediterranean coast in July and August is unbearably hot.
Second, you'd need more time to spend on reaching your final destination.
And third, there is just so much in the area, that it is worth going for at least a few days, possibly hiring a car in one of the southern cities, going on a tour, visiting a village, and just getting to know the area which is rich in attractions.
If you plan a long vacation in Turkey in summer (with at least 2 weeks of time), then plan to add to your itinerary the southern region (I cover it in my post about 7 to 10 days in Turkey itineraries) and at least one of these quiet beach destinations.
Otherwise, if the main city of travel is Istanbul and you look to go on a short journey to a beach nearby, choose one of the places on my list. You won't regret it!