15 Cheapest Countries to Live in Europe – With $1000/Month For Two (Or Even Less)
Last Updated September, 2021
What are the cheapest countries to live in Europe and enjoy your life? Let's find out! I have compiled a list of fifteen beautiful places where to live as a remote worker, freelancer, digital nomad, or retiree. I visited all these countries myself, lived in half of them, and honestly talk about the pros and cons of each.
Europe is not always prohibitively expensive. In fact, some places in Europe can be as cheap as many famous destinations in Southeast Asia. You just need to know where to go.
Since the moment we left the US and started to work online, we have been chasing opportunities to live in different places around the world as digital nomads. We would just pick one country and go there for an indefinite period of time. Sometimes we'd stay for a month, sometimes for 3, some other times for 6 months.
With corona, we had to slow down (obviously) and change our lifestyle, so we decided to make two bases in two countries from this list and live between them. And maybe one day we will return to live in other places as well.
While today our own budget is higher than $1000 per month, we lived with less than that on quite a few occasions. A lot of our friends didn't believe we were able to stay long-term in different parts of Europe spending that much. But it is possible and I want to show it to you.
So this post is for everyone who is looking to change the routine and move abroad. Life in Europe on a tight budget is possible.
NOTE: All prices and expenses are in US dollars for two people. I base this post on our personal experience and prices (for accommodation) I find online through agencies and various booking websites. I know, there are various sites (like Expatistan or Numbeo) that calculate the cost of living in different countries around the world. But to be honest, I don't like to use them. The estimate they provide takes into account only basic (survival mode) living expenses.
Here We Are. The Top 15 Cheapest Countries to Live in Europe
Best Cheap Countries to Live in Europe Outside the EU
1. UKRAINE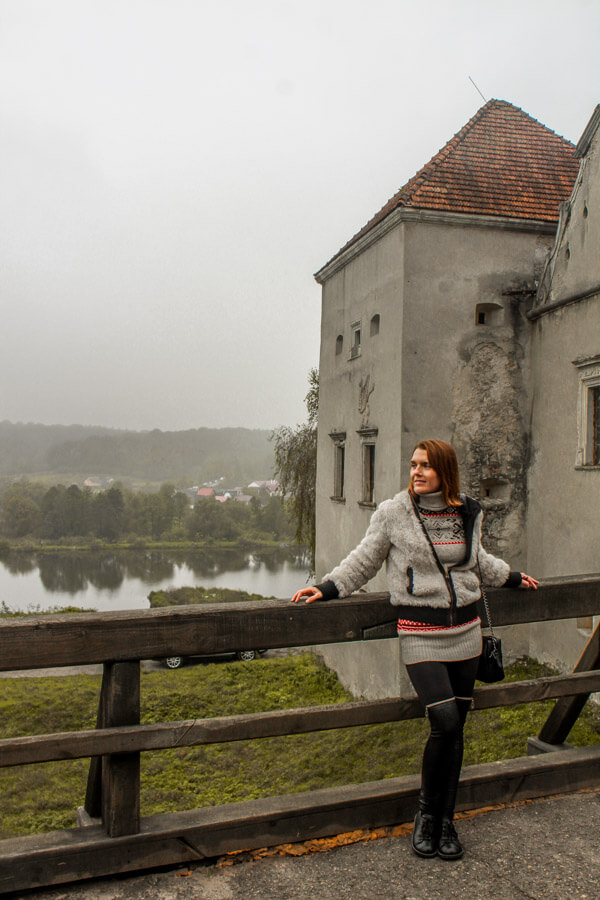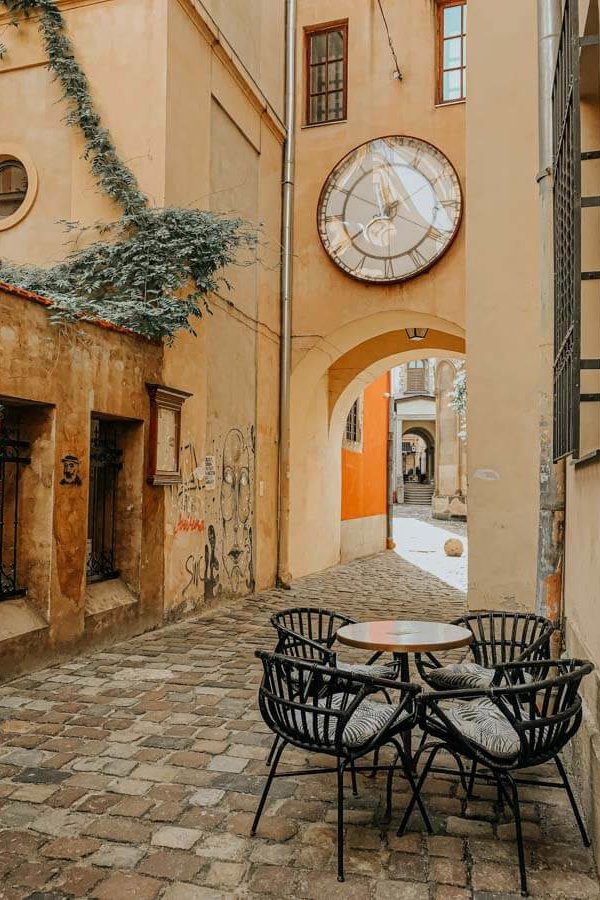 Let me start this list with my home country. It is not only the least expensive place to live in Europe but also a safe place with tons of activities. Besides that, you can definitely expect a high standard of living there.
If you look up the results of a study conducted by Numbeo, for many years in a row Ukraine together with Pakistan and Egypt is first on the list of the cheapest countries to live in the world.
A lot of Ukrainians are not too happy with their country, and every third, according to many surveys thinks about emigration. People always think that grass is greener somewhere else, not appreciating what they have. That's how I was like before moving to the US and then 10 more countries. But after traveling around the world and living all over the place, I realized that Ukraine is not only an affordable but very nice place to live in Europe.
You can settle in one of 15 amazing cities, start a business, or just live as a remote worker. Ukrainian food is diverse and rich, nature is abundant, people are welcoming, and there are tons of opportunities for personal development and growth.
People who work online should know that Ukraine offers the cheapest Internet and mobile service, so it is really a cool destination for digital nomads. Oh, and it is also one of the safest countries to live in Europe for foreigners, although the media often tries to present a bit different picture.
Monthly Budget For Two People
Based on my experience and the experience of my friends and relatives, you can live in Ukraine for under $850 (€670) per month. It will be more difficult in Kyiv, Lviv, or Odesa (yet possible) but in other less-popular cities among foreigners, it is definitely realistic.
Like in my hometown Khmelnytskyi you can rent a new nicely furnished apartment for $200 per month. In fact, to tell you a secret, I am now thinking to rent out my 1-bedroom flat (everything is new, has a large kitchen and sauna on the loggia), and my broker told me that the maximum price I can ask for is $250 per month. But there are many other more basic and simple flats that cost even less.
For food, you should budget at least $300 per month for two people. This amount will be enough for home and restaurant eating. Another amount of $300 will cover utilities, entertainment, medical checkups, buying clothes, or/and occasional travel.
Interested in Coming to Live in Ukraine? Learn More About This Country Through Some of My Posts:
2. TURKEY
Turkey, my favorite country of all (and my second home), is also on the list of the cheapest countries to live in Europe. And I am not the only one who is going to tell you that. It is a place where you can find a low cost of living together with a good quality of life.
Those who have been to Turkey once, always return in the future. Many people who work remotely or look to retire soon (especially those from Eastern Europe, Germany, and the UK) purchase homes in Turkey and make a base there. And it is no coincidence that the majority choose this destination. There are a lot of advantages to living in Turkey!
Amazing climate, affordable food, great attitude of local people towards foreigners, picturesque nature, and of course the crystal-clear warm sea with incredible sunsets make it an almost perfect place to be. On the Mediterranean coast in some cities, there are already separate areas where only foreigners live. They have their foreign churches, shops with familiar products, clinics with English speaking staff, etc. That is, there will be no problems with adaptation.
Another advantage is the high level of healthcare. Retirees will be able to apply for medical insurance and receive all the necessary assistance for it, including even complex treatment. Younger people can also purchase insurance or pay out of pocket, prices for medical services are very reasonable.
The cost of real estate in Turkey is low. But the level of comfort of houses, the quality of construction is high. If you have funds, you can purchase a comfortable 1-2 bedroom apartment at a price of 40-45 thousand dollars. With that, a residence permit is given when buying any real estate.
In fact, Turkey is the easiest European country to get residency, and purchasing real estate is not the only requirement for that. You can apply for a short-term (1 year) residency based on the income (at least $500 a month) and apartment lease.
Monthly Budget For a Couple
Depending on where exactly you want to live, your budget may differ. There are a lot of cheap cities in Turkey (near the sea and more inland) where you can find an apartment for the long-term for $200-$250 per month. Food and entertainment will cost you $300-$350 per month (that's the minimum you need to budget).
Shopping is ridiculously cheap and you can really afford to buy anything you need. What is expensive that's the electronics and mobile services.
Of course the more money you have, the more you'll afford (as anywhere else). But overall, Turkey is really one of the most affordable European countries to live in. Even in Istanbul, which is not that cheap, you can still live on a budget.
Interested in Living in Turkey? I Definitely Understand Why! See some of my posts about this country (I have tons of them):
3. MONTENEGRO
If you are a nature lover, you are going to love Montenegro. This tiny country is one of the most affordable places to live in Europe for digital nomads and retirees, especially those who enjoy spending time outdoors. Montenegro has an amazingly beautiful coastline as well as incredibly stunning mountains, five national parks with hundreds of stunning hikes, lakes, canyons, rivers, and even fjords.
It is currently a very popular cheap summer destination in Europe with millions of visitors per year (pre-covid). Many people from Eastern Europe (especially Russia and Ukraine) escape the cold and fly to Montenegro to spend the winter. It only takes 2-3 hours to fly from countries such as Austria, Switzerland or Italy and 3-4 hours from the UK.
Montenegro uses the euro, even though it is not part of the European Union. Given its excellent location and stunning views, Montenegro remains fairly affordable. The country was part of the former Yugoslavia and still has a lot of room for development in terms of infrastructure.
Monthly Budget For Two People
Mark and I lived in Montenegro spending between $850-$1000 (€700-€815) per month, including apartment rent, car rent (see my tips to the cheap car hire in Montenegro), food, and some basic healthcare. We didn't really spend money on entertainment since we were always hanging out outdoors. On some months, our expenses were lower, on other higher. In the fall, when chasing the foliage, we could spend extra on travels around the country which included additional accommodation and fuel costs.
But because of extensive travel and frequent eating out, we were spending more than a thousand. Otherwise, we could have easily spent less than that.
Since Montenegro depends on tourists, prices tend to rise during the summer months and anywhere near the sea. So if you plan to come to live there for a longer period of time, keep in mind that the price of a flat may be higher in the summer. You have to negotiate this part in advance.
Those who plan to live in Montenegro long term can find apartments for rent for $300-$350 per month in cities such as Ulcinj, Bar, Sutomore, and even in Budva but farther from the sea. To secure this price, you need to work with a broker.
Interested in Living in Montenegro? See also:
4. ALBANIA
According to various resources, Albania has the lowest cost of living in Europe (although the locals are unlikely to agree with this). This small southern European country is a great budget alternative to Greece or Italy.
The ancient architecture and rich cultural heritage stem from the close contacts of the ancestors of the modern Albanians with the civilizations of Greece and Rome, the Ottoman, Austro-Hungarian, and Roman empires. So you can be sure that you'll have access to plenty of activities at any time of the year.
Albania has many historical sites and attractions and there are so many things to do. In addition, there are several stunning beaches along the Ionian and Adriatic seas and incredibly beautiful mountains in the north of the country.
The official currency of Albania is lek which has quite an attractive exchange rate.
One of the reasons I believe Albania is among the best countries for Americans to move to is a generous visa allowance. Americans (as nationals of many other countries) can enter Albania for a period of 365 days a year on a visa-exempt status. Bonus.
If you are a digital nomad or a remote worker who wants to live in Europe on a budget, consider Albania. It is really cheap, offers as much as nearby Greece but where you can live a minimum of a year, isn't it amazing? And if you want, you can always fly to any other country in Europe knowing that there is a home in Albania to return to.
NOTE: Albania is a Muslim country, although pretty liberal.
Monthly Budget For a Couple
Albania as Montenegro depends on tourism and seasons. From May to October, prices for accommodation in cities on the coast are much higher.
Anyone on a tight budget should search for an apartment through an agency. For the best deal, try to look for flats in Vlore, Dhermi, Himare, and the outskirts of Sarande. The capital of Albania Tirana is quite cheap too since it is located away from the sea.
If having an agent to help you, expect to pay $200-$250 (€165-€205) per month for a one-bedroom basic flat. Something nicer will cost more.
Groceries and dining out go for about $250-$300 per month for two. Car rentals are incredibly cheap and you can hire a car for the entire month for about $100-$150.
We were checking out Albania during that year when we lived in Montenegro and noticed that it was more affordable. So you can definitely expect to pay less than $1000 per month for two people and have a high standard of living.
5. BOSNIA & HERZEGOVINA
By European standards, all the states formed after the collapse of Yugoslavia are cheap places to live in Europe. Bosnia is no exception. Due to the split of the republic, Bosnia has some economic and geopolitical problems but the situation inside is calm and stable. And until this day, this place is so cheap.
On the one hand, finding a job in local companies will be difficult without knowing the language. On the other hand, grocery and housing prices make it an option for freelancers or remote workers.
As a holiday destination, Bosnia and Herzegovina is best known for hikers and snowboarders. But the country also has access to the Adriatic Sea with excellent beaches. If you wish, you can always travel to neighboring Montenegro or Croatia, although I bet Bosnia has enough to keep you busy too.
The country has preserved a lot of monuments from antiquity, the Middle Ages, the Ottoman and Austro-Hungarian periods. So you can be sure you won't be bored there.
Monthly Budget For Two People
When we were in Bosnia, we were surprised to find many nice apartments for rent (on Airbnb) for about $350-$400 per month. Even Sarajevo as the capital had a wide range of cheap flats on offer. Compared to other capital cities in Europe, Sarajevo was probably the cheapest one.
For remote work, you may want to choose Mostar instead of Sarajevo. And the reason is not behind the prices. Mostar is a small city with a beautiful landscape and a slow pace of life. It is also very close to the sea.
Prices are more democratic, although the choice of flats is smaller. One-room apartment in the center will cost $200-$250. Prices for food in grocery stores are about the same but restaurant food is more expensive in Mostar since this is a touristy city. We were spending $8-$10 a day on food for both of us. Some days (if eating out) it was more but on days when cooking at home much less. But on average, our daily spendings were around 8 dollars.
Interested in coming to spend a few months in Bosnia & Herzegovina? Some of my posts can be helpful:
6. SERBIA
Here is another best cheap place to live in Europe if you are looking to explore the Balkans. However, there is one thing to know.
Many people, when checking the map of the Balkanas, think that all countries of former Yugoslavia are equally attractive to emigrate to. Low prices, a mild climate, similar cultures, and food create a picture that Balkan countries are all alike.
When in reality, there is a significant difference between them. Some countries have successfully emerged from the crisis of the 1990s, while others have been less fortunate and fell behind. Life in these less fortunate countries differs in the level of comfort and safety. Serbia is one of those countries. Together with neighboring Croatia, it has the slowest economic growth.
Before the fall of Yugoslavia, Serbia was one of the richest republics of the union. After the war, in the first half of the 2000s, Belgrade has managed to maintain its political leadership in the international arena. But the economy was not so good. Currently, living standards in Serbia are worse than in Croatia, Slovenia, and Montenegro.
Yet, Serbia is still beautiful in its own way thanks to its pristine nature and calm rhythm of life.
If you don't plan to move to Serbia to work for a local company and have income from outside the country, you can have a quite comfortable life. And it's definitely cheaper than in Montenegro or Albania mentioned above.
Belgrade is an inexpensive European capital but living in Novi Sad, Pancevo or Subotica is much more affordable.
Monthly Budget For Two People
For comparison, renting a one-room apartment in the center of Novi Sad (the second largest and most important city) is $185-$250 (€150-€200) per month. In Belgrade, the same apartment will be 2 times more expensive. About 10 years ago, housing in Croatia and Slovenia jumped sharply in price. This did not happen in Serbia helping real estate in this country to become the cheapest in the Balkans.
When we were in Serbia, I noticed how similar prices there were to prices in Ukraine. And not much changed today. Food prices in Belgrade are almost the same as in Kyiv. Fruits, vegetables, dairy products, beer are cheaper, meat and eggs are a little more expensive. Overall, you can live comfortably even in Belgrade with less than $1000 per month.
If you have a remote job that pays you well, you can live well in Serbia. The cost of living in this country creates excellent conditions for permanent residence.
7. GEORGIA
I am personally convinced that Georgia is a perfect country for digital nomads and freelancers. Not Indonesia, Thailand, or Mexico but Georgia. We are spending a few months a year there and I understand many advantages of this place.
Georgia is really a very cheap country in Europe with awesome food, inexpensive accommodation, mindblowing mountains, healing beaches, no visa (you can come and live year-round), inexpensive flights all over the world, nice people, multiple opportunities to open businesses and pay low taxes. On top of that, nature is amazing, the mountains are a short drive away, there are hundreds of funky bars, wineries, beautiful architecture, scenic drives, and overall interesting things to do. I can really go on and on and sing praise to Georgia.
If you are just starting to work remotely and want hustle free life, I recommend you to come to Tbilisi. There, you'll be able to take it slower, create a routine not worrying about the visa or legal status in the country, work, and just enjoy life.
The expat community is huge (and keeps growing), wifi is pretty decent, and if you like the country, there are ways to apply for citizenship.
Monthly Budget For a Couple
Without putting too much effort, it is pretty easy to find a flat in Tbilisi (even on Airbnb) at a very low price. We were renting a luxurious 1-bedroom apartment in a good safe area for $400 (€325) per month. But there were so many other cheaper options.
To this day when we talk with Mark about all our digital nomad years, both of us agree that Georgia has the best choice of apartments at the cheapest price. You can literally have everything you need (including some unique devices and kitchen supplies) paying only a few hundred dollars (or euros) per month. For other costs, I recommend you to read my post about life in Tbilisi. I devoted the entire section to the cost of living in this city.
But if I had to answer shortly, I'd say that for about $860-$920 (€700-€750) per month you can have a very good life in Georgia as a couple. You won't live in luxury but that's enough money to afford everything you need (including healthcare, barbershops, occasional travel in a rental car, etc.).
Interested in Moving to Georgia in the Caucasus? Find Out Inspiration in the Following Posts:
Cheapest EU Countries
8. LITHUANIA

As a matter of fact, Lithuania doesn't have the cheapest cost of living in Europe. Still, I decided to put it on the list as one of the more or less affordable countries. If you are interested to explore the Baltics or Scandinavia, Lithuania is a good reasonably priced base.
Why I believe it is a great destination for people who work online is for the following reasons: it has great internet, super tasty food, and a rather big English-speaking community. Those who choose to live in Vilnius will have easy access to anywhere in Europe. Traveling to Asia is expensive though.
In general, Vilnius is a cool city all year-round, even when winters are cold and humid. With the number of activities, there is always something to do.
The only drawback here is no opportunity to get a residence permit. Living in Europe on 90 days tourist visa is not very convenient. When you know you have only this much time, you may want to spend it in another country from this list and only visit Lithuania on a quick Europe city break.
Monthly Budget For Two People
If you decide to go live in Vilnius, you should budget at least $900-$1000 per month for two people. Kaunas and other popular among expats cities will be cheaper. The best way to find an apartment for the short term is through Airbnb. And prices for Airbnb flats in Vilnius start at $500 per month.
Lunch at an inexpensive restaurant is between $5.50 – $8.5 per person. Three-course lunch at a mid-range restaurant is $11.5-$19 (€9.50 – €15.50). A bottle of a local beer (0.5L) is around $1.2. Draft beer at a bar: $2.5-$3 (€2 – €2.50).
A medium cup of cappuccino: $2.5.
Interested to Move to Lithuania? Read my guide to Vilnius city to get inspired.
9. ROMANIA
Romania is another underrated country in Europe with a low cost of living. It offers great opportunities for expats or anyone who is working online. The country has delicious food, fairly affordable prices for living, and unrivaled natural beauty.
This Eastern European country also has cities for all tastes. Bucharest, its capital, is a cosmopolitan city with European standards and a Soviet past. Constanta on the coast is more easy-going and offers a laid-back lifestyle. If you love mountains and nature, Brasov or Sibiu are great options in the famous Transylvania region.
We lived in Brasov for 3 months and truly enjoyed our stay there. While this city and Romania as a country was not meant for us personally (simply because it doesn't differ much from Ukraine), I believe it is a wonderful choice for foreigners. Especially Americans who are looking to move to Europe.
Among the advantages of living in Romania, I can highlight the following.
First, as a full member of the European Union Romania does not use the euro currency. This helps reduce the cost of living. Also, this country is full of natural beauty and varied landscapes. It has plains to the east, the Carpathians in the North, and the Black Sea in the South. It is also very easy to get a residence permit in Romania even if you are not an EU citizen.
Among the disadvantages, you should remember the next. Romania has a very high level of corruption, well above EU standards. And you can experience it as a foreigner. Also to note, there are not many direct flights inside the country, however, its rail network is pretty good.
Monthly Budget For Two
The budget for two people in Romania starts at 600 euros to cover all the expenses. This, however, is the minimum and highly depends on where you live and the cities of your choice. Bucharest, the capital, is the most expensive (obviously). Areas in the north of the country are especially beautiful and cheap.
When we lived in Brasov, our monthly budget was around $1000 but we managed to spend slightly less. This amount also covered a car rental with a price of €185 ($225) for the entire month and our beautiful apartment with a view of the old town. For cars, I sincerely recommend you rent a car and explore the country in your own vehicle. There are so many amazing car hire deals in Romania, we found them through Discover Cars.
ONE THING TO MENTION: Romania has some of the best Internet in Europe and the entire world! When we lived there, we were really impressed to find high-speed internet (higher than 100 Mbit/s) in remote villages and in the middle of nowhere. So if you are working online, Romania will surprise you not only as the cheapest country to live in Europe but also as a place with the best superfast broadband internet connection.
Interested in Romania? See my post to get inspired:
10. BULGARIA
Like Romania and Ukraine mentioned above, Bulgaria is also the perfect combination of a charming coastline and beautiful mountains. Many foreigners who are living in Bulgaria say that it is one of the cheapest countries for expats and cheapest places to retire in Europe for those who prefer mild winters.
A lot of people find this destination attractive both in summer and winter. In summer you can enjoy the Black Sea on the coast. In winter, you can have quite an adventure if you love skiing. Bulgarian resorts are a really nice surprise both in quality and price.
If you are an EU citizen who is looking to move within the Union to cut the spendings, Bulgaria is a great choice. Registering your stay is pretty easy and straightforward. However, even non-EU citizens also have some opportunities to settle in a country for longer than 3 months. Since Bulgaria is still not in the Schengen area, it is not a target for migrants and refugees, thus it is much easier to stay legally in the country if you come from outside the EU.
While it is really one of the cheapest European countries to live in, the quality of life is not very high. Yes, Bulgaria is a full member of the European Union and yes, it has improved significantly in recent years.
Yet, let's be honest and admit the reality. Until this day, Bulgaria is the poorest member of the European Union. There is still a long road towards development in terms of infrastructure, living standards, and improving the situation with corruption. Also, Bulgaria has a problem with the quality of the air. Cities are still using coal and have the highest number of old diesel cars.
Monthly Budget For Two People
The monthly budget for a couple in Bulgaria will vary significantly depending on where you want to live.
Sofia, the capital, tends to have the most expensive properties, but they are still inexpensive compared to Western European standards. Even if booking on Airbnb in advance, you can still secure an apartment for about $500-$550 per month. When looking for a long term flat through an agent, expect to pay $350-$400 for the same type of apartment a bit away from the center.
In the countryside, you can find really cheap rentals, especially if you are looking for a house or small farm. The monthly budget in Bulgaria starts at $750 per month for two people. In order to have a comfortable living, expect to pay 800-1000 dollars.
The best cheap cities to live in Bulgaria are Plovdiv, Burgas, Varna (more expensive during the summer), and the favorite of many digital nomads the small mountainous town Bansko.
European Countries With Low Cost of Living And High Quality of Life
11. SLOVAKIA
The Slovak Republic is a landlocked country in the heart of Europe that has one of the fastest-growing economies in the European Union. Although it is a former socialist state, Slovakia has had an almost completely privatized market economy since independence. A relatively low cost of living and low taxes, coupled with a wide variety of activities and natural splendor, have made Slovakia an attractive choice for immigrants.
Slovakia is a beautiful cheap country to live in Europe, great for anyone who wants to live in the EU but intends to spend less than the average European Union resident spends. As for me, among all the cheapest European countries, it is the safest place to live.
Slovakia has a very good location, good connection with other European cities, and some people speak English very well. Another important factor is that Slovakia is not such an expensive country as Germany, France or nearby Austria. It is a low living cost country in Europe.
The low popularity of this destination among tourists even plays into the hands of those who do not like the countries of Central Europe overcrowded with travelers. There are enough interesting places and amazing landscapes in Slovakia and the High Tatras Mountains have so much to offer. In addition, the local population is not spoiled by tourists, so prices for everything are very democratic.
Many young people move to Slovakia on a student visa. It is not difficult to do if you prepare a small package of documents correctly. An important point is that in order to obtain a student visa and then to convert it into a residence permit, you need to become a student in one of the local universities. This is also not so difficult, education in most cases is free, and admission is without exams.
Monthly Budget For a Couple
The cost of living in Slovakia depends on the city/town you live in. Some parts are cheaper, some are more expensive. The cost of living in Bratislava is about the same as in Moscow, Russia and to live comfortably as a couple you may need to have at least €1000. As a matter of fact, Bratislava becomes more and more expensive each year. Since it is located not far from Vienna, a lot of people choose it as a base to cut expenses.
Definitely, it is possible to live with less than €1000 but if you plan to travel or/and study, budget more. A decent apartment in Bratislava will cost about €500.
When we lived in Poprad, we rented a beautiful 2-bedroom furnished apartment for $515 (€420) per month (this one through Airbnb). (If you like it, send a message to the host and ask about a monthly discount). But it was this expensive because of Airbnb.
Another $500 was enough for us to pay for food, transportation, hot springs, miscellaneous expenses, and even car hire on a few occasions. We traveled all over the country, hiked all over the place, and visited amazing resorts. If you don't travel as much as we, expect to spend less.
I have friends (a family of three) who live in Kosice for under $1000 a month. And then other friends, students, spend $300 per month (barely enough). So it all depends on your spendings and lifestyle.
12. POLAND
Poland is another country in Europe with a low cost of living (as for the EU) but a high quality of life. It has excellent infrastructure, decent wages, and excellent entertainment. And the best part for many people who are looking for a job is that Poland has a lot of jobs for foreigners and it is among the cheap countries to live in that speak English.
Warsaw, Krakow, Wroclaw, Lodz, Poznan, Gdansk are beautiful cities with a rich history and wide employment opportunities. Not knowing Polish is not a problem if you speak fluent English. Large world companies continue the expansion of Eastern Europe, so there is a demand for international specialists in the banking sector, finance, education, IT, and services.
Poland is part of the Schengen zone which means that if you secure a long-term visa (or residency), there will be no difficulties with traveling from East to West of the EU while on vacation.
Monthly Budget For Two People
You can find a nice apartment for $400-$500 near the center of Krakow, Katowice, and even Warsaw (but not on Airbnb, through a broker for a long term) with good infrastructure and transportation nearby.
On one occasion, when I had a round of interviews with a Polish company and thought about moving to Kielce, I found a big choice of 1-bedroom apartments there for rent for $200-$250. All of them had furniture and were in an excellent location.
Poland, like other cheap European countries, also has quite democratic prices for food in restaurants. But compared to other countries, here portions are much larger (almost as in America). Lunch can cost between $5-6, coffee – $1.5-2, beer – $2-2.5.
The bonus comes in the form of entertainment. Warsaw nightclubs, medieval architecture, castles, picturesque lakes, mountains as well as ski resorts, and even seaside beaches are endless.
Countries That Used to Be the Most Affordable Places to Live in Europe But That's Changing Now
13. PORTUGAL
Portugal is probably the most expensive country on the list of the cheapest countries to live in Europe. However, there are a number of factors that contribute to Portugal's good and affordable reputation. And you may want to try to live there even during a short period of time.
First of all, Portugal is famous for its unique coastline along the Atlantic Ocean, delicious seafood, and a laid-back atmosphere. It has one of the best climates in Europe and is usually warmer than the rest of the continent. During the summer, the ocean helps control temperatures, making the heat less intense than in the interior of Europe.
Life in this country is slow. Locals are very friendly, the healthcare is good. And the country is incredibly beautiful – there are historical sites and beaches, wineries and scenic drives.
Lisbon and Porto are very touristy cities that are quite expensive in terms of real estate and some activities. This is why when thinking about the cheapest cities to live in Europe, remember that Portugal's Lisbon and Porto are not that cheap anymore.
In recent years, Portugal has been gaining popularity quickly as a safe and amazing place. You'll find many posts on google where it is among the top ten European countries to live or retire. Therefore, prices are rising quickly, especially in the more famous cities and towns.
However, if you go outside Lisbon and Porto, you'll find smaller towns and villages where to live on the cheap.
Monthly Budget
Portugal is definitely not the cheapest country on this list. In recent years, it has been gaining popularity quickly as a safe and amazing place to visit or retire. Therefore, prices are rising especially in the more famous cities and towns.
The budget varies greatly when you compare Lisbon or Porto with other cities or towns. If you don't choose these two major cities and stick to smaller, less known ones, you would need at least $1000 per month for two people.
14. CZECH REPUBLIC
In terms of costs, the Czech Republic is not as budgetary as other cheap countries in Europe. But with successful employment, it provides stability, a high level of comfort, safety, and decent health care. There are in-demand professions for foreigners in the banking sector, IT, services, and tourism (it's coming back guys, coming back soon).
If you decide to make a base outside Prague, the country offers excellent real estate deals and a fairly low cost of living. The Czech Republic has many picturesque cities and towns, especially in Bohemia and in the Moravian region. You can find inexpensive housing in both those areas, as foreigners and Czechs prefer to move to Prague. Yet, it is inexpensive compared to Prague but higher than in other cheap destinations in Europe.
Among the advantages of living in this country is the location. Since Czechia is situated in the center of Europe, it's easy enough to get to any part of the continent. Although there are so beautiful places within the country that you may not want to leave. The standard of living in the Czech Republic is comparable to Germany but the cost is lower. It is also a great place for beer lovers, nightlife, and outdoor activities.
Monthly Budget
The monthly budget per person in the Czech Republic is one of the highest on the list of the cheapest countries. With about $1000 (800 euros) per month, you can cover all your basic costs but nothing extraordinary.
The cost of living in Prague is incredibly high these days. Renting a 1-bedroom furnished apartment in the center of Prague is around $850 (€700), in Brno – $615 (€500). Apartments for rent often come with only a kitchenette, refrigerator, and stove, but there are also fully furnished ones.
Lunch or dinner at the Vietnamese restaurant (the largest diaspora in the Czech Republic is the Vietnamese) will cost $6-$7.5 (€5-6), in an establishment with local food – $12-$15 (€10-€12). In Brno, $5-$6 (€4-5) and $8.5-$10 (€7-8) respectively. A mug of beer – $2-$2.5 (€1.5-2), coffee – $2.5-$3.5 (€2-3).
Transportation costs and eating out in Prague is quite expensive. If you have only $1000 (or less) per month, the best option would be to live in a less-popular Czech city or on the outskirts of Prague, eat mainly at home and try to stick to free or low-cost activities.
In smaller cities (Plzen, Ostrava, Liberec, Olomouc, Hradec Kralove, České Budějovice) prices are lower. They are no less charming in appearance, just smaller, with fewer activities and expats.
Want to Read More About the Czech Republic? See also:
15. SPAIN
Recently I was on the Numbeo website checking the top ten European countries to live in and saw Spain on the list of the cheapest countries to live in Western Europe. Well yes, countries in Western Europe such as France, Belgium, Luxemburg, Switzerland, part of Italy are pretty expensive, so when you compare Spain to them, it is not difficult to figure out that Spain is going to be the cheapest one.
So, in Western Europe, Spain is really the cheapest country (along with Portugal). But when you compare it to the rest of Europe, check prices for accommodation and take into consideration the fact that Spain attracts millions of tourists each year, you start seeing a totally different picture.
I remember the time when we could rent a beautiful flat in Southern Spain not far from the sea for about 200 euros a month. But those times have passed. Each year, real estate prices in Spain grow like mushrooms after the rain which in turn makes life in this country more expensive.
Prices for food, transportation, restaurants, and utilities are definitely cheaper than in France, UK, and the United States, for example. But they are more expensive than prices in Turkey, Albania, Ukraine, or Romania mentioned above. Accommodation prices are also higher.
When I see Barcelona, Valencia or Madrid on the lists of the cheapest European cities to live in, I really want to ask the author how many cities in Europe has he been to. These cities are cheap compared to Paris, London, and Munich but they are pretty expensive on a more global scale.
Monthly Budget For Two People
We lived in Barcelona and Santander (Northern Spain) and had to spend much more than $1000 per month. We also traveled along the southern and northern coasts, checked other 'touristy' cities, and noticed that prices were more or less similar.
I am not saying you won't be able to make it with less than $1000 per month but for a comfortable living, it's wise to budget more.
I have friends who are living with only $600 per month for one person. But they are living in a shared apartment, following a very basic diet, and don't travel. They are students and spend most of the time on education. Another friend is an English teacher in Tarragona. She makes around $800 per month and her accommodation is covered by the school. That's a totally different story when she is even able to save some money each month.
How much you have to spend on food in Spain depends on the region you are in and your preferences. Eco-products, lactose-free dairy, gluten-free goods, and soy meat are much more expensive than conventional products. Although seafood, fruits, olive oil, and vegetables are rather cheap.
If you eat without frills, expect to spend about $400-$450 for two with only occasional eating out.
Don't forget to add expenses for health insurance, transportation, and entertainment. Car hire in Spain is cheap (we rented a car for one month for less than €100, read about it here), so if there are two of you and you plan to travel, I highly recommend to rent a car instead of using public transportation (especially after we entered the world of the corona).
To cut costs, look into smaller towns and even villages. Also, places away from the coast are cheaper.
Read More About Spain:
Cheapest Places to Live in Europe That Speak English
Among all the countries on my list, the number one country to live in that speaks English is Poland. Lithuania, the Czech Republic, and Slovakia also have a big number of people who speak English but compared to Poland still fewer.
In Georgia (mainly Tbilisi and Batumi) a lot of young people speak very good English too but the older generation speaks Russian. In Balkan countries and Turkey, from my observation, a lot of people have English knowledge on the level of the first grader. It was easier to use Russian-Ukrainian-Polish to communicate with people in Serbia, Montenegro, and Bosnia than in English. However, in coastal cities that attract tourists, the number of English speakers is higher.
Ukrainian larger cities have English menus and signs in English, and people in large cities can speak English too. Bukovel resorts have English speaking staff, so you won't have any problem communicating there. Smaller cities and towns are the opposite.
Other Cheap Countries in Europe Where You May Not Want to Live
There are a few more cheap countries in Europe that I didn't include on this list. They are Belarus, Moldova, North Macedonia, and Kosovo.
While North Macedonia is a beautiful country to visit and stay in for some time, I am not sure how many people will be actually interested to live there. The expat community is very small, locals barely speak any English, Internet is average, and in summer it gets very, very hot. Ohrid lake is a good place to run away to but the majority in the summer travels to Albania and Montenegro.
Moldova is the cheapest country in Europe but the quality of life is pretty low. Also, Russian influence is huge and pro-Russian leaders constantly try to drive Moldova into international isolation.
And then Belarus. We visited this country last summer and I have even written two guides, singing praise to this country. I love the Belarusian approach to many things and have some friends from Minsk who are wonderful. But their self-proclaimed dictator President Lukashenko destabilizes the country and commands brutal security services that make people disappear. Belarus is an inexpensive place to live in Europe but is not a safe country for foreigners these days.
---
Are you looking to move to Europe as a digital nomad or remote worker? Did you live in any other cheap countries that are not on this list? Share in the comments!