9 Reasons Why You'll Want to Move to Vietnam
Last Updated April, 2020
You've probably heard hundreds of times why you should visit Vietnam. And perhaps you've already visited this historically rich country. Have you fell in love with it yet? We were really skeptical about people, living conditions and country in general before stepping on Vietnamese land. The last thing on our mind was a thought about a possibility to settle down anywhere here. Why would we even want to move to Vietnam, right?
The answers are simple and you'll find them below. Take a look at the list of reasons why to move to Vietnam to get inspired.
1. Cost of Living
I will start with this one because Cost of Living is probably one of the main elements that we, people, are looking at when thinking to move abroad. It's no news that living and traveling in Vietnam is very affordable. And it really is.
You can rent a good quality studio or one bedroom apartment anywhere here between 200-350 dollars. More spacious and luxurious flats will cost you more. Houses go between 500-800 dollars per month.
Saigon and Hanoi have slightly higher prices, but even there they are very reasonable. We have an entire post about the apartments we rented in Vietnam here.
When Mark and I were shopping for a place to live in Nha Trang, Dalat and Ho Chi Minh City we found many cool options.
For instance, we were checking out amazing two bedroom apartment on 40th floor with an ocean view for $550 per month, a studio in a newly built complex for $250 per month, an entire 3 bedroom house with garage and lawn for $500 (which we didn't need).
Travel around Vietnam is also cheap and has a lot of options for how to move around the country.
You definitely don't need to make one of the top ten salaries in the world to live comfortably in Vietnam. Food, accommodation, entertainment, gas and public transportation is so affordable that you will almost forget about such a thing as bills and payments.
2. Safety and Security
From our experience, Vietnam is one of the safest budget destinations to live in. And, economically it is very stable.
Vietnamese currency is strong thanks to stable macroeconomics and capital inflows. The economy continues to expand while the unemployment level goes down.
It also feels very safe to live in Vietnam when it comes to the environment and people's factor. Perhaps the reason lies in Buddhism religion, but Vietnamese are very amicable people who have compassion for others. They believe in Karma and are afraid to do harm to another person. You will feel very safe here.
3. Job Opportunities
Some people will say that there are not a lot of opportunities for expats in Vietnam if you don't speak Vietnamese. We personally found plenty of job options as Hotel Professionals, tour guides, tour agency salespeople, IT specialists and English teachers. With some of these jobs you will make really good money while saving and traveling at the same time.
If besides English you speak some other languages (in particular Russian, Mandarin or even Vietnamese) then there are even more opportunities for you.
4. Light Visa Requirements
Vietnam is one of the most relaxed countries when it comes to visa procedure and stay allowance.
Visitors from most countries are allowed to live in Vietnam completing their visa runs every three months. Of course, if you are traveling in and out of the country on a regular basis, you should have proof that you are not illegally working here.
Other than that entering and leaving Vietnam is easy. We met people who applied for one year visa, paying a few hundred dollars, and are living in Vietnam now while working remotely.
5. Climate
Vietnam is not like most other countries in South East Asia where it always gets hot and sticky. Because of Vietnam's stretching length and different climate zones you can comfortably live and travel within the country any time of the year.
North of Vietnam has humid and wet summers and cloudy and cold winters. In mountainous region winters are even colder and longer, with lots of precipitation and some snow. This part of Vietnam has a very beautiful spring and fall seasons. During this time you'll experience perfect temperatures and blue skies.
South of Vietnam is typically humid and hot. However, temperatures drop during the winter, making it the most pleasant time of the year.
Central Vietnam, having coastal lowlands and central highlands, is known for in-between North and South climate. The coastal part is way drier and hotter during the summer, but more stormy and typhoon-prone in the winter. The mountainous part has cooler summers and colder winters.
If you get too hot in one part of the country, you can always run away to highlands to cool off.
Vietnam climate is so diverse that almost everyone can find his comfortable spot here.
6. Nature
We've heard so many times that you travel to Vietnam for mountains, coffee, and food, but not for the beaches or any other sights.
Really?
In our opinion, beaches in Vietnam along with forests, waterfalls, national parks, tea, and rice plantations are worth traveling for and seeing with your own eyes. Like these amazing waterfalls in Dalat, for instance!
Some of the landmarks are dirty though (you can't swim in rivers or lakes, for instance, and there is trash in some distant places) but overall the scenery is stunning. Also, there are so many adventurous things to do in Vietnam that you'll never be bored.
To be able to feel Vietnam's nature and appreciate its beauty you would need to forget about tour agencies and rent a bike or hire a car with a driver. Going to remote areas and exploring the wilderness of Vietnam will amaze you!

7. Food and Coffee
If you are not familiar with new cuisine, you'll get easily lost what to try. The spectrum of Vietnamese dishes is so big that you definitely need a few months here to try all various meals. Also, having a cultural and cooking day with cooking class in Vietnam is going to help you understand a food culture way better.
Soups, dry and wet noodles, Vietnamese barbecue, egg and rice dishes, and so many more other healthy options await on you in this fascinating country. With very low prices and food stalls everywhere you will lose a desire to cook your own meals. What is great about Vietnamese food is the variety of dishes for vegans and omnivores. None of you guys will ever be hungry here.
How could I not say a word about the coffee or Vietnamese chocolate yet? We did not believe that Vietnamese coffee and chocolate were really some of the best until we tried it.
8. People
Have you noticed how many racial stereotypes are in our world? One nation tends to draw the opinion about the other one based on a single story. Stereotypes are everywhere. If we listen to them then all Americans are fat, all Russians drink vodka, all Columbians sell drugs, all Germans don't have a sense of humor, all people of Muslim religion are terrorists and all Vietnamese are rude, dirty and uneducated weed sellers and thieves. How wrong all of that is.
Since the article is about Vietnam, let's talk about Vietnamese people only and our experience with them.
Everywhere we go and everyone we meet is extremely helpful, nice and hospitable in Vietnam. Sometimes it may seem that a person is grumpy or unwelcoming, but once we smile, wave and try to communicate through Google Translator or even using some Vietnamese words, locals appreciate the effort and respond back with smile and care. If you have a need or a trouble, Vietnamese person will try to help you right away even though there is a language barrier between two of you.
We had so many funny moments when people were trying to warn us or give a tip about something using gestures and Translator (which translates horribly by the way), and initiating a conversation with us. Street food vendors always welcome us to try their food and give us samples. Our neighbors help us rent a bike for cheap. Our landlord treats us with freshly cooked Vietnamese dishes. And some passersby ask whether we need help with direction or anything else.
If you come to Vietnam to visit and hop through touristy traps then don't expect to learn a lot about people's factor. Come with a desire to wander beyond touristy spots and become a little bit local yourself. You'll fall in love with Vietnamese people, their kindness, generosity, and their appreciation of foreign guests.
9. Motorbike culture
Have you ever tried riding a motorbike? If not, you should! We have never thought we would exchange comfort of our cars for a two-wheeled motor vehicle and helmet.
In the Western world people usually ride bikes because they like the thrill. In some Asian countries it is a necessity. The first time you try it out you'll fear. However, once you take hold of it, riding becomes easy and fun. No car would give you the same sense of freedom as you get on a bike. Also, with a motorbike or scooter, you have so many possibilities to go off the beaten path and explore far away corners where not many other visitors go.
Being able to ride a motorbike as much as people do in Vietnam is one of the reasons we love living here. And, we are definitely going to miss it in other parts of the world.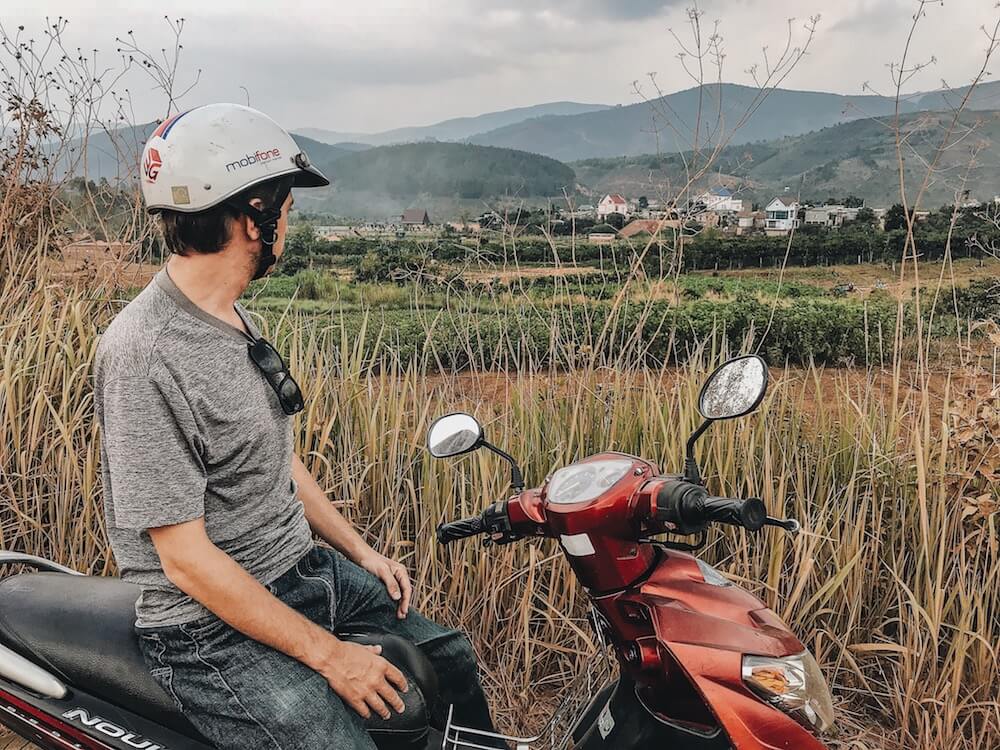 I feel I can write so much about Vietnam because it is truly incredible country. It will capture your heart and make you feel at home. Plan to visit and plan to move, and perhaps you'll find more reasons why not to leave.