9 Incredible Weekend Getaways in Kentucky
Last updated on August 14th, 2023
Are you looking for weekend getaways in Kentucky? Look no further! In my super detailed massive guide you'll find trips to the best horse farms and distilleries, to the cutest antique towns with charming Inns and historical sites, to small family-owned wineries and quaint restaurants, and much, much more.
When you ask an average American (or anyone else, really) what comes to mind when they think of Kentucky, most people will tell that the first thing they envision is horse races, bourbon, cowboy hats and maybe boots. What else? Not much. Because the majority think that Kentucky is rather plain. Ouch.
But let me tell ya. In reality, Kentucky is a truly unique state with some rare world wonders.
Lately, I was reminiscing about my one long year in Kentucky which was full of some cool weekend trips. During that time, I ventured to the narrow country roads near the border with West Virginia, chased lunar rainbow in Cumberland Falls and even explored beaches and swam in the lakes in the far Southwest of the state.
These days, while being stuck at home, I wanted to create this post. And share some of my best trips in beautiful Kentucky. Thus, I am absolutely sure that a lot of travelers will enjoy them as well.
So, if you are planning a weekend getaway to Kentucky or maybe living there now and wondering about some 2 or 3-day escapes, this list is for you.
Psst: looking for more weekend getaways in the USA? See my other posts:
Disclaimer: This post contains affiliate links. That means if you click a link and make a purchase, we may earn a small commission at no extra cost to you.
Trips From Louisville & Lexington, KY
1. A GETAWAY TO BARDSTOWN, KENTUCKY – For the Bourbon, Wine & Antiquity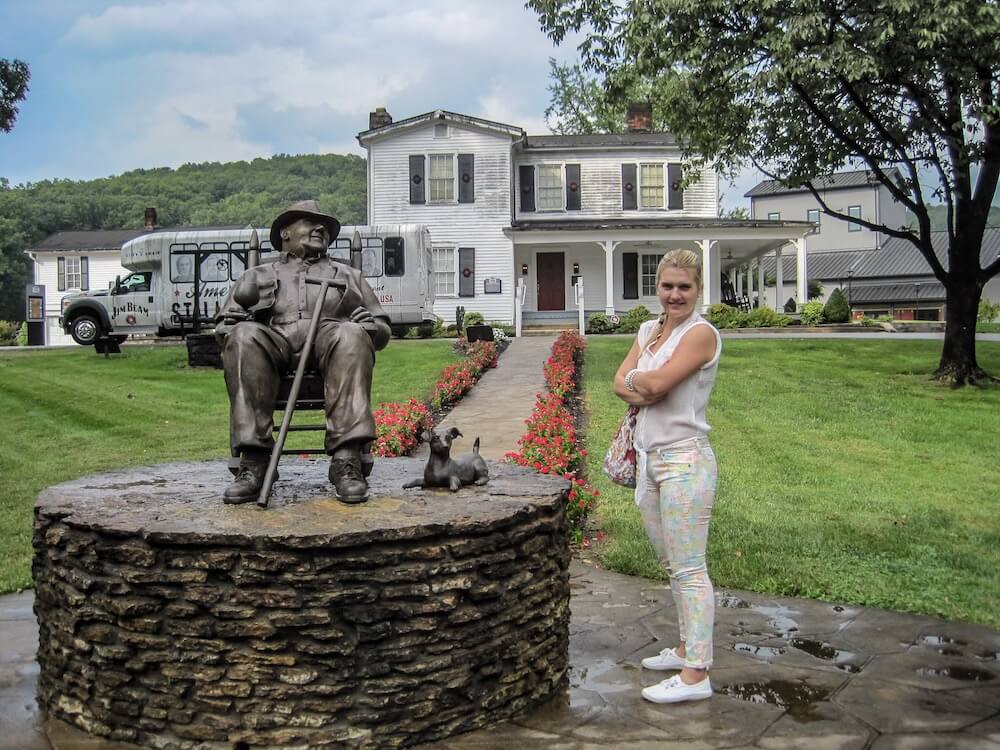 Bardstown always makes it on the list of "the most beautiful small towns in America". And there is a reason for that. This town is replete with elegant architecture, posh B&Bs, antique shops, quaint restaurants, tree-shaded streets, bourbon distilleries, and romantic treehouses.
Most travelers visit Bardstown on their Kentucky Bourbon Trail adventure. Here, you are able to immerse in all things whiskey and, if you want, dedicate the entire weekend to bourbon only. Yet, besides bourbon, there is a variety of other things to do and places to explore.
During a year when I lived in Lexington, I have been to Bardstown a dozen times. And each time I had something new to discover.
WHAT TO DO IN BARDSTOWN, KY
Even if bourbon is the last thing in the world that interests you, still, it will be very fascinating to go on a distillery tour. There are 9 distilleries to choose from in Bardstown and many more around it. Each distillery offers tours and tastings and gives you a glimpse into an important piece of Kentucky history.
Visit Heavens Hill Heritage Center or Oscar Getz Museum to learn about the history of Kentucky bourbon. At Bardstown Bourbon Company, take their Shaken & Stirred cocktail class where you'll learn how to mix your drinks. And in Lux Row Distillery to go on a tour and visit their brickhouse.
Barton 1792, only a few minutes walk from downtown, is an old distillery working until this day and offering free tours and tastings. Willett Distillery also offers a great tour that covers the process of making bourbon – from distillation to filling the barrels.
The Blind Pig Bourbon Market has a nice selection of bourbon, souvenirs, and gifts related to whiskey.
If you feel you got enough bourbon, why not sample locally-made wine? Forest Edge Winery, Springhill and McIntyre's Wineries offer an excellent selection of wines, great decor, atmosphere, and service. By the way, Forest Edge is located very close to a famous Jim Beam distillery, if you plan to cover these two places in one trip.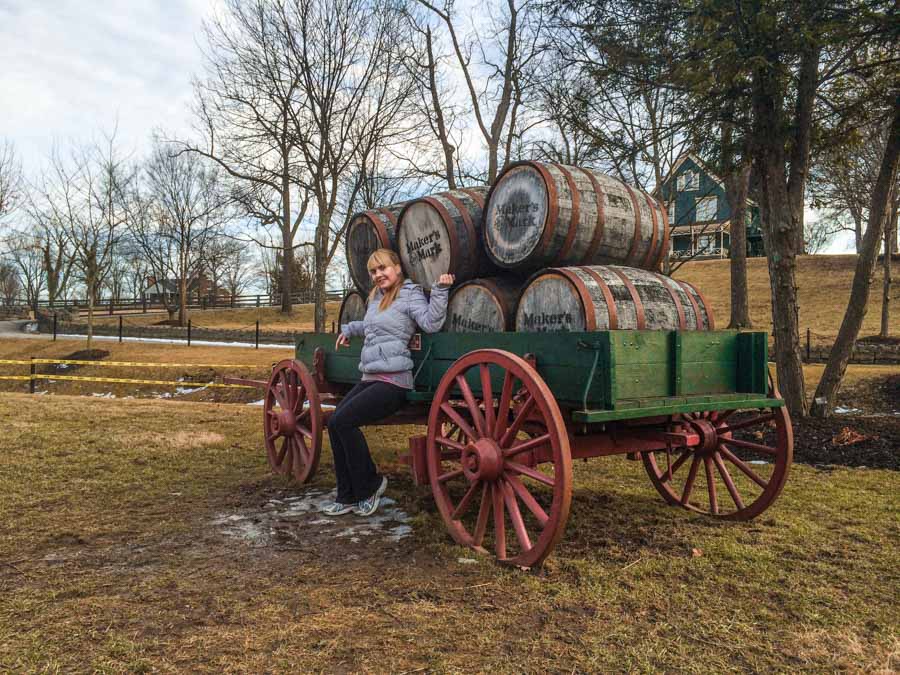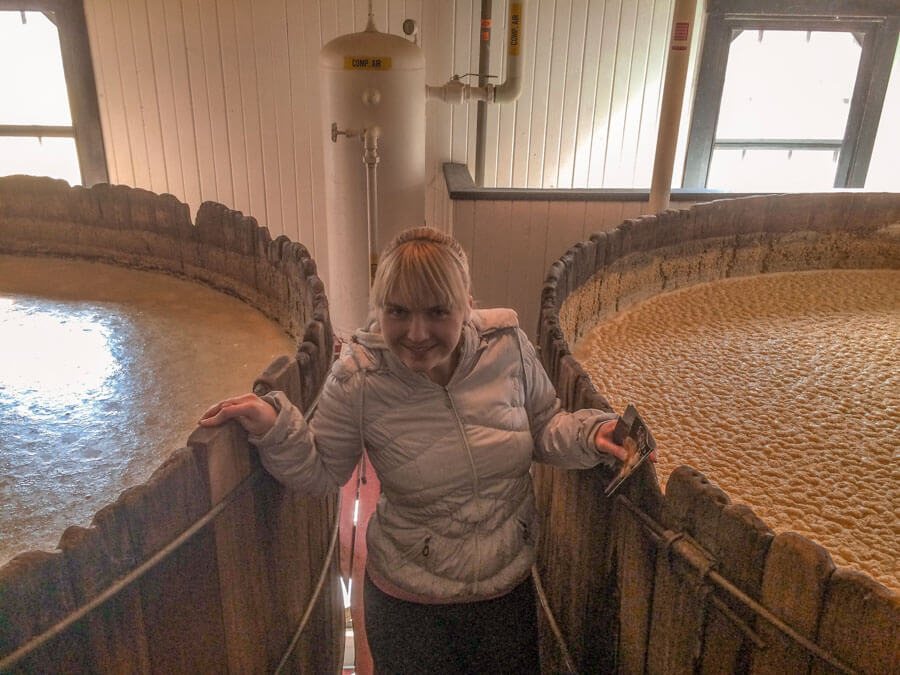 To soak up some history, you definitely need to visit My Old Kentucky Home State Park, famous for the historic plantation that inspired America's first composer Stephen Foster. In summer, if visiting from June 11th to August 13th, there is a Broadway-style show on the grounds that tells the tale of Foster's story.
Additionally, don't forget to pop into one of the four most important museums devoted to the Civil War.
Among other fantastic things to do in Bardstown to keep you busy during the weekend getaway in Kentucky are:
– My Old Kentucky Dinner Train – a relaxing train ride with dinner through the Kentucky hillside;
– Self-guided walking tour through the historic downtown;
– Old Talbott Tavern – a historic restaurant & bar which became a staple of classic Southern hospitality and decor.
SHOULD YOU STAY IN BARDSTOWN OVERNIGHT?
Bardstown is only 1 hour away from Lexington and 45 minutes away from Louisville, so yeah, you can easily stay in one of these cities. However, for a rare opportunity to unwind in a grand old place, look into one of many charming Inns or Bed & Breakfasts.
Bourbon Manor B&B Inn is an elegant and luxurious 200+ year-old historic home that has everything you may need for a romantic getaway for two.
Check prices and availability for Bourbon Manor B&B Inn on Booking.com
Jailer's Inn B&B is another historic place with great proximity to the distilleries. The Inn used to serve a town's jail between 1797 and 1987 and housed some of the scariest criminals in America. Today, it is a beautiful property with landscaped gardens and delicious southern dining.
Check prices and availability for Jailer's Inn B&B on Booking.com
2. A TRIP TO THE LAND OF LINCOLN & MAMMOTH CAVES – For History & Nature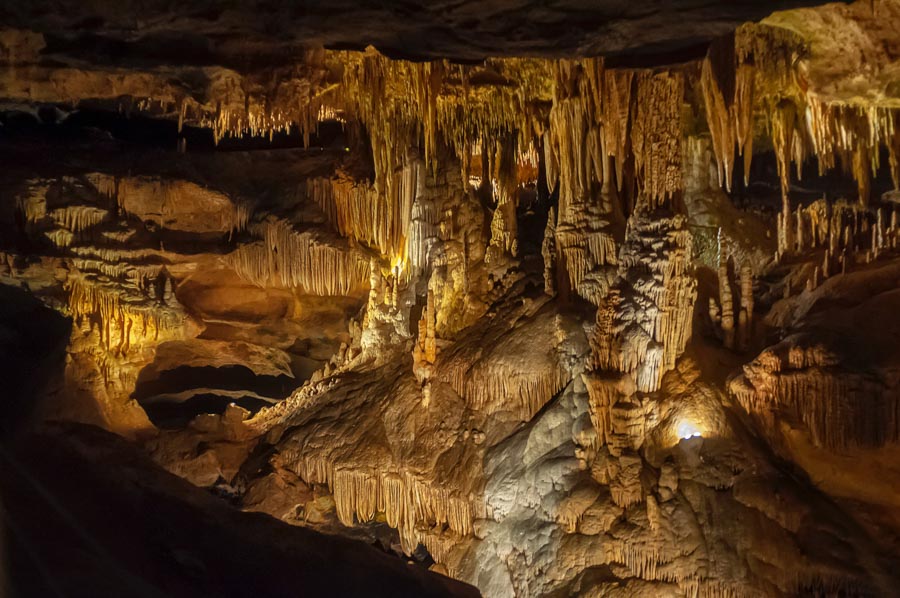 With this getaway idea, I am inviting you to go on a weekend trip from anywhere in Kentucky to Mammoth Caves National Park. However, before you get to the park, visit a few sites on the way that tell the story of an extraordinary man Abraham Lincoln.
WHAT TO DO ON THIS GETAWAY
From Bardstown, take a New Heaven road (or Rte. 31E) to Hodgenville. It meanders through a deep forest to the Boyhood Home of Abraham Lincoln. In this historical place, a reconstructed log cabin by Knob Creek in a grassy valley gives a great perspective of Lincoln's childhood life.
A few miles south the drive enters the small town of Hodgenville, which carefully preserves the history of Lincoln. The Lincoln Museum has exhibits that portray Lincoln's life. By the way, in our experience, it is a wonderful museum where you get a feel of going back in history and learning a lot.
The town of Hodgenville has a very short but nice Main Street with a bronze statue of Lincoln overlooking the town square.
South of town, a barbecue restaurant "Lincoln Jamboree" offers great live shows with talented singers and musicians. Not far from it is the Abraham Lincoln Birthplace National Historic Park – a beautiful countryside park with a replica of the original log cabin where the great president has been born in 1809.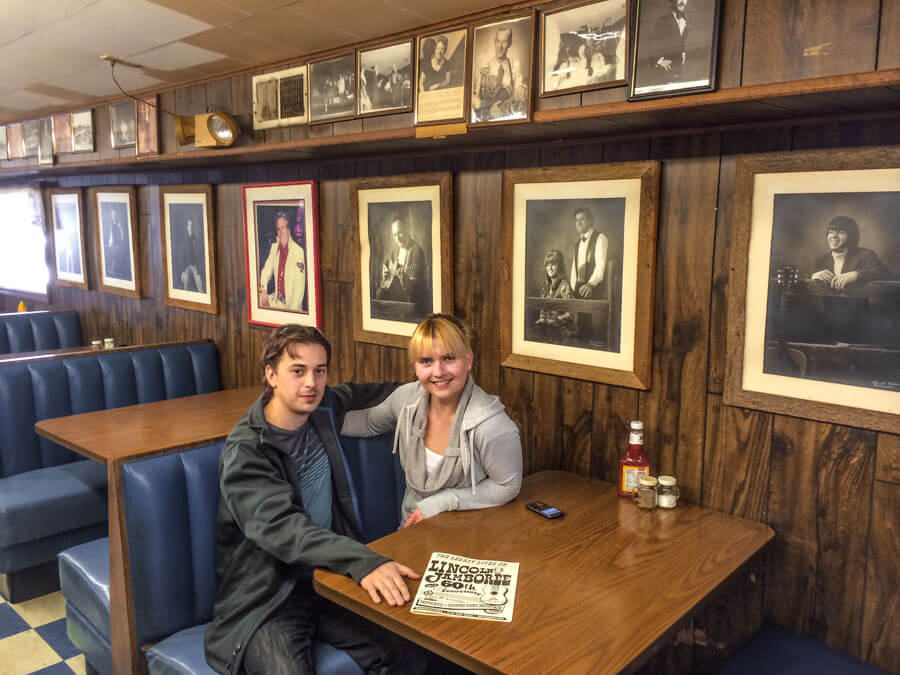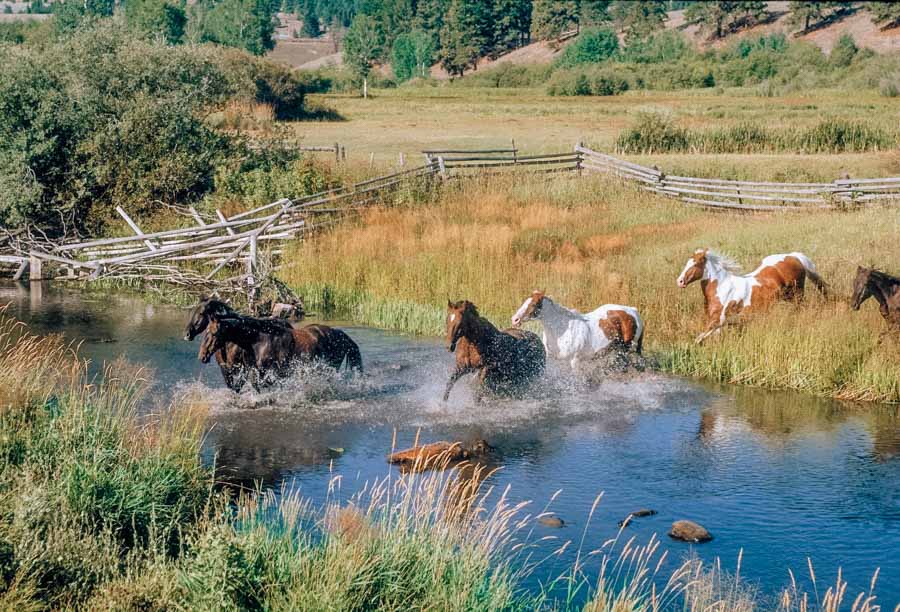 TIP: Pack lunch with you and have at the picnic area in the park.
Visiting Lincoln-related sites and stopping for lunch can take a few hours of your time. So you can leave the Mammoth Caves for the same or the following day.
If you are interested in exploring the outback and seeing unique Australian wildlife, make a stop at the Kentucky Down Under Adventure Zoo. It is a hidden gem place with a variety of unique animals that you won't see anywhere else (like the red kangaroo and blue-tongued skink.)
The nearby Hidden River Cave & Cave Museum is a worthwhile adventure for everyone who would like to venture into an underground cave, zip line, and rappel. Diamond Caverns Resort in Park City, adjacent to Mammoth Cave National Park, besides beautiful and quiet accommodation, is also offering tours that feature thousands of stalactites, stalagmites, and flowstone formations.
WHERE TO STAY IN MAMMOTH CAVE
Country Girl At Heart Farm B&B – a wonderful place in one of the most beautiful parts of Kentucky.
3. A PEACEFUL GETAWAY TO VERSAILLES – For Horses, Farms & Country Roads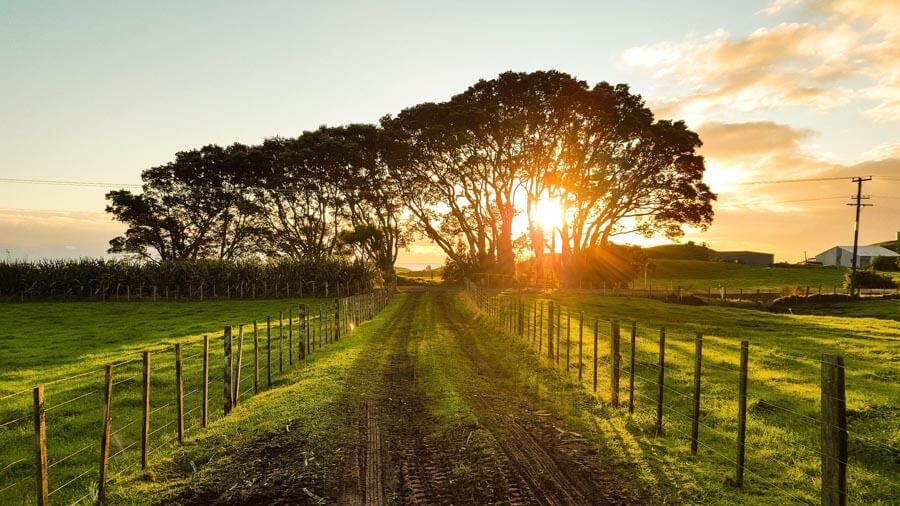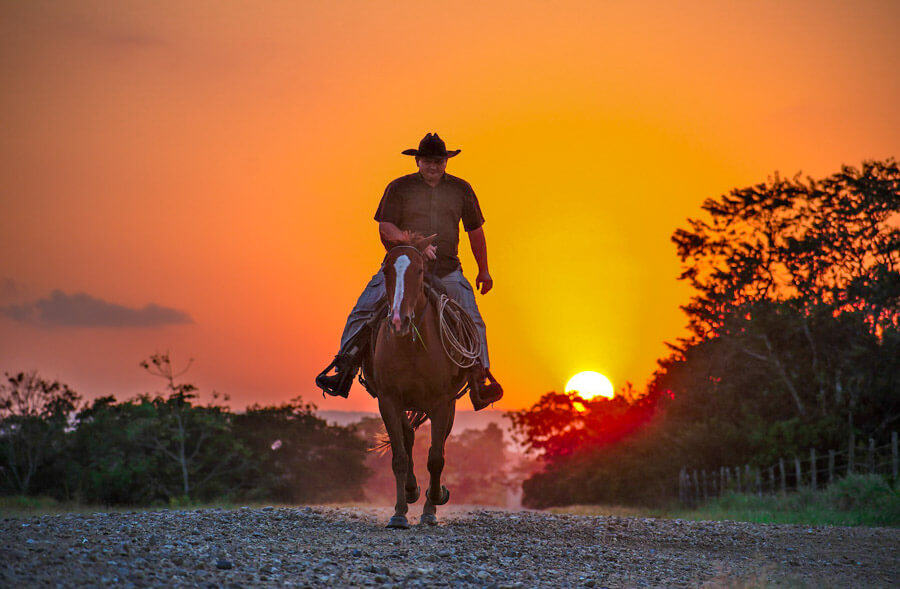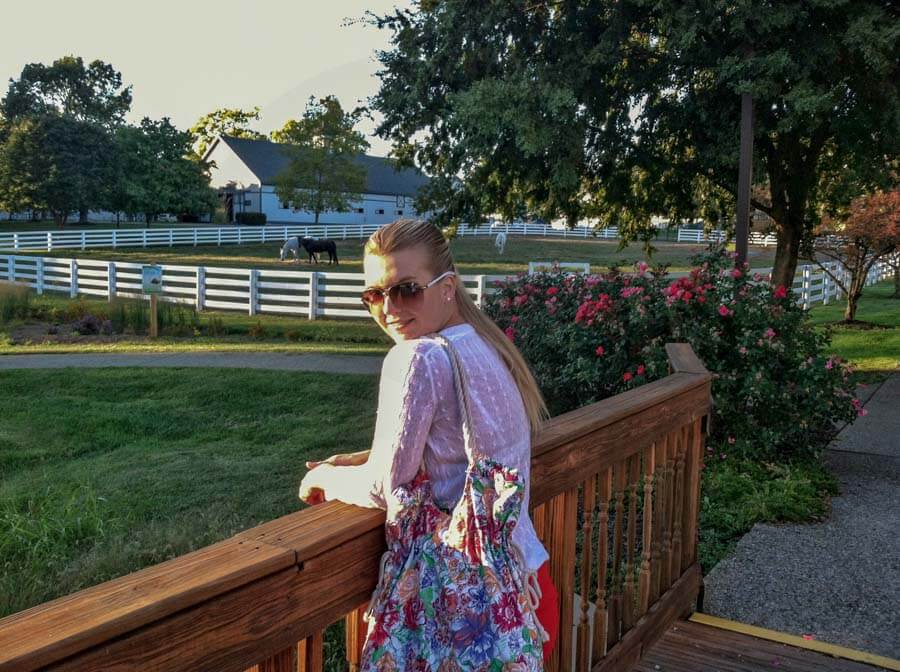 Known for some of the most picturesque countrysides and iconic centuries-old rock fences, Versailles, in the west of Lexington, is definitely one of Kentucky's most charming towns. It is a true hidden gem that is perfect for unique girls' weekend getaways, couples retreats, and simple
Plan a trip here and go on a scenic drive from Lexington to Frankfort. I advise you to take an Old Frankfurt Pike Road towards Frankfort but return to Versailles to stay overnight in one of the most charming country inns.
WHAT TO DO IN VERSAILLES
First of all, plan to visit a horse farm. Versailles is surrounded by a rich landscape and has incredibly beautiful horse barns and properties. Many of the horse farms are homes to thoroughbreds that often win in the Kentucky Derby.
Go on a guided tour in Three Chimneys Farm or WinStar Farm. They offer custom and guided group tours on the thoroughbred industry and let you get a glimpse of the daily life of each horse.
On the scenic McCracken Pike road, from Versailles to Millville, you can visit the oldest distillery in Kentucky Woodford Reserve. It offers two specialized tours. One focuses on the architecture and history and another one solely on the bourbon-making process. Those who are visiting Kentucky from out of state and plan to be in Lexington only, have a great opportunity to learn about the bourbon production at the distillery in Versailles.
In the opposite direction on another picturesque road, is a Wildside Winery, in case you are up for wine tasting. Not far from the winery is Irish Acres Gallery of Antiques – an old converted schoolhouse full of antiques. There is a lot to look at and have a meal in a beautifully decorated restaurant downstairs.
If visiting from May to November, everyone in your family should love Eckert's Orchard. It reminds more of an agriculture centered amusement park with a lot of attractions. There, depending on the season, you'll find strawberries, peaches, blackberries, over 30 varieties of apples, and lots of pumpkins.
SHOULD YOU STAY IN VERSAILLES?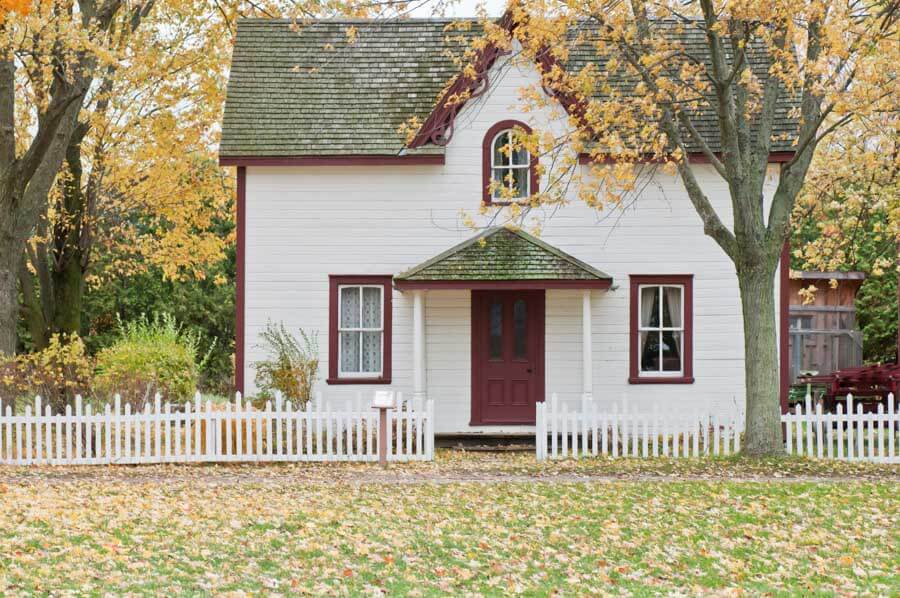 Oh yes! While Lexington has a lot of options for any budget, a charming suburb Versailles with grassy fields has incredibly gorgeous farmhouses and bed & breakfasts.
Take a look at some of them: Charred Oaks Inn or Montgomery Inn B&B. Also, The Kentucky Castle is a wonderful choice for a romantic getaway in every way.
Does my content help you plan your trip? If yes, I'll appreciate a cup of coffee from you, so I could produce more free guides and itineraries!
Romantic Getaways in Kentucky
4. A CITY GETAWAY TO LOUISVILLE, KENTUCKY
The largest city in Kentucky, famous for the world-known Kentucky Derby and bourbon, has a lot to offer to couples visiting on a romantic getaway.
Being located at the intersection of the midwest and south of the country, many travelers often avoid Louisville, not knowing this city is actually really welcoming, super hipster and artsy, and great for active dates.
Even though Louisville is big, it's also pretty compact and most attractions can be found in the Downtown area. No need to have a car since it is easy to get around on foot.
WHAT TO DO IN LOUISVILLE
Go for a saunter in the Waterfront Park and cross to Indiana through one of many bridges. There is a bike rental by Big Four Bridge offering a range of bicycles if you feel like cycling around.
Wander through the gorgeous and historically rich part of Downtown – "Museum Row" on West Main Street. This street is home to nearly 10 attractions located next to each other and surrounded by Victorian cast-iron facades combined with striking contemporary architecture. To read more about what those attractions are, check this source.
As Louisville is built around the river, there is an opportunity for paddleboarding and canoeing. Endless Summer Paddle in Thruston Park rents out paddleboards, offers tours on the Ohio River, and sells coffee and baked goodies.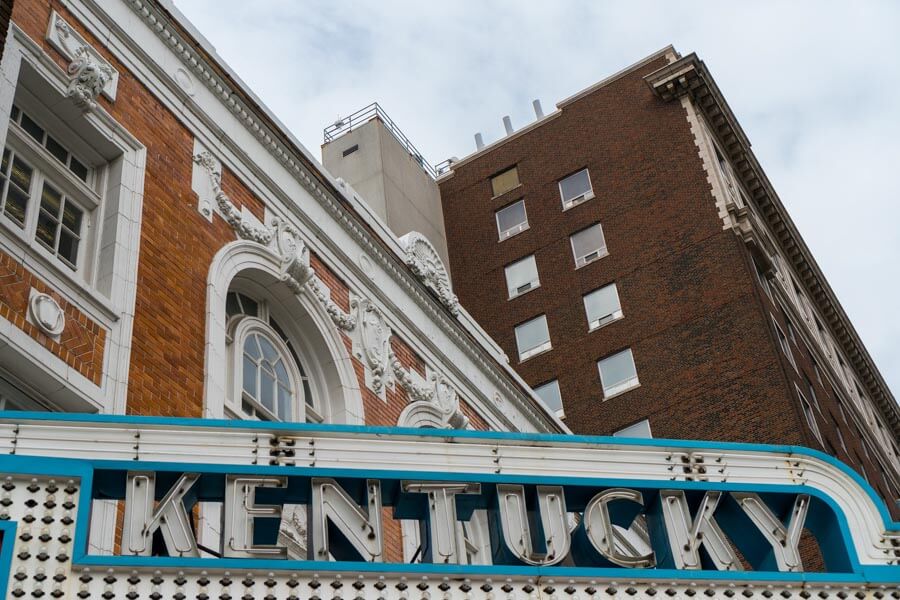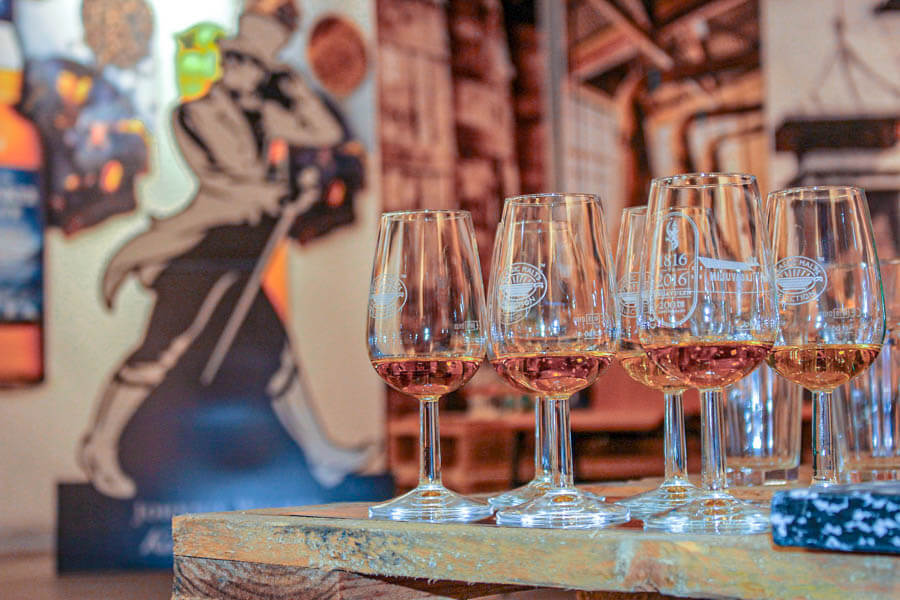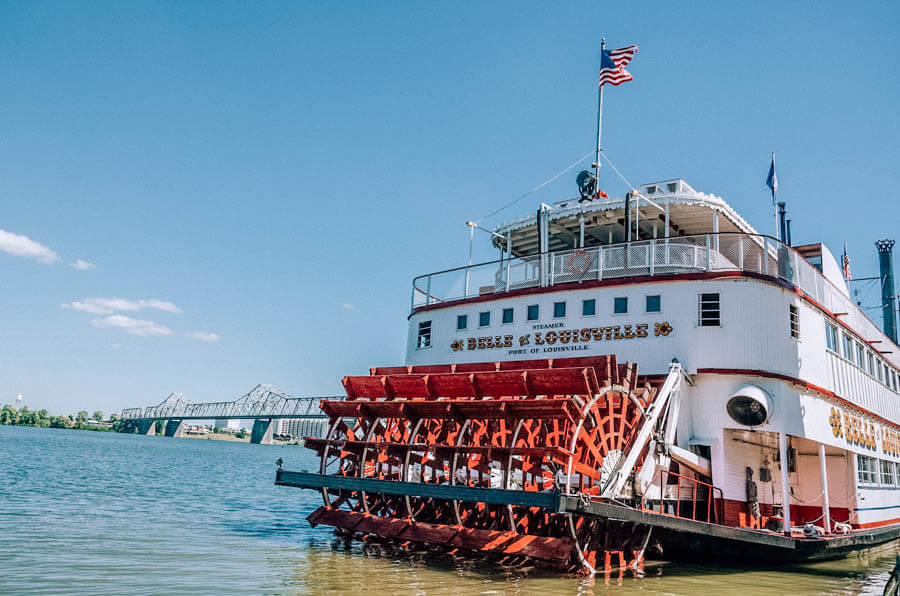 Don't miss a walk (or bike ride) to Old Louisville where you'll find a huge collection of historic Victorian houses where people live until this day. By the way, this neighborhood has some gorgeous Airbnbs (like this one) for a romantic stay.
After spending some time in Old Louisville, why not go to the New one? New Louisville or as it is also called East Market District, or simply Nulu has cool bars, restaurants, breweries, art galleries, and quirky shops. This neighborhood is small but with the number of establishments, you can easily get lost and spend there hours.
Pop into Goodwood Brewing Co for great crafted beer and delicious food. Royals Hot Chicken is a fantastic place for a chicken meal. The nearby Quills Coffee Firehouse with Hi-Five Doughnuts are for those with a craving for cappuccino and sweets. But really, these are not the only places where to eat.
Nulu neighborhood has some of the best Louisville restaurants for lunch and dinner, coffee, and brunch. Just walk around and explore your options.
If the only city you get to visit in Kentucky will be Louisville, don't forget to sample local bourbon. Some distilleries like Evan Williams Bourbon Experience, Rabbit Hole distillery, Angel's Envy or Old Forester offer entertaining tours and tastings. Kentucky Peerless Distilling is a place for sampling some moonshine.
WHERE TO STAY IN LOUISVILLE
Louisville has so many cool accommodation options, including those for romantic stays.
Dupont Mansion B&B is a beautiful property for anniversaries, date getaways and romantic escapes. The Brown Hotel – a comfortable old-world style hotel. Louisville is also full of charming homes for any taste and budget. Check them out.
5. A LONG WEEKEND GETAWAY TO COVINGTON, KENTUCKY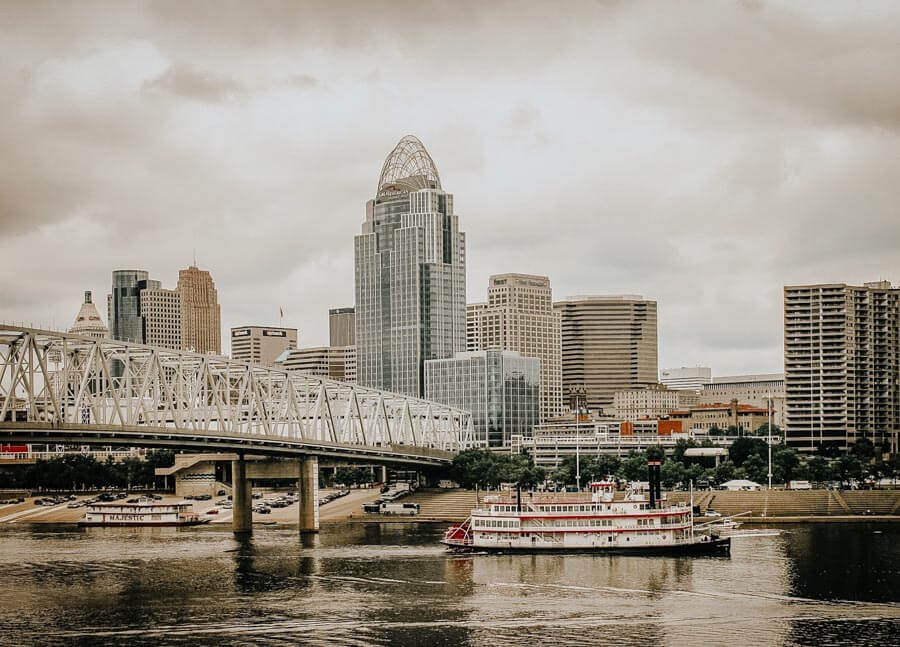 Covington is the northernmost town in Kentucky that borders Cincinnati. This town is small but cozy. It is mainly known for historic neighborhoods, numerous art galleries, and popular events like Mainstrasse Oktoberfest, Mardi Gras, The Original Goetta Festival, and others.
Escape here to listen to great jazz in Dee Felice Cafe, catch a show at the Madison Theater or a classical music concert at the Kentucky Symphony Orchestra, and taste traditional German food in Wunderbar. And another reason to visit Covington is Cincinnati where you can get by crossing a Suspension Bridge.
WHAT TO DO IN COVINGTON
Before we go through the list of attractions in Covington, here is one detail. Getaway to this destination will suit all types of travelers but most of all families with kids. And for many reasons.
First of all, before arriving here, if driving from Lexington (and even Louisville with a quick detour), make a stop at the Ark Encounter. This is a unique exhibit with a replica of Noah's Ark which was built according to the dimensions in the Bible.
It is definitely a great place to expand your knowledge about the Ark and life on it during the flood. Even if you are not religious, this project will surely impress! If visiting with family, you can literally spend an entire day here.
Once in Covington, make sure to stop by a beautiful Devou Park. It's a nice spot for a breezy walk and a wonderful view of downtown Cincinnati. For crafted beers on tap, go to Braxton Brewing Company which welcomes everyone. Besides beer, they have food, occasional live music, tours and a rooftop bar with pretty views.
Foodies and history lovers will definitely appreciate a cultural food tour of a beautiful historic neighborhood MainStrasse Village. And, kids will enjoy the Aquarium, although I personally think that Cincinnati Zoo has more to offer (and for a lower price.)
WHERE TO STAY IN COVINGTON
Hotels in Covington are pretty pricey. Check out this super cozy budget-friendly house near the historic neighborhood!
6. A RIVERSIDE GETAWAY TO MADISON, INDIANA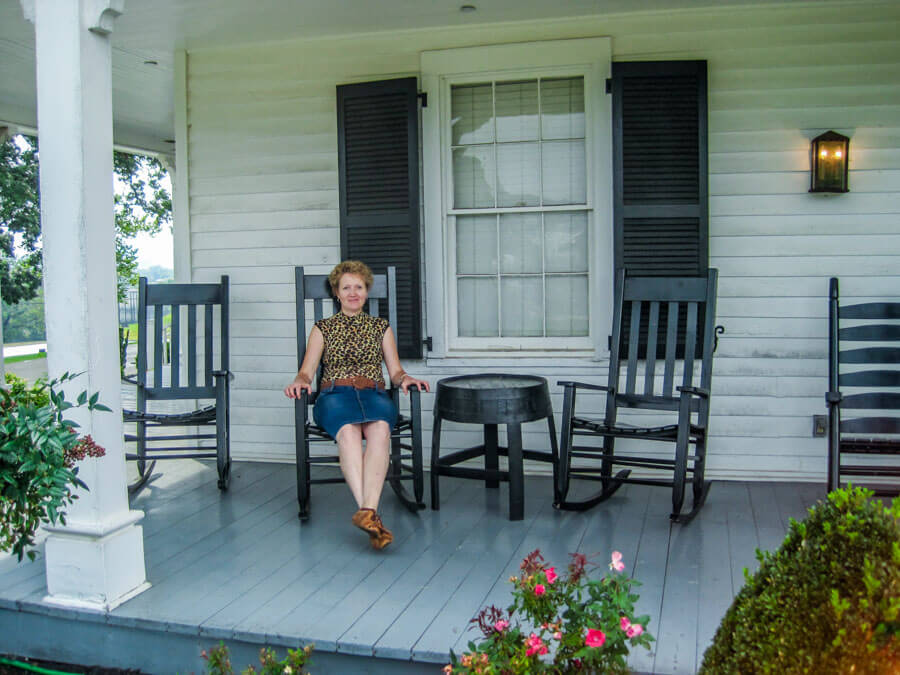 This can be a cool getaway for couples from Kentucky who also would love to combine it with a road trip. Madison lies at the heart of the Ohio River Scenic Byway, so you could easily see a few other pretty towns as well. Yet, at the end of the day, return to Madison and spend a night in one of the romantic B&Bs.
If you have been to Mansfield, Ohio, then you'll find a few similarities between these two towns.
WHAT TO DO IN MADISON
This charming historic part of Madison is famous for three things. First – for historic houses such as Sullivan House, Lanier Mansion, and Schofield House. Second – for Main Street full of restaurants, artsy shops, chocolate and coffee places, and antique stores. And third – for the feel.
Madison's cozy streets with riverfront and downtown area are full of romantic charm. There is a special spirit in this town that makes you feel comfortable and relaxed from the first few minutes.
During your romantic escape, visit one of the wineries (as Thomas Family Winery, Lanthier Winery, and Vineyards Estate Winery,) go for a walk along the Milton Madison Bridge from Madison to Milton Kentucky, get a relaxing massage (don't forget to schedule an appointment) and treat yourself with handmade artisan chocolates at Cocoa Safari Chocolates.
Also, head to the nearby Clifty Falls State Park for amazing hiking trails and outstanding views.
For a meal in a romantic setting, check out Rembrandt's Gallery & Wine Bar or Crystal & Jules.
WHERE TO STAY IN MADISON
Oh, there are quite a few options to choose from! If you are like us and love staying in historic homes, take a look at the Historic Loft.
Check prices and availability for Historic Loft on VRBO
Weekend Getaways Near Louisville, KY
7. A TRIP FROM KENTUCKY TO CORYDON, INDIANA – For Wine, History, Music & Art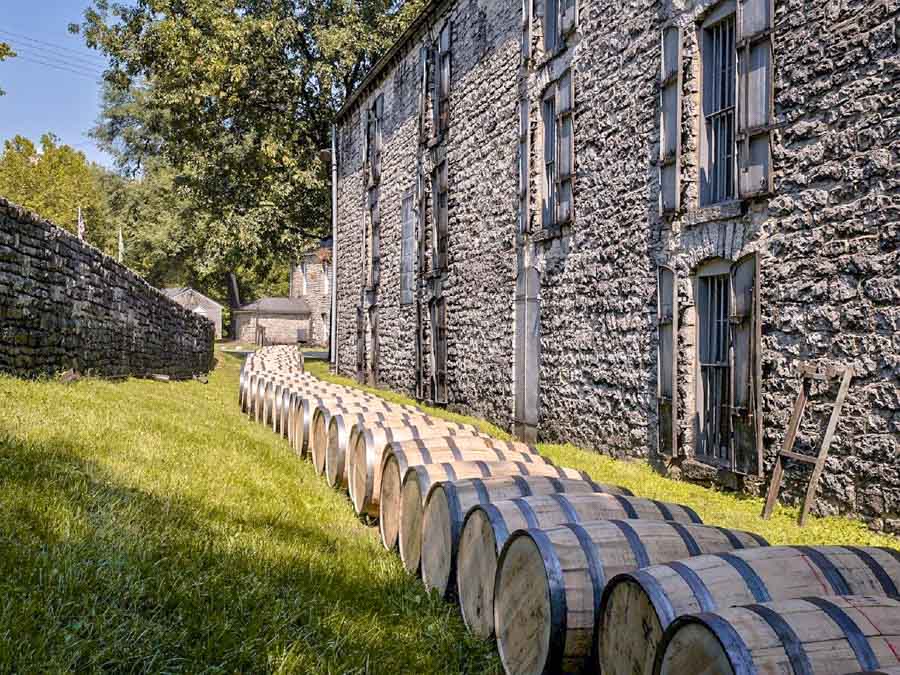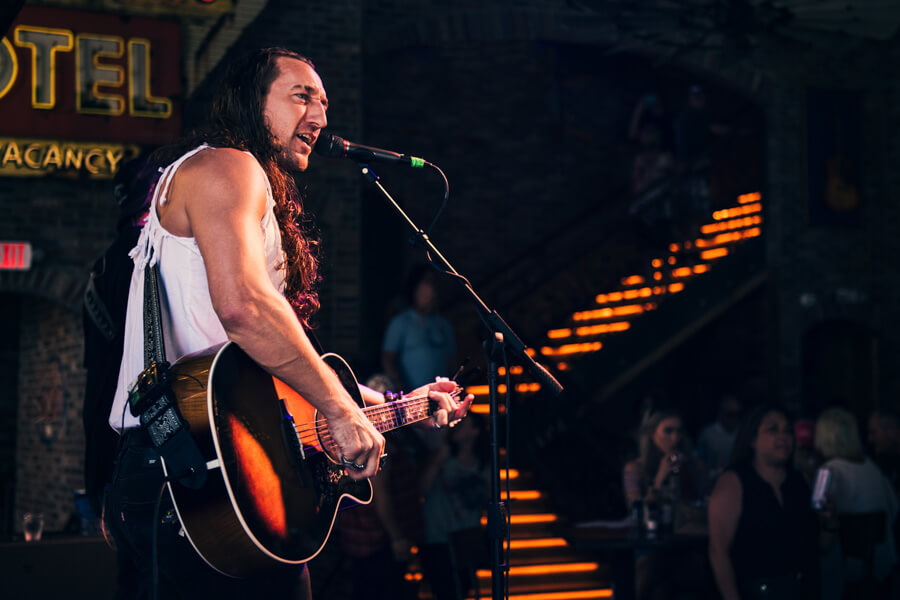 The small town of Corydon, which became the first capital of Indiana at the beginning of the 19th century, at first sight, doesn't seem to have a lot to offer. While this is true that the town itself is somewhat unremarkable, there are still a few attractions that can keep you busy during the entire weekend.
Before you even get to Corydon, if driving from Louisville, make a stop at the Turtle Run Winery. There, you'll find homemade wines, live music on weekends (weather permitting), and a great ambiance.
Once in Corydon, spend some time in town. There, go on a quick walk and visit Corydon Capitol State's historic site (basically Indiana's birthplace.) Its location is near the town square. Nearby are the Battle of Corydon park to learn how our forefathers lived and Constitution Elm – a place where the Indiana Constitution was drafted.
Among other must-visit places are glassmaking craftsmen in Zimmerman Art Glass Shop, Cave Country Canoes, and Corydon Jamboree – an amazing venue to enjoy live country and gospel music.
Also, if you have time, visit a nearby town Leavenworth which is famous for its peaceful atmosphere and mind-blowing views of the river. The Overlook Restaurant is that place where you can enjoy the food and spectacular views.
Since all of these attractions are located close to Louisville, you may want to go there on a day trip. We were visiting on a day trip from Lexington and felt like we could easily spend another day in the area.
8. COUPLE'S GETAWAY TO BRANDENBURG, KENTUCKY – For Romance & Luxury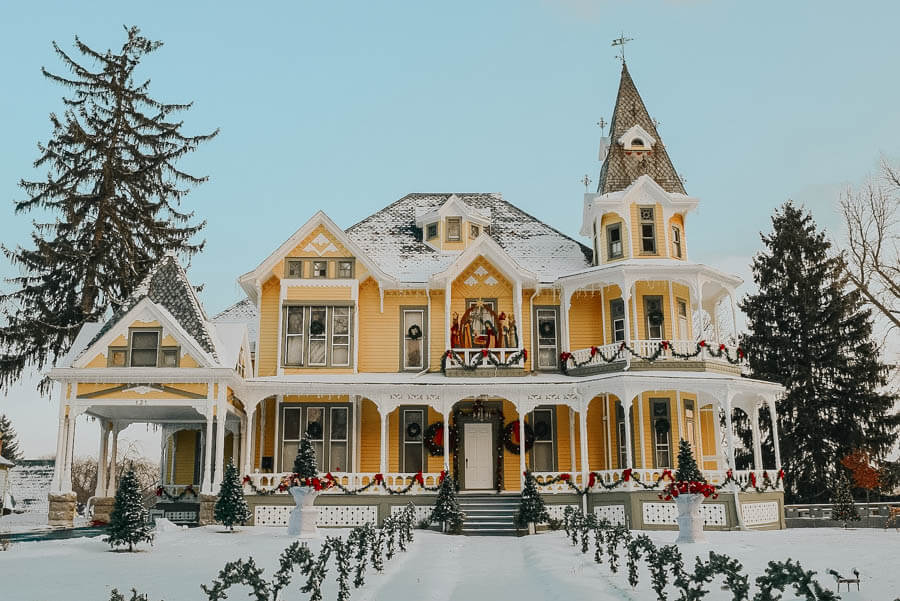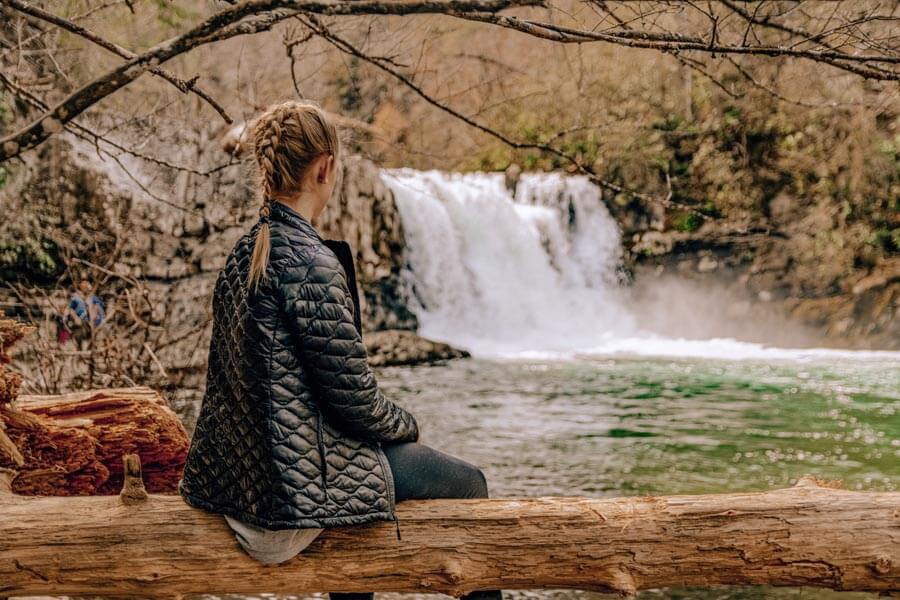 One of the reasons why I wanted to include Brandenburg on my list is an elegant romantic Inn that is a great vacation spot near Louisville. This small luxury-style B&B in a farming community is not only a wonderful place to stay but to unplug and have a peaceful weekend.
In fact, Brandenburg is only 25 minutes drive to Corydon mentioned in the getaway above. So if you feel like combining these two destinations on the same weekend trip, please do so. However, I still wanted to make them separate getaways because the amount of activities is endless.
THINGS TO DO IN BRANDENBURG, KENTUCKY
There isn't much to do in the town but there are plenty of activities on the farm and in nearby areas. On the farm, you can go fishing, boating, swimming in one of the ponds, feeding the goats and alpacas, or hanging out at the pool all day long.
Other things to do in the Brandenburg area are a famous Fort Knox with nearby Boundary Oak Distillery and Sounders Springs Nature Reserve. They are only a 30-minute drive away.
To the north of town, around 15 minutes across the border to Indiana, is Squire Boone Caverns – an interesting place for both children and adults. Here, you can go on a guided tour around underground caverns, and visit a small theme park with pioneer-era buildings and hayrides. The caverns, a complex of rooms and passageways contain rimstone dams, impressive stalactites, and stalagmites.
Brandenburg as a town has a River Front park with a few walking trails and a Jailhouse which was turned into a pizza parlor (call ahead and book a jail cell for lunch or dinner) where you can dine and have a tour of the historic jailhouse (very interesting experience!)
9. A WEEKEND TRIP TO BLOOMINGTON & MONROE LAKE – For a College Town, Culture & Outdoor Adventure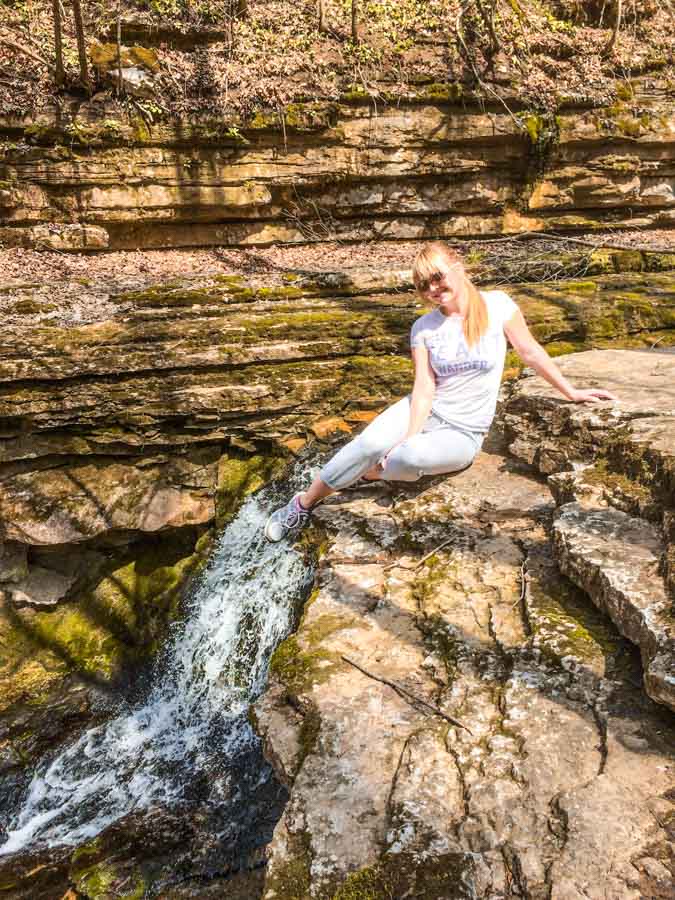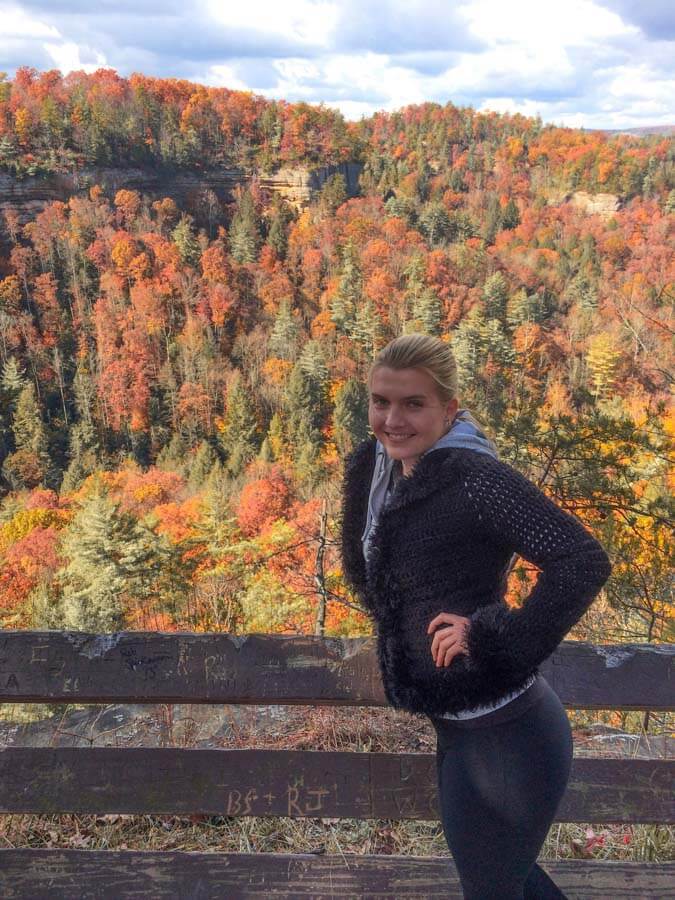 Here is another weekend getaway from Kentucky to Southern Indiana which, by the way, is among the most romantic getaways in the Midwest. This time I offer you to go on a trip to an energetic college town, known for its wide selection of shops, restaurants, beautiful architecture, art, and local wines.
The main reason why Bloomington is famous is because of the historically rich Indiana University. The campus with ivy-draped halls and dormitories is simply gorgeous. It has quaint trails for walking and many areas to relax and learn about history.
For example, some fascinating historic places to visit are the IU Auditorium and Indiana University Art Museum. The first one is famous for murals on the walls and ceilings as well as various performances. And the second one boasts many works of Picasso, Rodin, Warhol, and other artists. If you happen to visit in April, the campus hosts a bicycle race called the Little 500.
However, Indiana University is not the only reason why to visit this area.
Just north of town on State Road 37, you'll find and oldest winery in Indiana Oliver Winery. Besides their award-winning wines, wine tastings, local artisan music, and lovely views you can also take a stroll around the lake. It is a lovely area to enjoy time with friends and family outdoors on their convenient seating.
Southeast of Bloomington lies Monroe Lake. This large reservoir has lake cabin rentals and many popular spots for swimming, camping, and boating. Hardin Ridge and Paynetown recreation areas are the most popular for those who would like to get closer to nature.
OTHER PLACES TO VISIT IN BLOOMINGTON AREA: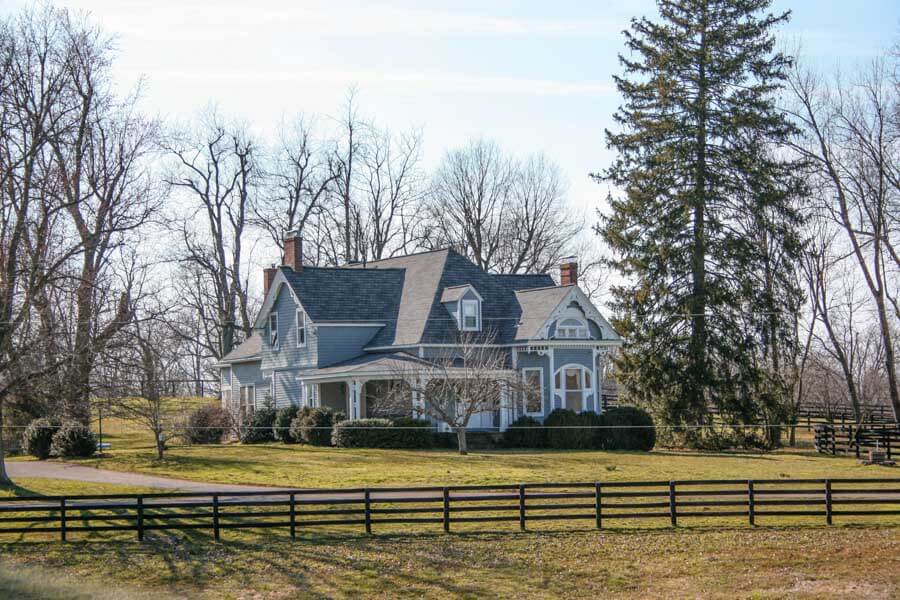 If you come not for a day but for a weekend getaway, you'll have more time to explore other places in the Bloomington area. And there are quite a few of them. You can even go on a road trip through Southern Indiana.
So, before leaving Bloomington, make a stop at the Tibetan Mongolian Buddhist Cultural Center. It's a peaceful educational place excellent for meditation and achieving a calm state of mind.
Afterward, follow a scenic State Road 46 toward Nashville. Dipping through the hills and hollows of rural Brown County, it opens up beautiful views.
Nashville is a small town full of antique shops, craft stores, and art galleries. Stop at the Big Woods the Original and taste their famous beer cheese pretzels, chicken asparagus sandwich, and burgers. Besides those, they also have very good soups of the day, pizza, fried rice, and more dishes on the menu.
Brown County Playhouse and Melchior Marionette Theater (located next to each other) are nice small community places for concerts, shows, and performances.
If visiting this area in June, expect to see the Bill Monroe Memorial Bean Blossom Bluegrass Festival. It is the oldest festival in the world dedicated to Monroe's bluegrass songs.
Besides Nashville, visit T.C. Steele State Historic Site, Brown County State Park, Yellowwood State Forest, and ghost town Story.
WHERE TO STAY IN BLOOMINGTON & NEARBY:
Depending on the goal of your trip, I personally would love to recommend a few different places.
Fourwinds Lakeside Inn – a gorgeous property with fantastic views of Monroe Lake, a convenient location, and an excellent marina atmosphere. Suits families with children and couples.
Check prices and availability on Booking.com
Grant Street Inn – a quaint and classy Inn within walking distance of downtown, a farmers market, and many restaurants. This is a privately owned hotel, therefore you can expect to have a very unique experience.
Check prices and availability on Booking.com
Wampler House Boutique B&B – this is a romantic extravagant Inn in the heart of Bloomington downtown. Everything feels just right here and you'll surely have an unforgettable stay!
Check prices and availability on Hotels.com
For adventure seekers, I highly advise checking a country bed-and-breakfast Story Inn. It is a bit pricey but very unique and quaint! The Inn offers fine dining, lodging, and events throughout the year. If you can't stay overnight, at least pay a visit during the day, have a meal, and walk around the area. It is surrounded by beautiful countryside.
---
Alright, so this was my one long post. Which of these weekend getaways in Kentucky would you visit? Do you have any other trips to add to this list? If yes, drop them below in the comment section! Also, if you find this post inspiring or informative, don't forget to save it for later on Pinterest!