Traditional Ukrainian Mushroom Soup – Ancient Recipe From the Carpathians
Last updated on December 12th, 2022
Today I would love to share with you my other favorite but a lesser-known dish of Ukrainian cuisine – traditional porcini mushroom soup. During the last 3 months, since the moment we returned to Ukraine I have been cooking it regularly. I actually cook it on every trip to Ukraine as well as order at the restaurant when we travel to the Carpathian mountains where it's is one of the most famous dishes on the menu.
This Ukrainian mushroom soup recipe has surprisingly simple ingredients and is easy to make. Despite the fact that it is considered a gourmet dish, even an inexperienced cook can make it without any special knowledge and effort.
In Ukraine, due to the diversity of Carpathian cuisine, people prepare this mushroom soup differently. Even in the same village, the taste of the soup can differ from house to house.
I tried different variations of this dish – light mushroom soup, creamy mushroom soup, and keto mushroom soup loaded with protein. But my favorite one was this one vegan mushroom soup that I am sharing with you today.
---
Please note: This post contains affiliate links. I may earn a commission if you make a purchase or booking by clicking a link (at no extra cost to you).
---
Best Mushrooms For the Traditional Ukrainian Mushroom Soup
Overall, there are more than 20 different mushroom soup recipes from Ukraine. This one comes from the Carpathian Mountains region and calls for porcini mushrooms.
In fact, in Ukraine, we say that the most delicious mushroom soup is always prepared with porcini mushrooms. They can be fresh or dried, however, dried mushrooms enhance the flavor and bring a more unique aroma.
If you don't have porcini, use oyster mushrooms, chanterelle, or king trumpet mushrooms. But do not use buttons, portabello, or cremini ones. At least not for this soup.
How to Make Ukrainian Porcini Mushroom Soup
Ingredients
150 grams (5.5 oz) of dried porcini mushrooms
1 Medium Carrot
2-3 medium bay leaves
1 big (or 2 smaller) onions
1 small potato
4 Tbsp of olive oil
3 liters (12.5 cups) of water
salt & ground black pepper to taste
1/4 tsp of dill (fresh or frozen)
sour cream (optional)
Instructions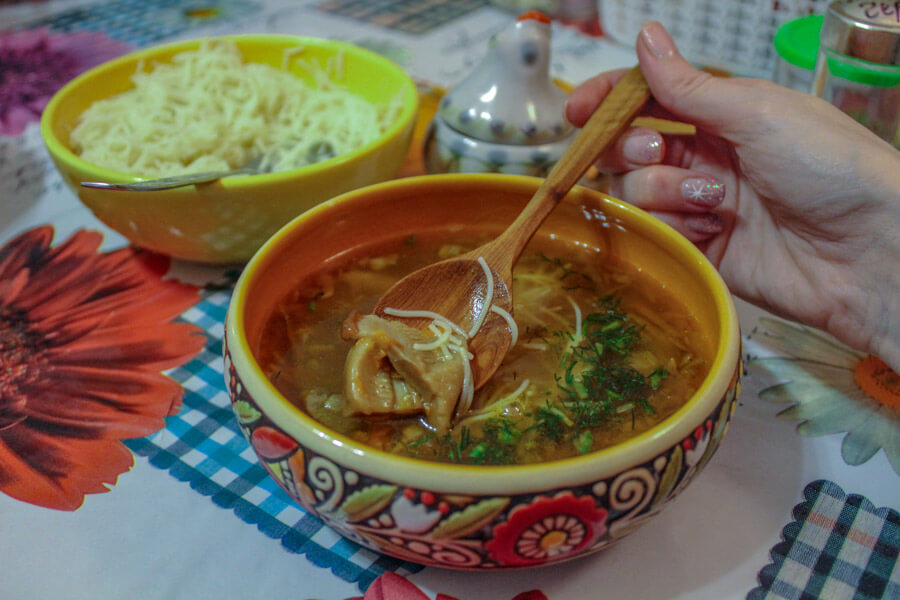 1. Rinse dried mushrooms under running water and then put them to soak in a pot with 1-2 liters of water for 5-6 hours. If you leave them for longer, that's ok too. But don't soak them for more than 10 hours because they'll be too soggy.
2. Remove mushrooms from the pot, squeeze them, and cut into smaller pieces (if they were big).
3. Filter the water (where you soaked mushrooms) through several layers of cooking gauze to get rid of debris and sand. Make sure not to pour it away (!!!) since this is the most flavorful soup base! Into the same pot with filtered mushroom infusion put mushrooms, add more water (to have around 3 liters of liquid in total), salt, and black peppercorns. Place on the stove and bring it to a boil.
4. As soon as it boils, there may be a foam. Remove it carefully with a skimmer, reduce heat and simmer for about 30-35 minutes. The readiness of mushrooms is determined when during cooking they begin to sink to the bottom of the pot.
5. Meanwhile, peel and chop a potato, dice an onion, and shred a carrot.
6. Heat a frying pan over medium heat and add 4 Tbsp of olive oil. Add diced onion and saute for 2-3 minutes stirring often and not letting it burn. Then add carrots and saute all together for about 5 more minutes. If you see that carrots are too dry, add a bit more oil.
7. When mushrooms cook for 30-35 minutes, add chopped potatoes and simmer for additional 15-20 minutes. Once potatoes reach desired softness, add sauteed carrots with onions and continue to simmer the soup under a closed lid for another 10 minutes.
At the same time when you add carrots, add the bay leaf but remove it from the soup in 15 minutes. If necessary, add more salt.
8. Once your porcini mushroom soup is ready, turn the heat off but leave it under a lid to infuse for at least 2 minutes. But the longer it infuses, the more flavorful it will become. You'll see that on the following day the mushroom taste will be much stronger.
9. When serving, sprinkle with finely cut dill and add a bit of sour cream (if you wish).
|| HERE IS ANOTHER RECIPE TO TRY ||
MY FAVOURITE SPINACH PIEROGI RECIPE – ALSO FROM UKRAINE
What to Serve With Mushroom Soup?
In Ukraine, depending on the region, porcini mushroom soup can be served as it is or with boiled homemade pasta or buckwheat. My family likes to eat it with traditional egg noodles or but we tried it in many restaurants with regular pasta and it was as tasty. For the buckwheat, I always use buckwheat groats from Ukraine (they have a different, stronger flavor than those in the US).
No matter what you decide to serve it with, make sure to cook it separately, not in the same pot with soup. Leaving cooked pasta or buckwheat in the pot will soak up the liquid. So it is better to cook (and store) it separately and only add it to the bowl when reheating the soup.
Also, a lot of people (like my husband) prefer to eat it with bread and sour cream. Some people also add minced garlic. But with garlic, you need to add a tiny bit of it as it may alter the taste of mushrooms.
Note: If you prefer a light version of mushroom soup, make it without potatoes, pasta, and sour cream.
What Else to Know to Prepare a Rich Healthy Mushroom Soup
1. If you use fresh mushrooms, instead of using them raw try to fry them for a few minutes at first. The frying process will reveal all the hidden unique mushroom aromas and enhances the flavor.
2. It is believed that the most delicious and rich soup comes from dried wild mushrooms. That's why we (in Ukraine) pre-soak them in water to help reveal the taste. If you don't want to put them soak, leave at least for 1 hour but then boil them longer. In this case, instead of the recommended 30-35 minutes of cooking, simmer the mushrooms for 50-60 minutes before adding other ingredients.
3. If you want to add mushroom flavor to any other soup you make (let's say chicken or vegetable soup) instead of processed mushroom broth cubes (like these super popular cubes), it is enough to grind dried porcini mushrooms into a powder and then add them to the soup. It will also become denser and more filling.
4. If you like unusual flavor combinations, add dried apricots, prunes, or any nuts to the mushroom soup. The taste is going to surprise you.
5. As we know, the riches of any soup depend on spices. The mushroom soup goes well with red or black ground pepper, cumin, basil, garlic, lovage, celery, parsley, rosemary, tarragon, and thyme. However, despite the variety of spices combined, it is better to be careful with them so as not to spoil the natural taste and smell of mushrooms.
6. The density and thickness of the soup can be increased with fried on a dry pan flour or semolina. To do it you just need to add flour to 200 grams of broth, mix it well, and then combine it with the soup. Bon appetite!
---
There is nothing like homemade mushroom soup. So homey and comforting!
If you use this recipe to make this soup, I would love to know! Share how you like it!