What to Pack & What to Wear in Spain – Tips for Every Season
Last updated on November 26th, 2023
Not many people ask a question about what to wear in Spain when planning a trip to this country, especially if traveling there for the first time. Because at first sight, it doesn't seem to be important. On the surface, it may look like the style and dress code in Spain don't differ much from the rest of Europe.
When in reality, they do. Well, to some extent. After all, you want to pack only those things and clothes that will make you feel comfortable and at the same time won't make you stand out as a tourist when you will be wearing them.
There are obvious advantages to following the latest fashion trends in Spain and knowing what everyday Spanish dressing style is. The most important ones are those that will help you blend in with the locals and have extra safety. And second, there will be no need to run around the shops in search of the necessary clothes as you'll feel confident wearing what you packed.
In my article (which I wrote together with a local), I give you a general idea of what to wear (and what not to wear) in Spain, considering Spain's dress code, attire, and outfits people wear each season. But most importantly, I take into account the climate as it is a decisive factor in choosing a wardrobe.
After visiting different regions of Spain during different months, having different Spanish travel experiences, and now being able to live here, I have a good idea of what clothing and shoes people choose to wear in Spain be it in daily life, for a wedding, or for holidays. And what you should pack for a trip here to have the best time ever!
So let's dive in and talk about what to pack and wear in Spain no matter when you go – be it winter, spring, summer, or autumn.
---
Please note: This post contains affiliate links. I may earn a commission if you make a purchase or booking by clicking a link (at no extra cost to you).
---
What to Wear in Spain – Quick Overview
Spain is a beautiful country with diverse regions, each with its own climate, customs, and of course fashion and dressing style.
Even though Spain was a religious country with strong ties to the Catholic Church, today it is a modern nation and there is a clear separation between the church and any other matters. Here are some tips on what to wear in Spain, depending on the region, season, and occasion.
What Do People Wear in Spain
But before I get to all the details about Spanish attire and how to dress in Spain not to stand out as a foreigner, I want to start with a quick overview of how local people dress in Spain.
In big cities like Madrid, Barcelona, and Valencia where there are a lot of office employees, people dress professionally during the weekdays, and on weekends, they dress in casual, comfortable clothing.
This of course is a generalization of the population's style and Spanish fashion. Zara is a great example of what business casual would be and what you would see Spanish people wear.
Just like in many other nations, the attire in Spain varies and is affected by the profession or likes of each person and current events.
For example, a public employee would not be wearing sweatpants and sneakers as this is not part of the dress code in Spain's government offices. Another example of Spain's outfits is when there is a death in the family. The directly affected relatives would wear black for a period of time.
Another main factor that influences what to wear, is the seasons. Let's explore more by season in the text below.
Clothes to Wear in Spain Each Season
What to Wear in Spain in Winter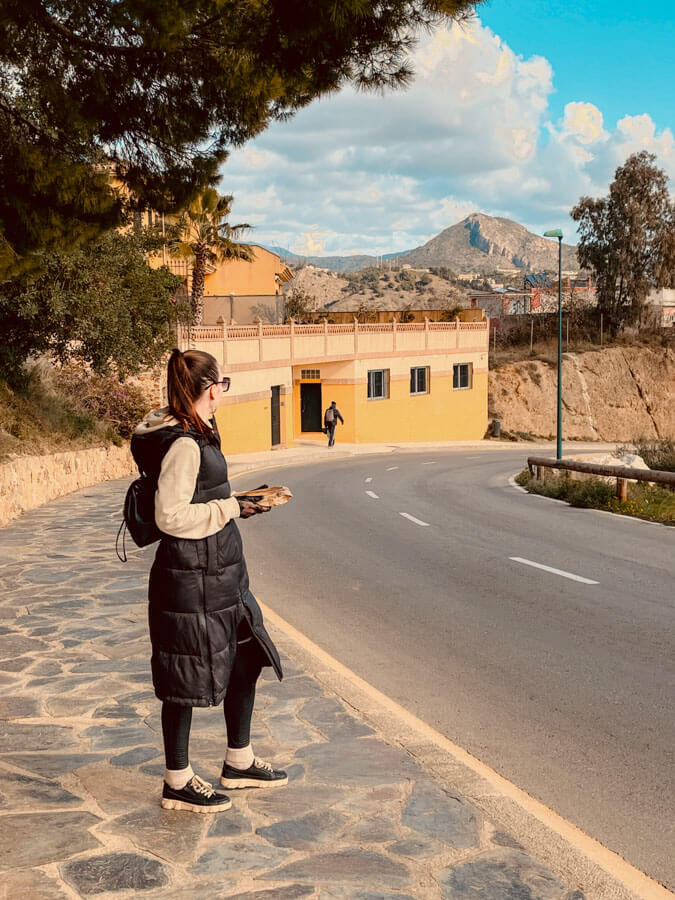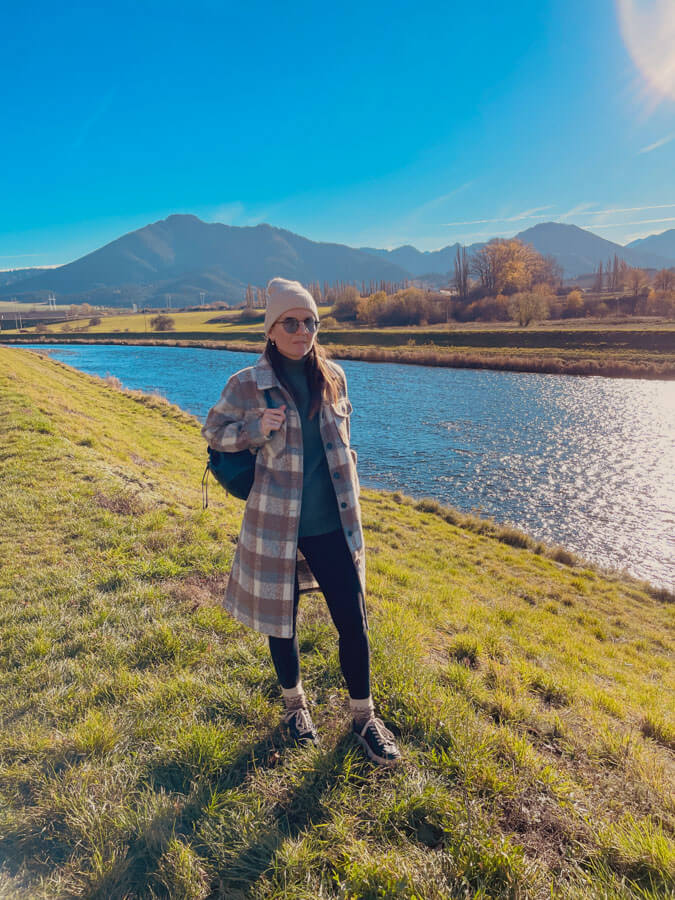 Spain has different intensities of the seasons depending on what area you are in. Also, unlike many places in Europe, the way you feel the temperature in Spain in winter is highly dependent on the degree of cloudiness and sun. It means that on a cloudy day even if the temperature is the same as on a sunny day, it may feel much, much colder.
So, while winters in the south are very mild, and you might only need a light jacket, the north can have brutal winds, snow storms, and low temperatures. Although mountainous cities in the south of Spain (like Granada, Ronda, Arcos de la Frontera, and even Cordoba, for example) also get very cold nights and temperatures can even drop below zero.
January and February are considered to be the coldest month in Spain. Depending on the region, in the winter months, the air warms up from + 5С degrees to + 22С degrees.
My rule of thumb is if you are in any place in winter from Madrid up, then bundled up. That means don't forget to pack scarves, big coats or jackets, hats, boots, and gloves.
Both men and women in the northern region of Spain are very stylish, especially in cities like Salamanca, Bilbao, and Valladolid.
Men usually wear shirts with jeans or dress pants under their coats and accessorize their look with elegant watches and scarves. Women would mostly wear business casual attire with boots or shoes with heels. Scarves, gloves, and hats are needed throughout many days.
From Madrid down, just wear layers. Most days you may need to take off some layers from 11 am to 5 pm. After all, Spain is the country with the most days of sun in the world.
However, in January, February, and sometimes the first week of March many days in southern Spain (particularly Andalusia) can be very windy. And the wind is so piercing cold that you'll need to keep your jackets (sometimes with hoods) on.
There are also some cities in the south where people like to dress nicely and would wear a similar style to the previously described, but instead of a winter coat, you will see blazers worn by men and women.
Examples of Clothes to Wear in Spain in Winter & What to Pack
Now let's quickly go over the clothing items to summarize what you need to pack for a trip to Spain in winter:
NOTE: Do not forget to pack a swimsuit if you plan to stay in a hotel with a heated pool and spa. Swimming in the sea will be cold (unless you are from the far north and are used to swimming in cold water).
What to Wear in Spain in Spring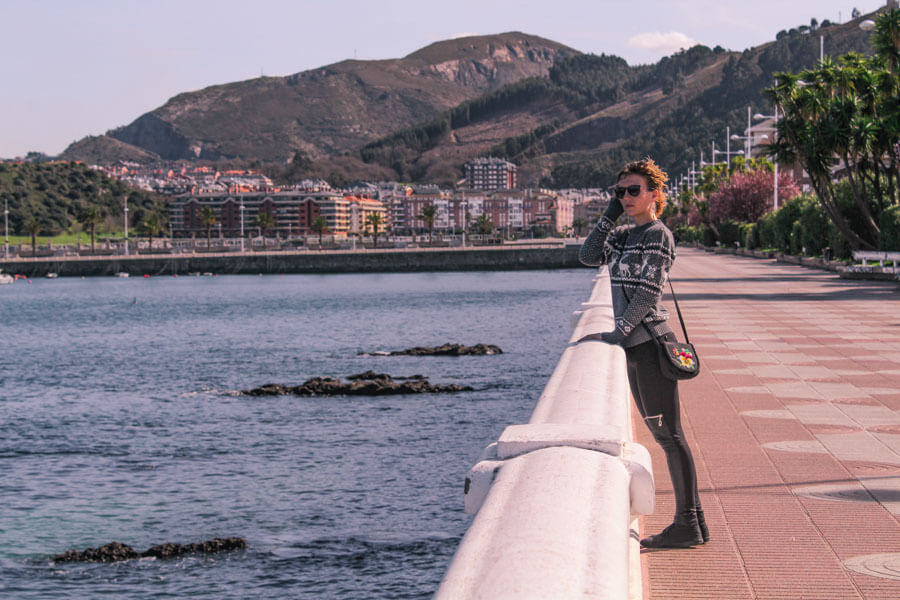 Spring is a wonderful time to be in Spain. The long dark hours fade out and the warmer temperatures shine on people's lives.
There is a saying in Spain that might help you understand the weather during these three months: Windy March and rainy April bring out flowery and beautiful May.
With this in mind, make sure you have some layers to wear in March all over Spain, even in its warmer regions.
Long sleeves sweaters should be your best friend on top of casual t-shirts. Do not forget the scarf to protect your throat from the windy weather.
When visiting Spain in April, carry your waterproof cardigan and your umbrella. However, don't be shy and get your colorful pieces out. If you are in the south, you might be able to even get on the beach at this time.
May in Spain will be your pre-summer month. It gets very warm very fast. In fact last year, the second half of May felt already like the middle of the summer. Temperatures were going above 40C degrees in part of Andalusia. But of course, it was more of an exception than a common thing. Overall, May has enjoyable temperatures all over the country and can be even chilly early in the morning and then late at night time.
Examples of Clothes to Wear in Spain in Spring & What to Pack
What to Wear in Spain in Summer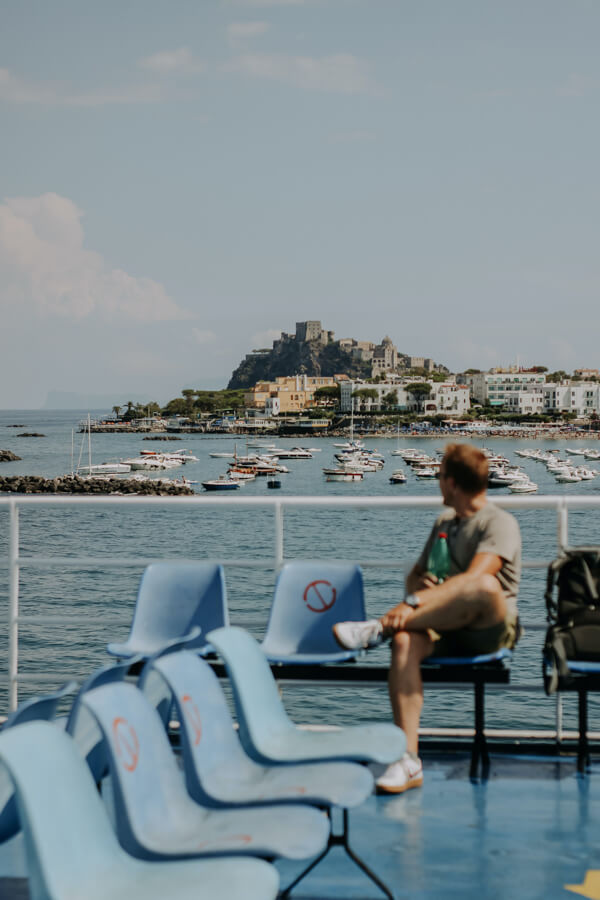 Spain is known as a great summer destination, mostly thanks to its long summers that last well into the fall. Spain's summer temperatures are warmer and warmer every year.
This past year (2022) the country experienced a series of heat waves that brought temperatures over 40 degrees Celsius in the entire country. It was difficult to follow any summer fashion trends as the most important thing was to wear clothes made with light fabrics to stay cool in the sun.
If you are visiting Spain in summer and it gets extremely hot, to deal with such high temperatures, try to stay inside between the sun's strongest hours, between 1 pm to 4 pm.
Now, the best material of clothes to wear in Spain in July and August is linen, and choose light colors over dark ones.
Unless you are in the north, you won't even need a long sleeve for the early mornings or late-night walks (but in northern Spain in summer you need to have those).
For both men and women, shorts are a common dress attire in summer. Tank tops are completely acceptable everywhere. Unlike in the US, where the Air Conditioner can be extremely low inside places, in Spain the AC temperatures don't show such high contrast. Therefore, you won't need to carry a light sweater with you.
As a side note, it is common for women to go topless while at the beach, so this is acceptable for everyone.
If you visit a chiringuito (bar with food) on the beach, you can go with your towel over your swimsuit, or your beach attire and sandals, unless otherwise noted. But outside these bars, don't walk in a swimsuit around city streets without any clothes.
And do not go to other restaurants just wearing beach clothing. There are nice and fancy restaurants on the beach as well, so, do not confuse them with chiringuitos.
Examples of Clothes to Wear in Spain in Summer & What to Pack
NOTE:
Everyone knows that it is very important to wear sunscreen when the sun is strong. But not everyone remembers to apply sunscreen to the face on walks or trips to the nearest market. In Spain, it is very important to wear
high-quality face skin protection
even if you are not planning to go to the beach. It is easy to get pigmentation on your face just by walking to the supermarket and back, in any season, not just summer!
What to Wear in Spain in Fall
Fall just like spring is the best time to go to Spain. You will see fewer tourists, and yet be able to do pretty much all you can do in summer. During this season you can fully enjoy the beaches in the south of Spain with temperatures between 20-30 celsius degrees.
So, my recommendation is that you keep some of the summer clothes to wear in Spain in September and October. Even November in the south can feel like summer. But to that, add some layers and jeans. Also, bring some closed shoes, and have something thicker than linen for the early and late hours of the day.
So, what to wear if you are visiting one of the cities or towns in the north of Spain in autumn? It gets colder faster in the North. So if you choose to visit Galicia, Asturias, Santander, or Basque Country, you will need warmer clothes for this time of the year.
The clothes to wear in North Spain in the fall months should include long sleeves shirts and sweaters along with long pants, and jeans. Madrid in November can be chilly too, so you also want to pack long sleeves or possibly a sweater.
Examples of Clothes to Wear in Spain in Autumn & What to Pack
NOTE: The main criteria for selecting clothes for your trip to Spain in any season should be practicality and comfort. Also, you should be packing in that way when you can wear each thing on a regular basis, not just once or twice. In this case, you can take a minimum set of clothes, pair different elements with each other, and always look stylish.
What Shoes to Wear in Spain
I wanted to dedicate a separate section to shoes to wear in Spain as there are a few things to remember.
1). Spain in general is a very walkable country, so you need to get comfy shoes ready for your trip. You would want shoes that are appropriate for the weather conditions as explained in the first part of this blog post.
2). Unless you are coming to Spain to do Saint James walk (Camino de Santiago), for which you must have walking boots, you should only need 3 pairs of shoes.
For the summer, bring beach sandals that can be great for walking and the beach, flats for women, and a pair of dressing shoes.
In spring and fall, bring closed shoes (whether they are sneakers or regular shoes) and dressing shoes. And if you plan to visit the north, bring boots. For men, loafers are quite common.
For the wintertime, bring leather boots (leather particularly in winter to know that your feet don't get cold) and dress shoes.
3). Since many streets in cities are lined with paving stones, you will not be able to go far in heels. So think twice before packing them.
Keep in mind that Spain is one of the top producers of shoes and offers top-of-notch quality. So even if you don't find the best shoes for Spain in your closet, why not go shoe shopping during your time when visiting the country?
What to Wear in Spain when Going to a Flamenco Show
There are different types of Flamenco shows, I would recommend that you do some research to avoid tourist traps.
Dress nicely, as if you were going to a nice dinner. However, do not wear flamenco attire or a carnation in your hair. Men can wear jeans and a shirt and women can wear a dress, or pants and a blouse.
If you go during the summertime, men can wear dress shorts and sandals with a shirt or a polo. While women can wear a summer dress or even dress shorts with a nice pair of sandals.
What to Wear to a Wedding in Spain
Weddings are a fashion show in Spain, so be prepared! There are different "tiers" of weddings in Spain depending on the venue of the wedding and most importantly the time of the celebration.
One of the most important rules is not to wear white, whether you are a man or a woman, white should always be avoided. There is only one exception if it is required in the wedding invitation, for a beach wedding or some sort of theme.
Women Attire for a Spanish Wedding
If you are a woman and are in doubt about what to wear to a wedding in Spain, always choose a dress, be it summer or winter. Although do not wear anything that will attract too much attention, meaning not extreme open cleavage, or huge pieces of jewelry.
Avoid carrying a big bag, instead, get a small purse (of this size) that goes with your outfit. Avoid wearing stockings or pantyhose with sandals. And lastly, if it is a religious wedding, cover your shoulders.
For a day wedding, you can wear picture hats and wedding hair accessories throughout the entire ceremony. Avoid wearing long and dark dresses as well as gloves. The length of the dress should be right above the knee but not longer than your calves. Do not be afraid to wear colors like red, orange, or green. Do not wear black for daytime weddings.
For a night wedding, you can wear a long or short dress and black is an acceptable color to wear.
Men Attire for a Spanish Wedding
You probably thought men have it easy to dress for a wedding, but it can be just as complicated as it is for women!
So, first thing first. Men should always wear a long sleeve button-up shirt. The shirt should be white or a light color that goes with the suit.
Wear a 2-buttoned jacket, for sophistication and elegance for both day and nighttime weddings. Both the neck and the sleeve of the shirt must be seen over the jacket. You must wear clean leather shoes. Some accessories that men should consider wearing are belts or suspenders, watches, and cloth handkerchiefs.
For a day wedding, wear light color suits such as light grey, blue or even a toasted beige.
For a night wedding, wear darker colors, dark blue, dark grey, or even black. Cufflinks are also a must-accessory for most weddings.
What NOT to Wear in Spain
There are a few signs that would scream that you are a tourist, so let's review the most common examples of styles and clothing that it is better not to wear in Spain.
First, do not wear sandals with socks. Besides not being very stylish, it is something that is seen mostly in British and American travelers. I would highly recommend not wearing socks with anything unless it is closed shoes or sneakers.
Put on a T-shirt and always walk in one around the city. Even with the extremely high temperatures, avoid being shirtless while walking in the streets. This note is especially for men but applies to all genders.
Do not wear mini skirts or swimsuits to churches and religious places. Cover your shoulders and belly bottom, and be respectful.
Next, do not wear Flamenco dresses, unless you are in the Feria de Sevilla. Against popular belief in some countries, locals do not wear Flamenco dresses in the street and you shouldn't either. Also, do not wear traditional Spanish clothes around cities without special events or carnivals as well as Spanish costumes. In some countries wearing national clothes is encouraged, but not in Spain.
Avoid at all costs wearing anything that relates to the dictatorship times in Spain or anything offensive to the citizens of the region you are in. For example, don't wear national items in Catalonia or the Basque Country. These two autonomous communities have been pursuing their independence from Spain for decades and you wearing a Spanish flag can cause some friction.
Dress appropriately when going to a restaurant. In Spain, people like to dress nicely when going out to restaurants. So, avoid wearing flip-flops or beach attire to a sit-down restaurant. Tapas bars are not the same as restaurants even though you can have food in both places, the atmosphere is different.
And the last thing, dress according to the weather. If it's cold and windy, do not wear tank tops, shorts, and sandals. Everyone will be able to tell you are a tourist and people will be talking about you behind your back. If it's warm enough (when visiting in winter), don't wear fur coats and winter boots to sweat out during the day.
Also, don't wear hiking boots and hiking clothes in cities. Locals never wear them outside hiking trails and that is considered weird, to say the least.
Pack smartly. But even if you forget something at home, it is always easy to buy clothes, shoes, or accessories in Spain.
What to Pack For Spain Besides Clothes & Shoes
Beachwear and Accessories For Travel in Spain in Summer
– Bathing suits. Obviously, if you are traveling to Spain in the summer. But don't forget to pack a bathing suit for winter travel too because your hotel may have a very nice heated pool.
– High-quality sunscreen for your face for any time of the year and body sunscreen from April to December. The heat peak falls for July and August. The temperature at noon can reach above +40C degrees. It's very easy to get sunburned even in the evening after 6 pm. Take sunscreen with a protection factor of at least SPF50.
And please, pay a few dollars more for eco-friendly sunscreen. It protects your skin and protects the environment.
– Sunglasses that you love. Even in winter, especially if you plan to hire a car and drive around. Even in the north, where it is cloudy often, the sun still shines brightly and makes you squint.
– Beach bag or city backpack.
– Headgear. A hat, cap, or bandana.
– If you are a budget traveler and do not plan to use beach loungers and umbrellas, bring a beach towel and possibly an umbrella with you. In Spain, renting a sun lounger and umbrella will cost 20-25 euros per day, depending on the beach and city. And often you can't rent them separately.
The main accessory here is an umbrella since the beaches of Spain are mostly sandy and there is no need for a sun lounger. Also, a lot of beaches don't have any shade.
You can always buy an umbrella and beach towel on the spot. Although the price is usually 2-3 times higher, the material is cheap and of low quality.
– If you want, bring a small inflatable pillow for swimming in the sea. It takes up little space, but the benefits are twofold. The first one is for its intended purpose – to swim on it. Second – it's very convenient to put such a pillow under your head when sunbathing on the beach.
– If you plan to visit the islands, then, by all means, take a travel snorkel set. Off the coast of the Spanish islands, the water is so clear with numerous marine life.
Personal Hygiene Products and Cosmetics
For personal hygiene, don't forget shampoo, soap with moisturizer if coming for a longer period of time (the southern sun dries the skin quickly) as soaps in airbnbs and hotel rooms dry up skin even in summer, a small travel sponge, and deodorant.
When packing, don't forget you can only bring bottles of no more than 100 ml into the cabin.
When speaking of cosmetics, besides everything that you use daily, don't forget moisturizing cream for the face and lip balm. The hot Spanish sun dries lips and skin very much.
If you have long hair, don't forget hairpins and elastic bands for your hair. Also, a hairbrush (comb) and pocket mirror (if you use one).
Medications
Regarding the medication, first of all, don't forget to pack what was prescribed by the doctor.
Another medication to pack with you is one antipyretic, pills for a headache, general painkillers, and something for indigestion. The local cuisine is not suitable for everyone, so yes, pack that just in case.
Electronics
– Obviously, your telephone. Do not forget to download maps (such as google maps app or maps.me) of the area(s) where you are going to travel and if you won't have a sim card with the internet.
– If you care about the quality of your photos, get a travel camera.
– For entertainment or work – tablet or laptop. Many hotels in Spain do not have English-language channels.
– A European power adaptor. If you are traveling from North America, the UK, and Australia, do not forget to pack a power adaptor.
– A power bank – self-explanatory, it is a must-have gadget.
– If your phone and camera have small memory, and you are a fan of taking pictures, take a memory card. In case you would like to transfer photos from your camera to the phone during the trip, don't forget to pack a USB cable.
---
So this is it, my list of things and clothes to pack for Spain. I hope by now you have a clear idea of what to wear in Spain on vacation, wedding, or when living there. And I hope you'll enjoy your trip! Do you have anything else to add to this list? Share in the comments!