8 Best Hikes in Montenegro That Should Be On Your List
Last updated on July 5th, 2023
One of the best things to do in Montenegro is to go hiking. Still, many people who visit Montenegro mainly head to Kotor, Budva, sometimes Tivat and Herceg Novi, missing all the beauty that lies inside the country. These places are amazing, yet hikes in Montenegro offer a glimpse of nature's treasures in this region of the Balkans.
There are hundreds of various trails to explore. Some are great for hiking while others offer walking. Mark and I went on many hikes and walks during the time we lived in Budva and today I would love to share a list of some of my favorite trails. They suit anyone who is visiting the country for the first time and who is not a professional hiker.
So why not rent a car in Montenegro and go on a drive for a little hiking adventure?
---
Please note: This post contains affiliate links. I may earn a commission if you make a purchase by clicking a link (at no extra cost to you).
---
When is the Best Time to Go Hiking in Montenegro?
The climate of Montenegro is strikingly different on the coast and in the mountains. While it stays warm for a longer period of time on the coast, the north of the country starts seeing snow early.
Winter in Montenegro mountainous regions often lasts for more than six months and that is from late October to May, sometimes mid-June. Anywhere near the coast, the weather stays pleasant and good for hiking or walking from April until November.
If you plan to include trekking into your Montenegro itinerary and would love to go to one of the national parks, then the best time to travel to this country would be late summer and early fall. In any other case, if planning to do just short day hikes anywhere near the coast, April through June, September and October are the best months for that.
Early fall is the best season for long-distance hiking in Montenegro mountains. During this time, all the trails are easily accessible, the Tara River is ideal for rafting, and the temperature is perfectly warm. At the same time, if you wish to hit the beach, the sun will shine every day and the sea will be warming up to a comfortable plus 25C.
Spring, when everything blooms, is also a very nice season to go on hikes. But going on long hikes or walks in the mountains will be more challenging since there will be still snow in many places and frequent rains can ruin the entire experience.
Well, it can also easily rain with a thunderstorm in June, July, and even August. So you may want to pack a raincoat or poncho just in case if traveling to the mountains of Montenegro in summer.
And here my list of some spectacular hikes in Montenegro that you have to try:
Best Day Hikes in Montenegro
1. Hike in Kotor to Sveti Ivan Fortress
This is probably one of the most famous hikes in Montenegro which you can do in one (or half) day without leaving Kotor city. It is famous because of Sveti Ivan fortress from where you get stunning views of Kotor Bay. Many resources mention a walking trail to Sveti Ivan as one of the best hikes in the Kotor area. While I personally don't think it is the best, I am convinced it is truly spectacular and you shouldn't miss it.
Most people who reach the top of Sveti Ivan usually get there by taking a road from Old Kotor and paying 8 euros per person for the entrance.
Instead (especially if you are on a budget), I recommend going to the Northern part of Kotor to start this hike for free and with only a few people on the trail.
Besides that fact that it's free and less crowded (if crowded at all), it also opens a beautiful panorama of the city and bay area. The hike is a bit steep and may be challenging for little kids and elder people. If you are used to hiking and walking a lot, you'll get to the top pretty quickly. If not, just make stops and take it slower.
Once you step on a trail, you'll start noticing a beautiful view of the city. The higher you go, the more spectacular view will be opening up.
For directions: this hike starts near Apartments Ana and zigzags for almost two kilometers up to the top. The trailhead starts here.
What to know: much of this Montenegro hike is in open sunlight, so it can get incredibly hot in summer. Have plenty of water with you, sunscreen, and a hat. On the way back you can take Old Town road which is known as the ladder of Kotor and exit through the gate where others pay to enter.
We've done this hike a few times and hiked adjacent trails and I still believe that the best way to hike it is in the direction that I described above. If you start by the main entrance and climb the ladder of Kotor, you'll need to turn around all the time to see the view. Besides that, the ladder is steeper and going up there will be more strenuous than on the trail that starts in the north.
Note: Those who would like to turn this day hike into a long-distance trek around Kotor should just follow the Old Kotor Fort trail towards Njegusi. From there you can take a cab or local bus to return to Kotor if you don't feel like hiking back.
MY FAVORITE PLACES WHERE TO STAY IN KOTOR:
Kotor is a small town that flows smoothly into the neighboring town of Dobrota. There are several small towns on the coast nearby Kotor and lots of options to choose from.
Depending on the type of vacation and your budget you can find either a villa on the coast with a pool or private beach (most often a concrete platform), an apartment, a hotel room, a room in a guest house or a bed in a hostel.
If you are planning to spend only one night in Kotor, I would recommend looking into accommodation near the sea line in Dobrota. In this case, you will be waking up to an incredible view of the fjords in one of the most peaceful and gorgeous spots in Montenegro. Here are my personal top picks:
HOTEL VILLA DUOMO: a very good option if you're looking for a reliable and comfortable hotel that is well-located in Old Town of Kotor. There are different types of rooms available and there is a free breakfast included in the rate.
PALAZZO RADOMIRI HERITAGE HOTEL: a historic 18th-century old hotel in an excellent location with absolutely unbeatable views. It features spacious rooms with a modern design, a gym, outdoor pool, sauna, stunning views of Kotor Bay, and even yoga classes. Come to spend some quality time and get full relaxation.
STUDIOS BELVI APARTMENT: if you are looking to stay inside the walls of Old Town of Kotor, this is one of the nicest apartments to choose! It has everything you may need for a comfortable stay and offers great value for money.
ASTORIA HOTEL: another beautiful historic accommodation in Old Town. It has a very unique interior and decor, clean rooms with large beds, and the best location. The hotel, although looks like it was built in a cave, has modern furniture and bathrooms.
For more information on where to stay in Kotor and other cities in Montenegro, check my guide to where to stay in Montenegro.
2. Hiking in Montenegro Kotor Bay to an Abandoned Village of Gornji Stoliv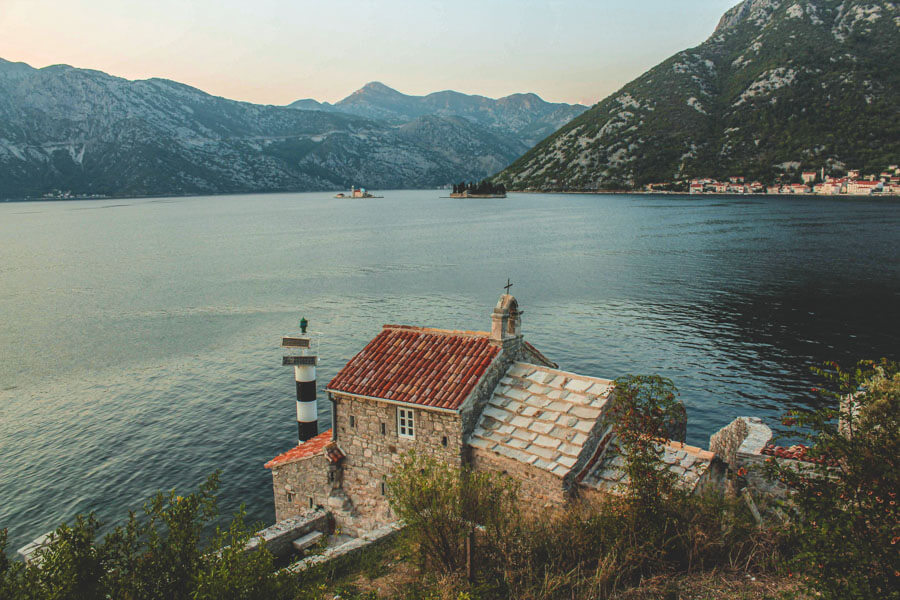 For a more unique hike in Kotor area take a look at the Vrmac hill, famous for mountain villages, fortresses and a lot of trails. Vrmac hill is a mountain peak with sweeping views on the Vrmac peninsula. And Vrmac peninsula is that part of Kotor Bay where besides Tivat there are some beautiful towns such as Donji Stoliv, Muo, and Lepetai.
One of the short day hikes on Vrmac hill is a hike to the abandoned village of Gornji Stoliv. There, you'll see a gorgeous panorama of Perast with Our Lady of the Rocks and Saint George islands. Do not forget to grab a bottle of water and snacks since you'll want to replenish the calories spent on climbing a hill with a height of 240 m.
What to know: The town of Stoliv is divided into two parts – Gornji (Upper) and Donji (Lower) Stoliv. About 350 people live near the sea coast in Donja Stoliv where there is a decent number of restaurants, a post office, and a few guest houses for tourists.
But after half an hour of walking up the hill, you can get from Donji Stoliv into a completely "different world" of Gornji Stoliv, the world of the recent past which will never return. This abandoned settlement is 8 km away from Kotor and Tivat.
If half a century ago, 64 people lived in Gornji (Upper) Stoliv, in our time, there is only 1 house. The reason for this was the catastrophic earthquake of 1979, the Yugoslav war with the economic crisis, and the development of tourism in the 21st century. Besides this house, there is also a church of St. Anne with a beautiful panoramic platform next to it, an abandoned grocery store, olive oil mills and bakeries.
The bell tower of the church is visible from Perast or from the bay, so it will be interesting to visit it, especially if you've seen it from the other side. You cannot enter the territory of the church through the gate, but you can climb through the hole in the fence on the left. After the church, you can continue hiking to Gornja Lastva for more panoramic views.
For directions: The trailhead starts here, in Donji Stoliv near the sea. You'll see a red mark on the wall of one of the houses pointing where to go. The walk to the church takes around 30 – 40 minutes. But in spring it can be slippery because of the humidity after the rain and may take more time.
Here is the beginning of another trail that is less popular and not so slippery. If you wish you can also start a hike here near the old church which is located next to Our Lady Temple.
If you go to Gornja Lastva then on the way back take a Blue Line bus that runs along the coast in Donji Stoliv. It travels from Kotor to Tivat and back, so you can go in any direction. And here are the coordinates where to start if you start hiking this trail in Gornja Lastva.
WHERE TO STAY NEARBY:
If budget allows, treat yourself to a stay in a new luxury hotel in the village outside Kotor – Blue Kotor Bay Premium Spa Resort. It is next to the trail and to the Bay of Kotor in a very secluded area.
3. Hiking Wolf Trail Near Cetinje in Lovcen National Park
We found out about this beautiful hike by accident when were visiting Lovcen National Park.
While being on the way to Mausoleum, we decided to stop in a small village Ivanova Korita to get a snack and walk around. There, we found many trails that start right in the village and go through the park. During the time we lived in Montenegro we hiked most of them but our favorite turned out to be a Wolf Trail.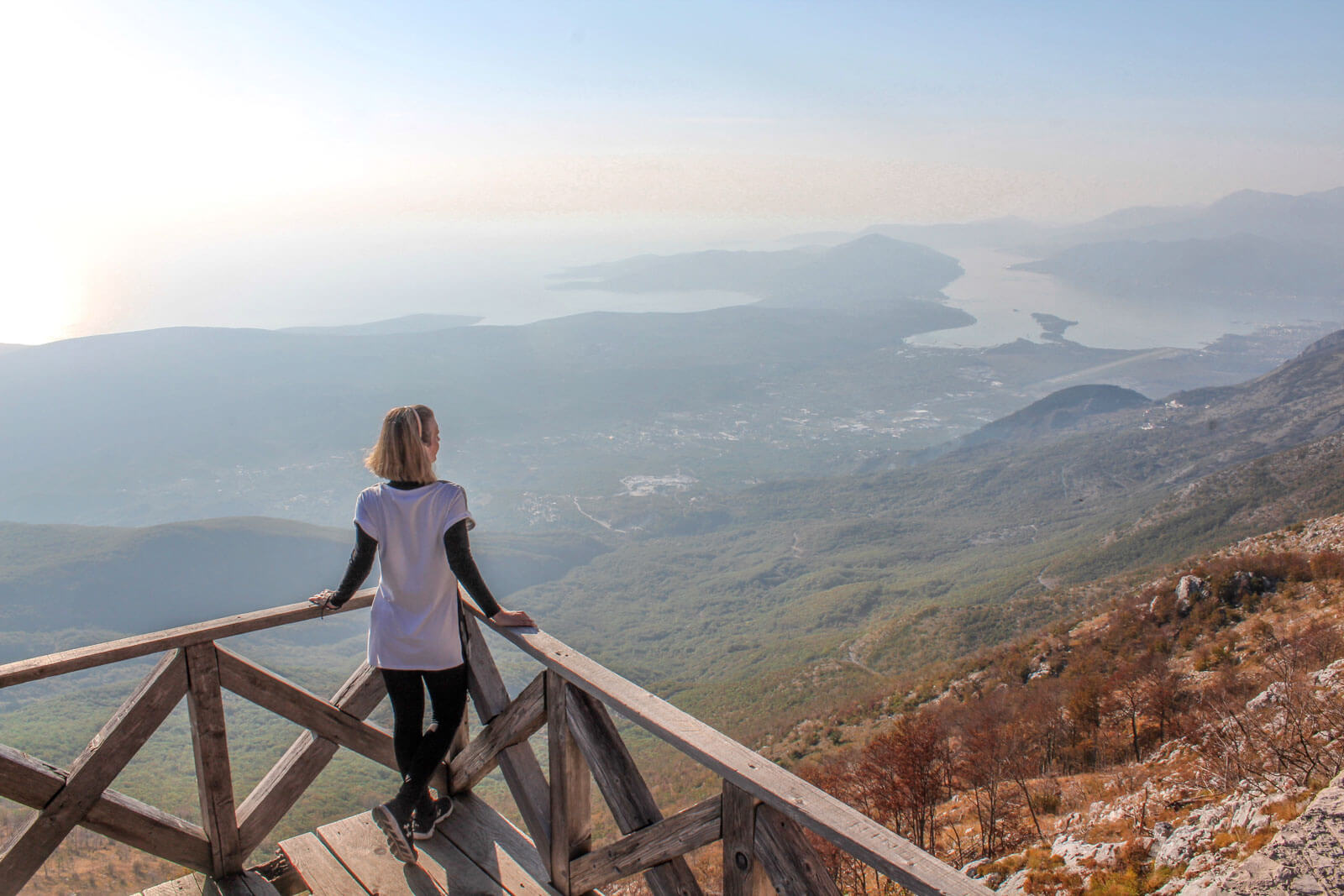 There was something magical about this hike. Perhaps because we visited in fall when the forest looked very dreamlike or maybe the reason was in the number of vistas and spectacular views.
Views you get on a trail are breathtaking. You can see the mountains, Tivat, sea and on a good day even Kotor Bay in a distance. My favorite part is that it is a loop and you don't have to walk the same path twice. The scenery is changing multiple times throughout the hike – you walk through the valley, forest, village, and rocky hills.
Follow my guide to hiking in Lovcen National Park where I talk in detail about this hike and a few other beautiful trails.
---
RELATED POST: 6 MAJESTIC HIDDEN PLACES IN MONTENEGRO YOU ABSOLUTELY HAVE TO SEE
---
WHERE TO STAY IN LOVCEN NATIONAL PARK:
Lovcen National Park is conveniently located not far from Budva, Cetinje, and Kotor. It can be always a one-day trip if you are staying in one of those cities. However, if you decide to stay overnight in a park, there are only a few nice options to choose from – Hotel Monte Rosa and Ivanov Konak hotel.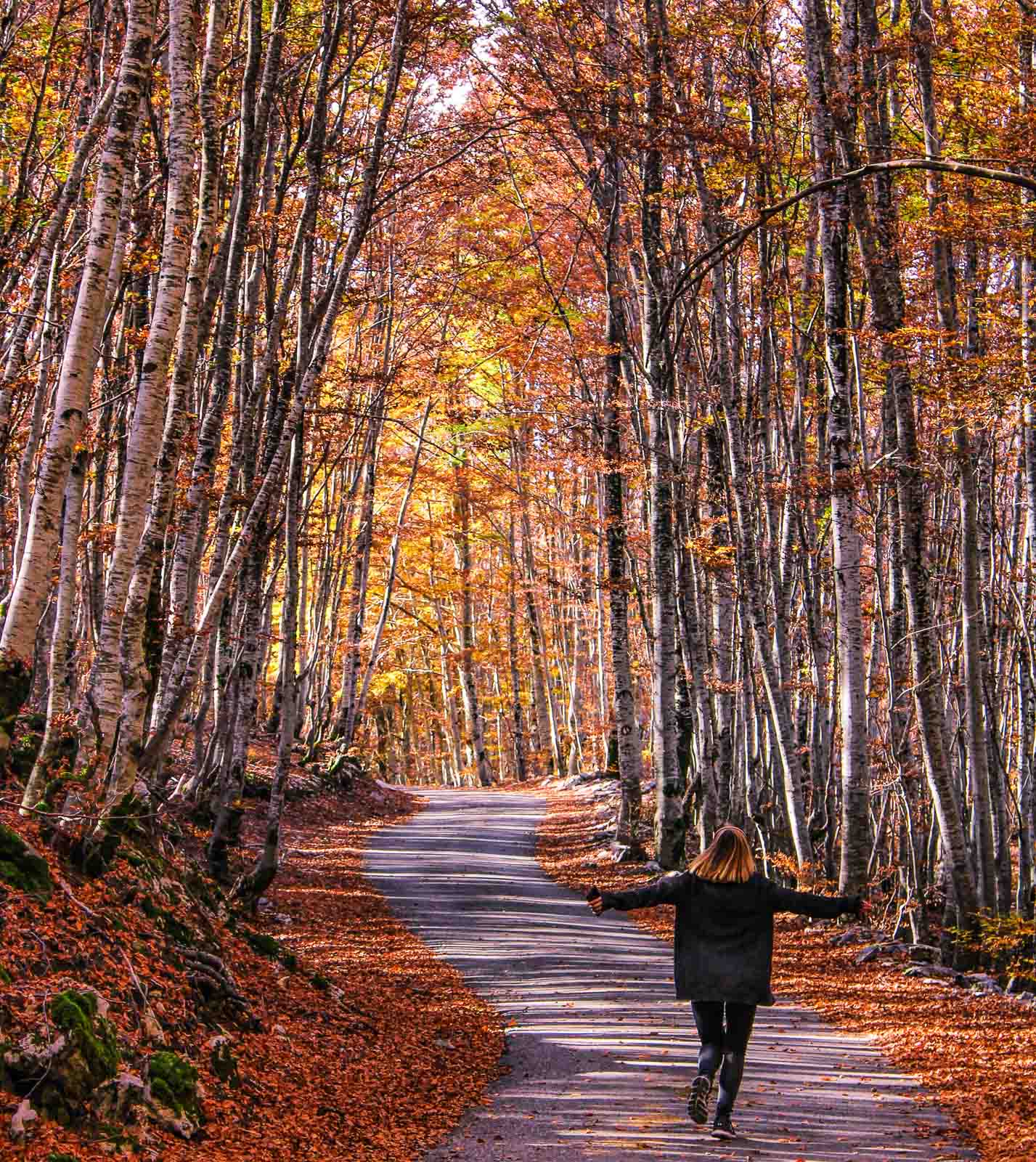 If you are visiting Montenegro on a vacation, it doesn't probably make much sense to stay overnight in Lovcen. There are so many unique and romantic accommodation options in Kotor and nearby Njegusi village that you'd want to experience them.
Njegusi village builds up very quickly, with more and more hotels popping up. One of the newer projects is Ethno Village St. George hotel with apartment-style rooms, outdoor pool, big territory, and restaurant with incredibly delicious food.
For budget options, I recommend looking into Cetinje. This city is way cheaper than Budva or Kotor.
4. Curevac Hike in Durmitor National Park
It is one of the northernmost hikes in Durmitor National Park which brings you to the top of Tara canyon. On this hike, you get a view of the second largest canyon (after Grand Canyon) in the world.
Since the trail starts in the wilderness you need to have a car to drive to where it starts. Just find on a map Curevac and follow the directions towards it. The road gets a bit bumpy so watch out when driving. You'll see a parking lot on your right (after you pass Govede lake) where you can park and start your hike from there.
The path is well-marked and clear, but it is a bit steep and rocky. It may be challenging for small kids and elder people.
This hike is short and can be completed within 1.5-2 hours.
I recommend going either during the first part of the day or before the sunset. Going in the morning means that the sun will shine right on the canyon and you'll get a clear view and take good pictures. We went for the sunset and the sun rays were getting right into our eyes making it difficult to see all the beauty of the canyon.
I have a full guide to Durmitor National Park hiking, where besides this trail I mention other amazing trails. So you can add them to your Montenegro itinerary.
5. Savin Kuk Hike in Durmitor National Park
Everyone, who goes to Durmitor National Park, hears about Black Lake. In fact, local tour agencies, when introducing visitors to Durmitor park, usually bring them to Black Lake. So it is easy to find lots of information on hikes around the lake and nearby forest.
Savin Kuk hike is not anywhere near the lake but if you go all the way to the end of this trail you'll get a stunning view of the Black Lake from above.
This hike is very strenuous if you decide to do it without a chairlift.
When we were there in October the skylift was closed for the season, so we decided to give it a try and hike all the way to the top wearing just sneakers and jeans. We were not thinking on that day, you know. And oh my gosh, how challenging it was. We hiked almost 3 kilometers one way (2 miles) with an elevation gain of more than 2 km (7K feet.) Crazy us!
But we've done it.
I recommend doing the entire hike only if you are an experienced hiker, who wants a strenuous workout, has proper shoes
, hiking pants
and a lot of time. Otherwise, take a skylift, save time and enjoy the same views. After you get to the top of the mountain by skylift, it will take another 30 minutes to hike to the summit.
What to know: It gets incredibly windy and cold on the top of the mountain. You may need to have a jacket with a hood even during the summer.
In order to reach this trail, you need to have a car. It starts near the restaurant KOLIBA in Virak (coordinates here) and takes approximately 10 minutes to drive from Zabljak.
WHERE TO STAY IN DURMITOR:
The best place to stay would be in Zabljak town. Mark and I have stayed there in two different hotels and Airbnb apartments. Each of them was good in its own way. Read this post to find out details. All the information on the best accommodation is all the way in the end.
Does my content help you plan your trip? If yes, I'll appreciate a cup of coffee from you, so I could produce more free guides and itineraries!
6. Hike in Central Montenegro to Kapetanovo Lake in Moraca Mountains
If previously mentioned treks are more or less known among some travelers, this hike in Montenegro is a true gem that no one knows about. Kapetanovo lake is located right in the center of the country, between Kolasin and Niksic. Not many people know about this place, that's why it's still one of the least visited and discovered gems in Montenegro.
In my opinion, this lake and surrounding nature look very similar to some scenery in Norway. In general, I believe many places in Montenegro look like some places in Norway, just in miniature.
To get to Kapetanovo lake you either have to hike around 5 km (3 miles) one way from the end of the paved road or go there by jeep.
In the summertime, you can camp, stay overnight, go on other hikes, picnic and even dine at one of the local diners. Also, in summer flocks of sheep and cows graze near the lake making it look a bit fairytalish. In winter, everything is closed and looks abandoned.
If you would like to hike a bit more, check another lake in the area – Manito lake. It would take around 40 minutes one way to get there.
The best way to get to Kapetanovo lake is through Niksic. But keep in mind that at some point the asphalt road ends and from there you need to hike (unless you come by jeep.)
What to know: In winter, the weather is usually cold and very windy, so perhaps hiring a jeep would work better. In summer, when nearby Niksic is baking hot, Moraca mountains experience lower temperatures.
WHERE TO STAY:
A trip to Kapitanovo lake can be done during one day from Kotor or Budva, or if being on the way from/to Durmitor National Park to/from the coast.
I wouldn't recommend staying overnight in Niksic because there is not really much to do in this city (except for eating and drinking in a few restaurants) and to me personally, some parts of this city look somewhat depressing. It's informative to visit and spend a bit of time but I wouldn't recommend staying overnight. However, it's up to you.
My picks would be to camp near the lake (if you are a camper,) stay in Savnik or combine with a trip to Zabljak.
In Savnik, I personally can recommend Eco Selo Nevidio. Even if you don't get to stay here, stop for lunch or coffee at their village-like restaurant with a lovely view.
7. Trek to the Mountainous Lakes – Stabansko Lakes
If you will be in the area of Piva Lake near the Durmitor National park, I recommend you to devote one day to a hike to two small but beautiful lakes at the foot of the Volujak mountain, located on the border with Bosnia & Herzegovina.
The difficulty of this hike is average. In some parts of the forest the trail goes up 45 degrees and since it's covered with a lot of leaves, it can be easy enough to go astray. Although red marks on tree trunks and stones will not let you lose your way.
Most of the trail runs in the shade of trees in a deciduous forest. There are no people on this path since no one really knows about this beauty. The lakes are small and not promoted as much as nearby Black Lake in Durmitor. Introverts will definitely love it there.
We hiked in the summer and didn't see any wild animals or snakes. There were also no mosquitoes, just some ticks, so watch out for them.
After the hike, if you are tired and would like to swim in icy water, go down to the Vrbnica river. Leave your car behind the bridge and on the left side (here) you will see the path upstream to the beach.
For directions: I am dropping coordinates below to make it easier for you to understand where to start this hike.
Drive all the way here to park your vehicle in the shade of trees near the sign 'Piva Nature Park'. Once you turn from the main road, the rest of the road will be gravel but it is in good condition, so driving a small sedan car is not a problem. Once you park the car, start your hike towards a small lake (here) and then a few more minutes towards a big Stabansko lake (here).
The hike one way takes around 2 hours to go from the parking place to the first small lake.
Note: If you prefer to go with a guide, contact the office of the Piva Nature Park and they will arrange a tour for you.
WHERE TO STAY IN THE AREA:
The area near Stabansko lakes is breathtaking. If you are not in a hurry to return to Budva beaches, pause for a night in a small town Pluzine, situated on picturesque Piva Lake. And one of (my favorite) places where to stay there is BB Konak.
This mini-hotel consists of bungalows by the lake that have their own entrance to the water and includes breakfast in the morning. There is also a beach nearby where to swim, rent out paddleboards or kayaks, and do boat trips on Lake Piva.
8. Hike to Gate of Wishes and Old Military Road in Mrtvica Canyon
The most fabulous canyon in Montenegro is the Mrtvica River and you definitely have to hike to see it. There are no roads, just a trail here, so you will be left alone with the seething mountain river and local jungle. It is incredibly beautiful, without any big climbs, and easy to access. Perhaps you've seen photos of this canyon on the Internet.
The road from Budva to the Mrtvica Canyon runs through Podgorica. There is nothing to see on the way, except for the local 'Niagara Falls' or Crnojevicha River with its famous panorama. On the way back you can stop at the "Pechenyara" restaurant for meat from a sacha or carp.
On the way to the canyon, you will also pass the beautiful and formidable canyon of the Moraca River with a couple of panoramic platforms and a suspension bridge that will tickle your nerves.
I have read a few guides about Mrtvica Canyon hike in Montenegro but it seems not many people still do it. During all six hours that we spent trekking, we met only a few other hikers that seemed to be locals. Overall the trail was empty and quiet.
On this hike, you pass the village, cross a few bridges, walk along the crystal clear river, forest and hike through the deep canyon. Once you are in the forest, there are not any signs pointing to the Gate of Wishes. So you need to make sure you don't pass a side path that leads to it. There is only one side path on your left if you are hiking from the trailhead. Just don't miss it. We almost did because were busy talking.
This trailhead starts in Medjurecje village, where you leave your car (we parked our car near Danilov bridge here), and has lots of signs. Partially it can be done as a loop and is rather long (around 15 km.) It is great for long-distance hiking in Montenegro that suits almost anyone.
In case you don't feel like covering all this stretch, just turn back after you visit Gate of Wishes.
If you plan to explore more than just the Bay of Kotor and the coast of Montenegro, do not miss this hike. You will be definitely amazed.
WHERE TO STAY:
For accommodation, I recommend staying in Kolasin. Check availability and rates here.
---
Have you been on any hikes in Montenegro yet? Did you visit this country at all? Would you add anything to this list? Share in the comments!
Was this post helpful? Pin it!